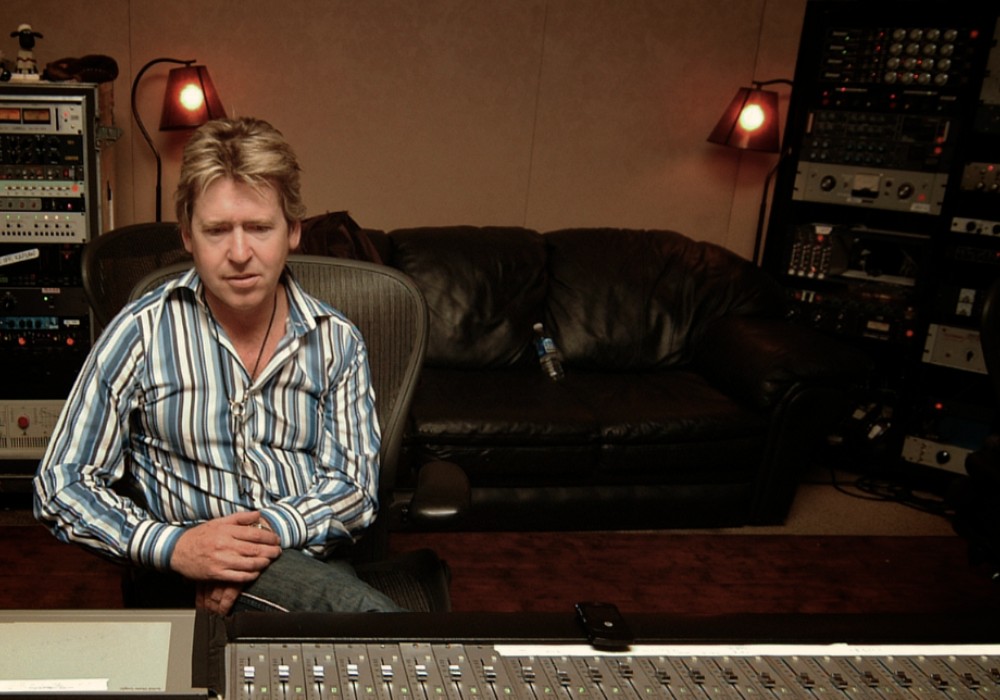 British superproducer, Steve Lillywhite, CBE, has spent more than three decades helming storied recordings by artists like U2, Peter Gabriel and the Dave Matthews Band. Fresh from his latest work producing Matthews, The Killers, and the "Music From" album of Broadway's Spider-Man: Turn Off The Dark, Lillywhite sat down with me in New York City to talk about his fabled career atop the pop charts.
Did you start out as a musician?
I started out as a bass player, but I was 16 years old, before I got a job in a studio. I started off as a tape op in 1972 at Phonogram Studios — a record company- affiliated studio. It had one studio and two copy rooms for the record company. I think there was a staff of 11 people, which was ridiculous. We had three full-time tech guys, who all left for the suburbs at six o'clock every evening. I really was a tape op, more so than probably any other single person in the music business, because the studio that I worked at was the last one in the world that had a separate machine room. You had the control room and my room was called Room B. I had a little Auratone speaker, a swan-neck microphone on the desk, and a window so I could look up and see the engineer. I sat next to the tape recorder and he would give me commands to start and stop. A drop-in or punch-in was called a "cue to press." I would just sit there for hours and hours, days and days on end, rewinding. I was told that I could never be part of the conversation in the control room. If they were having a joke in there, they shouldn't suddenly hear my intercom piping up. I was told to be humble. I would sit there listening to the tape, and if I thought, "Oh, maybe they'll want to do the second verse again," at the end of the song I'd go right back to the beginning of the second verse and park the tape. They'd be discussing it, and they'd go, "Okay, can we do the second verse again?" Boom! I wanted to be the fastest gun in the west, because it was such a simple job. That was literally all that I did. I would run the 2-track for mixing. I would also run the other 2-track machines for delays, and things like that. We would always run the EMT plate [reverb] through a 15 ips tape delay.
Going in?
Yeah, going in the front. It was a great learning experience. I wasn't very good on the technical side; and I didn't understand engineering for a long time, because I was never in the control room. I wouldn't be here today if it weren't for my boss giving me a chance. At other studios tape ops would learn to engineer by watching. I couldn't do that there, because I always had to be at my station. On weekends we were allowed to take our own projects into the studio to learn. I would literally be trying to do something in the control room, running into the other room to record, and then running back!
So you didn't have your own tape op?
No. Occasionally a member of the band would do it for me. Working on the weekends I managed to do some demos with a band called Ultravox that got them a record deal. I took a couple of weeks holiday from my job to do the debut Ultravox album.
With that Ultravox record [Ultravox!], Brian Eno [Tape Op #85] was producing as well.
Island Records signed the band and said, "Who's Steve Lillywhite? You need to have someone else come in." I'd never made a record before, so it was quite understandable. The band said, "Well, we like Roxy Music." Brian is a fantastic man. He doesn't spend all his time in the studio, but when he's there he really utilizes it. I'm much more involved, and I micromanage like crazy. I tried to be that Rick Rubin sort of "sit back and see the big picture" guy, but I have to be in there getting my hands dirty. But that
was the first time I'd met Brian, and then I didn't see him again until [U2's] The Joshua Tree. I get on really good with him. He's one of the brainiest people in the world. We have a great relationship.
Did you keep working at PolyGram's studio?
I eventually ended up leaving that studio and took...
The rest of this article is only available to our subscribers!