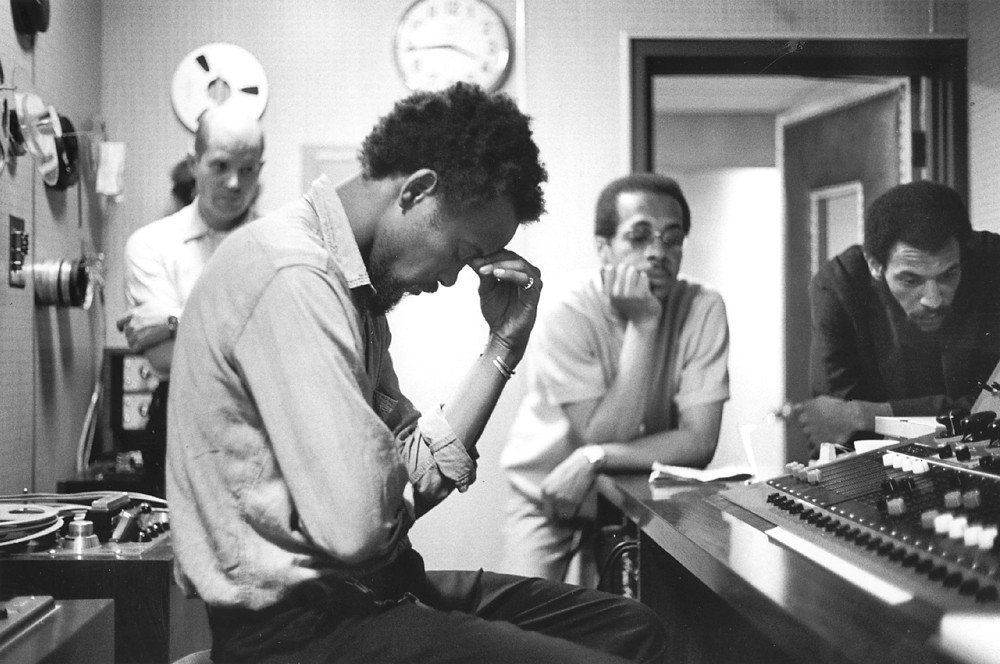 While some of my favorite albums were made in huge studios with big budgets, I'm also very excited about records made under less ideal circumstances. I find it really inspiring when timeless records can be made by people with limited experience and resources. For this reason, I find the early records from Chicago's Association for the Advancement of Creative Music (AACM) exciting. At a time when avant- garde jazz was developing in new directions, without an obvious market for these records, no one invested huge resources in recording them. In the mid- 1960s, recording technology was far less available than it is today. The music was also drastically different from so much of what had been recorded before that I expected it may have presented particular challenges in recording.
The AACM was a nonprofit co-op, led initially by Muhal Richard Abrams, which helped to produce concerts of experimental jazz. The organization evolved in part out of the work of the Experimental Band, which began in 1961, also under Abrams's leadership. The first recording of these musicians was the Roscoe Mitchell Sextet's Sound, which was released on Bob Koester's Delmark label in 1966. Up until that album, the Chicago-based label had released blues, traditional jazz, and bebop. While Delmark had not previously been involved in releasing such aggressively avant- garde music, Koester did have experience with recording studios. He was very happy with his experience recording at Hall Studios with engineer Stu Black. When Black went to work at Sound Studios, a converted radio station at 230 N. Michigan Avenue, Delmark's business followed. Sound Studios had a Neve board, a 3 track recorder, and a good variety of microphones. While the main room at Sound was neither as large nor as alive as that at Hall Studios, it was big enough to comfortably position all of the musicians and their many instruments.
Stu Black engineered Mitchell's album at Sound Studios, and Chuck Nessa, who managed Koester's Jazz Record Mart at the time, supervised the two sessions. Despite Black's experience as "a journeyman engineer," Nessa says that "by far this was the strangest stuff he'd ever encountered." Nessa describes his job as producer "as a liaison between the techies and musicians, between the money, which was Koester, and the musicians." He was not concerned about recording the variety of instruments used on the album ("you can fake it in the mix later"), and his advice to Black for recording the harsh overtones used by the reed players was "that the music was going to get very loud, so leave plenty of headroom."
All of the musicians were in one large room, with some small baffles around the drums that would not obstruct anyone's view. Nessa's sole strategy to deal with bleed was to try to guess while setting up. He feels that making adjustments later "screws up people's concentration," and prefers to "go with the decision you made at the beginning and live with it." This approach illustrates his broader philosophy that "if there's a choice between musical problems and technical, always err on the side of the music and deal with the other shit later." No overdubs were used on Sound or any of these records.
Nessa was concerned about the music's ability to communicate with new listeners, and felt that achieving this goal was one of his tasks as producer. He explains: "When we recorded "Sound," the first day, we had run through the pieces. I realized that this was the first AACM music to appear and it was the first Roscoe Mitchell record. We'd recorded 'Sound' and we'd recorded 'Ornette,' and there was no place that you heard Roscoe Mitchell playing with drums behind him. Afterwards, I said to Roscoe, 'We're going to be giving this to a lot of people who don't know anything cold about this; they're going to be coming to it blankly. To have the leader of the group, who is the saxophone player, never playing when there are any drums playing is kind of bizarre.' I said, 'Maybe on 'Ornette' you could do it with drums behind you.' On the first take that we did the first day, it's a cello behind him, playing pizzicato like crazy, and it's wonderful. But I said, 'Maybe we could do that with drums behind you.' So the next date when we came back, he did it again with drums behind him. And that's what came out."
In addition to containing the original take of "Ornette" described above, the CD reissue contains two separate takes of the piece "Sound," which were edited into one piece for the original vinyl. Nessa explains that one take was too long, and that the parts of the two takes which they used worked together. This fits Nessa's idea that a record does not need to reflect a live performance. He says, "you can't always do what you hear in your head on stage either, or at a rehearsal."
The next two albums were recorded under similar circumstances. Sound had upgraded to a 3M 1/2" 4 track deck before the recording of Joseph Jarman's Song For. Delmark's third AACM release, Muhal Richard Abrams's Levels and Degrees of Light, was recorded in 1967. While the album's first session was recorded at Sound, the second session was recorded at Chess/Ter-Mar Studio, where Stu Black now worked. Chess had a bigger live room and an Ampex 1/2-inch 4 track.
Chuck Nessa had left Delmark, so Koester began to supervise the sessions. Koester's approach to production was even more hands- off than Nessa's. He says, "Most of those records were really produced by the artists anyway. That's essentially true of any jazz record. I'm not a guy who's going to say, 'You play this.' I can't do that; I'm not a musician. I'm a fan, and I'm not a terribly erudite fan. When it came to the AACM, I was scared to death. I realized quickly that between the engineer and Muhal and the sidemen, that I had nothing to worry about."
The big change with Levels and Degrees of Light was the active use of electronic processing in the mix. The application of reverb makes it sound very different than the Mitchell and Jarman albums, though the recording process was otherwise similar. Electronics were already common by 1966, Abrams says, just not frequently used in jazz records. He points out that such effects have become even more common today. While Koester gives "100% freedom" to musicians on Delmark, he found the reverb "a little bit corny." He prefers recordings which more closely resemble live performances. When Stu Black once suggested to him moving drums subtly left or right, Koester replied that "they don't put the drums on a cart in a club and carry them across the bandstand. When they do, I'll maybe record them that way."
After leaving Delmark, Chuck Nessa started his own label, Nessa, to release Lester Bowie's Numbers One and Two and Roscoe Mitchell's Congliptious. These two albums, both recorded by Stu Black, mark the beginning of the core that would evolve into the Art Ensemble of Chicago. Numbers One and Two introduced the use of a single overhead microphone, which Nessa felt would "get a blend of what the group sounded like."
Delmark's next three recording sessions continued in the by-now established pattern. Anthony Braxton's first album as leader, Three Compositions of New Jazz, was recorded at Sound Studios, with its new staff engineer Ron Pickup. Koester says that "they'd brought an engineer into Sound from England, who'd once done a Beatles demo. That was his claim to fame. He made them re-equip to some extent." Koester describes Malcolm Chisholm, who recorded Joseph Jarman's, As If It Were The Seasons, as "one of the deans of the Chicago recording field." At the session for his second Delmark album, Young at Heart/Wise in Time, Muhal Richard Abrams was concerned about the recording of Leo Smith's trumpet. Koester explains that "there was a metal horn, and a metal microphone, and he got upset because there was a plastic windscreen on the mic. He thought that was a bad idea, because the metal wouldn't reach the other metal because of the plastic screen."
In addition to its own productions, Delmark also licensed an album of Anthony Braxton's own recordings. He had bought a tape deck in Korea, and used it to record his solo performances in the basement of the Parkway Community Center. The double-album, For Alto, which collects these recordings, came out in 1969.
In 1969, with the Art Ensemble of Chicago and Braxton's Creative Construction Company leaving for Europe, many of the AACM musicians had left Chicago. The last three Delmark productions were two records by Kalaparusha Maurice McIntyre, Humility in the Light of the Creator and Forces and Feelings, and Muhal Richard Abrams's, Things to Come for Those Now Gone. When the Jazz Record Mart bought a building, funds were no longer available to produce records which took so long to recoup their expenses. Delmark did license two final AACM releases, after which Koester says, "we went to sleep for a long time."
In 1975, Nessa released Old/Quartet, which included basement recordings of early configurations of the Art Ensemble. More of these home recordings appeared on Nessa's 1993 CD box set The Art Ensemble 1967/68. Journalist Terry Martin recorded many of these practices solely for his own listening. He had a Wollensak 2 track reel-to-reel which he'd bought for playback. The deck came with 2 microphones, which went direct to stereo. Martin recorded with these mics, and ran the deck at its fastest speed, 7 1/2 ips.
Martin claims no credit in the good sound of the recordings. "It had nothing to do with my abilities. I just used common sense in setting up the two mics." Nessa describes the site of the earlier recordings as "a big square Victorian house, with a large basement, brick walls, wood stud ceiling." Martin says that the room was "acoustically very suitable." With only two microphones, he "had one mic overhead, which was picking up the horns, mainly, and the drums." He put the mic slightly closer to the reeds than the slightly louder brass instruments. The other mic "was directed towards Malachi Favors's bass, that could also pick up some of the drum sounds." He also credits the "musicians' ability to interact and form their own group dynamics" as contributing to the recording quality.
Nessa describes the site of the later recordings as "a more modern townhouse with a finished basement and a finished ceiling." Martin found that room inferior sonically. "The session would not necessarily have been so promising," he says, "except there was a large group of musicians coming into a fairly small space." The musicians' bodies reduced the echo which would otherwise have been prominent.
While I didn't find as much naivete as I'd expected, I was excited by so much of what I did discover about these records. I had known nothing about Ter-Mar or Sound Studios, and learned that they were well-equipped studios staffed by experienced engineers, rather than the more naive settings I'd visualized. Without today's abundance of cheap and small equipment, it's not surprising, in retrospect, that such facilities really were the only available option. Given the cost of these fully equipped studios and the labels' tight budget, it's impressive that so many records did get finished. Joseph Jarman's gratitude in describing Stu Black as an "excellent engineer" was especially nice to hear. Most exciting of all, for me, is learning that people involved with making these records still do recording 30 years later. Delmark now has Riverside Studio in its own building, and Bob Koester supervises sessions there. Chuck Nessa does recording and mastering work. Terry Martin is "still interested in amateur recording."
If not in the ways that I expected, I find the early AACM recordings even more inspiring now that I know so much about them.
Tape Op is a bi-monthly magazine devoted to the art of record making.