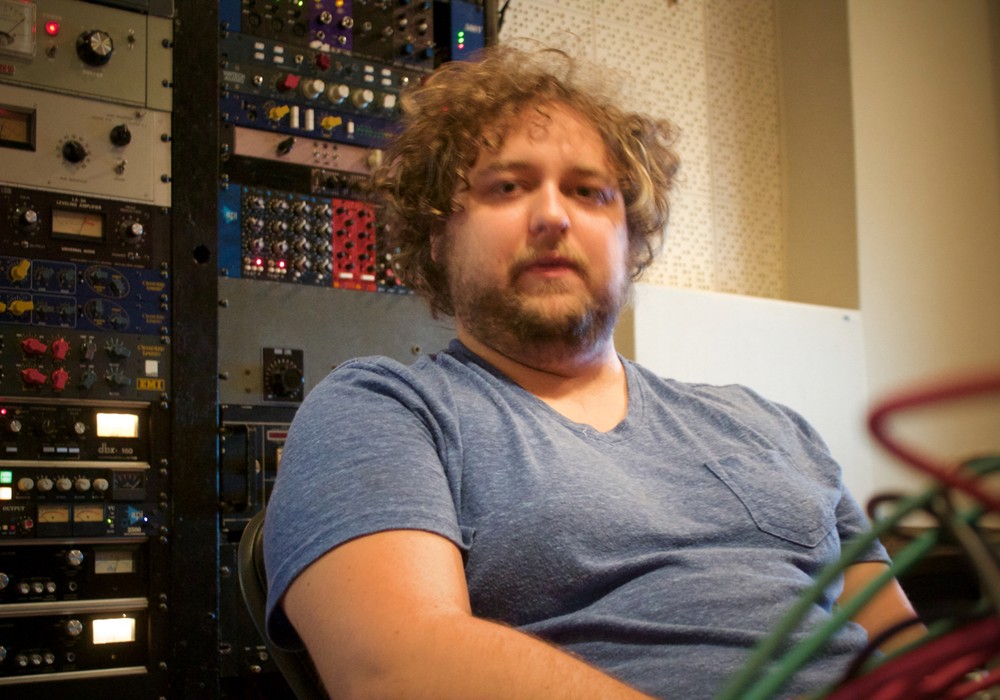 I had heard, from contributor Alex Maiolo, that someone from North Carolina had moved out to L.A. and accidentally discovered and re-opened the famed Producer's Workshop studio in Hollywood. That someone is Clay Blair, so I dropped in on him to find out the story behind revitalizing this studio that had seen artists like Fleetwood Mac, Steely Dan, Ringo Starr, Carly Simon, Ray Charles, Neil Diamond, and famously Pink Floyd wrapped up The Wall here in 1979. Later the place went under the name Westbeach Recorders, and a new era of bands like Blink 182, The Offspring, Bad Religion, MXPX, The Melvins, Rancid, Rocket from the Crypt, Concrete Blonde and Mazzy Star made use of the space. In the new era as Boulevard Recording, the studio has seen sessions with War on Drugs, Moby, Jim James, producer Frank Tetaz [Gotye], Joel Little (producer of Lorde's debut), Bob Rock and The Cult, and producer Eric Rosse.
How did you end up in the old Producer's Workshop space?
I'm from North Carolina. I worked in studios there. There was a studio called Altamont Recording. I worked there with David McConnell. Sparklehorse [Mark Linkous] did his last record there. I worked there for a few years, and it shut down. I started making friends with people in Asheville and doing work at Echo Mountain. That's a gorgeous studio there.
I always hear that. Everyone says it's great to work out of.
I love it. While I was doing that, I met this guy named Gary Jules who did [Tears for Fears'] "Mad World" in Donnie Darko. He did pretty well in the '90s. I ended up working for him in his home studio. We worked on a film score and a record that's still not released, and that's been six years! He basically said, "Look, you need to go to L.A. You're young, and I've got great friends to introduce you to." He brought me out here, and I made friends quick. I was looking for a mix room; something small. I was just doing a lot of mix work, but I wasn't tracking a whole lot at the time. I came across this Craigslist ad. It said, "Recording Studio." There was only a picture of the building outside.
Not too appealing.
No, it wasn't. The rent was friendly, it was in Hollywood and had parking, and so I called the guy. He came down here and walked me through with the lights off. He didn't know what it was, and I didn't know really what it was, but I knew that it was a classic studio. It had the smell and the look. There was no doubt in my mind. I said that I wanted to sign a lease that day.
How many years ago was that?
That was in November of 2010. It turns out that the friendly rent was because this place was a dump. It was in really bad shape. We had to put a lot of money into it to make it functional. We re-did the control room. The place was never ever grounded. It was done with residential two-ended electronics. I had that fixed, and we treated this room again. It was so dead, and all the carpet was mildewed. They had commercial-grade carpet from floor to ceiling in here. It was nice for like '90s punk. If you're wondering why a lot of those Epitaph records sound a little harsh, it's probably because they were mixing in this room!
You're cranking up the 3 kHz.
That [frequency] was gone in here. I opened it officially about six months later. We're just trying to get the word out. I get a lot of calls from people who worked here when it was Westbeach. They have no idea that it's open again as a studio. I've gotten some work from some of those folks. The first thing that I did when I found out what this place actually was, was to call up Bill Schnee. I had lunch with him and Rick Ruggieri who was an engineer here, and RCA. Rick did a bunch of records here. They both worked on Aja with Steely Dan. They told me a ton of stories and gave me a wealth of knowledge. I feel like part of my job is recording and making records here, but the other part is that I'm really trying to preserve the history here. It's sort of fallen between the cracks. Lee Sklar was in here working on a record this summer. He hadn't been in here in 30 years. I asked him if he remembered the studio. He said, "I was in here a hundred times. I was in here when Elvis died, when we found out." He said that this studio is just as important as Capitol or Sunset Sound or any of the others.
The ones that have stayed open.
Exactly. I would keep the name, but if you try to Google Producers' Workshop, just think about it! You wouldn't be able to find this studio. I work with Steve Lillywhite when he's in town. We re-mixed...
The rest of this article is only available with a Basic or Premium subscription, or by purchasing back issue #111. For an upcoming year's free subscription, and our current issue on PDF...