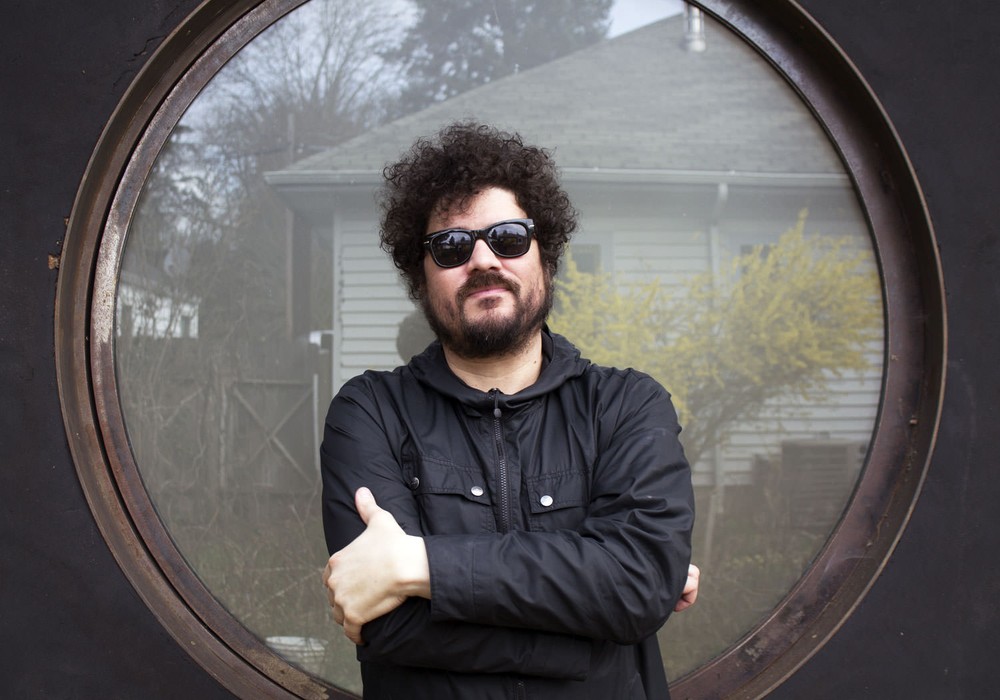 "What you can control are knobs, faders, and being a nice person."
For ten years Richard Swift's been luring the hippest of indie rock bands to Cottage Grove, in the middle of Oregon, to work with him at his National Freedom Studio in his backyard. In a career that started with solo albums made during L.A. studio off hours, as well as on the road as a sideman for The Shins [Tape Op #39], The Black Keys, Fruit Bats, and others, he's proven to be an asset to many artists. Damien Jurado, Lucius, David Bazan, Valerie June, Foxygen, The Pretenders, Nathaniel Rateliff, The Mynabirds, Ray LaMontagne, Cayucas, and Guster are among the many who've sought his expertise in the studio. I was curious to meet this songwriter, singer, multi-instrumenatlist, producer, and engineer in person, so after a two hour drive down from Portland we had lunch and a wonderful chat.
Where did you grow up?
I grew up in Minnesota. I moved out here when I was 16 or 17. My stepdad and my mom, when she was alive, moved almost every year, and we ended up moving out here. They were on a road trip from California to Minnesota and stopped here. They made some friends and said, "We're moving to Cottage Grove, Oregon." I was like, "Orygone? Where in the heck is that?" Funny enough, they thought that I had some promise as a musician. "Maybe it'd be better for us to be on the West Coast." But in the middle of nowhere on the West Coast? Okay. We moved out here, I met my wife's brother, and then met my wife. I got married at 20 and had three kids by the time I was 25.
How did you teach yourself recording?
My older stepbrother, Kevin, had a 4-track. I must have been ten or eleven. I was like, "I can add a vocal on top of this other vocal?" Once you see behind the curtain, you tend to get obsessed with it if you're the right person. That's what happened with me.
Did you study a lot of instruments when you were young? You play quite a few.
Not really. I play anything you'd need to make a record. It came naturally.
Was your family musical?
No. My parents didn't even really listen to music. I didn't grow up in an artistic family, or anything like that. My dad, who I'm really close to, listened to a lot of oldies – he had all these old cars and we'd drive around Southern California.
What inspired you to start recording?
When I turned 15 and I moved here, I had this buddy, Greg [Lawless], who was in a band called Adam Again. I don't even know how to explain them, but they were a big influence on me. He was a mailman in town, but he was also in this Christian rock band. Our buddy, Gene [Eugene], owned the studio [The Green Room, in Huntington Beach, CA] that I recorded my first record in. They were big heroes. He turned me on to Leonard Cohen, Bob Dylan, and Sly and the Family Stone. It really changed my life. The first time that I ever really recorded music was here in this space. The studio used to be upstairs. I was working with Greg. My sister passed away, but her ex-husband borrowed money from my parents and built this place out. I've been working out of this studio for 15 years now, but in different incarnations.
I didn't even think there would be an upstairs.
Two of my kids live upstairs, actually.
This is a building behind your home.
It's ten feet away. I need to show you the cabin next door that I designed. My buddy Chris built it. I've got a serious history here. It is a bit of a compound.
When did you move to L.A.?
It was September 8th or 9th of 2001; right before September 11th. It was really bizarre to try to make it in the music biz – all businesses were on hold for a while.
Entertainment starts to feel ephemeral. You don't need it.
Yeah, exactly. That wears off after a little while. But I wanted to make my dreams come true down in L.A., and they did.
How did you pursue that, especially with three young daughters, at some point?
I've got a really supportive spouse [Shea]. She's never had to have a job, but I work my ass off. I took every gig I could take.
Had you made contacts with people in the music scene in Los Angeles before?
Yeah. I was working there, out of Gene's studio. I would do day work and then go in late at night and record my own projects. I was learning Pro Tools during the day, and then I'd sneak in at night with my 4-track. That's how I recorded The Novelist, which is one of my earlier records. I got my head around a lot of analog shit. They had a Studer there, so I recorded to the Studer. I dumbed my way into the hustle.
Were your solo recordings the calling card for your career?
I think that was it. It was like, "This guy seems to know what he's doing."
Did that initially lead to people having you record and produce them, or did it lead to the sideman gigs?
I dumbed my way into the sideman shit, and the producing and recording was from my solo records. I signed a record deal and a publishing deal with Polydor, I made money, and then I moved back up here. My overhead was super low, and people started asking, "Do you want to produce my record?" Some of them got good reviews, like The Mynabirds [What We Lose in the Fire We Gain in the Flood], and it worked.
Those were records you did in this studio here?
For the most part, yeah.
It's an interesting path. How did the sideman gigs happen?
I was working a lot with my buddy Eli [Thomson], who plays with Josh Tillman (Father John Misty), and my buddy Frank Lenz, who's an amazing drummer. We hustled as much as we possibly could. My solo music was doing really well. As soon as I made money, I said, "I'm not spending a dime of this in California. I'm going back to where my wife grew up." Initially we were moving up to Seattle, because my buddies Yuuki [Matthews] and Casey [Foubert], who play in The Shins, were playing in my band. I thought, "I'm going to hang out with my buddies for a while." On our way to Seattle we hung out with Shea's family here, and a house came up for rent for super cheap. It's all been very serendipitous.
It does seem brilliant, to keep your overhead reasonable.
It's getting lower and lower now that I'm actually buying this place. We almost moved to Portland during The Shins days. I've done a lot of work on the new record [Heartworms]. James and I are really close friends; that's why I ended up in the band. For a while I was thinking about moving to Portland. Then I thought, "I should stay down here and buy this house for super cheap."
How do you and your wife work around the times when you are knee-deep in a session here?
The good thing is we'll cook a lot of meals together. We try to make it as homey as possible. If people come here, we're going to eat chicken or duck eggs from somebody that I know. We've had chickens. We're going to have ducks this year. We raise pigs, and I've butchered them, so our freezer's full of straight-up local shit that you'd pay a lot of money for in Portland. There's something about being here. Maybe it's the comfort of being able to roll out of bed and see my wife and kids, and remember what they look like.
People want to come to a fairly remote town in the middle of Oregon and work with you. I think that's fascinating.
Exactly. If I've got Lucius, and Nathaniel Rateliff, and Houndmouth coming here, part of it is that there's a charm to this "small town life." I know tons of people by their first names, whether it's a bartender, our mailman, or whomever. The big city folks come here and it's a bit of a cave. They can be away from Babylon; be away from Trump.
Where do people stay, say when a band like Lucius comes out?
I think they Airbnb'd. Close friends of mine will stay out in the cabin [next to the studio]. For instance Sonny Smith [Sonny and The Sunsets] will stay out there. David Bazan will stay out there. My friend Stacy also has a tiny cabin behind her house.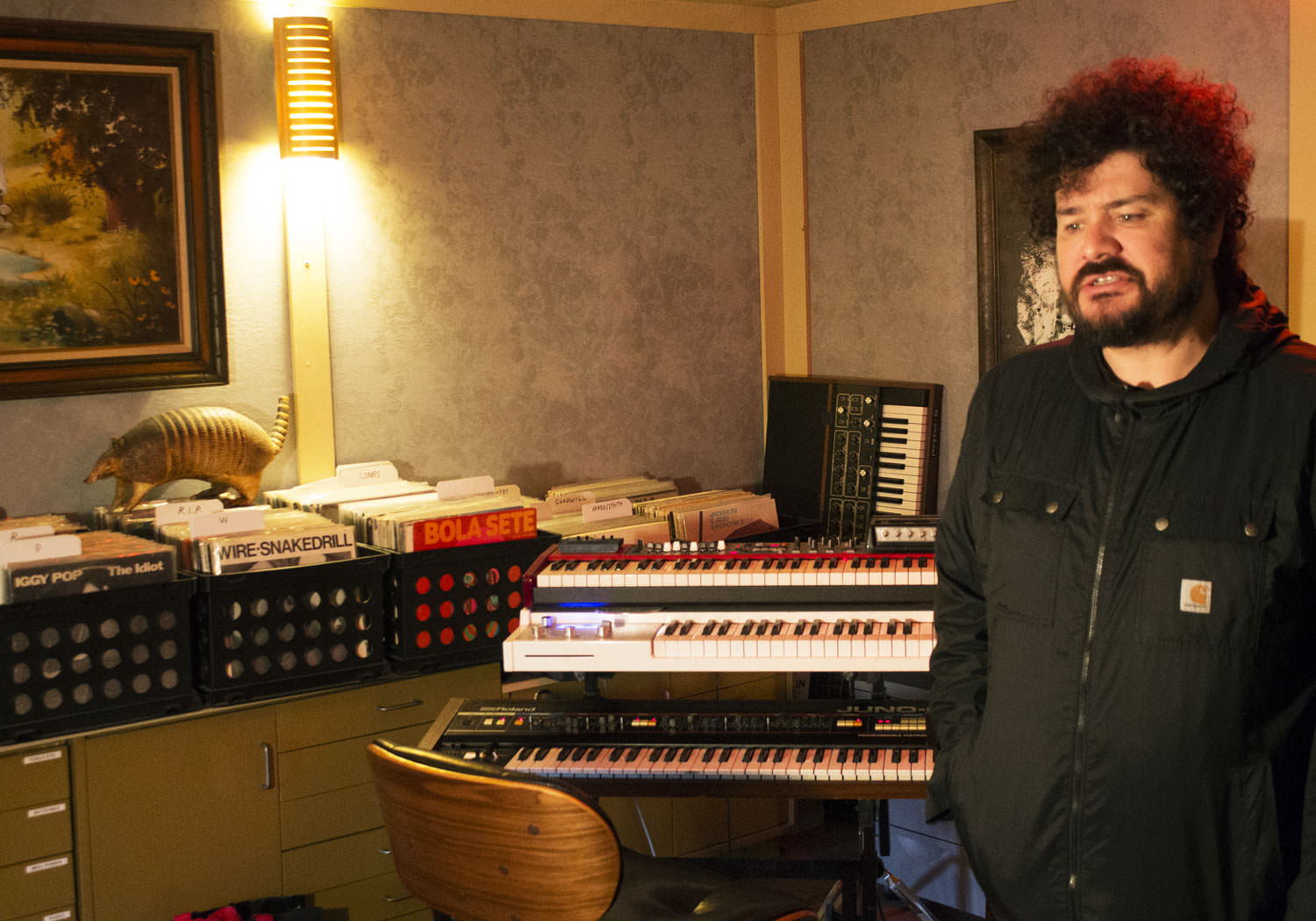 Do people in town notice that there's an indie rock band visiting?
Yeah, certainly. "Oh, some well-dressed people in town. Okay."
Like Lucius, for sure. What did the studio originate with here?
All this gear is obviously mine. The guy that was in here earlier, ten years ago, had a Mackie board and some Mackie speakers. We partnered up for maybe six months, but shit fell apart between he and my sister. It was like, "Okay, I'm moving all my pianos and all of my gear in here." It's been a process. The Studer console, which I'm selling, is the most money I've spent in the studio. I've been fortunate that people have given me a lot of the gear you see in here. I got an organ through The Shins. It's been this weird, organic process.
Do you ever get local musicians wanting to know if they can use the space?
Yeah. I don't record local musicians. If anything, I'm trying to take time off. I've learned how to say, "No."
I imagine that between touring and producing records, you end up with a full schedule.
That's the thing. I've been on tour for 21 years. Seven of those years were absolutely non-stop. In between tours I'd have three weeks, and I'd book a session for 19 of those days. I got used to working and working. Now I'm like, "Shit man, I want to take a couple of days off and watch some survival TV shows."
When you get an inquiry, is it understood that you're going to be playing on songs, in most cases?
It all depends. I enjoy working as a straight-up engineer sometimes, and then sometimes I'm playing everything on the record. If a band comes to me, and they send me their demos, I say, "Maybe I should just mix this shit for you, because this sounds really good." I've talked myself out of jobs before. I just mixed some tracks for Walter Martin, from The Walkmen. He came here and we recorded two or three songs. Then he played me some demos, and I said, "Dude, these demos sound awesome! Maybe I should just mix your demos." I could get more money recording them, but to me it's like, "I like what you're saying already. Let me mix that!" Talking myself out of work, essentially.
Do you have management that funnel jobs to you?
I've gone through a couple, and I'm really, really happy with my management now; Adam Katz [of Next Wave Management]. He manages Chris Walla [Tape Op #19, #111] and many others. Adam is awesome. But a lot of the work I get comes directly to me.
Like David Bazan, or such?
Yeah, exactly. Bazan, Damien [Jurado], Lucius, Houndmouth, or Rateliff; all those people come directly to me, but it's great to have proper management. I worked on the last Pretenders record [Alone].
Right, I was going to ask about that!
Chrissie Hynde is a good friend of mine. We email every week.
How did the Chrissie Hynde sessions come about? Was that through Dan Auerbach [producer of Alone]?
Yeah. Dan said, "You've got to play drums on this." We were doing a lot of The Arcs [a band with Dan, Richard, Leon Michels, and others] at the time. It was Dan, Leon, Chrissie, and I. Chrissie and I totally hit it off on that session. I played a lot of instruments, and I had a lot to do with that record. We finished with the record four or five days earlier than we expected, and I got laryngitis and lost my voice. I ended up singing background vocals with a lost voice on a Lee Fields record. Dan Auerbach and I have done quite a few records together. He's actually working on a Shannon and The Clams record right now; I wrote two or three songs on her new record, and we did some work together while I was out there.
Were you doing those at Dan's Easy Eye Sound in Nashville?
Yeah. It's the only other place I want to record. It's beautiful. It's a little more put together than here.
Your studio's kind of chaotic. I'm not saying that in a bad way!
Yeah. No, I know. Trust me, it's actually cleaner in here than it's been for a while.
I love that it looks like a record store on the left side of the control room.
People come in and we'll listen to records for an hour, and then we'll start recording. Recording is obviously the end product, but if we get a song or two done a day, that's pretty good. I want it to be as comfortable and lived-in as possible. It should always feel like a home studio – like you're in my garage recording and not on the clock.
How do you work out the timing of your days with sessions here?
We'll start around noon-ish, one-ish, go for a walk, get some Mexican food; whatever it might be. It's still pretty loose. I worked with Born Ruffians, and we were only supposed to do five songs in ten days. We ended up doing nine or ten songs – we got a full record done.
You seem to have your own pace and style of working. Do you find sometimes someone comes in to work with you and has a different idea about how things are going to proceed?
Yeah, there was one record I won't mention. That was the only time that I have ever butted heads. Other than that, it's always worked out really well.
Do you ever find yourself working on sessions where it seems things are taking too long?
Not really. There have been a couple records where it's like, "Really? You want to record for a whole month? Just give me ten to fourteen days, or something." With a band, that's like, "You guys should know your songs. Let me put up microphones." For the most part, I've been pretty fortunate, in terms of time. I try to pace myself. Do you know Mark Neill [Tape Op #29] at all?
We interviewed him a long time ago.
That guy is fucking legit. I talk to him once a week, and he'll talk my fucking ear off. He's a badass. Dan's modeled his studio after Mark's "thing." Mark was buying vintage gear because it was cheap, not because it was cool.
He's learned all the techniques, too.
That's the other thing about Mark. I'm a dummy when it comes to technical shit, but Mark's all about it. Like the dbx 165A [compressor] that I got on a whim, Mark said, "Oh, yeah, I've been using those for years." I started using it on the bottom snare, which is great. I do a three-mic technique on the drums. I used to only do a single overhead on a lot of the records that I recorded. Then I thought, "I want some more boom-tat on this shit." I said, "What about a kick mic?" I bought one of those CAD Drum Mic Packs for $200. It sounds awesome! It comes with seven mics.
The studio feels so casual here.
Exactly. I'd rather have this place, which is thoroughly straight-up lived in. All these other places, nobody's fucking living in there. They show up and clock in.
"Where do you put your beer?"
Where do you spill your beer? I'd rather be in a yurt with a 4-track. It's funny, because people like you and I perpetuate the myth, in a certain way, but it's also, "There is no myth! There's no curtain!"
Your gear choices are interesting.
At the end of the day, I love Tascam. I think it's a weird Freudian thing, because I learned on that! Whether it's Foxygen or Tahiti 80, I'm bouncing down to 4-track cassette.
You mix down to that?
Oh, yeah.
The whole mix?
Yeah, the stereo mix.
Really? No way.
Yeah. Like that Foxygen record, Tahiti 80, and the new Jonathan Rado record, who's in Foxygen.
But you mix the record out of Pro Tools, through the console, to the 4-track?
Yeah. Out of the headphone mix into the 4-track. Super un-pro. Then I send it to mastering.
The cassette?
Yeah.
Who has to deal with that?
TW Walsh and Christopher Colbert.
It's crazy to mix to cassette.
It sounds great though! The high-end gets round.
But you lose everything above 16 kHz.
Yeah.
Do you say, "I want to do this," and show the artist what the differences would be?
Oh, yeah. Normally they're really happy with it. We'll record it to my Black Lion Mod [Digi 003r], and then dump it to 4-track cassette. The work efficiency is so on top of it. We can put down any idea, and it hits tape at some point. There are no rules – you've got to serve the song. If you're an actual fan of music, then it's like, "Oh, shit!" If people try to remix any of my mixes, which never goes well, they're like, "What the fuck? It's so distorted! How come your rough mix doesn't sound so distorted?" It gives me more headroom, or something. I'm pushing it hard. I've got two compressors, an EQ, and a lo-fier. People in Nashville fucking hate me. "Do you not know what you're doing?" It sounds good in my room though.
If you're producing and playing some of the instruments, do you think about the songs defining the textures and the sounds?
As soon as I hear music, I see it as colors, as shapes, or with certain amounts of warmth. I can see it before I can hear it. It's like, "This needs to be well-rounded," or, "This needs tremolo guitar." So far it's worked out for me.
People get obsessed with recording equipment, but when I walk into a place like this I see instruments.
Exactly. Really good instruments. I don't have a huge guitar collection, but the guitars I do have are fucking badass. Some of them are super shitty too. I've got this [Fender] Squier fake Jaguar. I've got a '63 [Fender] Mustang bass that I got from Dan. I've got lots of old keyboards. My next move is to get a proper [Hammond] B3. That's why I'm selling the Studer console. Mark Neill's going to get me two channels of Studer preamps. I only need one or two channels of it.
Do you find it's more productive to buy instruments instead of recording equipment, or is it a little bit of both?
I've always tithed to the studio. I've always put a certain percentage of the budget back in. I'm pretty guilt-free.
As a sideman or a producer, you can be talented yourself and have your own projects and records, but also you need to be able to sublimate into a band, a project, or a recording session.
I feel pretty fortunate. I've had fans of mine bust my balls, like, "What the fuck are you doing being in The Shins or The Black Keys?" I reply, "I'm paying the bills." And guess what? James Mercer is a really fucking talented guy. Dan Auerbach and Patrick Carney, these guys are really fucking talented. I won't suffer a fool. There have only been a few people who have tried to bust my balls about it personally. I don't know what it is online.
A fan might also think your solo records make you a living.
Which is not the case.
It could have done better, maybe 15 years ago, but now it's really tough.
Yeah, exactly. Don't fucking bust my balls for being in these pretty big bands that actually still sell records. Not only that, but they're really talented, great people.
Do you have any advice to someone wanting to put their own studio together?
Advice? I think that the only advice I can give is out of personal experience. Keep it simple. Listen to a bunch of records. I think that's the most important thing. Listen and serve. My buddy Leon [Michels], who plays in The Arcs, is one of the best musicians that I know. He runs this label called Big Crown, out of upstate New York. I constantly say to him, "Don't get greedy, man. Fucking roll with it. Record the music that you love. Keep your overhead low." It's all like math, basically. I think that half of what we do as engineers and producers is psychology. I think that moving every year of my life forced me to make friends at school every year. I figured out how to become friends with people. I think that's half of what we do. I think that being able to make friends with a new band, and hopefully help them have a really great musical and life experience, is more the goal than making a hit record.
It's determined by other factors.
That are totally out of your control. What you can control are knobs, faders, and being a nice person. I think it's listening to music, as well as listening to people and their ideas. Being open. I think, also, as much as you can, it's [about] being egoless. I definitely have a certain sound, or you might have a certain sound. But that comes from whatever information we've gotten. Our musical tastes. You're going to connect with that person, for the most part, because of your record collection.
Richard Swift Playlist on Spotify
Tape Op is a bi-monthly magazine devoted to the art of record making.