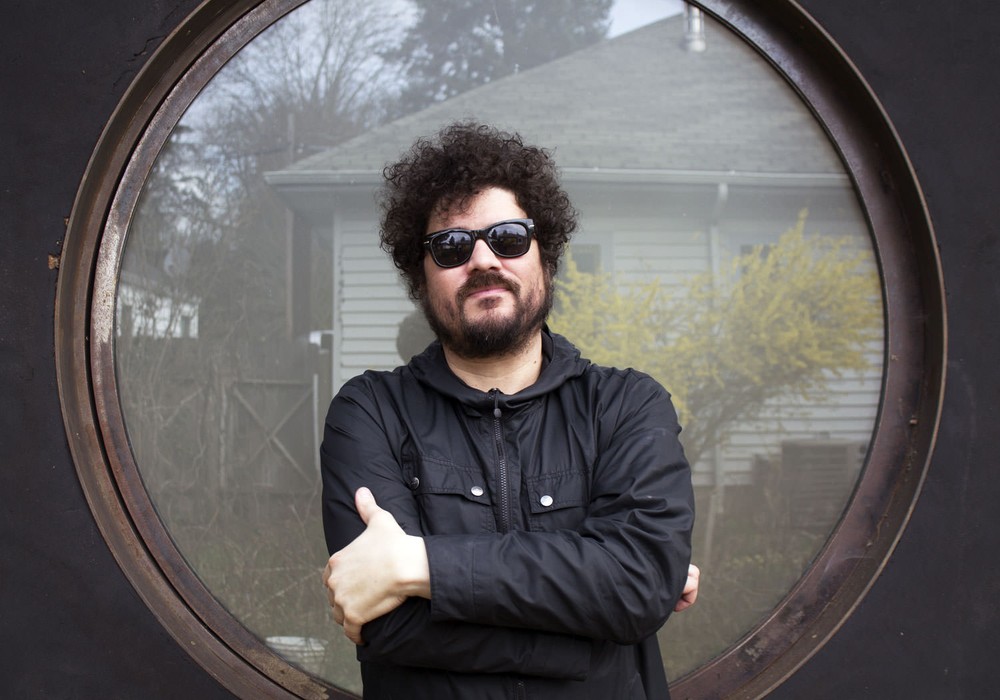 "What you can control are knobs, faders, and being a nice person."
For ten years Richard Swift's been luring the hippest of indie rock bands to Cottage Grove, in the middle of Oregon, to work with him at his National Freedom Studio in his backyard. In a career that started with solo albums made during L.A. studio off hours, as well as on the road as a sideman for The Shins [Tape Op #39], The Black Keys, Fruit Bats, and others, he's proven to be an asset to many artists. Damien Jurado, Lucius, David Bazan, Valerie June, Foxygen, The Pretenders, Nathaniel Rateliff, The Mynabirds, Ray LaMontagne, Cayucas, and Guster are among the many who've sought his expertise in the studio. I was curious to meet this songwriter, singer, multi-instrumenatlist, producer, and engineer in person, so after a two hour drive down from Portland we had lunch and a wonderful chat.
Where did you grow up?
I grew up in Minnesota. I moved out here when I was 16 or 17. My stepdad and my mom, when she was alive, moved almost every year, and we ended up moving out here. They were on a road trip from California to Minnesota and stopped here. They made some friends and said, "We're moving to Cottage Grove, Oregon." I was like, "Orygone? Where in the heck is that?" Funny enough, they thought that I had some promise as a musician. "Maybe it'd be better for us to be on the West Coast." But in the middle of nowhere on the West Coast? Okay. We moved out here, I met my wife's brother, and then met my wife. I got married at 20 and had three kids by the time I was 25.
How did you teach yourself recording?
My older stepbrother, Kevin, had a 4-track. I must have been ten or eleven. I was like, "I can add a vocal on top of this other vocal?" Once you see behind the curtain, you tend to get obsessed with it if you're the right person. That's what happened with me.
Did you study a lot of instruments when you were young? You play quite a few.
Not really. I play anything you'd need to make a record. It came naturally.
Was your family musical?
No. My parents didn't even really listen to music. I didn't grow up in an artistic family, or anything like that. My dad, who I'm really close to, listened to a lot of oldies – he had all these old cars and we'd drive around Southern California.
What inspired you to start recording?
When I turned 15 and I moved here, I had this buddy, Greg [Lawless], who was in a band called Adam Again. I don't even know how to explain them, but they were a big influence on me. He was a mailman in town, but he was also in this Christian rock band. Our buddy, Gene [Eugene], owned the studio [The Green Room, in Huntington Beach, CA] that I recorded my first record in. They were big heroes. He turned me on to Leonard Cohen, Bob Dylan, and Sly and the Family Stone. It really changed my life. The first time that I ever really recorded music was here in this space. The studio used to be upstairs. I was working with Greg. My sister passed away, but her ex-husband borrowed money from my parents and built this place out. I've been working out of this studio for 15 years now, but in different incarnations.
I didn't even think there would be an upstairs.
Two of my kids live upstairs, actually.
This is a building behind your home.
It's ten feet away. I need to show you the cabin next door that I designed. My buddy Chris built it. I've got a serious history here. It is a bit of a compound.
When did you move to L.A.?
It was September 8th or 9th of 2001; right before September 11th. It was really bizarre to try to make it in the music biz – all businesses were on hold for a while.
Entertainment starts to feel ephemeral. You don't need it.
Yeah, exactly. That wears off after a little while. But I wanted to make my dreams come true down in L.A., and they did.
How did you pursue that, especially with three young daughters, at some point?
I've got a really supportive spouse [Shea]. She's never had to have a job, but I work my ass off. I took every gig I could take.
Had you made contacts with people in the music scene in Los Angeles before?
Yeah. I was working there, out of Gene's studio. I would do day work and then go in late at night and record my own projects. I was learning Pro Tools during the day, and then I'd sneak in at night with my 4-track. That's how I recorded The Novelist, which is one of my earlier records. I got my head around a lot of analog shit. They had a Studer there, so I recorded to the Studer....
The rest of this article is only available with a Basic or Premium subscription, or by purchasing back issue #120. For an upcoming year's free subscription, and our current issue on PDF...