It's a snowy March morning, and I'm enroute to Corpus Studios in Queens to hang with Arthur Rizk. Arthur's driven up from Philadelphia to chat before he works live sound at the Bowery Ballroom. He was up late mixing, but seems genuinely happy to catch up with the Corpus studio family, who he's been working with on the upcoming Show Me The Body album. With a production style rooted in classic hard rock techniques and deft use of textural sound design, Arthur has quietly become the go-to producer for left of center heavy music in the 2020s. From his home base in Philly to studios around the globe, he's welded his parallel pedal mayhem for the likes of Ghostemane, Kreator, Power Trip, and Cavalera Conspiracy. He's also an emerging king of traditional heavy metal with his own bands Eternal Champion and Sumerlands. We spoke under the glow of Corpus' lovely Berlant tube preamps about bringing calm to chaos, while also working hard to keep the party going.
Feature Photo Jaclyn Wollard
How did growing up Lebanese in Pennsylvania inform your musical journey?
My parents encoded me with the music and legends of Lebanese singers Fairuz and Farid al-Atrash, and both had a deep sense of melancholy. al-Atrash's younger and more famous sister Asmahan [Amal al-Atrash] was killed under dubious circumstances, and that really affected me as a kid. Fairuz's career was held hostage by her husband and his brother, aka the Rahbani brothers [Assi and Mansour], and that despair came through in her music. I would also space out in the pews at church and take in the medieval and Dorian modes of Catholic hymns. When you put that on paper, it's basically heavy metal. My work ethic comes from my parents. They took a huge gamble to open a Lebanese deli in Easton, PA, at a time when ethnic food was far from popular in our area. They worked their asses off for me and I always echo that mentality, even if at my core I just want to have fun.
Did you go to school for recording?
I had so many bad experiences recording in bands that I took classes at community college to learn enough to avoid going back to studios. I later attended the audio program at Temple University, but it was difficult to absorb that hands-off knowledge without going through the wringer at a studio. At that time, I was more focused on being creative than learning anything technical. Now, I go back and read those textbooks and try to up the ante a little bit each day.
War Hungry Reunion Angela Owens
How did recording the self-titled War Hungry album with Will Yip come about?
War Hungry were friends of mine from college, and I joined them when they needed a guitar player. Will was a semester ahead of me and was recording Title Fight at Studio 4 [owned by the Butcher Brothers, Phil and Joe Nicolo]. They told us that Will had been recording hardcore bands there on a Neve 8048 [console] for cheap. So, when Title Fight came to record with Will in Studio A, I would be in Studio B making sound design for our record.
What did you learn from working with Will?
I would always ask him, "Why are we doing this?" Or, "Can we try this?" and he would take the time to explain everything. He was open to mentoring and taking my calls, which can be rare in this industry. I was always pushing him to do crazy stuff on our records, and that's how he knew I could be a great producer. He also taught me that volunteering your time to other engineers in the studio is the quickest way to rise up. Since then, he's mixed a number of projects that I tracked, and we worked on Code Orange's Forever together.
How did you begin acquiring your first production credits?
I started to travel to people's rehearsal places with a $100 Carvin mixing board and worked tirelessly with any bands who were playing shows. My friends and I then moved into a rowhouse near downtown Philly that we called the Mansion, and I had a bedroom studio on the fourth floor named Solomon's Gate. It was a four-story building, with tall ceilings, eight bedrooms, a hot tub, and disco balls. It may have been a former coke mansion. [laughs]
Blake Ibanez from Power Trip seemed quite taken aback by his first visit there.
Recording their first album, Manifest Decimation, at the Mansion was so fun, because I was using such cheap limited equipment and we spent most of our time pushing each other to the max. We taped microphones to the ceiling because I wanted the snare to sound like the first Metal Church album [Metal Church]. I was chaining together ancient Sunn mixers, ART reverbs, and cheap, live sound dbx compressors up across four floors, and it was pure chaos. But somehow, when all the faders were up, it sounded exactly how I imagined it. Over the next year, we took it to the next level with sound design, touching up parts, and learning what it took to do a full-length record for a real band, on a real label.
That album found its way to Max and Iggor Cavalera [ex-Sepultura], and led to you producing Psychosis for their group, Cavalera Conspiracy.
Yes, I was drum tech-ing for Iggor in 2016 for the Return to the Roots tour, and they were both blown away by an unfinished copy of Power Trip's Nightmare Logic. After the tour, they invited me to Arizona to work on the new album at The Platinum Underground studio in Mesa. The demos they gave me were insane, and everything was so raw, but these classic Max Cavalera riffs would keep popping up. I was like a kid in the candy store, picking out my favorites and organizing them in the studio with the guys. We would take these reassembled riffs, and record Iggor right there in the studio, adding transitions and noise. I went to Max's house before we started recording, and we sat and talked for hours. Getting to know a band that you're recording is probably the most important thing a producer can do. Knowing what their favorite all-time and current records are, trying to understand where the parallel is, and using it for inspiration when we hit a rut. Luckily for me, for most of the records I've done, the references are all ones I know and love.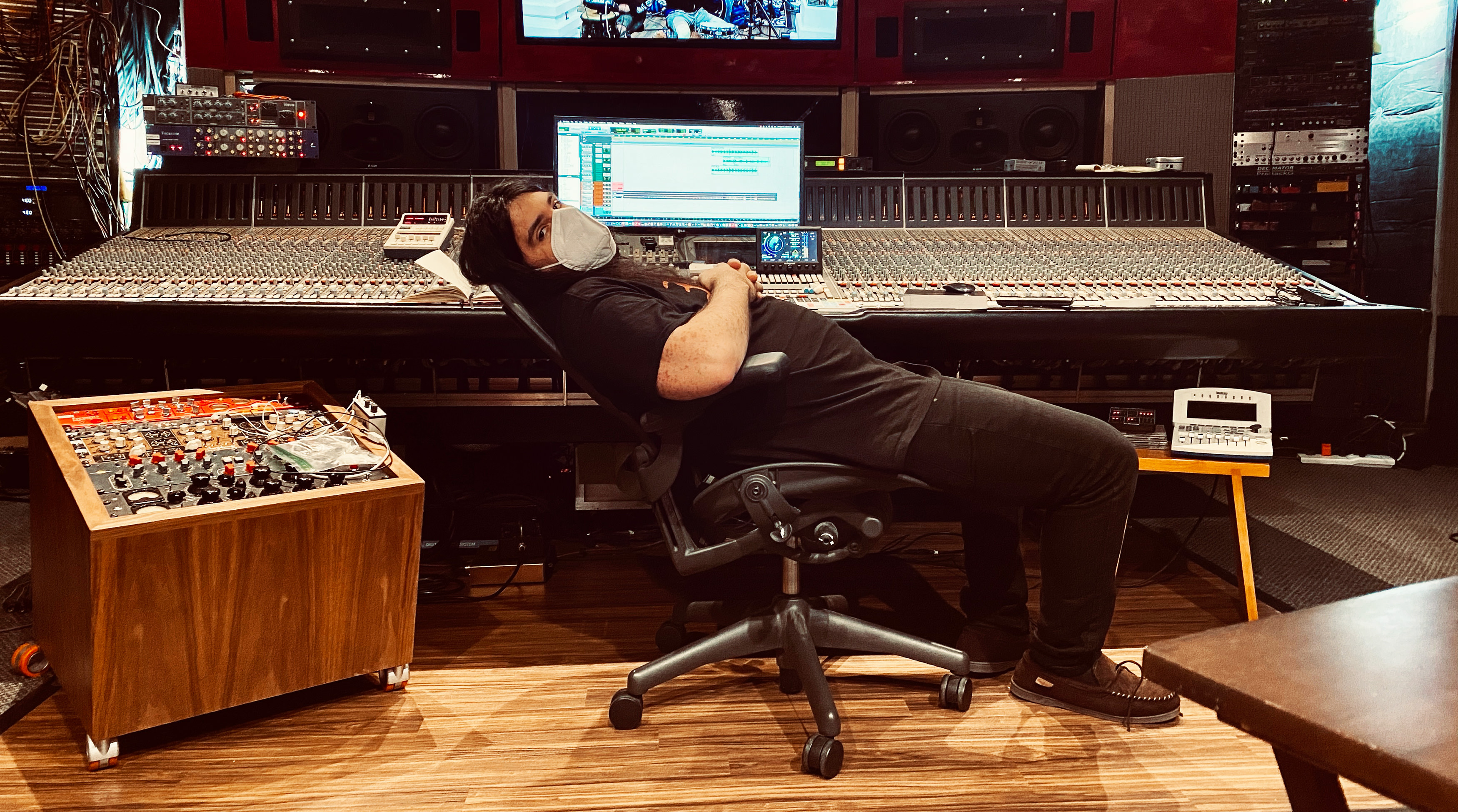 John Aquilino
Speaking of parallels, didn't you sit in on Ross Robinson [Tape Op #79] producing Sepultura's The Mediator Between Head and Hands Must Be the Heart in 2013?
I was recording another band in L.A., and my friend Andrew Kline [Strife] invited me to Ross' studio where he was recording Sepultura. I would sit in the back and whisper to Andrew, "Yo, that EQ is $5,000." Ross would turn around in the middle of mixing and say, "Oh, you mean the Pultec?" He'd be on the floor switching up guitar pedals in between takes and running sounds parallel through different chains. There's no big setup, it's just him on the floor playing like a kid, and there are his gold records on the wall. I'm thinking to myself, "This guy pioneered a whole genre of music. If he can do it and have it turn out so sick, why can't I?"
Is this where you discovered parallel processing?
Yes. "Parallel crappening" it's been called. After seeing what Ross was doing, I started running two amps. One amp will be a clear, buttoned-up "proper tone," and the other one (often a Peavey Rage) is all depth and sonic dog crap. I'll fuse them with an ART digital rack reverb and different combos of chorus and delay. Those two signals will go up and down in the mix, or stay all together; whatever works. Finding the balance of good and evil is what gives personality to the tones.
How did you hook up with Ghostemane for the N/O/I/S/E album?
Fast forward a few years, and I was playing in L.A. with my band, Sumerlands. Eric [Whitney, aka Ghostemane] reached out to have dinner, and we hit it off. The first thing he sent me to work on was a single that Travis Barker drummed on. It was only a 0:30 section, but afterwards he asked me to mix the whole record. I went out to his place in L.A., and we recorded the entire N/O/I/S/E album in three days. We were on the same wavelength immediately, and it turned out to be a huge album. It was his breakthrough into heavier music scenes beyond SoundCloud rap, because of the genre-bending of hardcore, rap, noise, and industrial. That album was a massive success, but in a way he's still unknown and cult. I learned that it's possible to do a successful record with almost no gear. Everything was tracked with a single [Shure] SM57 and mixed in a little rehearsal studio on KRK Rokit 5 monitors, and yet we had millions of listeners almost immediately.
That must have given you a huge boost.
This is important. He could have just given me a lump sum of money and been done with me. But he also said, "Please get a lawyer, get a manager, and have them act on your behalf. I want you to get paid whatever you deserve, because I appreciate you. And I want to continue to work with you." That was more valuable than any amount of money, and it gave me more confidence in my producing abilities. We worked 16 hours one day and walked outside, wondering what had just happened. We were having so much fun. He'd do six takes of hyper-fast rapping. It would all line up perfectly, without any [Synchro Arts] VocAlign-ing. He would nail the first take every single time. At some point, he said, "Okay, so you're my producer now," which in rap music usually means that I would be writing the music. With Eric, that's not the case. It's mostly adding textures or arrangement ideas, but he's reached out to me for almost every project since then.
Did the success of N/O/I/S/E pave the way for working with Ross Robinson on Anti-Icon?
When Eric was touring for N/O/I/S/E, he brought me to L.A. to do live sound for some big shows. I happened to see Ross at a gig by the side of the stage, and ran up to Eric saying, "Look, that's the guy who did Korn'and Slipknot. He's the godfather of Nü Metal!" I was so excited. I re-introduced myself to Ross and told Eric how amazing it would be for the three of us to work together. So, I brought Ross into the fold in a way, because I wanted to work with him. In these situations, people tend to focus on the money side of it, but I think if you want a record to stand the test of time you need people pushing and pulling each other. We were a team, and Ross pushed Eric to do things vocally that I wouldn't have thought of. Plus, he had great stories, like telling Robert Smith from The Cure to back away eight feet from the microphone because his voice is so powerful that it would overload the mic!
You recently mixed the Glitterer album, Life Is Not A Lesson, for ANTI- Records. What are some other non-metal projects that you're proud of?
Pissed Jeans' Why Love Now stands out in that realm. I love that record, and I love those guys. They come from the Lehigh Valley [in Pennsylvania] and I looked up to them as a teen. When they asked me to work on the record, it meant everything to me because they trusted me with it. Also, it was cool to walk in the footsteps of their previous producer, Alex Newport [Tape Op #53], who played in the legendary Nailbomb and is a killer producer in general. When they worked with me, it was all fun and games. Lydia Lunch co-produced and told borderline sociopathic stories, which created great vibes. So, that's a party. People forget that vibe in the studio is a massive, massive thing and it bleeds through onto the record.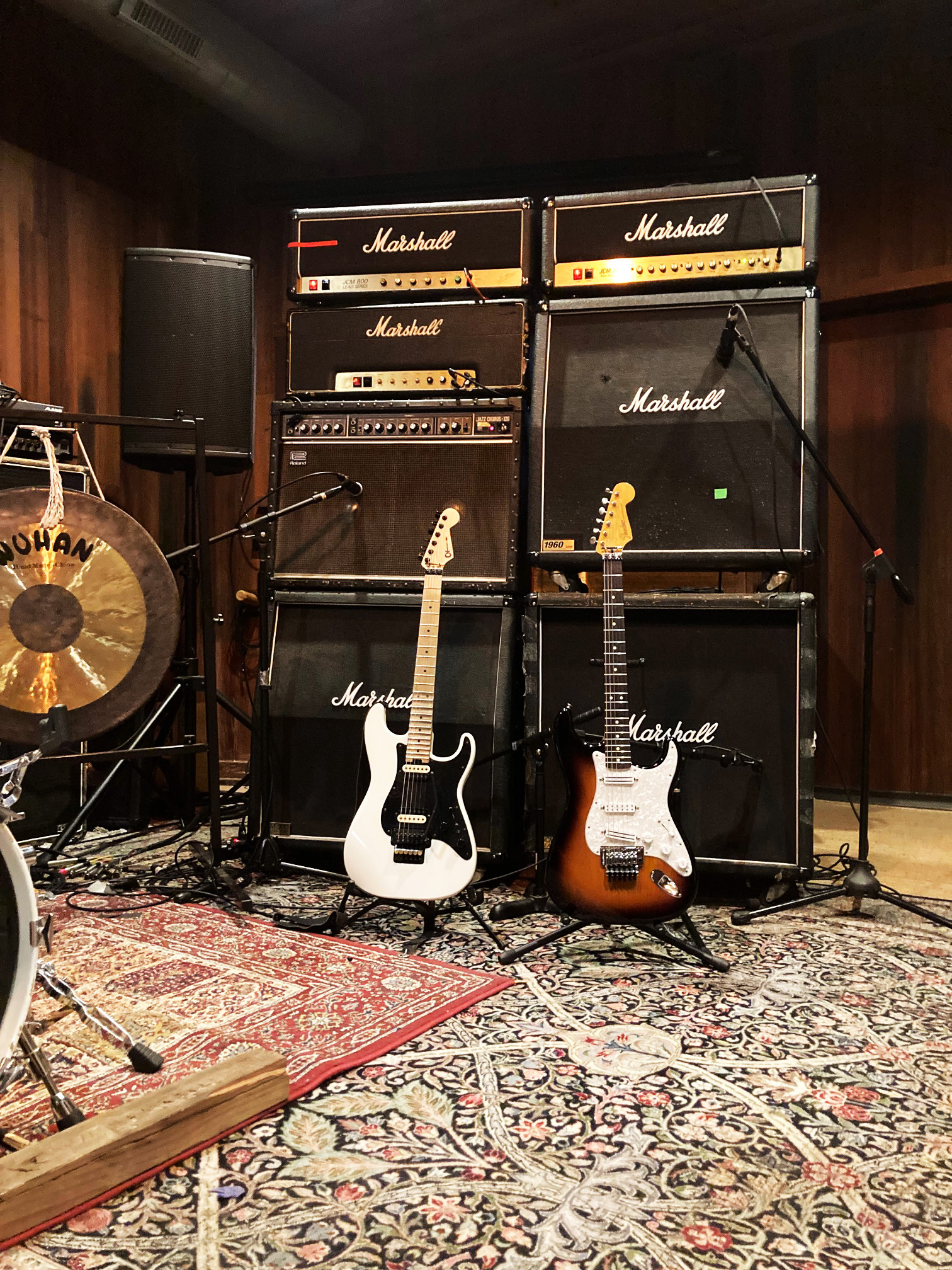 John Powers
This past fall you recorded the latest Kreator album, Hate Über Alles, at the historic Hansa Tonstudio [Tape Op #95] in Berlin. What was that like?
Being around so much vintage gear in that facility made me dizzy. We used every minute to explore every cool thing there from the '70s and '80s, like using the hallway to record snare for certain passages or sampling a Linn drum and putting it in sound design in the mix. They had the same Yamaha DX7 that Depeche Mode used, and the piano that David Bowie used on "Heroes". We all looked at each other and said, "Let's use this stuff!" We would utilize the piano abstractly for a horror movie-style sound design intro, as opposed to, "Let's write a nice piano section for this thrash opus." We were trying these insanely expensive Neumann mics for kick drum mics, because Hansa has almost exclusively vintage gear from the '80s or earlier. So, we put these $10,000 Neumanns on the kicks and it started to sound like Elton John, and not in a good way. Our drum set up was worth more than my house! We scaled it back a little bit. We didn't want to get too immersed in the vintage thing, because it's not always appropriate for a recording. Although, as Mille [Petrozza] mentioned, we did consult the Ennio Morricone article I brought, and we utilized their vintage gear to recreate that sound. I love Morricone.
Were you surprised Mille trusted you to work privately on your textures and sound design for the album?
He appreciated the genre-bending aspects of Ghostemane, and the way that Unto Others incorporates elements of The Cure and The Sisters of Mercy into their metal foundation. He was always drawing parallels where he felt my production work with Ghostemane could translate to a band like Kreator, who have always been experimental in their own way.
Mille also mentioned using the studio as its own instrument.
For the basic tracks, I proposed we give it the Rick Rubin treatment: Huge, but not the modern "in your face" style. When I push the faders up, I want to feel some excitement and air. Rick was a big fan of AC/DC's Back in Black and he applied that production to all of those classic records, from Slayer to the Beastie Boys. In that spirit, I started walking around the Meistersaal [concert hall in the Hansa Tonstudio] and hitting the snare drum until I felt the sweet spot. Then I put the snare down and built the whole kit around it. Modern production is great, but we need to find the right balance, or it will suck the life out of our recordings.
Tell me about your love of the chorus effect.
I'm currently obsessed with Jim Steinman's work on the Meatloaf records, where he was making grandiose, Broadway musical-style rock. Jim has spoken about the era leading up to Phil Spector's work, where you can "see the band" in your head as you hear them playing. The bass player is set up here, the vocals are coming from here, and when you close your eyes, you can see that. With Phil Spector, and his "wall of sound," that visual goes away because you're literally hearing a wall: Two drummers, two bass players, and a massive orchestra. That, to me, is true chorus.
Jaci Wollard
How does that manifest itself in your productions?
I'm always doubling vocals and mixing a chorused guitar signal, parallel to the original. I'll even put chorus on bass, because it sounds like it's coming from everywhere. When we recorded Power Trip's Nightmare Logic, Blake Ibanez first recorded the bass with a focus on the rhythm guitars. Then we added another bass track that was more grooving with the drums. We sidechained the original take with the guitars, so they are compressing that bass track, and, in tandem, it filled out the whole spectrum and served many purposes. I have over a dozen choruses, but one of my favorites is the TC Electronic June-60 which is a recreation of the Roland JUNO-60's onboard chorus effect. Another pedal I love is the Boss CE-2w Waza Craft Chorus. It's based on the original Boss CH-1 [Super] Chorus pedal, which was used by The Cure and The Smiths.
Like many during the pandemic, you suffered some devastating losses during the past few years. How do you push forward and stay engaged?
There's no right answer for that. Riley [Gale]'s passing, the singer from Power Trip, came out of nowhere, and when I got the call that he was gone I was working on my own band's record [Sumerlands]. Then, another one of my best friends, Wade [Allison], passed away two weeks later. We had all been sending demos back and forth, and when I would finish a mix I'd think, "I wish Wade could hear this." I stopped wanting to work on my own music for a long time, and even stopped doing interviews. Because when it would come up, it was just too real. But, as George Harrison said, "All things must pass," and I know those guys would not want me to stop what I'm doing. Well, maybe Riley would've wanted me to. [smiles]
Back in the Corpus lounge, Arthur and studio manager Harlan Steed are dialing up a song from the upcoming Show Me The Body release. Mr. Steed's modular synths blast, banjo feedback holds an ostinato, while Living Colour's Will Calhoun contributes a ripping timbale solo. It sounds simultaneously confrontational, experimental, and huge. Arthur offers a ride back to the subway, and we crank a Mexican '80s thrash cassette. He recently mixed Paul Riedl's Ambient Mixtape Vol.4 and has that in his side door compartment. Paul and some of his Blood Incantation bandmates will soon be driving from Denver to Philly to record a Spectral Voice album with Arthur. He needs to push off to work that live sound gig for Iceage tonight, but I wish we could talk about Exhorder for another hour. Our time together was tight and structured, but it also felt like a party and a celebration of music. And when it's true, that always bleeds through.

Tape Op is a bi-monthly magazine devoted to the art of record making.