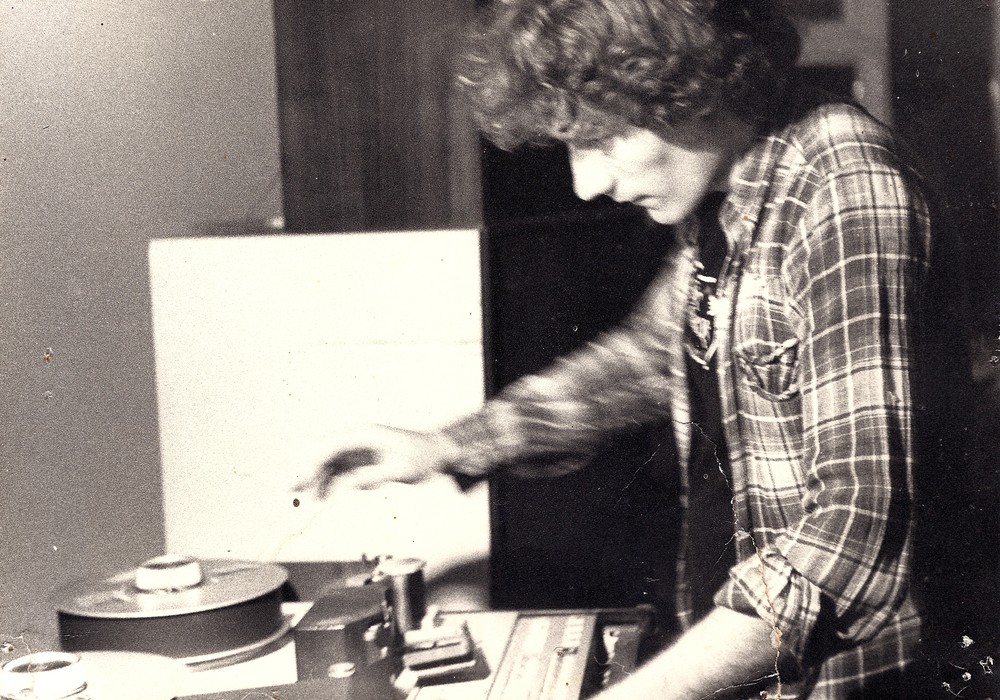 We interviewed Phill Brown in issue #12 of Tape Op. Over the years he's worked with some of the greatest artists ever, like Jimi Hendrix, Joe Cocker, Traffic, Spooky Tooth, Jeff Beck, Led Zeppelin, Robert Palmer, Bob Marley, Steve Winwood, Harry Nilsson, Roxy Music, Stomu Yamash'ta, John Martyn, Little Feat, Atomic Rooster, and Talk Talk. This is an excerpt from his book, Are We Still Rolling?, and we'll be running more chapters from it in upcoming issues.
Last issue: Phill worked with Glyn Johns, Traffic, and the Small Faces.
The Rolling Stones' album Beggars Banquet was recorded over a two month period during April and June 1968 at Olympic, Studio 1:
The Stones appeared to be split into two camps. In one camp were Bill Wyman, quiet and laid back, and Charlie Watts, the perfect gentleman, always polite and friendly with a warm, dry humour. In the other camp were Mick Jagger, who although he was sharp and amusing I found distant and arrogant, and Keith Richards who came over as being very intense and aggressive. Brian Jones struggled between these two partnerships, having what appeared to be a difficult time. He often looked wasted on drugs or alcohol, but was usually friendly and easy going. He had been trying over the previous few months to give up various drugs including marijuana and LSD. It was rumored that Brian was swallowing speed and drinking two bottles of scotch a day. He appeared by far the most talented of all the members of the band and could play multiple instruments — sitar, marimba, sax, harmonica and wonderful slide guitar. Although he had originally led the Stones, it was clear that he had been demoted and Jagger and Richards rarely appeared to listen to what he had to say. Over the years, it has been suggested by writers that he was suffering from paranoia and believed the rest of the Stones were trying to get him out of the band. I was not aware of this at the time but I did feel sorry for Brian. He was clearly in a very depressed state of mind. He spent a lot of time crouched on a low chair in his booth, hunched over his guitar which he held high on his chest. He looked as though he was having difficulty keeping up with what was going on, or even breathing properly. By contrast Jagger pranced about in a white ruffled shirt, oozing confidence. I had most contact with Bill, Charlie and Brian. They were friendly, with no ego problems and behaved just like ordinary guys. In stark contrast, I had very little communication with Jagger and Richards. Mick treated me as a lackey and I was very wary of Keith.
Charlie was set up in the permanent drum booth on the right hand side of the studio (seen from the control room), with three other booths built out of screens in the center of the room, to accommodate Mick, Keith and Bill. In the large area in front of the control room window we put the piano, the Hammond organ and a booth for Brian. This still left enough space for acoustic set-ups and overdubs. Our start time was any time after 2pm, as we had a 24-hour lock out. The set-up was Charlie — drums, Bill — bass, Brian — acoustic guitar, Keith — electric guitar, bass and percussion, and session musician Nicky Hopkins — piano and organ. Mick played various percussion instruments, the occasional acoustic guitar and sang guide vocals. Nicky was an absolute sweetheart, mellow and relaxed — a real gentleman. Jagger and Richards, along with producer Jimmy Miller, took control of the sessions for feel, approach and arrangements. Each song was first run through and rehearsed with Brian, Mick and Keith. Bill and Charlie were not usually involved until the structure of the verses and choruses had been agreed. We tried out every possibility when recording songs. "Street Fighting Man" was transferred to 8-track from a basic cassette demo of Keith's. Some songs, like "Sympathy for the Devil", went through many different styles and feels before the band settled on a final version. Because of the limited selection of studio effects then available, sounds had to be created at the source, so we tried different guitars, amps and microphones and various unusual locations in the studio building — recording overdubs for "Street Fighting Man" with Charlie playing an African tom-tom in the stairwell. When recording songs played on acoustic instruments, Glyn would use a mic set-up similar to the one he used with Traffic. The band would be in a circle on the floor...
The rest of this article is only available with a Basic or Premium subscription, or by purchasing back issue #18. For an upcoming year's free subscription, and our current issue on PDF...