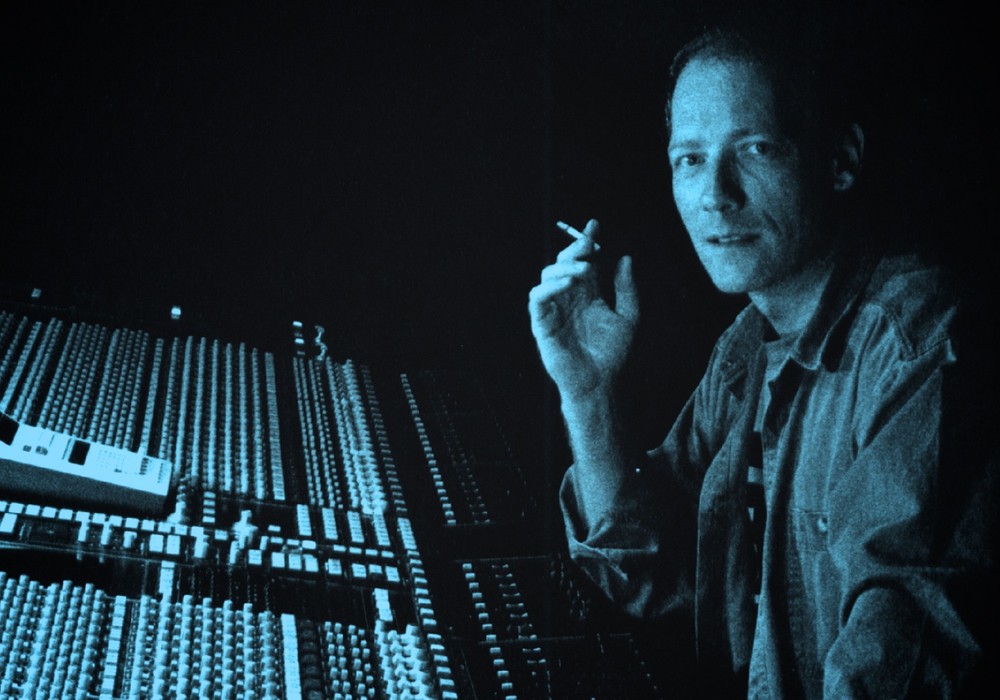 We interviewed Phill Brown in issue number 12 of Tape Op. Over the years he's worked with some of the greatest artists ever, like Jimi Hendrix, Joe Cocker, Traffic, Spooky Tooth, Jeff Beck, Led Zeppelin, Robert Palmer, Bob Marley, Steve Winwood, Harry Nilsson, Roxy Music, Stomu Yamash'ta, John Martyn, Little Feat, Atomic Rooster, and Talk Talk. This is an excerpt from his book, Are We Still Rolling?, and we'll be running more chapters from it in upcoming issues.
Last issue: Phill recounts the recording of the Rolling Stones' classic, Beggar's Banquet.
I joined the newly opened Island Studios on the 25th of June, 1970, on a wage of £25 for a 40 hour week. For the first few days I assisted Frank Owen on his sessions. This was to give me time to adjust to where everything was, to understand how the Helios desk worked and to meet the rest of the studio staff. The majority of this staff were aged between 18 and 26 years old, and were a great collection of characters. The atmosphere and working conditions appeared extremely relaxed.
Once I started to engineer on sessions, events happened very quickly. My first session at Basing Street was with Third World War, produced by John Fenton, who also wrote many of the band's lyrics. John was about 5' 10" in height, 28 years old, and was bright, speedy, and anti-establishment. He had a skin-head hair cut — a style that was extremely unfashionable in the music scene of 1970. He had made money, both from his involvement with Seltaeb (the Beatles merchandising company of the mid '60s), and from Eran Schroeder Publishing. Third World War had been formed in 1968, at the height of "flower-power", with Fenton eager to work on something he described as "new, positive and aggressive". On day one of the recording sessions, with a joint in his hand, he looked me straight in the eye and announced, "I'm fed up with all that love and peace shit and then having them massacre four at Kent State University. Look at the deaths of Janis Joplin, Brian Jones, Otis Redding and Hendrix — it's all the Rock 'n' Roll/CIA/Johnson/Vietnam conspiracy. I want a no-bullshit, working class band — I've had enough of all this pseudo-peace crap."
I thought, "Ah. Here's a calm, reasonable fellow who has a definite opinion, smokes dope, is left-field and obviously likes to control situations. This could be fun." I liked John immediately and we got on very well.
The band set up in Studio 2 with instruments all over the place. I used a selection of microphones that I was familiar with from my work in Canada. These included AKG D12, AKG 224, Neumann U87 and Shure 57. John did not believe in screening people off, so they just set up wherever they felt comfortable. The band consisted of Fred Smith — drums, Jim Avery — bass, Terry Stamp — singer and "chopper" guitar, and Mick Lieber — lead guitar. In addition there were some heavyweight session musicians including Jim Price and Bobby Keys — brass, Tony Ashton — piano, and "Speedy" — percussion. Terry, the singer and band leader, was a 15-stone lorry driver. He played the guitar by smashing the strings with his fist. The music was raw, noisy and uncomfortable to listen to, but at the same time I found it strangely addictive. The band were a real bunch of characters, dedicated to having a good time. They also, whenever possible, liked to shock. The songs they recorded had such titles as "Preaching Violence", "Shepherds Bush Cowboy", "Toe-Rag", "Ascension Day" and "Teddy Teeth Goes Sailing". I thought John's general approach, and particularly his lyrics, were excellent. With hindsight, Third World War were probably the first "punk" band — unfortunately six years too soon — but with more melody, coherent lyrics and musicianship than would have been required in the punk era.
I got into the sessions easily — I loved the material and John's attitude. There was a large amount of drink and drugs around, and the sessions went on all night. We would start at 2 PM and often work through till 6 or 7 in the morning. I would take a cab home to Hammersmith and play mono copies on my Brennel tape before sleeping and returning to the studio for 2 PM. My tape assistant, Clive Franks, fell asleep at the wheel of his car while driving home one morning and crashed. Fortunately he was unhurt, and was back at work by 2 PM — what a trooper. In a matter of days we had cut all the backing tracks for the whole album. It had a great atmosphere. The whole approach was extremely live — talking and mistakes were left in and, with the raw sound and the content of the lyrics, the overall effect was complete anarchy. With references to queens, poofters, the Monarchy's arse, unions and violence, the songs were in complete contradiction to the ethos of the times. Twenty years later they would have been described as "politically incorrect" — in the extreme.
We had recorded most of the lead vocals live at the same time as the backing tracks. For this reason there was very little overdubbing, which mostly consisted of brass and string arrangements. By the middle of August the album was overdubbed, mixed and finished, all within two weeks. At the time we all thought it would be massively successful, but unfortunately it received little or no airplay and the press didn't like it. The album all but disappeared.
At the beginning of September '70, I found work was going very well. I recorded albums with the band Axiom, and Tim Rose, both produced by Shel Talmy, followed by a couple of tracks with Mott the Hoople for their album Wildlife. With the line up of lan Hunter — piano and vocals, Mick Ralphs — guitar and vocals, Overend Watts — bass, Verden Allen — organ, Buffin — drums, and guest singer Jess Roden, we set up in Studio 2. Because of a large drum kit, 4 x 12 speaker cabinets for the guitar amplifiers and additional screens, space was at a premium. I had now progressed to using two Neumann U87s on drum overheads, to give a better stereo picture, but I still did not mic the hi-hat separately. Being new to the studio rooms I was still finding out about the possibilities for different sounds. Most sessions were fast and efficient with engineers, assistants and maintenance staff all geared up to making things run smoothly. In those days at Island studios we tended to talk in terms of making something sound "brighter", "fatter", "fuller", "more ballsy" or "less honky", and we did not talk about frequencies. It was more common to change the position or sound in the studio room and adjust microphones accordingly, rather than attempt to boost frequencies in the control room.
During the recording of the song "Lay Down", Producer Guy Stevens was so stoned he rolled off the desk riser in his chair and crashed to the floor. He was right in the middle of explaining to the band what sounds would be best to use for the backing vocals on "Lay Down". "It'll be great" he was saying, "We'll make the voices warm and lush, y, y, you know — fat, but with strength. We can get Jess [Roden] on the top line". He hardly faltered, just carried on talking, on his side, on the floor. The band and I were all in fits of laughter. It really was a great atmosphere to record in.
The studios were now working 24 hours a day, with two 12-hour sessions in both rooms. The name was now changed from Island to Basing Street Studios. During October we took on more staff, including junior engineer Tony Platt, who came from Trident Studios in St Anne's Court, Soho, and assistant engineer Jerry Russel from America. Tony and I had a very similar approach to sessions and eventually worked on many of each other's projects, including Bob Marley and the Wailers .
Sometime in December, I recorded and mixed a single for David Bowie, with some of the members of the band Blue Mink. Their bass player, Herbie Flowers, was producing. The single was called "Holy Holy", and on release was immediately banned by the BBC due to its sexual content. Unfortunately, as in the case of Third World War, this did not make it a hit. David Bowie, a pretty boy with long blonde hair, turned up at the studio wearing a silk shirt, velvet trousers and highwayman's boots. He said little on the sessions and gave off an air of haughty reserve. This project was after his "Space Oddity" hit single, but before his world-wide success with the album The Rise And Fall Of Ziggy Stardust And The Spiders From Mars. I was not particularly impressed with his performance on the "Holy Holy" single and was surprised when he shot to fame just one year later.
As December arrived I was back in Studio 2 and began working on tracks with Sly Stone. I was already a big fan of the Family Stone and had spent many a night in Toronto listening to the album Stand. Sly and his sister had just arrived in London from Germany, where he had been laying down various rhythm-box backing tracks for a new album. This was one of the first times a drum machine was used on a pop recording. In time these tracks would become the album There's A Riot Going On, featuring the hit single "Family Affair". The LP received mixed reviews, varying from "violent and controversially militant" to "having a softer, more personal feel." With Bob Potter assisting, we set up for bass guitar and keyboard overdubs in the control room. The procedure was for Sly to choose one of the many drum machine rhythm tracks and try out ideas on Hammond, Farfisa organ, or his Mustang bass guitar. These ideas would be recorded to tape.
Sly was dressed all in white, and most of the time also wore a green woollen hat and dark glasses. His sister took loads of Polaroid photographs of the proceedings while he took loads of cocaine from a large plastic bag that sat on the end of the desk. Throughout the sessions he snorted a line every half-hour. He was a very friendly man and always offered a line to Bob and me. I was not used to doing cocaine and, even though I refused every other line, within a few hours I had become completely wired. Bob however adjusted well to his new benefactor. The days rolled into one-another with Sly, his sister, Bob and me all in Studio 2, working through various rhythm tracks and putting down ideas on bass, electric guitar, Hammond, Farfisa and vocals, while consuming vast amounts of cocaine from the plastic bag. After five days I had had enough of being that strung out and handed the project over to Bob to engineer. Max, another experienced coke fiend, assisted him. I left the sessions with a bleeding nose, a blurred memory of half a dozen songs, and two Polaroids of Sly and me.
I was getting used to working for five to ten days on 18 hour sessions. These would often finish on a Monday morning at 9AM, and by 2PM or 7PM the same day we would be set up ready to start a whole new project. It was an incredibly heavy schedule. Over the coming months I continued to work hard and spent 80 to 100 hours a week at the studios.
In May, the Studio Booker Sally received a phone call from Peter Grant, the manager of Led Zeppelin. He wanted to book five days for the band to work on overdubs for a new album. Sally told him about me and my experience at Olympic Studios and in Toronto. I think Grant and the band confused me with my brother Terry, because on arriving in Studio 2, Jimmy Page said, "Oh, you're not who I thought you were at all. Oh well — whatever." This threw me immediately and I was unnerved from then on.
The full band were there — John Bonham, Robert Plant, John Paul Jones, Jimmy Page and east-end heavy Peter Grant with a couple of minders. Peter was vast, probably 20 stone, and had difficulty squeezing into the luxurious, high-backed leather chairs that were positioned on the riser behind the Helios desk. To me he appeared very seedy, with thinning long hair, sweaty skin and ill-fitting clothes. He dealt with me, and the other minions around him, in an off-hand manner and gave off a somewhat threatening vibe. Control room 2 was not a large room, measuring only fifteen feet by twenty. With the brown carpeted walls, floor and ceiling, dull lighting, desk and machines, nine people (band, manager, minders, myself and an assistant) and this strange aggressive attitude, the sessions were immediately claustrophobic and scary.
The members of the band, apart from Bonham, had long flowing curly hair — looking like Jesus or some Greek god. Jones was friendly and polite and on another planet altogether. Bonham and Plant were relaxed and relatively easy to deal with but Page was dark, moody and difficult. I found him particularly hard to communicate with.
We worked mainly on two songs, "Four Sticks" and "Stairway to Heaven". The backing tracks had drums, bass and some electric guitars already recorded and there were good vocals on both tracks. We spent most of our time working on "Stairway to Heaven" — trying out flute parts on the introduction with John Paul Jones and overdubbing guitar ideas and solos with Jimmy Page. We worked on lead guitar parts to "Stairway to Heaven" endlessly, trying out different styles, sounds and effects. We tried the guitar through Leslie, desk distortion and various pedals and recorded takes continuously. The guitar overdubs took days to perform and get right.
There was very little direct communication from any of the band and having Peter Grant sitting beside me did not help. I found him belligerent and rude and, aware of the many stories about Grant's well-known bully-boy techniques, was disturbed by his presence. On his death in 1996 there were glowing obituaries in newspapers and music magazines, describing him as "always being on the side of the artist" and "fair". I would have first hand knowledge of this so-called "fair" attitude to artists while working with Jeff Beck some months later.
The sessions with Zeppelin were long with no convenient breaks and I would be at the desk for some 15 to 18 hours a day. I had to maintain a constant high level of concentration and vigilance during this time — it was not easy. You couldn't fuck up on projects like these. It was very tiring and the severe atmosphere generated by Peter, his minders and the band did not leave me with warm memories. I thought Page was a good guitarist but not on a par with Beck, Hendrix or Clapton. I was relieved when the Zeppelin sessions were over and I could return to projects that were more laid-back and easy going. However, I couldn't really complain — in my first year at Basing Street I had worked on 12 albums and at least 8 singles, plus odd bits of TV and film — an approximate average of one complete track, recorded, overdubbed and mixed every two and a half days. And... I was slowly making a name for myself.
Tape Op is a bi-monthly magazine devoted to the art of record making.