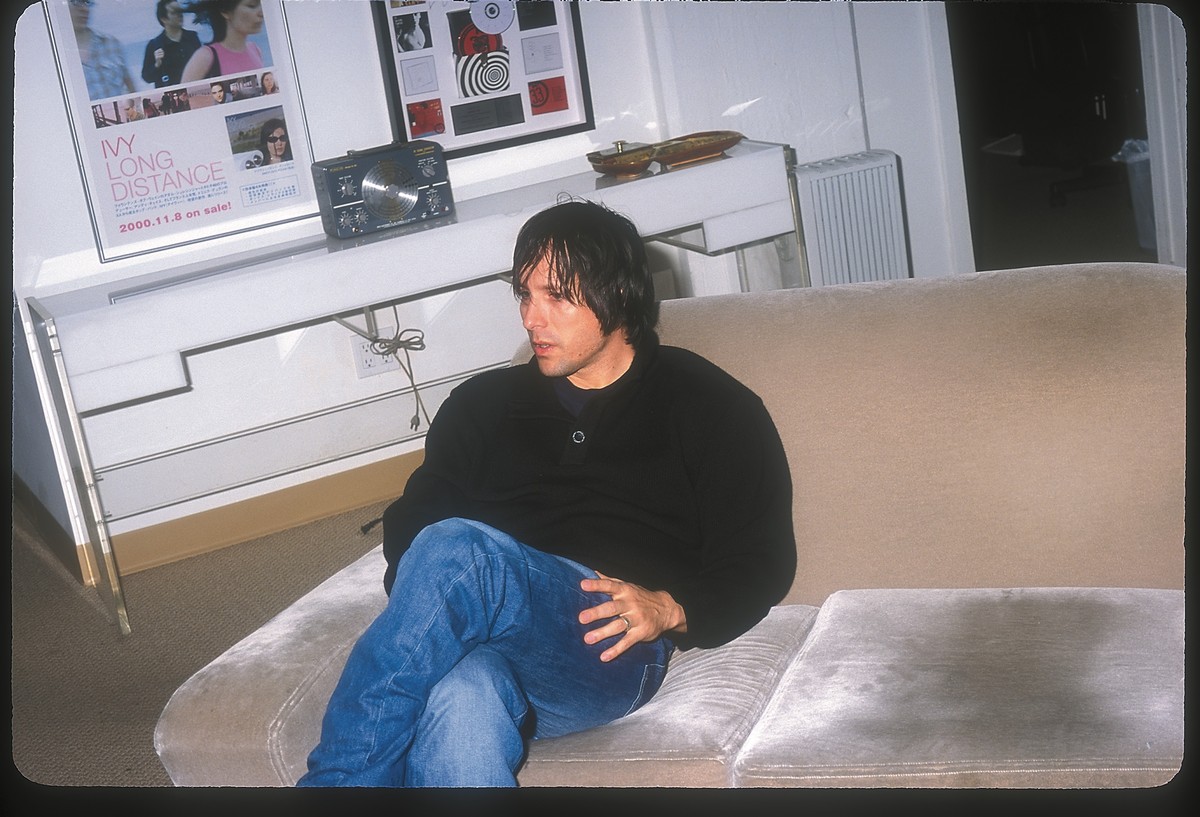 Rock and roll can cause you to behave irrationally. I was working on a renovation project at my home and while carrying a bunch of lumber, I stepped on 2-inch nail that went straight through my foot. It hurt like hell, and as you can imagine, there was a lot of blood. I got in my car and drove straight to the doctor's office, where they made a special appointment for me, saying they would look it over and give me a tetanus shot. It hurt so badly I could barely touch the brakes. On the way to the doctor's office, I was listening to 90.7 WFUV and Ivy's version of "Let's Go To Bed" by The Cure came on. The arrangement, the instrumentation and the recording were breathtaking, and gave me goose bumps. I made an unexpected detour towards the record store, hobbled in to hear the whole CD and bought the record on the spot. I missed my doctor's appointment. That evening, the delicate, moody sounds of Ivy's Guestroom (this record really sounds really fantastic on headphones) helped ease my pain. Andy Chase and Adam Schlesinger, members of the band Ivy (along with singer Dominique Durand), are also partners in New York's Stratosphere Sound, along with James Iha (ex-Smashing Pumpkin). Stratosphere Sound has overcome adverse circumstances due to the remarkable work ethic and perseverance of its owners. First, a fire nearly caused the partners to call it quits as they were forced to abandon their first studio, The Place, salvaging their smoke-damaged equipment. Second, the partners have managed to successfully navigate what has been a very difficult post 9/11 economic environment for many Manhattan studio owners. I talked first to Andy Chase as we toured Stratosphere Sound.
What did Stratosphere's building look like before you moved in?
The space was just storage lockers — it was 30 feet high. You'd walk in and it was just this huge cavernous space that went on for 8000 square feet — we just thought how much we wanted to put up a dividing wall. Then we bunkered down for ten months.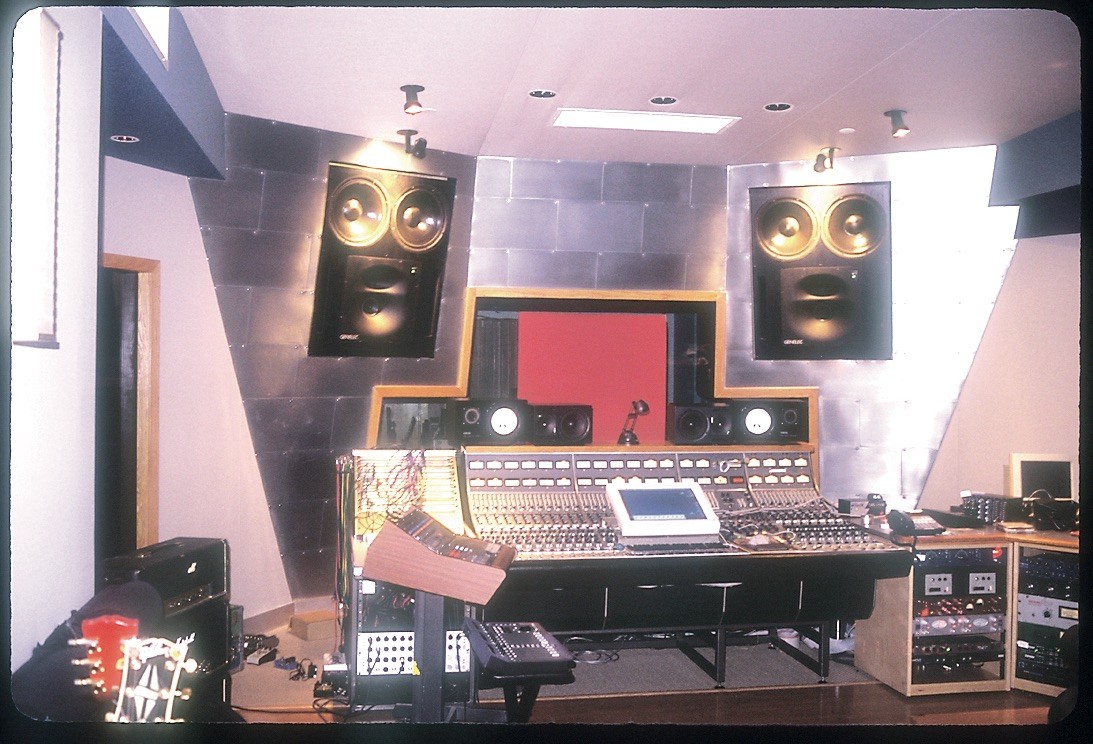 And this was after the fire in The Place?
Yeah. I had had a studio for eight years, since I was right out of school. That studio was literally built by myself and some friends. We learned how to drill into the drywall and put up the studs...
So you had really done some basic construction from the ground up...
Well, I was more what they called the lackey. My friend, who is also a musician, would do carpentry work on the side and stuff. I just kind of helped him. This new studio was an enormous step up — obviously financially, technologically — on every level it was bigger. I bought out my partners at the old studio and — I was talking to James Iha and Adam. I was talking about if I buy out my old partners and reform with these guys, that we could maybe find a new place.
Were you able to salvage any equipment from the fire?
The fire didn't affect our space, per se. The flames didn't lap up at our equipment. We were on the third floor. We suffered severe smoke damage and damage to the studio structure and everything else because the firemen just busted through everything to put out the fire. The building was destroyed enough so that they didn't repair it, and they used this clause in the New York State lease that says that in a catastrophic fire a landlord can terminate all leases. So that's what he did. We had fifteen days to get everything out of there.
I can't imagine how you can just pick up the pieces and move on to build Stratosphere.
We almost gave up. At first we were optimistic. "We'll just find another space." Then everything seemed to come together. We got a call, because Billboard wrote a piece on the demise of Stratosphere, the unfortunate fire, our plight and the search for our space. There's a woman who works at Billboard who's kind of an acquaintance of James' and Adam's. She called us up and said, "My father owns a lot of real estate in Manhattan, maybe you guys could talk to him." So we met with him, and he was about as accommodating as you could get. He mentioned that there was one here, which was three blocks from where we lived.
Where did you find this board [Neve 8086]? It's beautiful.
It was in upstate New York... I can't remember the name of the studio. This is a '78. And it's just like your classic gorgeous Neve with GML automation. It's been heavily, heavily modified by Dan Zellman [Zeltech Industries]. I mean, these boards were really no frills. It seems like they weren't back then, but compared to what you'd get with a Mackie today, you know that a Mackie's more flexible than the way this board was designed.
So you're talking mainly functional modifications?
Well, there's lots of modifications that you can do to update it so that it is every bit as flexible as any board you'd buy today.
How deeply involved were you in spec'ing out the board and getting it fit electronically?
I'm not that hands-on with that kind of thing. If a module would go down, I would just call Dan. He's one of the premier Neve guys on the East Coast and he happens to be in New York, which is convenient. And he's totally modified this board so that it's incredibly flexible and can pretty much do anything you wanna do today. It's been totally re-capped as well. By his own admission, it's one of the best sounding Neves that he's come across. We've got a good marriage between old vintage stuff and new solid state, tube....
The rest of this article is only available with a Basic or Premium subscription, or by purchasing back issue #37. For an upcoming year's free subscription, and our current issue on PDF...