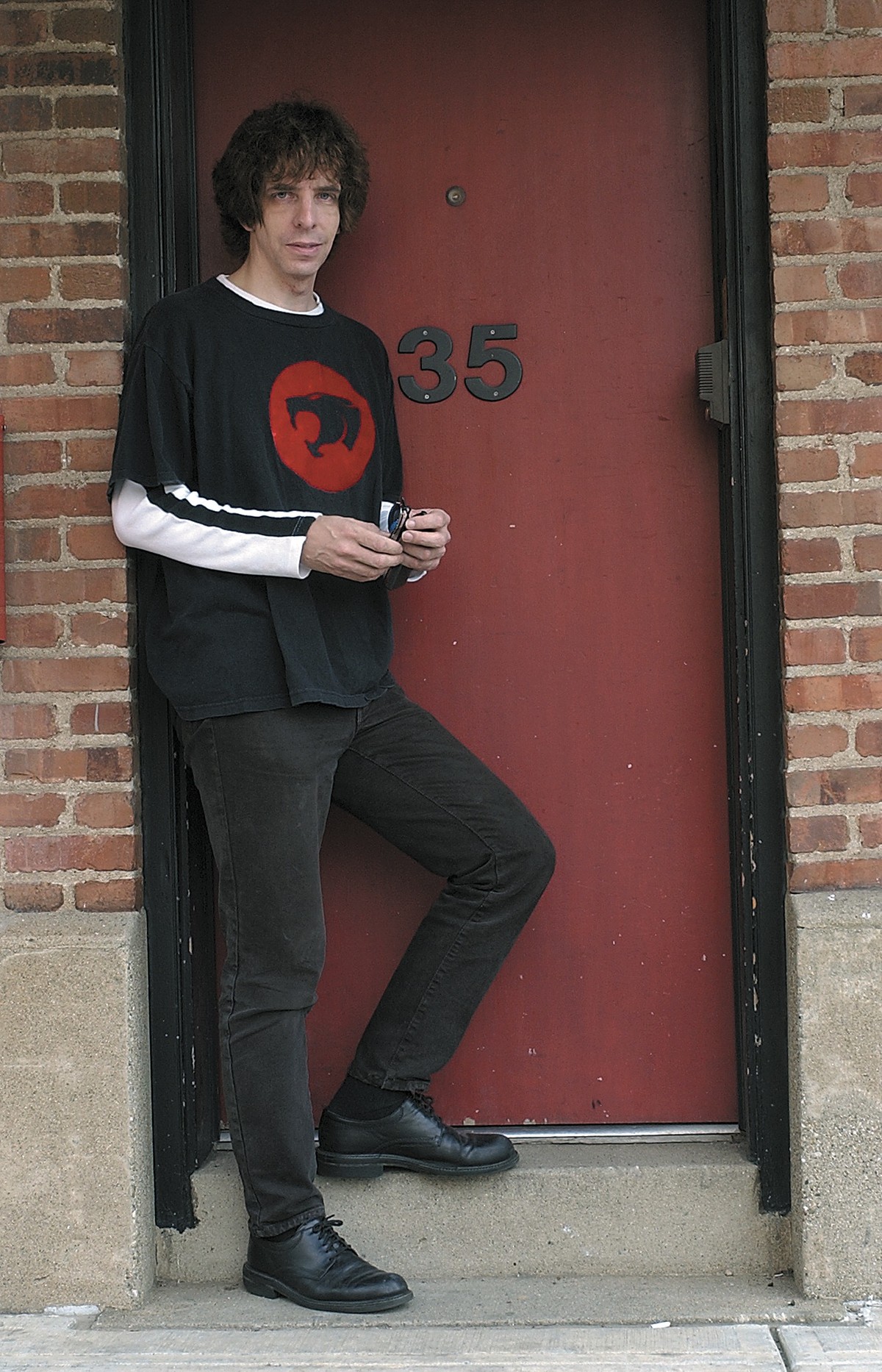 Twelve years later, I recall Mark Rubel's directions to Pogo Studio from our very first conversation. Passing through that red door at 35 East Taylor was more magical than walking into Disneyland back then, and remains so today. If ever a store was an expression of the shopkeeper's personality, this Champaign, Illinois, recording institution is the archetype. Located in an old brick warehouse, Pogo's entryway serves as both isolation booth and scrapbook. The walls are lined with bizarre tabloid photos, wacky electronic toy packages, comic strips, campy band photos and a very significant picture postcard of a horse wearing a propeller beanie and sunglasses. The live room is frequently ringed with clients' instruments, amps, and cabinets, interspersed with studio gear that they'll put on their wish lists. The control room boasts more noisemaking toys, sound sculpture, racks of gear taller than your head, a microphone museum, a completely reconditioned 24-track Studer, a 1971 API/DeMedio recording desk with classic American pop pedigree (originally built for Fantasy Studios to record Creedence Clearwater Revival albums), the requisite big comfy couch, and a fully functional modular Moog system. If you're at all musically afflicted, the place will induce heart palpitations.
At May 2004's TapeOpCon in New Orleans, Rubel used a pair of analogies to describe his quarter century at Pogo. He likened Champaign and its local music scene to a garden which he has helped nurture. He alternately compared himself to the town photographer, documenting successive generations of musical output centered about the University of Illinois.
Fortunately for many, Rubel is also a willing teacher, opening Pogo's doors to Parkland College students yearly, while teaching Introduction to Music Business at Millikin University in Decatur, IL. My own education began by hiring Rubel's services for a project. I caught the recording bug those dozen years ago while tracking my band's first album, and I consider Mark responsible for the knowledge I've gained that wasn't simply the result of learning from my own stupid mistakes.
Pogo has hosted projects for RCA, Capitol, Warner/Reprise, Jive and Sony. Mark's clients have included Alison Krauss, Adrian Belew, Shiner, Jay Bennett [Tape Op #41] of Wilco, Hum (Mark produced Downward is Heavenward with the band), Poster Children, Toby Twining and countless brilliant artists you've never heard. All receive the same good humor and loving attention to detail.
In addition to everything else, Mark is chasing three decades of considerable success as bassist for thrash oldies band Captain Rat and the Blind Rivets. With his spouse Nancy, a fine artist, he's also a tireless laborer on behalf of animal rights. It was a pleasure to climb the mountain and speak with the guru for Tape Op.
With the extreme hours spent running a studio, I wonder how you manage your teaching and performing schedules or pursue social concerns.
It's pretty funny when you're checking in at the Tape Op Conference — everyone's in the lobby checking out each other's studio tan, to see who looks most emaciated and etiolated. If it were a Tae Kwon Do convention, we'd be casually checking out each other's chest development or biceps. Here, it's finding out who has the worst case of scurvy or rickets. No doubt about it, you get cave blindness. What do you do about that? I take walks. Sometimes I don't get outside much.
Pogo seems very much an extension of yourself.
I think that's ideally what a business should be — an extension of the person driving it. It's also an expression of one's philosophy about individualism, which applies not only to how they operate business, but how they approach making music. Many people make a studio a certain way because that's the way they think it's supposed to be. They read as many magazines as they can, and try and get as much gear as everyone else. They try to make it look how their clients think it is supposed to look. Right? So, essentially, they're trying to conform. There are so many studios that are physically impressive. They look like a cross between a space ship and an operating room. They have a black leather couch and so forth. They might be impressive places for a photograph, or they might be impressive to an advertising agency client, but they are mostly not very pleasant or conducive places to make music.
You want a comfortable place, particularly for newcomers who could be intimidated by the environment — someplace that puts them at ease, so they can enjoy themselves, and create.
The same thing goes for people who have been doing it for a long time. The right environment and atmosphere are essential.
Do you think Aerosmith would make a better record at slick studio or at Pogo?
You always have to define better. Would they make a more successful, radio sounding record?
Would they make a record I'd be excited to hear if they came to Pogo?
They'd probably make a record at Pogo that you would like to hear, because we focus on the things that you and I think are more important, which are the performance, the individuality of the players and their instruments, and the integrity of the moment. When I say that there's a drive to conform in people's businesses, you see it in musicians, too. Are they following somebody else's musical direction, because that direction is commercially successful at the time? Are they trying to conform to what they think people want to hear, or what they think record companies want to hear? Or are they trying to realize their own individual personality and creativity?
There's not a Mark Rubel record, and you've got Pogo at your disposal at all times. Did you consciously decide that your own artwork and personal creativity is manifested by guiding and enhancing that of others?
There have been times when I've said I'm going to make my own record, which would be a pretty damn interesting record. But I think that ultimately, everyone is suited best to different kinds of creative work, and I work well collaboratively. Partly, it's just a matter of time. I'm working all the time, helping people make their records, trying to teach people how to record and teaching them about the music industry. I get a lot of my own musical enjoyment from performing in my band. On the rare occasion that I have some time off, I'm probably not inclined to sit in the studio over the console or a musical instrument.
You don't often find yourself thinking, "I've got ten minutes to play piano."
Well, I do sometimes, and it's very therapeutic. It's ironic, because we have so much equipment here, and so many instruments. These days I play the piano mostly. Cumulatively, I probably spend most of my fun time messing around with the Optigan.
That thing is so strange. When did you get...
The rest of this article is only available with a Basic or Premium subscription, or by purchasing back issue #47. For an upcoming year's free subscription, and our current issue on PDF...