Whether you are just starting out or run or work out of a full blown commercial studio, there is always a need for a small, simple, affordable desktop audio interface that sounds good, has minimal latency, enough inputs and outputs, is easy to use and is rugged enough to toss into your backpack for working on the go. Individual needs will of course vary, but this small roundup of desktop interfaces may help you narrow your search.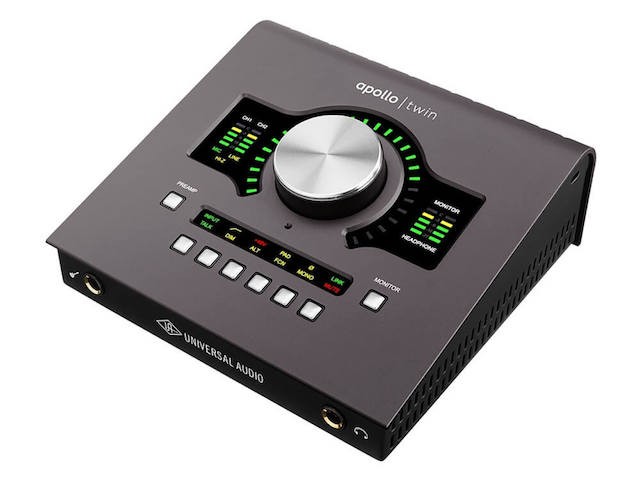 Universal Audio Apollo Twin Duo MK II
The UA line of small interfaces like the Apollo Twin sit atop the list for many reasons. The preamps sound good, it's built like a tank, their line of UA plug-ins are great and with the introduction of their LUNA "recording system" DAW and all that it has offer make this a fantastic choice for a home set-up interface or a second interface for producers and engineer's on the go. At $799 it is a bit of an investment compared to some other options in this category, but they do make the ARROW which is a slimmed down option and if you needed more inputs and functionality, check out the Apollo X4.
Focusrite 4i4 USB Interface
This little desktop interface has a few nice features and an attractive price point of $229. The 4i4 has enough I/O (including MIDI) to accomodate modest set-ups, the conversion is solid, and the preamps have the "Air" setting found on Focusrite's much loved ISA preamps. Focusrite also makes interfaces that range from expanded versions of the Scarlett range up to 64x64 I/O interfaces for professional applications.
Apogee Symphony Desktop Interface
The Symphony Desktop interface is one of the pricer options for this category but has functionality and I/O that approaches a rackmount interface solution and it's conversion is fantastic. Throw it in your bag for remote sessions or working away from the studio or leave it as the centerpiece of your home studio set-up. Apogee's Clearmountain's Domain and Spaces plug-ins are excellent as well.
Arturia Audiofuse USB Interface
Amazing sounding preamps, conversion on par with the UA Apollo and an insane amount of I/O make this tough little box a real contender. Arturia also makes 4 and 8 channel interfaces that are worth a look. Dana Gumbiner reviewed the Audiofuse here, so check that out!
At $349 the UR44C sits in the middle of the price range for Steinberg desktop interfaces. It has 6 inputs, 4 outputs (including MIDI), solid conversion for the price and comes with scaled back versions of Cubase if you do not already have a DAW or are looking sfor a simple on the go solution. Other offerings in the line of interfaces from Steinberg include the $189 UR22C and the RT Series that sport Rupert Neve Transformers.
The SSL 2+ is a super affordable way to get a bit of that SSL sound into your productions. Does it compete with a 4000+ series console? It does not. It is however a solid performer with plenty of I/O, a solid build and a history that is undeniable. Scott McChane reviewed it here.
Tape Op is a bi-monthly magazine devoted to the art of record making.