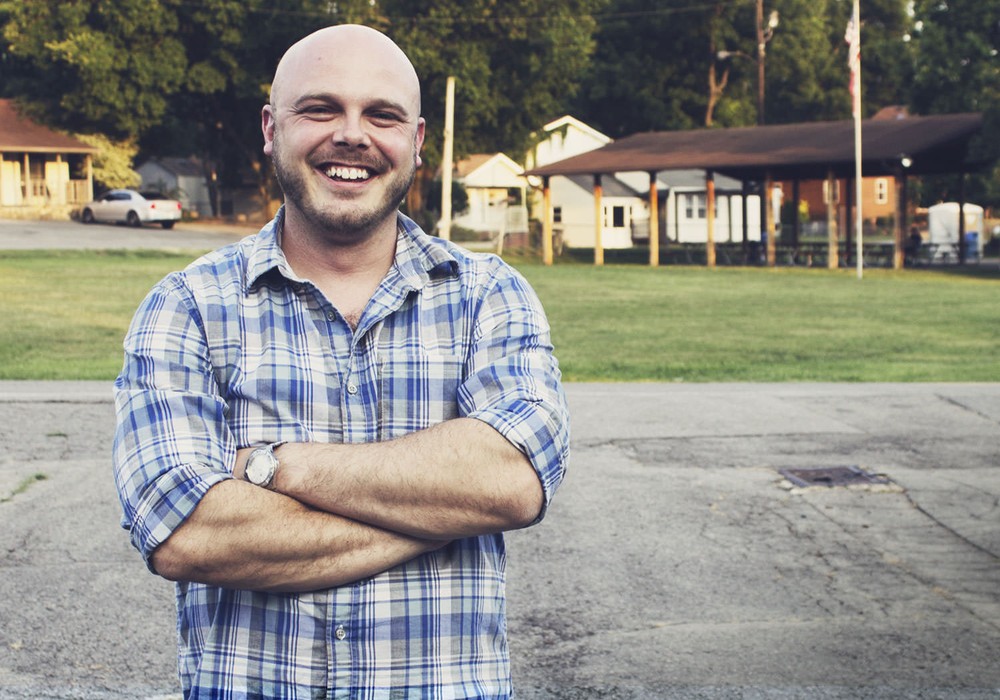 Ending up in Nashville after growing up in Pennsylvania, Justin Cortelyou has carved out a solid career as an engineer working under studio legends like Bob Ezrin Tape Op #31], Mike Shipley [#118], Chuck Ainlay [#97], and Bil VornDick. In sessions, he's engineered, edited, and mixed artists like Phish, Taylor Swift, Paul McCartney, Deep Purple, Hollywood Vampires (Alice Cooper, Joe Perry, Johnny Depp), Ke$ha, Jerrod Niemann, Meghan Linsey, and KISS. We met up at Bob Ezrin's Anarchy Studio in Nashville's Berry Hill neighborhood for a post-session chat.
How did you enter the recording world?
I played trombone and guitar in a band in high school, but I didn't like practicing that much. If you've ever seen a trombone symphonic score, it's 191 bars of rests, then a whole note, and 120 bars of rests. It wasn't for me, but I loved getting those Guitar Center, Sam Ash, and Musician's Friend catalogs! One day I got a copy of Mix. I had no idea what an engineer did. I saw an SSL console with a computer in it. I thought, "That guy's got a cool job." I ended up going to MTSU [Middle Tennessee State University]. I got an internship with Bil VornDick, an amazing bluegrass producer and engineer. The first day that I did my internship with him, we were transferring some Jerry Douglas files. Chuck Ainlay was going to mix it. I got to meet Chuck.
Another nice guy.
An amazing engineer and mixer. Later, just being young and dumb, I called Sound Stage Studios, asked for Chuck, and said, "Hey, you want an intern?" He thought I was Justin Niebank. He's like, "Hey Justin, how's it going?" I said, "Oh, you remember me?" Luckily I still did an internship with Chuck after that. I worked as hard as I could. He put in a good word with the studio manager, and they hired me on as the night manager. I worked a couple of years at Sound Stage. I ended up covering one day when Crystal Bernard was doing vocals. She was struggling with some lines. I was supposed to punch in and out, and not to do anything, but I helped her out on some lines; we got a good chemistry and flow together. We worked through the night. She helped me take out the trash! We finished her demo, and it turned out that she was dating Mike Shipley at the time. She flew back to L.A. I talked to Mike a couple of times and he gave me some pointers. He got busy and said, "Hey, do you want a gig?" I said, "Yes, I do!" They actually moved me out to L.A. He paid first and last month's rent, and then I started working with Mike. That was unbelievable.
After working for Mike Shipley for several years [see Justin's excerpt in on page 20], what did you do?
I went and worked with another producer and songwriter, Tommy Henriksen, who now plays guitar for Alice Cooper. I worked with Tommy for a little while, and convinced him to move to Nashville after a couple of years. We worked with this band, Runner Runner, trying to shop them for a deal. The first week we were here we met Bob Ezrin. He wanted to sign them; it didn't work out, but Bob and I created this relationship. I'm not working solely with Bob, but he has so much work, so I do a lot with Bob. Bob has a school in Vancouver [Nimbus School of Recording Arts] with Garth [Richardson, Tape Op #28]. He lives here, and he lives in Toronto. Where he lives is dependent on what day it is.
How long have you been working with Bob?
I think it's been about eight years. We've done Alice Cooper's Welcome 2 My Nightmare. Alice Cooper calls it the "shriekquel." We did the Hollywood Vampires' [self-titled] record. We did Phish's Fuego, Deep Purple's Now What?!, and a Kristin Chenoweth record. She's amazing.
She's the sister in Four Christmases.
Yeah! We did 2CELLOS. That was a crazy record, but cool to do.
It was a different kind of challenge?
Yeah. Johnny Reid is one of the biggest artists in Canada. His voice is like Joe Cocker, meets Rod Stewart, meets Bryan Adams. He's such an amazing singer, and a great guy. Those have been a lot of fun to record.
What's it like working with Bob Ezrin?
He's seen enough, and he will put the fear of god in you. If you can make it through the boot camp stage with him, it prepares you for so much. You can take anything. But it's great, because it saves time. You know exactly where he stands, and you know if he's not happy. When the red light goes off, he's the best guy ever. He's not mean, necessarily; just intense.
I assume you engineer on these projects?
Yeah. Tracking, mixing, as well as all the editing and overdubs. With mixing, Bob is such a hands-on producer. It's definitely a shared experience, which is great, because he has a very specific sound. There's some headbutting, for sure.
Probably good.
I think it kind of stretches both of us.
At this point are you using Bob's studio space when you need to do personal things?
I've got a little setup at home also that's nice. I have my PMC monitors, a few pieces of outboard gear, and a Dangerous D-Box. But I do a lot of sessions out of here. Bob and I just work it out, as far as cost and all that.
Do you find yourself still doing a lot of Mike Shipley-style, detailed editing?
Those skills come in handy. Every now and then, we'll hit a song that needs to be just perfect and chopped up. I got pretty quick at editing. I kind of do a little bit of everything here, which is fun.
The Hollywood Vampires' self-titled album sounded like a crazy session. It's based on John Lennon, Harry Nilsson, and Alice Cooper hanging at the Rainbow Bar & Grill in the mid-'70s, right?
Yeah. I guess Johnny [Depp] and Alice met on that movie, Dark Shadows. Alice was telling him about the Hollywood Vampires. "Wouldn't it be great to get the band together?" Johnny plays guitar – he's a great guitarist. It's a bunch of cover songs of what Alice calls the "dead drunk friends." One after another, all these legendary artists came in to sing on these songs. It started out just having Johnny in there, who's awesome and super cool. Then Brian Johnson [AC/DC] came in. He was singing in the control room here with a [Shure] Beta 58. It was a little bit surreal having Brian Johnson sitting right next to me, singing in my ear.
Man, that's crazy.
We started doing a lot of the recording at Johnny Depp's house.
In L.A.?
Yeah. Joe Perry was hanging out, so he started playing on a bunch of songs. Then Paul McCartney. I mean, come on. I got to record him playing piano, playing bass, and singing. That day was incredible. I woke up in a hotel room to a text that said Jerrod Niemann's "Drink to That All Night," which I had engineered and mixed, had gone to number one. I went up to Johnny Depp's house and set up for Paul McCartney. It was the best work day that I've had. He was so nice.
Was Bob Ezrin producing this album?
Yeah. He had to leave – it's kind of a funny story. He produced the band. The band on the floor was Abe Laboriel Jr. on drums, Johnny Depp on guitar, Joe Perry on guitar, and Bruce Witkin was playing bass for tracking sessions. Paul was on piano and singing, Alice was doing background vocals. It was so much fun. Then Bob produced the vocals. Bob was actually in the live room with Paul. It was a cool interplay and energy between the two.
Bob Ezrin and Justin | Photo: Suzanne Allison
Both are very good arrangers.
Yeah. Then Bob had to leave for dinner with his dad, so I had to man the helm for Paul's bass overdub. He was playing his Hofner. He had finished a take, and he was like, "Alright mate, that should be good" But he never quite got the middle section. I had to get on the talkback and say, "Paul, I think the middle section could be a little bit tighter. You never quite honed in on it. So if you could give me one more pass, that'd be great." I thought to myself, "Paul McCartney's bass playing wasn't quite up to your standards?" But he nailed it, and I'm glad we did it. Then he came in, sat next to me, and we worked out a vocal sound on a distorted vocal part. It was such a cool experience. The day before that we'd recorded Joe Walsh. He was incredible. Joe Walsh pulled out a V-shaped Fernandes guitar. He could pick up anything and it sounds like him. I think he had a Fender Squier that he also played on one song. It's all in the fingers and the person playing it. We had Marilyn Manson drop in one day and put a vocal down. Also Perry Farrell; watching him in the studio was just like a live show. I think we had a [Shure] SM7 on him for that. He picked up the microphone stand and was going in circles. It looked like he was on stage, and it sounded like it too. It was amazing, the energy that came out of him.
A lot of these artists have worked with Bob before. Was he calling in a lot of favors, or were Johnny and Alice calling in favors?
I think everyone did, but it got to a point where people wanted to be involved. Slash put a solo on, and Zak Starkey played drums on three songs.
How long does a record like that take?
We weren't steadily working on it the whole time, but that one took maybe two years. It changed so much over the course of the recording. We did the main tracking at The Village's Studio A in L.A.
Do you feel like getting your start in Nashville was an advantage for your recording career?
It definitely helped me out. It wasn't easy, but if you're in the right position... If you're over at Blackbird Studios, you have the best of the best coming in all the time. I was at Sound Stage, and luckily an opportunity came up and turned into a gig with Mike Shipley. I find it easier to network here; to meet people, and get my name out there, and get work. It's definitely easier here than it was in L.A. Also, here they generally expect to pay you if you work on something.
It's always been a music business hub here.
Yeah. For the most part everyone realizes that if you're going to work on something, they expect to pay you, which is way nice.
Do you also feel like in Nashville, especially being a dad with young kids, that you're able to have a home life and come home at a reasonable hour?
Yeah. There are definitely some late nights and long days, but generally I have my weekends pretty much untouched. Every now and then I have to work, but it's way easier to have a family and to buy a house. Easier here than L.A., that's for sure. People are nice. The music community is very close, which is good and bad. If you do something wrong, or if you don't pay (or abuse) musicians, word gets around. I think everyone wants the same goal. They want to make good music and be able to have a life. There's no shortage of amazing musicians and engineers here.
You've worked under a lot of producers. Is focusing on engineering a specific choice you made?
For a while I wasn't into producing. Now I'm itching to do more production. I love mixing – I love getting deep into the mix. You feel it. All the moves are musical moves, like a conductor at the orchestra. "How's it going to elevate the song? What's going to communicate the message of the song?" In tracking sessions, I love working with the artists and trying to capture what they're hearing in their instruments, but also something that's going to translate in the song. I love the engineering side. I've produced a few records on my own. I do love it. Bob's been working me in on a few projects where I'm co-producing with him, which is a great way to begin. We do a lot of collaboration.
Do you get a lot of mixing work that you didn't track?
Yeah. I've done a lot for Meghan Linsey. She was a runner-up on The Voice. I've been friends with her for years – she's so talented. And JJ Shiplett, out of Canada. He toured with Johnny Reid. That [Something to Believe In] was such a good record. It was one of those records where I couldn't wait to finish mixing it so that I could just put it in my car and listen to it. I've done some mixing for Will Hoge. His song "Strong" was in a Chevrolet commercial.
What about records where you track but you don't mix?
I was on a fishing trip in Canada when they needed the last Jerrod Niemann record. I was also finishing the Hollywood Vampires, so Justin Niebank mixed Jerrod's album. It was cool to go over and hang with Justin and make sure he was happy with all the sounds. It created a cool relationship between he and I. It's nice to know that other engineers can deal with the projects that you track.
I don't think any time in this job you walk away and go, "I'm so fucking perfect, and everything I did was correct."
Yeah. If you do, you're not doing it right. I hear things all the time. I find that if I go back a year or so and listen to something I did, I personally go, "Oh, what was I thinking? That was so dumb." But if I go back two or three years later, I think, "Oh, I like what I was doing there. That was pretty cool." I don't think you can ever be perfect.
What are you working on right now?
We're on a tight deadline for the Phish record [Big Boat].
Is it mixing time?
Yeah. It's a big record. Lots of songs, and one, "Petrichor," is 13 minutes long. It's about 180 tracks and 36 different sections, where there are all completely different arrangements. Mixing is like walking through quicksand, because you have to mix each section differently. It's an amazing song. At the end of the day, your brain is totally melted. Sometimes it's like doing a day of long division. You just get so cross-eyed.
Where was that record tracked?
We tracked it at Ronnie's Place, Ronnie Milsap's old studio over at Sound Stage. I feel like it's one that's not utilized a ton, but it's a cool, old wooden room. It has tall ceilings. I like the way tracks come out there. It's still a big band for that space. We did the last record [Fuego] there, and it came out well so we stuck with it.
I would feel like everybody's got a lot of different instruments and amps in that band.
We're used to cartage guys with little box trucks coming in with gear, but Phish bring in an 18-wheeler, and it's a huge set up. They have two instrument techs with their own benches. Phish also has their own engineer, Ben Collette. He knows their sound, and knows what they like. He's awesome to have – he has everything organized. He took out all these mic pres from their console, so we had a ton of great gear to use. Then Drew Bollman, who works with Justin Niebank a lot, was shadowing me – since my wife was due with our child. As soon as I had to go, he was right in there.
As a music listener, have you always been pretty eclectic?
I guess so. Not on purpose, or anything. But for a while I listened to Miles Davis Kind of Blue and wore it out. I loved Phish's Junta. I had Tom Petty's Greatest Hits. Growing up, I played in symphonies and jazz bands, as well as these weird little ensembles. It was always something different. I was on a metal kick for a while. I was in a hair band; I was a shredder! The one thing that stays the same is that it's all music. It moves you in a certain way, and you follow where the song takes you. Sonically you let the song guide you. It's been a lot of fun working on all different things, going from Phish to Deep Purple. We did the Canadian Tenors, which is very orchestral and classical-sounding. A full orchestra with big vocals. I love working on country music. Jerrod Niemann's records were so much fun. I worked a little bit with Keith Stegall on a few songs, and did a little of Blake Shelton's editing work.
In studios in Nashville that are working on bigger projects, the engineers have to be good. You can't be messing around and experimenting.
No. You have about 15 to 20 minutes to get everything in order. The night before you'll roughly place the mics. Half the time they don't bring the guitars, keyboards, and drums in until the morning. They'll show up a half hour or fifteen minutes before downbeat. I like to tap the drums and listen to see where they're ringing. I use my ear to hear how far off the tone develops. It works, for the most part, without any big "oops!" afterwards. But you've got to know your setup. You've got to be ready to roll. While they're running through the first song a couple of times, I'm tweaking, running out there, and changing some mics around. It's not the luxury of having a day to get drum sounds. On the Deep Purple record, we had three different rooms we recorded drums in. Most of it was cut in the main live room, and we did one in the stone room. Then we did one song in a tight booth. That's a cool sound too – it's old school.
Tape Op is a bi-monthly magazine devoted to the art of record making.