Songwriter, multi-instrumentalist, session player, engineer, producer, and solo artist Jonathan Wilson has worked with artists like Erykah Badu, Elvis Costello, Jackson Browne, Robbie Robertson, Graham Nash, and David Crosby. Jonathan's Laurel Canyon jam sessions are legendary, but these days you'll find him working at his Five Star Studios in Echo Park. Wilson's recent production credits include albums by Father John Misty, Dawes, Bonnie "Prince" Billy, and a new album by Roy Harper.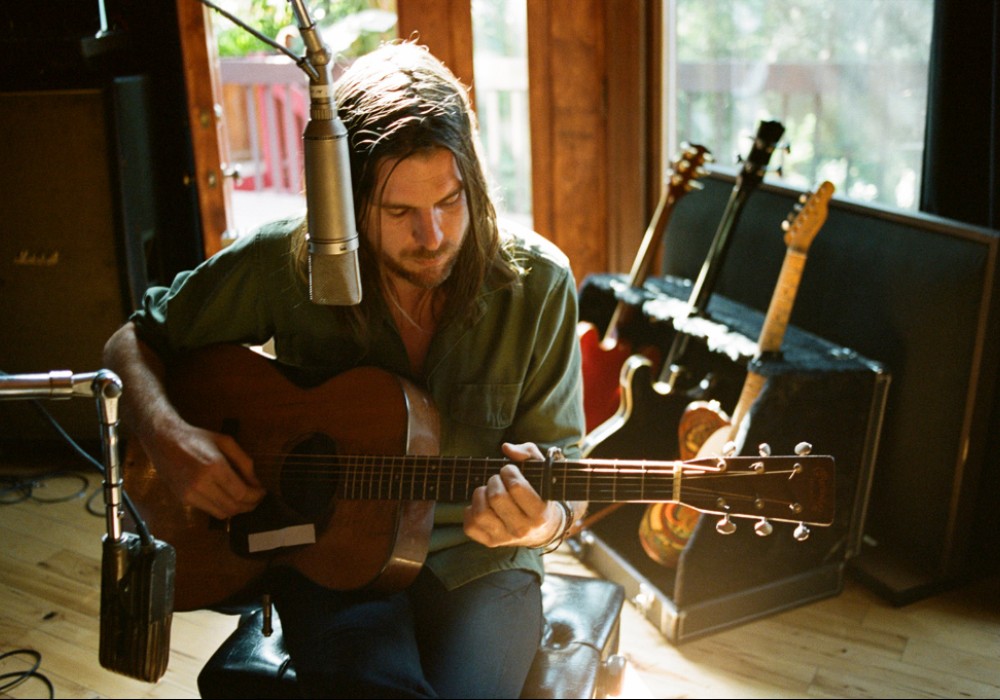 In the late '90s your band Muscadine signed with Sire Records, got a big advance, and bought recording gear with it.
Sire's Seymour Stein came to North Carolina. He was the first rock star record guy we had ever met. He let me do anything I wanted while producing the Muscadine records. I had full creative control. We bought a lot of gear with the first and second advances. Those were different times. Most of the first pieces I purchased were stolen — that was a real blow. We put it in a place called StudioEast in Charlotte, North Carolina. During the late '90s our band used that place as our headquarters. The original owner, Arthur Smith, was a celebrity in the South. Their primary business had been producing backing music for karaoke. I began engineering and playing the instruments myself on a lot the karaoke tracks that came out of there.
How did that work impact you as a musician and producer?
The process of copying those productions turned out to be a really informative experience. The guy at the studio basically figured out there was this kid — me — that was a one-man-band and could lay down all the parts on these songs. All he had to do was trade me room and board in his studio, and he had a steady supply of catalog tracks without having to employ a full band of guys. I kept an apartment up above the tracking room. It was the first real professional studio that I was trained in. I recorded versions of Motown tunes to Bon Jovi, R.E.M., Sheryl Crow, Lenny Kravitz, Jackson Browne, and the Eagles. I would routinely engineer and track whole karaoke albums. While it was somewhat embarrassing to be doing karaoke tracks 24/7 at the time, in hindsight it turned out to be one of the best learning experiences I could have ever had. I was getting deep inside all these tunes and their tones, while at the same time experimenting and pushing myself in the studio to duplicate all these sounds and playing styles.
What kind of gear did you find at StudioEast?
Old RCA BA-6A compressors, Pultecs, EMT plate reverbs, Scully tape decks, and Altec gear. I spent hours combing through all of this stuff. Those golden pieces — Neumann U 47s and Fairchilds 660s — these are the things that you dream about as a young engineer. These are the pieces of gear that are the holy grails, and usually there is a reason why. The collective consciousness remarkably picks up on the merits of the great tone; prices rise and then everyone has to have it. I was lucky, in a way, in that I was exposed to great gear very early in my career, before it had such a vintage cache. I was exposed to all types of Pultecs at StudioEast: EQP-1As, MEQs, and HLF-3Cs. I pulled a [Universal Audio] Cooper Time Cube out of the dregs of that studio. People couldn't have given a shit about a Cooper Time Cube, a [Gates] Sta-Level, or an RCA 77 mic in the 1990s in North Carolina. I remember a guy in North Carolina that used RCA 44s as doorstops in his amp repair shop.
What is your dream signal path?
A V72 preamp into a Pultec into a RCA BA-6A. The BA- 6A is the number two compressor behind a Fairchild. To my ears, those are the two compressors that actually create atmosphere and enhance and widen a tone source. The design of a Fairchild is just bonkers; it's the fastest compressor in the world! I'm very interested in [Fairchild designer] Rein Narma. The Fairchild always brings a "wow" factor to it, particularly on a vocal during a mix. If you want magical shit, unfortunately there are only a few compressors that offer that.
I think with most compressors you get something, but you lose something at the same time.
That is true. I record to tape most often, so I don't use much compression going in these days. The room I mix in a lot has two Fairchild 670s, so the stereo bus and drum bus on my mixes...
The rest of this article is only available with a Basic or Premium subscription, or by purchasing back issue #96. For an upcoming year's free subscription, and our current issue on PDF...