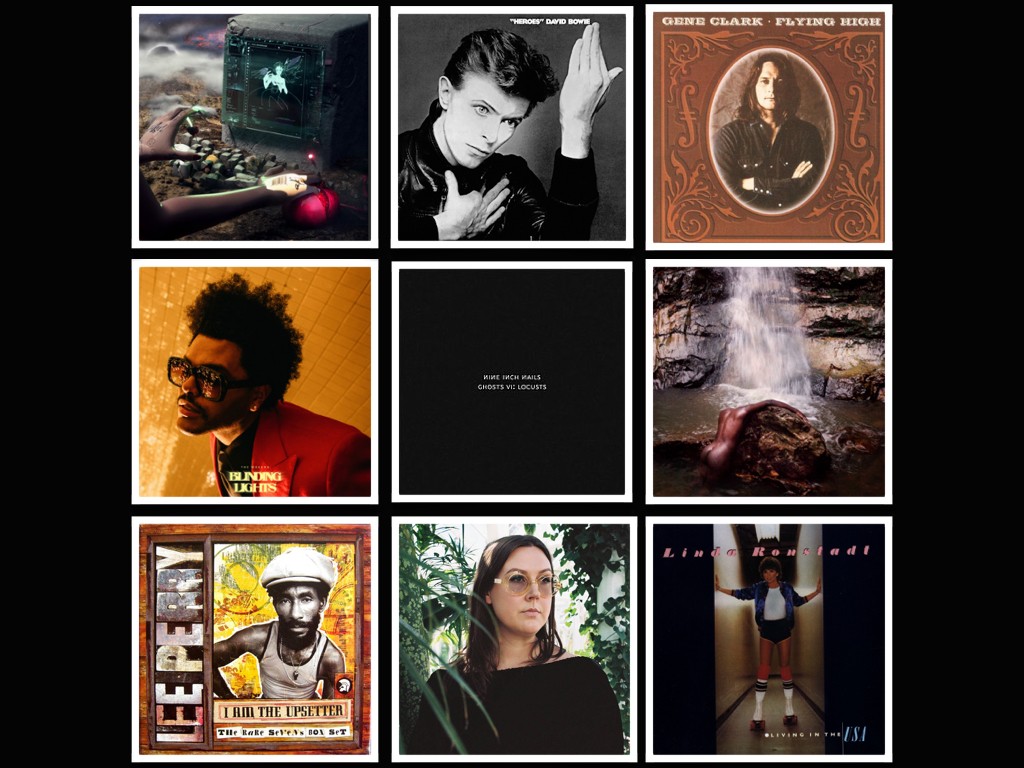 Amidst all the bad news and chaos in the world, there are a few silver linings. One of them is having a bit of extra time for listening. Whether it's while you are working from home, maniacally crafting or cooking that 57th batch of cookies, it all goes better with some music. Here are a few things that are getting heavy spins in the Tape Op staff's homes and offices while we "shelter in place". Hope all of you are making the best of these strange days and taking care of yourselves.
John Baccigaluppi:
Nine Inch Nails - Ghosts V Together and Ghost VI Locusts.
More cool instrumental music from Trent Reznor and Atticus Ross that follows up their Ghosts I-IV collection. These are two very different records for different moods!
Download Here for FREE

Nadia Reid - Out of My Province.
This just keeps getting played almost every day in our house. Heartfelt, sincere, genuine songs with great arrangements and production by the Matthew White/Spacebomb crew.

Nada Surf - Never Not Together.
This came out in early Feb, but seems really relevant now more than ever. The track "Just Wait" feels like it was written yesterday.
"Not unlike Wilco's Yankee Hotel Foxtrot and its seemingly prescient foreshadowing of 9/11, Never Not Together begs to be heard in the crazy here and now. In a fast-changing worldwhere we all will be called on to offer our gifts to the tribe more and more often, Caws gives his gift of love, and songs about love, to raise and keep spirits up." -- City Pages
Michael Stipe and Aaron Dessner - "No Time For Love Like Now".
Probably the most moving and hopeful post Coronavirus song and video I've seen/heard. So nice to hear him singing new music despite the dark times.
Larry Crane:
Gene Clark - "The French Girl"
A song that takes you somewhere else and to another time, with such well-structured lyrics and a fine dose of schmaltz. His time as a Byrd was brief, but he was so talented. Check out the reissue of his No Other album recently - one of my faves.
Andy Shauf - "Living Room"
We have an interview I did with Andy coming up soon in Tape Op. This song is indicative of his strengths, and written, played, recorded, produced by Andy, mixed by Rob Schnapf (Tape Op #9)
Linda Ronstadt - "Alison"
A great vocalist and interpreter of other people's songs, Linda covered this Elvis Costello track in 1979 as I was just learning about Elvis from a high school pal. I still think she brings a different perspective, and when I hear Elvis' version I think he sounds mean compared to this compassionate take. Produced by Peter Asher. we have an interview with Peter coming up soon.
Game Theory - Across The Barrier Of Sound: PostScript
I was a huge fan of this Davis, CA, band in the '80s and on through Scott Miller's Loud Family band as well. This is a collection of demos, live tracks, and final studio sessions.
The Mammals - Nonet
These awesome folk folks were in Tape Op #126. Leaving home to record this time, this was tracked live at Paul Antonell's Clubhouse Recording studio with a nine piece band! Album is out in May.
The Dream Syndicate - The Universe Inside
This album comes out April 10. The first Dream Syndicate album that's all co-written by the band. It's a big, droney awesome mess. Count me in!
LAKE - Roundelay
One of the Pacific Northwest's quiet secrets, LAKE has been part of the indie world for ages now. Recorded at Unknown Recording Studio in Anacortes by Nicholas Wilbur, it's a wonderfully rich sounding record with some great performances and writing. Out April 24!
Marsha Vdovin:
My comfort music is always Bowie, I start with Hunky Dory, then Ziggy Stardust, then Station to Station then Heroes. His voice and his songs just comfort me. I sometimes think the world fell apart when he passed. In the morning, if I'm feeling anxious, I like to play Talking Heads - any album. They make me happy and energized. I love their live album "Stop Making Sense".
Anthony Sarti:
These tracks offer minor melodies that ping my soul. Although the lyric subject matter is doom and gloom, the tones are soothing and actually trigger a smile (for me). The audio presents colors (purple and a mellow yellow). I need to get out of here!!!!
The Weeknd - "Blinding Lights"
Grimes - "Before the Fever"
Sean Ono Lennon - "Dead Meat"
Geoff Stanfield:
Moses Sumney - græ: Part 1
Moses has made some of the most adventurous music of the last five years and has continued to release genre and mind-bending music in 2020.
Freddie Hubbard - The Hub of Hubbard
"Things We Did Last Summer" is a favorite on this album. It sounds like a memory of a glorious late summer afternnoon with a touch of the melancolic thought that Fall is approaching. Drifting music.
Lee "Scratch" Perry - I Am the Upsetter
This collection of tunes by Lee Perry and collaborations with the likes of Max Romeo, Augustus Pablo, The Upsetters, U-Roy and many others offers a nice overview of Lee's "Golden Years".
Freddie Hubbard - Goin' Up I went on such a huge Miles kick recently (again for the billionth time!) that it was time to spend some time with other horn players. I have been enjoying Freddie, Avishai Cohen and Recorded Fall '61 from Stan Getz and Bob Brookmeyer.
Zero 7 - The Garden
Groovy tunes with José Gonzáles and Sia handling vocal duties.
Kruangbin - Hasta El Cielo (Con Todo El Mundo en Dub)
Dub mixes of Con Todo El Mundo by Scientist takes an already psychedelic offering and takes it right into the ether.
Howlin' Wolf - Howlin' Wolf
"Spoonful" is one of the filthiest jams known to man. Written by Willie Dixon and first recorded by Howlin' Wolf, it is the still the best version of this oft recorded blues tune by a mile.
Tape Op is a bi-monthly magazine devoted to the art of record making.