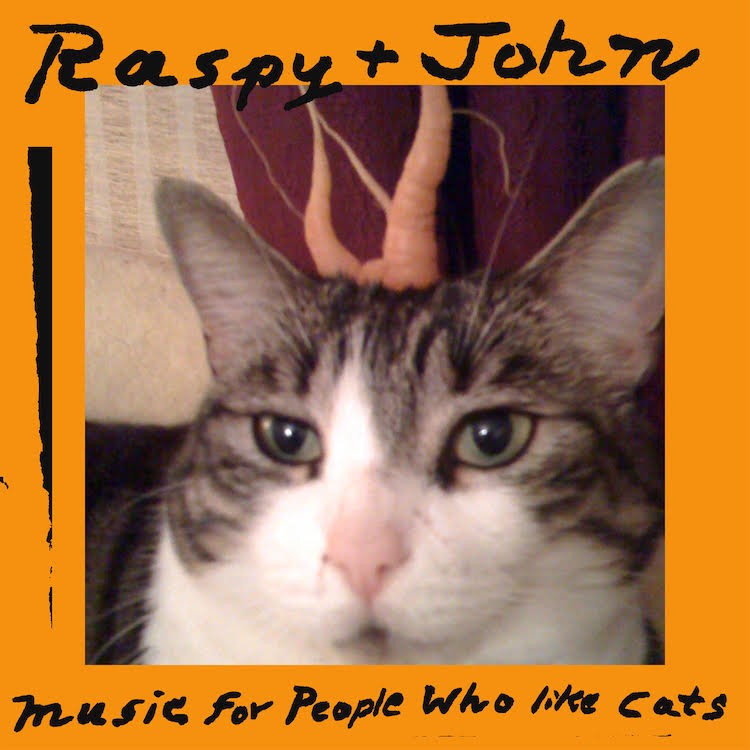 A few months back while on a call with Tape Op publisher John Baccigaluppi, he mentioned that he was working on an album project where the majority of the sounds were generated by his cat Raspy. That is not to say that Raspy actually sat down and made the sounds, but that all the rhythmic and some of the melodic sounds are actually the cat. I didn't think about it again until recently when John sent a note along with a link to the album. As a stand-alone release, it's just a flat out good album to chill to, but knowing that the sound sources are primarily cat generated, makes it an even more fun and interesting listen. It'll flow seamlessly with my Tangerine Dream, Eno, Tycho and Pink Floyd mix and I'd love to hear a remix of "Raspy 4" with Robert Plant's vocal from "In the Light" superimposed. When I put it on my wife immediately said "This is arty as hell." Music for People Who Like Cats is a nice tribute to Raspy and all proceeds benefit the ASPCA.
-GS
From John:
I never really liked cats, I've always been more of a dog person. But back in 2002 my wife Maria adopted a stray cat while I was in LA at the Sonic Youth curated All Tomorrow's Parties festival. I named him Stinko and because I was highly allergic to cats, Maria agreed to find a more permanent home for him. But on the morning he was to be adopted by his new owners, I felt like I was being selfish and I should try and live with the cat because Maria clearly loved him. So we kept Stinko and by being exposed to him, my allergies gradually went away after a year or two and I grew to really like him. Our next stray cat was Raspy. Maria named her Raspy because she had a raspy voice like the Tom Waits or Keith Richards of cats. For some weird reason, even though Maria fed her, she seemed to like me best. We were buddies and I have to admit I pretty much like cats now. We had to put Stinko down and that was really hard and then about the same time, we had our third stray cat Donut show up, so very, very briefly we had three cats. We still have Donut, but we had to put Raspy down in the fall of 2018 and that was really tough. You really become attached to these little creatures and Raspy was my cat, my buddy. At some point in the last year or so that she was alive, I started recording her with my iPhone, I think I had a sense she wasn't going to be around too much longer.
When the far worse than it needed to be Coronavirus pandemic and shelter in place order hit, I had been wanting to learn how to use Ableton Live and had been thinking about using the Raspy recordings as the foundation of an ambient type record and that is what you have here. Recorded during the first few months of the shelter in place at home on my laptop, each of these tracks started with me pulling in one or two loops of Raspy into Live and using that as the main rhythm element of the track. As Live analyzes whatever loop you first drop into it and sets the tempo, I came to think of it as Raspy being in charge of keeping the beat. Then I would add one or two more elements on top of it and try and find some kind of musicality in the track. I tried to limit my self to four tracks, as if I was working on a 4-track recorder but I didn't always keep to that limitation. I'm a better producer, arranger and engineer than I am a composer so I hope you'll forgive the relatively simple melodies and chord structures and that the textures and sonics of these tracks hold your interest.
The final mix was analog through a vintage Spectra Sonics sidecar console to an Otari MX5050 1/4" tape recorder with a modified ART PRO VLA compressor and Sontec EQ on the buss. I know synth nerds like liner notes that list all the synths that got used, so here it is, a mix of real instruments, virtual instruments and iPad instruments. I consider the iPad a separate category because the 2D playing surface is so different than a standard keyboard. With the exception of the track Raspy 2 which uses a kick and hi-hat sample from Live, all of the rhythmic elements are Raspy although this might extend into her bumping into the phone and other 'noise' type sounds.
Arturia CS-80, VCS-3, OBX, Piano, Synclavier, and Buchla Music Easel VIs, MicroFreak, and Prophet 2000 Ipad app.
Moog Micromoog, Little Phatty, Voyager and Model 15 iPad app.
XILS labs (EMS) Vocoder 5000
Korg DW 8000
Korg DSS 1
Casio CZ 1
Deckard's Dream
ASM Hydrasynth
Verbos, Mutable Instruments, Analogue Systems, and Folktek eurorack modules.
Phosphor (Alpha Syntauri), Bloom, and Borderlands Ipad apps
Electric and Acoustic Guitar
Eventide H3000, Lexicon 224 and Bricasti M7 Signal processors
Plug ins by SoundToys, Eventide, UA, FabFilter, Audiority, XILS, Arturia, Valhalla, and PSP.
Lettering by Kyle Field
Mastering By Scott McChane
I did this project without any expectations, but to make it available for people to hear, it's now on all the major music services like Apple, Amazon, Spotify, etc. I have mixed feelings about these businesses, but they're ubiquitous these days. Anyway, whatever amounts of money that come in from this project I will donate 100% of it to ASPCA.org.
Listen:
Spotify
Apple Music
Tidal
Bandcamp
Tape Op is a bi-monthly magazine devoted to the art of record making.