Justin Smith, better known as Just Blaze, catapulted to the upper echelon of hip hop in the early '00s as the producer behind a string of hits with Jay-Z and Roc-a-fella Records. He has been in high demand ever since, working with Eminem, Lil Wayne, Drake, Kendrick Lamar, Mac Miller... really, it's hard to find a major rapper who hasn't worked with him.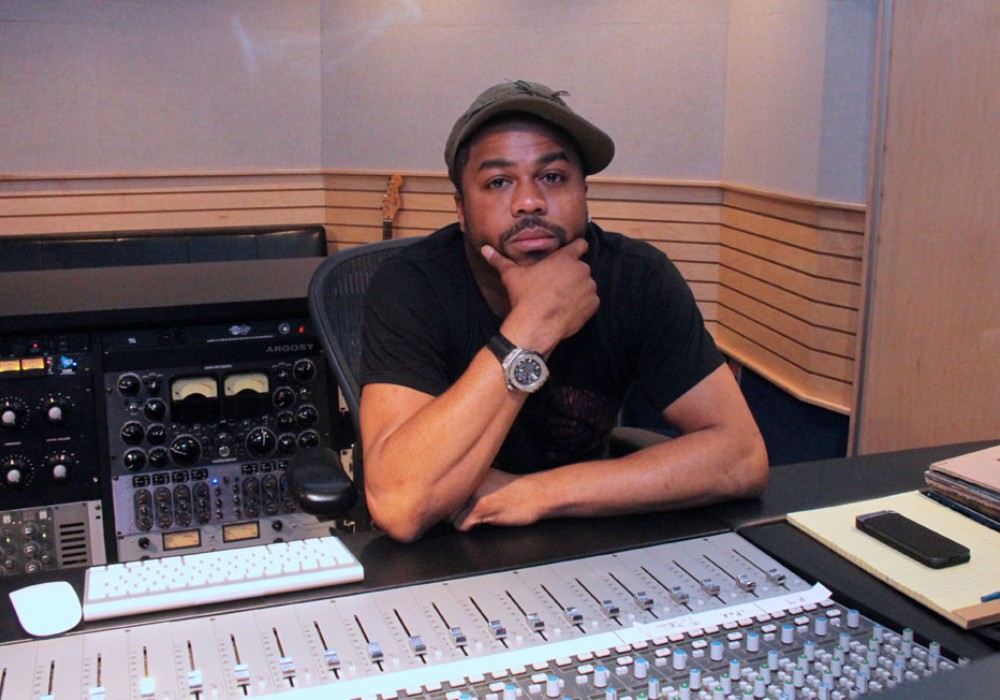 I recently went up to his Rebel Base studio within Stadiumred in Harlem to discuss hip hop beats, videogame soundtracks, live DJing, and his New Jersey-bred connection to dance music.
Plus your credits aren't going to disappear, the ones you already have from college.
Right. So yeah, I put it to my mother that way, I have a chance in a studio to get paid, maybe I'll take a break from college for a year and see what happens. I was nervous to ask her, but she was just like, "Hey will it make you happy?" I said yeah, she said "As long as you're happy, you remain healthy and you're respectful of others and others are respectful of you in that environment, go for it." So I left, I never went back to school, and from The Cutting Room I got to watch a lot of classic records being made, met a lot of great people, and I was in a great environment. I didn't even think I was ready musically, I was still learning, but being in that environment things just started falling into my lap, and it was all uphill from there.
I heard a story about how Big Pun helped you step up your home studio game.
I had been making records for a year or two, actually producing records, and there was one group that was signed to Bystorm, which was an imprint of Universal if I'm not mistaken; Bystorm was run by Mark Pitts, who is actually Diddy's cousin, who managed Biggie and a couple other acts. He got a label through Universal, and one of the first acts he signed was a group called One Life to Live. I did a couple records for them, like three records for them, none of which saw the light of day, I wanna say the group got dropped before the album came out. One of the records had a guy featured that was another artist that Mark had named Sunkiss, me and Sunkiss got pretty cool during those sessions, and Sunkiss was like, "Yo Big Pun is one of my good friends, I wanna connect you guys, you can do some work for him," and I'm like alright cool. So months go by, One Life to Live gets dropped, and I randomly get a call from Sunkiss and he's like "Yo I don't know if you remember me, but Big Pun is my friend, he heard the beat that you did for One Life to Live and he loves it, he wants the beat. Stay by the phone, Pun is gonna call you in five minutes." At the time Big Pun would have been the biggest artist I'd have worked with. So five minutes later I get a call, he's like "come to my house in the Bronx, bring some beats." I jump in the car service, thirty minutes later I'm at his house playing him records. He was in the middle of rebuilding his house, there was construction stuff everywhere, he was building a studio. There was equipment everywhere all still in boxes. I asked him about it, he had gone to Sam Ash the day before, and they kinda fleeced him. I asked him if he was building two studios, because he had an O2R and a Mackie Digital 8-Bus. And he had D88s, the old Tascam digital tape machine, and he had ADATs and three DAT machines. If you have the Mackie Digital 8-Bus you don't need the O2R. They basically took him for like two hundred grand, he didn't know, he just walked in and said "I wanna build a studio, what do I need." And they sold him a bunch of stuff that he didn't need. So I started telling him, "Look, if you have this you don't need that." And he's like "You know about studios?" I'm like "Yeah I engineer as well." He's like, "So what do I need or what don't I need?" I told him he could set up his space with this, this, this, and this, and you can return this, this, and this. And he said, "When I'm ready to start building will you come and help?" And I'm like, "Yeah I'd love to," and he was like, "Alright take whatever you want." I was like, "What?" He's like, "Whatever you think I don't need, take it."
That's amazing.
I'm like, "Are you serious?" He said, "Yeah, just keep your word and come back and help me build when I'm ready." I ended up leaving his house with my first D88s, remotes, I already had an O3D which was the baby brother to the O2R, but he gave me the interface cards for the D88s to the O3D. I don't remember everything but I left there with about twenty-five grand worth of gear. That was how I got my first setup in the house, what I had before was just production stuff, but in terms of recording, most of it came from him.
Who are some of your biggest influences?
You have Large Professor, Q-Tip, Marley Marl, there are so many. Obviously RZA, Pete Rock, The Bomb Squad for Public Enemy, Dr. Dre, Larry Smith. But I always tell people I don't have one main influence, I'm a product of everything I listen to. Even outside of rap, my mother loved music in general, all types, so I grew up listening to new wave, I had a lot of friends who were into heavy metal, my father was a jazz guy, so I grew up with a lot of jazz fusion from the mid-70s. I grew up with everything. Everything I've done over the years has been a byproduct of growing up around such diverse musical influences.
Jay-Z sometimes shouts you out jokingly as Just Blaze and the Blazettes, but you do actually have live bands on some songs, like "Show Me What You Got." What is your process for working with live bands?
It depends, like for "Show Me What You Got" I had a group that I already knew was good. For records like "Lord Knows" the Drake record, people think it's me playing drums, but it's just me programming the drums to feel like they're live. One of my key things is that I like performance records, like "Show Me What You Got", I never told them I wanted that to be a single, I told them that I wanted it to be the song that a live band could perform and kill. When I was making it, I'm programming it like it's a live record, and I thought, "Let's just go all the way, if we're gonna make it feel like a live record let's make it a live record." So there's a collective out of LA called 1500 or Nothin, I've known them all since they were fifteen, sixteen years old. It's so crazy the way they'll work, they can play all — one guy will play the drums, then he'll jump on bass, then he'll jump on guitar, that's just how they are. A collective of great musicians. So I brought them down, the first thing we do is record drums, then Hammond B3 organ, then some piano. When I'm working with a band, I want the record to feel like you're at a concert even if you're not. We also did "Why You Hate The Game" by Game, Nas, and Marsha Ambrosius. That was the zone I was in, I wanted to make records that felt like a live performance.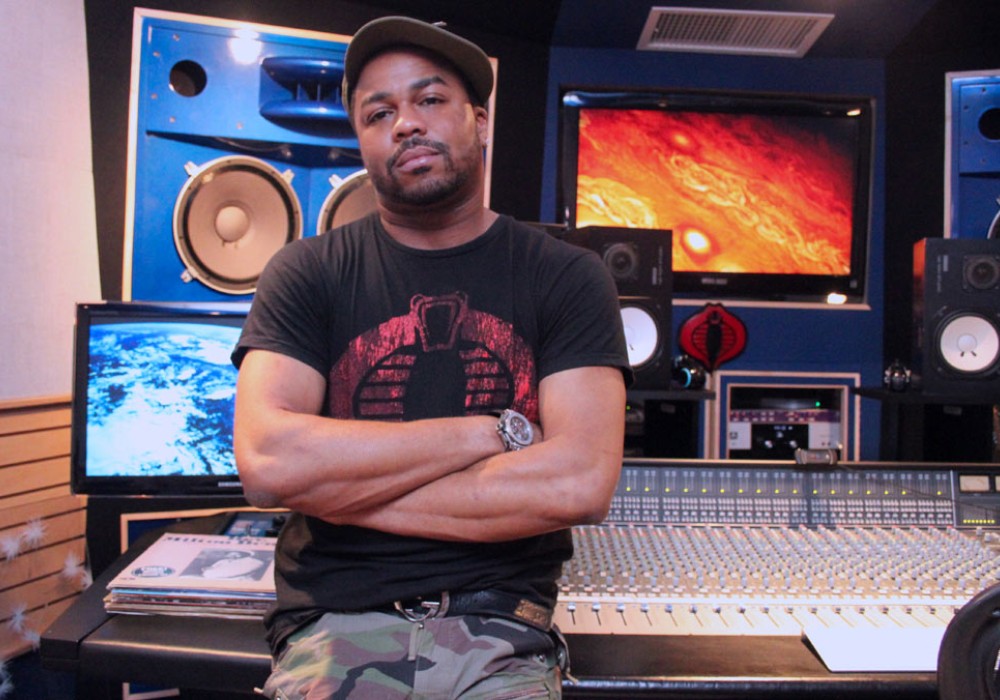 That's what I love about today — you're seeing the results of people who grew up on electronic and hip hop and everything else in between.
I've interviewed people making records outside of hip hop, and the best part of their song might be the way they've flipped a sample in a totally unrecognizable way. The Passion Pit song "Sleepyhead" comes to mind. This guy Autre Ne Veut has a cool sped up sample part [in "Ego Free Sex Free"]. I think the way that Roc-A-Fella had that sound has infiltrated a big range of music.
Oh yeah, I look at guys like a Hudson Mohawke. He opened up for me when I was playing in San Francisco maybe four years ago, super dope set, I'd never heard of him before but I'm like, "Cool, he's opening for me," and I check his set out and I'm like, "He sounds good, cool." He's got a great show, the kids love it, and he's killin' it. After I play, we start talking, and he's like, "Dude you're like my favorite producer of all time, you've been such an influence on my music," and I'm like, "Really?" I didn't get it. But then he gives me a flash drive of all his music, and I take it home and listen to it, and I'm like, "Oh shit I totally hear it now." Like, it doesn't sound like me at all, but I totally hear the influence. That's what I love, some people say, "Oh I'm so influenced by you" and they give you their music and it just sounds like a copy of everything you've done. And then you have some people who are like, "I know he had this record in mind when he made that record" even though it sounds nothing like it. Whether it's from a chord progression, or the way he chopped a certain sample. And because I've been doing so much more electronic stuff recently, and playing more electronic shows, I've been meeting a lot of these guys that are making these records, records that I love. That's what I love about today, you're seeing the results of people who grew up on electronic and hip hop and everything else in between. When I was doing that — how can I put this — it wasn't cool back then to be diverse. You were either into reggae or you were into hip hop or you were into house music, there were very few people who were just into music, especially when it came to DJs. He's a house DJ, he's a reggae DJ, he's a drum and bass DJ or back then it was breakbeat, or he's a techno guy, and that's it. I was one of the only guys who was into everything. That's actually kinda how I made my name early on, I was the guy who played house music but spun it like it was hip hop. Most house DJs back then weren't cutting, scratching, quick mixing, they would just let the record ride. Which is why I love guys like A-Trak, it's kind of like a 2013 version of what I was doing back in '93. But back then it wasn't cool so I'm happy to see it be cool now. Also Craze, he's a great turntablist and he applies that hip hop turntablism feel to electronic music, which is awesome.
Tape Op is a bi-monthly magazine devoted to the art of record making.