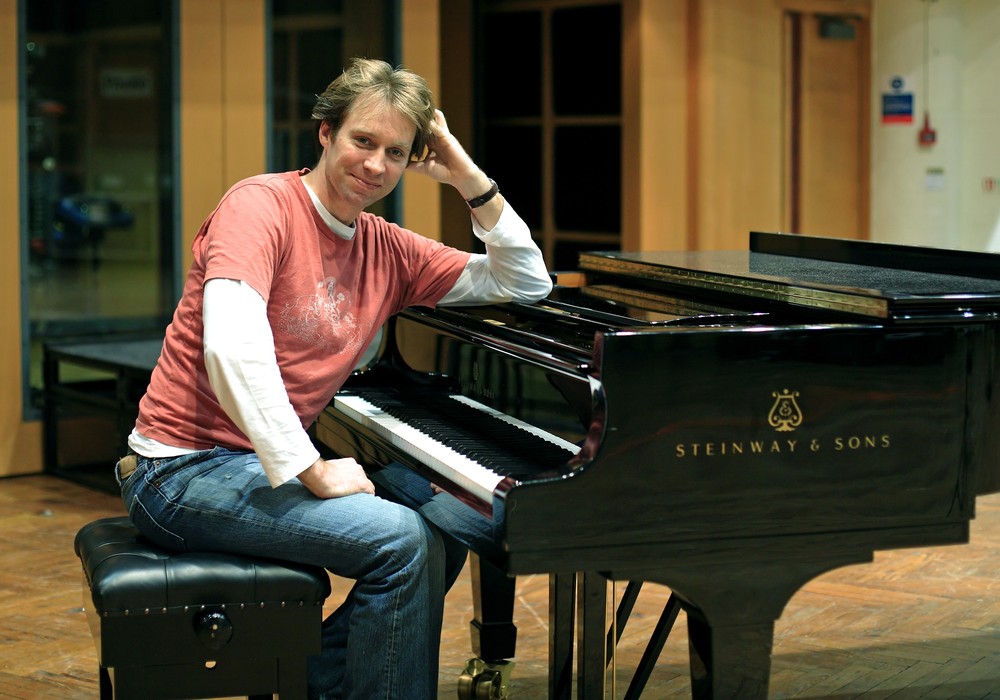 Giles Martin certainly comes from an enviable musical pedigree. His father, the legendary producer Sir George Martin, had more number one hit records, and broke down more barriers in the recording studio, than anyone in the history of recorded music. But for anyone who maintained the idea that Martin's son inherited his father's mantle when The Beatles' Love project was announced in 2004, the success of that Grammy-winning, multi-million selling album (initially created for the Cirque Du Soleil Las Vegas show) quieted any critics. Since then Giles Martin has overseen several key Beatles related projects, including The Beatles' groundbreaking game for Rock Band, as well as Martin Scorsese's George Harrison: Living In The Material World documentary and companion album. He also acted as executive producer on Paul McCartney's 2013 album New, in addition to making time to score films like Noble, which recently premiered at the Cannes Film Festival. His latest project is the mono and new surround mixes for the newly restored version of The Beatles first film, A Hard Day's Night, which was recently released in theaters, as well as on Blu-Ray/DVD.
Tell me a little bit about your background and how you ended up in your dad's profession.
I originally wanted to be a composer. That's what I was driven towards. I started writing music for commercials when I was in college, although I studied literature. When I was about 16 years old, my father started losing his hearing — he needed someone to be his ears, if you like. He didn't want me to go into the profession, in any shape or form. I was quite good academically at English. He wanted me to get a proper job, I suppose. He didn't want it to be exposed that he was losing his hearing, since he wanted to go on working, so I started working as an assistant, out of necessity on his part.
This was around the time of The Beatles' Anthology?
Yes, the Anthology era. [1995] I was hanging around in the studios with him during school time and he'd want me to come in and listen to things. At first it was sounds like cymbals, because that's where his hearing loss was. He'd have a quiet word with me and explain certain things. I remember he asked me who I thought should be engineering Anthology. I thought he should get Geoff Emerick [Tape Op #57] to do it, because it just made sense. Also, when Paul [McCartney] wrote asking for a producer [for what became Chaos and Creation in the Backyard], around 2005, my dad asked me [my opinion] and I suggested Nigel Godrich because I thought he'd be good. He's not as much a music producer as he is an engineering producer. That worked out well. Eventually I had some success writing and producing while working with different artists. I worked on Anthology 2 with my dad, because it came at a break between my studies. I was perfectly happy working away on my own thing; I had no aspirations to do Beatles work. When the Love project came up, I had a concept. My dad wasn't around because he wasn't well at the time, and Neil Aspinall [head of Apple Corps] asked me if I could experiment with something that hadn't worked in the past. I said that I reckoned I could create something by just chopping the tapes up. I'd heard the tapes, because I'd worked on Anthology, and tracks sounded live to me. Since it was live recordings, I figured we could create a live show out of the tapes. It became much more psychedelic as we got more into it, but that was the plan.
Was the Love project a mash-up idea from the beginning, or did you think of it in terms of complete songs at that point?
No, it was a mash-up from the beginning. I wanted to create a live feel. I know that's a ridiculous thing to say, a live feel by doing mash-ups, but I already knew that I could get the drum solo. I already had the concept of the show opening with the drum solo from "The End," which I knew I could combine with "Get Back." It sort of worked out from there. The piano chord from "A Day In The Life" going into it... it just worked backwards. I knew when I spoke to Neil that I could do it. I wasn't sure if other people would like it or not, but I knew that I could get it to work. I didn't really have much connection with The Beatles at all before that. It came from doing the Love show, which thankfully was critically acclaimed. Working with The Beatles continues to surprise me. I didn't really feel deserving of it. It's quite a big mantle to have. I remember after I did my demo of Love, with four or five tracks, everyone got enthusiastic. I remember saying to a friend of mine that I'd been asked to do this thing, but I wasn't sure if I should do it. I didn't know if it was because of my dad getting me the job, or because it was passed down. I'd avoided deliberately doing any kind of Beatles projects that...
The rest of this article is only available with a Basic or Premium subscription, or by purchasing back issue #103. For an upcoming year's free subscription, and our current issue on PDF...