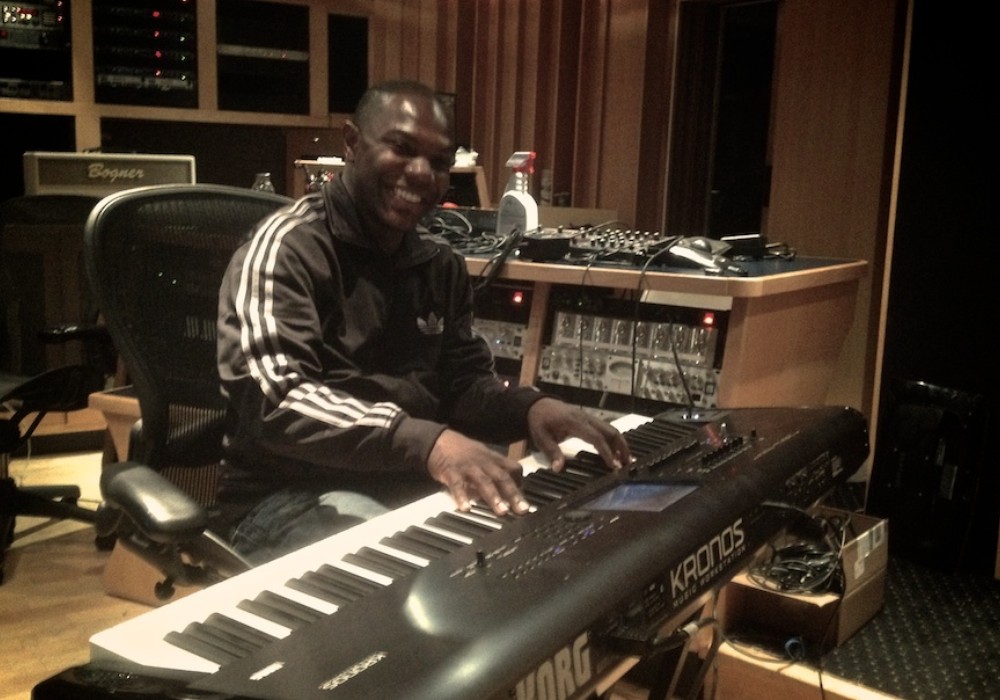 With production credits like Missy Elliott, P.Diddy, and Beyonce, Karriem Mack — "K-Mack" — is coming back at the washed out music industry by carrying new artists with an old school work ethic. He shares what he learned about "the game" coming up, his production philosophy, and what keeps him going. I ran into Kmack by chance, while mixing his own debut record "What's The Use?"(Alrealon Musique) at SST Studios with engineer Billy Perez. K-Mack had been listening outside the door came in to offer kind words, showing interest and reaching out. Later, I was shocked to discover that this humble, outgoing guy was a producer with a substantial track record, and chased him down to get this telephone interview, transcribed below.
How did you get your start?
I pretty much started as a DJ first, mostly around New York and New Jersey. My younger brother was into production and started encouraging me to learn how to make beats. So I got curious, and I went from DJ'ing to production. I would sit and shut myself in a room in the basement with my younger brother to find out how to produce music. I was curious about how the sounds were made. We used to listen to Dr. Dre a lot and we'd try to find out how those sounds he used were made. New York and West Coast sounds were different back then, I just wanted to find out where the sound was coming from. How did he make those crazy ill strings sounds, and how did he create that deep bass? And then I was doing production; that's how I got my start. Some of the first groups I worked with were Prog Well and Ghetto Superstar.
Did you ever feel like throwing in the towel? How do you get through the rough times?
Yeah, there's always those times when you're doing music. It's like a job, like something you love. You're doing production and not making any money yet doing this stuff, and you see other people getting their beats are playing on the radio. So, you wonder if your stuff is good enough. But you just gotta keep doing what you're doing and if you love it, it's not gonna feel like a job. You just gotta keep pushing forward, keep learning, and keep being creative. And always be a student to a game. That's what I did; I always hung around people that were very experienced and had success in the game. I let that motivate me and remind me that my time would come.
Is Soul Diggaz still in operation?
Soul Diggaz will always be a part of my history and what I love. That gave me my start, doing Soul Diggaz with my brother. But there comes a time to move forward, that's with anything. With any business, you develop it, you blow it up, and you move forward. So my brother's doing his own thing now with a lot of film work, and I'm doing my own thing with Rebirth. But, I see him on the reg and we still collaborate.
I noticed that you get some nice width and big bass on your tracks, with fine EQ'ing. Do you do the mixing yourself, or do you primarily work with other people?
Coming up as a producer I was always hands on, doing my own stuff and coming up with nine or 10 beats a day, as well as processing my own samples. But fast forward to now, I'm more of a co-producer with a number of producers, which I sign under myself. I pretty much grab them and teach them how to create records. I help transform them from a beat-maker to a producer, and show them how to create a song. There's more to a song then just throwing a beat on it. The beat is t 25% of the whole record; the rest is creating a marriage with the lyrics and the arrangement. Sometimes you might have a great track, but there are certain sounds that take away from the kick, or snare, or the string progression.
It sounds like there are some analog synths on Katharine McPhee's album. Do you have any favorites that you use?
I love the new gear that's out now; I love the new sounds. But I also love those fat, warm analog sounds; not so much that eerie EQ'd sound. I can love the new digital sounds too; I just don't like the fact that everybody kills it, and they do it the wrong way. I love the way Dr. Luke does it. Rob Fusari, who gave Lady Gaga her start, does it the right way too. But so many people copy it in a way that's irritating. It's like the whole dubstep thing. You have some people in the UK who do the dubstep thing very well, to the point where they live it....
The rest of this article is only available with a Basic or Premium subscription, or by purchasing back issue #103. For an upcoming year's free subscription, and our current issue on PDF...