From the moment I first heard Joy Division's two studio albums, Unknown Pleasures and Closer, I was affected. Initially I returned the LPs to my friend Steve, saying, "These are too gloomy. I don't want to listen to them." But soon I was asking to borrow them again. These records were like beacons from another planet, in the early '80s in the US, and also not the easiest items to procure. The other college students I knew were rocking out to commercial radio bands like Journey or Foreigner, while I was immersing myself in this dark world of post-punk, created by some lads from Manchester a scant six years older than myself.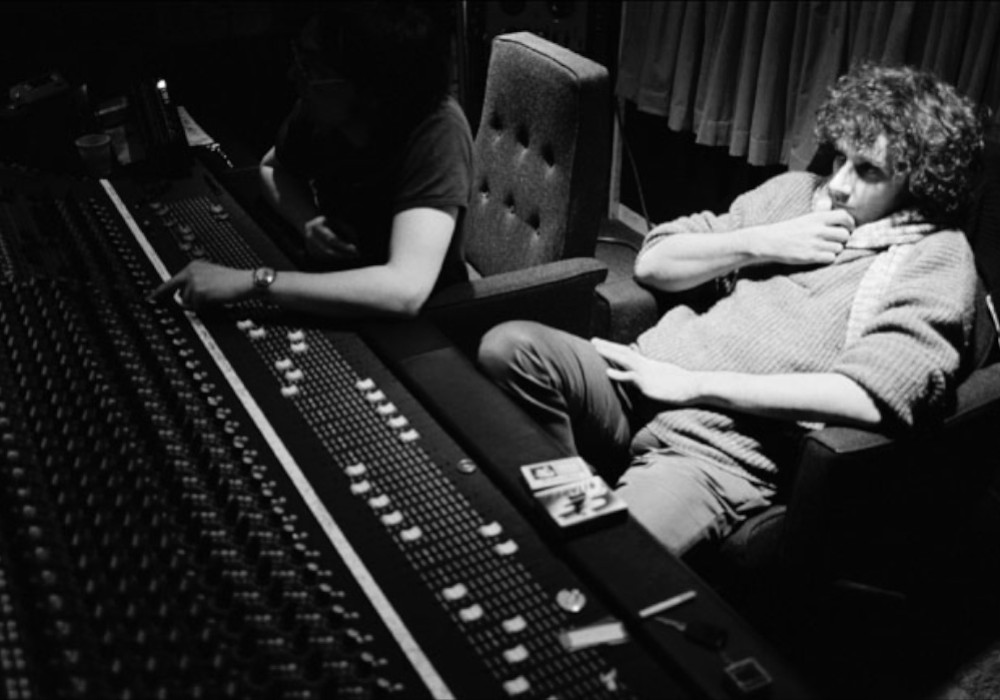 Soon I learned that the architect of the LP sounds I adored was a producer named Martin Hannett. His specialties included reverbed drums, echoing vocals, icy synthesizers, clanking/crashing sound effects, prominent bass, and effected guitars. After a life of constant alcohol and drug abuse, Martin's life was sadly cut short in 1991, due to heart failure. As a recordist I have always felt that Martin left a lot behind for us to study and absorb. I also feel he played a large part in changing the way record production was perceived; he was a precursor to many of the advances that came into play in the studio in the years following his late '70s and early '80s masterpieces.
This article is composed of excerpts from Chris Hewitt's book, Martin Hannett; Pleasures of the Unknown, a slightly chaotic but thorough collection of interviews, history, and memories published earlier in 2014. Thanks to Chris for allowing us to present some of this work in Tape Op. For more information about Martin, please check out the book, as well as the nearly 4-hour DVD, He Wasn't Just the Fifth Member of Joy Division — a film about Martin Hannett. Below is partial history of the man who produced records for Joy Division, U2, Orchestral Manoeuvres In The Dark, Nico [& The Invisible Girls], Magazine, Crispy Ambulance, Durutti Column, A Certain Ratio, Buzzcocks, John Cooper Clarke, Happy Mondays, Section 25, Blue in Heaven, and Stockholm Monsters.
Early on Martin was obsessed with having the best hi-fi equipment. Listening to and examining records became a pastime that would pay off. -LC
Neil Pointon: friend, co-worker
"I met Martin at ICI Blackley [Imperial Chemical Industries, where they worked together] in September of 1965, on a typical Manchester rainy day. He was sitting there in his Hush Puppies with a packet of Sterling cigarettes, and he offered me a cigarette. He bought a hi-fi system from a shop on Oldham Street with his first month's wages. That's when he began listening obsessively for some unattainable silence between or behind the notes. On Saturday morning we'd make the routine tour of all the hi-fi and music shops."
Bruce Mitchell: drummer, Durutti Column
"His first LP production was the Belt & Braces Roadshow Band. His second production job was Slaughter & the Dogs' 'Where have all the Boot Boys Gone?' His third job was Spiral Scratch by the Buzzcocks. It was what established him in that generation's eyes as the sympathetic producer. It was geography; he was in the right place, at the right time."
The Buzzcocks' Spiral Scratch was the first independent punk record, and the third release ever by a British punk group (The Damned and Sex Pistols were on major labels). It still remains an urgent and melodic slab of vinyl. -LC
Phil Hampson: engineer
"Tuesday, 28th December, 1976. Buzzcocks set up, we mic'd up, and started sorting out the sounds. I was used to loud noise, but this was special. 'It's totally distorted,' says I. 'Yeah, great!' says they. We got a sound, and then barely touched the faders. They played, and we recorded. Although the songs were recorded as live takes with minimal overdubs, we were using 16-track on 2-inch tape at that time, so everything was on individual tracks — and recorded with some separation, which meant that we could play around with the mix later."
Richard Boon: Buzzcocks' manager
"Although he did have set ideas, it depended on the toys he had in the studio. Sometimes the gadgets eclipsed his interest in the music he was supposed to be producing. He's as inventive as he can be within a limited budget. The studio is a playground."
Howard Devoto: vocalist, Buzzcocks, Magazine
"Martin was the only person we knew in Manchester that was known as, or called themselves, a producer. Martin felt restricted by the sessions."
Martin Hannett
"I was trying to do things, and the engineer was turning them off. 'You don't put that kind of echo on a snare drum!' I'd have whipped it away and remixed it, but he erased the master because he thought it was such rubbish."
Mick Middles: journalist
"I first heard of Martin Hannett [from] the Buzzcocks' Spiral Scratch EP. It had an intelligent energy; something strange was going on. It would set a benchmark."
Martin had a long history in the Manchester music scene before the Buzzcocks, running Rabid Records and booking bands. He became a partner in the legendary independent label, Factory Records, which released records by Joy Division and many of the artists he recorded. The first release by the label was Martin producing Durutti Column's ironically-titled debut, The Return of the Durutti Column. -LC
Chris Hewitt
"Hannett had always wanted to be a record producer, but the occupation requires a tremendous [amount of] discipline. The advent of new hardware in the early 1980s, and the constant refinements in high technology have turned the modern studio into a clinical operating room. Martin wanted to offset the barrier between the booth and the mixing room, so he preferred to record as many instruments as possible right by the desk."
Vini Reilly: guitar, piano, Durutti Column
"I first met Martin in about 1977 when we [Ed Banger and the Nosebleeds] did the first record on Tosh [Ryan] and Martin's label [Rabid]. [He was] incredibly charismatic; one of those people who communicated more by what he didn't say than what he did say. Martin had a sort of aggressive dominance with me. He was being completely oblivious to my ranting and raving in a studio with him....
The rest of this article is only available with a Basic or Premium subscription, or by purchasing back issue #103. For an upcoming year's free subscription, and our current issue on PDF...