From the moment I first heard Joy Division's two studio albums, Unknown Pleasures and Closer, I was affected. Initially I returned the LPs to my friend Steve, saying, "These are too gloomy. I don't want to listen to them." But soon I was asking to borrow them again. These records were like beacons from another planet, in the early '80s in the US, and also not the easiest items to procure. The other college students I knew were rocking out to commercial radio bands like Journey or Foreigner, while I was immersing myself in this dark world of post-punk, created by some lads from Manchester a scant six years older than myself.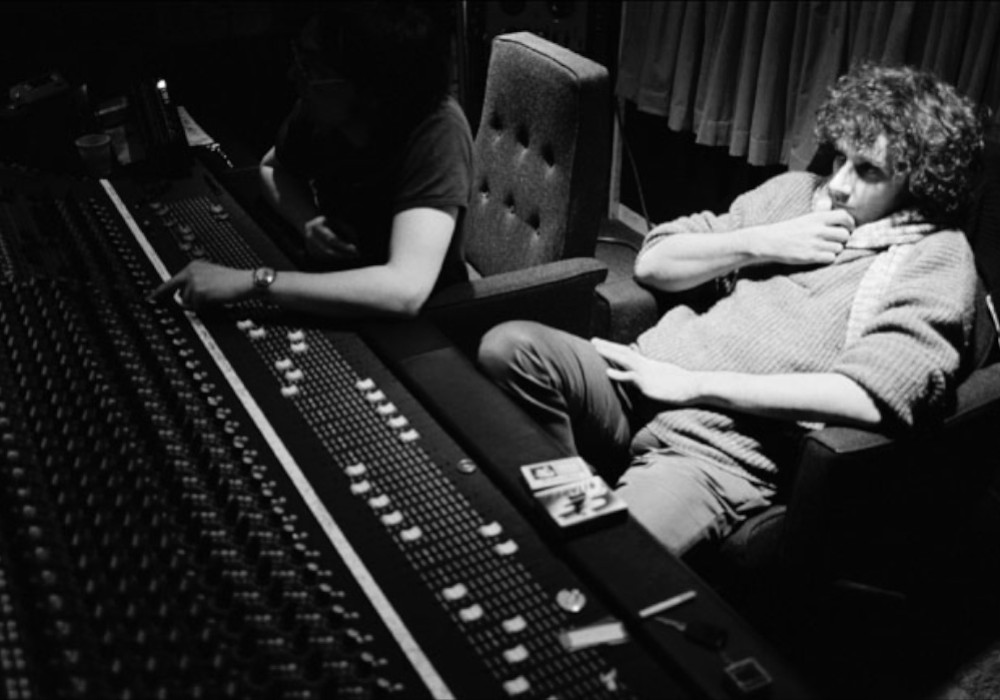 Soon I learned that the architect of the LP sounds I adored was a producer named Martin Hannett. His specialties included reverbed drums, echoing vocals, icy synthesizers, clanking/crashing sound effects, prominent bass, and effected guitars. After a life of constant alcohol and drug abuse, Martin's life was sadly cut short in 1991, due to heart failure. As a recordist I have always felt that Martin left a lot behind for us to study and absorb. I also feel he played a large part in changing the way record production was perceived; he was a precursor to many of the advances that came into play in the studio in the years following his late '70s and early '80s masterpieces.
This article is composed of excerpts from Chris Hewitt's book, Martin Hannett; Pleasures of the Unknown, a slightly chaotic but thorough collection of interviews, history, and memories published earlier in 2014. Thanks to Chris for allowing us to present some of this work in Tape Op. For more information about Martin, please check out the book, as well as the nearly 4-hour DVD, He Wasn't Just the Fifth Member of Joy Division — a film about Martin Hannett. Below is partial history of the man who produced records for Joy Division, U2, Orchestral Manoeuvres In The Dark, Nico [& The Invisible Girls], Magazine, Crispy Ambulance, Durutti Column, A Certain Ratio, Buzzcocks, John Cooper Clarke, Happy Mondays, Section 25, Blue in Heaven, and Stockholm Monsters.
Early on Martin was obsessed with having the best hi-fi equipment. Listening to and examining records became a pastime that would pay off. -LC
Neil Pointon: friend, co-worker
"I met Martin at ICI Blackley [Imperial Chemical Industries, where they worked together] in September of 1965, on a typical Manchester rainy day. He was sitting there in his Hush Puppies with a packet of Sterling cigarettes, and he offered me a cigarette. He bought a hi-fi system from a shop on Oldham Street with his first month's wages. That's when he began listening obsessively for some unattainable silence between or behind the notes. On Saturday morning we'd make the routine tour of all the hi-fi and music shops."
Bruce Mitchell: drummer, Durutti Column
"His first LP production was the Belt & Braces Roadshow Band. His second production job was Slaughter & the Dogs' 'Where have all the Boot Boys Gone?' His third job was Spiral Scratch by the Buzzcocks. It was what established him in that generation's eyes as the sympathetic producer. It was geography; he was in the right place, at the right time."
The Buzzcocks' Spiral Scratch was the first independent punk record, and the third release ever by a British punk group (The Damned and Sex Pistols were on major labels). It still remains an urgent and melodic slab of vinyl. -LC
Phil Hampson: engineer
"Tuesday, 28th December, 1976. Buzzcocks set up, we mic'd up, and started sorting out the sounds. I was used to loud noise, but this was special. 'It's totally distorted,' says I. 'Yeah, great!' says they. We got a sound, and then barely touched the faders. They played, and we recorded. Although the songs were recorded as live takes with minimal overdubs, we were using 16-track on 2-inch tape at that time, so everything was on individual tracks — and recorded with some separation, which meant that we could play around with the mix later."
Richard Boon: Buzzcocks' manager
"Although he did have set ideas, it depended on the toys he had in the studio. Sometimes the gadgets eclipsed his interest in the music he was supposed to be producing. He's as inventive as he can be within a limited budget. The studio is a playground."
Howard Devoto: vocalist, Buzzcocks, Magazine
"Martin was the only person we knew in Manchester that was known as, or called themselves, a producer. Martin felt restricted by the sessions."
Martin Hannett
"I was trying to do things, and the engineer was turning them off. 'You don't put that kind of echo on a snare drum!' I'd have whipped it away and remixed it, but he erased the master because he thought it was such rubbish."
Mick Middles: journalist
"I first heard of Martin Hannett [from] the Buzzcocks' Spiral Scratch EP. It had an intelligent energy; something strange was going on. It would set a benchmark."
Martin had a long history in the Manchester music scene before the Buzzcocks, running Rabid Records and booking bands. He became a partner in the legendary independent label, Factory Records, which released records by Joy Division and many of the artists he recorded. The first release by the label was Martin producing Durutti Column's ironically-titled debut, The Return of the Durutti Column. -LC
Chris Hewitt
"Hannett had always wanted to be a record producer, but the occupation requires a tremendous [amount of] discipline. The advent of new hardware in the early 1980s, and the constant refinements in high technology have turned the modern studio into a clinical operating room. Martin wanted to offset the barrier between the booth and the mixing room, so he preferred to record as many instruments as possible right by the desk."
Vini Reilly: guitar, piano, Durutti Column
"I first met Martin in about 1977 when we [Ed Banger and the Nosebleeds] did the first record on Tosh [Ryan] and Martin's label [Rabid]. [He was] incredibly charismatic; one of those people who communicated more by what he didn't say than what he did say. Martin had a sort of aggressive dominance with me. He was being completely oblivious to my ranting and raving in a studio with him. It was my first album for Factory, in 1979, and he was messing around with all this very obsolete synthesizer stuff — plugging pins into little sockets and making noises. I was very ill, at that point. I sat there, and after about two or three hours began to scream and shout at him. Every so often he would look up and say, 'You're being a bit irrational there, Vini,' and carry on. All of a sudden these noises became sort of bird noises. I had my guitar plugged into the desk; DI'd. I'd asked for a delay, because I used to use tape delay. He said, 'You can't use tape delay. Use this.' He'd plug in some piece of technology he'd had developed. When these bird noises came up I immediately thought of a tune, and I started playing along. In the space of about a minute he made a very basic rhythm pattern with the bird noises and it went down to tape. I overdubbed one guitar and that was the track. The whole album was done like that, in a very strange way — in that sense he was the direction of that album. Martin wouldn't let anything stand in the way of a perfectly original piece of art. Nothing would be sacrificed, unless it became too obtuse or imperfect. Everything had to be perfect, in every way."
Tony Wilson: Factory Records co-founder
"It doesn't matter if Martin falls asleep under the mixing desk. Even in his sleep Martin is creative."
Martin Hannett
"Songs unfold themselves to me. The object is to capture somebody's attention and keep it for a satisfactory [amount of] time. I'm not always that interested in the content, or the words, or even the track. I'm more interested in the feeling. Originality exercises the intellect, working out how it got to be original, from all its influences. Or you can just let it shock and amaze you. To me the technology is fairly straightforward. Technology just makes it work faster. Digital recording will sort it out, but you can't buy that; you have to lease it from 3M. There are record industry standards, but what do they mean? All I care about is that they should be recognisable as records."
Joy Division's debut album and follow up remain the most recognized of Martin Hannett's studio achievements to this day. By taking a raw, moody punk group and morphing their sound into power and texture, he created something unique, new, and lasting. The bass guitar became much of the melodic focus, the drums were isolated and treated with effects, the guitars often shimmered as a background texture. It was a whole new way to envision a rock band. At the time the members of Joy Division were shocked by the results, as it was a far cry from their powerful live shows. -LC
Martin Hannett
"Joy Division — there was a lot of space in their sound. They were a gift to a producer because they didn't argue."
John Brierley: owner Cargo Studios, engineer
"I'd only just built Cargo when he came in to record A Factory Sample with Joy Division. I'd heard of Martin before — he had a bit of a reputation as a 'name producer.' We had two enormous reclining chairs behind the desk in the control room, and once he was sat in one of them there was no moving him. We didn't have an awful lot to say to each other, which actually suited us both. I expected him to tell me where he wanted mics placed and what sort of sound he wanted, but it soon became evident that that was going to be left to me. I soon realised that he expected to sort out any problems with the sound during the mix. In this respect we worked well together. I did most of the recording side — he did the mixes. He liked working with me because I didn't hold long, incessant, irrelevant conversations. I would leave him alone to do what he wanted to do, and I worked fast. I was always up for trying anything out, which Martin always appreciated, like placing the drums downstairs and having the mics recording the kit upstairs. Recording trumpets in the loo was another one. Plugging one effects unit into another, and then another, and so on produced some amazing effects; sometimes it worked, sometimes it didn't."
Chris Nagle: engineer
"No other engineer at Strawberry [Recording Studios, Stockport, UK] would work with Martin. Martin tended to tape everything, rehearsals and run-throughs included, and took delight in mistakes. The first time Martin turned up at Strawberry, the session was to mix A Factory Sample. This fella walked up, carting all this gear under his arms, and he said, 'The first rule is there are no rules.'"
Martin Hannett
[On the Strawberry Recording Studio control room] "There's a lot of depth in this studio. From behind the mixing desk you look into some sort of a tunnel. [Joy Division's] Unknown Pleasures was fun. Closer was quite depressing, for obvious reasons. A bit of a strange social climate. It took 13 days and 13 nights to record — hard work. Ian wasn't very well. Despite that — the clouded retrospect — it still has a good atmosphere, in a way, though the sound suffers. The content is more cohesive, much more accurate, much more powerful. The sound is certainly unique. We used a half-completed construction project as an echo room — a huge shell, with plaster walls."
Stephen Morris: drummer, Joy Division, New Order
"I was alright with what Martin was asking us to do mostly; although he did make me use an aerosol can on the 12-inch version of 'She's Lost Control,' like you see in the film Control. He shut me in a room with the tape cleaning fluid, and made me press it in time with the song. The booth was filled with noxious fumes by the end. I think he was just trying to kill me. If I'd lit up a fag, the whole of Strawberry Studios would have gone up in smoke. The unusual sound I like best is on 'Atrocity Exhibition.' I had a Simmons SDS-V and Synare [synthesizer drum pads], which we got out and put through this horrible fuzz box. My drumming on Closer was a disco/tribal thing, and Martin pushed his studio equipment to its limits. He had me do the snare, then the hi-hat, and then the hi-hat again, in an almost robotic style. Martin did the mixing during the middle of the night, because it's when your brain is at its most creative. He liked the unsociable hours and the isolation. I think he'd do a little speed, if only because he was on borrowed time and we had to get it done."
Peter Hook: bass, Joy Division, New Order
"The equipment we used for Joy Division sessions were the Arp Omni-2, the [Powertran] Transcendent, and the AMS delays. Bernard [Sumner] used an Altair Power Attenuator between his Vox UL 730 amp and the cabinet, and fed his guitar through Melos [Tape] echoes and an MXR graphic pedal. A set of chimes were fed through the AMS delay to get the effect that can be heard in 'Atmosphere.' Chris Hewitt owns the original set of chimes."
Chris Nagle: engineer
"Re-recording Ian Curtis's vocals, Martin said, 'He really can't sing.' The next minute I said, 'He can sing; just listen to that vocal.'"
Bernard Sumner: guitar, Joy Division, New Order
"On early Joy Division recordings, Martin was a catalyst and an experimenter. I've worked with other producers since Martin, and the point of their job is to get a hit record. Martin's job was to create an environment of experimentation. We worked at Cargo [Studios] in Rochdale; a box-type place, a good sound. 'Atmosphere' was done there. A lot of A Factory Sample was done there. At Strawberry [Studios], Martin used to work with a tape op and assistant engineer; a miserable git called Chris Nagle. He'd sneer at the band all the time."
Manchester's favorite "punk poet," John Cooper Clarke, made many of his classic recordings with Martin and the "house band," The Invisible Girls, of which Martin played bass in as well. Martin's obsession with sounds is well evident on these albums' vocal treatments. -LC
Chris Nagle: engineer
"It did hit me after a while that Martin and John [Cooper Clarke], with their habits, did used to disappear a lot at Ridge Farm Studios, during the second John [Cooper Clarke] album [Disguise in Love]. Martin and Steve Hopkins [keyboards] used to work with a supposed deck of cards: 'Right, the key for the next number is F. Run that sequencer; the next note will be G. What are we going to do with that?' Steve tinkled his piano then Martin would possibly put a bass to it. John, in my experience, had his poems ready; Martin had a tune in mind, John would take a listen, and then he'd usually run through it in one take."
Steve Hopkins: keyboards, co-producer
"I did the rational mathematical computing side of it, whereas Martin provided the anarchistic, surreal, dada-ist type of elements. Say I was trying to record a piano part; Martin would say, 'Steve, could you make it a bit more Bavarian and less Transylvanian?' I was left to interpret this, but a lot of the time I got it right. Phil Spector was one of Martin's heroes. He studied not only his techniques, but also his psychological ruthlessness in sticking to ones' production vision. He would look for spaces with unusual acoustical properties. We'd go into the shower room at Arrow Sound and have the engineer trail 200 metres of cable, then we'd flush the toilet and record it, and so on. We discovered that the lift shaft was remarkable for its rebounding echo, so we'd place a microphone at one end and get John [Cooper Clarke] to balance precariously at the other. Then he'd shout his poem into the lift shaft. On many of the Clarke albums, Martin paid care to the qualities of John's voice; virtually every track has a particular treatment of the reverberation and ambience around the vocal. On a few tracks there are things that the listener would presume are instruments, such as a xylophone; but in fact it's John's voice that has been fed through so many effects units that they're coming out as notes."
Chris Nagle: engineer
"[Sometimes] Martin would feed vocals to Auratone [speakers] at the top of the lift down into a microphone in the cellar. There was a load of wasted time in the studio at Strawberry with Martin, but the end product was special, and that outweighs any wasted time."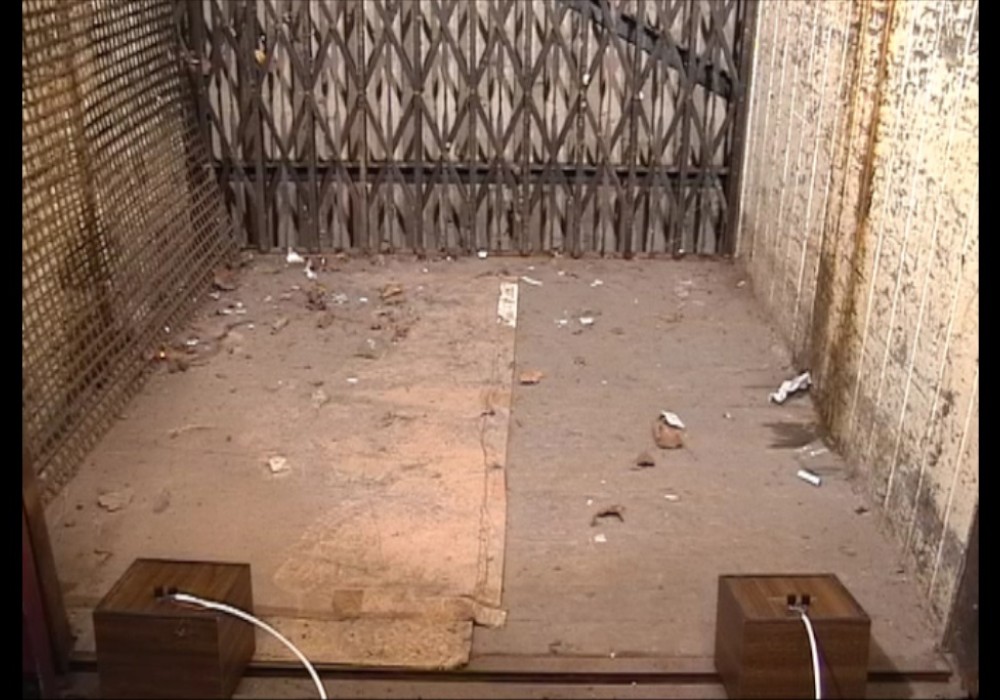 Soon others were searching out Martin's production skills, and in the case of Pauline Murray he even provided a loose band, as he had with John Cooper Clarke. -LC
Pauline Murray: vocalist, Penetration and The Invisible Girls
"He just seemed to have the knack of putting everything in the right setting. He works in a totally different way to any other producer we've recorded with. He doesn't even replay the songs on the tape very much. He has it all in his head. He's a weird bloke, but we work really well with him. I had been stuck in a rut, and I needed someone like that to show me some sort of light. Martin was just the right person."
Martin Hannett
"I don't get people ringing me up all the time. I must be quite elusive; it took Pauline Murray six months to track me down. I don't get asked to do a lot of things — the idea of me working with a band like The Clash would be disastrous."
After singer Ian Curtis sadly took his own life on the eve of a US tour, the remaining members of Joy Division eventually regrouped as New Order and set off to make their first single (featuring "Ceremony" and "In A Lonely Place") with Martin. The record has a heavily reverbed and compartmentalized sound, but the hard part was finding a new vocalist. -LC
Peter Hook: bass, Joy Division, New Order
"Later, after Ian's death, Martin was involved less and less with New Order. We had to wrestle the mixes off him. A lot of the equipment that Martin brought into the control room and studio rooms at Cargo, Strawberry, and Pennine [Sound Studios] could be grouped into the category of 'stuff to waste time with' in the studio. When we went to record 'Ceremony' and 'In A Lonely Place,' Martin just thought that all three of us were dreadful and that the three of us couldn't sing. He just thought we were shit. I remember that Bernard had a last go at the end; he was convinced he could do it better. That was how it became his vocal. Before that, the vocal on 'Ceremony' was a combination of the three of us. He sort of became the singer by default, really. But as our sound evolved in New Order, it became quite natural for him to sing and then play around his vocal. I think that was quite useful to creating the New Order sound. In Joy Division, he used to play across the vocal, whereas in New Order — because he couldn't sing and play at the same time — he used to play 'round the vocal. So I think it sort of created our new sound."
Among the bands intrigued by Martin's production of Joy Division was a young group from Ireland named U2. They coaxed him to Dublin's Windmill Lane Studios to record their second single. It certainly carries all the U2 hallmarks of their early era; but, as one might guess, the bass is prominent and the drums are a bit more echoey than their debut album, Boy. -LC
Tosh Ryan: Rabid Records label partner
"Martin wouldn't go back to Ireland to record U2. He did '11 O'Clock Tick Tock' and he wouldn't do anymore. He only liked to work from Strawberry [Studios], and travelling to Ireland was not something he even considered. He remained at Strawberry in Stockport. U2 were young and impressionable."
Paul McGuinness: U2 manager
"He didn't think much of the facilities [at Windmill Lane Studios]. There were some special pieces of equipment he made us rent from London and ship over."
Larry Mullen, Jr.: drums, U2
"He was asking me to do a click track. I wasn't sure if I could play in time with one. I must really have done Martin's head in. He listened to the track over and over again, constantly playing it back. I think he was highly medicated; as the session went on, he became more and more incoherent. Despite his condition, he did a great job."
Martin always had a different attitude with the studio than producers that had come up the ranks as engineers. But, in many ways, I feel he truly listened to what was happening with his recordings, and that he quickly could formulate a vision of how a production should sound — a skill not many master. -LC
Martin Hannett
"I never look at VU meters. If I want that certain drum sound, I get it from tape compression. Most of the time I keep the volume low because I want the sound in front; clear and crisp."
Chris Hewitt
"After Martin became a studio engineer, he would often go 'round to musician Dave Lunt's house with pockets full of cassettes of different mixes he had done, but on getting to Dave's he would take a look at the shelves full of jazz records and dive headlong into playing some of the LPs instead of listening to his cassette mixes."
Martin was keenly aware of how spaces translated to recordings. Much of his production work involved capturing drums with no ambience and later treating them in the mix. No tool was more infamous in his hands than the newly introduced AMS dmx 15-80 delay. -LC
Stuart Nevison: AMS (Advanced Music Systems)
"Whilst Martin Hannett was starting to carve his own niche in music production, my small company, AMS, not 25 miles north of Manchester, was working on projects of digital audio processing. In the music recording business there are two significant elements; the tracklaying and the mixing process, which I think Martin had a fascination with."
Chris Hewitt
"AMS was Advanced Music Systems, and were established in 1976 by Mark Crabtree and Stuart Nevison. In 1978 AMS introduced the world's first microprocessor-controlled, 15-bit digital delay line. By October 1978, they had provided Hannett with this AMS dmx15-80 delay for him to use on the Joy Division song 'Digital' at Cargo. Crabtree and Nevison had been aerospace engineers who moved into the design of professional studio equipment for the manipulation and control of sound. The first product designed by the company was the dm 2-20 Tape Phase Simulator, notably used by ELO [Electric Light Orchestra], 10cc, and Paul McCartney."
Martin Hannett
"The ideas were always there, but at the end of the '60s a digital delay line was implemented using these things called shift registers, which were enormous, unreliable, and used too much electricity. When little bits of memory started to arrive, those clever guys at AMS stuck 'em in a box. Whilst you are recording, you take all the clues off the snare sound that the ear needs to recognise a room — we have to put them back, otherwise it will sound odd. The value I usually set the display on the AMS dmx 15-80 delay at represents the first reflection boundary of a room, so by selecting different values, you can effectively change the size of the room. The Marshall Time Modulator performs the same function as the AMS dmx 15-80, but in a different way, with the result that it has got a different set of parameters. If I can establish a room sound with the AMS, and also establish a room sound with the Marshall Time Modulator, and put them both in the mix, then I've got the sound of the walls of the room rushing in and out at a fantastic rate. Of course, you don't want to hear all that up front, so you bury it in the track. As for drums, I love echo and drum synthesisers, but I got a bit worried about using repeats after I had a fit of quasi realism. I still do 'em in a fairly subliminal way. Some of it's from reggae. Reggae drumming is fairly simple diagrams."
Tony Wilson: Factory Records co-founder
"Unbeknown to me, until I found out years later, Martin goes and meets these guys in a car park on the moors above Burnley [Lancashire, England], and tells them the sound he's imagining [while he's] off his head on fucking drugs. He drives back to Manchester at midnight. Meanwhile they drive back to their shed and they build the world's first digital delay machine, the AMS digital delay, which is the most important outboard equipment of the last 50 years. It was 15 years later, when some guy stopped me and said, 'I want to thank you. One of your partners changed my life.' When I realised it was AMS, I said, 'No, you changed his life by giving him that equipment.' He said, 'Don't you know where it came from?' I had no idea it came out of Martin's head. The first time he ever worked with that digital delay machine was on the song 'Digital.' The first time Martin moved music forward was with the digital delay machine, which changed drum sounds forever. Did you know the most sampled track in hip-hop history is ESG's 'You're No Good'? That was Martin in a New York basement with three great singers."
Chris Nagle: engineer
"Those AMS dmx 15-80s were used on every aspect of Martin's productions, from his infamous 'walls rushing in and out' philosophy, to the short 85 millisecond delay that New Order incorporated into their live production, to phasing and flanging on his John Cooper Clarke work. Martin's number one rule was 'never wipe a mistake.' It may bug the hell out of you as a musician, but you never know how you later might be able to incorporate that into a track; i.e., put it in reverse, feed it through a bunch of effects, see how that sounds, and bring it up at random somewhere in the mix. Sonic holograms were created out of various equipment and sounds in Strawberry."
Martin Hannett
"That's been the biggest change in the last ten years; the enormous flood of digital effects. It started off with cheap digital delays, and now it's cheap digital echoes. For £485 you can get the latest [Alesis] QuadraVerb that does four digital things at once: delay, chorusing, reverb, and equalization. They're gifts to the imagination, really. You can do all of those difficult things, without ever getting out of your chair."
Vini Reilly: guitarist, Durutti Column
"He was always ten years ahead."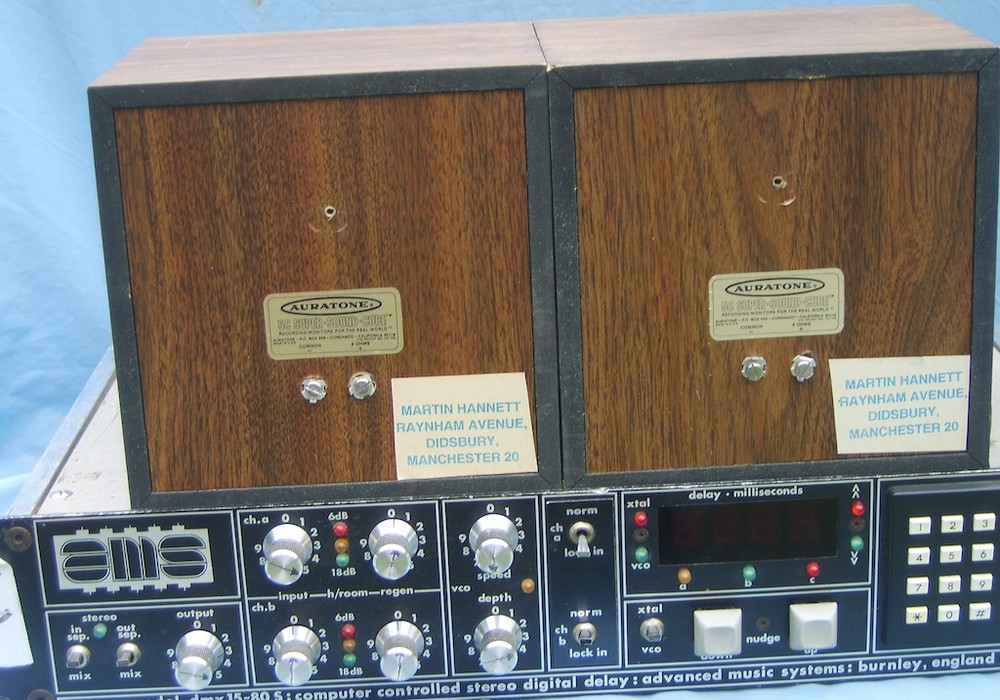 U2 were not the only band to have a brief recording experience with Martin Hannett. Orchestral Manoeuvres in the Dark (OMD) worked with him at Cargo Studios on their debut single for Factory Records, although they used their own demo, "Electricity," as the A-side. -LC
Andy McCluskey: vocals, bass, OMD
"We were very young and inexperienced, especially in recording studios. Martin Hannett was rather intimidating and seemed a bit bonkers to us. Both Paul [Humphreys] and I definitely remember him climbing under the desk at Strawberry [Studios] when we were mixing overnight and going to sleep for some considerable time. Paul and I were like, 'You wake him!' 'No, you wake him.' Err... 'Let's just leave him then!'"
Martin Hannett
"Electronic music is a bit frightening. It gives a lot of potential for accurate amounts of energy that you can't get out of instruments. I was definitely pleased with OMD's 'Electricity.' It was a great tune."
Martin's deepening problems with alcohol and drug abuse eventually caught up with him, and erratic studio sessions sadly became the norm. -LC
David Wood: engineer
"In March of 1985, I enrolled to study sound recording at John Breakell's School of Sound Recording (SSR) which was based [in Spirit Studios] in a basement on Tariff Street in Manchester. I'd heard that there might be an opening to do work with a guy called Martin Hannett. I immediately called him. I arrived early at Strawberry [Studios] and Martin was already there, which I think was the one and only time he was there before me. The studio was amazing, but I was quite surprised at Martin's reaction towards me. I'd driven for over an hour and I'd agreed to work for free to gain some experience. Initially he was really tense with me, although I realised within a couple of days that he was like that with everyone. In time, Martin was very nice to me. I often saw another side to him with people — it was clear quickly that Martin was a drinker and drug user. Martin had recorded a young Irish band called Blue in Heaven and wanted to make some edits and cut the parts up to experiment with. It seemed a very high profile release to me, as the band was signed to Island Records and Martin told me that Bono of U2 had chosen them as one of his favourites. In '85 they released their first LP, All the Gods' Men, which, apart from one track, was all produced by Martin. The album had a thick texture; heavy bass, and strange vocal. Whilst doing the Blue in Heaven edits, I realised why Martin had asked me to go in and help. He had a hand tremble and was unsteady with the blade on the splicing block. I felt a little sad, and selfishly disappointed, that the only reason he needed some help was due to his problems. But I was happy to be there, getting the experience, even though these were clearly dark times for him. After the Blue in Heaven edits, I'd been in touch a few times with Martin to see if there was anything else I could get involved with; but it was summer and I had loads of playing going on, so it wasn't a problem that he hadn't. Martin got back to me in August to tell me that I could do some edits soon. The first day back, Martin seemed to be shaking more, but I might have just been aware of it a bit more. He started immediately moaning that the band hadn't had enough material, so there wasn't going to be as much for me to do as he'd said on the phone. I really liked Martin, and he had some great stories about his days recording at Cargo, Arrow, and Central Sound Studios, but I found him terribly unpredictable."
Colin Richardson: engineer, producer
"I was looking forward to working on the Happy Mondays' album with Martin, as he obviously was well known through his work with Joy Division. I had met him briefly at Cargo, in about 1980, when I first started there, but it was more of a hello in a corridor rather than a working relationship. The Bummed album session for the Happy Mondays was at The Slaughterhouse, Driffield, Yorkshire, although, as per usual Hannett practice, it was mixed at Strawberry Studios. When Martin turned up on the first day, his appearance had changed dramatically from how I remembered him. He was now about 20 stone [280 lbs], very disheveled, and always seemed to have a runny nose, which I put down to a cold at the time. As a successful producer in my own right now, I think I know how a session should run — the producer should be in charge, at all times. Well, this one was an utter shambles. The band was given no direction, at all, as to what was going on. Martin sat on the couch reading magazines 95 percent of the time. On a 25 day session he did not bother to turn up on seven days, with no prior warning. It was quite a relief when the session somehow ended. I like things to be organised when I am working, and this was completely the opposite. I was not involved in the mix — I just tracked the album. Later on, when the final mix was finished, it sounded like someone had gone really overboard on the reverb and delays on the instruments, and it had the effect of washing the whole band out. My thoughts were that this type of sound in the late-'70s sounded good, but this was the late-'80s. It needed to be drier and more contemporary for the Happy Mondays to bring out their dance elements. It was a shame he died so young, but for most of this session he looked quite ill to me."
Martin Hannett
"I haven't done that much compared to people like John Leckie, but what I have done has all been a bit odd, don't you think? Maybe I look a bit catalytic?"
"Right now I'm reading an article about strange facts concerning the location of pure tones. A certain tone always seems to come from straight above your head. The ear has a lot of transfer functions, so it peaks and soothes in various directions. There's a lot to think about. At a certain moment you reach a point where the possibilities seem endless."
Now all we have are memories and artifacts. Martin Hannett left an enviable legacy behind because he had a vision for what recorded music could be. By studying his work I've become a better engineer and producer. I see a different door one can take into making albums, one that is richer, deeper, and more unique than I ever imagined on my own. Thank you, Martin. -LC
Tape Op is a bi-monthly magazine devoted to the art of record making.