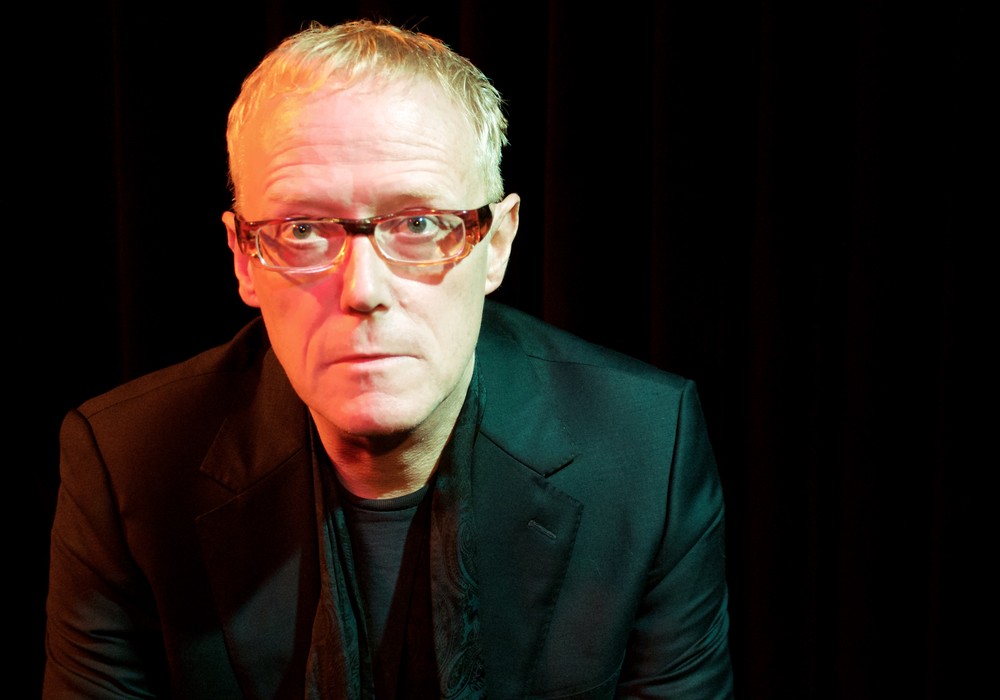 I caught up with David J. Haskins, a member of the influential bands Bauhaus and Love and Rockets, during a book tour for his new memoir, Who Killed Mr. Moonlight? Besides spending numerous years in the studio as an artist, David has also acted as a producer for Jazz Butcher, Renata Youngblood, Intra-Venus & the Cosmonauts, Vinsantos, Darwin, and Stellarum. His most recent solo album, An Eclipse of Ships, came out in 2014, and was recorded with Tony Green.
Are there any other collaborators or producers that you've worked with along the way who you've really admired and enjoyed the way the process went?
Yeah. T Bone Burnett comes immediately to mind. When I signed to MCA in the early '90s for a solo record, Urban Urbane, they were throwing money at me — the crazy fools! They told me to make a wish list of producers. The top of mine was T Bone Burnett. I recorded a rough demo of some of the tracks and sent it to his label. They forgot all about it. Then I got this phone call late at night, and my wife picked it up. She passed me the phone and said, "It's T Bone." I thought it was one of my mates having a laugh. He was like, "Yeah, it's T Bone. Let's talk about your music." I was like, "Yes, let's talk about the music, T Bone. What should we say then? C'mon, who is this?" He's like, "T Bone. T Bone Burnett. Yeah man, I got the tape. I really liked it." Then he started talking about details on certain tracks, and I thought, "God, this is actually T Bone Burnett." He wanted to do it, but we couldn't work out our schedules. It was a bit odd, because I was in the UK at that time and he was all over the place. He was simultaneously producing three albums at a go. Every time he was in a studio, his head was in another studio. That's what he does. I actually went the rounds with him doing this once. It was like a frog going from lily pad to lily pad. Anyway, he couldn't produce it because he didn't have the time, but he offered to come in and sing and play on it. He gave me a couple of days, no charge. In those few days, I learned so much.
What kind of things did he bring to the table?
Just like when to roll all the reverb off something, when to put it on, when to make something bone dry, how to make a great-sounding hand clap... it's one guy. No multitracks. Just one guy. There's a certain distance from the mic in the room. I got him on the track, which he also sang on, "Tinseltown." Doing this duet with T Bone Burnett made me want to pinch myself. The co-producer on that session was Niko Bolas, which was great. He taught me something very interesting that I've applied since. Once we got the mix to about 99%, he'd go around the corner and listen through the wall so you get a different perspective. It really informs your overall appreciation of where it's going or where it needs to go. I applied this directly very recently, because I produce records. My latest one is an album for this band in Salt Lake City called Intra-Venus and the Cosmonauts — a very psychedelic group. How that came about was that I'm doing these house gigs, playing peoples' living rooms. One of the guys in this band set up one of these, and I went to his house in suburbia in Salt Lake. The Cosmonauts were the support band and were playing. When I first heard the guys, I didn't really like it, but when I went upstairs to set my guitar up in the bedroom, I heard it coming through the floorboards, and I got the "Niko Bolas" perspective. It made me say, "Wait a minute... there's something really good about this." It was like buried treasure. It just needed to be dug up. Then they asked me to produce their album, so I applied that insight to the album. I thought, "Yeah, let's dig for buried treasure." I believe that we've brought it up.
That's really cool.
I'm really pleased with that record.
You've kept busy with a lot of different tasks too, like plays and writing your memoirs. You seem to have a thirst for life and adventure.
Sure, it just gets better as far as I'm concerned. I get more inquisitive as I go on.
What's next for you besides doing the book tour?
You mentioned plays. There's going to be a revival of one of the plays I staged in L.A. about the Black Dahlia murder. They're plays with music, sort of multimedia. There's film and butoh in this one. It's called The Chanteuse and the Devil's Muse. The drama takes place in a police station, and this woman, Madi Comfort, who's a jazz singer who sang with Duke Ellington, she was the last woman to be seen with the prime suspect, George Hodel, before he left the country. She's being grilled by this DA guy. It's on record that this happened. There are only a couple of lines to that extent, but I just took that and ran with it. It became my device around which to build the whole story, Black Dahlia. Her ghost appears as this amazing butoh woman, Vangeline, this French woman. She's dead, but she hasn't passed over into the light. She's in limbo. She's in this police station witnessing this interrogation. Also, there are songs that are commenting from an objective point of view on what's happening. It's a very similar set-up to the one I wrote about Edie Sedgwick called Silver For Gold. That's another one that I want to bring back again and evolve. This one we're hoping to stage at the Vortex Theater in Austin, probably in winter of next year. It's a really great theater company.
Austin's got so many great things going on these days.
Yeah. It's really vibrant. I'd also like to play at the Psych Fest as well. I know the Cosmonauts want to play there as well. Talking about psych music, there's an amazing new young psych band out of San Diego called Amerikan Bear. They're very, very exciting. My son Joe is really into that kind of music. He has broad tastes, but he's really into that. He took me to see them, and within one minute, I knew they were great. They approached me to mix their latest single. I think this band could be really big within their genre.
Oh man. It's fun when you keep your mind and ears open to everything. There's always so much amazing stuff going on.
There's another project that I produced here, recently. A band called Stellarum, with John Neff engineering — David Lynch's guy. We did it at his little Das Bunker set-up in the basement of his Victorian house before he moved to his new studio. There was an amazing singer, Susan Dumett, who goes by Vox Vespertinus as well. She has this four octave voice and is just operatic and incredible. This music is very spatial, spacey. Some of it's really freeform and experimental, and some of it's very pretty and melodic. We did this whole album there. Then we did a version of Blondie's "Heart of Glass." It turned out so great. We sent it to Debbie Harry and Chris Stein, and they said some lovely things about it. They love it. It's a very different version. They just made it available as a stream, but they have this album and are looking for a way to put that out.
Aren't we all these days!
Yeah, it's hard!
Tape Op is a bi-monthly magazine devoted to the art of record making.