Kyle Lehning's recording and production career is one to be reckoned with, featuring artists like Waylon Jennings, Randy Travis, England Dan & John Ford Coley, Kenny Rogers, and George Jones, plus a stint running Asylum Records in Nashville. His son, Jason Lehning, caught the bug early on and has worked steadily as an engineer, producer, musician, and songwriter. I caught up with the two of them at Kyle's studio, The Compound, located behind his home in Nashville. You couldn't ask to hang out with nicer folks, and the amount of experience they bring to the table is staggering.
Kyle, what was it that originally got you into studios as an engineer?
KL: I was interested in recording since I was a kid. I'm not unique in this. I started out with a Wollensak [tape deck] and then had a couple of Tandberg [decks], as well as a couple of mixers. I think I still have one of my mixers upstairs, a modified Bogen PA mixer that got shifted into an actual small recording console. It was a six-input mixer with a mono output. Claude Hill, who was working at Glaser Brothers studio [Glaser Sound] where I ended up working in Nashville, modified them. I had two of them. He put in Jensen mic pres. It sounded great. Whenever I was going to do stereo, one output went into the left side of the Tandberg, and the other six went into the right side. I multed channels together. I had two six- channel Bogens so I could do stereo. It was fun. It sounded really good.
You're mixing down live to 2-track?
KL: Well, I had two Tandbergs. One of them was a three-head machine, but the other one was a two-head machine so I could overdub on it. What I would do is record on the three-head machine, mix those two tracks down to one track and record it on the other machine, overdub on that track, and then bounce back. I kept going back and forth. It got a little hissy, but it was cool. I figured it out.
It's a great way to learn. What was the jump that led you working at Tompall Glaser's place?
KL: I grew up in Cairo, Illinois, a little southern Illinois town at the confluence of the Ohio and Mississippi rivers. It was a great place to grow up. There was a guy who lived in Cairo named Ray Butts. He invented this guitar amp called the EchoSonic. In the '50s, he built a guitar amplifier that essentially had an Echoplex built into the amplifier. Scotty Moore found it and started playing it live on the road. Then Chet Atkins saw it and asked about it. Chet drove to Cairo to meet Ray and convinced him to move to Nashville and work at RCA Studios. That was around '62. By '67, I had been playing in a rock 'n' roll band for some time. I went into a little studio in Paducah, Kentucky, with my buddy, Don Dickerson, and the rest of our band. The studio was really good, in retrospect. They had Ampex mixers and tape machines, Neumann mics, and Altec monitors. I fell in love with it, right then and there.
What instrument were you playing?
KL: I was playing guitar and keyboards at the time. When we finished the tapes I talked to my dad, who was incredibly supportive of this crazy idea of trying to be in the music business. He said, "You remember Ray Butts? He's down in Nashville. Why don't you call him?" The night that we finished mixing the tapes, my buddy, Don Dickerson, and I drove from Paducah to Nashville, about a two and half hour drive at the time. Ray got us two appointments with record company people. This was '67. The first guy we saw was Billy Sherrill. He was running Epic Records at the time, producing all those great records. He listened to all three songs on our tape, from beginning to end. He said it sounded cool, but didn't hear anything right for them. So Ray set up another meeting for us, and that meeting was with Felton Jarvis, who was Elvis's [Presley] producer at RCA. If I had really known who these guys were, and what was going on, I probably wouldn't have been able to play the tape or anything. But I was young, naïve, and didn't really know. Felton was really sweet. He said it was cool what we were doing, and in a kind way he was saying we didn't have a great singer. He said, "You know, you might want to find a female singer." Jefferson Airplane had just come out, so he suggested we do that. We went on the hunt for a female singer in Nashville, and that's where I met Jason's mom, Vicki. She ended up singing with the band.
What was the band called at that point?
KL: It was probably The Glass Threads by then. We had been The Roadrunners, and then The Mods, and then The Glass Threads. It got more psychedelic. By '67, we had to come up with something. There was a band we loved called The Blues Magoos. Geoff Daking was the drummer. We kind of stole some of their style. Vicki and I got married in 1970, and Jason was born later in April of '72. The reason I tell you all that is because Vicki lived next door to Tompall Glaser in Goodlettsville, Tennessee. Tompall understood that Vicki was a good singer and had encouraged her to do that. She ended up working at the Glaser Brothers' studio as a receptionist. I'd come down and hang out all the time, even before we got married. I was hanging around the studio trying to pick up what I could. Eventually, through a long, somewhat convoluted thing, I graduated from college in '71. Vicki and I got married in '70. I moved straight to Nashville. Eventually I got a job at Glaser Sound as an engineer.
How did you gain experience before walking into the Glaser studio?
KL: I hung around there a lot before they offered me a job. Claude Hill really ended up taking me under his wing. Claude ended up working with Dave Harrison at Studio Supply Company, who made the Harrison consoles. I'd hang around the Supply Company and pick their brains. Dave recorded James Brown and Wayne Cochran & the C.C. Riders. I got to the point where I could mess around in the studio a little bit, but I still couldn't get a job. A guy named Leland Russell came to Nashville from Jackson, Mississippi to buy a 16-track multitrack in '72. He was looking for a young engineer who might want to come work in his studio in Jackson. Leland was a young guy, managing a band there. Dave and Claude introduced me to him. We met and liked each other. Jason was six months old at the time, and we moved to Jackson, Mississippi. I started working at this studio called Alpha Sound. Leland had a live sound company, also called Alpha Sound. He was managing a band called Zuider Zee that was ultimately signed to Columbia. They were a Beatles-esque rock/pop group with a guy named Richard Orange who lives in Memphis now; he's a great singer-songwriter. I started recording in Jackson. The studio, oddly enough, had been owned by B.J. Thomas at one time. It was one of the early Tom Hidley studios, so there was an API console and these massive JBL monitors that were hung by chains from the wall. There were Scully tape machines. We had a 4-track and some Fairchild spring [reverb] units. We were off and running, trying to make Sgt. Pepper's... with Zuider Zee. There also was a songwriter named Parker McGee, who lived in a school bus behind the studio. He and his wife Allison lived there. Allison was seven months pregnant, baking granola in a gas oven on the school bus. They literally had an extension cord that ran from the school bus through the back door of the studio; that's how they got their electricity, so the back door to the studio was never closed. Parker was a James Taylor kind of singer-songwriter. I started working heavily with him on his songs and demos. I stayed in Jackson for about four or five months, and then it felt like they really weren't going to be able to get the money together to get a multitrack machine.
Was there other work coming in, besides those two projects?
KL: Not a lot. It was really self-contained. There was another studio called Malaco in Jackson that was run by Wolf Stephenson, Tommy Couch, and James Stroud. That studio was pretty darn successful and they cut a bunch of hits. I met those guys briefly. Paul Davis, a singer-songwriter, was working on a record there, and I met him in the summer of '72 in Jackson. Paul and James have remained good friends ever since. Then an opening came up at the Glaser studio in Nashville. I had that connection, and they figured that since I'd been working four or five months in a studio I knew a bit more than I did before. So we moved back up to Nashville and I started working in Tompall's studio.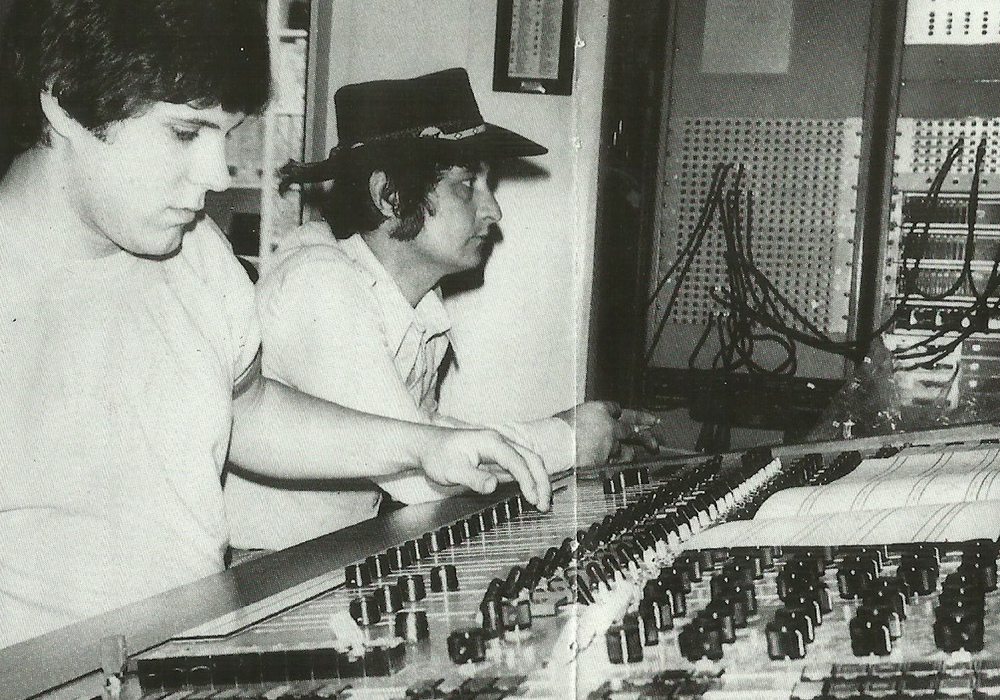 What sessions were you doing in the studio?
KL: It was an incredibly eclectic collection. This was the winter of '72. The Glaser Brothers were a country act, and they were fabulous singers. They had a publishing company, because they published "Gentle On My Mind" by John Hartford, which is a huge, huge copyright. They were "publishing wealthy," and they were taking chances on lots of different things. I don't know if you've ever heard of Kinky Friedman & the Texas Jewboys, but that was one of the acts that were there. I got to spend time on that. There was a wonderful recording engineer named Lee Hazen who had worked at Woodland Recording Studio. He had gone independent; he would come use the Glaser studio and I would assist him. I learned a ton from backing him up. There were some gospel records that a producer named Bob MacKenzie made that were pretty big sounding records. Lee also recorded and mixed Jimmy Buffet's A White Sport Coat and a Pink Crustacean. I was the assistant on that. Then Parker McGee moved to Nashville, and he and I continued to do demos together. I also engineered three Waylon Jennings albums and ended up playing piano with him on the road for about six months. I had originally gone out to work with his wife, Jessi Colter. She was playing piano and I was playing a Rhodes and an ARP String Ensemble; it was a really grim-sounding thing. It was weird. I went out with them, and Waylon asked me to stay on stage and play with them.
Who was producing those records?
KL: The first record was produced by Willie Nelson, and it was actually the first number one record Waylon had. It was a song called "This Time." When Waylon started working, I — being young and arrogant — would start making suggestions. They bit on some of them, so before I knew it, Waylon's playing my Fender electric 12-string through a Maestro phase shifter.
You're the person who started that!
KL: I said, "Hey, try this." He liked it and started playing that. I played [a Hammond] B3 on "This Time." There's a song called "Louisiana Ladies" that I played Wurlitzer on. Waylon was great. I was a trumpet major in college, but a horrible trumpet player. There was one tune on the album called "Heaven or Hell." I said to Willie, "I hear this sort of Clyde McCoy Harmon mute trumpet." I took my trumpet out, and damned if that's not on the record. I did a lot of work with Shel Silverstein. He'd come in and do lots of demos. I had run into a situation in the studio working with Shel in '74. I had a technical problem I couldn't figure out how to deal with. He asked me who'd know how to fix it. I was dealing with sibilance into an EMT plate, and it was splashing the plate. It sounded rough. I didn't like it, but I couldn't figure out a way to fix it. Roy Halee had been making monstrous-sounding recordings. They were impossible sounding recordings. He had done "Summer in the City" by The Lovin' Spoonful, and also the Blood, Sweat & Tears records. But "Bridge Over Troubled Waters," and all the Simon & Garfunkel production, was amazing sounding. Five minutes after I said, "Roy Halee would know how to do this," I was on the phone with Roy. I held him in such high esteem. The sweetest thing he said to me when I explained the problem was, "Yeah, that is a problem. I'm not sure, but here are a couple of things you can try." Both of which worked. [His solution] was to set up a send that was EQ'd differently than the vocal and roll the top-end of the send off to the plate. That was a great idea. He was talking about maybe de-essing the send. We had some Allison [Research] de-essers at that time. Not long after I talked to him on the phone, Shel and Tompall sent me to California to spend a week in the studio watching him work. It changed everything. I was 24 when I got to do that. It opened up everything.
Yeah, he was intensely creative. There didn't seem to be any boundaries with him.
KL: In 1974, when I spent that week with him, he had two Ampex 1200 16-track decks locked together. It was like a SMPTE [timecode] system, but it was before that existed. I remember him sitting there saying that he had it so nailed [sync-wise] that he could put the left side of the drums on one side of the machine and the right side on the other that there would be no phase cancellation. He was running 30 tracks in 1974 with no automation! Watching him mix was like watching some wild man behind the console. He was flying from one end to the other, grabbing this, swinging that, starting and stopping the machine. That's where I learned that you don't have to mix from beginning to end. You can cut it together. He'd literally work on the intro for two or three hours until he got that and then move on to the next piece. The thing was is, up until that point, I thought. "Well, he's a genius. That's why his records sound great. He's a genius, and I'm not." When I got there, I walked into the hallway of the studio, and there was this explosive sound coming out of the control room. I saw a guy there who I'd known in Nashville that was now working in San Francisco with Roy. I said, "What's going on?" He said, "You hear that sound coming out of the control room?" I said, "Yeah, what is that?" He said, "It's not what it is. It's that it's day five, and that's all I've heard come out of the control room." Right then and there I thought, "He may be a genius, but he's got the time and the money to make the vision a reality." I didn't have those kinds of resources. It takes some courage in order to pull all that off. It was a phenomenal experience.
There are a lot of people who get complacent in the recording process because you can throw up some mics and get a half-decent sound, but there's always further to go.
KL: I think today it's even easier to be complacent, because the sounds that he was generating were impossible. Now there's a plug-in for everything. To push those boundaries further is a really interesting challenge. Then, from there, Parker McGee kept writing songs. Eventually he wrote a song called "I'd Really Love to See You Tonight." I cut the demo on the song, and through a long, convoluted story, I ended up producing that song for a group called England Dan & John Ford Coley. It was the first record I got to produce myself, and it sold a million copies.
Someone liked the sound of your demo more than a new version that had been cut?
KL: Right. You know how it is. Somehow they felt that the guy who had cut the demo made something more special than the record they'd recorded. Susan Joseph was managing the band, and she'd gotten a singles deal with Doug Morris at Big Tree Records at the time. She convinced Doug that this unknown kid in Hendersonville, Tennessee could make a hit record with these guys. Doug let her do it. The record that he heard was the record that had convinced him to sign. She let me have a shot at it. It was very, very lucky. It was number two on the pop charts for seven weeks, because Elton John and Kiki Dee had "Don't Go Breaking My Heart" going. It wouldn't get out of the way. We stayed at number two for seven or eight weeks. It was crazy.
That's a good calling card. Did your career blossom after that?
KL: It did, for a while. Things went up and down. I ended up working at Atlantic for Doug Morris. He went to Atlantic Records, and I was an in-house producer for a couple of years. I didn't really have any big hits, and after a couple of years we parted company. I went back into independent producing. You can't always cut hits when you're producing, but I was a pretty decent and reliable recording engineer. I mixed and cut tracks as much as I could until I got another opportunity to produce something. I did that and am still doing that!
A big part of your career has been based around songs. How does that play into your role as a producer as your career has grown?
KL: Well, songs are the ammo. Without a great one, you're really shooting blanks. It doesn't matter how good it sounds if there's not something meaningful in there. Nashville's a phenomenal songwriting community. Back in those days, there were lots of independent publishers and songwriters around. It was not easy to find a hit, but there sure was a lot to pick from. You had a lot of great songwriters. There were publishing companies that made things available.
Were people seeking you out and pitching songs?
KL: Oh yeah, sure. When you have some hits going, to be visible and have success will draw people to you. There were songs coming, by a lot. I'd also make trips to different publishers and sit down for an hour to listen to as many songs as possible. Publishers are great because their egos aren't involved with it. I can listen to a verse, a chorus, and then skip on to the next song. You can get through a lot of material that way.
It's harder when the songwriter is sitting there facing you.
KL: I'm trying to think if I've ever been in a pitch meeting with a songwriter. I don't think so. It can be really brutal. I'm notorious for not remembering who wrote what, because it doesn't really matter to me! The only thing that ever mattered to me was whether the song seemed like it would be right for what I was working for.
"Songs are the ammo. Without a great one, you're really shooting blanks."
Definitely. When did you start working with Randy Travis?
KL: Around '84 I was producing a record for Keith Stegall who was an artist at Epic at the time. He was a great songwriter and had written some pop hits already. He was taking a shot at being a country artist. Keith went on to produce Alan Jackson; he also signed and produced Zac Brown. Keith's a phenomenally talented record producer and we're still good friends. But back then, Keith was an artist and I was producing him. He walked in one day with a cassette tape and said, "Hey, I've been helping this guy make a live recording. What do you think?" I put the tape on and listened to 20 seconds of it, turned it off, and immediately asked him, "Who is this guy?" He said, "It's this catfish cook out at the Nashville Palace." Randy was a traditional stone cold country singer. In '84, if you can remember those times, country music was the "Looking for Love" thing. Mickey Gilley was huge, and Kenny Rogers was having big crossover hits. If you didn't cross over into some other genre, like adult contemporary, you really didn't sell many records just in country music. Nobody was singing traditional country music at that point. If you sold 200,000 albums, you were doing really, really well. Nobody was looking for what Randy was offering, but I thought his voice was undeniably great. I loved that he was so clear about what he wanted to do, which was to sing country music. I went out to see him perform at the Nashville Palace. I'd heard that Martha Sharp at Warner Brothers Records was interested in him. I called Martha, who I didn't know very well, and she ended up taking a chance and signed Randy to a singles deal in 1985. Keith and I actually went and co-produced the first four sides that were recorded on Randy. After they released a single from those four sides and it didn't do great, Keith really wanted to concentrate on the artist side of things. He bailed and I didn't really have an option, so I stuck with producing Randy. The next time we went in the studio, we cut a record that was a top-10 record with a song called "1982." Then they decided to re-release the first song we'd put out, which was "On The Other Hand." The second time they put it out, it went to number one and became a huge hit.
Funny how it works sometimes.
KL: Those were the good old days of the record business. You could get away with that sort of thing. He ended up selling almost five million copies of that first album. People went, "Oh, maybe traditional country has a purpose!"
It takes someone to point it out every once in a while. People wanted something like that.
KL: But, you know, it wasn't like I got up in the morning knowing, "Oh, I know what everybody needs!" The reason it happened was that Keith played me a cassette and I was captivated by the integrity of the voice and what was going on. I figured it was worth my time.
Jason, while all this was going on, you were growing up. My dad didn't engineer and produce, so I always wondered what it'd be like to grow up with that around.
JL: It was great. There was always a cast of characters coming and going from the house. There was always a studio to go hang out in. Before he had his own place, Lee Hazen had a place in his basement in Hendersonville, and I would go there after school and hang out. It was really fun.
You've got three other brothers, right?
Yeah.
Did any of them gravitate towards the studio as much as you did?
JL: I'm the oldest. My youngest brother Jordan got into it as well. But by the time he was doing it, home recording had taken off, so even then he wasn't as into the recording studio as I was. He's also more of a musician than an engineer, so recording was a necessary evil. But yeah, I really loved recording. I fell for it right away. I had a 4-track cassette recorder, a little Tascam, up in my bedroom. I'd spend hours up there with a sequencer, a drum machine, and a guitar.
It's good practice.
JL: I had a band in high school whose sole purpose was to be my experiment for learning how to record. We never played shows or anything; we'd go in the studio. We were all a bunch of like-minded guys who weren't interested in playing shows. We wanted to goof off in the studio. I remember one day Dad took me over there and said, "Okay, here you go." It was about a four-hour lesson in signal flow, and then he said, "Good luck," and left!
Where was this studio at?
JL: In Hendersonville.
Was that your home set up?
KL: Originally the studio was called Funky, But Music. We shouldn't really have named it that. I had a partner, Tony Gottlieb, who's like an uncle to all these guys. His dad, Lou Gottlieb, was in the Limeliters. I met Tony when I was working at Glaser. We decided to start this little publishing company and ended up having a studio out there. [Bassist] David Hungate from Toto would come play sessions when he moved to Nashville. One day, Tony came into the control room and said, "We're going to have to do something about the name of the studio." I asked why. He said that somebody had called information to get connected to the studio, and when they asked for Funky But Studio, they hung up on them. So we changed the name. Tony's dad Lou had this commune in Northern California that he'd called Morningstar Ranch in the early '60s. Tony decided to name it Morningstar. We turned it into Morningstar Studios, but David Hungate always referred to it as Morning But.
Some things you can't avoid.
KL: Leave it to David. It was a cool studio. It was on the lake in Hendersonville, a little block building we had tricked out and built a control room in.
Was it close to where you guys were living at the time?
KL: Yeah. We lived in Hendersonville, so it was about ten minutes from the house. I made everybody drive out there, and god bless them, they never complained. It was small and goofy for recording. Tony's dad had a Bösendorfer grand piano, so we had that in this funky studio. Acoustic guitars in the bathroom and that kind of thing. It was great and we had fun.
So you got a crash course?
JL: I did. I had no idea. He'd say, "Turn the [Teletronix] LA-2A until the needle goes back to 3, and then turn this knob up until it tells the tape machine it's at zero." Okay, great. It took me ten years to really understand how to hear what that meant. It was great, because we'd go there on a Friday night and not come back until Sunday. We'd sleep under the piano. I could call in the middle of the night and get Dad to troubleshoot when things went wrong. I was way over my head, in terms of quality of equipment. There were [Telefunken E LAM]251s, [Neumann U]47s, [U]49s, and [AKG C]24s.
You didn't break anything, did you?
JL: I don't think so. It was a really fun way to learn how to do things. For better or worse, there was no economy attached to it. It really was us going and playing with the gear. It was a great way to learn how to do it.
Are some of the guys who were doing that with you in high school still in music?
JL: None of them are doing it professionally. In fact, it wasn't until college and after college that I worked with people doing it professionally. I was 15 or 16 years old.
KL: The music was really interesting. Jason's being a little bit modest about it. It was the kind of thing where I'd walk in there and go, "Now what the hell is that?" There was no place in my vocabulary for how to make it sound like that. It was really pretty interesting music. I remember Billy Joe Walker, who's a great Nashville session guitarist, would come to the studio to work from time to time and he'd always ask to hear what they're doing. I'd have to play it for him, and he'd go, "Wow! What's going on?" You guys did play a couple of gigs. It was pretty cool.
JL: Yeah. We got good at being what we were and took it seriously until it was no fun. We're all still good friends. It lasted through college into the summers.
Did you go straight to Berklee?
JL: No, I went to North Carolina. My high school girlfriend got into UNC. I didn't even apply there. I knew there was no way I was going to get in from out of state. The closest place I could get in was UNC Greensboro. I knew I wanted to go to Berklee, but I didn't want to go there for four years. I went to a state school where I could take credits that I could transfer.
KL: You did study music at Greensboro with a couple of really good instructors.
JL: Yeah. I did take some classes there. I didn't like Greensboro, so I transferred to NC State in Raleigh my second year. I had a great music class there. After one semester in Raleigh, I'd taken everything I could transfer, so halfway through my sophomore year I went to Boston and started at Berklee. I was there for two and a half years.
What was your focus there?
JL: Production and engineering. I did it because I knew it was what I wanted to end up doing, but it was also an easy choice because I was already doing it. The production program there is great, but if I could do it again, I'd just take arranging courses.
KL: You'd been playing piano since you were like six or seven though.
JL: I came up playing. You have to play an instrument if you're going to Berklee, which was great. The arranging classes that I did take were really good.
I feel like arranging is the key to making great recordings.
KL: I always thought that engineering was an extension of arranging. It's an audio extension of arranging. If you're not able to translate the arrangement into something that the arranger intended, then what's the point?
JL: That was a cool thing to be in the production program, learning about audio and taking arrangement classes. It gets your head away from not being able to make a guitar bright enough. What you can do instead is capo it up on the seventh fret, and then all of a sudden it sits properly. It taught me about finding ways with the music to create the sound you want, as opposed to just using gear.
After Berklee, what was your path?
JL: I was coming back home in the summers and working for Dad, or whoever was with him, assisting. There were four or five engineers around here I'd assist for. When I came back after college, me and all the guys from the high school band moved into a house over in the 12 South area, which wasn't called 12 South then. I think the rent was $600 a month, split four ways. I would assist whoever would have me. I had relationships with all the studios in town, so I could always go in for a cheap, or free, weekend. I started taking any band that I liked and offer to record them for free. One of the first things I did was work with David Mead, who was in another band called Joe, Marc's Brother. It was one of my favorite bands in Nashville. At the time, they were a four piece with David. David left to do a solo thing. We started doing demos, and within about six months we had enough music to play for labels. A few months after that, he had a deal at RCA in New York. I thought, "Shit, this is easy!" That's the last time I actually did demos for someone that turned into a pro record deal.
It's not that easy!
JL: Yeah. I continued to assist. I had started firsting on sessions and doing a little bit of mixing. David's record was my first real major label production job. The label was very cool in letting me do it, but they said I couldn't do it alone. David and I had to pick another producer to bring into the studio. We asked Peter Collins to help us with it. He was fantastic to work with. He's a real classic — and classy — record producer. That was a great experience.
How come you didn't use your dad?
KL: I wouldn't have been the right guy for that. At the time, I had a studio at my house over on Wimbledon Road. I was running Asylum Records too, at the time, so I was definitely off on a different path. I still think that record you guys made is phenomenal.
Did it do well?
JL: No, it tanked. You can't even get it. It's not on iTunes... it disappeared!
KL: Yeah, I've got a couple of those.
JL: That was a really fun project. I grew up in a country music town and a country music environment, but that was never what I was listening to as a kid. It was an important record for me to do, because we were trying to make pop music. In Nashville in the '90s, if you were trying to make pop music it was horrible. From there I kept doing things. I still work on a lot of country records and enjoy it, but that was a fun one for me.
It feels like the town's changed a lot over the years.
JL: It's really diverse.
KL: Ironically today it's more like it was in 1967 than the time in between. In 1967, when I first came here, the Everly Brothers were still making records. Chet Atkins was making country and pop records. Elvis was recording here, as well as Bob Dylan. It was really an "anything can happen" place. Then, in the '70s and '80s, it ratcheted down to basically country and Christian. Starting in the mid-'90s, things blew up again. I don't think it's ever going to be anything but really eclectic, from here on out.
Having your finger in a few different pies is a safer balance too, as far as trends and changes that happen.
KL: Yeah, that's right. I think the young people migrating here are typical of young folks who are interested in all kinds of music. They love great country music, but they also love alternative. They love great music. I think it's a really exciting time here.
"I always thought that engineering was an extension of arranging. It's an audio extension of arranging. If you're not able to translate the arrangement into something that the arranger intended, then what's the point?"
How'd you end up running Asylum Records for that time period?
KL: Well, this is in the late '80s and country music really exploded. Along with Randy Travis, who started the trend, Alan Jackson was huge, and Garth Brooks blew the doors off. Major record companies started going, "Hey, wait a minute... there's a lot of money to be made in the genre." Atlantic had a successful country label. When I started, there were 20 or so major-funded record companies in Nashville. Bob Krasnow, who was the chairman of Elektra Entertainment, decided he wanted to get into the country music business. He sent Steve Ralbovsky — a legendary, wonderful A&R guy — to Nashville to headhunt and see who might want to do it. Somehow, the meetings and conversations I had with Steve lined up with what they were looking for. I had been in the studio pretty much non-stop for 20 years. Jason's mom and I decided to end our marriage around that time, and I figured I really needed to make a change. The opportunity to go to that side of the business came up. Bob Krasnow was this fascinating entrepreneur record mogul guy. I really liked him, and it felt like the right shift to make at that time. We opened the label. A lot of people say, "Wow, you ran Asylum with The Eagles, Linda Ronstadt, Joni Mitchell, and Jackson Browne." Well, none of them were on Asylum by the time I got the name. They had mothballed the name and moved all those artists into the Elektra family. I started a record company with no catalog. It put a certain pressure on us to come up with something special and unique. That didn't happen right away. It was really hard to get it going. We eventually had some success and some hits. It was a fascinating experience to do that.
What years were those?
KL: I ran it from '92 to '98. Bob Krasnow was there not quite two years, and then they brought Sylvia Rhone in to run Elektra. Much to her credit, and my luck, she didn't fire me right away. We were starting to have some success about the time that she came in, so she let me stay. I was up for a contract negotiation in '98, and we really couldn't see eye to eye on how that needed to go. By that time I was fried, so we parted company amicably.
Had you had any time to produce and record, at that point?
KL: I did. I didn't do a lot of recording, but I did some producing. It was fun to be able to do that. I much preferred being in the studio to being in marketing meetings. I had an incredible opportunity to run a major-funded record company. If I was successful, it was because we made some good choices. If I failed, it was because we made some wrong choices. The most important thing I learned about it is that, as a record producer, and I know you feel this, there's always a sense that I know I've made hit records that a record company wasn't smart enough to know what to do with. If they let me run the company, I'll show them what a genius I am. What I found out, fairly quickly, is that it doesn't matter how much I believe in something. If the public doesn't want it, you can't make them buy it. It was really helpful to me to learn that. It gave me a lot of compassion for people who run record companies, especially today. I think record companies get ragged on a lot by folks who think they're evil. I'm not in that category. I think they're fighting an incredibly difficult battle, way more difficult than the one I had to fight. God bless anybody who wants to take on that challenge and try to make something like that work. It's not a particularly fun time to be doing that.
What projects have both of you guys been working on lately?
JL: I'm in the middle of a record for a band from Philadelphia called Good Old War on Nettwerk. We went to Echo Mountain in Asheville, North Carolina, to track it. It was great. It was a really well run studio. The band's a duo, so I hired a bass player, Lex Price, and drummer, Ian Fitchuk, to come with us. I hired an engineer, Konrad Snyder, to come with us too. We tracked that there, and then brought it back here for a week to do some overdubs and vocals. Now I'm getting it ready to mix. I'm also working with an artist called Kelleigh Bannen on Universal Nashville. It's my first country production. I've done some alt country production, but it's my first major label country record. That was a really fun experience. I'm doing a fair amount of writing. I always wrote music, but I started digging into it, writing with purpose.
Do you have a publishing company pushing your songs?
JL: Yeah, there's a company I'm signed to called Green & Bloom that's based out of New York and Los Angeles. They're a joint venture with BMG.
Kyle, what have you been doing lately?
KL: I haven't been producing a lot. I did a single on a kid last year for a country record that didn't really happen, but it was a fun project. I've been doing some really interesting, fun things. I engineered and mixed the last record that Ray Price made, that Fred Foster produced and Bergen White arranged. Fred and Bergen are both good friends of mine. They called to ask me if I wanted to be involved in the record. We'd recorded at Ocean Way [Nashville] with a live rhythm section and orchestra, all on the floor at the same time. I hadn't been able to do that in quite a while, but I had done it on a number of occasions in the '70s and '80s. It was so much fun. Bergen is a wonderful arranger, and he'd written everything out; the steel parts, the whole thing. They'd count the tune off, and there was the record. Boom! You don't have to use your imagination. Ray passed away right before the record got released, but he did hear it and signed off on the mixes. Working with Fred Foster — who's a legend — was incredible fun. He's such an interesting character. He's 82 years old.
He did the Roy Orbison sessions, right? That's crazy.
KL: Yeah. He owned Monument Records, Combine Publishing, and Monument Recording Studios. He signed Dolly Parton, Ray Stevens, and Kris Kristofferson. Fred's really an interesting guy. I've worn Fred out asking him how he did different sessions. He remembers everything. It's exciting. Ironically, early next month I'm engineering a session for Zac Brown, and Zac owns Fred's old studio. Southern Ground Studios is the old Monument Recording Studio. I'm going to cut a track for them.
Is it almost like a vacation to step in and engineer sometimes?
KL: It is. It's an interesting time for me, because I can't go do this if it's not something I'm genuinely interested in. I've had my time in the barrel; I've had hits and awards. My enthusiasm for sitting in the studio and slogging it out is pretty much gone. But when something really interesting comes around, or if I think of something interesting, I'll jump on it.
KL: Last year Jason was producing something for a TV show, and he hired me to cut all the tracks. We had so much fun in the studio. I think the players all enjoyed the "father and son" vibe. The TV show wasn't particularly great, but the records were really fun.
JL: It was like a reality show, so every cast member got to do a song, sometimes two. It was great, because I was told what the song was on Monday and who was going to sing it, and then the tracking session was Friday. We'd have the band set up and cut the song, and after lunch I'd have the singer sing it and rough in the comp. At five they'd roll in a video crew and stand-in band to what we'd tracked that day. It was really fun and super creative. And the artists were all very talented.
KL: The records were really good. They were all covers.
What was the show?
JL: It's called Crazy Hearts: Nashville. It's already canceled. It was canceled before the first season was over.
KL: That version of "Ain't No Sunshine" is really good. What Turtles tune was it you guys did?
JL: Bob Dylan's "It Ain't Me Babe."
KL: He would get these tunes and tell me what they were going to record, and I'd be thinking, "God, how are you going to do that in an interesting way?" It was some iconic song, but they pulled it off. All of them were really great.
"As a record producer there's always a sense that I know I've made hit records that a record company wasn't smart enough to know what to do with. What I found out, fairly quickly, is that it doesn't matter how much I believe in something. If the public doesn't want it, you can't make them buy it."
That's a good exercise as a producer, to go in and try to recreate, or modify, a well-known song.
JL: And there was no time for anybody to complain about it. It was really a fun ride.
How did you get a job with that?
JL: My manager, Steve Smith, put it together.
Good deal, man. Did you have to do it all on some set?
JL: No, the great thing was that we had to work in big enough studios for the video crew to be in. We got to work in great rooms. Blackbird, Sound Emporium, Ocean Way. We'd talk a lot before the session. Once it started we might exchange a couple of words, but it all ran smoothly.
Do you all have disagreements on how things should sound if you're working together?
JL: Sometimes, but not usually.
No family squabbles in the middle of the session?
KL: No. It was great fun for me, because Jason has a whole different tribe of guys he's working with than I grew up with. I got to experience a big group of knuckleheads that were really fun to work with.
JL: There was one session where you made a suggestion and I disagreed with it, but it was clearly the right idea. When we listened back to it, the bass player said under his breath, "Daddy knows best."
Tape Op is a bi-monthly magazine devoted to the art of record making.