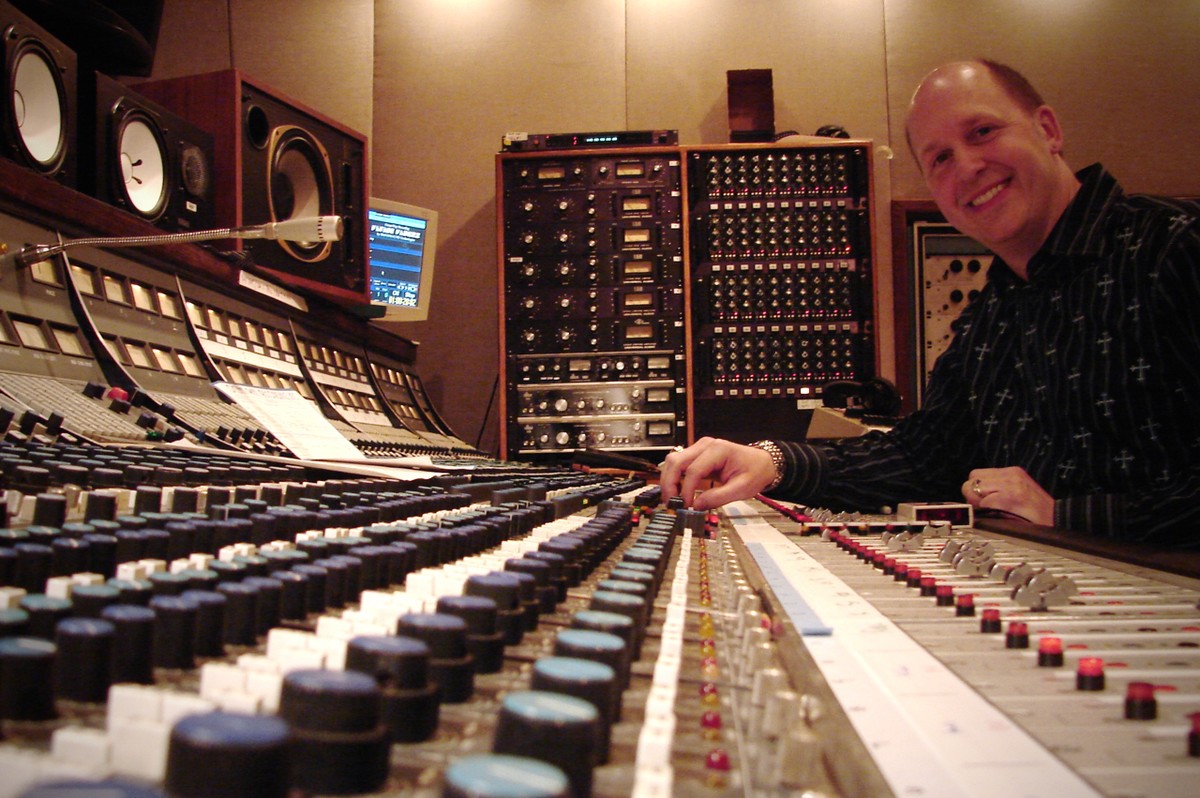 The silver sedan parked outside has a license plate that read "Dr. Vibb," a nickname I was very familiar with. I knocked on the door and a man — who could've easily been my brother — invited me in while his wife filmed our first meeting. I was welcomed with a hug. His 6-year-old son greeted me with a big expectant smile. Brian Vibberts and I became acquainted with one another 14 years ago. When an internet search of my own last name revealed another "Vibberts." It just so happens that this one had worked on such albums as Michael Jackson's HIStory, The Miseducation of Lauryn Hill, Billy Joel's River of Dreams, and Mariah Carey's Music Box and Daydream.
I was intrigued and sent him an email. We made contact and were surprised to find out we shared a long list of parallel experiences, aside from sharing a an uncommon last name. We both grew up in Connecticut, went to Berklee College of Music within a year of each other, pursued a career in music, moved to California, and eventually we each had one child. We don similar hairstyles by default, love world music, attended the same exact Iron Maiden and Rush concerts in 1985, and strangely even share the same unusual food allergies.
We agreed to meet in person one day, and in the meantime we stayed in contact over the years via emails and holiday cards. Brian's career exploded as he continued to work with many of the world's top artists (such as recently mixing Chick Corea and Bela Fleck's Two album) and garnered himself five Grammy awards. What follows is a conversation 14 years in the making...
You worked on Paul McCartney's Chaos and Creation in the Backyard album?
I really only worked on it for a few days. My good friend, Darrell Thorp, engineered the whole album. I joined the session for woodwind and string overdubs when the session split into two rooms. Even though it was only a few days, I was in heaven working with Sir Paul.
You also worked with Ringo and George Martin?
I worked with Ringo Starr on two different live shows: VH1's Hard Rock Live and VH1 Storytellers in the Sony Studios main stage. George Martin was producing The Who's Tommy Broadway show. Pete Townshend was there too, overseeing the project as an executive producer. I think that Pete wanted to make sure that even though it was a Broadway show, it didn't lose that rock element, which it didn't. I believe that show helped lead the way for shows like Green Day's American Idiot on Broadway. It was definitely one of the highlights of my career to work with Sir George Martin. I've really been fortunate to have worked with so many great artists who I've grown up listening to and loving.
The mentoring that you got to take advantage of is quickly disappearing. It feels like you're among the last to have really gotten that experience.
It still happens in big studios, but there are fewer of those big studios around. A lot of those studios aren't booking projects that stay there for the duration of the project, so the person who is on staff as an assistant engineer might only be on it for a week. They're not seeing the whole process. They see a small part of it, so that's different as well. It's a shame, because a lot of producers and engineers who have a lot of knowledge aren't there for assistants to learn from.
That's why magazines like Tape Op are so important, to pass along that information and inspire the next generation.
Absolutely. I read Tape Op, Sound on Sound, Mix, and Billboard. I like to keep up with the business. I think it's important to read all different articles. You can read something on live sound or theater production, and there's always something in the article that you can take from it and incorporate into what you're doing.
Do you have any books that you'd recommend for recording and mixing?
Any of the books that Bruce Swedien has written, like Make Mine Music or In The Studio with Michael Jackson. Microphone Manual: Design and Application by David Miles Huber explains microphones. One of the best books is Digital Audio Explained: For The Audio Engineer by Nika Aldrich. It does get in-depth and complicated, but it explains concepts in a very clear way. Also, I'd recommend reading Billboard every week to keep up with what's going on in technology, streaming, downloads, and the charts.
Tape Op is a bi-monthly magazine devoted to the art of record making.