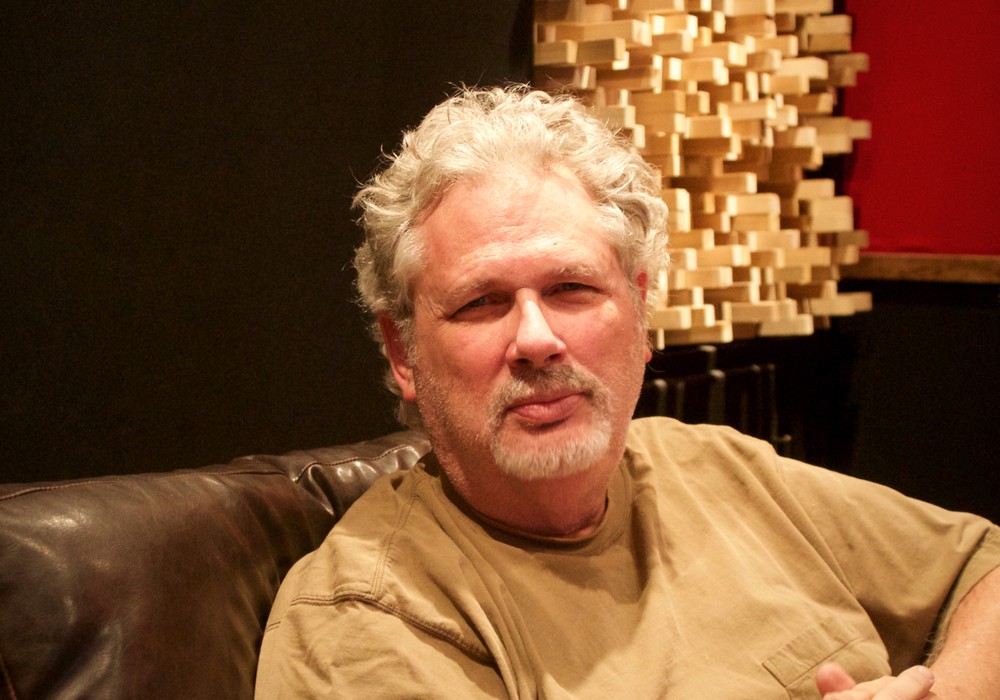 Partway through my chat with world-renowned mix engineer Dave Pensado he said,"Be careful that you don't confuse advice with opinion." Hanging with Dave you realize he is a veritable fountain of advice. In fact he dishes up knowledge, thoughts, and interviews weekly on his online TV show, Pensado's Place, with his manager and co- host, Herb Trawick, at his side. Their recent book, The Pensado Papers, delivers the back story of their career, as well as their show together and was co-written by Maureen Droney [Senior Executive Director, Grammy P&E Wing]. Dave's work has filled the top of the charts with mixes for Mary J. Blige, Michael Jackson, Kelly Clarkson, Beyoncé, Elton John, Christina Aguilera, Jill Scott, Macy Gray, Peaches, Mariah Carey, and The Black Eyed Peas. As we were wrapping up our talk at Echo Bar Studios in North Hollywood, Dave said, "Hopefully we're all honest about our abilities and value to the world, and honest about our ability to leave the world a better place than we found it." What more can we strive for? Well said, my friend.
Your roots stretch back to Atlanta. I know you were playing in bands.
And a little live sound. Then Larry Turner and I decided we were going to put a studio together, one of the more naïve decisions I've ever made. It led us to a gentleman named Phil Benton, who owned a studio named Monarch Sound. It was a very small, unpretentious facility with lots of heart and people who loved to make records. Larry moved up the scale and I became more of a freelance guy. I fell into making records with anybody that would stand still and could navigate the space to a microphone. I did hundreds of free records.
Just trying to get your skills up?
Well, I wasn't worth paying anything for! I wouldn't hire myself. The only way you're gonna do anything in life is to just do it. I had the same taste that I have now, but I just didn't have any skills. I could make a pretty good record, but it would take me a year... the same thing that would take me hours now. I didn't know what the equipment's capabilities were. All those hours of making something sound bad. Then you do that hundreds of times over the years, and all of a sudden you find yourself hearing something come out of the speakers. Immediately in your head you hear what it could sound like, and you subconsciously draw on those thousands of hours of mistakes and happy accidents. Suddenly, without really realizing it, something good is coming out of the speakers. That transition from thinking about it to having it happen naturally took about 12 years.
If you weren't getting paid much, how'd you make a living?
Well, I had some close friends I had helped prior to my engineering life. I took care of them while they were struggling, so I got some help in that area. I had some girlfriends that were helping me out too. Most of my life I had five roommates. I had part of the basement, and we also rehearsed in my bedroom, so my bed was in a corner of the basement, and the rest of the basement was my workbench. I earned a living repairing equipment for a store called Atlanta Discount Music. I'd modify guitar amps and repair TV sets. I was playing in bands, and that shifted to working at Monarch.
What was your impetus to dive into the recording world?
A combination of several things. Probably abject fear at reaching an age where I felt my ability to finally make it as an artist was fading. I could feel that. When you're the oldest person in every band you're in for the last ten bands, you kind of have to evaluate where you're at in life. It was all about how I could stay in music. I wasn't a very good session player. That's why building a studio seemed like a good place to be. The psychological impediment to trying out engineering seemed insurmountable. Easing my way in the back door by building my own studio seemed like a good option, but it just morphed into something. I woke up one day and decided to go to England to work there. That didn't work out. Another day, I'm on my way to California. I've never been able to make decisions that I had 100% confidence in. All my number one records have come from the most bizarre paths. I don't think that in the 30 years of my career I've ever made a phone call or sent an email that actually got me work. I think the only thing that gets me work is to stay in the studio and crank out a record that people hear and like, look at the credits and go, "You know what? I think I want that tall ugly guy on my record! Maybe he'll screw up and do it again."
While you were still in Atlanta, what were some of the things you worked on that were more of a breakout or success for you?
Well, because I was affordable I got to do some things I maybe couldn't have...
The rest of this article is only available with a Basic or Premium subscription, or by purchasing back issue #111. For an upcoming year's free subscription, and our current issue on PDF...