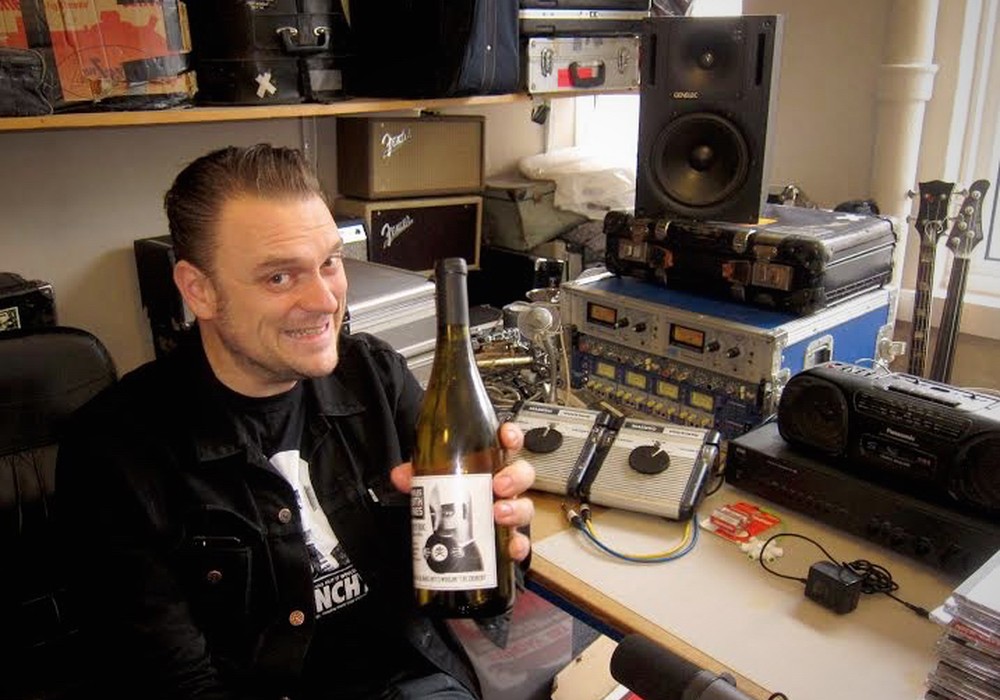 Independent scenes were popping up all over the US and UK in the '80s and '90s. Labels like Touch & Go and Merge started in spare bedrooms. Simple Machines went so far as to give away their Mechanic's Guide, which demystified the process of recording and distributing your own music. The DIY spirit was everywhere, eventually even giving birth to magazines like Tape Op. Northern Europe, however, was another story. What we take for granted simply didn't exist in countries like Denmark. In a rules-based society, traditionally rooted in Jante Law (the idea that there is a pattern of group behavior), it was utterly revolutionary for Jesper "Yebo" Reginal to start the Crunchy Frog label, in 1994, pre-Internet, with no owner's manual. With the signing of The Raveonettes, the subsequent release of their acclaimed Whip It On, and a follow up with the massive international dance hit, "Move Your Feet," by Junior Senior, things went to the next level. As a monster drummer, Yebo's impressive CV includes time with Tothe International, Junior Senior, Heavy Trash (with Jon Spencer), Danish legends Psyched Up Janis and, along with Tambourine Studio's Per Sunding, he's been "putting the 'urf' back in 'surf,' since 1999" in the instrumental supergroup Tremolo Beer Gut. The label recently hosted a 20-year anniversary party, selling out Copenhagen's Pumpehuset. Nearly 1000 people gathered to celebrate, drinking bespoke Mikkeller beer, and Charles Smith wine, made specially for the event, as bands played until the sun came up, proving Crunchy Frog is his greatest accomplishment.
When did you start the label?
In '94, with my bandmates in THAU, which consisted of three guys named Jesper, and my brother Ulrik. I'm the only one who still has an active role. "Crunchy Frog," is a Monty Python reference. Originally we just wanted to put out our own records, and it just grew from there. My wife, Jessica [Tolf Vulpius] has been there pretty much since the beginning, as a consultant, doing booking, and many other things. First unpaid, then extremely underpaid, then as an employee, like the rest of us.
Crunchy Frog's studio is called Kondi Frost — what does that does that mean?
"Kondi" means your physical condition; your cardio fitness. "Frost" means frost. In Danish it sounds kind of poetic. When we signed the band Superheroes, Thomas Troelsen [singer, now a well-known international pop song writer] was just 15, so his parents had to sign the contract. His mother had a strong northern Jutland country accent. Thomas said she'd always call us "those nice guys from Kondi Frost." She was thinking "crunchy frog," but she was saying "kondi frost," because those are Danish words. We thought, "Man, that's a much better name for the label!" and wished we could change to it. So when we started to do in-house recording we thought it would seem unprofessional [to the public] that we were actually just recording here at the office. So we put "Recorded at Kondi Frost" on the first big thing we got credit for.
Plus there's a great "cold and Nordic" naming tradition with places like Polar [ABBA's studio in Stockholm].
Yeah, and it's also got the energetic thing. It sounds like a sports drink.
How did the studio start?
We had been going to other studios, like Tambourine. It was great, because they had all of that Neve equipment, everything just sounded good, and we still learned to work the knobs. The engineer there was working 14-hour days, so eventually we told him he was crazy, to get some sleep, and we'd try it ourselves. In 2002, we had just released records by Junior Senior and The Raveonettes. We had a Christmas party with them, and Superheroes — who were even bigger than those bands at that time — The Tremolo Beer Gut, and The Mopeds. We actually made something like $5,000. We didn't know how to divide it up though. More people came to see Superheroes, but Junior Senior were big too. Should we divide it evenly? By the number of band members? That might be weird. At the end of the day, since nobody would get that much, we asked if we could just buy some recording equipment and editing stuff, which would make production less expensive for everyone. Everybody thought it sounded better than just getting 300 kroner [$52]. We hadn't thought about starting a studio, and didn't want to run one, but now we had this money, and an extra storage room. Having been schooled on top gear at Tambourine, we had a lot to think about, but we decided we could at least do some vocals, guitar overdubs, and editing. At the beginning of 2003 we were up and running. We got the Pro Tools system, which we still use.
What version of Pro Tools is it?
It's old! Version 5.3.1. When a newer version was coming out, the Pro Tools experts in Copenhagen, at Cyber Farm, said, "Frankly, that old system works better! It never crashes." And it never does! We use it for tracking because it works great. These days my brother [Ulrik] and I have laptops, running Pro Tools 10, good plug-ins, Mboxes, and a home studio setting where we can edit in the box. That first location really had decent acoustics, and was well-damped by our inventory. Being surrounded by a lot of records is a nice environment to record in.
Eventually you moved [the Copenhagen neighborhood of] Vesterbro?
...in 2009. The main room was smaller, and not as nice as the other one we had, where we were able to set up drums and record everything in the same room. But in the new space, we had all these extra rooms — for...
The rest of this article is only available with a Basic or Premium subscription, or by purchasing back issue #111. For an upcoming year's free subscription, and our current issue on PDF...