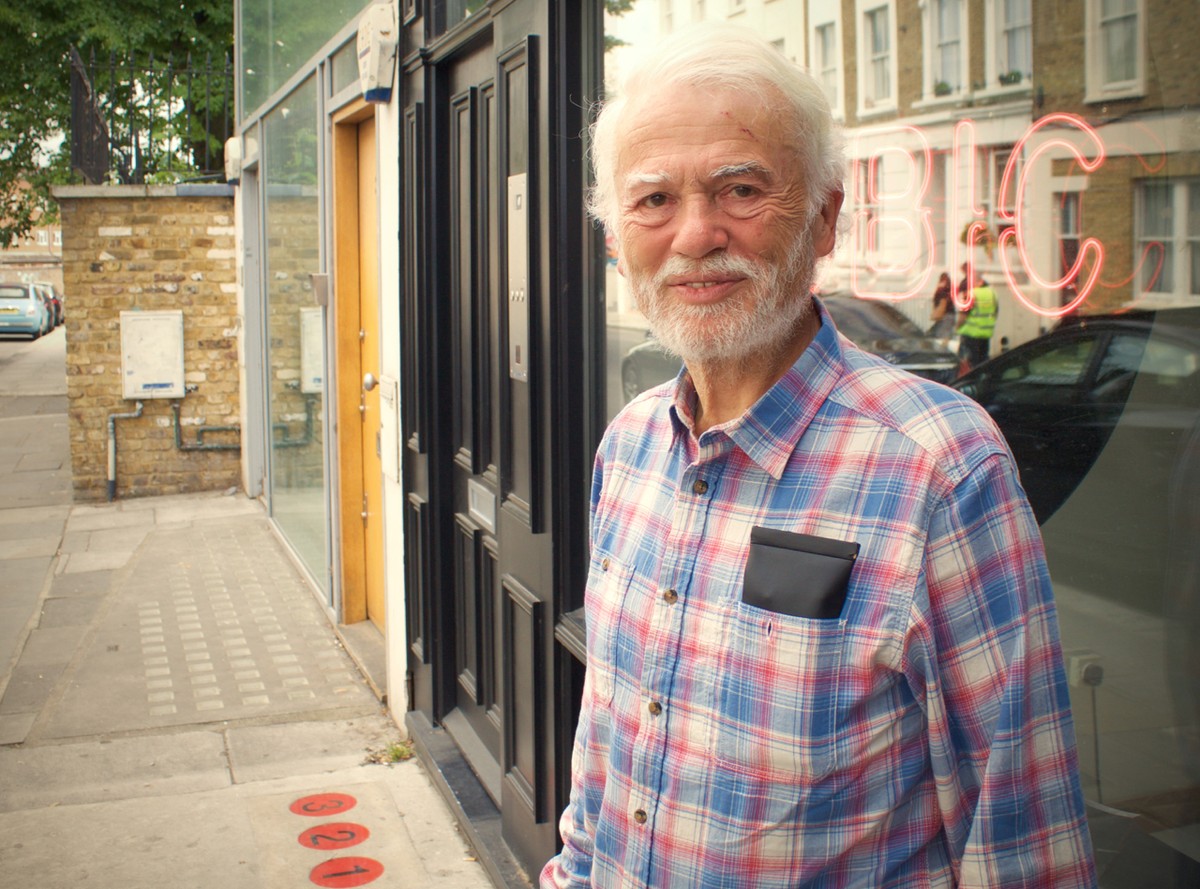 Starting in 1965 at Abbey Road Studios, Jerry Boys wound his way through many of the UK's finest studios, including Olympic, Sound Techniques, Sawmills, and Livingston. He also has travelled all over the world making records. And on that path he worked on albums with Buena Vista Social Club, R.E.M., Sandy Denny, Toumani Diabaté, The Beatles, Pink Floyd, The Shadows, Yehudi Menuhin, the Rolling Stones, Manfred Mann, Steeleye Span, Level 42, Everything but the Girl, Ry Cooder, Ibrahim Ferrer, John Lee Hooker, Ali Farka Toure, Shakira, Olivia Chaney, Omara Portuondo, and The Kronos Quartet. I've long considered him to be one of the best, and most versatile, engineers in the world, and we had quite a fine chat on a sunny day in London.
The nuts and bolts of recording appear fascinating to people; but once you get it down, I don't think it means much. It does and it doesn't.
Any passably intelligent person can buy some equipment, put it together, and make it work in the most basic form. But I believe that when you're recording anything, no matter what sort of music it is, there's more to it than just plugging in a microphone and putting it in front of a performer.
You can write down a list of instructions for somebody and it doesn't come out the same as if you were there.
No. I've been asked that sometimes. A friend will say they're doing something or other and ask what I'd do. I'll tell them the microphone I would use, but I'll tell them that I can't really tell them what I'd do, because I might end up standing in front of it and changing my mind. That's the place to start from, but use your ears. Go and listen to it out in the room. That was advice given to me years ago. Go and listen to what you're recording.
Where did you get your start?
I started at Abbey Road. I was an assistant in the '60s. I started at the top and worked my way down. [laughs] The great thing about Abbey Road is that you were taught how to do things absolutely properly; and money was no expense, technically speaking. I always thought I could go away from there, use that information, and choose to ignore a lot of it, but also that I'd know how it was supposed to be if I had the budget, that sort of equipment, and the backup. That was always something to aim for, but you should never let that get in the way of the art.
It's kind of fascinating to think about that at the time, a label-owned studio where no expenses were spared on the technical end.
Oh, yeah. It still is a wonderful place. I did an orchestral session in Abbey Road 2 with a Russian client who does all sorts of projects. Mainly it's rhythm section tracking, but we did this one 12-minute piece together with a young composer, and recorded it at Abbey Road with a 63-piece orchestra. They probably still have the best technical backup of any studio in this country, maybe with the exception of Air Studios London who would run them a close second. If not the best, they're one of the top two.
What age were you when you started working at Abbey Road?
I was straight from school. I was 17. It was a great place to start.
Who were you working under initially?
Well, the people who were engineering in those days were Malcolm Addey, Norman Smith (who did all the early Beatles sessions), a guy called Stuart Eltham, and another engineer called Peter Bown, who did The Hollies. Peter Vince became an engineer who did quite a lot of things. He did some sessions with The Beatles, but he wasn't the main man. The main person would obviously be Geoff Emerick, who very quickly made his name.
How many years were you at Abbey Road?
I was there just over three years. I started as an assistant in the tape library, filing tapes. Within three months, I was a trainee tape op. They called them tape ops, or second engineer is the other term. You shadow someone, or a couple of guys, for probably six weeks or something, and then you're gradually let loose on sessions of your own. In those days, tape ops did a lot less than they do now. We didn't make the tea, for instance. We had the famous tea ladies. We didn't set the studio up, because the tech guys would do all that. It was considered too technical for mere youngsters. All you really did was ran the tape machines, which were, of course, manual. They had clocks on them, but nothing electronic. They didn't even have autolocators in those days. You kept a log of the session, which in EMIs case, being very bureaucratic, was fairly complicated.
What kind of notes did you take?
Who the engineer was, who the tape op was, what time the session started, what time it finished, a brief synopsis of what you were doing, all the take details, which would have some more information. They rarely went back over things in those days. The only time they did is obviously if you were overdubbing something. You didn't keep a log of takes you hadn't kept.
You'd be over by the tape machine?
Yeah.
Did you have to have your own log just so you could write down the counter points?
I had a book with triplicate sheets that I wrote for each session. I'd write down where the song starts. That was my job. When I first started on pop sessions, I wasn't expected to know how to drop-in. Dropping in was something that people didn't do. If you did an overdub, you started at the beginning of the song and went through to the end.
You didn't have to write down "first chorus."
No. Then people realized with the multitrack machines, particularly when they got the Studers with the separate sync heads, that you could monitor and drop in in real- time. You started dropping in, but initially it was pretty daring if you went in the middle of the song after the guitar solo to do a vocal that came in 10 seconds later.
I think people forget too that a lot of the early tape decks would create a bit of a click or a pop.
Yes. They weren't as quick either. I think soon younger guys figured that you could drop in in a short enough gap and it would be okay. It started, particularly on The Beatles' sessions. They were always pushing the boundaries once they became famous. All the younger engineers and tape assistants were very keen to do this. Anyhow, that was my job, to run the tape machine and keep a log of what was going on so that they knew. Initially, in Studio 3 and Studio 1, I didn't sit in the control room. I was in a little room down the corridor with just a talkback system. The only way I could hear anything was to monitor one of the four tracks at the time, so I never heard the whole thing, or in balance!
There wasn't a little mixer or anything?
No. In latter years, they moved a machine into Studio 3. Originally they didn't have enough machines, so they'd have to tie line them to the studio. I can remember sitting in Studio 3 working the machine, so that must have happened at some point.
That would be pretty hard to communicate, if you're trying to do a multitrack and dropping in.
Yeah, it would be impossible. By the time I left, which was '68, they were just [starting to] look at 8-tracks. I think they'd just got a 3M 8-track machine they were appraising.
There's always that story where The Beatles were saying to go get it from the technical guys.
I think it sat there for months. It was a 3M machine with no clock, so there was no counter on it. They were checking that it met the EMI spec, which of course was very high, probably unnecessarily so, and they were trying to work out ways of fitting a clock to it. I think they did, in the end. I think they put an extra guide in somewhere.
Right, there are lots of different ways you can do it.
I left there in the middle of '68 and went to Olympic Studios. What a great jump, from The Beatles to the Stones! Of course there was Pink Floyd at Abbey Road, just starting then. And pretty soon after I got to Olympic, Led Zeppelin made their first album there.
With Glyn Johns. You were working with Keith Grant?
Yeah. The Rolling Stones were the biggest. Jimi Hendrix recorded there as well. I have the dubious honor of recording Jimi Hendrix by mistake once.
How did that happen?
He was in the next studio playing a lot of loud guitar, and I was in the other studio recording something very quiet. We could hear him in the background. We cursed [him] at the time, but we probably should have kept it. It could have been worth a fortune.
Strange bootlegs.
Yeah. They'd got a 3M 8-track they had been running since they'd got it, with no clock. They'd worked out ways to do it. For a start, they'd put a leader into a tape, the master. I got pretty good at feeling and putting marks on it with a chinagraph marker. I had to be careful not to slit the tape as it was going through. I could get pretty good with a 3 or 4 minute song where the solo was, just by feel. You had to pay more attention to those. It's like anything; if you do it often enough, you get the habit.
Were you picking up a lot of knowledge working under people like Keith Grant?
Yeah. I'd done a little bit of engineering working at Abbey Road before I left. Mainly mixing stuff. I got involved with a big musical that came from America called Man of La Mancha, about Don Quixote. MCA Records decided this was a big prestige project. They not only recorded the music, which was a common thing to do, but they recorded the whole show. It was all a bit of a mess. Peter Vince started recording it and just got fed up with it. I was tape op the whole time. He'd done the orchestral recording, all the big music recordings, and most of the speech. There wasn't a lot of recording, but there was a lot of editing and mixing to be done. I took it with me when I left to Olympic Studios. In the end, I got taken to New York to mix it, because the composer was in the States and didn't want to come back to England. He and the lyricist didn't get on well with each other, but I got on well with both of them. It's one of those skills you learn very early on as a recording engineer. The compromise was to take me to New York, and I'd mix it there under the guidance of the composer. I, of course, got a big briefing from this end about what he wanted, and then I was pretty much left to it.
Where did you work at?
It was called Decca Studios in those days. It no longer exists. It was a union studio and there was a big furor about me coming in. Initially there was a much older engineer and a young assistant. In the end, the diplomatic decision (because the record company had made a big fuss about wanting me to do it) was that the engineer who was scheduled for the session was scheduled there, but he'd never be there. The young guy didn't give a shit, and all he wanted to talk to me about was The Beatles. We got on. I was pretty green, but I managed. It had been well recorded by Peter. But it got nominated for a Best Engineered Recording Grammy! That was its high point.
Not bad.
They spent a fortune on it, and I expect it sold 20 copies. But I'm not complaining. It got me to New York when I was pretty young.
How long were you working at Olympic?
I was only there for a year, and I met John Wood there. His Sound Techniques Studio only had a 4-track at the time. On their bigger clients, like Fairport Convention, Sandy Denny, and Joe Boyd, he'd come to Olympic to go up to 8-track. I knew him from before and we'd got on well, so I would always assist for him. A couple of times he couldn't make the session and I'd sit at the board for him and try not to make a mess of it.
His recordings sound fantastic.
Yeah. It was him who gave me the advice about going to the studio and listening to what's going on down there before you turn the microphone on. If it sounds [like] shite there, it's going to sound shite up there. He had a job going at his place, he needed an engineer, and he asked me to go. Soon after, they rebuilt the studio and upgraded to 8-track, and very soon after that 16-track.
They were building a lot of their own equipment.
Yeah, they had a mixing board company. They sold quite a lot to Trident and a few other studios. They went through a period of doing quite well, but I think they got a bit taken over by Neve and Helios, in particular, and then MCI and API in America; although API never really featured over here much. Now everyone loves their gear, including me.
They're great.
RAK Studios here still has two of the originals from the '70s, which they really look after and work really well. They sound great.
You've done sessions out of there recently?
I was there with Leo [Abrahams] doing Olivia Chaney's record. I did a record for World Circuit Records there, a duet album with Toumani Diabaté. World music has done me well. It's almost like a second career.
I'd assume that Sound Techniques is where you met Joe Boyd.
Yeah, although I didn't engineer much for him. I did Fotheringay's first album and a Vashti Bunyan record [Just Another Diamond Day].
I love that record. It's beautiful.
Yeah, it was done in bits. It wasn't like, "Come in and let's do it all." It's quite unique and timeless. Joe's very good at making those. Nick Drake's music was always very timeless. I did an album with Fotheringay, Sandy Denny's breakaway from Fairport Convention, and that was quite a successful record. Mostly John Wood did Joe's sessions.
What was it like recording Sandy Denny's vocals? She's such an amazing singer. Pretty easy, really. I knew what John Wood did, using a
[Neumann U]47. Often he wouldn't use a mic amp. He'd just go straight into a [Teletronix] LA-2A, because it's got lots of gain in it. He didn't want to compress a lot, so I'd often do the same, because I felt that it sounded great. I didn't feel experienced [enough], or so inclined, to do anything much more to it. My only memory of having any problems with it was that she is very dynamic. It comes from her folk heritage. You have to be careful with compression, because if you do too much it just sounds squashed. I would always record it with a bit of compression, and probably mix it with a bit more compression. Of course, this is pre- computerized mixing. Then I'd do some manual riding. Again, if you learned a song, you got pretty good at doing that. I knew what was coming and where things were likely to go, Or, even if I hadn't listened to it a lot but knew the singer, I'd get a feel for whether they were likely to explode or not. That's how we would have done it. A lot of that Fotheringay record that I did was recorded at Island Studios.
There were so many amazing studios in London back then. There still are some great ones.
Yeah, but a lot less than there used to be. There's just not the work anymore.
Did you keep working at Sound Techniques for a long time?
I was there seven years, until '75, and then I got offered a job in Cornwall as the chief engineer at Sawmills Studio.
Is that the one you have to get to by boat?
It is indeed. You can walk too. I was there from '75 to '82. The owner then, record producer Tony Cox, hadn't really seen how funny record companies would be about using studios that far out of London. They were quite happy for The Manor [Richard Branson's studio], because they could get there in a half a day, but Cornwall's a bit out of the way. They were worried about people being out of control. Some people didn't like the fact that it didn't really have a road to it. It was a bit basic.
They had to bring the tape decks in on boats and everything.
Yeah, it was on a quay, and it was tidal, so there wasn't water there the whole time. You could walk in. It was about a 15-minute walk. That's what I'd do. I had a motorbike at the time, so I'd park in the local village, and then there was a railway line that wasn't used much. You're not supposed to, but you could walk that way. We always did.
Did you live out there?
I lived in Cornwall, but not at the studio. I've never wanted to live at a studio. I want to go home at night. Even now. I understand why people like residential studios, and I will do it. You just truly work a lot. But I like to have somewhere that's my own space, away from everyone. I wouldn't want to live full-time.
I can imagine that would be really interesting being that it's such a remote place.
Yeah, we had some great times. It was in a small creek, an inlet, off the river. It had a natural slap echo to it. As the water came in, it changed, both in length and tonality, so you could use that. Sometimes we'd stick a speaker outside the studio, and a microphone around the corner, and record it. In fact, one person actually set the tempo of his song so that he could play a guitar lick and have the slap on it in time. It was pretty cool. The trouble was it wasn't a very good song, but it was a great idea and sounded good.
What kind of projects were you recording out there?
I did a Steeleye Span project out there, and a German band called Lake that had a very successful record in America in the late '70s. Alan Stivell came and did an album there (from France), Michael Chapman...
He's had a little bit of a resurgence lately.
Yeah. That was a real hoot. He had a great band [that included] people like Dave Mattacks. All real good people, and we had a great laugh. The studio owner, Tony Cox, had his own label, which very nearly a couple of times got records out, but never quite managed it. It kept us busy. He got production deals on it, so that was a source of income. I worked on a Mick Taylor solo album out there. I spent quite a lot of time on it, but not much of what I did really got used, I think. He wore the tape out by the time it got to me, literally. I had to go and rescue one up in London. He had one reel where he'd literally worn a hole in it because it had been played so many times. It was fortunate that it was already bounced down from a previous 24-track. We had to go back to the original 24-track. Again, this is pre-synchronizers. I went to Air London and did it. They had 3M machines, the M79s, and you could access the fine speed control on the capstan motor through a little cover on the top with a little trim tool. You could actually drive it effectively. I can't remember what I used now, but I got the same instrument off both, panned one left and one right, and kept tweaking this thing to keep in the center. It actually worked really well, but it took a morning to do a reel of tape. But we got it. That was exciting. The things you have to do. Now you put timecode on it or stick it in Pro Tools.
Yeah, you've seen the whole evolution up to this point. How does current technology look to you?
Well, I make all my records now on Pro Tools, pretty much. Tape still sounds the best I think, but I've gotten so used to what I can do in the digital world with drop-ins, edits, and moving little bits even on the records I do, though I never go through things pedantically lining them up. I don't want that. If it's out of time, "Bloody well play it again" is my attitude. Or, "Learn to play." Or whatever is appropriate.
With world music a lot of times, the rhythms are not something you grid.
No, but occasionally you'll get a missed hit somewhere that someone's done in an otherwise good take. I'll fix that. Or the odd bass note that isn't quite together that just upsets the feel on it. I think that's fair enough. I'm only doing what's intended and what the musicians are normally capable of doing. I'm not saving their day for them. But you miss all that in analog. Also, the fact that when you do a drop-in, it's for real. I was doing some sessions in analog a while ago, and I had to really psych myself up for doing a drop-in. [It was hard] to actually get it in my head that I only had one chance.
It's done the same to me. When I go back to do a record all on tape, I'm a little loose, because I'm used to being in Pro Tools. Punch in too early or too late... you can't edit that on tape!
No, no. And young guys who have never worked on tape are really flummoxed, because they're used to going in and moving it afterwards. Tape sounds great. There is no getting away from it. There are things that mimic it. I've got some plug-ins that do, but they never quite do the same thing. It's interesting when you watch on the meters in Pro Tools; you'll often look through the song and there will be a funny 2 or 3 dB peak that you don't hear as a peak. You don't know what it is. Yet if you did it on analog tape, it wouldn't be there. If I'm not doing overall compression, I always put a couple of dB of fast limiting at the end, just to catch those silly little things that make the whole track quieter for nothing. I'm very careful not to do more than a couple of dB.
Just a slight limit. One of the things that has been great with digital — speaking of world music and going to a lot of places — is bringing gear along, and capturing sessions.
I've never actually done it with Pro Tools or a hard disk. Last time I did any serious traveling and location recording was probably with [Tascam] DA-88s [tape- based digital systems]. But even those, compared to a 24-track machine, weigh nothing.
Right, and you can bring an extra one.
Yeah, exactly. We did, and we needed it. Transporting an analog tape machine that sort of distance... you can't just go into it like you can with digital. You need to have a mixing console too. It's just a lot of sessions that you can now do with a load of mic amps. If you've got good mics, and good mic amps, and something to record it into, you can make a record anywhere, and you can sort it out later.
I feel like we're seeing a larger variety of regional music; music that's been captured all over the world.
And it's cheaper to do it, so it makes records that you couldn't previously have contemplated making possible. You don't have to sell zillions to cover your costs if you're careful. Most people have to be cost- conscious all the time. There aren't all the budgets and fees there used to be, but I still enjoy doing it. As long as it's earning me a bit of a living, I'm very happy.
How does work come your way nowadays?
Mainly through people I've already worked for, or some people find me through other records I've done. Of course this is a bit of a worry, because for people who are downloading or streaming, there's no easy access to the credits. But people still seem to know somehow, those who really care. I still get mystery phone calls, well, mystery emails usually, from people I've never spoken with.
One of my favorite records that you worked on was the R.E.M. record, Fables of the Reconstruction, that you and Joe Boyd recorded and produced. It was such a different record, compared to their previous ones. What were the sessions like on that?
They were fine. It was a bit rushed. It happened quite suddenly. I know Joe had been talking to them. My memory was that he didn't think they were going to get him to do it, and then suddenly they did. It had to be done, not like tomorrow, but I think a month ahead. We were about to rebuild one of the studios at Livingston Studios, where I was a studio manager, so it was something I was heavily involved in. It was not a very relaxed time. Also, it became obvious when we got to the mixing stage that they were in a transition between the Mitch Easter sort of approach and what became their later, what I would call, more commercial approach. Some people in the band weren't as far down this curve as were other people in the band. It wasn't like there was a unified front about it. My biggest memory of mixing is that Michael Stipe never really wanted to hear his voice. It's the first time I've ever had the singer come into the control room and ask me to turn him down.
You can hear that on some of the earlier records too.
They were all a bit like that. One of the days we were mixing and several of them said they were too loud. We went through this, and I turned everything off and said, "Is that better?" They did laugh. But generally I remember it being a very enjoyable experience. They are very talented people. To me, the bass player [Mike Mills], I still remember as being the best pick bass player I've ever worked with. Great sound as well. Overall the memory was very good. On the 25th anniversary it came up, because we were never very happy with the mixes.
There's a darkness and murkiness to it, but it's kind of cool, right?
They said, "Okay, Joe. Go ahead and mix, but just try a few first and let's have a listen." We did, and we made it sound different. But, in the end, I think everyone decided that whatever it was was what it was. If you changed it, it really just wasn't the same. You weren't improving it; you were just changing it. In some ways I always felt that's not something you should do. If you create something, unless you can genuinely enhance it or offer something genuinely different, you should leave it alone. We abandoned ship in the end and they remastered it.
I think the masters sounded a little bit different. They brightened it up a bit.
They always do, don't they? They made it louder. That's the thing with mastering now. I've got a Johnny Cash album I bought. Somebody said they liked the way it sounded. It was done by Rick Rubin; a series they did. I like Johnny Cash, he has a great voice, but it's so compressed. It's crushed to death. It spoils it for me. I can't listen to it.
I wonder if a good business idea would be to start an anti-mastering lab where you undo the messes.
I think it certainly would be beneficial on some records. With Olivia Chaney's record [The Longest River] that I worked on, she was insistent that Bob Ludwig master it. Of course, I don't know him, I'd never worked with him, but I know of him and what I know him for is loud rock records. So I thought, "Oh god, here we go." To cut a long story short, he did a brilliant job, and he got it straightaway, without any prompting. He was saying, "I'm not going to do much to this." There was very little level enhancement at all. It still breathed and sounded like we left it, or better.
How did you get involved in that project?
Through Nonesuch Records, who I've done a lot of work for over the years, both directly and indirectly through World Circuit. I did a Sam Amidon record [Bright Sunny South] for them a few years ago. I get a call from them every few years, particularly if it's someone who's over here. Originally just me and Olivia were going to do it. When we started, it became clear to both of us that she needed someone else there who's more involved in the musical side of it. I'm not a musician. I felt she needed a musical producer, really.
To really get into the music?
Yes. I wasn't enough of a producer. I'm not a musician, but I'm happy to engineer/produce, as well as to give advice and be there. That's how it worked with Sam Amidon, who had a very strong idea of what he wanted to do. She knew Leo [Abrahams] and had worked with him before. It was clear that he was great and really right for her. We basically did tracks at RAK, and then he took it home and did overdubs with her. Quite painfully and painstakingly.
I gathered that from talking to him.
She didn't want much on it. Everyone else felt that it needed some embellishment, without spoiling it, of course. That's a can of worms. It could mean anything. The record company definitely wanted it to feel like a little more than just her voice and what he played. But they're quite tasteful. I like Nonesuch a lot. They don't really interfere with what you're doing, and they certainly don't start telling you in detail what to be doing. You have to listen when they say something. Anyhow, Leo did a great job of finding ways to embellish the sound and musical spectrum without ever getting in the way of what was going on.
He said also that she's a very trained singer and wanted to sound less trained, so to speak.
Yeah. But that's really down to how she sings it. We'd do lots of takes of songs, and then he'd get to the point where he'd say, "I think, between them, we've got a take." We'd usually agree which was sort of the prime take we were going to work around. She'd always want to do more, because she could hear things that she hadn't done. We'd do some more, and sometimes it worked. I think on one song she actually got a better take. But mostly bits and pieces would come. He did a good job editing it. I can't hear the joins, and I know where they are.
I wouldn't think it was made that way.
It was really, really good. There aren't millions of edits. I think one or two of them are just whole takes, but mostly they'd have three or four edits in them.
Were you tracking to tape and then dumping over?
No, [it was] all in Pro Tools because we wanted to keep so much. The trouble with tape is that it's expensive. But Toumani [Diabaté], the record [Toumani & Sidiki] I was telling you about, I did at RAK; we went on to tape and then into Pro Tools. My instinct for that is that if you are not careful you just come out with the worst of both worlds, but we actually got something going through the analog that you wouldn't get going straight to digital. I always try to work at 24 bit, 96 kHz when I'm using digital.
What do you see as your strengths as a producer?
I like working with people who musically pretty much know what they want to do. What they want is somebody to say, "It was a good take," or "The middle eight could use some work." That sort of generalized comment, and not to let them go on forever after they've got something good. I often get into the general arrangements of songs, saying, "Look, that's too long," or, "That's too short." If I feel I've got to start telling the singer how to sing too much, I think probably I'm not the person to do it, or maybe they shouldn't be making the record. If it's a band, unless it's musicians I know, I want to go to the rehearsals and check out the band to make sure the drummer, in particular, is solid. I've made that mistake before. In my experience, if you go into a studio with a drummer who's not up to it, you might as well go home. Or to say, "Sorry, he's not good enough. Either you change him or change me."
As you know, with a band-type situation, that's the crux of everything.
If you haven't got a drummer, you've got nothing to sit on really. I'm not going to spend time building drum parts. Go away and you can do that. I always explain the difference that on the session as an engineer, you're normally perfectly okay to make helpful suggestions, particularly if you're asked. If you're the co-producer, you'd say, "Actually that bass part isn't very good," or, "You didn't play it very well." If they say, "I thought it was fine," you'd say, "Well, just have another listen to it. I thought it wasn't sitting properly." Then if they insist it's okay, and you're the co-producer, you say, "Fine, okay." If you're the producer, you'd maybe put your foot down and say, "That just wasn't good enough." I can't think of any other way of describing the differences. If you're the tape op, you never say that it's not any good. I'm not a musician, but I'm pretty fussy about tuning. People will often ask me if it's in tune.
Do you have any recording gear at your home that you work with?
I have a mixing room at home, the Moor Room, but I don't have any recording equipment. I don't record at home. It's just a tiny room in our house. It's fine for mixing. I don't have clients there either. It's too small. On some people's records, it works really well. Other people want to be nitpicky about things, or they've got something in their head that isn't obvious and takes a bit of getting to.
What kind of studio set up do you have at home?
I have a Pro Tools 12 rig and an SSL Matrix console, which I really like. It's an analog console, but it's also a controller with some nice faders. I've got some SSL X- Rack EQ and Dynamics, two old Gates Sta-Levels, an original 1176 blackface [compressor], a couple of Neve 2262 compressors, a dbx 160x, which I like on bass, and then I've got a modern G-Series SSL compressor and a Massenburg Stereo EQ I put across the board.
That's a nice set up.
It works well. And a pair of KRK V8s, which I EQ a bit. Even on their dullest setting, I find them too bright. Not a lot. I just take a little of 4 kHz out and push frequencies up around 180 — the boom-y frequency there. They're very tight, these modern speakers.
There's a certain sound to those.
They work pretty well. That's basically it. I've got fairly standard plug-ins: the Waves SSL and Gold bundle, as well as a few standalone Waves plug-ins. I've got a Universal Audio UAD-2 box.
With the mixing you're doing at home, are you summing through the Matrix?
Yeah. I run it as an analog mix really, up to 16, and then record it back as a mix into Pro Tools. I have done some mixes in the box. My objection is not a sound thing. It's more just the ergonomics of it. I find it much easier and faster with physical faders. Some things are faster in the box. Occasionally I get sent things by people who say, "We really love the rough." It comes with it all set up as a session. Normally the first thing I do is zero everything and take all the plug-ins off, but sometimes I'll listen to the rough mix, and it'll actually sound quite good. I might then use the mix they've got, which is obviously in the box. Maybe I'll pass the voice out through a channel, put it out to two channels on the board, and then put a few things out. I've done that a few times. If someone really likes what they're hearing, and you do as well, what's the point in changing it around? They probably won't like it. This way, you've embellished it without fundamentally changing it, and you've probably got a happy client.
We always want our clients to walk away happy.
Oh, yeah. I always think that my job is not to spoil it and, if possible, enhance it, but definitely not to spoil it.
Do you have to come into London for a lot of the work you do?
Well, pretty much all of the recording is either in London or out of the country. I've got a trip to Switzerland in early July to record there, and I'm actually going to Cuba at the beginning of August for a week. That'll be nice. I had a very brief visit in January, but it's the first time I've been in about six years. It's nice to go back. The studio's [EGREM] still there and still sounds good. The mixing console doesn't work anymore, but they've got a Pro Tools rig and mic preamps. Funnily enough, they've always got a reasonable selection of microphones.
That's interesting.
As long as you haven't got an enormous lineup, it works well. But yeah, most of the recording is in London, and then the mixing is probably 50/50 between London and at home. It goes in waves, it seems. I haven't done much mixing at home this year at all, whereas this time last year I was only mixing at home. I had more work than I knew what to do with at home.
Isn't that weird? You can't predict why.
No. [It seems] everyone's all gone to sleep, or spent their money, or what have you. But it only takes a phone call, and suddenly you're off again. Both of these projects I'm doing will run on into other work. I think, between the two of them and other bits and pieces, it will probably keep me busy for the rest of the year. I'm not so keen these days to be working 7 days a week, 12 hours a day.
Did you ever enjoy that?
No, but sometimes one felt the need. No, actually I don't ever enjoy that, really. I think that after 10 hours you're just going through the motions. Everybody is. I don't expect to have more than one break in that period. I don't expect to have supper as well. I say, "Look, if we start at a reasonable time in the morning and then work through until 8 or 9 at night, if you ate then, it would be 10. You'd come back in a couple of hours all stuffed with food and half-asleep. You probably wouldn't do anything, but you'd work for another three hours, and you're that much more knackered the next day." Often people go, "Oh yeah, I never thought of that."
If you're on the production end, you can set the boundaries from the beginning.
I'm on some sort of co-production situation or engineer/producer more often than not these days. Whatever you want to call it. Even if I'm not, people give you more respect. There are always projects people want me to do. You can be a bit more pushy about the terms and conditions. I always make sure I say it in the beginning. Otherwise it's a bit unfair.
A lot of this is about setting up comfortable situations.
Yeah. If they're uncomfortable with it, we'll try to negotiate around it. I don't mind moving the day later. It's the total number of hours really. I work with the Africans, and they're used to not starting until later in the day. They don't work terribly long days, but there's no use in getting them to start at 10 in the morning. Some you'll get to start at lunchtime, but some others it's four in the afternoon. They'll stop at midnight or one o'clock in the morning.
That's the time they're used to playing music.
Yeah, it's important to talk about it. You just have to get into that routine. It only takes a day or so. You do what they do; go to bed late and get up late.
Those kinds of sessions must be really interesting, culturally and musically.
Yeah, it's always interesting working with people in other cultures. That's one of the privileges of it. You get to meet people who are real people, from real cultures, not just touristy things.
"Where's the good food?"
Exactly. You'll get invited to people's houses and that sort of thing. It's really great. I've been to some very interesting places.
Your career is interesting. You have the English studio era history, and then there's a resurgence of you with world music.
It's like a second coming, really. A second career.
I'd imagine that feels quite healthy and interesting.
Yeah, it is. There was a period in the '90s when MIDI was really taking over, and I had almost given up. I couldn't stand sitting in studios with people programming drum machines for hours, and I thought that I was a fraud because I wasn't doing anything. I didn't feel much empathy for a lot of the music being made. I'd rather have a heavy metal band out there beating the crap out of everything. At least they're doing it themselves.
It's happening live.
Yeah. I almost stopped. Actually, I got involved with Everything But The Girl in the late '80s. When I first met them, they played fairly simply, with a lot of acoustic instruments. [They had] quite trendy sounding songs, but not with big programmed tracks. Lots of playing; my sort of thing. And [they were] very good. That started the ball rolling again, really. Later on Nick [Gold, World Circuit] and Joe [Boyd] started getting into world music, and it just went on from there really.
I think Joe Boyd was saying a while back, "I don't want to record white people singing in English," although he did get coerced into recording Robyn Hitchcock a while back.
Yeah, that was a good record [The Man Upstairs]. We did the whole record, mixed and everything, in seven days.
With someone like Robyn there's no need to muck around. It's in the performances.
He does it, and knows when he's done it. He would have spent a bit longer I think, but the budget wasn't there. Not a lot. I think he was pretty happy with what he did. His songs are good. He brought this great Norwegian musician, Anne Lise Frøkedal. She's a violinist, singer, and guitarist.
One of the big resurgent projects for you was all the sessions in Cuba.
Oh, yeah. Buena Vista Social Club.
That's a massively selling record for world music.
It still sells today. I don't know where it's got to now, seven and a half million or something. I don't know if it's the biggest world music record, but it must be one of them.
What was EGREM studio like in Cuba? It's an old-school type studio, right?
Yeah. It's a big studio in Havana. It's a big wooden room built by Americans, in the '50s, I think. It's pre-Castro. They used to do big band music. It's 60-feet by probably 30-wide, with a 20-foot ceiling. Something like that. That's quite a big ceiling. It's pretty big. You know what Abbey Road 2 is like? It's that sort of size. It's very woody. In the communist era, they put some sort of pegboard wood with holes in it over a lot of traps. I don't know whether it was a problem they had and it was a cheap way of covering it, but it actually made things sound better, apart from cowbells, which ping around the room. I think it has given the room a bit more life and brightness. It's not long ambience, but it's just a great feeling of space. You can put up a pair of widely-spaced omni mics. If it's acoustic music and fairly balanced in the room, I think it just sounds great.
What are things you had to do on some of those recordings there to move people around and get balance?
I'd go out in the room to listen to people. Ry [Cooder, producer] said to me that he'd sit out there and play, and he wanted to hear what he'd hear. I'd go and listen to where he was sitting to hear what he was hearing. Sometimes what he was hearing was great, but you'd also think actually if you'd move six feet somewhere else, you'd hear even better. Put the bass in the middle or something. We were very careful not to have loud percussion playing live. It took a lot of hard work, either by cutting it down or getting people to lay off it. We tried to get people to not wear headphones. If you can't hear the acoustic guitars, you're probably too loud. Some of them were better at getting it than others.
Did everybody speak Spanish?
Si. We had a translator, plus Juan de Marcos [González], who was the Cuban end of the production team. He spoke quite good English. It worked out okay. Quite a few [of the musicians] spoke a little bit of English, and we learned a little bit of Spanish. That was the general gist of it. For the recordings I worked out this system with these spaced omni mics after a bit of experimentation, and then we just filled it in with close mics. I wouldn't worry about how good the separation was, within reason. Obviously if I was getting more bass on the guitar mic than I was guitar, it's not much use as a guitar mic. But I wouldn't worry too much about separation. I'd space it a little bit to make it feel a bit more in the room anyhow. It somehow blended better like that.
It's always a fine balance between a room sound tone washing everything out a little bit too, and the direct sound of the instruments.
Yeah. I think, in the end, we achieved quite a good compromise between that. There are very little bottom-end sounds. There's only the bass.
True. That really fills up the room.
The Cubans tend to hit things really hard whatever they're playing, so it all tends to come out spiky and bright. Even pianos. All of that works well.
Were you tracking to tape on that? 24-track?
Yeah. Ampex 456, even. Dolby SR noise reduction at 15 ips, +4 level, on an old [Studer] MKIII A80 or maybe a MKIV. A80s are a bit soft sounding, and they don't have the best transient response. [Ampex] 456 isn't the most modern of tapes.
It compresses a little bit more.
I think it does. It doesn't take the level so well. It's great for rock drums. That's what we used and it sounded great. But you know, the music's great, and the playing is really good. We took a lot of care trying to get people to play in balance, moving them further away, or left or right, or whatever.
Did you have to put some of the percussion in iso booths?
Well, mostly we played percussion live. The maracas sat in the room, not on their own microphones. Room mics were picking them up. He had this brilliant pair of very soft- sounding maracas that were quite large. They're not like Mick Jagger maracas. They felt great. Then the other main percussionist on bongos, we got him to play fairly softly. He was quite good at it. Then Ry's son, Joachim, played dumbeks and clay drum. He obviously understood all this about not making a lot of noise. He was pretty good.
You were trying to keep them off headphones?
I wouldn't say we didn't allow them. The headphone system there was pretty useless. I think some people wore headphones. I can't remember, but I don't think we had enough headphones for everyone. I think quite a lot of them wouldn't wear them. Some of them were used to playing in those situations where you've got to balance yourself, sort of old school. That's pretty much how it was. It's pretty much live. We did overdub a bit of percussion. There are a couple of tracks with timbales, and we did overdub those. I don't think there are congas anywhere on it. If there is, they were live. Sometimes we'd double up the backing vocals, just to beef it up and have a bit of control over it. Ry took it back to America and did some electric overdubs, because we couldn't really take electric instruments there, as the cost and implications were too difficult. We weren't there long enough either.
Wasn't there a weird situation with the mixing too?
Yeah. It got mixed a couple of times. I didn't mix it first at all. The deal always was that I wasn't going to mix it, and Ry was going to take it to America. I don't know what happened in America, but the mixes weren't what he wanted, or what anyone else wanted. I was with Joe Boyd in Cuba while all this was going on. Eventually Nick got the mixes sent over to England for us to have a listen to, and they just didn't have enough of the ambience on them. Also, Ry was being a bit shy with his own playing.
That can happen, right?
Yeah. Better than the other way around, of course, but shy with some tracks that you could hear were really good and really cool. He's very tasteful. He never plays rubbish. It's very rare that you ever think you want to turn things off. He often wants to turn himself off, but it's very rare that I'd suggest it, if ever. He's just a very tasteful person. Ry listened to the rough mixes I'd done at the end of the sessions. They really were very rough, but they did have the spirit of the sessions in them. He said, "Well, this sounds much better. I want it to sound like this. Can't we just use these?" I said, "Well, you can use a few of them, but on some of them I was half- asleep. The solo doesn't come in on them, or isn't loud enough."
Or he's added things to it too.
Yeah, or we'd added things. In the end what we decided to do was we all got together in L.A. and mixed it. We found a studio with the same console they had in Havana.
What was the console?
It was an AMEK Mozart, but it had the Rupert Neve modules in it. It did have a particularly nice sound to it that suited the record. We started off while we were down there in a studio doing some overdubs that had a big Cadac console. It didn't sound as good. We all agreed. It just didn't have the air somehow. We found this one place, got in there, and mixed it all pretty quickly once everyone was happy that we were basically hearing what we wanted to hear. We brought it back to England, and I started listening to some of the more uptempo ones and thought they could be a little bit beefier. I asked Nick if I could pop into the studio one day and have a go at them to see what would happen. We didn't have a Mozart, but we had another AMEK console with a similar sound to it. I wanted it a little bit more aggressive sounding than the ones we had done, a little bit less soft. We showed them to Ry, and he thought the first one was great, the second one was all right, but... We decided to get together in London and have another look at the songs we weren't happy with. In the end, we mixed everything again. We probably didn't use all those mixes. Then we picked between the ones we'd done in America. One was a rough mix off a DAT. Never could make it sound as good.
It almost sounds like more time was spent mixing than the sessions. Probably. Mixing those songs didn't take forever.
They're fairly simple. I'd mix certainly two, if not three, in a day. You're not spending three weeks to mix them. When I say we mixed it twice, we probably only spent a total of 12 days mixing. In Cuban music, one of the things I found difficult was how loud, or soft, to have the bass. Generally speaking, there's nothing else with any bottom in it at all playing. It's all either percussive or pretty high-pitched and played hard. Even piano. You can have the bass at any level and still hear it, so you veer from too loud to too quiet. I eventually sussed it with a few comments from people I like who have experience. Once you know how it should feel, it becomes ingrained in you, and you know how it should sound.
Also the time signatures, the length of a clave [rhythmic pattern].
Yeah, clave beat. That took me two years to understand what that's all about. You try to do analog drop-ins on songs with clave that's really intricate and you don't understand it.
I read something about how you were saying you'd be doing an edit and they're like, "No!"
Yeah, yeah. We all did that. You can still usually count four through it, but you've got to find the cycle of the clave. A lot of African music has a similar thing, but with a 12/8 feel going on through it. Often the one isn't actually where you think it is. That's actually a half-beat, a sort of in between beat, or it's half before or half after. That's harder actually. I've found I still don't sometimes find that. I still listen to it and enjoy it.
The Buena Vista Social Club had a new record [Lost and Found] come out recently.
That's a collection of tracks from the archives. It was three tracks from the original sessions that weren't used, although they only weren't used because we'd already got more songs than we needed. They're proper tracks. Lots of live shows were recorded at the Ibrahim Ferrer concerts with the big band. Those are great. We found two or three really good ones, so they're on it. Just things that were made around all those people that, for whatever reason, never got into finished records. Mainly because when the record was finished it had enough, and something didn't make it.
Were you involved with the final assembly of that?
Oh yeah, we spent quite a bit of time. We had to find it all first. Someone else did all of the finding. Some of it is quite literally just live DATs that actually sounded okay, with a bit of work. Mostly we found multitracks and mixed them. Most of the mixes that existed at the time were not good enough. It's a good record. I really like that. Often these sort of records aren't good.
It's a dangerous ground to tread.
It's definitely not part two, but for those who enjoy the music, it's a good listen. That's why it's never come out before, because Nick Gold's very conscious, and doesn't want to be accused of cashing in or anything.
There's always that situation with world music where it can look like you're plundering.
Yeah. There isn't much else in the archive. There certainly aren't any more Buena Vista tracks that I know of.
You recorded the Mermaid Avenue sessions with Wilco...
Oh yeah, and Billy Bragg.
That was with Grant Showbiz as well. Was he producing?
Well, yes. He's a lovely guy. When he works with Billy, they produce together. They have a relationship that works really well. It was a coproduction between them, if you like, and Wilco. Although I think Billy's side had the casting vote, if you see what I mean. I think it was their project that they put together and got Wilco involved, rather than the other way around. I think they approached Wilco. Everyone got on very well. It was a great session. That was in Dublin, Ireland. That was on analog. Big old barn of a studio. Actually, it worked really well. It sounds great.
The record feels fun too.
Oh, yeah. We did loads of songs. We were there for three weeks, I think, but we had weekends off. I flew back every weekend.
Were they having to work that material up live?
No, I think they had gotten together a bit beforehand. I don't remember lots of that. The lyrics were the lyrics. I think it was, "Oh, this is what I've got together for this song." There was some learning in the studio, but Wilco are pretty "on it" musicians. They don't take a long time. Ken [Coomer] the drummer was really good, as was the rest of Wilco.
Do you ever find, with the experience you've had, that clients are expecting you to work in certain ways? That they'd be surprised you know Pro Tools?
Occasionally. I don't think they're that surprised, because we normally have a conversation beforehand. If I'm working for people who I know have a reasonable budget, I will have a tape conversation with them. Also, it depends on what generation they're from. Although younger people will often say, "Tape? Oh, wow, you can use tape?" Unless you've got plenty of time to record onto it and copy it across, to me it's a waste of valuable time that could be used for more useful things. Maybe their expectations are that I won't be quite up with the technology. I'm not that fast at recording on my own in Pro Tools, because I don't do it very often. I normally have an assistant who does all that. I still have to think about that, and all that goes with it.
Setting up tracks.
Yeah, although I'm much better than I used to be. A few years ago I was going somewhere to do a session where I was going to be on my own. There were a couple young guys I know who are Pro Tools whizzes, and I got one of them to talk me through it once. We spent an hour on the phone and made a few notes to make sure I knew how to do what I might need to know. Although I did know most of it, there were one or two things they showed me better ways to do. I've also done mixing in Logic. I can't say I know it well. I'm still a little nervous about things on the housekeeping side, as well as where you put tracks, but I've now learned how most of it works. It's fairly straightforward, but it's like knowing where to click to turn the automation on. It's completely different to Pro Tools. But once you know where it is, you've only got to be shown once. They all basically do the same sort of thing. I think they sound different. I've not ever done a proper test, but I'm convinced that they do.
Most people tell me Cubase sounds different, and they all sound different. Do you really want to have to start making those decisions?
I think you deal with whatever you hear.
The music recording industry has changed.
Yeah, the budgets now for making records are tiny. If someone comes to you with $30,000 to make an album, particularly if it's a band who haven't got to pay musicians, that's not a bad sum of money, if you're organized.
Oh, yeah. I've got people who call me with $5,000.
I get people who ask me if I'll mix it. You start talking about it, listen to it, and then you mention money, and you never hear from them again.
Yeah, I know that feeling.
I tend to bring it up quite early these days with most people, particularly if I suspect they probably haven't got any. I figure what's the use of wasting their time and mine, going into long conversations about the record, if they're not going to be able to pay the bills. I'll always do it as economically as possible, but I'm not going to work for nothing. I'm too old. What's the point anyhow? I might as well sit at home and enjoy the world.
Tape Op is a bi-monthly magazine devoted to the art of record making.