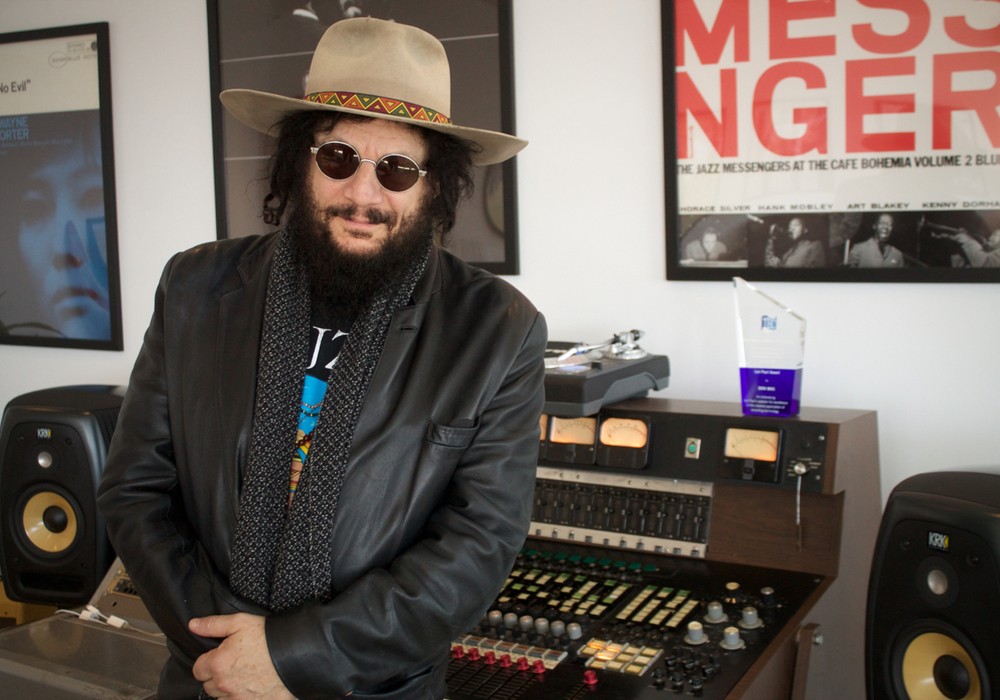 He started off playing bass in the clubs of Detroit.
His group, Was (Not Was), rolled out some funky dance pop in the '80s. He's produced big records for the Rolling Stones, Bonnie Raitt, John Mayer, and The B-52s. But today he is in his office, high atop the famous Capitol Records tower in Hollywood, as President of the venerable jazz label, Blue Note Records. How did Don Was get here? How does he approach production? What makes him tick? I knew someday we would have this discussion, and everything that drives him does stem from a true love of music — just as I had always imagined.
What were your first steps towards becoming a producer, outside of being an artist?
Well, I suppose you can thank George Martin and The Beatles for making the recording process one of the instruments. A lot of people, like Les Paul, did that earlier, but The Beatles did it in a way that spoke to me. I was aware of production values. A musician hears certain nuances in playing that a non-musician wouldn't pick up on. I was always fascinated by it. David Was, who started Was (Not Was) with me, his parents are both voiceover actors. Before we could drive, we'd go down with them to recording studios and watch. Just being in the studio was magical. There's something about the big mic stands, with the mics and the wires everywhere, the acoustically treated walls, and all the people sitting around in a circle playing together. It looked like the most romantic, coolest place to be. And it fucking is! Sitting here at 63 years old, I can tell you the romance of it has never worn off. There's not a day that goes by that I don't feel privileged to be in the studio. I just got to work at FAME Studios for the first time, in Muscle Shoals, on an acoustic Gregg Allman record, which was just an amazing experience. I'd never been to Muscle Shoals. When I pulled up to the building, I started crying before I even went inside. It's at this anonymous looking intersection, with a CVS and a Chick-fil-A. Life-changing music came out of this normal looking building. Then you walk in and you see the pictures of everybody, and the room is fundamentally unchanged from 1972. To sit in [owner/producer] Rick Hall's chair behind the board — and to be there for ten days actually doing sessions — I don't think a minute went by where I took that for granted. I was really grateful for the opportunity. Last week we recorded some songs for Sweet Pea Atkinson [of Was (Not Was)] for Blue Note at a studio called Vox [formerly Electro-Vox]. You know this place?
I've heard of that.
It's L.A.'s oldest studio. Woody Jackson owns it now. It looks the same as it looked in 1939 when Charlie Parker cut there. It's got a great old Universal Audio console. It's across the street from the Paramount lot. We went to tape for both Greg's album and the Sweet Pea session. I was trying to get it so it didn't sound so literal, clean, and modern. We were A/B-ing against this older music and it hit me: they were bouncing the tracks. So we took the rhythm tracks and bounced it down to a mono track through an old Gates compressor. It's magnificent! It sounds like a record. The engineer did a great job. He said, "I'm taking great notes, so when you want to mix the song..." I said, "What do you mean? We just mixed it! We're going to live with this." I was just so excited. I was playing it all weekend. I was thrilled — it lifted my spirits. It's the great joy of my life, being able to make records. How it happens is you just pursue it relentlessly. Like me, an inordinate number of musicians I know were born around 1952. I attribute that to the fact that when The Beatles were on The Ed Sullivan Show in 1964, we were 12 years old. That's just young enough to be dumb enough to say, "I want to do that!" If you were younger, the screaming girls wouldn't look cool, and if you were older, you'd say, "Ah, there's no chance of it." But at 12, you were goofy enough. Really, I never had an alternative. I can't get a job anywhere else. I couldn't. I have no other skills. I just have to make it work.
What was your first experience in a recording studio?
It was probably the Recording Institute of America, but it was an earlier incarnation. I don't remember what it was called. But they taught a class in Detroit at United Sound, on the old Flickinger board. I took the...
The rest of this article is only available with a Basic or Premium subscription, or by purchasing back issue #113. For an upcoming year's free subscription, and our current issue on PDF...