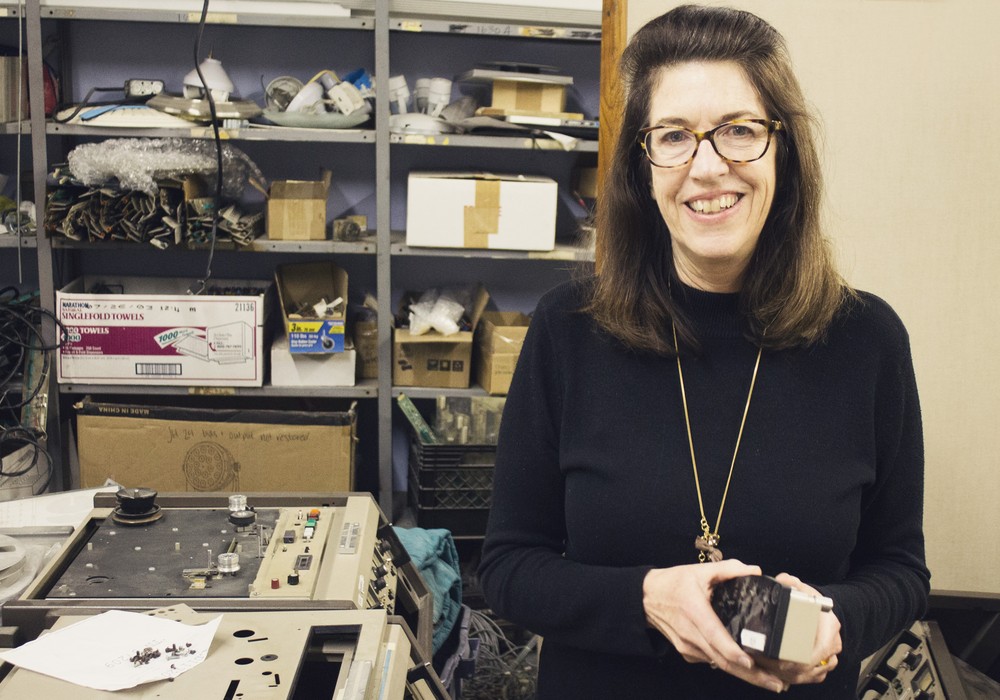 Not only is Susan Rogers a record producer, engineer, mixer, and audio electronics technician, she has a doctorate in psychology (having studied music cognition and psychoacoustics) from McGill University. As an engineer Susan really got her start working with Prince from 1983 to 1988, including albums like Purple Rain, Around the World in a Day, Parade, Sign o' the Times, and The Black Album. Her other studio sessions have included artists like Barenaked Ladies, David Byrne, Toad the Wet Sprocket, Rusted Root, Tricky, Geggy Tah, and Michael Penn. She is currently the director of the Berklee Music Perception and Cognition Laboratory, and is an associate professor at Berklee. Portions of this interview were conducted after a listen to a vinyl LP of Purple Rain during the "Saturday Night Listening Party" at the Welcome to 1979 Recording Summit (held every November in Nashville), and the rest of the interview took place between me and her the following day.
How did you end up as a tech?
I worked for a company called Audio Industries Corporation in L.A. for Hal Michael; HM was what he was known as. When I was a kid, I always wanted to make records. I took piano lessons and I had zero affinity for it, but I played the radio and listened to records like a fiend. Sometimes on vinyl albums there would be a picture of the studio, and I fantasized about being in that place where records were made. I didn't see myself in terms of what I would do there, because I didn't know, but it wasn't performing. Then when I learned that there are people who make records...
How did you learn that?
There was this school called the University of Sound Arts, right in Crossroads of the World [in Hollywood]. They had teachers from Wally Heider Sound, Sunset Sound, and Capitol [Studios]. They'd hire some of the greatest engineers in the world to moonlight as their teachers. My friend said, "I'm going to go to this school and become an engineer." There was no way I had money for that, but my friend was able to get me a job as the night receptionist at that school. I couldn't afford the classes, but I could afford the books. One day I overheard a tech talking to a student; he worked for Wally Heider Studios. He was telling them, "You want job security? Don't become a recording engineer, become a maintenance tech. You'll always have a job." I thought, "Well, then that's my career." I bought books and started learning about electronics. I read Modern Recording Techniques, 1st ed., and the Don and Carolyn Davis books on acoustics. Shortly after this process began I saw a "Help Wanted" ad in the Los Angeles Times. It said, "Audio Trainee Wanted." It was for Audio Industries. I applied; I knew nothing, but they liked my enthusiasm. They trained me to be an MCI service technician. At night I was studying my ass off with those MCI manuals and all those electronics books, and then, during the day, they were teaching me to solder, how to wire studios, and how to do simple repairs. One studio I was visiting frequently was Rudy Records, owned by Graham Nash and David Crosby, in Hollywood. They had an MCI console and tape machine that would frequently fail, so I would go on service calls. They asked me if I would leave Audio Industries and be their studio maintenance tech in 1981, and I took the gig. I finally got to fill in on occasion as an assistant engineer, and for the first time I was actually watching sessions happen.
Who was the lead engineer there?
There was an assistant engineer named Jay Parti, who also did some firsting [first engineer]. Crosby, Stills & Nash were working on the Daylight Again album. Stanley Johnston and Steve Gursky were two engineers working on that album. Mostly it was a one-room studio for hire. The Eagles, Bonnie Raitt, David Lindley, Joe Vitale, Mike Finnigan, and people who were part of that CSN, Eagles, and Kris Kristofferson crew would come in.
A lot of great musicians!
The late Don Gooch was an engineer who had been associated with CSN for a long time. Don would kindly allow me to come at night and observe his sessions. One of the first sessions I ever witnessed was the Burrito Brothers, with Don engineering.
Were you picking up session flow, and things like that?
I was starting to see how it worked, learning to listen to music as it comes together, and learning to develop that decision criterion for what constitutes a "perfect take." I'd hear the musicians play it over, and over, and over again. It was clear that the producer was searching for something that he hadn't heard yet. I'd listen and try to match my ear against theirs to see, "Will I know? This sounds right to me. What's the producer going to say?" I was learning the practical aspects of record making, plus I was learning our business. "Who are these people? What do we value? What do we talk about? How do we be in the world?" I could repair the tools, but I was getting a chance to see how people apply them. The first five years in L.A. were a good training ground. The music industry was changing. In 1980, there was new wave, disco, and drum machines. Samplers were just starting to appear, and this notion that, "We don't really need a drummer, because we have a drum machine. And we don't need a horn or string player, because these synthesizers do horns and strings pretty well. All you rock players, you can stay home now." It wasn't a paradigm shift, but there was an attitude shift. New wave was here: The Cars, The Police, and Devo, and shortly thereafter, Prince. And then there was the junior version of the next onslaught coming out of New York, and that was rap. That was just starting to heat up.
Audience: Sitting behind the console, listening to Purple Rain, end to end, what's that feel like right now?
The thing that I noticed now, that I wouldn't have noticed then, is that was one 24-year-old guy. I mean, you hear Lisa Coleman's chords at the end of "Purple Rain," you hear some of the girls [Wendy Melvoin and Lisa] doing background vocals, there's one solo from [Matt] "Doctor" Fink. The rest is one guy, and he's 24-years old. We were all young then, and it's like, "Yeah, everybody's 24-years old. Of course." We didn't really get it. But listening to that, I can't think of a peer. Stevie Wonder maybe? But this is one man, playing all the instruments, writing all the songs, singing all the parts, with no producer and no engineer, for all intents and purposes, because I joined him as a tech. This is what you do when you take a brilliant genius, give him a lot of money, and put him in a room with all the toys. This is what he makes.
Audience: So it still amazes you to hear it all? That's awesome.
Yeah, because you can't find examples of many parallels. When you think about it, you hear that guitar, you hear his incredible keyboard skills, and you realize that, at any given moment on that record, he could do that. He could have filled up that record with virtuoso guitar playing, with virtuoso keyboard playing, and with virtuoso singing. But he'll do ten minutes of just drum machine on "Baby, I'm a Star." Then here's another thing to consider. His lyrics. It's not Leonard Cohen, but think about... he's talking about an "us." I would die for you. Let's go crazy. Take me with you. It's a generous record. He's happy to be alive. He's happy to be 24. He clearly loves people. He's not a sexual predator. He's not talking about "I will conquer you," with that braggadocio of young men. There's us, and we're having fun. That's pretty great. Especially when you consider that he's one guy from north Minneapolis, all alone. He was so alone that he created his own competition. He created The Time and Vanity 6, and it was still all him. He played all the instruments, wrote all their songs, did the whole thing, and then had them come in and do the vocals.
Audience: What kind of preparation did he do to do his vocals?
He just sang them. It's not like he did any vocal comps. The way he worked, he would program the drum machine. A lot of the drumming you hear, like the double kicks, the tom fills, and everything, he's playing those with his fingers. There'd be a one or two bar loop on the Linn LM-1. So there's this loop; he played all the fills on "Take Me with U," the toms, and the double kick on "Darling Nikki" first. He had the entire arrangement in his head as tape was rolling, and he played the whole song in his head. Then the basic keyboard parts would go on. Then bass, if there was bass, or bass synths. We'd stop, I would route the vocal for him, put a piece of white tape on the patch cord to show him where it was, arm the tape machine, put the track on input, and then leave the room so he could do the vocals all by himself. He didn't want anybody there. He'd do the lead vocal himself, do the backing vocals, and then I'd come back in and we'd lay down the rest of the instruments. While he was playing, I could be dialing in sounds, so the mix was pretty much ready to go. We worked with the girls, Wendy and Lisa, Jill Jones, or Susannah [Melvoin] – if we're going to do background vocals. Maybe we'd add Eric Leeds, with horns. I'd press "record" on the 2-track, we'd print a mix, go to bed, and then four hours later we'd start all over again. That's how he worked, every day. Making music was Prince's way of being in the world. If he was awake, we were making music. If we weren't on tour, he was recording in the studio constantly. Every day, even on the movie set. We were at home in Minneapolis, during the Purple Rain filming, just so he could come home and record. During [the filming of] Under the Cherry Moon, I had the Advision Studios mobile truck from London in the south of France. When they were taking their lunch break he could come into the truck, work for two hours, record a bunch of tracks; then he could go back to the set and I would be mixing and editing. He had to be making music. I'll tell you what a typical day was like on tour. Prince would soundcheck from 2 p.m. until 6 p.m., just for fun! Just to play new songs, and to rehearse with the band. He wasn't checking the sound; he just wanted to play Prince would hit the stage again at 8:30, play to 11 or 11:30, come off the stage, get in the van, go to the hotel, shower, change clothes, and then do one of two things: either go play an after party and take the stage at a little club at 1 a.m. I had a second truck loaded up with a second set of gear, so we'd come off stage and either go to a club, set up another stage, and play this after party until 5 or 6 in the morning. Or I would have booked a studio in advance, and we'd go to the studio and record all night. We'd get the tapes, get on the plane, and sleep on the plane; or get on the bus and go to the next city, and do it again. If he was awake, he wanted an instrument in his hand. That's how he lived. He was on fire.
Audience: Who did all the synth programming? Was that all him?
Oh, yeah; that was all him. He hated bringing anyone else in because he worked so fast. It was all 24-track. He could not wait for two [tape] machines to be synchronized. It was never more than 24-track in the years that I was with him. There was no automation, because he couldn't wait for that either! When we'd mix, I'd just hit "record" on the 2-track and do it live. People have asked me about him being a perfectionist. He was not a perfectionist. There was nothing perfect about it. What he was was a virtuoso. He was that fluent on so many instruments that we could go super-fast. There was no perfection involved.
Audience: So, with any other musicians, it was just playing catch-up? He knew they'd slow him down?
Yeah. He knew if he wanted horns, or background vocals, that's when he would have a date. He'd have Eric Leeds and Matt Blistan come in and put on horns, or he'd have the girls come in and do backing vocals. He'd go out and have a date, and I'd do those recordings with other people. Then he'd come back, dump his date off, or whatever. Sometimes he'd bring her to the studio, until she'd get bored and leave.
Audience: He didn't want to go through the painful process of watching people work at a normal pace.
He could. Like the song "Take Me with U," where Apollonia is singing that cold lead vocal. When she joined us she replaced Vanity, who had suddenly split. Apollonia had to be in the movie and on the record. He asked her, "Can you sing?" She said, "Yeah." So he left me in the studio with her to warm up her voice and said, "You record her vocal." She couldn't sing at all! She was focused on acting and was not a strong singer. Prince came in and had the patience to coach her through line by line to get it.
Audience: What's he saying at the end of side one, the backwards voice?
He had a complex relationship with sex. He had a father who was a jazz musician, very religious, and his father had very strong anti-sex views. So when Prince would have a strong statement of lust, like the song "Darling Nikki," it's usually followed by some sort of exorcism, like, "Forgive me, get this out of me." I remember, at that time, when backwards tracked bits in the locked groove of records were thought to be satanic messages. You younger folks won't remember this, but in the '70s and '80s...
Dierks Studios Mobile 2 truck, June 1987 during the Sign '0 The Times tour in Rotterdam, Netherlands.
We were all going to hell.
We were all going to hell with these backward messages. It's just a piece of tape that was layered, and layered, and layered, and flipped around backwards. I don't remember what it was.
Audience: It says, "Hello, how are you? Fine, fine; 'cause I know that the Lord is coming soon. Coming, coming soon."
This is his way of asking for forgiveness for having lust in his heart, and doing it in a way that was artistic. Great art comes from conflict, and he was conflicted, for sure.
Audience: Do you think he had the lyrical content in his head all the time, as well?
About half the time he'd come into the studio with a lyric already written. He'd either play a drum kit, or use a drum machine, and the lyric would be taped up on the mic stand in front of him – he'd be reading the lyric at the same time as he played the drums. Usually he did that for pop songs and ballads. If it was just a straight up dance number, he'd lay down the groove first. I'd give him a cassette; he'd play it in the car, write the lyrics, and come back and sing. It was typically a song a day. There were rare exceptions when a song would take more than one day, but it was usually a song a day.
What about some of the songs where we hear strings? Are they real or the Fairlight sampler?
No, not the Fairlight. He didn't have the Fairlight on this record. It's the Oberheim synths. When he got the [Yamaha] DX7 he used that thing to death. On Around the World in a Day it's mostly DX7. He got that right around Purple Rain, so I think that DX7 is on some of those songs. He had a Fairlight for Sign o' the Times.
Audience: How much of the vocal effects were committed to tape?
I'll tell you what went to tape. The Linn LM-1 had little faders on it, mixers, and individual outputs on the back. We'd take the kick out, and the snare, and then the hi-hat usually by itself, usually claps by themselves, but then everything else would come out a stereo mix and go into his Roland Boss pedals, the kind you still see today. That would have flanger and chorus in it. You hear a lot of times the hi-hat is chorused, and it's very wide stereo. So are claps and things on many of these songs. So the chorus, the distortion pedal, the Heavy Metal pedal, the [DD digital] delay, and the flanger. He would click them on and off to dial in what he wanted for the drums. Those effects were printed. The effects on his voice and everything else, no. He really loved delays. Students today, I always see them going for reverb. I instruct them, "Wait, delays! Delays happen before reverb happens." We had several of the Lexicon Prime Time [Model 93 digital delays] with stereo in, stereo out. He loved those things. At that time, we had the Lexicon 240L. We had an EMT 245. At Sunset Sound we had the real echo chambers. But mostly it was delays, real echo chamber, and EMT reverb. That all just went to the mix, but not on the multitrack.
Audience: You were in Studio 3 at Sunset, but you patched into Studio 1's live chamber then?
All the chambers; but the big chamber was the best one, if you could get it. We wanted to build a chamber at Paisley Park, but with real estate, they ultimately didn't do it. Some of those things were recorded at a warehouse. Other tracks were recorded either at Sunset Sound Studio 3, or on an API console at home in the warehouse.
You were working in L.A. as a tech, and then somehow you end up in Minneapolis with Prince installing his console, right?
I heard through Westlake Audio that Prince was looking for a tech, and I just said, "Well, the search is over, because that's my job!" Westlake referred me to his management, and they hired me as a tech. The first thing I was asked to do was pull the old console out of his home studio, install his new API, and fix his tape machine, which, at that time, was the Ampex MM-1200. It sounded so good. That took about a week. He was doing pre-production for the movie, Purple Rain, at this time. I could hear him at the piano. I was downstairs in the home studio, which was just a bedroom, and the piano was right above. I could hear him playing "Purple Rain," "The Beautiful Ones," and "Computer Blue," just waiting for the studio to be finished! I finally got it finished, and the first song he had me put up was "Darling Nikki." He had me put up a tape and said, "Get a rough mix." I said, "Okay."
Audience: Is there a version of "When Doves Cry" with a bass line in it?
The bass is on the multitrack tape, but it was muted in the final mix. It's interesting listening to this record again, and being reminded of how real genius knows when to show it off and when to just be simple. Simple chord progressions are fine; you don't have to be really sophisticated. A simple drum pattern is fine. You can add the complexity in other elements. It can be in the sonic elements, in the virtuoso great guitar solo, the complexity can be in your lyrics. You don't have to show off everything. Keep it all really simple and have one magic ingredient, maybe two. It was smart record-making. I don't know how he knew how to do that, but he knew what he was doing.
Audience: That first Linn drum was all Steve Gadd drum samples, but you could order samples and they'd send you the chips. Did he ever do anything with that machine?
I didn't know that. But did you know that you could pull the chips out of their sockets, reverse them 180 degrees, put them back in, and it would play the sample backwards? He tried the LinnDrum when it came out, but he didn't like that one. Also, the clock on that LM-1 was kind of funky. As it would warm up, it would sort of drift a little bit. It feels a little bit more human than the very rigid, later model.
Audience: There wasn't any sequencing at all, apart from the LinnDrum? That was it?
Oh, gosh; no, that's just him playing it. That was it.
Like on "I Would Die 4 U," he's playing a sequencer-like pattern?
In that case, that was Matt Fink, because that was cut live, and Matt did program that. But Prince, for his own parts, he would just play them. He didn't have the patience.
Audience: Can you talk about working with that live material, and how it changed from the concert to the final mix?
The bed tracks for "Purple Rain," "I Would Die 4 U," and "Baby, I'm a Star" were cut on August 3, 1983, in a mobile truck at First Avenue, the club [in Minneapolis]. I had just been hired by Prince, but I hadn't yet arrived in Minneapolis. That was recorded by David Z [Rivkin], and the truck was the Record Plant mobile from New York [the "Black Truck," with engineers David Hewitt and Kooster McAllister]. We used that one a lot. Anyway, the bed track was cut, but it was drum machines, so there weren't that many open mics. So we brought the tapes back to his home studio. This is all before Paisley Park was built. We could overdub it, add more guitar parts, synth parts, and mix it at home. Before Paisley Park was built, he worked a lot at Sunset Sound.
Do you know why he picked Sunset Sound to work out of?
I don't know. When I joined him, he'd been working there and he just loved it. It was that DeMedio console. When we planned Paisley Park, he commissioned the great Frank DeMedio to build him a copy of that console at Sunset Sound.
Paul Wolff: I built all the EQs for that console when I owned API.
Oh, you did? When Prince got the new DeMedio console for Paisley Park, Frank DeMedio came out to check the console. After he was finished, he swept it. That console had a flat [frequency response], from 0 Hz to 70 kHz. The signal path was all discrete circuits – there were no integrated circuits. It had transformers and everything, but it was just flat. What a console! You may know the song, "The Ballad of Dorothy Parker." That's the first song we did on that console. Prince was so eager to record that that he sent Frank home. He just said, "Go home, and let Susan finish it." I put up tape, and we recorded the song. I'm thinking to myself, "Oh, my god; he's going to kill me. There's something wrong with this console." It sounded all muffled, because Frank hadn't finished troubleshooting it. It's like, "I know this console is flat. What's going on? There's no high-end!" I kept thinking that any second he was going to stop, yell at me, have a big fit, go upstairs, and then I can figure out what's wrong. But he wouldn't! He just kept going, kept overdubbing and doing the vocals, and then we mixed it. He finally stopped when we mixed it, 24-hours later. He finally went to bed; I got the voltmeter and saw that one half of the power supply's rails were down. Instead of bipolar [+/-] 15 volts, we just had 15 volts. We had half the headroom, and half the frequency response. It sounded muffled, but the song is about taking a bubble bath with his pants on. It was all a dream, so he didn't care!
Prince was prolific in the studio.
I was with him for over four years. With every new song, with only one exception, I had the experience of thinking to myself, "This might be the best song he's ever done. I don't think there's any better one than this." Every damn time! There is so much in that vault. So much.
I know songs would get recorded and discarded because they didn't fit the flow of an album.
He was an old-school record maker. He was making an album.
What does that mean?
35 minutes of music. That's the artistic experience, like watching a television program or a movie. He's making and releasing an album. He was smart enough to know that an album is not your eight most recent songs, your ten most recent songs, or even your ten best songs. An album is a work of art that expresses what you want to say today about who you are, about your view of the world, about your view of yourself, about your view of your relationship with your culture and the times, and your competition. So three or four songs would form the seed of an album. The seed of this album is obviously the song "Purple Rain." I think "Beautiful Ones" is an important, core song on this record. "Computer Blue" as well. "Let's Go Crazy"? I think so, because it's more "this is about us." Other songs were more after the fact. "When Doves Cry" was one of them. "Take Me with You" was the last song on that record. Songs were chosen to compliment the seed, and great songs were rejected. One of my favorite songs of his is called "Moonbeam Levels." He recorded it before I joined him, in early '83. We sequenced it on Purple Rain, and he took it off. We sequenced it on Around the World in a Day, and he took it off. We even put it on the Parade album, and he took it off. Then it got too late, and he couldn't release it. It was very personal, and I think he just didn't want people to hear it. He wasn't ready. It's on a CD set just released [Prince 4Ever]. It's really beautiful.
Audience: If you have one thing that you'd like to convey about Prince, because he's one of the most mysterious artists there is, what would you say about him?
There's something about him that I think is not well-understood. I'd like to point out his generosity of spirit, with regard to women. For all of his love of sex and women, Prince never approached women as a conqueror or a predator. The typical Prince song was "Do Me, Baby," from the Controversy album. "You do me. You get all the power. I'm taking all this power, giving it to you, and now you do me," is what he sang about. He empowered women. It's what he did. "Take Me with U." In "Darling Nikki" he wakes up and there "was a phone number on the stairs. It said, 'Thank you for a funky time. Call me up, whenever you want to grind.'" She's calling the shots. He brought women to work with him, like Wendy and Lisa, me, and Peggy McCreary.
And Sylvia Massy [Tape Op #63].
Yeah, Sylvia worked with him. We were his equals. He never treated us like he was doing us a favor. He empowered us and let us do our thing, and he stood out of our way as we did our thing. His imitators talked about, "Baby, I'm going to do this to you," and, "I'm going to do that to you," and how much better they are than their rivals. He empowered women, and I think women loved him for it. You've got this guy on stage; the hair, the makeup, the earrings, the high heels, the bikini underwear, and the trench coat. And he's so masculine. He's so comfortable with that. He didn't care if you thought he was gay. He's straight, but he didn't care.
Audience: So when this chapter ended, were you just tired out? What happened?
Well, we were pretty much joined at the hip, because I was his employee. I wasn't like an independent contractor. I worked for him, and he worked all the time, so I worked all the time. I worked Christmas, New Year's, and birthdays. A work day was typically 24 hours. Twelve hours – I'm not exaggerating – was a half-day off. If you only worked for 12 hours, it was like, "Woo hoo, I've got the rest of the day!" It was a tour of duty. It was near the end of my time with him. I was working on the second Madhouse record [Prince and Eric Leeds]. He was at home in Minneapolis, because Paisley Park had just opened its doors, so now he finally had a real facility, and he had other engineers. I was in L.A.; he flew out to L.A. one night and couldn't find me. I was on a date! My first one in years. He couldn't find me, and he was furious the next day. He was livid! We went into a private room at the Hollywood Sound Stage and we went toe-to-toe. When you work for someone, it's a voluntary contract. You don't have to hire me. I don't have to work for you. You can decide to fire me. I can decide to quit. This is a voluntary arrangement. Either one of us can break it at any time. We just looked at each other and realized we were both ready to renegotiate. It was just too much. It was time. I had done my part.
There's also the story where he said he'd fine you.
That was another story. Prince liked James Brown, and he thought if James Brown did it, he would do it too. He'd point to his band on stage and if they made a mistake, he'd fine them $50. One time we were at Sunset Sound. He was in a really good mood that day. This is the only way I'm still alive to tell the tale. I mispatched something, and he kind of jokingly said, "That's a $50 fine for you, Susan!" It just got me the wrong way, because he had my whole life, and his shoes were worth more than that life. Like, "What more do you want from me?" I got mad. I opened up my purse and wallet, took whatever cash I had, and I threw it at him. I was like, "You want my money now? You have my whole entire life. You have everything. Here, take my money too." I threw it at him, and I stormed out. As soon as you have the big gesture, you feel relieved. Now I thought, "Oh, god; I gotta go back. Shit." The only good way out of that is to storm out and never come back; but I had to go back, so I did, and it was fine.
Audience: You hear he was really difficult to work with, but it seems, to hear you talk, that it sounds like it was an absolute joy.
Well, that's the thing. Here's why his life was possible. He was that much of a genius. Joseph Campbell talked about this in The Hero with a Thousand Faces, about the archetypal myth. In order to express a universal, archetypal truth, you have to go to a deep place in your psyche. You have to go into that deep well of creativity. Brian Wilson did it. So did Paul McCartney, David Bowie, and Lou Reed. Joseph Campbell wrote about it as the hero's journey, just like The Hobbit, Harry Potter, or Star Wars. So, you go off on this journey, but you don't necessarily want to, and you're scared. Then you throw the ring into the dragon's mouth, or whatever you're supposed to do, and you come back scarred. The hero returns home, but he's never the same. He's scarred, psychically. In order to write that much, and be that prolific, you must protect your psyche, because you go to this dangerous place, really easily and often. You put up a wall, and you tell your management, "Don't let anyone approach me. I've got my system. Here's the system that allows me to create. These are my people who I'm familiar with. These are my places. This is a system where, within this circle, I can create." That allows you to have a very long career, because you've figured out an armor to protect yourself. If you watch the movie Amy, about Amy Winehouse, you'll see what happens when you can't. What happens when an artist says, "I'm going to be myself. I'm going to let people see me. I'm going to let photographers take my picture and be candid in interviews."? Watch what happens. It's damaging to the psyche. Prince was smart enough, as a young man, to know that he'd need to do that if he wanted to have a long career, so he did it. But, to the outside world, he appeared as a big enigma.
Audience: Was there a certain moment when you knew Purple Rain was special?
I was so deeply in it, in order to perform my function. My job was to be the hands and the awake human body that kept this train rolling. I wasn't analytical about it. Not then, and not even afterwards. When you're deeply involved in something, and your role is to facilitate it, you don't necessarily have the property of being able to analyze it. He was a true artist, but he had a workingman's work ethic. He took his career and job seriously. He didn't pursue recreational drugs. He didn't pursue celebrity for its own sake. He didn't pursue a celebrity, or wealthy man's lifestyle, or a very busy profile. The opposite. He valued being invisible, because he valued the work. Prince loved nothing more than to be an artist who goes to work every day in his art studio and just cranks out a product. I think that's one of the interesting dichotomies of Prince. A true artist, and a workingman. It's funny that it should be a dichotomy, but often people want to be one or the other. He had a lot of people who worked for him in the '80s. He would say, "We put bread on peoples' tables." He wasn't the kind of person who fired people on a whim. He acknowledged and recognized the commitment of hiring someone and supplying them with a job. He was stern and demanding. He certainly was a taskmaster, because there were a lot of tasks to get done; but he allowed for error, and he recognized his responsibility to be an employer, as well as on top of his artistry and his musicianship.
What do you think your strengths were when working with Prince?
He wasn't an engineer. He approached the equipment, the console, the tape machine, and the outboard gear as if it were a musical instrument. I was a technician, and I did not know how to engineer. I'd never learned how. I knew signal flow like the back of my hand, but I didn't know how to make a record. It was actually, in hindsight, a very good pairing. You have this guy who views this as a musical instrument and a woman who views it as "it routes signal." Neither of us knew how to play it, so we played it in such a way that it made noises we thought sounded cool. I was a music fan. That's why I got into the business. I just wanted to be where records were being made. I was making Prince records the way that I wanted Prince records to sound. He was making music for his fans, and his fan is sitting right next to him. That taught me the value of listening to music the way a non-musician listens to music. It's a different conversation and a different set of questions, but I know, from being an auditory neuroscientist, that musicians and non-musicians do process music differently. We hear it differently. Musicians can listen analytically, but non-musicians can listen synthetically. We're listening to the global whole of what music is, whatever any sound is. It would behoove all record makers to remember to dial that microscope back far enough to listen to the big picture. Then push your faders around and push sound around to serve the big picture, not your preconceived notion of what's right and wrong.
If I'm mixing, I'm trying to make it feel like a record. I'm not thinking only of the technical end.
Exactly. You need to have the skill set that will allow you to do what you're picturing in your mind's ear. I don't mean to be disingenuous and say that all you have to do is push levels around until it sounds good. It's not that simple. After I left Prince, I realized my career was going to be in trouble if I couldn't watch other engineers work, because this is the only sound I knew how to do. I didn't know how to make any other records. And I struggled until I watched other people work.
So you went back to L.A. after Minneapolis. What path did you take, at that point?
Well, I got calls to mix records, and I got calls to engineer records. Mostly the people who called me wanted Prince's sound for their own record, which was a fair enough bargain, because I knew how to get that sound. But often artists would be disappointed because I couldn't modify that sound to fit them. Then a couple of fortunate things happened. One was in '89 I was introduced to the great producer Tony Berg, in L.A. Tony hired me to work on a Michael Penn album. Tony was such a supporter, and so generous of heart, spirit, and mind. Just a smart man. He recognized my shortcomings and he taught me things. I credit Tony as being my mentor, because if it weren't for Tony, I don't know that I would have had a career. He really guided me into record production and engineering the L.A. way, and the alternative rock/indie way, because I'd been doing this dance music. Tony taught me what was valuable, and Michael Penn did as well. I learned so much from those guys. I did records with Tony, including Michael Penn, and Edie Brickell & New Bohemians. For one glorious week I got to work with Public Image Ltd. and John Lydon. We did one song ["Don't Ask Me"] for a greatest hits record with Public Image Ltd. I got calls to mix a band called The Odds up in Canada. I did a little work with Toad the Wet Sprocket. I started getting asked to do more production. Then my life changed in 1992 when I was asked to co-produce the band Geggy Tah – Greg Kurstin and Tommy Jordan – on David Byrne's label. Nothing was the same after that.
That changed your idea of making records?
It changed everything for me. They were obsessed with the question of what music is. I had been obsessed with the question of what sound is, and how sound serves music. Now I started thinking about, "What are we doing? And what can be music?" Tommy Jordan was interested in the human/music impulse. Tommy wanted to be able to make music the way a 3-year-old or a 97 year old would make music, if they could. What is a 3-year-old trying to communicate? What does the 97-year-old think? What happens in between? T Bone Burnett [Tape Op #67] called Tommy one of the five most creative people in the music business. I have never before, and never since, worked with anyone that purely inventive, when it came to manipulating pitch, timbre, duration, loudness, and sound. Tommy loved sound effect records and nature sounds. He always had a little portable cassette recorder with him with a built-in microphone. If he raised up a garage door and it made a squeal, and that sounded good and pleasing, he put it in a sampler. You've got a dog trotting across a tile floor; he'd put that microphone close to the ground and hear his claws on the tile floor, going, "Tick tick, tickity tick." He'd loop that. Tommy had me play drums on the song "Gina," on their second album [Sacred Cow]. Gina was the name of my little dog. I said, "Tommy, I don't play drums." He said, "I'll show you how. Just play this." Because I was Gina's mother, the dog's mother, he said, "Be the mother's voice and express the love of this dog. Have it be steady and constant. That's what drums do." And that connection between human expression, expressed with music, was an epiphany. It influenced every record I've done since then. It took me from being someone who was just trying to keep up, to someone who recognized that I have a voice now. I know what to do when I get in the studio. Tommy's partner was Greg Kurstin. Greg, as I'm sure you know well, his career's on fire. He most recently produced Adele's album [25]. From those two guys I learned the art and the craft of record making in a whole new way.
Yeah. It's amazing how something can flip you on your head to ask those questions.
The beautiful thing is that it's the question any 3-year-old would ask. "What? Why?" Tommy taught me that music is an expression of life. Life is not perfect. Life has mistakes, and it's flawed. It's really beautiful, and it's really ugly. It smells pretty, and it stinks. Life is simple as pie, and it's complicated. Life is mysterious and dark, and life is bright and dazzling. So your music should be all of that. If it's going to express life, stretch it out. Have there be ugly sounds and pretty sounds. Have there be mistakes and perfection. Stretch it. Let there be voids and vacancies, as well as a trainwreck, a pile-up of all kinds of sounds. That's valuable advice. We need to remember that we're making art. And what is art? It's an expression of life.
You've got to put music out there that gives the listener something to work with.
Prince was smart enough to realize that he wasn't making records to signify something about himself. He was making records to allow listeners to fantasize about themselves. He used to say, "It's not about me. It's about the listener. When they see me, they're seeing a version of themselves that they're interested in." He was able to then suppress his own individual ego and, wanting to be liked as an individual, he allowed himself to be a vehicle for our fantasies.
Absolutely.
Which is how the smart artists do it. They suppress their own ego and recognize that it's, "Not about me. It's about you."
Where did you go to study after working in L.A.?
I was in Los Angeles, but I was doing a lot of work in New York in the late '90s. I worked with Laurie Anderson, David Byrne, and Tricky. I did a record in Pittsburgh with Rusted Root. I was between records, and I had three weeks in January and February to work with Barenaked Ladies on the Stunt album. We worked at Arlyn Studios in Austin, Texas, and then I handed the record over to David Leonard. David finished up the overdubs and mixed it, and the record was a huge hit. It sold millions of copies. Because it was a huge hit, I now had the money to leave the music business. I finished up in 1999. I did a couple of projects – India Arie and Laurie Anderson – in early 2000, and then I left the music business for good. At this point I was living back in Minnesota, and I entered college as a freshman at the University of Minnesota. I did four years in neuroscience and psychology at the University of Minnesota. Then I got into the grad program at McGill, and I studied at McGill for four years under Daniel Levitin [Tape Op #74] and Stephen McAdams. Dan, at that time, was writing This is Your Brain on Music. I left McGill in 2008, and was hired by Berklee to teach in the departments of Music Production and Engineering, and I also teach in liberal arts. I teach Music Cognition and Psychoacoustics. This spring I'll be teaching Statistics at Berklee, which I'm really excited about.
I think it's fascinating that you went through the whole process of tech, to engineer, to producer, and then went back to get a doctorate.
I'm a true engineer, in that I love the mechanics. I love being able to see how it works. Neuroscience, and, in particular auditory neuroscience, is our internal wiring. It's the wiring that gets us from the mechanical process – the cochlea and the inner ear – that converts that analog activity into a digital signal, and that digital signal is the ones and zeroes of the action potential in the auditory nerve. So we basically have A-to-D converters in our ears. That pattern of neural activity in the auditory nerve becomes neural activity in the brain. That pattern is so complex, because it includes what I think, and what I expect, and what I like and dislike about music, and what I'm in the mood for. Pick something you really love. I love something the students turned me on to; American hardcore. There's a band called Converge, and they are insanely great! When I listen to the Jane Doe record, I get so excited and I love it so much, but I'm not always in the mood for it. There are times when that exact same signal is very aversive. The signal itself hasn't changed. What's changed is our appetites. Science knows now about how personality traits, which are somewhat stable over a lifetime, predict music preferences. We've learned that you're simply not going to make a record everyone will like. Some people like their music to be complex and intellectually engaging. Some people like it to be simple. Some people are looking for mainly the lyrical content. Some people are looking for mainly the groove. Some people are looking for mainly the chord progression or melody. That differs throughout a day, much less throughout our lifetimes. So, as record makers, we need to recognize that we're making a product where we don't know who's going to consume it, or when, or what they're going to want. We're making a product that is not absolutely necessary for human survival. We need heat, water, and food. We could live without music. We're making a product that there's already too much of. We're making an unnecessary product, in a market that's totally glutted, for people who have more than they need of it already. There's no job security here.
I've noticed!
So what does happen when people avail themselves of music and they buy it, download it, consume it, and love it? They're reaching for a product that they're saying, "This is going to benefit my life in some way. My life will be better for having this." It's going to do something for them. We should be humbled to consider what we're doing, and to consider that just making a vanity project – about an artist's life and thoughts – is not enough. You're making a product for the consumer. What does the consumer want? What do people want? What do people like? Think about it. Be generous in your artistic strivings. Language is communicating information, but it is said that music is communicating feelings. Lyrics do some of the work of communicating information, but the vocal performance is the subtext that accompanies the text, the lyrics themselves. We sometimes risk alienating our audience by not having the skill to communicate our feelings. Lyrics can be unintelligible. I love records by Caetano Veloso and Ryuichi Sakamoto, and records that are in Spanish where I can't understand the words they are saying.
Sigur Rós [Tape Op #41].
Yes. But I can feel what they want me to feel, and I'm in. But record makers would be well-advised to check out a music cognition course, or do a little reading on how humans bond to music and understand just a little bit of how complex and difficult that is.
The McGurk Effect was mentioned yesterday. I didn't know the name for that, but I knew it existed.
That's a really important point. Humans evolved to get information, primarily from vision. Neurologically, we have much, much more processing power and neural resources devoted to processing what we see compared to what we hear. The auditory system is very crude, so when we see something, it is going to dominate our decision-making compared to what we hear. But, that said, the hearing, because it's a simpler mechanism, is faster and more automatic. Students who stare at the screen and the waveform are literally suppressing and denying themselves the capacity to listen. They don't need to see the waveform. There's no useful information there, beyond a certain point. When you're listening to a performance, you need to see the levels, and you need to see the transport controls. But, other than the meters and the transport controls, there's no information there that you need. All the information you need is coming out of the speakers. That's what you should be attending to. It contains the message.
Turn the screen off.
Yeah! And block competing sources of information that are not useful in the moment. We've got these sensory organs that are constantly taking in information, and then we've got internal sources of information, telling you you're hungry, tired, cold, or thirsty. The whole brain is processing sound. So, as you're listening to sound, you're taking in what you see, but you're also taking in what you smell and what you taste. You're taking in whether you're happy, or sad, or cold, or hot, or tired, or hungry, or in a good mood, or in a bad mood. You're taking in anxieties. Is there something happening later that night, or the next day? The whole system is processing what you hear, and can influence what you hear. Associative memory – associations between a song and memories of it – can influence our liking or disliking of that song. We all like songs that make us happy, even when we don't know why it makes us happy. We probably heard it when we were just deliriously happy at some point, whether at a wedding, or a baseball game, or whatever. It's incredibly powerful, in part because auditory processing is so incredibly crude.
We're playing with psychoacoustics that's based on millions of years of evolution.
Exactly. Here's a cool thing. We recognize changes in the acoustic elements of sound to a really small degree. The difference between a drummer who could put that snare just where you want it and the person whose groove is not quite as tight, or a bit ahead or behind the beat – those differences are so small, but they're actually significant to us when we're processing sound. Humans are expert listeners, in a certain sense, in that we can tell those small changes. Why do I choose a Stratocaster over a Les Paul for this guitar part? Some decision-making mechanism is saying that one's wrong, and the other one is right. The session musicians here in Nashville, why do they get called for the gigs? Part of it is association. Part of it is superstition. "Well, he was good on this guy's record, so I'm going to get him for that guy's record." But there are measurable differences between the people who are great, and the people who are nearly great. That can be measured. And humans can perceive it.
I believe it.
I am investigating the origins of hearing disorders with the work I'm doing in my laboratory right now. So I've been studying and focusing on what causes tinnitus and hyperacusis. Hyperacusis is hypersensitivity to sounds in certain frequency bands, and tinnitus is that ringing in the ears. I think roughly 47 to 49 percent of audio professionals, by most studies, have it. The mechanisms are just now being understood, but at Berklee I can investigate our musician populations to see if some musicians are at a greater risk than others of developing tinnitus. Will it be the horn players, or the drummers, or the electric guitar players? Will it be the vocalists? Think about it, if you're singing in a choir, you're singing next to a sound source that can get really loud. Really, really loud. Who's at the greatest risk? I collect data, and that's what I do in the lab.
That's awesome. It's so important to understand this sort of information.
The arts and sciences, I discovered, have way more similarities than I ever realized. It's just that the directionality of it is different. In the arts we imagine a condensed ball of dark matter that contains all of humanity, all of human knowledge, and you explode it into billions and billions of individual expressions of the human condition. Paintings, movies, television shows, books, records, and songs. You've got billions of individual ways of describing what it means to be human. Science is the same exact process, in reverse. We look at all the individuals, then we work our way back and try to describe what is universal. How do people hear? How do they think? How do they pay attention? How do they decide? How do they learn? How do they memorize? How do they grow? That's what science does. So it's the same journey, just in a different direction. You can explore record making with the goals of individual expression, or you can explore auditory science with the goal of what we all have in common. The minds, in both cases, are quite similar. You have to be creative in the sciences.
How many times do you find that an assumption leads to a dead end in science?
Oh, yeah. You have to have an open mind to being wrong. In fact, you actually have to get excited if you're wrong, because it means you were indeed going down a dead end. Now you get to turn around and go towards the right [thing]. Just like a record maker should get excited when someone comes out with a better record than yours. They showed you how to do it, didn't they? They taught you something. Now that you've heard it done, now that you've seen it done, at a show or live performance, you'll be better next time, won't you?
Susan Rogers Playlist on Spotify
Tape Op is a bi-monthly magazine devoted to the art of record making.