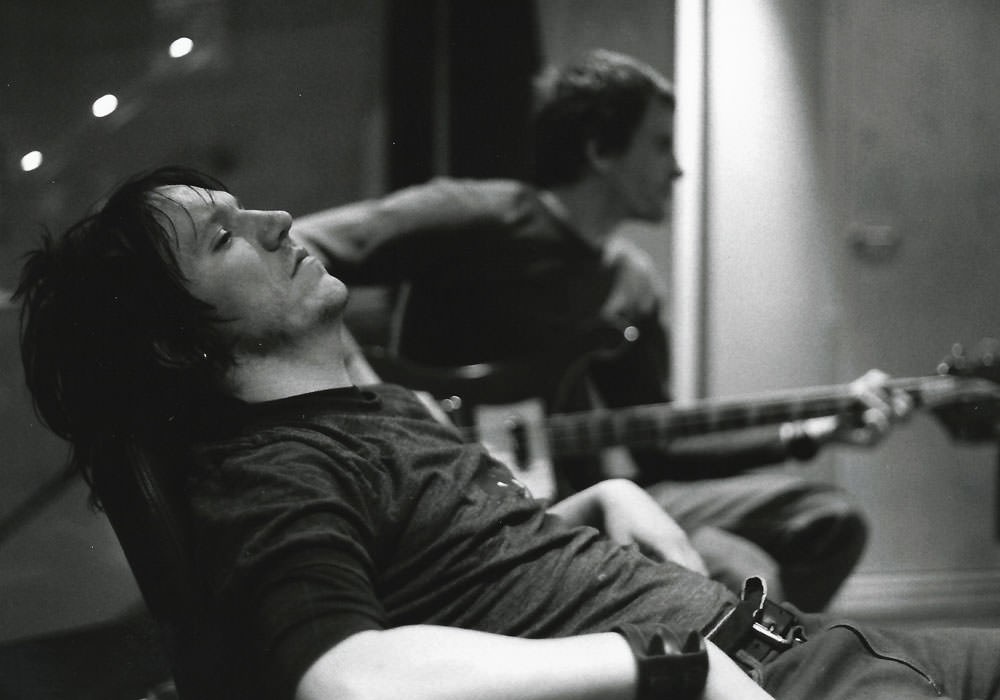 This year marks the 20th anniversary of Either/Or, the third album by my late friend and co-conspirator Elliott Smith. I was asked by his family and label, Kill Rock Stars, to oversee the remastering process for this record [Either/Or: Expanded Edition], source and mix bonus tracks, as well as to come up with text for the liner notes. What follows is an adaptation of the liner notes, along with extra information added about the recording process and the gear Elliott, and his co-producers Rob Schnapf and Tom Rothrock [Tape Op #9], used in the making of this well-respected release. All quotes from Elliott are from the interview I did for Tape Op #4, as he was wrapping up the sequencing of Either/Or before the original mastering by Don Tyler at Precision Mastering in December 1996.
Feature Photo: Elliott and Sam Coomes at Abbey Road, 1998. Photo by Joanna Bolme
Elliott Smith labored over Either/Or through the years 1995 and 1996, while simultaneously finishing Heatmiser's Mic City Sons (the third, and last, album by the band he'd started in 1990 with Neil Gust and Tony Lash), promoting his second album (the self-titled Elliott Smith), and embarking on various solo and band tours. It's important to note that Mic City Sons and Either/Or not only were written close to the same time frame, but both share the co-production of Rob Schnapf and Tom Rothrock. Heatmiser had signed to Virgin Records in 1995, and rented a house in Portland, OR, to record in, known as The Heatmiser House (SE Ankeny at 20th Ave.).
Elliott: "We got the check from Virgin [Records], and we were on a big do-it-yourself kick. We were totally paranoid going into that deal. We held out for a year, for total control, and then went so far as to buy our own equipment. They [Virgin] never bothered us at all."
Rob: "I know we had been talking about doing something together for a while. Possibly recording at my house, like we had for parts of Beck's Mellow Gold, but it didn't come together. Elliott called me and said they were in a bind on the Heatmiser record. I pitched Tom on the idea, and off we went. It was a lot of fun conquering the limitations (drums in the dining room, guitars in the kitchen) and making a cool record." Heatmiser's other songwriter was the talented Neil Gust.
Neil: "The songs felt interchangeable between his solo work and the band. The band would work on songs. Sometimes he'd drop them, then later pick them back up and revise them on his own. This wasn't on Either/Or, but there's a riff in 'Christian Brothers' [from the self-titled Elliott Smith] that's from one of my songs that we abandoned."
With this makeshift studio accessible to the band members, Elliott also began recording songs that would end up on Either/Or, possibly "Punch and Judy" and "Cupid's Trick." He also wrote, recorded, and produced "I Figured You Out" for Mary Lou Lord at this house (for her Martian Saints EP). His earlier demo version of this song (which Neil plays "doubled drums" on) graces the bonus disc of the reissue.
Mary Lou: "I was sent to Portland by Sony [The Work Group] for a week to hang out with Elliott and see if we could brainstorm on some new songs I had in the works. Elliott helped me finish a few of my songs, like 'Seven Sisters.' He played 'I Figured You Out' for me, and it was very new. We went to the Heatmiser studio one night and we recorded it right away. Elliott played everything, and I sang. I always loved that song but, for some reason, Elliott didn't. It was an honor to work with him."
In January of 1996, Elliott signed a deal with BMG Music Publishing. The advance payments allowed him to quit his day job and focus on writing and recording. His housemate and friend, fellow musician Sean Croghan, shared two different homes with him during this time.
Sean: "Once Elliott got some money for publishing, he invested in recording gear. He was spending days learning how to use his new gear. He was recording himself, with perhaps the help of Joanna [Bolme] and Neil. The bulk of Either/Or was recorded in our house on NE 16th Ave., north of Fremont Street. We set up the basement for recording, as well as for band practice. He would record and mix to cassette, and then walk around listening to what he was working on on his Walkman."
Elliott: "The [first two solo] records were totally limited, and there was no choice about what to use [gear-wise]. Then I got an 8-track [Tascam 38], and I had a choice between a couple of different mics. I got a compressor [Behringer Composer] and one of those [digital effects] boxes that will make any effect that you have the patience to try to program [Digitech TSR 24S]. Most of [Either/Or] was done at my house, some was done at Joanna's house on a 4-track, and some on 16-track in California [at The Shop]. Everything sounded different."
Either/Or's opening track, "Speed Trials," was the song that was recorded on 4-track cassette at Joanna Bolme's apartment, on SE 34th Ave. at Hawthorne Blvd. in Portland.
Joanna: "It was an apartment, not a house, and we had a neighbor below. Maybe he sang it while I was sleeping. I worked late at the bar [La Luna], so I always slept in until noon. I'm pretty sure he tracked the drums and guitar while I was out."
Due to the quiet recording, and the sonic limitations of 4-track cassette, the song has a unique sound that gives the track a haunting vibe.
Some of the later sessions for Either/Or were done at JJ Gonson's Undercover, Inc., in the Oak Street Building on SE Oak at 3rd Ave. in Portland, where JJ had rented a spare office room. Joanna helped mix "Alameda" in this space.
Joanna: "He would sometimes recruit me to tape op or move faders, if I was around when he was recording or mixing. That's where I first started learning how to do multitrack recording."
Not all of Either/Or was recorded in Portland living spaces or offices. Elliott would load up his car with guitars, his 8-track Tascam, and his 4-track cassette player, and drive seven and a half hours down to Arcata, California, to work in The Shop with Rob and Tom.
Tom: "I built The Shop in our family barn, where I'd spent a good portion of my childhood hiding from the rain and building things. It's a small, late 1800's dairy barn that sits on a river in the redwoods, a few miles from Mad River Beach."
Rob: "The Shop was in the redwoods on a river near the ocean – a pretty idyllic setting. The large barn portion was the recording space, and the hay bale/upstairs part was both bedrooms, as well as another recording space. There was also one isolation/entryway, and a nice control room. It was slightly haunted!"
Tom: "The last thing we did with Heatmiser, after recording Mic City Sons, was mixing the album at The Shop. From there, it seemed natural to meet Elliott for his next album sessions again in the barn. All the recording, beyond Elliott's home-recorded bones, was done in the barn. We mixed it on the API/DeMedio console (from Wally Heider Studio 4) there as well."
The API/DeMedio custom console was designed in 1972 by Frank DeMedio, and based on the API 312 preamp card with modifications, like a different input transformer and no decoupling capacitors.
Rob: "It was all quality; it was just shaping the record, really. Elliott already had certain parameters. We'd encourage experiments. 'Don't force it, and have fun doing it.' We could control the budget there, since it was our studio. So we could spend as little or as much time needed, without the threat of the clock ticking."
Elliott: "I learned a lot of things from Rob and Tom. They have a feel for the event of a song. They would always be zooming in and out. [They'd be] into the details of how the compressor was set, but then they'd zoom out and see how that fit into the song."
Tom: "Sometimes we transferred the skeletal bones from Elliott's [8-track] tape to our 16-track Stephens deck [Tape Op #54] to continue recording and exploring. Sometimes we started recording from scratch."
Rob: "We would listen to what was started, and if it was something good to build on we would transfer it over to the Stephens with the 16-track headstock on it. If it was better to start from scratch, or a new idea, we would do that. We could've pushed more, production-wise, but didn't because Elliott wasn't ready to do that yet. Elliott never did something he didn't want to do, and those records lay ahead of him. This was the stepping stone. You could see how the light bulb went off [in him] for the studio to be an expressive tool."
Elliot's tapes/reels | Photo: Will Watts
Tom: "The creative process for the three of us on Either/Or was the beginning of what would continue, and naturally deepen, over the coming projects and albums together. At times it felt like we were merely recording for our own enjoyment. Just us, and the trees around the barn."
In the middle of this process, involving at least two drives to Arcata, Elliott recorded in another Portland basement, my Laundry Rules Recording in my home at SE 32nd Ave. at Yamhill St. in Portland. Elliott would go on to help me open Jackpot! Recording right before Either/Or's release in 1997. Elliott and Joanna were over at my house for a party one day when Elliott asked to see my home studio, as we owned the same model of Tascam 38 tape decks. His Mackie 1604 mixing board was broken – he needed to finish vocals before returning to Arcata for mixing. The next week, on July 25, 1996, Elliott came over with a reel that contained a stereo mix of the music for "Pictures of Me," and we recorded six vocals on the remaining open tracks. It was the beginning of our collaborating; we did a session with Sean Croghan at my house, and later I borrowed Elliott's Tascam 38 (when mine broke) to record Junior High, with Sean, Joanna on bass, and Janet Weiss on drums.
Some of the songs on Either/Or used a reduction process, like "Pictures of Me," where initial multitracks were mixed down to stereo (usually to a DAT machine), with this new mix dumped to an open spot on the multitrack reel, and then more overdub tracks added. One of the bonus tracks for Either/Or: Expanded Edition, "Bottle Up and Explode! (alternate version)," used this process. In mixing, I was able to use Pro Tools and sync the original drums and instruments up with the later overdubs and have around 14 tracks to work with for the final mix. In the case of "Pictures of Me," the song had originated on the 8-track Tascam deck, was dumped to 16-track at The Shop, instruments were added, and then a stereo mix of this was recorded back onto the 8-track deck. "Ballad of Big Nothing" was also tracked this same way, with iterations of the same take showing up on three different reels, with slightly different lyrics. The Alternate Versions From Either/Or release from 2012 features a mix with some unique lyrics.
In other cases, like the song "Alameda," the drum mics were mixed together live through the Mackie 1604 to one track live as they were recorded, with compression from the Behringer Composer added at the same time as well. Knowing Elliott, I'd speculate that he did test passes of the drum mix until he felt it would work well in the final mix. "Alameda" was also dumped to 16-track at The Shop, where some vocals were added (see Alternate Versions… for this iteration), but for the album release Elliott chose to return to the original 1/2-inch master and mix from those tracks, possibly after recording an "updated" vocal.
"Between the Bars," one of Elliott's best known songs due to its use in Gus Van Sant's film, Good Will Hunting, was tracked very simply. Two passes of live acoustic guitar and vocal form the core of the take, and two subtle acoustic guitar melody overdubs (at verse two) were added. A previous recording was attempted in a higher key, with more overt guitar melody tracks. It's amazing how different the takes feel, and how the lower guitar tuning (or key) gives the song a darker/deeper tone and feel. "Say Yes," Either/Or's optimistic closing track, was recorded in a similar way, with doubled live vocal/acoustic guitar takes, three tracks of harmony vocals (for the bridge), and three tracks of guitar melody overdubs. This song was also attempted earlier on the same master reel, with a slightly different arrangement.
"Cupid's Trick" still remains a mystery to me, tracking-wise. I've found what sounds like the original acoustic guitars and drums on a DA-88 digital tape, but none of the other elements are present. The two 16-track, 2-inch reels we have from The Shop are labeled "Elliott @ the Shop either/or #2" and "...#3," leading me to assume that there is a missing "#1" 2-inch reel from this album. Bummer.
Mixing began at The Shop with Tom and Rob; later Elliott mixed "No Name #5," "Rose Parade," and "2:45 AM" at Undercover Inc., and co-mixed "Alameda" at Undercover Inc. with Joanna. All of Either/Or was mixed to DAT recorders. Tom Rothrock also had an early digital recorder/editor by Spectral Synthesis, with SCSI drives, 8 tracks, and a sweepable, two-band EQ. Some tracks were flown in during the mastering process with Don Tyler, as well as in the Spectral Synthesis unit. For instance, the intro organ on "Angeles" was lifted from a version of the song previously tracked by Greg DiGesu at Waterfront Studios in Hoboken, NJ, in April 1996. There is also a descending guitar part (at 2:20) that is not on the original 8-track reel for "Pictures of Me" that I had recorded on. Because of this, the 2016 remastering for the songs "Pictures of Me" and "Angeles" had to be sourced from the original masters by Don Tyler, as was "Punch and Judy" since no pre mastering version was found on the DAT tapes.
When archiving these reels and DAT tapes, and working on the New Moon posthumous release in 2006, it was telling how much time had been spent writing songs, reworking lyrics, setting songs aside, and picking the best songs for Either/Or.
Either/Or: Expanded Edition was mastered for CD, vinyl, and downloads at Telegraph Mastering by my friend, Adam Gonsalves, in June of 2016, while I supervised and did multiple listening tests. The release also features a bonus disc, which I helped source, and was mixed at Jackpot! Recording Studio, nearly 20 years after I had first recorded Elliott Smith in my basement.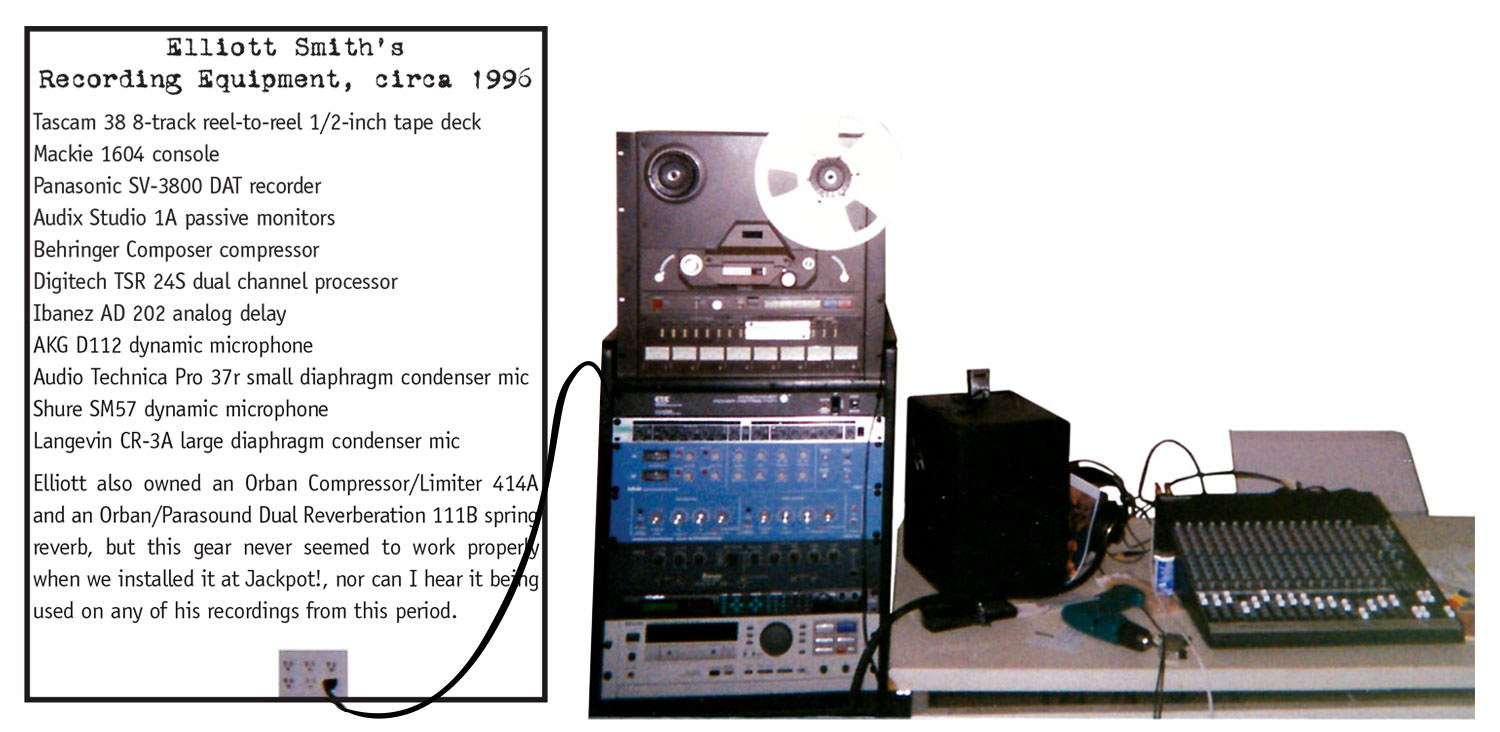 Elliot's rig at Undercover Inc in 1998. Photo by Larry Crane
Tape Op is a bi-monthly magazine devoted to the art of record making.