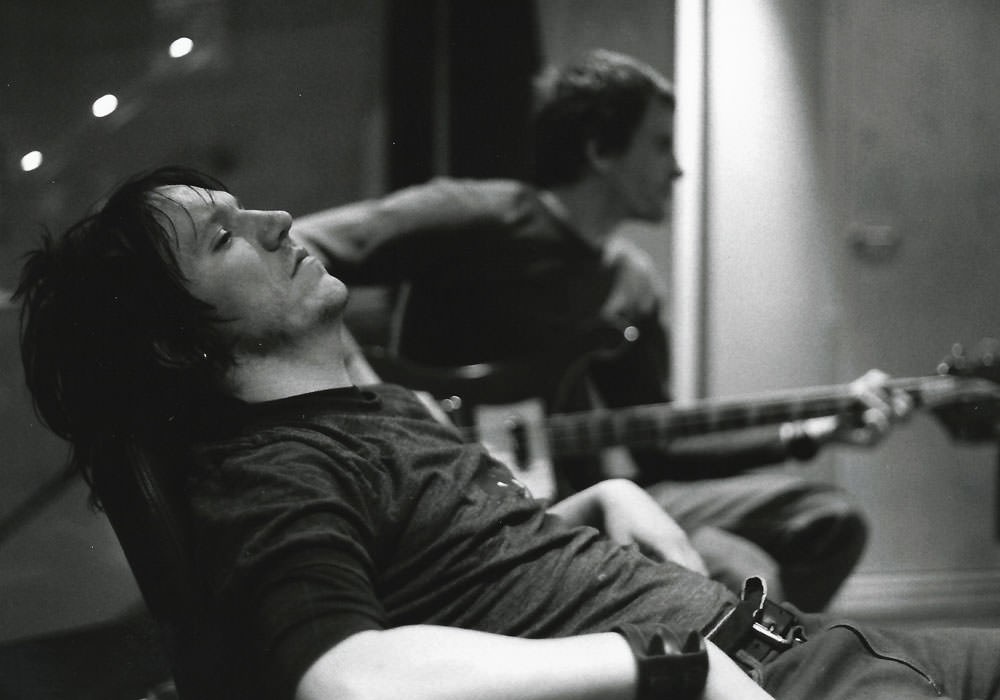 This year marks the 20th anniversary of Either/Or, the third album by my late friend and co-conspirator Elliott Smith. I was asked by his family and label, Kill Rock Stars, to oversee the remastering process for this record [Either/Or: Expanded Edition], source and mix bonus tracks, as well as to come up with text for the liner notes. What follows is an adaptation of the liner notes, along with extra information added about the recording process and the gear Elliott, and his co-producers Rob Schnapf and Tom Rothrock [Tape Op #9], used in the making of this well-respected release. All quotes from Elliott are from the interview I did for Tape Op #4, as he was wrapping up the sequencing of Either/Or before the original mastering by Don Tyler at Precision Mastering in December 1996.
Feature Photo: Elliott and Sam Coomes at Abbey Road, 1998. Photo by Joanna Bolme
Elliott Smith labored over Either/Or through the years 1995 and 1996, while simultaneously finishing Heatmiser's Mic City Sons (the third, and last, album by the band he'd started in 1990 with Neil Gust and Tony Lash), promoting his second album (the self-titled Elliott Smith), and embarking on various solo and band tours. It's important to note that Mic City Sons and Either/Or not only were written close to the same time frame, but both share the co-production of Rob Schnapf and Tom Rothrock. Heatmiser had signed to Virgin Records in 1995, and rented a house in Portland, OR, to record in, known as The Heatmiser House (SE Ankeny at 20th Ave.).
Elliott: "We got the check from Virgin [Records], and we were on a big do-it-yourself kick. We were totally paranoid going into that deal. We held out for a year, for total control, and then went so far as to buy our own equipment. They [Virgin] never bothered us at all."
Rob: "I know we had been talking about doing something together for a while. Possibly recording at my house, like we had for parts of Beck's Mellow Gold, but it didn't come together. Elliott called me and said they were in a bind on the Heatmiser record. I pitched Tom on the idea, and off we went. It was a lot of fun conquering the limitations (drums in the dining room, guitars in the kitchen) and making a cool record." Heatmiser's other songwriter was the talented Neil Gust.
Neil: "The songs felt interchangeable between his solo work and the band. The band would work on songs. Sometimes he'd drop them, then later pick them back up and revise them on his own. This wasn't on Either/Or, but there's a riff in 'Christian Brothers' [from the self-titled Elliott Smith] that's from one of my songs that we abandoned."
With this makeshift studio accessible to the band members, Elliott also began recording songs that would end up on Either/Or, possibly "Punch and Judy" and "Cupid's Trick." He also wrote, recorded, and produced "I Figured You Out" for Mary Lou Lord at this house (for her Martian Saints EP). His earlier demo version of this song (which Neil plays "doubled drums" on) graces the bonus disc of the reissue.
Mary Lou: "I was sent to Portland by Sony [The Work Group] for a week to hang out with Elliott and see if we could brainstorm on some new songs I had in the works. Elliott helped me finish a few of my songs, like 'Seven Sisters.' He played 'I Figured You Out' for me, and it was very new. We went to the Heatmiser studio one night and we recorded it right away. Elliott played everything, and I sang. I always loved that song but, for some reason, Elliott didn't. It was an honor to work with him."
In January of 1996, Elliott signed a deal with BMG Music Publishing. The advance payments allowed him to quit his day job and focus on writing and recording. His housemate and friend, fellow musician Sean Croghan, shared two different homes with him during this time.
Sean: "Once Elliott got some money for publishing, he invested in recording gear. He was spending days learning how to use his new gear. He was recording himself, with perhaps the help of Joanna [Bolme] and Neil. The bulk of Either/Or was recorded in our house on NE 16th Ave., north of Fremont Street. We set up the basement for recording, as well as for band practice. He would record and mix to cassette, and then walk around listening to what he was working on on his Walkman."
Elliott: "The [first two solo] records were totally limited, and there was no choice about what to use [gear-wise]. Then I got an 8-track [Tascam 38], and I had a choice between a couple of different mics. I got a compressor [Behringer Composer] and one of those [digital effects] boxes that will make any effect that you have the patience to try to program [Digitech TSR 24S]. Most of [Either/Or] was done at my house, some was done at Joanna's house on a 4-track, and some on 16-track in California...
The rest of this article is only available with a Basic or Premium subscription, or by purchasing back issue #118. For an upcoming year's free subscription, and our current issue on PDF...