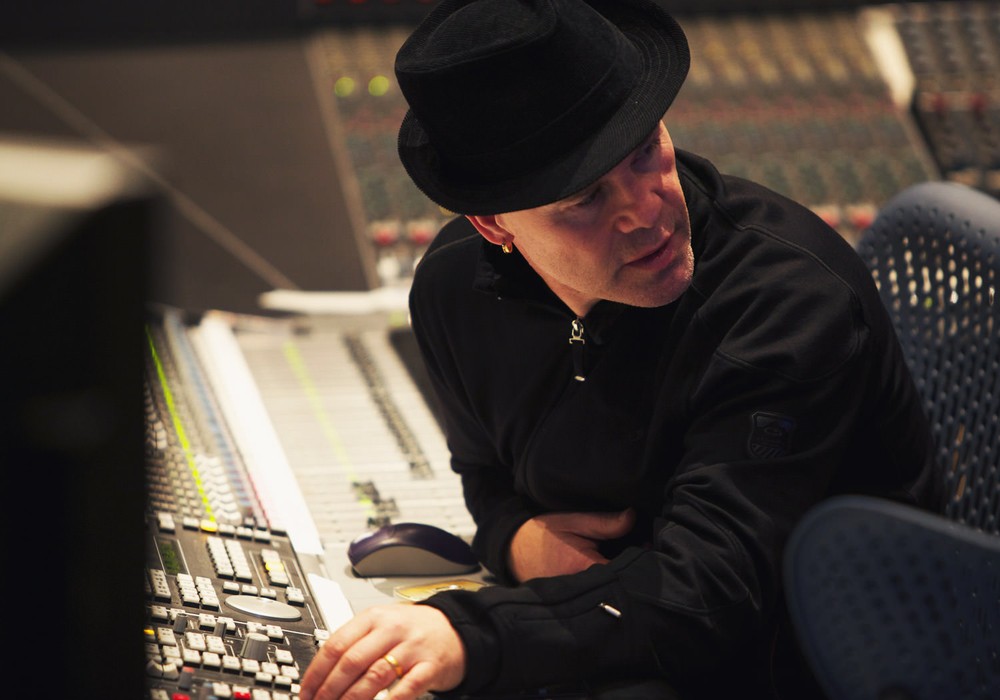 I read Thomas Dolby's recent autobiography, The Speed of Sound: Breaking the Barriers Between Music and Technology: A Memoir, and wanted to learn more about his recording life and thoughts. See also the sidebar to our interview with Mike Shipley [Tape Op #118], where Thomas talked about getting called in for studio sessions with Mutt Lange.
I was wondering what brought you to Johns Hopkins University and what you're teaching there?
I'm teaching film music. I was very drawn to the project because Johns Hopkins was opening a new film center in a converted 1930s cinema in Baltimore. We've converted the building and put in a recording studio and a soundstage, a bunch of edit suites, a screening room, computer labs, and so on. The film departments of both Johns Hopkins and the local art college, MICA [Maryland Institute College of Art], have combined forces, so students from both schools can take the courses. I've helped design the recording studio here. I teach a film music class here, primarily for filmmakers rather than for musicians. We teach filmmakers what to expect from musical scores, how to work with musicians, how to do temping, final mixes, and so on to picture.
That's a great idea to approach it from the director's side.
Yeah. Generally there's not very much of that in film schools around the country. There are various schools where you can go and do a film composition course, if you're a beginner. But very often first-time directors will learn the hard way the good and bad aspects of building original music.
And how to get what you want from the composers?
Yes. Obviously there's an art to this. It's no good just asking for results. You've got to understand the craft well enough to realize what kind of direction is helpful to them and what isn't.
Are you living in Baltimore full-time now, or do you still have your place in England?
An academic schedule is fairly limited, so I get to spend a fair amount of time in England where my family is.
Do you still have your home studio, the Nutmeg of Consolation, there?
I do indeed. That's where I do my work when I'm back there.
I'm pretty fascinated about you building a studio into a boat that is parked on the land.
It's a great environment for working. I found the boat on eBay, hauled it into my garden by the sea, and I had local traditional boat builders come in and help me fix her up. There's fairly minimal equipment in there, and it's not treated for acoustics. I didn't want to spoil the ambience of a place by doing acoustic treatment, so a fair amount of [outside] sound leaks in when I'm using microphones. It's not really for live recording so much as for composition and programming. The wheelhouse where the studio is has a good view of the marshes. When people come and see my studio, they say, "Wow, I don't know how you could get any work done. I'd be staring out at the ocean all day." I say, "Well, that's me working." The majority of my work is done with a blank canvas. Getting it down and recorded is the inevitable conclusion of that, but I do most of my composition in my imagination.
What instigated writing your biography?
I was approached by a publisher to write a tech guru book. I said, "Well, that sounds exactly like the type of book that I would hate." But it did prompt me to go back through some old cupboards and find notebooks, diaries, journals, and so on. It was fun reading notes that I took in the first days of my career. I didn't see the big picture. I was in the moment and didn't have a clue what was going on around me; in my personal life and career as a whole, or in the music and tech industry. I think that actually makes for more compelling reading when in it's in the moment like that, and we have the benefit of hindsight. I pop up in unusual places, and as I'm reading this I want to wring my own neck, like, "Why did you trust this guy," or, "Why did you make that move, at that moment?" I think that's what makes it compelling. I stay in the moment. I'd originally wanted to release it in journal form, but my publisher nixed that one, which worried me. I didn't want to write an editorial from...
The rest of this article is only available with a Basic or Premium subscription, or by purchasing back issue #119. For an upcoming year's free subscription, and our current issue on PDF...