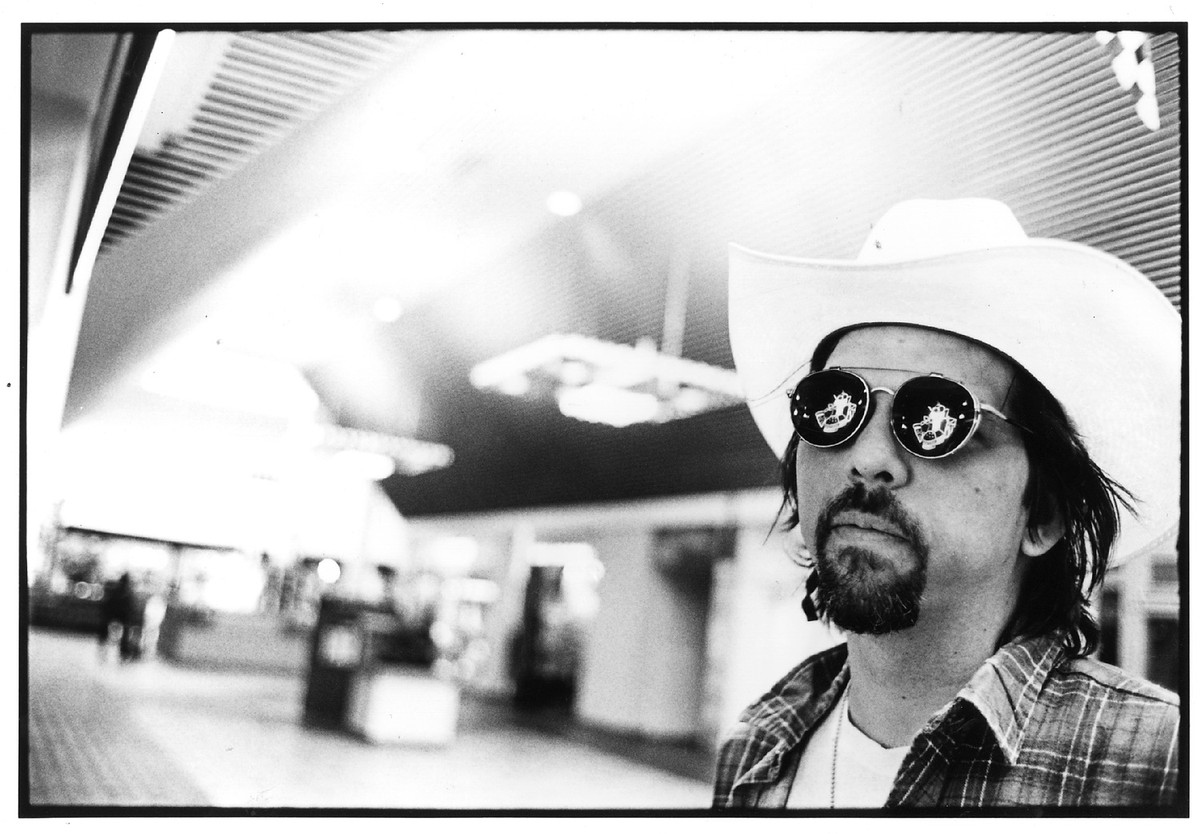 On a farm somewhere in Richmond, Virginia, next to the house in an adjacent annex, Mark Linkous (aka Sparklehorse) is wiring up his 16 track studio. He has released two records on Capitol, vivadixiesubmarinetransmissionplot in 1985, and the long anticipated Good Morning Spider in February of 1999. Most tracks on the first record were recorded at Sound of Music (David Lowery's studio) and others were done by Mark at Static King, his home studio. The recordings are very inspired, utilizing unconventional vocal sounds, manipulated drums, and sound samples while maintaining a cohesive feel that contains a mix of creative pop and more sparse, beautiful slower songs. On Good Morning Spider, Mark decided to record it all himself and invested a couple of Tascam D88's, among other gear. I called him while he was still setting up his studio at a recently inhabited farm. We talked for about an hour and when I was transcribing the interview, I realized that his demeanor was very important to what he had to say and how it should be interpreted. So please, if you will, insert a soft spoken, very humble voice with a sweet southern drawl to get a bit closer to what actually transpired.
Are you playing all the instruments on your new record?
On most of the songs I do. I had a couple of days off in London on one of our last tours so I went into Church Studios and recorded the drums for "Pig" and "100 Sparrows."
Did you play the drums on those recordings?
No. My drummer Scott Miner did those. He operates the sampler a lot live and plays keyboards and all sorts of stuff really.
So you recorded your new record at home, is that right?
Yeah, I have two Tascam D88s.
Was Capitol hesitant to you doing it on your own?
With producing it myself? Well yeah, we had to trick them into it.
It seems like your recording aesthetic is so important to the outcome that they would have to agree to it, it wouldn't be Sparklehorse any other way.
Well, the first one was produced by me and David Lowery (Cracker, Camper Van Beethoven). He's producing Counting Crows and all this stuff now, but I wanted to produce this myself anyway.
Did you learn a lot from working with him?
Yeah, the way I started was David would come out to my house with this Tascam 688 cassette eight track and we would record stuff. Actually, that's when the original version of "Sick of Goodbyes" and "Happy Man" were recorded, without all the radio noise. So they were recorded even before the first record but I've done a lot to them since then. Then David would go away on tour with Cracker and I'd just have his machine out there with nothing but a compressor. By not having any access to any outboard gear I got really used to just using a compressor and eventually started not liking reverb on anything.
Yeah, I don't hear a lot of reverb in your recordings. It sounds like you got quite a few different keyboard sounds on the new record.
I wanted this record to be more keyboard based than the last one, just soundwise. Theres a lot of Optigan on there. I have a couple of Wurlitzer organs that are kind of messed up and that's why they sound good. I have a Magnus Cathedral organ, its a fancy Magnus in a wood cabinet with a tube amp in it. I also have just little Casios... the only pro keyboard I have is one of those Roland JV heads but you've got to get so inside of those things to make them sound not so shiny and pro.
What are the string sounds you have on the new record? Are any of them real?
Yeah, a lot of them are real. Usually things that I can't fake, like violin or cello I'll have someone come in and play. The cello is someone we toured with, her name is Sophie. And the violin was played by Melissa from my brother's band.
What band is that?
Spike. They're a Richmond band.
So, when did you realize that your recording aesthetic would have so much to do with the way the song is perceived?
I guess I got really tired of pop music when I was living out in Los Angeles, just being in bands for so long that were trying to get signed. I was ready to totally give up on it, but I was totally re-inspired, and it saved me by some Tom Waits records that someone turned me on to. The Island records. Also, Daniel Johnston's homemade tapes. I just spoke to him last night for the first time which I'm very excited about. I was so intrigued by that stuff. The field recording, just document stuff, Daniel's aesthetic, and the junk yard vibe of Tom Waits. I wanted to make pop records that sounded as cool as Tom Waits records. He was actually supposed to be on Good Morning Spider but he called me the day after it was mastered.
That would've been great. Maybe for the next record.
Definitely for the next one. I was just going to have him sing over the telephone.
Do you usually track things over and over or do you try to capture things more spontaneously?
Well, sometimes I'll...
The rest of this article is only available with a Basic or Premium subscription, or by purchasing back issue #12. For an upcoming year's free subscription, and our current issue on PDF...