J. Christian Quick is the proprietor and engineer at Stillness Sound Facility, located on the first floor of a 150-year-old, two-story house in bucolic Warrenton, Virginia. At the tender age of 26, Christian is already the archetypical self-made man, with five years of full-time engineering to his credit. What I like most about Christian is that he's more likely to entertain you with a Samuel Beckett quote or treat you to a glass of bourbon than make you play to a click track. Of late, Christian has been busy recording new releases for the likes of Royal Trux [#11], The Make-Up, Flin Flon and Edith Frost. We sat down for sushi and conversation in the Dupont Circle neighborhood of D.C. in late January 1999.
How did you get into recording and how did Stillness evolve?
How I got into it is fairly relevant; I've always thought in visual terms. The way I mix and the way I approach placing microphones is to capture a cogent, believable space that is easily visualized. When I started recording music as a teenager I was mainly preoccupied with visual art. I always listened to music when I painted and it occurred to me that I was cheating, because I had this silly idea that the music was influencing me and that wasn't right and that I needed to make my own music to listen to when I painted. I decided to set out and make some of my own recordings rather than playing with other people. I got a hold of whatever instruments I could and whatever happened to be around the house. I just started rigging tape decks together and bought a little 4-channel Radio Shack mixer. I had gotten pretty good at doing the multiple cassette players thing, so I picked up a couple of 1/4 inch stereo machines in pawn shops or thrift stores for $20 and started doing the same thing with them. Then next it was a 4-track cassette. At my first job away from home, a co-worker, who was a musician, had a 1/4 inch 8-track studio in his basement, which he invited me to use. He couldn't really be around much to help, so it involved me figuring out what was going on from what little I knew and what basic knowledge of electronics I had. I ended up renting all that gear from him and moving it into my basement where I started recording my band. Those recordings got around and people started asking me to record them. I decided it was time to start charging. By that time I was about 20. From that point on this is all I've done.
When did you move Stillness into its current location?
Three years ago. The sound of the rooms pleased me and I decided, well, this is it, wood floors, plaster walls, high ceilings. I don't like to do a lot of acoustic treatments. I like to find a place that just sounds good inherently, so if I want to use it open I can. If I want to close it down I have all these resonator sound absorbers that I can move around to tailor the acoustics. I find that, when using the fundamental character of the room sound, artificial reverbs become much more believable. Basically, what you're doing in that process is making rooms bigger, rather than totally altering the character of the sound. With the new Stillness, I went for a much more natural atmosphere. I tried to keep it, for a lack of a better word, homey. I think that the concern of any competent engineer is not just getting a clean sound on tape and saying "Well I did my job," but also creating an environment which is comfortable. People can relax and disconnect themselves from the fact that they are recording, because recording isn't necessarily a terribly good experience for a lot of people.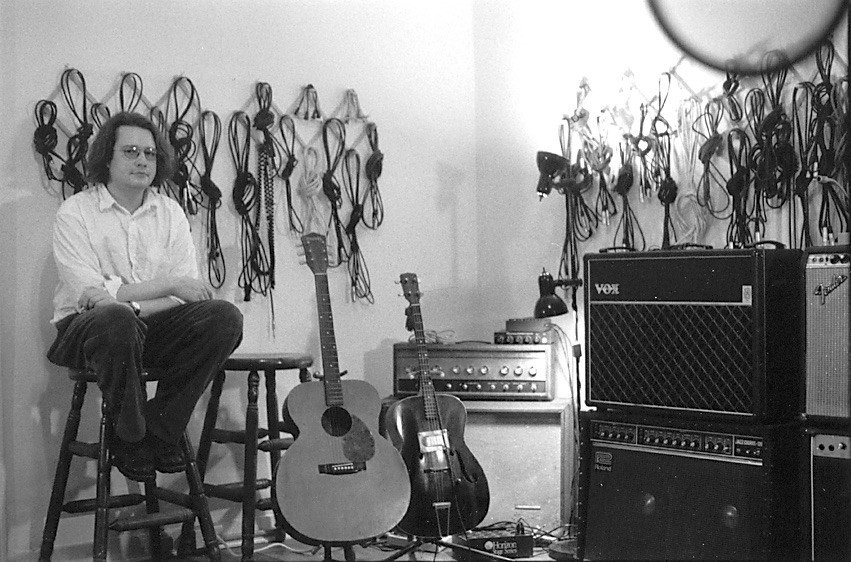 How long are your recording days?
It really varies from project to project. Generally I prefer 6 to 8 hour sessions. A lot of the records I've done have been recorded in 5 or 6 consecutive days, so we need to put in pretty long days to do it right and that turns into 12 or 14 hour days pretty easily. It depends also on who else is involved. Usually when I work with Neil [Hagerty] and Jennifer [Herrema from Royal Trux] it turns into very long days. Sometimes I'll get started with the band around noon and then Jennifer and Neil might show up around 4:00 or 5:00 p.m. and will want to work till about 4:00 in the morning. So we'll be working on basic tracks or overdubs that we know we need to do or vocals that we know we need to do and Neil and Jennifer will get there and listen to everything we've...
The rest of this article is only available with a Basic or Premium subscription, or by purchasing back issue #12. For an upcoming year's free subscription, and our current issue on PDF...