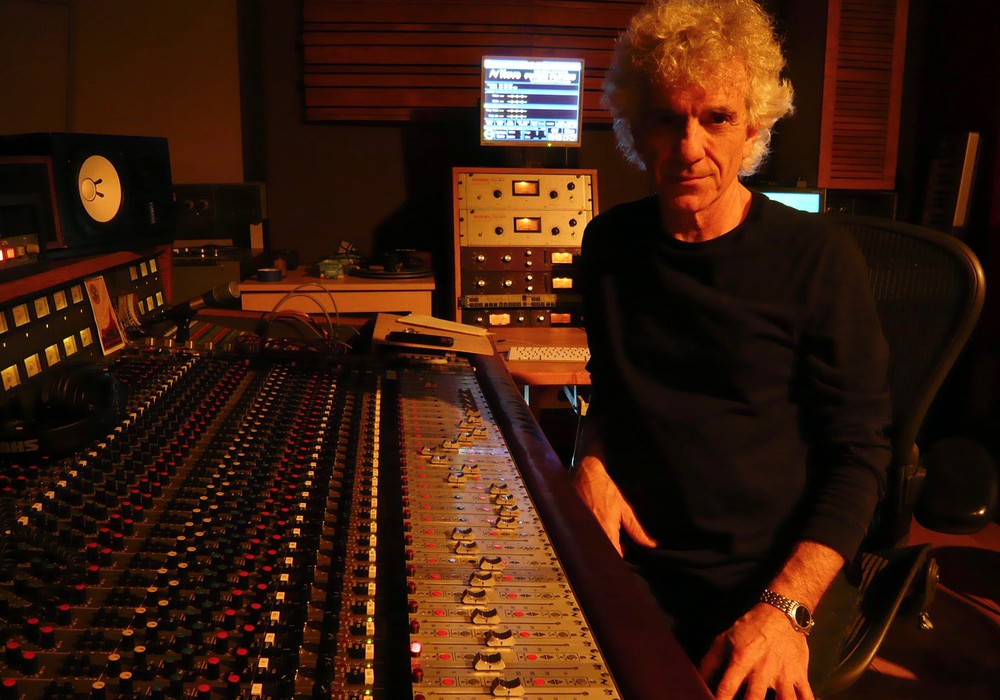 Until the "authenticity" plug-in hits the market, we will have to settle for the real thing. Steve Addabbo's career spans close to six decades and as many genres; from a gigging musician playing covers in a garage band (when that was still a new thing) and learning to record on little 3.25-inch reels, to studying electrical engineering in college, as well as maintaining two of the most revered studios in the land. He fought through the format wars, the volume wars, and even had one of his tracks used as the acid test to create the algorithm of the MP3. He has been a star-maker by discovering, producing, and co-managing some of the biggest acts in the music industry. He also owns and maintains a long-running studio in one of the toughest markets in the world. He has restored and remixed some of the most iconic recordings ever made, including mixing (and winning a Grammy for) Bob Dylan's The Bootleg Series Vol. 12: The Cutting Edge 1965–1966, while simultaneously creating new work. He keeps all this knowledge and history tucked away in a demeanor that still echoes the same eager, garage band musician that he was all those years ago; always looking for that great performance and that perfect sound. The fact that he would choose to make his own first solo album [Out of Nothing, 2016] six decades into the game is a testament to his ongoing love of music and the process of making it. When A&R director/writer Mitchell Cohen came to me with the idea for my own new album, Sorrows & Promises, a tribute to the songs of Greenwich Village in the 1960s, I knew the man to produce it before Cohen could even finish his pitch. Steve and I talked in the control room of his super-comfortable studio, Shelter Island Sound, in the Flatiron district of Manhattan, where we have been involved with many different projects together.
When did you start becoming a working musician?
I started learning the guitar in seventh or eighth grade. By ninth grade I was taking lessons. I took to it pretty quickly. Then it was the natural progression of my first high school band, playing in someone's living room. One day someone's dad came in and said, "There's someone having a party. They want a band." I don't even remember what we played, but I'm sure it was all covers at the time. There were a bunch of bands playing together, all very competitive. That's when it started for me, pretty much high school and all the way up. We won a couple Battle of the Bands later on. Russell Javors, who went on to be Billy Joel's rhythm guitar player for many, many years, was also part of that same clique.
How did you get into recording?
I remember when I was about ten years old one of my uncles got me a present; it was Christmas. It was a little battery-powered tape recorder with three and a half inch [cassette] reels. It had some kind of little microphone attached to it. Mono. I wore that thing out. I was doing my own "DJ" show. I was imitating The Good Guys from WMCA. I'd run down my own Top10. I actually wrote my first song on that; it was a song imitating the Beach Boys, about a car, or an engine, or something. My dad brought some dictaphone machines from his office. He actually cut little records; very floppy and green, maybe four-inch. Machines they used for dictation. It sounded terrible, but it was like, "Wow, look at this!" It was basically useless, but it was still fun. Then, my senior year, I got my first little 2-track, 1/4-inch Ampex machine. I did my research. It had a sound on sound knob.
With sound on sound, what were your capabilities?
I'd record my acoustic guitar, and then I could take the acoustic guitar, and with this knob, I could now record on the other track while I played along.
And you could hear properly?
Yeah, I could hear the first track. Then I started ping-ponging. It was just a quarter-track machine; two tracks in one direction, and two tracks in the other. I'd just keep going until the tape hiss got unbearable.
Did you start learning how to bounce tracks?
Yes. Then I realized that if I did the drums first, I was going to bury them. I thought, "What can I do?" That's how we did it then. I started recording my high school band. I remember we did a version of The Beatles' "Revolution" that probably still exists somewhere. It's like, "Okay, first track is bass, drums, and everything. Then we have guitar overdubs." Then we sang. That Ampex 750 was a workhorse. I wore those heads out, no doubt. I brought it to college, and it was the '60s. We were doing a lot of psychedelic music. I discovered that if I turned the sound on sound up really far then it started to get a little bit of a delay effect, and it started feeding back to get some wild sonics. I think there was another setting where you could create an echo, as opposed to just the sound on sound. It was a pretty freaking good little machine. That's how it all started. Sound on sound. That one little knob made all the difference.
Did you record your band?
Yeah. We recorded my high school band. There was also a very early studio experience on Long Island, when we were still a high school band. I remember a couple of the dads drove us to this place in Rockville Center. It wasn't much of a studio, now that I remember. The guy had like a 2-track machine, 7 1/2" reels over in the corner, and he had some mics in this room with some rugs on the walls. I don't even remember what we played, or where that tape is or anything. That was really the first experience of going to a place to record.
What did you do after high school?
In college...
The rest of this article is only available with a Basic or Premium subscription, or by purchasing back issue #121. For an upcoming year's free subscription, and our current issue on PDF...