Tony Berg has cast a long shadow over the pages of Tape Op , but in way that might not be immediately apparent. From managing producer Mitchell Froom (Tape Op #10), to producing Michael Penn's debut album, March , (#53), to convincing Jon Brion (#18) to move to Los Angeles, to sharing scotch at 8 a.m. in his pajamas with neighbor T Bone Burnett (#67) while listening to rough mixes in his studio, and, more recently, to mentoring Shawn Everett and Blake Mills (both in #115), the common thread to Berg's career is the desire to help the people and artists he's drawn to. As we were wrapping up our chat at Tony's home studio, Zeitgeist (where I had interviewed Blake Mills a few months earlier), he told me about a book his brother, A. Scott Berg, had written, a biography about Max Perkins [Max Perkins: Editor of Genius ] who was an editor that had worked with F. Scott Fitzgerald, Ernest Hemingway, Thomas Wolfe, and many other great writers. "If could even come close to the impact that Perkins had on literature in music, that's what I would aspire to."
I did the interview with Blake Mills here at your house last summer. It was great to meet him. I think I missed you by a little bit.
They're like my two other sons.
Blake and Shawn Everett?
Yeah. Blake has been coming here every day for 14 years, since he was 16 years old. Shawn knocked on my door 11 years ago and said, "I just moved here from Canada today. In case you need an engineer, here I am." So we went into my studio. I just liked him immediately. He was the most charming, irresistible guy. I said, "I'm starting a Pete Yorn album. Come by tomorrow." And he was here every day for ten years. What a talent. I mean, the two of them. In fact, Blake is so much like my son, he lives with my daughter. They are two really exceptional guys.
They're making some great records in an era where people aren't necessarily making those kind of immersive albums anymore.
Their standards are very high. Their expectations are very high. I would even say the two of them occupy a very lofty place, in terms of their combination of ability and vision. They're really gifted guys.
Obviously with Shawn and Blake you've taken on this mentor role. Is that something you've done with other people?
A lot of people.
You seem to enjoy that.
I love it more than I can say. I've had this room for 31 years. The people who have been my assistants or engineers have stayed in my life; one of them was a young guy who moved out here from Las Vegas almost 30 years ago. He had no real skills, but he was a wonderful guy with great taste and ambition. He used to do remixes of everything we would do every night. Initially they were quite awful. They got better and better, and then they got really good. I took a job at a record company, so I closed down the studio for a year. He called me one day and said, "You know, I got this call. This little company wants to release my music. Would you read this contract and go through it with me?" I did, and he became the biggest electronic artist in America, with a band called The Crystal Method. That was Ken Jordan, and he was here for four or five years. Joey Waronker was here for a while; a wonderful guy. Jonathan Melvoin, tragically his story ended badly, but he was here for a while. Susan Rogers [Tape Op #117] was my engineer for many years.
We just interviewed her!
I love Susan. She is an extraordinary talent with an extraordinary mind. How lucky was I to meet her! There are some other people… that's a long-winded answer to your question. Yes, I love that role. Someone did that for me very early on, a guy named Jack Nitzsche. I was very lucky when I was in my early twenties to spend every day with Jack, for three or four years. I understand the value of that role.
Was that as a player with Jack, or an engineer?
As a guitarist, an arranger, and kind of a presence. He was extremely generous to me. Jack might be the great unsung hero of the rock age. His contribution is mighty.
He was a legend.
He was a nut, but I just loved him. And he introduced me to so many people, and to such great music.
You started the studio, Zeitgeist, 31 years ago. You were one of the first people to build a studio in your house in Hollywood back then.
I remember when I put it up, there were about seven of us that I knew of. Michael Boddicker, Steve Vai, and, shortly thereafter, Jeff Porcaro, and Chas Sandford, plus one or two other guys. Unfortunately, one of us, who will remain nameless, made the mistake of printing color brochures for his home studio and leaving them in big studios to solicit work. To which the association of studios in town said, "Fuck this," and shut down the home studios. But one guy was very kind to me, as well as helpful and protective. That was Allen Sides [Tape Op #106], from whom I initially bought my equipment to build my studio. He was just as kind to me as a guy could be. I worked without interruption – I was lucky.
I remember reading about that home studio crackdown. You managed to stay under the radar?
I'll tell you what, I never rented my studio out. It was always my own. In fact, I think the only person I've ever rented it out to, if you can use that phrase, is Blake. He and Shawn continued to do projects here. They just finished a great album with Perfume Genius here. I was careful. The reason I built this room was to watch my kids grow up. I used to comp Johnny Rotten vocals with my two-year-old daughter, Z, in my lap. Alex, who's a professional artist now, had her first exposure to art with Edie Brickell scribbling on the console.
Some of your early success as a producer was with Michael Penn?
Yeah. I had been a session guitarist for a long time. I had been a recording artist. I had been the musical director at the Mark Taper Forum downtown for a few years. I was the guitarist for The Rocky Horror Show when it began 42 years ago at the Roxy [Theatre], with David Foster in the band. I'd scored a lot of television and film, and musical directing, but I really wanted to be a record producer. Around '85 or '84 I started producing demos by young artists. It started to go really well, and they all started getting record deals. Bruce Hornsby, Michael Penn, and Eric Johnson. Then I made Michael's first two solo albums. People were attracted to those records. Michael's a very unusual artist. There's a T.S. Eliot quote where he said, "I don't write for undergraduates." Michael is a little bit that way. It's sophisticated; it's thoughtful. I was lucky enough to work with Michael for a long time, and that attracted a lot of other artists.
I worked with Public Image Ltd, The Replacements,
Edie Brickell, Squeeze, and X. Artists I loved.
Aimee Mann, too?
Aimee Mann, whom I then signed to Geffen when I started working there. If you look at the thread between those artists, they're all great lyricists. I'm attracted to the word and to the idea that a writer has a responsibility to explore a subject. They all epitomize that approach.
It's nice to hear you say that. I've found more and more that I can't work on records where there's even one bad lyric. As a listener, it can be a great record, and you can listen to it ten times and you love it; but then you hear that one bad line, and it wrecks it.
Yeah, I'm with you. I think we've come to the end of the American Idol era in music, which was profoundly vapid. I'm seeing a return to real lyricism and content, and also to virtuosity. But not the wrong kind of virtuosity. Not the technical prioritization, but instead the ability to learn your instrument well enough to express yourself with originality. Blake represents that as well as anyone alive. I'm experiencing that over and over. It's thrilling, and it's a return to the thing that attracted me in the first place.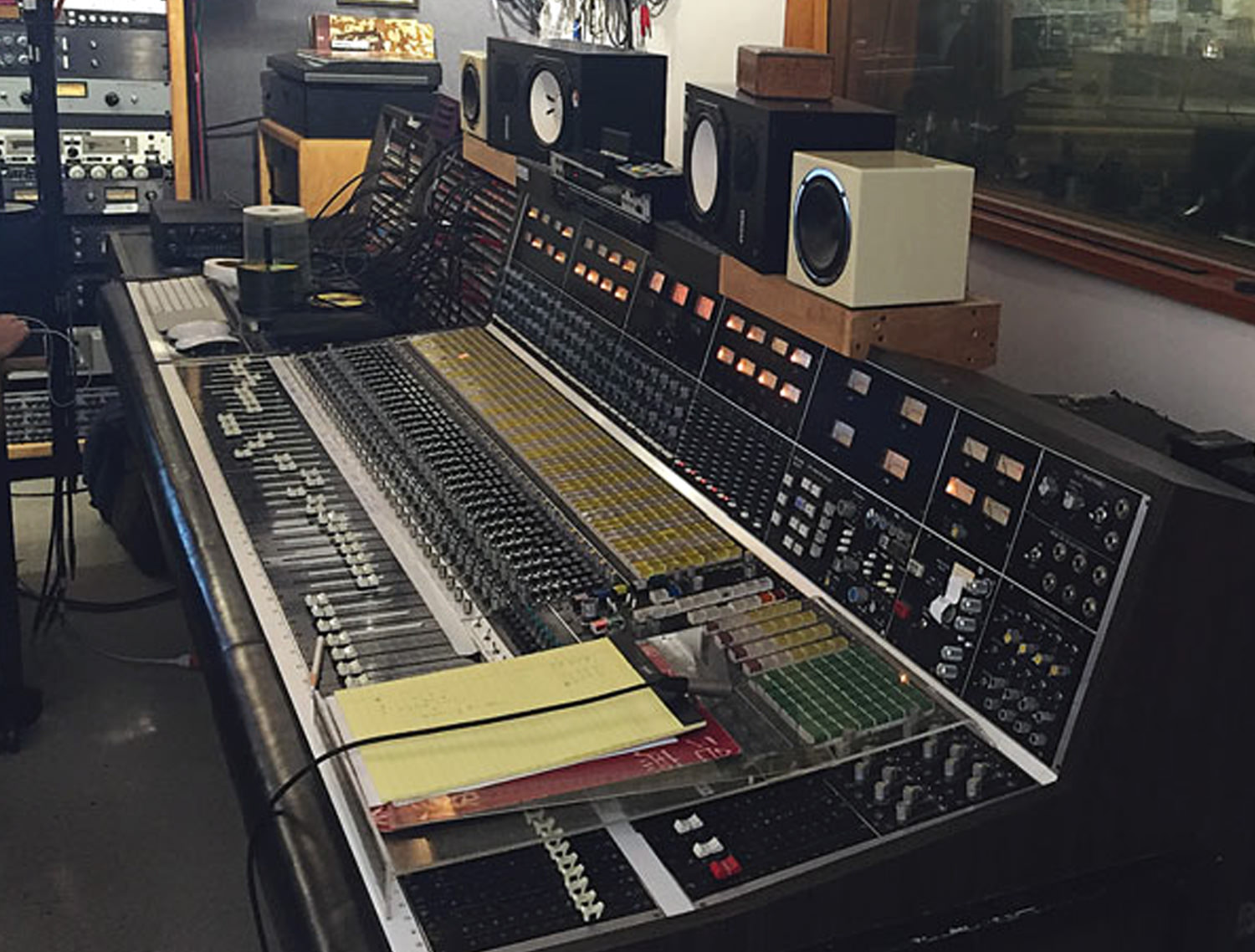 I just watched Color Me Obsessed: A Film About The Replacements the other day. You started Don't Tell a Soul, but it went south?
It went farther than south, it went subterranean. It was a complicated thing. I guess they had been trying to find a producer for this new collection of songs that Paul [Westerberg] had written, and it hadn't gone well. I got a call from Michael Hill at Warner Bros asking me if I would talk to Westerberg. We communicated, and he said, "Why don't you send me a list of songs you think that were great that were unheralded." Which I thought was a very Westerberg idea. So I wrote a list of 20 and said, "Look, I think these are songs that were significant. I hope you like it. If you don't, you can go fuck yourself." That's what I wrote, thinking that was the right way to communicate with Paul. I got a call the next day, "Come to New York and meet the band." I flew to New York, and I met in their manager's office. We had a conversation that was hysterical. At one point, Paul pulled my boot off my foot, poured a beer in it, lifted it up in the air, said, "You're our man," and drank the beer from my shoe! So I thought, "Okay, this will be fun." Then we began pre-production at Bearsville Studios. They were in a big hurry to make this record, and I was in the middle of making a Charlie Sexton album with Bob Clearmountain [Tape Op #84] at Bearsville. Seven days opened up in the middle of Charlie's record, and they immediately flew out. We did a crash course in pre-production. Paul let me in, which I imagine he hadn't done before. He let me re-harmonize, suggest counterpoint, and talk to him about lyrics. I could see that the band wasn't wholly comfortable with that. I think I was a little too forceful. In any event, we started the record, and, without being too specific, the band was a bit of a mess. Destroyed the studio. Destroyed the rented instruments they had. Destroyed the housing that they were living in at Bearsville. But we got a lot down, some of which was great and some of which was not. Then we recorded a song for a Disney compilation record that was being put together, and we did "Cruella De Vil" [from One Hundred and One Dalmatians]. Paul chose to change some of the lyrics, including a line that I'll never forget, which was, "And I'll fuck you in the face, Cruella De Vil." Clearly that was not going to be on any Disney record, so a few weeks later I found myself in Minnesota to re-record the song at Paisley Park Studios. Beforehand we met at a bar, which was their hangout. It was very tense. Finally I turned to Tommy [Stinson], whom I've since come to really love. I said to him, "Are you deliberately sabotaging this record?" He looked at me, and he said, "Yes. You're too young to produce this record." I got up, left, and I flew home. Eight months later my phone rang, and it was Paul. He said, "I was driving in my car with my wife today, and a song came on the radio. I turned to my wife and I said, 'That is what The Replacements' record is supposed to sound like.' The DJ came on afterward and said, 'That's a new song by the debut artist Michael Penn.'" Paul said, "Oops!" It was a rough experience, but I really appreciated that phone call. He's a serious songwriter, and a serious contributor. It meant a lot to me.
How much of that album, and how much of your work, stayed on that? Matt Wallace ended up picking it up after that.
He started from scratch, but all the arrangements are the arrangements that we'd come up with at Bearsville. That's what we did. But you know what, if they felt I wasn't the right guy at the right time, then they were right. That album did very well for them. They subsequently released a couple songs we did on a compilation record [All for Nothing/Nothing for All], including what I thought was the best song from that whole batch, "Portland," that is quite brilliant.
You mentioned earlier that you took a year off to do A&R. That was with Geffen Records?
All these artists I found had gotten record deals and had done really well, which was great. I had been made an offer to run a new label called Morgan Creek, and I was in the process of finalizing that deal when I got a call from Gary Gersh at Geffen, who asked if I would be interested in being one of the A&R executives there. I was, because it was the best label in the world. The man who was the Chairman/CEO, Ed Rosenblatt, I knew already and had tremendous affection for. Plus David Geffen was a force of nature. I'd met with everyone, and it had gone very well. I met with David, and I was feeling very flush because of this offer I had to run this other company, so I walked in overconfident. The first thing David said to me was, "I see you bite your nails." I said, "Well, yes, yes, David I do. How do you manifest your nervous energy?" He completely ignored me. He asked me another question that made me feel six inches shorter. Finally I thought, "You know what? I'm not going to pull any punches." I just said, "David, I want to thank you for taking this meeting so quickly. I have this Morgan Creek situation looming." He said, "Morgan Creek? Are you leaving show business?" So I thought, "Okay, fuck it. It's his meeting, he wins. I do want to work here." It was a great experience, but I was in an office or flying around the world 16 hours a day for the first year. The studio was dormant. I called up Michael Penn, Ry Cooder, Daniel Lanois [Tape Op #37], and a couple of other guys, and I sold everything in one day. Shortly thereafter Ed Rosenblatt came to me and said, "We really want you producing more." I said, "Ed, I sold everything!" He was great. He said, "Don't worry. We'll help you out." He was really kind to me – a truly great man. So I re-equipped. Even though I continued doing A&R there, and then became head of A&R at Virgin for a few years, I was starting to spend a lot of time in the studio again.
You thought maybe you were done doing production? That's why you sold everything?
I don't know if it was that. I didn't like the idea that the equipment sat idle. So I made a karmic deal with myself, and I sold everything for whatever I had paid for it. What I was thinking? I don't know, because Jon Brion bought a $600 Chamberlin [precursor to the Mellotron]! I sold some crazy stuff. But that's okay. All that equipment got used by some of the best musicians in the world.
How long did the A&R jobs go for?
I was at Geffen from '94 to '99, and then Virgin from '99 to 2001. Then Virgin imploded, sadly, and I left. I toyed with a couple of label concepts. I briefly had my own label, Three, with Eric Valentine [Tape Op #45] and Michael Rosenblatt, Ed's son, through Sony [Music Entertainment]. Steve Barnett and Michele Anthony were very good to us. But, ultimately, Rick Rubin came in and changed things. That ended, and I went back to producing full-time. I signed some unusual things: Black Rebel Motorcycle Club, At The Drive-In, and Three Mile Pilot. Then some bigger things, like A Perfect Circle, which is aimed at a larger audience. I saw that labels could be good homes if there was good management, if the artist was properly protective of his or her art, and if the people within the labels responsible for speaking up for the artist were doing their jobs. I think that's still the case.
I miss the good labels, where there was curation.
Lenny Waronker used to be the president of a label [Warner Bros.]. How well does that speak for a business? Jerry Moss, Ed Rosenblatt, Chris Blackwell, and David Geffen. There were guys who ran or started labels who really cared.
Since then you've been done with A&R?
Yes. Formally. The strange thing is for the last five years I've been finding debut artists making their records and getting them deals. That's what I do now.
So many labels now don't really have A&R. I feel like engineers and producers are sort of becoming the A&R street teams.
You know, there are two ways to look at that. You're absolutely right. One way is to bemoan the loss of musicality in record companies. The other way to look at it is what a great opportunity for young producers and engineers to become, as you suggest, the real A&R people.
Yeah. You've gotta make a living, so you've got to pay the bills and send people invoices, but some of my favorite projects have been things I did on spec where I helped people find a deal.
I make four spec albums a year. That's a lot.
You're determined to do four?
No, it just works out that way. I do music for a TV show. I work with a computer company in Cupertino. I am on the board of some companies, including the board of a museum in Arizona, and I manage other producers and artists. And then I produce for major labels. But my favorite thing is finding young artists with something to say. I've just finished two that have elicited incredible responses: a guy named Ethan Gruska, who is gifted beyond description, and a phenomenal young woman named Phoebe Bridgers, whose record I just finished. It's very much like 30 years ago, when I made demos with Michael Penn and Bruce Hornsby, and people were just so enthusiastic. So that's very gratifying.
I think it's a good opportunity. Like you were saying, equipment sitting still is sort of pointless. Fill the time somehow.
I've not had an idle day inside Zeitgeist in 31 years, including Christmas, New Year's, and Thanksgiving. Shawn Everett spent ten Christmases here. It's great! How lucky are we?
You worked with Mike Pinder [of The Moody Blues] at one point.
I did. There used to be a great studio up in Malibu called Indigo Ranch [Tape Op #103]. I played on sessions and arranged quite a bit up there. One of the owners, Richard Kaplan, he and Mike were very close. Mike is just a lovely guy, a real gentleman and a gentle soul. I was introduced, we got along, and I produced an album of his [Among The Stars]. I know it was the first time Mike had ever fronted a record. It was new to him, but he couldn't have been more of a gentleman than he was.
Larry and I are both big Peter Gabriel fans.
Me too. I've worked with Peter, off and on, for 27 years, in a million capacities. The way I met him was I produced a Squeeze album [Crying in My Sleep] in 1990. I thought, "I'd love to go work at [Peter's] Real World Studios." So we recorded there. We finished each night around two in the morning. I'd go into this little TV room to wind down, and often Peter would be in there. The two of us would be in there alone for an hour or two every night. We struck up a really nice conversation. I got home, and a few months later he called me up and said, "You know, I was watching you." I said, "Huh?" It turns out the big control room at Real World has this massive wall that goes up 30 feet, and there's a tiny little door that I guess he would occasionally just open and look down on the proceedings as I was doing the Squeeze album. He said, "I really liked how you worked, and I'm starting something called Real World Week. Would you be interested in joining us, producing records? I'm going to bring in 200 musicians from around the world." I said, "Yes." I produced there for that project, which was quite emotional. It was cathartic, even. The group I produced, the Terem Quartet from Saint Petersburg, were these brilliant musicians. While we made our record, the coup took place in Russia, and when we stepped out of the studio there were reporters. "Your country has been taken over." They couldn't reach home. It was fraught with emotion. Then I became Peter's A&R person at Geffen and Virgin, because he was signed to both, so I continued to produce for Real World. I A&R'd Peter, played on one of his records, and we spent a lot of time together. He's recorded here. I would go so far as to say he is the most impressive person I have ever gotten to work with.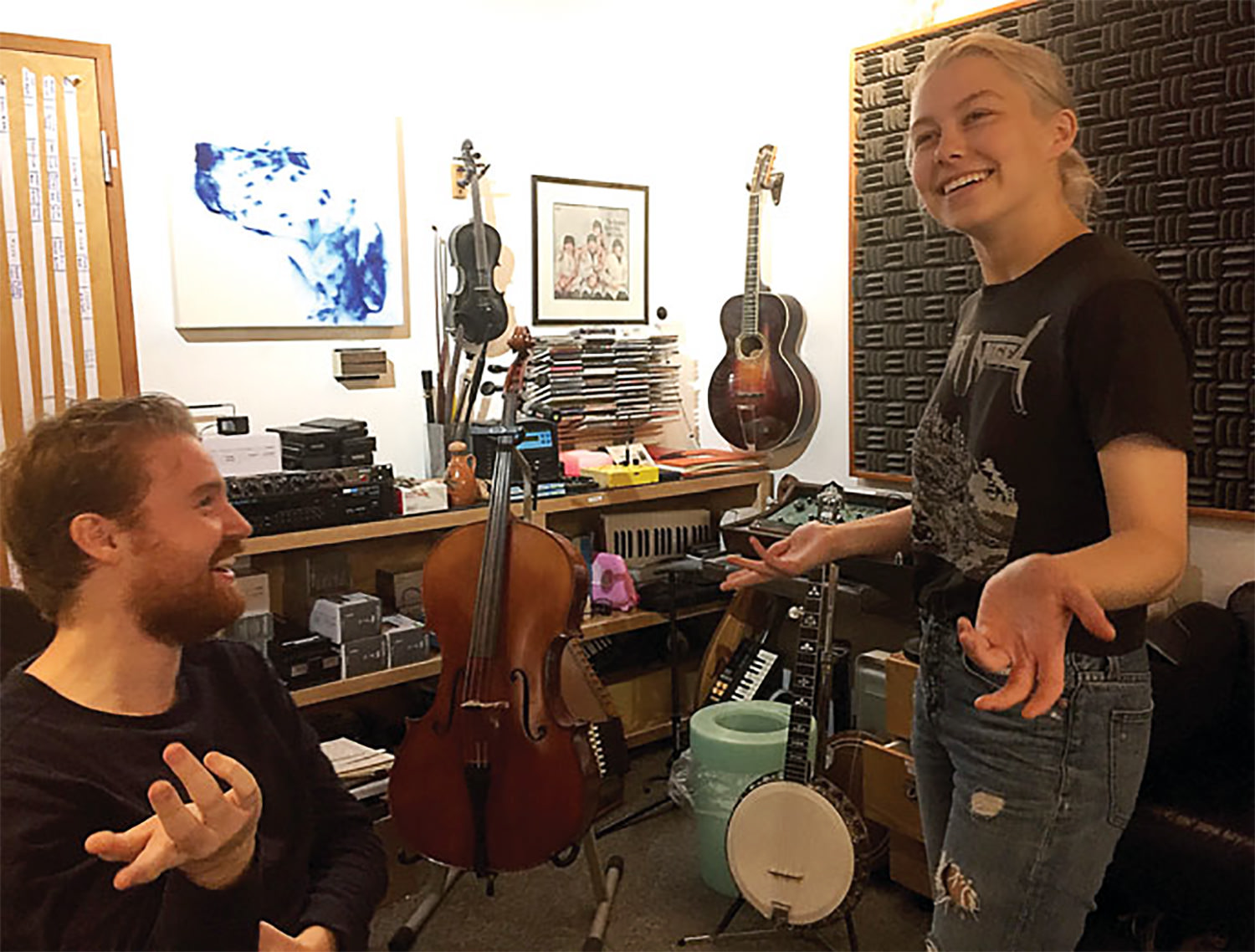 His records are amazing.
His standards are so high. He's so thoughtful. The way he treats people is so generous. Not just in terms of compensation or the ordinary things, but in his willingness to listen and not always be the authority. He's a remarkable guy.
You signed Beck, right? Is that someone you've worked with?
The first record I ever produced was a band called Broken Homes. There was a young assistant engineer on the project, Tom Rothrock [Tape Op #9]. Very nice guy. Shortly after I got to Geffen, he called me up and said, "I'm working with this young guy. Could I come over and play you this recording?" He handed me a DAT or a cassette. I put it on, and four bars into it, I said, "Can we get this guy over here right now?" I was so struck, not just by his vision as an artist, but by who he was. As an illustration, Beck came over one day, and he played me a bunch of songs. I said, "Play me what you think is your most beautiful song." He played me a song called "MTV Makes Me Want to Smoke Crack." I said, "That's your most beautiful song?" He said, "Yeah, I think so." I thought, "This is my guy!" Not only because he was funny, but because he'd done what an artist is supposed to do. He told me to go fuck myself, but in the most wonderful way. That's what you look for. You look for that irreverence and that iconoclasm.
More recently you've worked with Andrew Bird?
Yes. I just finished producing Andrew's most recent record [Are You Serious]. We've been friends for a long time. I met him 13 years ago when he was struggling with a record that had great songs, but he just couldn't find it. I said, "You know what, Andrew? You can have my studio for a month. Free. I love these songs. I think you're wonderful. If I could be helpful, I'll come in at night and just give a brief listen." So he came over and made Andrew Bird & The Mysterious Production of Eggs here, which I thought was something of a masterpiece. We've remained friends all these years. I do music for a TV show called Turn, for which I produce artists singing 200 and 300-year old songs. I asked Andrew to do one with Matt Berninger from The National. It went really well. He called me shortly thereafter and said, "Would you be interested in producing my album? I've never worked with a producer." We had a great experience. And this segues to something kind of interesting: I manage other producers and engineers, one of whom is Mitchell Froom, who I think is one of the great producers of all time. Another is an engineer/producer named David Boucher [Tape Op #91], who works with Mitchell, but with whom Andrew and I co-produced the record you're speaking of. David is a really gifted guy. People don't know he's a fine musician, which he is, and he's clearly an extraordinary engineer and mixer. So that was a great experience, and Andrew remains one of my best friends.
Do you have a staff that helps with management?
No.
You do everything yourself?
Yes.
That's impressive.
I'm the most driven guy you've ever met.
How many artists and producers do you manage?
Just a few. Right now I'm working with Mitchell, who's had a really good last three or four years since we've begun working together. He produced Fleetwood Mac, a couple of records with Randy Newman, a Randy Newman score, and he was the musical director for a musical that Sheryl Crow wrote the music for, based on the film Diner. He's done a number of really excellent records, and he's one of my best friends. I really think I can provide a few specific things for him. One: he hates the business part of things. And, though I would hardly say I love it, I'm comfortable with it. Two: I know what it is that he goes through every day, so he has someone he can talk to who gets it. Third: as you are, and as I am, a big proponent of filling your empty days with new, upcoming artists, I constantly encourage him to do that. He's been doing that, and it's been great. David works every day, whether it's with Mitchell, with me, or music for a Disney film; he's busy all the time. So that's not quite as daily a dialogue as I might have with Mitchell, but all those things I described apply to him too. Then, Ethan Gruska, the young artist I mentioned whom I produced, I manage him as well. He used to have a band called The Belle Brigade on Warner.
Those guys recorded at my place once. He worked in his pajamas the entire time. It was awesome.
I love that. His dad [Jay] and I used to write together in the '80s. My parents and his grandfather, [composer] John Williams, were very close in the '60s. We have this long history. The real thing about Zeitgeist that I'm proudest of is that it's been an incubator for Los Angeles talent. Look at the artists who have been in and out of that room, at the earliest stages of their career: Bruce Hornsby, Michael Penn, Maroon 5, Phantom Planet, Haim, Blake Mills, my daughter's band - The Like, Rooney, etc. All of these people have been in and out of this environment. That's my dream, for it to be that laboratory. My son's a musician, and his bands are in and out of there. My daughter, Z, has been a recording artist since she was 16. Her bands have been in and out. It's just thrilling. T Bone Burnett lives next door. He's over all the time. He used to work here a lot until I finally said, "Look, T Bone, put a studio in your house!" Which he did. But we still see each other quite a bit. One morning I was listening to some rough mixes; I looked up, and T Bone had walked into the room in his pajamas, with a glass of scotch. There are two people I called up cold whom I didn't know: two record producers who had just made records that were so good I couldn't not call them. One was Mitchell Froom, when Los Lobos' Kiko came out, and one was T Bone, when Sam Phillips' record [Cruel Inventions] came out. I called both guys up, and I said, "Look, we don't know each other, but that record you just made is something the rest of us really have to deal with." There should be a fraternity or sorority, whatever word encompasses both, of musicians, producers, and engineers. I think Zeitgeist breeds that. I love the cross-pollination. I love it when I can introduce Blake Mills to Bruce Hornsby. That's interesting to me. But the fact that every day I've gotten to work with Chris Thile, or Chris Dave, or Jon Brion, or Patrick Warren, or Matt Chamberlain? I mean, come on! Lately I see this desire for excellence. The '90s were a weird time, because as much good music that came out of it, there was a prevailing attitude that producers and engineers were an impediment. "Just leave me alone." There was a predicted revolution, the indie rock kind of Pavement world, that never happened. It almost became record companies trying to foist it on the world. There were some excellent artists, but after Kurt Cobain and the first three Radiohead albums, rock music has been sorely wanting a real prime mover or a real seminal artist. Hip-hop has had a number of them.
The new Radiohead record [ A Moon Shaped Pool] is great but you don't hear too many records like that anymore.
No, and those guys are 50 now. Where is the 21-year-old with a pocketful of songs that just floors us? That's what I'm looking for.
Any secrets to success?
Yes. My wife, Cary. She's put up with this craziness for a long, long time. When I worked at Geffen, Ed Rosenblatt would pull me aside every year or so and say, "You're very difficult, but we love your wife." See, I told you he was a great man!
Tape Op is a bi-monthly magazine devoted to the art of record making.