Chip was one of the best and hardest-working session guitar pickers/ producer/engineers that Nashville has ever seen. But he was even better at being a granddad, family man, and a Christian. Nashville misses him dearly. I married his daughter Megan, and she and I provided him with his only two grandchildren, Bella and Beckham Bare. But the best part of our relationship was in the studio. My secret weapon as a producer was Chip. While hiring
a band for the studio, I would always include him as the session leader, which made me look like a total badass. He would do the charts, and his charts were always dead on right. On sessions with Bobby Bare Sr., Ray Price, and My Morning Jacket, his thumb picking inspired the other players and made us all look good. Just try and imagine Dolly Parton's "Jolene" without Chip Young's thumb – it's impossible. His smile and positive energy is greatly missed, and we all learned so much.

-Bobby Bare Jr.
What brought you to Nashville?
I was in the service. I got drafted from Atlanta, Georgia, in December 1961. Jerry Reed and I were real close friends, along with Joe South. I'd worked on the road with Joe back in the '50s. Ray Stevens was another guy who was from Atlanta, as well as Freddy Weller, Pete Drake, and Tommy Roe. When it got time for me to get out of the service, Jerry said, "I want you to move to Nashville and work with me playing guitar." Both of us are thumbpickers. We went on the road for six or eight months. He decided he wanted to get off the road so he could work more on his picking, instrumentals, and writing songs. Jerry had success right before I moved up. He wrote "That's All You Gotta Do," for Brenda Lee [in 1960]. He'd written "Bottom of the Bottle," for Porter Wagoner, which was a number one record. "If the Good Lord's Willing and the Creek Don't Rise" was a big record [for Johnny Cash]. He'd had a lot of writing success. The Brenda Lee song really inspired him when he got that first check; it's enough to inspire anybody! He really felt bad about leaving me, not having any job, and he said, "Why don't you go around to some of these places and tell them you play guitar? Ask if you can play guitar on their demos." So I visited around. Tony Moon, one of the guys I visited, had played guitar in Brenda Lee's band. I asked him and he said, "No, I have a guitar player. I need a bass player." I said, "I've got a bass." I started playing upright bass on all of his demos. I eventually moved around to acoustic guitar. He cut a demo with [songwriter] Allen Reynolds, "Five O'Clock World." We demoed it over at RCA Studio B. I did a unique sounding intro on 12-string [guitar]. The Vogues tried to re-cut it up in Pennsylvania, but couldn't get anywhere near that sound. They wanted to know if they could use the [demo] track, so they used the track and paid us master scale for it. That was a huge hit for them in pop and country. People started to use me. Then Tony Moon was playing a song he had demoed that Johnny MacRae's wife, Marge Barton, wrote called "What Color (Is a Man)." [Producer] Billy Sherrill had his office next to Tony, and said, "If you can get me the guy who played on that demo, I'll cut that song this afternoon with Bobby Vinton." He called me and I borrowed [songwriter] Marijohn Wilkins' old gut string guitar and walked over to the studio. They played the demo and everybody grabbed their guitars and tried to play the lick. Nobody could do it – it's a complicated little thing. Billy came out of the control room and said, "This guy Chip Young's going to play on the record. He played on the demo." [Session guitarist] Grady Martin's sitting in his big green chair. He was a bear of a guy, and had that big old guitar laying on his belly. He said, "You played that?" I said, "Yes sir." He said, "Let me hear you." I picked up my guitar and started playing. He said, "No, over here." He made me walk over and pull up a chair right between his legs and play it for him. I was playing it, and he was looking at my fingers and looking at my eyes. He said, "That's great." We were the best of friends from then on. He used me on all kinds of sessions.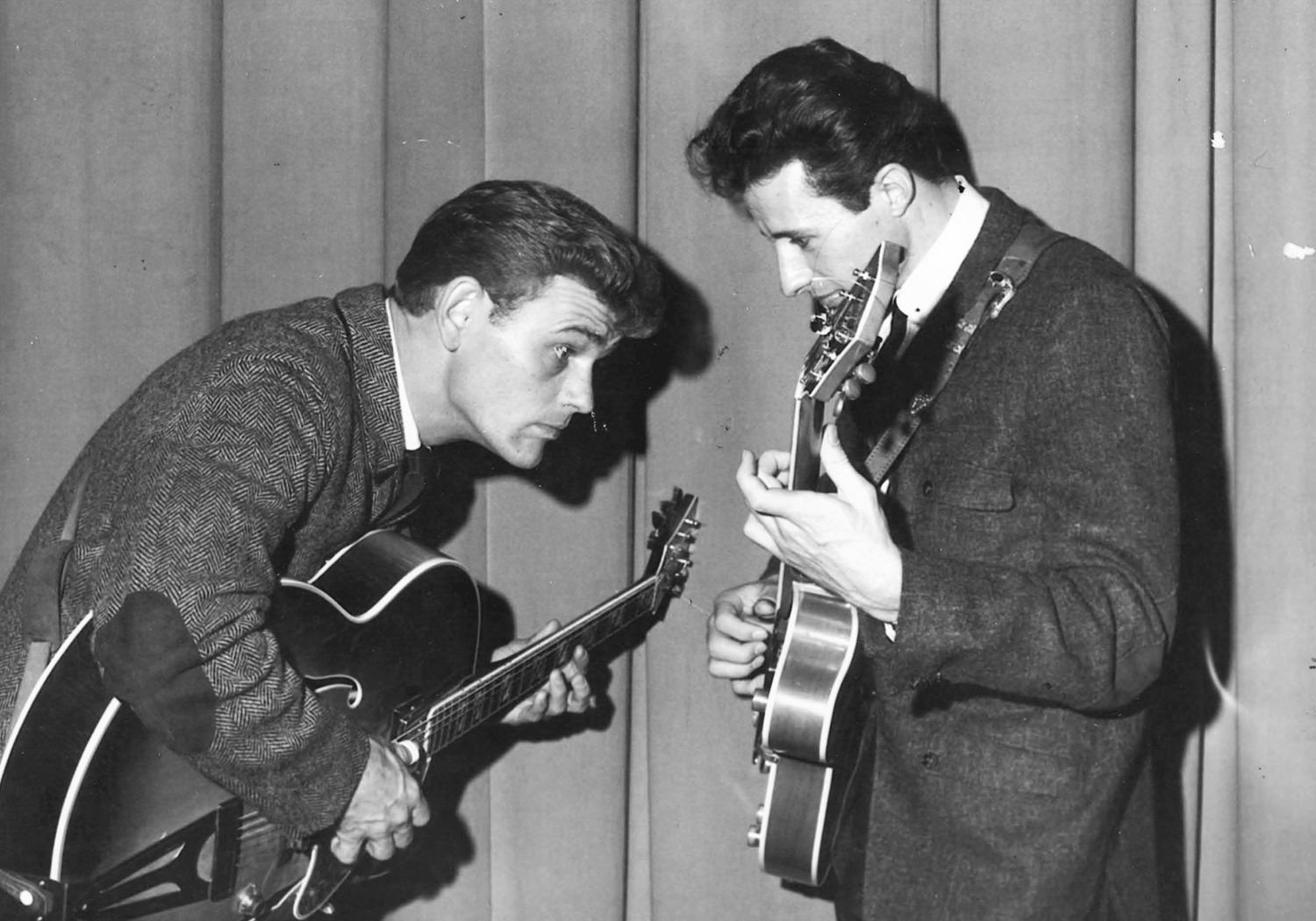 Young w/ Jerry Reed
Did you record with Jerry Reed during that time period?
Yeah, I played on a lot of his sessions. I played electric rhythm, acoustic, or whatever they wanted.
After playing on all these sessions, how did you move into the studio owner world?
Well, playing on all the sessions, I could hear that the sounds could be better. The drummers always complained about the foot not sounding like a bass drum, the bass not sounding like a bass, and that acoustic guitar didn't sound like an acoustic guitar. They couldn't get things sounding exactly right. I had engineered in Atlanta before.
What studio was that?
Bill Lowery's studio; NRC [National Recording Corporation] down there. After I came up here, I thought, "I know how to make that sound better than what they're getting here." Not to make them look bad, but maybe to help teach. I'm not the type of person to make somebody look bad. I wanted Nashville to have a better reputation. L.A. thought their records were better than ours. We built my first studio called Young 'Un Sound in Murfreesboro, about 30 miles south of Nashville. I got Fred Cameron [to build my console], who turned out to be a genius. It was the first console you could solo "wet" and "in place."
So the panning and the reverb followed the solo?
Right. Others couldn't figure out how it was done, and they dogged us until we finally told them how it was done. It was a real unique console. We had it fixed where just about every point on the console was patchable.
Did you have headphones and iso booths?
Yeah. The piano was in a little booth. I built a booth over it so that nothing stuck out but the keyboard. The drums were in a booth, the vocals in a booth, and the acoustic guitar was in a little fenced-in place with some plexiglass. I used a drop-in Sennheiser mic for the acoustic, and it worked well. I know a lot of people didn't like those drop-in mics, but I could make it sound pretty good. Being an acoustic player, I remembered what it was supposed to sound like.
Would the Nashville session players drive out there to do the recording in the morning and then drive back, or did they camp out there?
We did mostly 10 a.m. sessions out there, because I felt that 10 a.m. sessions the pickers were more refreshed. They would give you their best at 10 a.m. more than they would at 2 or 6 p.m. We did do some 10 p.m. sessions, but they were very forgettable. Delbert McClinton would say, "Why are we cutting at 10 in the morning? I'm hardly awake." I said, "You'll sound better at 10 in the morning." Once he started singing, he said, "Man, yeah. You're right." We only fixed a couple of lines on Delbert's first three albums that I did. Joe Ely was the same way. Johnny Mathis we cut at 10 a.m. He said, "Sure is early for me." It's an hour drive down there from Nashville.
Billy Swan in Studio
Where did you record Billy Swan's "I Can Help"?
I did Billy Swan in Murfreesboro. I did some other records with Billy Swan later on at the other place.
But 'I Can Help' was cut in Murfreesboro?
It was cut in Murfreesboro.
Did you have the feeling it would be a crossover worldwide hit?
No, we didn't.
What year was that, mid-70s?
'74.
I remember hearing that song when I was a kid and thinking it was George Harrison.
Yeah, a lot of people thought that was George Harrison.
That was a huge song
Yeah. I think he sold 6 or 7 million records; something like that. Reggie Young did the guitar intro. Billy didn't like the turnaround – he made me take it off. He wrote it as a rhythm and blues song, but I didn't know that. When he ran it down, I said, "I've got an idea for the turnaround on this." I told Reggie, "Don't play anything on the turnaround; leave it open." The intro came by accident. Everybody else was out by the pool having a smoke or something, and Reggie was in the studio playing that little lick, just warming up. I said, "That lick would make a great intro for this song we're getting ready to do." He said, "I'm just warming my fingers up." He played it for Billy and everybody loved it. Django Reinhardt is where it [the inspiration] came from. It worked perfect. Billy's organ had that old skating rink sound to it.
YoungGun Console
How many years did you have that studio going?
Eight or ten years. I sold the place in Murfreesboro, and then I bought the old Monument Studio down on 17th Avenue in Nashville [see Fred Foster Tape Op #118]. They hadn't really done any changes to it. It had an old Flickinger console; a good console but very hard to get around on. If you're making records, you need to move from one place to the other pretty quick sometimes. Musicians are usually antsy people, as you well know.
You brought in a Sphere console.
Yeah, I ordered a Sphere. It took about three months for it to finally get here. In the meantime, I took my old tube console from Murfreesboro and brought it in.
You had a specialized booth for the drums that was unique.
We built a drum booth. When I first bought the studio, I wanted to make it where I could not have any leakage on anything; to be able to fix parts. Everything was moving that way. I knew if I didn't, I'd be stuck in a rut. We tried to make it where we could open the windows up and have live and leakage if we wanted, or we could close them down and have complete separation. We put garage door openers on the windows to raise and lower them.
So the drummer could talk to everybody?
Yeah; we could converse back and forth.
Did the drummer have the switch, or did you have the switch?
He had the switch in the booth, and it worked great.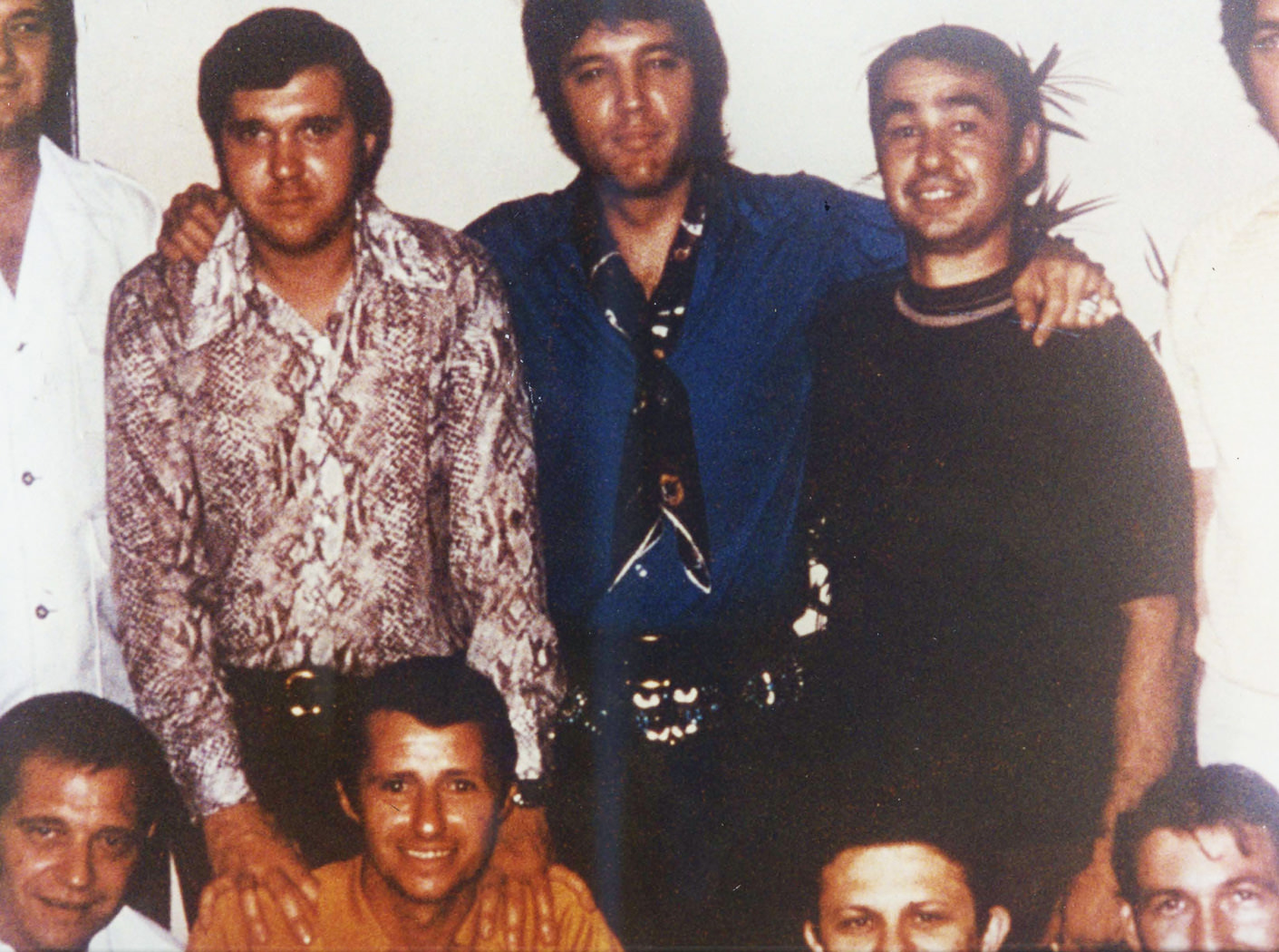 Young w/ Elvis
How did you get involved with working with Elvis Presley?
Through Scotty Moore, Elvis's original guitar player down in Memphis. He told Elvis one day, 'We've got this kid here in Nashville we need to use on these records. He plays parts that nobody else plays.' Elvis said, 'Get him!' So the next session, they called me and asked if I could do it.
Where was the session at?
RCA Studio B. I was blown away getting to work with Elvis. Then the next thing we did was a movie soundtrack out in L.A. We went to MGM or Universal, I've forgotten which one it was now. I remember I was driving the car with all the musicians with me. It's a movie lot, so all the buildings are really close together. I swerved around the corner and Rock Hudson stepped out of one of the doorways and jumped back in. I almost hit him. Scared me to death!
What were some of the big songs you worked on with Elvis?
I played on "Guitar Man" with Jerry Reed. Jerry wrote that. I played on everything from '65 until he died, except they cut six songs down in Memphis or something. I mixed that Moody Blue album out in Murfreesboro, right before I moved to Nashville.
Is that where he flew into Murfreesboro and never got off the plane?
Yeah, he had his pilot fly him up here. He had a cold. I answered the phone. He said, 'Chip, is Felton [Jarvis] there?' I said, 'Yeah, hold on a second.' Felton was the producer. RCA had to have a company man with each artist; all the record labels were the same way. They didn't want their money spent without somebody accounting for it.
What happened with Elvis on the plane?
He told Felton, 'Man, I don't even feel like driving out there. I've got this really bad cold.' It was just as well they didn't come out there. I didn't want to get a cold! He turned around and flew back to Memphis.
Did you do any recording at Graceland?
Oh yeah. Two different times I played in the Jungle Room down there.
Where they'd bring a mobile truck in? Is that because he didn't want to leave the house?
Yeah. We cut 'Way Down,' which was the very last record he cut. That was cut in the Jungle Room. And 'Pledging My Love'.
You all would come down when he felt like tracking?
And stay in a motel, yeah. About six o'clock we'd show up.
At night?
Yeah. He'd make his way down. It might be seven o'clock before he got down there. When we recorded at RCA we were there by six o'clock. Six to nine o'clock is a session, and then 10 p.m. to 1 a.m. is another session. 2 a.m. to 5 a.m. is another session, and so on. There were a lot of times he wouldn't show up until nine o'clock at night. We'd already been paid for one session before he ever showed up.
Then he'd want to go all night?
Until 8 or 9 o'clock in the morning. There's a picture of me, David Briggs, and Jerry Carrigan. It's the first session James Burton worked with us. It's pretty well-known; a picture of all us and Elvis. We all look like we can barely keep our eyes open. It's about 8 or 8:30 in the morning in RCA Studio B. We were tired puppies. We'd been going since 6 o'clock the night before. Fact was all of us had worked sessions the day before, and then all through the night. I worked all day the next day. I went asleep playing on a 6 p.m. session for somebody. All of a sudden I was asleep. We had great times; wonderful times.
What was your favorite memory about Elvis?
Just what a good guy he was. He loved to kid around with everybody. He always thanked everybody for being a part of the records. 'Thank you for being here and helping me. I appreciate your input.' He was a wonderful guy. I think it was the first night James Burton worked with us. We had our guitars sitting up against a little baffle in front of the bass drum there at RCA Studio B. I had a gut string that Harold Bradley had bought in Spain and brought back; just a great sounding guitar. James and I had six or seven guitars leaning up against that baffle. This is '69 or '70 and Elvis was trim and into karate. He really looked good. One of the background singers came up and said, 'Hey, Elvis. If somebody drew a pistol on you, how would you get it away from them?' He said, 'Oh, that's easy. Hey, Red [West], bring that pistol over here.' Red reaches in his pocket and pulls out a pistol. I said, 'God, is that pistol loaded?' Red said, 'I wouldn't bring an unloaded pistol in here.' I said, 'How about unloading it?' He opens it up and the bullets fall down on the carpet. Red's holding the pistol on Elvis, and I'm standing there watching it. I said, 'When he hits that pistol, it's going to go flying across the studio and right into those guitars.' Right about the time I said, 'Let me move...' Pow, he hit his hand, and that gun went flying right into the back of my gut string guitar. The barrel went into the guitar and hung there. Of course, everybody in the studio died laughing. I said, 'That's not too funny. It's my guitar.' Elvis said, 'Chip, go buy you another guitar and bring me the bill.' I could have gone and gotten a Ramirez for two or three thousand dollars – it wouldn't have made a difference to him. I picked up the guitar, took the gun out, and gave it back to Red. I said, 'Actually Elvis, I think this guitar is probably worth more now than it ever has been.' I was right. I donated it to the Country Music Hall of Fame. They have it in a Plexiglas case. It shows the hole in the back and a little article about how it all happened.
Back then was a golden era of country music. You would work three sessions a day, Monday through Friday?
Three and four sessions a day.
You had producers who were 'song' guys, and producers who were into the musical side of it. Who were the best?
Oh, Jerry Kennedy by far. Billy Sherrill was good too. I played on a lot of his records. Jerry Kennedy had a demeanor about him that let the pickers know to play whatever they felt. If it didn't mesh, he'd let you know. He'd let you play what you felt needed to be on there. He made the greatest records. Those Statler Brothers records are all classics. That's the guys having good times. We'd cut three or four songs a session.
Was he the kind of producer where you don't really realize how good he is, because he doesn't seem like he's doing anything?
Yeah, not doing anything. You think he's not, but he is. He's scoping out everything everybody's doing.
On the opposite side of that, you've probably worked with producers who were too busy in the studio.
Yeah, they'd come out and tell you, 'I want you to play this right here now.' If the song's right, it doesn't mean beans what you play. If you don't have a good song, you don't have a good record. That's the bottom line.
Was Jimmy Bowen one of the first 'outside' record producers, or did you get an influx of L.A. and New York guys coming to Nashville before that?
There were some L.A. and New York guys coming here, but he was the one who brought change. Most of those people came here because they liked what they heard on the records coming out. Bowen wanted to change it all.
He used to have that weed-supplying chauffeur who drove him around in that stretch Pontiac.
With the remote starter?
Yeah, he was afraid of the car blowing up. That's the time period where Nashville records got synthetic sounding; a lot of dorky snare samples and chorus-y guitars.
Yeah. He almost took us under, I'm sorry to say.
You came from a magical moment in musical history.
I did. I was blessed. To have friends like Jerry Reed to stir you on... I miss him every day. Just a wonderful guy. And Chet Atkins; Chet was a wonderful guy.
Young on Guitar
What advice would you give to say an 18-year-old guitar player who wants to be in the music business?
I'd say the best thing you can do is not go into the studio as if you know it all. Go in there with the attitude that you're there to learn. If somebody's got something they think fits better than what you think it fits there, you play what he wants you to play. Sometimes it may not be worth a toot, but if that's what the guy wants, play it.
Take the ego out of it.
Yeah, that's right. When you walk in that door, I don't care if you've had a fight with your wife, boyfriend, girlfriend, or whatever. When you walk into that studio, you drop all that outside the door. Come in there with a good attitude to have fun. Records are fun. They're not supposed to be dirges or anything. If you have fun on a record it gets on that tape, somehow or another. People feel that, and recognize it when they listen to it.
Cowboy Jack [Clement, Tape Op #77] used to say, 'We're in the business of fun.' You've got to remember that.
Oh yeah, that's right. If you can't make somebody happy with music, ain't no sense in doing the music.
Tape Op is a bi-monthly magazine devoted to the art of record making.