Chip was one of the best and hardest-working session guitar pickers/ producer/engineers that Nashville has ever seen. But he was even better at being a granddad, family man, and a Christian. Nashville misses him dearly. I married his daughter Megan, and she and I provided him with his only two grandchildren, Bella and Beckham Bare. But the best part of our relationship was in the studio. My secret weapon as a producer was Chip. While hiring
a band for the studio, I would always include him as the session leader, which made me look like a total badass. He would do the charts, and his charts were always dead on right. On sessions with Bobby Bare Sr., Ray Price, and My Morning Jacket, his thumb picking inspired the other players and made us all look good. Just try and imagine Dolly Parton's "Jolene" without Chip Young's thumb – it's impossible. His smile and positive energy is greatly missed, and we all learned so much.

-Bobby Bare Jr.
What brought you to Nashville?
I was in the service. I got drafted from Atlanta, Georgia, in December 1961. Jerry Reed and I were real close friends, along with Joe South. I'd worked on the road with Joe back in the '50s. Ray Stevens was another guy who was from Atlanta, as well as Freddy Weller, Pete Drake, and Tommy Roe. When it got time for me to get out of the service, Jerry said, "I want you to move to Nashville and work with me playing guitar." Both of us are thumbpickers. We went on the road for six or eight months. He decided he wanted to get off the road so he could work more on his picking, instrumentals, and writing songs. Jerry had success right before I moved up. He wrote "That's All You Gotta Do," for Brenda Lee [in 1960]. He'd written "Bottom of the Bottle," for Porter Wagoner, which was a number one record. "If the Good Lord's Willing and the Creek Don't Rise" was a big record [for Johnny Cash]. He'd had a lot of writing success. The Brenda Lee song really inspired him when he got that first check; it's enough to inspire anybody! He really felt bad about leaving me, not having any job, and he said, "Why don't you go around to some of these places and tell them you play guitar? Ask if you can play guitar on their demos." So I visited around. Tony Moon, one of the guys I visited, had played guitar in Brenda Lee's band. I asked him and he said, "No, I have a guitar player. I need a bass player." I said, "I've got a bass." I started playing upright bass on all of his demos. I eventually moved around to acoustic guitar. He cut a demo with [songwriter] Allen Reynolds, "Five O'Clock World." We demoed it over at RCA Studio B. I did a unique sounding intro on 12-string [guitar]. The Vogues tried to re-cut it up in Pennsylvania, but couldn't get anywhere near that sound. They wanted to know if they could use the [demo] track, so they used the track and paid us master scale for it. That was a huge hit for them in pop and country. People started to use me. Then Tony Moon was playing a song he had demoed that Johnny MacRae's wife, Marge Barton, wrote called "What Color (Is a Man)." [Producer] Billy Sherrill had his office next to Tony, and said, "If you can get me the guy who played on that demo, I'll cut that song this afternoon with Bobby Vinton." He called me and I borrowed [songwriter] Marijohn Wilkins' old gut string guitar and walked over to the studio. They played the demo and everybody grabbed their guitars and tried to play the lick. Nobody could do it – it's a complicated little thing. Billy came out of the control room and said, "This guy Chip Young's going to play on the record. He played on the demo." [Session guitarist] Grady Martin's sitting in his big green chair. He was a bear of a guy, and had that big old guitar laying on his belly. He said, "You played that?" I said, "Yes sir." He said, "Let me hear you." I picked up my guitar and started playing. He said, "No, over here." He made me walk over and pull up a chair right between his legs and play it for him. I was playing it, and he was looking at my fingers and looking at my eyes. He said, "That's great." We were the best of friends from then on. He used me on all kinds of sessions.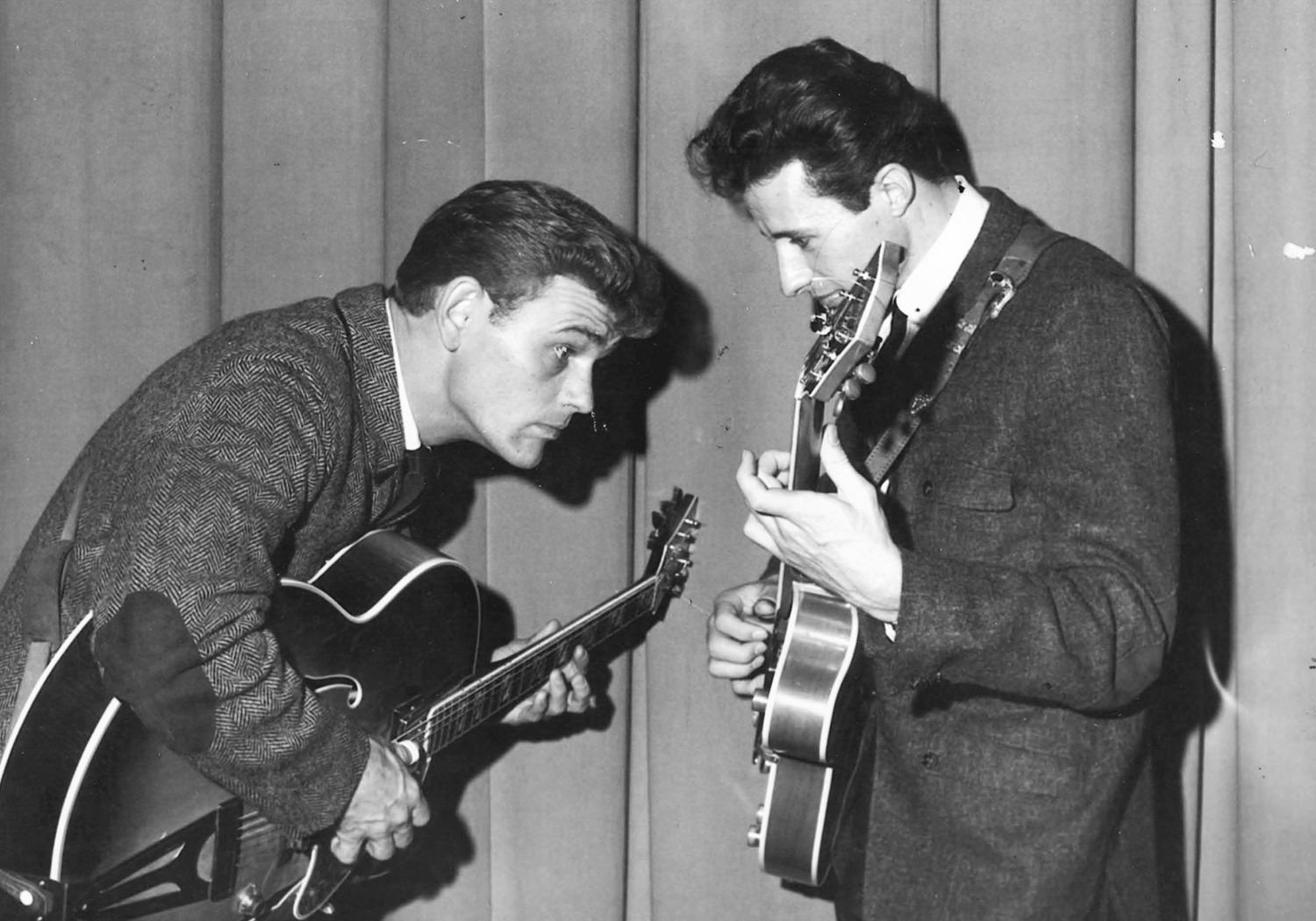 Young w/ Jerry Reed
Did you record with Jerry Reed during that time period?
Yeah, I played on a lot of his sessions. I played electric rhythm, acoustic, or whatever they wanted.
After playing on all these sessions, how did you move into the studio owner world?
Well, playing on all the sessions, I could hear that the sounds could be better. The drummers always complained about the foot not...
The rest of this article is only available with a Basic or Premium subscription, or by purchasing back issue #124. For an upcoming year's free subscription, and our current issue on PDF...