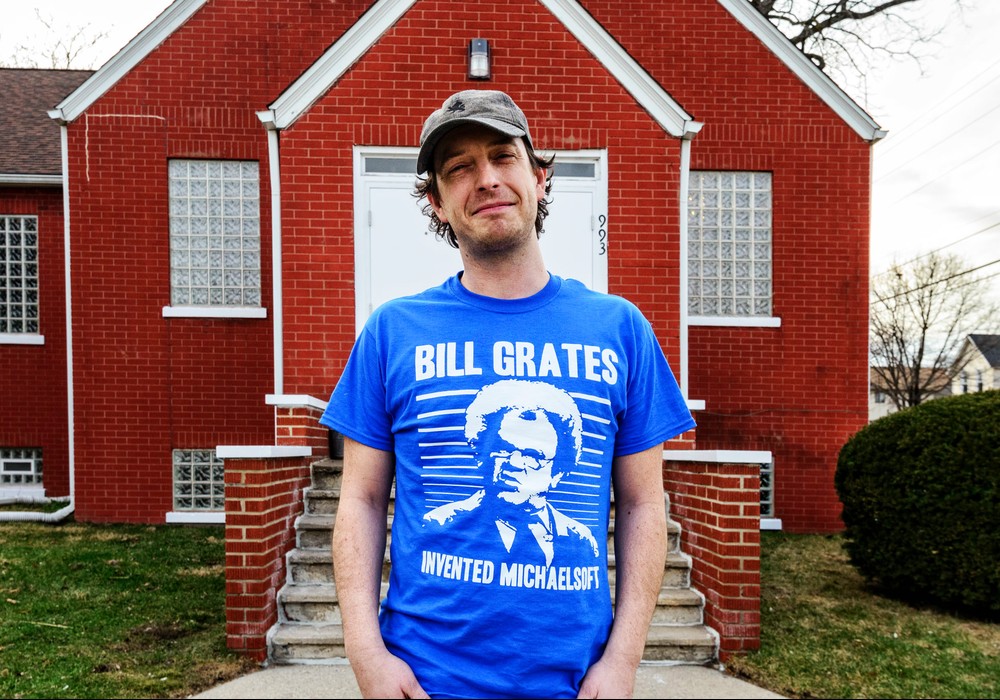 Chris Breest is an entrepreneur and jack-of-many-trades. He is the CEO and founder of Plymouth Rock recording studio in Plymouth, Michigan, plays music with BandB and other groups, works as a music publisher, and has done a lot of sound recording, composition, scoring, and audio post-production work for film, television, and video. Chris was also instrumental in designing and developing the Bachelor of Science in Audio Engineering Technology program at nearby Lawrence Technological University, and his studio serves as the satellite campus and hands-on training location for students in the degree program. Chris has worked with a diverse range of clients, including Walt Disney Imagineering, Royce da 5′9″, Ford Motor Company, Regina Belle, MIT, PBS, Juan Atkins, and the Old 97s, to name just a few. He knew he wanted to work as a recordist from an early age, and already co-owned a studio by the time he was in his early twenties. When Chris was just 27, Lawrence Tech contacted him and asked if he would be interested in helping them develop an undergraduate degree program in audio engineering technology. Since that time, the program has expanded and grown rapidly. It differs from many audio recording programs in that students study not just how to record music, but also audio acoustics, math, physics, electronics, entrepreneurship, transducers, audio systems integration, communications and project management. They acquire, in other words, technical engineering skills that programs focused mainly on recording music often lack, as well as real world business, communications, and leadership skills. Thanks to the broad training students receive, they can work in broadcasting, film and video, audio systems design, industrial and commercial settings, as audiologists, and as recording engineers and producers. Chris has trained countless students through the LTU program, at his studio and in the field, has helped prepare them to become audio professionals in the real world, and to land jobs by the time they graduate, not just at music recording studios, but for companies like Ford, Panasonic, and Harman International. In fact, one of the things Chris has accomplished since the program began is to establish relationships with companies like these where students can intern and work. Like many recordists and audio professionals, Chris has always kept an open mind about expanding his skill set. He has been able to acquire a plethora of skills just by being open to working on virtually any creative project that involves technology, from films and videos, to television shows, to teaching, to starting and running multiple small businesses. For him, constantly learning and expanding upon what he can do professionally is what keeps things interesting and challenging.
So how did you get started?
I think it was in 2002-ish when I had been working at a studio in Canton [Michigan], Pearl Sound, and had met a keyboardist named Peter Keys [P-Funk, Lynyrd Skynyrd]. I was in college for audio engineering, and had been getting involved in anything I could.
Where?
At Western Michigan University. They didn't have a program there at the time, but I did something called student-planned curriculum, where I could create my own curriculum and pitch it to a panel of teacher-sponsors. So, I was successful in doing that, and part of the program was interning in the field, and getting credit for it. So that's what I was doing at Pearl Sound, which is where I met Pete, and Ryan Hyland, and Jimmy Romeo. I met all these people that ended up playing a pretty substantial role in my life and career. And so, at some point, Pete and I had become friends. He was just recently sobered up, and he wasn't allowed to drive at the time. I was one of his drivers/friends who helped him get around. And we built a relationship in the studio, and just driving to various gigs that he had, and things that I had time to help him out with. Because I was an intern, and that's sort of just what you do: you do whatever it is to help out, whether it's in the control room or not.
Yeah.
So we had developed this relationship, and at some point, he started calling me and texting me stuff like, "How do you mic up a guitar cabinet?" Pete knows a lot about the studio, but he's a performer, so he knows more about the performance end. Or at least he did then. I think he's since developed that [technical] acumen as well. But he was calling, and I'd tell him, "Well, use a [Shure SM]57," or whatever. And then he'd call back again and ask, "Well, how do you patch an insert from this to..." and at some point, I was just like, "Clearly you're in some sort of recording scenario. Maybe I could just come and help out." And that's when he brought me to this place in Plymouth [Michigan], an old church that had been sort of quasi-converted at that point. The owners of the building had moved downstairs, and upstairs, where the church service would normally take place, was sort of half-converted to a photography studio, music studio, and video studio. It was in this infancy, where Doug [Moore], who ended up becoming one of my partners, was there. He'd been renting upstairs, and trying to think if he built some things and brought some things together, that maybe... it was like the old Field of Dreams thing: if you build it, people will come.
Uh-huh.
At some point, me and Pete showed up, and it might not have been the people he was looking for, in a perfect world, but we started to come in and do work. So, from that early session that Pete called me in for, I showed up to this place and was just like, "Holy shit! It's an old church, it's in the town I basically grew up in, and I didn't know it was right under my nose!" Everybody was always like, "I'm going to move to L.A.," or, "I'm going to move to New York." But I realized then that there's stuff right in front of you, and if you have respect for the people around you, if you realize that, for example, this guy's not just the guy at the coffee shop, he's actually amazing [at whatever he does]. They don't have to be faraway people.
Sure.
So, basically, we got into the studio [in Plymouth, MI], started working, and Pete, myself, and Doug all kind of found ourselves there. And we were at Doug's invite, 'cause he was paying the rent, and he had his thing. Early on, once we all started expressing our mutual interest in trying to do something more organized [in the old church space], even though none of us had a clear idea of what it was exactly we were going to do. You know, Doug had a lot of video equipment, and wanted to do that stuff. I was really into music, and working on my record, that I was in the middle of at the time, and Pete was 100% into performing, playing, and recording. He played in tons of bands, and was on his ascension to where he is now – which is playing with Lynryd Skynrd. So, we all started hanging out. The pastor's son, who lived downstairs and owned the building, Jeff Wright, he and I became friends through this period, and spent time together, and we would talk about what I was doing, what my dreams were, and what I was trying to do. We fostered a strong relationship, and at some point, he said, "You know, this is something where I would feel good about helping you obtain this property." Me, Pete, and Doug partnered up and went in on this land contract with the property there, with Jeff. And basically, that was in 2003, and we refinanced out of that contract in 2006, and just slowly built a business.
When you say, "land contract," can you explain what that means?
A land contract is a real estate form of seller financing that most people don't even understand exists, because it's always assumed that you go to the bank, and the bank lends you the money to get the house, and that's how it works. But, if the person you're trying to buy the property from owns the building outright – they have to own the property 100% themselves with no mortgages or liens. They just own it, it's theirs. Then they can enter into a land contract with you, and essentially become the bank. It's a contract. The seller is essentially acting as the bank, to where you put a down payment down, and you make monthly payments based on a payment schedule [to the seller], with a certain amount of interest, and if you were to default on your contract or loan, the ownership would go back to the original owner. Which is crazy to me, because it's something that I was never taught. Because Doug had worked in real estate, he understood all these things and really educated me about them. That was what he brought to the partnership: a business sense. And like I said, we were just kind of like wild and crazy kids that came into his world. He was tolerant of us, but very frustrated at times. Because we're three very different people.
So, Doug part-owned the building?
No, Doug had been paying rent to Jeff Wright, and then Pete had a mutual friend of Doug's, who was a fellow musician, and had somehow come by to check out the place. And they thought it was great, and Pete was starting to do sessions there, and it slowly, kind of just organically, grew from that: having a cool place, and people finding out about it, and then Jeff put together a plan.
So, you and Doug and Pete bought the place?
Yeah, we each put in, we split the down payment, and everything was kept in my name. And there were some genuine agreements that were just trust-based. It wasn't like we had these big contracts that stipulated everything. Everything went into my name – I paid all the bills, I took on those responsibilities – but in all reality we had a three-way partnership.
That was in 2003?
Yeah, somewhere right around there. Doug had been paying rent there, without us, for a couple of years. He had built out some rooms and a stage. He had done a lot before we got there. He sort of built a photography thing, he sort of built a music thing. He really didn't necessarily know, because he didn't come from those fields. But he was trying, and there was a lot of potential there that Pete and I just ate up, because it was a church, and there were instruments, and it was awesome. Also, it just had a really good feeling in it. When people have shown up there over the years, they generally just feel good about the place. I don't know how much I believe in all that crazy aura stuff, but I do feel stuff sometimes. I don't know why I felt that, but it seemed like everybody had that common, sort of positive vibe. Because it's a church, it's supposed to be a community place, that's why places [like this] are great places for studios.
Before that, you'd been studying audio engineering at Western [Michigan University], and you put together your own program...
Yeah, I'd put that together, and I had a sponsor-teacher, John Campos, and he was instrumental in my early learning and being inspired. Now Western Michigan has a degree program [in audio engineering], so this was pre-that. He had classes, and he was the director, even if he wasn't getting paid or didn't have that title. He was the guy in charge. He taught these classes, and was super inspiring, because he had actually done it. And down the road I took a lot of the experiences I had in school in building this Lawrence Tech thing.
So, you did that program, then interned at Pearl Sound...
Yeah, the interning was part of that program. We designed classes that said, hey, if I'm at this studio, working 40 hours a week, and if I can show my professor that I'm learning skills and working on things and whatnot, then that would count as school credit. And then, I think it was in 2003, as part of one of my classes, that I designed with John [Campos], I wanted to make a submission to Downbeat Magazine, for this thing called the student music awards, which they do every year. It's a jazz magazine, and they have two categories, for live and studio sound engineering. And so I submitted a recording, and I won that international award, in 2003. I ended up not graduating from the program, but that was like my degree. It was some songs that I had written. I didn't even disclose that, but you just had to submit 20 minutes of music, and engineer and produce it all. It had to be your work, and it was pretty broad beyond that. It had to be different compositions, and they left it up to you. I submitted my thing with edits and different things I had done, and at some point, I got a letter in the mail, and a plaque that said I had won. Which was cool, it was the first recognition that I was doing something that was interesting to other people.
It was songs you'd written?
Some things of mine, some that others had written. I had the luxury of working at this amazing studio in Canton. There'd be a group of my friends that were rehearsing there, and we could set up mics and record it. There were pieces that I performed on. I did some weird effects where I took a microphone outside and played the intro of a song on a boom box and walked it up to the mic, then I cut to the song. You know, I was just trying to do different production effects that would kind of display what I'd learned, or my creativity with editing and mic'ing.
From the internship at Pearl [Sound], did you come straight over here, to what became Plymouth Rock?
There was a little gap in between, where I'd left Pearl, and I brought my friend Matt Binder from Western Michigan [University], who ended up being the catalyst of my band getting started and the drummer in my band. He came and replaced me at Pearl, and succeeded me there, because I never really graduated beyond the internship level at Pearl. I was always kind of terrified to go into the control room. I was so aware that when you go into a space, that you change the energy. So, if I wasn't doing something productive in the control room, it was always hard for me to just go in, unless I was invited in. So, I just avoided that. And so Matt came in and took that position at Pearl, and during that period of time I was really focused on working on my record, before I got to the church. And I was working with this producer Jimmy Romeo, who had worked with tons of people, and was an engineer/producer at Pearl. That was the first time going into a studio was how I'd imagined it should be, where it just kind of feels magical. As opposed to, "Oh, we're working on sound design for this school project." Where, you know, it's all fun, but whatever that thing is, when you're involved in something that everyone believes in, the magic. It's usually just not there, you don't feel that way, or it's not real. But he [Jimmy Romeo] always kind of made me feel that way, so I wanted to work with him. He listened to some of my songs, and he said, "Hey, let's work on this stuff," and it was awesome. And then I was doing that for a couple of years and working at a studio called the Red Room, in Pleasant Ridge [Michigan], and a couple of other studios.
As an engineer, or assistant?
At that point I was engineering for Jimmy, where he'd be producing different bands. I don't know if that studio is even a public studio anymore, but it was this space that had been built in a research and development building that was formerly a steel factory. I would get hypothermia, because I'd stay there, and I was just crashing on couches at the time. I grew up around here, but at the time I was just 100% into going from production to production. I was working on some films, and doing production with that, so it really just spread all over the place. But the main personal focus I had was working on my record.
Was that the BandB Bent [Released 2007] record?
Yeah. That's when I discovered the church [studio, that became Plymouth Rock]. So it was in that period between maybe 2001-2003 when I left the studio in Canton and started working at these other spots, working more as an engineer, working on the films, and working with Jimmy [Romeo], where I would be his Pro Tools engineer.
How did you get started working on films and videos?
I left Western and started working on this movie called The Brewster Project. That was a super immersive thing for a year, where I was cutting music, doing field audio, and a lot of things that I had just no experience doing. And that was sort of my first instance of working on sound for picture and film. From a financial standpoint, I've made a lot more money working on film crews [than music], doing field audio, and like on the [PBS] show Start Up, and working in that space. The field audio thing was really great. In the beginning, the people that I worked with for free every day – we did passion projects – a lot of those people went on and really did something professionally [in film, TV and video]. So that really helped my career because I'd already been kind of attached with these guys. And I'd learned a lot about production beyond just setting up the mics and getting sound, because we were always on the crews where you each had to do ten jobs. It's just the nature of any of those things.
Have you worked on a lot of films and TV shows?
It was kind of spread around a lot. I worked on a lot of different things, but I'd never really done it full time, where I'd be on the road for six months doing Titanic. Because it really is the kind of career where, once you get into it, you're in. You're gone for three months, and then you're on to the next one. It's like, once you're on that train, that kind of production crew, you don't know when they're going to stop working.
Do you have to go to New York or L.A. if you want to do sound for films and TV?
Not necessarily. For me, I worked on a ton of projects and made a good amount of money here [in Michigan]. I did things with groups and people from Detroit, like Gary Bredow [the host of Start Up], Turn Pro (MIT, Microsoft), and Super Red (Dodge, Lincoln). I did programs like Start Up [a show on PBS about small businesses], where we went all over the country and worked with other entrepreneurs, which was incredible for me, as an entrepreneur, to watch firsthand. And the whole nature of making a TV show is entrepreneurial, because you're in this brave new world of figuring stuff out. I did post, I had to fix the sound on this movie called Hi-Tech Soul, which is a documentary about Detroit techno. And that was a genre [Detroit Techno] that I came into afterwards, and worked on the post, taking out clicks and pops and trying to make it listen-able. The bummer was that it didn't sound that good in the end, but I made it a lot better. I was afraid that people would watch it and see my name, and be like, "That sucks." And I wished they could've heard it before I got it and worked on it.
The original audio wasn't good?
Yeah, it was a lot of camera mics, and video people not understanding how to get good audio. In a way, I think going through that horrible experience of bad sound really helped me focus more, when I do field audio, on getting really good sound. So I did that, I worked on a number of small films. The coolest things were the Start Up show and working with Microsoft in the last couple of years on their small business accelerators.
What's that?
It was this incredible thing. We went in and made internal videos for Microsoft in these small business incubators, where each year they would have a focus. We did three of them, and the last one we did was something called machine learning, which is sort of the basis of things like artificial intelligence. But it's more than that, it's massive data crunching, and doing it in a way that allows the program to make decisions without the end user explicitly telling it to do so. Like you go to the internet and type something in and it's smart enough to give you better results, that kind of thing. That's part of machine learning.
And things like natural language processing?
Yeah. It covers all kinds of stuff. It's this ubiquitous thing. Machine learning can apply to things like increasing the stability of oil pipelines by compiling massive amounts of information that s collected in a way that humans can't really process as well without machine learning to identify problems. It's basically any time you're taking data and crunching massive amounts of it.
Teaching machines how to do things?
Yeah. Taking in data and then learning from it. But all I was doing on these crews was sitting there and listening to them talk and recording these interviews, which was incredible because I'm the sound guy on these things. I'm not working on the projects, we're just documenting these young start up companies and what they do. So, there was that project that was incredible. I got to work with MIT and the Central Bank of Malaysia on a project to do basically a branding video for this thing called the Asia School of Business, which is a partnership between MIT and the Central Bank of Malaysia. We got to interview the Prime Minister of Malaysia. They made this master's program in the field, in Southeast Asia, because why would you have a program based in Michigan, or Massachusetts, when you're studying Southeast Asian business. It would seem like you'd want to be there. So it was crazy, you get to just sit there and listen, and you learn so much. Other times, you work on a commercial for a product that's like mind-numbingly boring, but there are these other times where you're like, "I'm mic'ing up the Prime Minister of Malaysia!" These security dudes are about to end my life if I fuck something up. [laughter]
That's what I like about doing research and interviewing people and writing. You always learn something.
Yeah, it's the coolest side effect. You pick up stuff, and you get to experience things and meet people.
So, do you do more film and TV work than music production?
As far as Plymouth Rock is concerned, we do a lot of music and we do a lot of field audio.
What do you use to record field audio?
I have a super basic setup. It's kind of embarrassing. It's a Fostex FR2 [portable hard disk recorder], which people don't really use anymore. It's only two tracks, but the mic pres in it sound amazing. I use an Audio-Technica 4073-A shotgun mic, and usually for headphones I use the Sony MDR-7506s. But in most situations like that you'll have a separate mixer, and you'll go into that, but I don't like doing that. So, I'll just use two tracks and go direct into the Fostex. It's amazing what you can get away with using just that, especially if it's testimonials or interviews, or anything. You don't need 26 tracks.
So, you just go two tracks live?
One channel is the boom [mic], one channel is the lav [lavalier mic]. A lot of times you've got a small crew. We're not doing a huge production. There's not a true audio cart there, and a whole truck full of gear. We may not be able to send cue mixes to the director, but it doesn't matter. All this was built to do guerrilla-level stuff, and to do it well. The [mic] pres in that [Fostex] sound amazing, and it's stood the test of time. I've been on sand dunes, been covered in all kinds of shit, and it's never really fallen apart, except for the power supply that I've had to rebuild a couple of times. For the lav channel, a lot of times I'll use a Sennheiser G300 series transmitter and receiver, so there's the wireless transmitters with maybe Sanken [lav] mics. There's a ton of different companies making field audio stuff now, and you can go so crazy with them. You know, different shotgun mics for different kinds of rooms. But at some point, you just have to focus on getting the room quiet, turning off the AC, eliminating any hums in the environment, trying to deal with the macro-level problems, instead of being like, "It's not going to sound good with these kinds of mics. It's the technology." In reality, everything you can buy now is pretty fucking good. It's not like there's this huge disparity. That's why a lot of people can make good videos and good recordings pretty easily now, because you don't need the $12,000 microphone and $100,000 camera to do it. Having a great idea is what's of ultimate importance. We shot that TV show Start Up on DSLR, and it went on national television.
The whole thing?
Yeah. They're on season five now, so they may have changed, but when I worked on it we shot the whole thing on DSLR cameras.
Do you remember which cameras you used?
Yeah, the Canon 5D Mark II [digital SLR]. So many shows are shot like that now. And sometimes I'd be in trouble because we needed more inputs, and I'd have to use a camera input if they had a better camera that was on set. You know, sometimes they'd have a camera that was equivalent to like a [Canon] C100 [EOS Cinema camera] or a [Panasonic] HVX... the DSLRs don't have any audio inputs that are really of any use. So sometimes, if you had another camera on set that had some audio inputs, I could just put one of the microphones directly into that camera, and it'd give me a third track. But for the majority of that first season, it allowed us to go out with a very low budget, minimal amount of equipment, and focus more on content than on getting everything perfect. And also, we were all just learning. I feel like we're all still learning.
So, getting back to the Lawrence Tech audio engineering program, can you tell me about your role in that when they were starting the program?
I was doing field audio, with a film crew, going to the X Games. I traveled with Supermoto all over the country that year, and that was amazing because I didn't know shit about bikes. There's this whole culture that I didn't know existed. Anyways, I was flying out to the X Games to do field audio, and I sat next to this lady named Susan Levine on the plane. She was the director of media and communications at Lawrence Tech. We struck up a conversation, and she'd worked for a local television station. Sometimes the best thing about flying is that you sit next to some really interesting people. We both kind of worked in the same field, and I told her about my music and the studio, and we had a great conversation over a couple of hours on the way to California. And at the end of the conversation I gave her a business card, and we just sort of went our separate ways. About six months later she reached back out to me and said, "Hey, we're looking at starting an audio engineering program. Would you be interested in sitting on an industrial advisory committee?" which is basically when they pull people from industry to advise about what should be included in an educational program. So, the meeting was probably a month or two later, and I did not feel comfortable in the meeting, because it was mostly people who were really advanced in their industries: the head audio guy at Ford, and the head of audio technology at this company or whatever, just really advanced professionals. And I was a 27-28 year old kid that had a studio. But when I went to the meeting, I tried to prep before it, because I thought it was an opportunity, one way or another. I was really outspoken about the need to do things a certain way with the program, that I had learned from my experiences at school, and going through the program I did at Western Michigan. As the meeting went on, these guys kept deferring to me, because while they had great, high up positions at their companies, they weren't really on the ground floor anymore, recording people, sort of just struggling, and trying to get into that world. At some point, Ken Cook, who is the chair of that department – engineering and technology – approached me and said, "Hey, would you want to help us develop curriculum and classes and build it up and make it into something?" What's funny is it's kind of like a start up. It's all weird, how I kept coming into these opportunities to get involved and build something from nothing. When we started, there was one kid in the program, Brandon Wheeler. I started helping develop curriculum, hire professors and shape the program. I was adamant that the class sizes couldn't be more than ten, because in high school my most effective experience was this AP [Advanced Placement] music theory class, where there were only six students. I couldn't tune out; it wasn't an option. In a class of 40 kids you can daydream, look at your phone, or doodle, but when there's only six kids you can't do that. And if you do, you get called out for it. So, things like that: small class sizes, making sure the professors who were teaching the courses were actively working in the industry, not someone who had read a book before you did or had done it 20 years ago, but someone whose knowledge and experience was current. From that point, we started developing the program just like a start up. We were really agile, because it was a smaller private university. Things like, I wanted them all to have Pro Tools, and Macs when, at the time, the entire engineering department was on PC. At a bigger university that could have taken years, but at LTU I was able to get that to happen within months. Then we added a couple more students the next year, and it was slowly building up. It was kind of scary, because in that type of situation you don't know if the program is effective until you graduate someone, and it's also their lives. It's an expensive school. So there was all this pressure, and I'd always been kind of critical of educational systems. But when you have to do it, when you have to be the one, you realize that it's not so easy to design a program. It's easier said than done. But Brandon [Wheeler, the program's first student] had been really effective at taking advantage of every opportunity he got from being the guinea pig. And in being that guinea pig he got the most attention from everyone. He took on the program and fully embraced what we were trying to do. And when he was in his senior year, he got an internship at Harman International, which is a major, multinational company that works in audio systems and speakers and has a bunch of [subsidiaries] like JBL and AKG. He went in and, I believe, started working as a transducer engineer. So when he graduated they offered him a position, and it was a substantial position. It wasn't a minimum wage job, to say the least. That was the first time that, as a program, we all saw that at least we had one guy who went through the program and got a good job. And he went there and did extremely well, which established this conduit between Lawrence Tech and Harman that continues to this day. It's because of students like Brandon, and those that came after him, who maintained a certain level of quality, [that we have relationships with Harman], Panasonic and other companies. That's a big part of my job now, to look at the macro-level issues and try to form more partnerships and relationships with companies in the audio industry that can be of direct benefit to our students. Because a lot of people think the audio industry is just, "Oh, you're in the studio recording Eminem." But it's not. Audio engineering is so much broader than that.
How does the Lawrence Tech program differ from other audio recording programs? You mentioned that the students learn electronics and technical engineering stuff that students who go to a program at a music school don't usually learn.
Yeah, a lot of schools are really focused on the music performance side of it, and that's just a portion of the greater audio engineering world; it isn't the whole thing. A lot of schools that have audio engineering programs have them attached to their music school. So because of that, there's a lot of focus on performance, and recording recitals and band things, working in the studio, or recording live. Those are all very valid places where audio engineering is at play, but it's not all of it. Where I think Lawrence Tech is really strong is that we don't have a music school. So, the studio [Plymouth Rock, Chris's studio] where they come to do the music recording portion of the program, is only a component of it. There's a lot more acoustics, math, and differential equations and things that I would not be excited to try to navigate. But the good thing is, when they come out of the program they have a much more engineering-heavy degree than a music degree. And in general, over the last five or ten years, [audio] engineering technology degrees are considered on the same level of stature as electrical engineering or mechanical engineering, because technology is ingrained in everything that we do now. It's not like technology is over here and on this other side is what engineers do. Everything is electronic, and you have all these iterations of microprocessors in everyday devices. It's not this disparate thing. So, the biggest advantage is that the LTU program is focused on engineering technology as a whole, not just the music recording part. Because the reality is that not many people are going to make a living producing hit records. It doesn't mean that you shouldn't strive for it, or that I don't want to do it, or that somebody may come up with a new way to make money doing that. Maybe they'll create an audio app or something, who knows? The way it stands right now in audio engineering as a whole, you shouldn't be placing your bets on thinking, "I'm going to work at Capitol Studios and put out hit records." It doesn't mean you can't, but as far as trying to find an established career path, where you have a 401k and you have benefits and you can buy a house, it's a lot easier to do that working at Panasonic, or at Harman, or ESPN, or starting your own company. I think the entrepreneurial aspect of the program is really important as well, because you no longer go and work at one company for 50 years. People need to learn how to be agile, to have as broad a skill set going into the real world as possible. That's why we try to encourage them, from their freshman year, to think about getting a job. You shouldn't wait until you graduate and then look for a job. If you don't have a job by the time you graduate, there's something terribly wrong. That's the challenge, as the program gets bigger, to make sure we're individually focusing on each student, because it's not a cookie cutter sort of profession. Our job is to help students find what they might fit into and foster their growth and development.
Do all the students do their music recording classes at Plymouth Rock?
Yeah, it's the satellite campus. Every student takes ten or eleven classes here. It's about a quarter of the entire credit load.
And that's related to your plan for expanding the studio and adding a downstairs room?
Yeah, that's the next phase of enhancing the studio's offerings to the university, but also just building up its capabilities in general. Because one of the cool things about having a separate business is that students are around real projects. They're not just around projects that emulate real projects, they're around real world recording projects. They involve real money and they're not all student projects. Sometimes the students are intimidated to come into that, but that's what you have to learn, because that's what happens in the real world. The real world isn't coddling to your needs as a student or an intern. It's quite the opposite. To figure out how to have the courage or the drive to stick your neck out and say, "Hey, I'm going to talk to this person." That's just a life skill that everyone needs to learn. I think that's an advantage at LTU, because you learn what really happens.
What's the entrepreneurial part of the program?
There are a few elective classes that students can take, and one of them is audio engineering entrepreneurship. It's a directed study, usually one-on-one, where we go through the steps of starting a business: registering a company, getting a name, incorporating, making a logo, all these things. You know, it's not just like, "Let's start a recording studio." It's more than just buying some microphones and some speakers and gear. It involves things like: What is your brand? What is your product offering? What are the tax ramifications? What is your business's name? Where's it going to be? What is your business model? What happens a lot, based on my experience working with all these start-ups, is that you're just one person. But you need a team of people sometimes. So how do you prioritize what's the most important thing for your business? Not only in just that one class, the overall arc of the program is not just telling the students, it's showing them: here's a real business. These are people around you that really do stuff [professionally, in the studio], and those are all ways to not just see, but participate in running a business. Because nobody has these massive audio companies – aside from people who work at a place like Harman – they're mostly local producers, small venues, publishing companies, and small film crews. They're all part of this entrepreneurial experiment of small businesses. The more you can encourage that, directly and indirectly, the better off these kids are, because that's much more the nature of employment [in this industry] these days. It's thinking about it as if you are a brand, and of course you're already going to represent the company you work for. But recognizing that you are a brand yourself is something that you need to be aware of, whether it's how you behave on social media, or how you dress when you go to a thing, it's something that needs to be considered if you want to be taken seriously as a professional. It doesn't mean you can't wear cutoff shorts and a black Anthrax t-shirt, but it should be something you've considered and are aware of, not something you're just stumbling around haphazardly doing. If you give people the wrong impressions, it's not going to help your career.
Do you hire graduates of the Lawrence Tech program to work at the studio?
Some. But I would say we're more actively involved in just helping them find good jobs in general than in hiring them here. For example, I work at a variety of jobs. I mix live sound at a variety of venues, I do field audio, I work at a music publishing company, I run the studio, I work for the Lawrence Tech program, I own a publishing company of my own, I play in a band, I make records. So, I can help students individually to gain some inroads [into all of those things]. But I also try to tell them that that's not the only way to find work. Use me to get into this, ask me about my connections, get involved with this, be proactive. Because it's a two-way street. I think sometimes universities are like, "How do we help them?" But I think it's more like, "No. You have to show up and ask." If you can't do that, then we're not teaching you the right skills. That's not really where it's at in life. It doesn't matter if you've got a great studio. If you can't figure out how to operate as an adult, it doesn't matter.
What advice would you give to someone who wants to get into recording?
It's just like anything. You have to get involved and participate and do anything you can. You might not have anything to offer other than you could help carry a speaker or drive someone around, like I did, because I had a car and the guy didn't have a car. It's participation first, and just understanding you have to do a lot more work for a lot less money up front.
Pay your dues.
Yeah, there's no way to get around it. Usually people who you see doing big stuff, if it seems like they've somehow cheated the system [they haven't]. How did someone become famous, did that just pop up? No. They've been struggling and working and plodding along and working hard with teams of people. It's always hard work, but participation is what I always try to tell them. That alone can start a lot of things.
You do a lot in addition to recording music, and you've talked a bit about your film, video and TV work. Can you talk about the voiceover, sound design and Foley recording work you do? And scoring, mixing to picture, editing, that kind of work. How does all that fit into the larger picture?
A lot of times it's like keeping your mind open to doing anything. It doesn't matter if it's not what you imagined an audio engineer does. If it's standing on a film set and being a [production assistant] so you can get near the action, that's part of it. I ended up taking that approach to everything. If there's anything that I could do that has anything to do with music, production, or something creative with technology, then I went after it and was open to doing it. Instead of saying, "I'm an audio engineer. I don't build photo arrays for Sprint." Well, why not? See what we can do. And you become more confident in your abilities the more you try different things. Because it's not like, "I only mix bands at the Hard Rock Café." I've been a lot of places and done a lot of different things. If I'm on a film set, I'm not just the sound guy. I can help with the cameras, I can assist with the production process, and I can see what the director does. You have to do your job, but there are other opportunities to learn. At some point I felt comfortable enough producing stuff, whether it was a little video for someone, or an internal video for Lawrence Tech, to show them what we're doing and argue for funding, or whatever it may be. One of the most effective things we did was to shoot some interviews and put together a video for the school's website. It was something we did ourselves, without waiting for funding or approval. It cost me some money, but we got such an impact from students watching a video, instead of reading a pamphlet, hearing actual students talk about the program and seeing their passion. The visual impact that had was fantastic. And that, again, ties into how all these disparate businesses go together. Most people in this industry have a ton of side hustles. But it's not really a side hustle, it's that you do a bunch of different hustles. You know, I might be making a lot of money doing field audio for a while, and then I might make money mixing live sound or producing. That's the truth of my whole thing: I didn't just do one thing. And you can't just do one thing. Anybody you find, they may wind up just doing one thing because they finally found that one thing they're really good at. But for me, I think if you want to keep progressing, you have to be doing as much different stuff as possible, because they keep informing one another, they keep making money. If it's in technology, and engineering is in there, it's interesting to me.
You mentioned that you work for a music publishing company.
Yeah. Working at a music publishing company, they signed me as an artist back in 2007, and that was the coolest thing for me ever as a musician. Because I was getting my songs in television shows and commercials, and getting fans all over the world because this show was syndicated, and that thing went to this country. It made me feel like what we were doing was legitimate, because this publisher in L.A. had signed us.
Which publisher?
The company is called North Star Media. It was based in California at the time, and I knew nothing more about it than that. A fellow band that Peter Keys played in, because he also played in my band at the time, signed a deal with the company. So, I sent an unsolicited [recording] out to them and Marty Silverstone, this guy that works in the industry and is fairly well known now, called me and said, "I really love this record, I think it's cool." And every musician, whether they admit it or not, is looking for some sort of encouragement or validation, because you're nervous about it and you know it's not perfect. So I started working with them, and in 2010 or '11 they were going through some transitions and I called to try to end my contract. In trying to do that, I got a hold of Joel Dorfman, who owned the company, and he was in Bloomfield Hills [Michigan]! So this company that I'd signed with in L.A., the head of it was trying to salvage it and bring it back to Michigan. He said, "Well, tell me about yourself." I told him, "I'm a musician, I have a studio in Plymouth in this old church." And his response was, "That's cool, I have a church too." He said, "You know, I'd just like to come out and chat with you." And I was super intrigued, so we had lunch together, and he explained that he had ended his relationships with the people who were running his company in L.A., and they wanted to try to make a run of it in Detroit. He asked me if I wanted to be a part of that. Here I am again, back at a start up. It's an existing company, but it's basically going through a rebirth, and I'm part of it. Now I'm Senior Director of Repertoire at that company, and that's another thing I can bring students to. So still, a lot of the people I work with I've met through being a musician, playing shows – that was my one network that sort of runs through all of this, whether it was the owner of this church [where the studio is], or this producer who went to one of my shows. It's all kind of connected. It's really strange, because my music never made me famous or anything. But I look back now and I think, all of this is actually the payoff [for playing in bands for years]. I got to do all this stuff, and participate in this world. But the things I wanted to do changed. I still want to make songs and record them but I also enjoy running businesses and making real money for myself and the other people involved with me, and especially the educational part of it – helping people to make money in this industry. One thing that we didn't really touch on, that I wanted to mention, was how key it was for us [at Plymouth Rock] to pull Ryan Hyland from Pearl Sound to be our main engineer. That allowed us to go from being a project studio to a real, legitimate, professional studio. Because then it wasn't going to be just me engineering, and invoicing, and paying the water bill, and trying to drum up work. We started to have a team, a small team, but with really talented people. Ryan is a world-class engineer. He's an actual, top-quality dude that you could put anywhere, and we're lucky enough to have him here. That really was the transition, sort of like when I told you about the beginning, when Pete and me, and shortly after that Ryan, started to come and hang out here, and he was like, "I love the vibe here, and you guys." That was really a turning point, because it allowed me to continue pushing the business side, and also just focus on my own work. I wasn't always tied down, like, "I have to be at the studio to do the session, so I can't go out and do this [project] or that." Ryan really is the heart of the studio as it is today. With certain people, it's like, without them I'd be right back to where I was in 2005, or 2004.
Did Ryan have any involvement with the Lawrence Tech thing?
No. Ryan was a self-made producer that I interned under when I was at Pearl Sound. He was just, at that time, growing into being an engineer himself. He's a great musician, he plays in multiple bands. But he had made a personal decision to be in the studio as much as possible, and he was really great at it. At some point, there was an ownership change at Pearl, and that provided me with an opportunity to offer Ryan to come [work at] Plymouth Rock. He did, and from then on, we kind of went into a different period. Because Pete was there, bringing in bands, I was doing a lot of the business stuff, or trying to figure it out, and Ryan was there producing really high-quality stuff. We didn't have a Neve console like we do now. We had a modified Black Lion [Digi]002, and then expansion optical outs. We had 16 ins and an iMac. It wasn't much. Then we started building FrankenMacs. But it was really just something that took us to a different level, when Ryan came over. We still had growing pains, of course, but at that time it went from something that could have just floundered, to now we have the race car driver. We don't really have the race car, our car's kind of shitty, but at least we've got somebody that can drive it at a high level. We can push the limits of the gear we have and the things we can do.
Can you talk about the gear you started out with and how it evolved into what you have now?
Yeah. I started off with, in college, a studio at my house. The first rig I bought was something I used for the majority of stuff until the last few years. We started off with just a Digidesign 002 and the Mackie HR824s [monitors]. I bought one microphone, it was an Audio-Technica 4050 large diaphragm condenser, I had Sony MDR-7506 headphones and an iMac. That's what I started with and I carried that into the church. The church had a Mackie Digital 8-bus [the 56-input, 72-channel D8B digital console] that Doug had purchased before we arrived but we ended up using my setup [Digi 002]. And then at some point we upgraded to a modified Digi002 by Black Lion. And we started building what are known as FrankenMacs or Hackintoshes, which were these hybrid computers. They were PCs that, for a few hundred dollars, could compete with the expensive Macs. At some point, the next major equipment upgrade we did at the studio was that we got a Shadow Hills Equinox [two-channel preamp]. And then we put that in as our center section and it gave us an analog summing bus. And anyone who has used that knows that it sounds really great. Somehow, if you plug shit into that, it sounds more like a real record. So that was the next big step. And that was like a $4,000 piece of gear that I had to borrow money to get. Then, as our relationship with Lawrence Tech grew, we started getting them to partner with us on equipment upgrades. The main reason behind that is that the kids are paying top dollar for their education, so they need to be able to say, "I worked on a Neve console" or "I worked on a high-end large format console." Even though today, you don't find a lot of studios anymore that have big consoles. They still need to know it. It also made our studio a much more attractive studio to clients, because we got Barefoot monitors, a Pro Tools HD system and this Neve Custom Series 75 console – we got the twelfth one ever built, and that was kind of a risk. It was a brand-new company that licensed all the schematics from Neve. So they were building it in such a way that you can put that Neve name on the board and say it's Neve circuitry. Because of that, their price point was far lower than your traditional AMS Neve or Rupert Neve Designs. But it's been great, it's been a really great desk. Now, with this new room we're building [in the basement of the church], we're going to build a hybrid setup. We're not planning on getting a big analog console. It's going to be a center section with some Shadow Hills components and a Crane Song Avocet. Basically it's a hybrid studio setup, which is sort of the popular thing right now. Everyone is using these hybrid setups now, and it makes more sense because we already have a large format console upstairs. So it gives us a different option to offer clients and students in the [LTU] program. They get to see and use a different professional system setup; a different way to execute your audio engineering work without a large format desk. We'll have probably an S3 controller in there, which is made by Avid, and then that sort of a hybrid center section. And this time we have a studio designer, Glenn [Brown], that's bringing his experience and abilities to the table, which has been amazing. The monitors we use are Genelecs and Barefoots, JBL M2s in the new room as a monitor system. I think we're also using 704s in the control room right now. We have an Otari 24-track, 2-inch tape machine [upstairs].
Are you going to have a tape machine in the new room downstairs?
I don't think so. I think upstairs will be more like your old-school, large format, tape machine studio. But one thing we are planning on doing is having the rooms completely interconnected and wired up. So if you were downstairs in the middle of a session and you wanted to run things to tape, you could patch through and get to the [upstairs control] room. The idea is to have them be as integrated as possible.
Working on [the television show] Start Up, and starting your own businesses, what have you learned about entrepreneurship, and starting a business, that you'd want to share with Tape Op readers who might be at the point of wanting to open a studio or start another kind of audio business?
I think in a lot of cases it's just survival, just sticking it out. And being able to recognize when it isn't working. You know, it doesn't mean, when you have an idea, that you have to stick with every idea. You're bound to have a lot of bad ideas, and what you start to develop is a sense of deciphering what the promising ones are, when you see the right people, and the right pieces, the right ideas. But there's always a big unknown factor. How is it going to work? You might have a great project that pays you great money for three months. But then what? And after that what? And after that what? You have to understand basic business principles. You know, when you have an idea, and a dream, you don't think about: how are we going to pay the water bill? You think about the dream. But the entrepreneurial part is taking those dreams and finding a way to make them into something tangible. When I was like 17 I was dreaming of a place where I could live and make music with my friends. It sounded like a hippy weirdo dream [to some people], but it's something that I've come to make real. It's just a bit different. It's not exactly how I thought it was going to be, and it's changed, and now we're doing educational stuff. If you'd asked me if that was going to be a component of our business model, it wasn't. But it was about being able to pivot, and really keeping your nose to the grindstone, but also your head up, and looking at the industry around you changing, and technology changing. Like with that Sprint project: it was technology changing that allowed us to do something that used to cost a million dollars, to do matrix effects, for $80,000.
What sort of basic business stuff have you learned?
Cash flow, paying bills on time, accounts payable, accounts receivable, invoicing people, and coming up with rates. You might feel like you're worth $150 an hour, but the reality is, there are amazing recording studios in Detroit, and the going rate around town is $50 or $60 an hour. It doesn't mean that there aren't people paying a lot more and a lot less. But if you ask most studio owners what you can really charge on a consistent basis, from up and coming artists that don't have any money, it's not $300 an hour. There's money like that in commercials, but that's shrunk too. It's all changing, and it's changing as you're trying to make a business based on the current climate. Again, that's where it's so important to be able to pivot, while still being laser focused on doing what it is you're trying to ultimately do. The reality is you might have to pay a head engineer at your studio before you can make any money, because you need that guy there to have consistency. People are the biggest, most important component to me. You've learned all these other business things, but you have to have the right people. Because you can have all sorts of plans and lay out how everything is going to work, but human beings are the ones that are going to do the actual work. It's their commitment to your shared idea, and your commitment to finding ways to make money for everybody on your team that matters.
Tape Op is a bi-monthly magazine devoted to the art of record making.