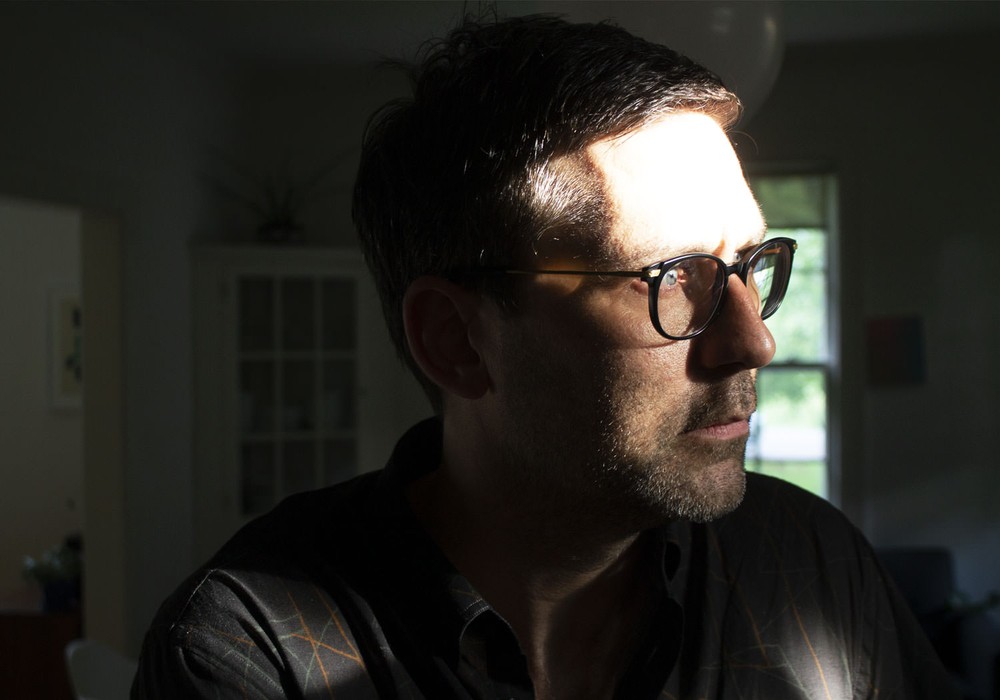 British-born, Nashville-living Jamie Lidell is a singer, beatboxer, recordist, producer, engineer, songwriter, code writer, husband, and father. He has collaborated with Beck, Cristian Vogel (as Super Collider), Feist, Chilly Gonzales, Mocky, Subhead, and Simian Mobile Disco, just to name a few. His songs have been used on Grey's Anatomy and in Target commercials, and he has won global accolades for his work. I sat down with Jamie at his studio in Nashville to catch up.
Was your music electronic or sample-based in the beginning?
Yeah. I started to get into guitars, and I gravitated towards musician-types. I started getting into looking at all these music magazines. I used to go to a shop called Turnkey in London they had all the newest gear. Growing up in Cambridgeshire, London's an hour away, so I'd go by train. I remember the [Roland] D-50, Korg M1, and the AKAI S950 had just come out, in '88 or '89. There were a few of these bits of gear playable in the shops. Eventually, I got a little bit of money from my grandma, so I got a [Shure SM]58, a Fostex 4-track, and an [Alesis] MidiVerb III. Later I got an AKAI sampler. I remember thinking, "What do you do with a sampler?" I didn't really have anything to interface with it. Word got out that I had a sampler, and some guy was like, "I organize raves and events. Do you want to open up for The Prodigy?" So, I opened up for The Prodigy when I was 16. That was a life-changing experience. All I had was my shitty equipment, using my Fostex as a mixer. It was terrible! I was sampling The Muppet Show. Everyone I saw that night were people from school on ecstasy. I thought, "What's wrong with everybody?" I was pretty naive about drug culture. Then The Prodigy came on and just blew the roof off. I thought, "Their equipment isn't that different from mine. But listen to how different it sounds." I went through school trying to make songs and listening to Aphex Twin. I got into hardcore rave. The energy of the late '80s and early '90s was special.
Like Primal Scream [Tape Op #96]. Rave morphed into something different.
Oh, man, Screamadelica was such a big album for everyone. That's what I was listening to. I immersed myself, and then I got involved in making records. My first release was a pretty dubious bit of electronics called Manfish not a name I came up with! I had been making demos at college and went to get a job at Strongroom Music Studios in London.
Yeah. I've been there.
It's a great place. I met up with Mick Shiner, who subsequently worked with The Streets. He heard a cassette demo he'd gotten from my friend. I wasn't trying to get anything from this. He said, "Why don't you get into the studio?" He threw me into a room with an SSL [console] and I didn't know what I was doing. I look back at that point and think my original demo felt better. It lost a lot of its joy. But through Strongroom I met these guys, Jason Leech and Phil Wells [of Subhead]. They were cheeky, really funny, compelling dudes who would hang around, and they wanted to make techno. They were record collectors and DJs; they had parties on a submarine and a disused office space. They introduced me to the music of Detroit and Chicago. At that time, in the '90s, it was an amazing time for electronic music.
Some of the technology was new, and older gear was being repurposed.
A piece of technology could come around and revolutionize music. We started making records and did ten EPs in a year. That was Subhead. Through doing that, I really got into the music of Cristian Vogel. He was using OctaMED the tracker on the [Commodore] Amiga [computer]. That was the serious way to program. That shit was futuristic.
You finally could have parts programmed in the computer, via MIDI, and change them as well.
Exactly. It's been to my detriment now, because I can't really play much. I spent my entire life programming!
But it's also arranging and sculpting sounds.
It is. That's exactly it. Cristian had his own thing, so I went to Brighton to find him. Like an idiot! But the first day I was there, I bumped into his girlfriend who had a record bag. I was like, "I make music with Subhead." She said, "Cristian's a big fan." I fell straight in. We got into the studio together and made two records...
The rest of this article is only available with a Basic or Premium subscription, or by purchasing back issue #129. For an upcoming year's free subscription, and our current issue on PDF...