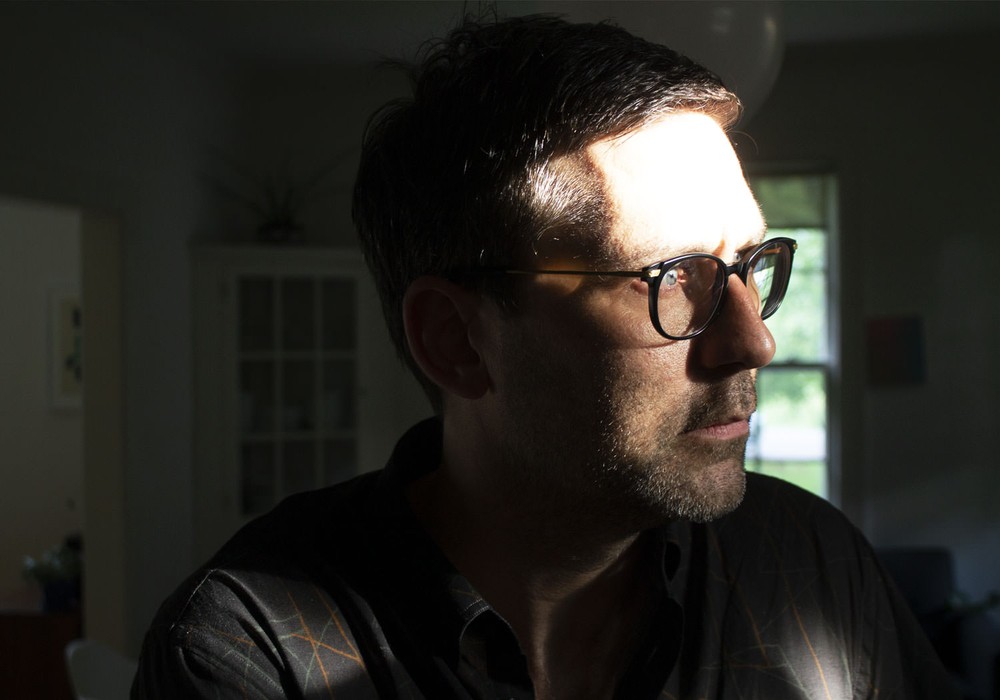 British-born, Nashville-living Jamie Lidell is a singer, beatboxer, recordist, producer, engineer, songwriter, code writer, husband, and father. He has collaborated with Beck, Cristian Vogel (as Super Collider), Feist, Chilly Gonzales, Mocky, Subhead, and Simian Mobile Disco, just to name a few. His songs have been used on Grey's Anatomy and in Target commercials, and he has won global accolades for his work. I sat down with Jamie at his studio in Nashville to catch up.
Was your music electronic or sample-based in the beginning?
Yeah. I started to get into guitars, and I gravitated towards musician-types. I started getting into looking at all these music magazines. I used to go to a shop called Turnkey in London they had all the newest gear. Growing up in Cambridgeshire, London's an hour away, so I'd go by train. I remember the [Roland] D-50, Korg M1, and the AKAI S950 had just come out, in '88 or '89. There were a few of these bits of gear playable in the shops. Eventually, I got a little bit of money from my grandma, so I got a [Shure SM]58, a Fostex 4-track, and an [Alesis] MidiVerb III. Later I got an AKAI sampler. I remember thinking, "What do you do with a sampler?" I didn't really have anything to interface with it. Word got out that I had a sampler, and some guy was like, "I organize raves and events. Do you want to open up for The Prodigy?" So, I opened up for The Prodigy when I was 16. That was a life-changing experience. All I had was my shitty equipment, using my Fostex as a mixer. It was terrible! I was sampling The Muppet Show. Everyone I saw that night were people from school on ecstasy. I thought, "What's wrong with everybody?" I was pretty naive about drug culture. Then The Prodigy came on and just blew the roof off. I thought, "Their equipment isn't that different from mine. But listen to how different it sounds." I went through school trying to make songs and listening to Aphex Twin. I got into hardcore rave. The energy of the late '80s and early '90s was special.
Like Primal Scream [Tape Op #96]. Rave morphed into something different.
Oh, man, Screamadelica was such a big album for everyone. That's what I was listening to. I immersed myself, and then I got involved in making records. My first release was a pretty dubious bit of electronics called Manfish not a name I came up with! I had been making demos at college and went to get a job at Strongroom Music Studios in London.
Yeah. I've been there.
It's a great place. I met up with Mick Shiner, who subsequently worked with The Streets. He heard a cassette demo he'd gotten from my friend. I wasn't trying to get anything from this. He said, "Why don't you get into the studio?" He threw me into a room with an SSL [console] and I didn't know what I was doing. I look back at that point and think my original demo felt better. It lost a lot of its joy. But through Strongroom I met these guys, Jason Leech and Phil Wells [of Subhead]. They were cheeky, really funny, compelling dudes who would hang around, and they wanted to make techno. They were record collectors and DJs; they had parties on a submarine and a disused office space. They introduced me to the music of Detroit and Chicago. At that time, in the '90s, it was an amazing time for electronic music.
Some of the technology was new, and older gear was being repurposed.
A piece of technology could come around and revolutionize music. We started making records and did ten EPs in a year. That was Subhead. Through doing that, I really got into the music of Cristian Vogel. He was using OctaMED the tracker on the [Commodore] Amiga [computer]. That was the serious way to program. That shit was futuristic.
You finally could have parts programmed in the computer, via MIDI, and change them as well.
Exactly. It's been to my detriment now, because I can't really play much. I spent my entire life programming!
But it's also arranging and sculpting sounds.
It is. That's exactly it. Cristian had his own thing, so I went to Brighton to find him. Like an idiot! But the first day I was there, I bumped into his girlfriend who had a record bag. I was like, "I make music with Subhead." She said, "Cristian's a big fan." I fell straight in. We got into the studio together and made two records as Super Collider. I got back into singing. I was a singer all through my early years, before my voice broke.
Did singing give you a different angle to wrap around Cristian's work?
Yeah, 100 percent. He was better at programming. He taught me how to program. I'd signed a deal with Warp Records whilst I was in Brighton. I was a big Squarepusher [Tape Op #89] fan, and I wanted to be on Warp as well. That was the highest honor. I did a record for Spymania Records first, called Muddlin Gear, which then got signed to Warp and licensed. I had a song on that album called "Daddy's Car," where I was sort of doing an R&B song. Nowadays it would be fine, but this was '98. It was very unpopular. I did music with Cristian in Brighton for a few years, and then I moved to Berlin with a dwindling advance from my Warp album, which was not a lot of money. Cristian was already big in Europe. Going to Europe, and playing with Super Collider, we were very welcomed. I was like, "This place is so much more advanced! England is a bunch of fucking hooligans. I need to be in Berlin. These guys get it." Berlin was unbelievable. From 1999 to 2008 was such a cool time to be there. I did another Super Collider album there, in the Funkhaus Studio.
Oh, is that the place where Nils Frahm [Tape Op #126] has his studio now?
Yeah. That's where my studio was, from 1999 to 2005. It's like a long corridor. The clocks were set to midnight and wouldn't move.
How did your music change back then?
I needed to work out how to do a live show. I started doing looping, because I was really inspired by Matthew Herbert [Tape Op #58].
What devices were you using to loop live?
I had the Boss SP-202 [Dr. Sample]. I had the green Line 6 [DL4 Delay Modeler]. I put my voice through a bunch of pedals. That was cool, but it hit a limit quite quickly. I used to live with a guy who was my visual artist, and we'd do these live shows together. But I needed to evolve it, so I taught myself Max/MSP and I spent six months on my own in the lab in Berlin building a looper in Max. I came up with quite a nice looper, with five channels. I used five fingers on the black keys, recording with the left and muting with the right, and had a two-octave keyboard. The mod wheel was the speed of the looper, and it could go in reverse as well. I opened for James Brown and Björk. My whole career came from inventing that looper.
Was it something that was being sold, or was it just you using it live?
It was just me. That technology was not really available at that time. Not in that way! I had an RME soundcard with super low latency. I remember doing a show at Sónar [music festival in Barcelona] in 2003 or so. Matthew Herbert was there with Arto Lindsay; they came on stage at the end and we jammed together. It was a really nice moment. I was booked like crazy. I was touring like a beast after that got going. Then eventually Mocky [Dominic Salole] got me back to recording. I made some records, Multiply and Jim, in Berlin and Paris with Mocky. Working with him was a big deal for me. From Muddlin Gear to Multiply was like five years.
Did it help you to have someone else to focus on getting an album done?
I couldn't do shit. To this day, I'm my own worst enemy in the studio. I'd gone off, and five years later I came back with my record. It was 2005, and I handed Multiply in. Warp Records was expecting my big album; the first one was only a license. I didn't hear anything back from the label for a couple of weeks. When I finally did hear back from the label, they were like, "I don't know. We were expecting it to be more fucked up." I said, "That's the whole point of this record. I want it to be a lot more straight. I want this to be a successful record." They didn't really go for that, but they put it out. I had one woman who really believed in me who was working with the PR company. She single handedly put Multiply on the map. It didn't go ballistic; but compared to what everyone expected it to do, it really hit the zeitgeist. It was like soul music, and a year later Amy Winehouse came out. I've always felt I was super lucky to make a life. I bought this house. I opened for Prince, Elton John, James Brown, Björk, and Beck. I've worked with Nigel Godrich. John Peel played my songs. That's almost like, "Retire, happy style!" A lot of my life goals. Softly, in a way, sort of in the background. I love that.
It's just the right amount of fame.
Yeah. It's just enough that I can keep going. It feels so vain to talk about that. It makes me a little uncomfortable.
How did you end up moving to New York after Berlin?
Thankfully I met Lindsey, my wife, in New York. We moved and I lived there for a couple of years. I made Compass with Beck and Chris Taylor of Grizzly Bear producing. That got me back to making my own music. Compass pretty much bombed, but it was an album I truly loved.
I've heard you've made a lot of sample packs.
I've been spending a lot of time making this new sample pack, Time Modulator, for Splice. I've made one for them already [ØPÂL], and I've made one for Sounds [Peshal]. I've also made one for That Sound [Virgo], the drum company, and I've made one for myself [Lidell 1]. I don't want to repeat the old packs. I'm really delving into more esoteric territory, and it's taking me longer as a result. I spend my nights doing that. But, at the same time, there's this nagging part in the back of my head going, "Make your music! Where the fuck are your songs?"
Sometimes projects like that, as well as producing other people, are what inform your next step as an artist.
Yeah, they are.
I look around this room, and there are a number of keyboards, equipment, drums, and instruments to play with.
If you want to remove the option anxiety, you've got to remove the computer. You need to go back to cassette. I've been using a Nakamichi, thanks to my interview with Unknown Mortal Orchestra [Ruban Nielson, Tape Op #58]. He runs every single track through it.
I've been to his basement in Portland.
You have? Nice man. I love his attitude. He really inspired me. That's been a great new lease on life for me, to realize that I've got to go back to my roots and think about what I like, sonically. I like songs to sound messy, but with a lot of variation. I want a mix of hi- and lo-fi that's very specific. I can almost hear it now, because of my evolution and knowledge of the gear. I know what I don't want.
I know there's a lot of hardware in this room, but are there plug-ins you enjoy using as well?
I am a massive fan of the UAD products, which is pretty much a no-brainer for anyone using a computer and plug-ins who wants access to a great selection of tonal range. From the amazing emulations of the [Thermionic] Culture Vulture, the Studer [A800] tape, the MXR [Flanger/Doubler], and all the Chandler ones. I always use the [UAD/Sonnox] Oxford plug-ins. For reverb, I love the EMT 140, EMT 250, and the Lexicon 224. I use it all! I also love the Goodhertz line, especially WOW Control. Then I'll get busy with the FabFilter range of plugs. The Pro-Q 2, [Pro-L 2] Limiter, and [Pro-MB] multiband… all of it! Of course, Soundtoys plug-ins kick arse, and I'm a huge fan of the Omnipressor by Eventide. I love the Kush plug-ins, and the Plugin Alliance collection. I'm not forgetting iZotope, either! We have all the tools now...
When you're producing someone like Allen Stone, what was your template for production?
It was a combination of songwriting and production. "Warriors" was a song we wrote here. It's kind of electronic, and it didn't fit the rest of his demos. It was more going for the jugular a little bit, in a pop sense. It wasn't like we got up in the morning and thought to make that song it just evolved naturally. We put a drum down and started writing. It was one of those moments where it's like, "Can we be that blatant?" I love those moments with artists, where we are on the border. The comfort zone is great, but it's nice to be on that fringe. You're writing something that feels a bit dirty. Some of the songs had that, and some of them were just me trying to capture the spirit of his band. We worked at Sound Emporium Studios a lot; a place I truly love. I remember going to work and just feeling really excited every single day. I'd try to keep the band playing live on the floor with no headphones. All the tracks that were cut were live, with Allen singing. We tracked 18 songs in ten days. It was rough around the edges, so we came in here and started chipping away at vocals, doing a lot of vocal overdubs, rearrangements, and singing leads. I was looking at Allen from a producer's point of view, and saying, "How many different Allens can we coax out of this shell? How many interesting variations are there in his voice? It's such a great voice. How can we recontextualize it outside of just familiar soul?"
Do you feel like you will start taking on more production gigs in the future?
It depends. I have to be careful. You know the deal.
Careful with your own career as a performer?
And time. It's the ratio of everything. Production is a lot more heady, isn't it? It's like going into the pit. You see all the best and the worst in people. Your own strengths and weaknesses come to the surface in slightly uncomfortable ways. I truly love cowriting. I never thought I would. I did a song ["Let Me Go"] with Hailee Steinfeld that had a billion streams. Now I've got a little bit of my foot in the pop world. I've written with Lianne La Havas, Mura Masa, and Rag'n'Bone Man. I love the speed of cowriting. I love having a blank slate and creating.
The cowriting you're doing, are these sessions where you're building a track?
Yeah. I've been working a lot with Kaya Stewart Dave Stewart's [Eurythmics, producer] daughter. It's the only time in my entire career where I felt like I was so at one with this communication setup that I have in here like tone palettes and what might be inspiring for someone to try. I can quickly say, "Try and play it on that." Kaya would come in in the morning, sit down, and we'd try to vibe a few ideas. Everything would come together remarkably quickly. We wrote 18 songs in 18 days written and mixed. We had the intention and printed it. I had a track mixed recently, and the mixer, Jake Aron, did a great job. We're a really formidable combo. She writes, sings, and comes up with so much of the aesthetic with me. It's very much a 50/50 split of everything. That's super nice.
Have you ever had cowriting or collaborations that just weren't successful at all?
Sometimes I'm so aggressive on something at the start of the session. "I've got an idea for how we can run today." Maybe I don't know these people. They come in, and I go, "You're not allowed to use guitars or pianos; none of that. A&R is going to be bored out of their minds if they hear another song like this. Let's shock them with something totally wild." I'll just get met with fear and silence. But that's how you write a song. With another intrepid mind it could have been exactly the catalyst to create something exciting. Kaya, for example, had no issue with that. "Great. Let's write it all with a Casio." It's super liberating.
So the future might be interesting for you. Possibly a move to L.A.?
It seems like it, for a lot of reasons. I don't want to be negative towards Nashville, because it's been a really cool place for us. My wife lived in New York for 11 years, and I really got the speed of New York it's one of the great cities in the world. I'd lived in Berlin for nine years. It's pretty weird that we ended up in the suburbs of Nashville. Having this house is something that would have been impossible in New York. I dominated the mindset of the move in that way, because I could picture this.
Having a studio off your house and working?
Once I pictured that, it felt appealing. Initially, I had an SSL [console] in here; a 56-channel E Series. I've been through incarnations of this room and I've made quite a few records in here. I could really capitalize on that, and just enjoy the insanity of diving headlong into L.A. Electronic and soul are normal now, and it's really my wheelhouse. If I were to put my fears on the table, it's that I'm going in there to compete. I'm now posturing like a force in songwriting who can compete with all these other hungry kids who want this shit really hard; they're working 24/7 and don't have a family. They're prepared to put major hours in, schmooze harder than I do, and they truly love pop music! Whereas I find it vapid, and I need my Al Green. They don't need their Al Green! But I think now it's such a diverse musical world. No one knows what's right. A&Rs haven't got a clue. It feels to me like I could really do it, and I don't have to write with a crazy formula. In fact, that only hurts.
Tape Op is a bi-monthly magazine devoted to the art of record making.