Maston is the project of L.A.-based composer multi-instrumentalist Frank Maston, who also runs the studio and label, Phonoscope. I met Frank backstage at a Jacco Gardner [Tape Op #109] concert in July 2015, when he was a member of the Dutch artist's touring band. When I learned Maston released a new album in October 2017, my curiosity was piqued. I ordered the vinyl edition of Tulips and it has been a constant on my turntable since. Tulips is a wonderful record that transports the listener into a film of his or her own making.
What's the story behind Tulips?
It ties into the Jacco era. Trouble in Mind Records released both our debut albums on the same day. We played some shows together and became buddies. He was touring the U.S., wanted a keyboard player, and asked me to play the tour. That turned into me continuing with Jacco's band and moving to Holland for five years. The original idea was, "I'll go to Holland and I'll make a record. I'll have completely different gear, I'll be in a different place, and be around different people. Whatever I make, I'll release it as a Dutch album." I recorded in Holland between tours and finished it in L.A.
The album is instrumental, with the exception of non-lyric background vocals. Was this by design?
I had this urge to do everything differently than my first record, Shadows, which was mostly a vocal pop album. The idea was to change literally everything about my process and see what was left in order to quantify what was "me" about it.
There are evocative titles like, "New Danger" and "Chase Theme No. 1." Did you intend to make a "soundtrack-esque" album?
That wasn't my thought as I was doing it; it was just my palette at the time. I was exploring a lot of library and soundtrack music on tour with the guys in the van. Composers like Ennio Morricone and Piero Umiliani. I thought of a lot of titles when I saved the demo session. It can't be "Untitled #200" or something!
A variety of instruments create the grooves and give voice to the motifs on Tulips. Did you play them all?
Nic Mauskovic, from Jacco's band, played drums on "Swans" and "Turning In." The rest of it I played myself.
What do you consider your main instrument?
These days it's keyboard. I feel equally comfortable on guitar, but I've ended up playing keyboard live in the last five years. I mostly write on the keyboard, too.
What instruments, amps, and mics did you use to give the record its character?
I played Pianet and Clavinet on most of the record. Other keyboards I used were the Philicorda organ, Rhodes Stage Piano, and a Clavioline through a Fender Twin. I used the Korg MS-20 synthesizer on just about every song in some form. I played a standard Selmer concert flute, my old Silvertone 1449 guitar, and Klira and Hofner basses with a Selmer Treble 'N' Bass amp. I did some guitar and bass overdubs with a Fender Super Reverb, sometimes just using the reverb tank or vibrato. I used two Slingerland drum kits, and the vibraslap [hand percussion instrument]. I'm still excited about that thing. I used Sennheiser MD 421 mics for most of the tracks, a Sennheiser MD 21-U for flute and as a single mic for the whole drum kit, plus an AKG D 1000E and an Oktava MK-011 with a Tascam MX-80 mixer [for the preamp] for percussion and additional flute overdubs.
What was your arrangement process like?
I wanted to keep the arrangements minimal and as live-sounding as possible. Most of the time I would have a good idea what the melody would be played on and how everything would fit as I was doing it. There was some experimentation, especially with the bass. It's nice to build up a track and jam to it to see what feels right. But mostly I would establish a harmonic palette for the songs and give myself limits within that world to create the parts.
How did you approach self-recording, especially considering you were going for a live band feel?
Getting the drums in as early as possible definitely helped. I would structure the song with keyboards, and then track the drums to that. The drums informed all the parts and the groove. Sometimes I replaced the original keyboards afterwards.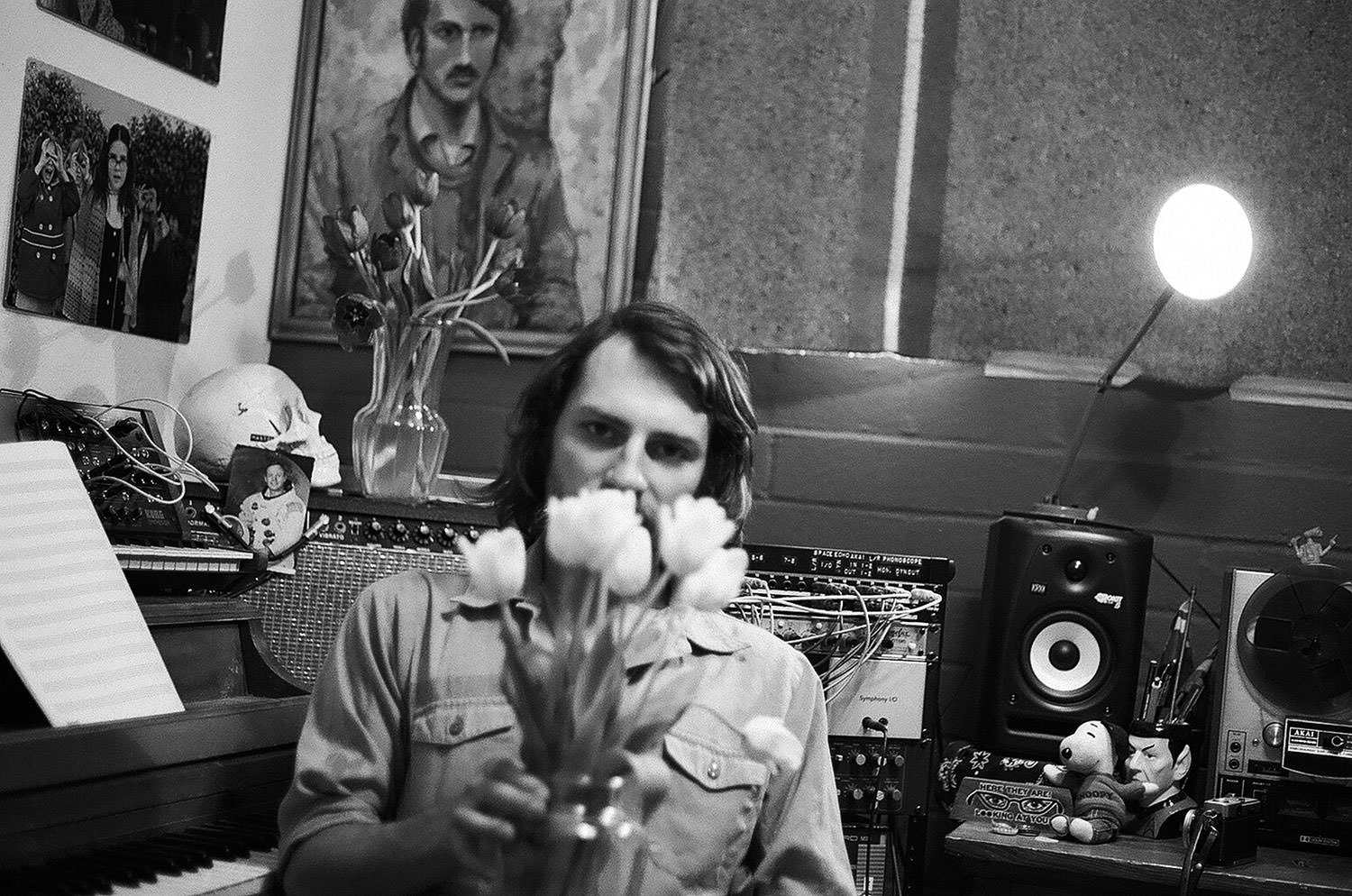 What recording techniques and gear did you employ?
I learned a lot from Jacco and the guys in the band, as well as the live sound engineer, Jasper Geluk, who mastered the record. Tracking was done in the most non-destructive way possible. I would track things really clean into Logic...
The rest of this article is only available with a Basic or Premium subscription, or by purchasing back issue #129. For an upcoming year's free subscription, and our current issue on PDF...