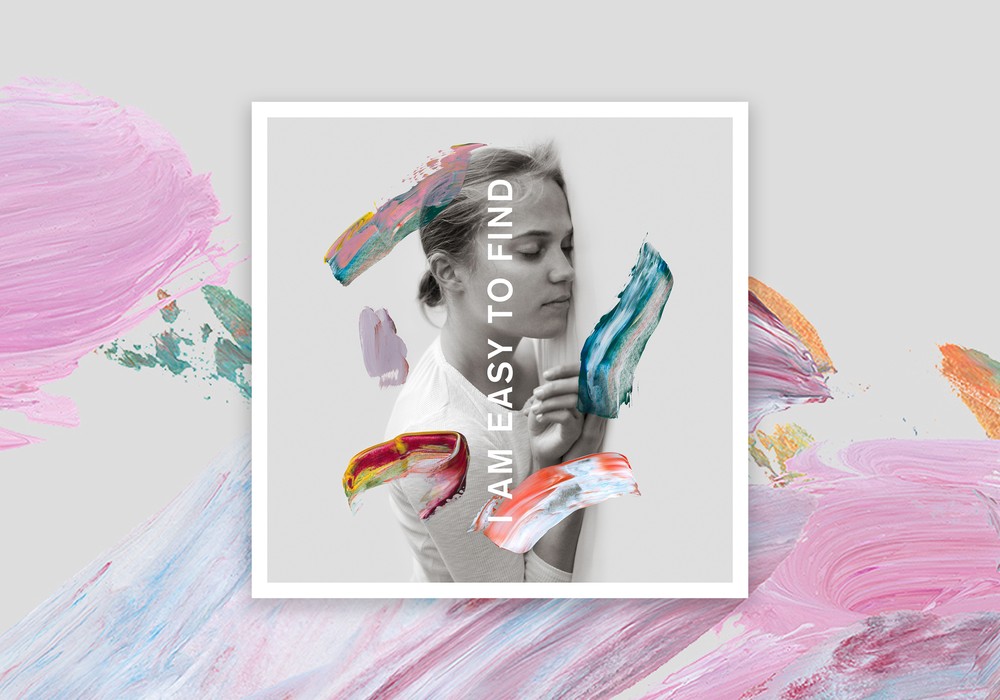 The National are a musical group who have been together for 20 years, have released multiple critically acclaimed albums, all while retaining the same lineup for the entire time. The band consists of lead vocalist and primary lyricist, Matt Berninger, brothers Scott and Bryan Devendorf on bass and drums respectively, and brothers Aaron and Bryce Dessner, both multi-instrumentalists. While Bryce works in the post-modern instrumental genre, composing, arranging, and collaborating with a wide range of artists (Sufjan Stevens, Philip Glass, Steve Reich, Ryuichi Sakamoto), Aaron is a studio owner and record producer (Sharon Van Etten, Local Natives, Lisa Hannigan, This is the Kit). Previously I never felt fully connected to their music, but had always respected their musicianship and increasingly adventurous arrangements and production, but their new release, I Am Easy to Find, has changed that for me. This album has completely sucked me into its lyrical, emotional, and sonic world. It's a deep and ambitious LP that holds its own next to records like Radiohead's OK Computer and Wilco's Yankee Hotel Foxtrot.
I Am Easy to Find grew out of a collaboration with filmmaker Mike Mills, who produced a short film (also titled I Am Easy to Find). Once the film was nearing completion, Mills went into the studio with the band as a co-producer and they collaborated on the album version. It's safe to say that Mills' contribution to the album is significant, and without him it seems unlikely this record would have ever sounded the way it does. One big difference is that singer Matt Berninger shares lead vocals with a cast of strong female vocalists, including Gail Ann Dorsey, Mina Tindle, Lisa Hannigan, Kate Stables (This Is the Kit), and Sharon Van Etten. This was instigated by the film's storyline, and actor Alicia Vikander, who plays the lead. The album was clearly a close collaboration between Mills, The National, and many talented artists within the band's circle of friends and family.
I was able to discuss the making of I Am Easy to Find with several of the key people involved, and they shed an interesting light on the creative process involved. For understanding this project I would suggest you watch the film as an entry point, and then enjoy the music.
The Cast and Crew:
Bryce and Aaron Dessner: A pair of brothers in The National, they write a majority of the music and are both multi-instrumentalists.
Jonathan Low: An engineer who recorded most of the album at Aaron Dessner's Long Pond Studio. He also recorded the band's albums Sleep Well Beast and Trouble Will Find Me, as well as This is the Kit, Sharon Van Etten, Kate Hannigan, War On Drugs [Tape Op #102], the Bryce Dessner, Sufjan Stevens [#70], Nico Muhly, James McAlister collaboration Planetarium, and the Aaron Dessner/Justin Vernon collaboration Big Red Machine. Jonathan is originally from Philadelphia and worked at Miner Street Studios with Brian McTear [#92]. www.heyjonlow.com
Mike Mills: A film director, writer, graphic designer, and artist who co-produced this record. He has written and directed the films Thumbsucker, Beginners, and 20th Century Women (nominated for an Academy Award for his screenplay). He has also done music videos and album covers for Air, Moby, Sonic Youth, and the Beastie Boys. <mikemillsmikemills.com>
Peter Katis: The engineer who mixed the album, he has worked with the band on seven other records and was inTape Op #31. He has recorded, produced, and mixed records by bands like Kurt Vile, Interpol, Jonsi, and Mercury Rev. www.tarquinrecords.com/studio/
Following are excerpts from all five interviews I conducted in response to specific questions, followed by additional interviews with Jonathan Low, Peter Katis, and Mike Mills.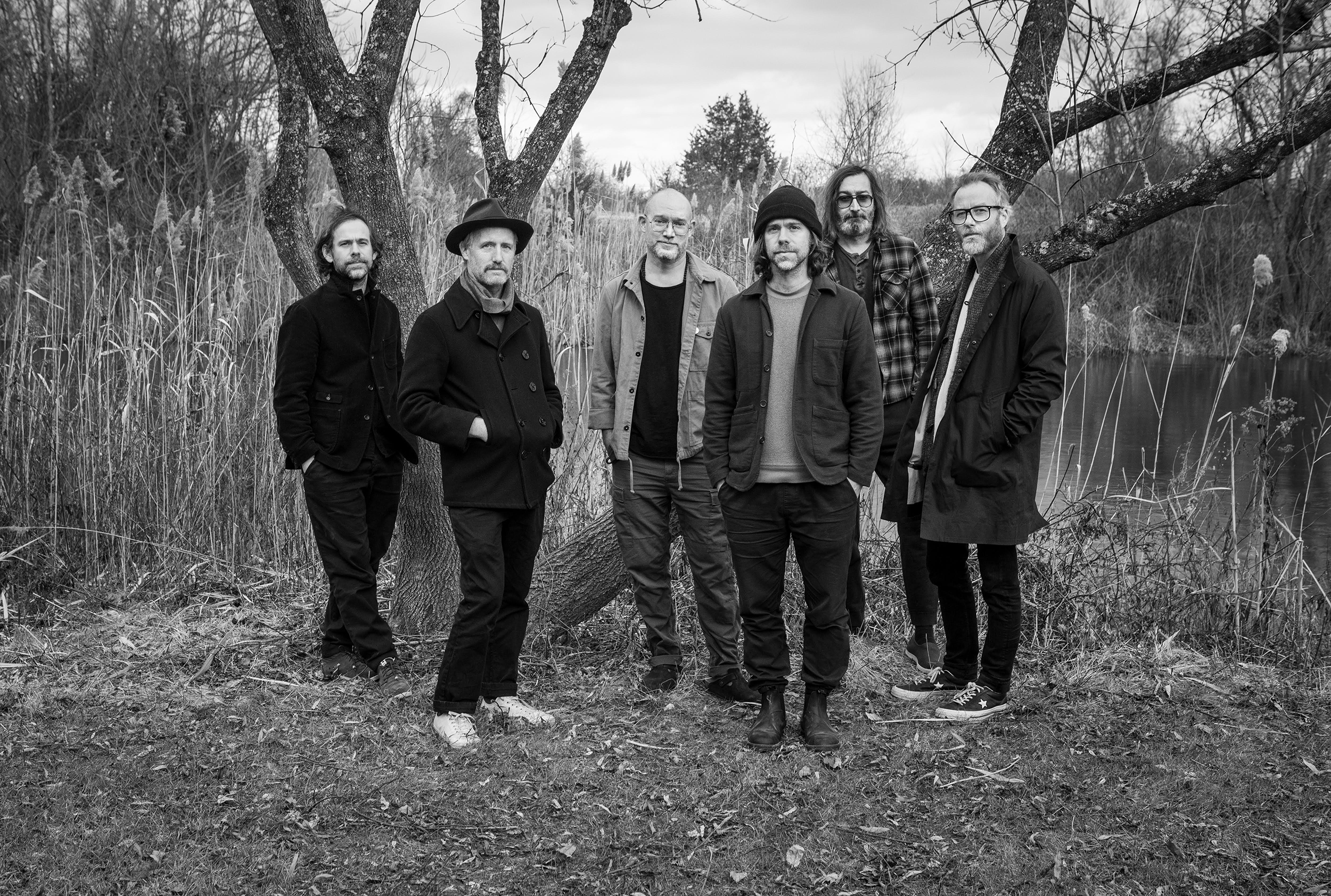 The National and Mike Mills
Aaron you own a studio and produce other artists. Do you have to back away from the production role within the band, or do you end up the de facto producer? How do you balance that?
Aaron: I guess that I do sort of end up in that role in the band, just because of my personality. I generate a lot of the music and sort of finish it. Towards the end, a lot of times I end up with all of the pieces and playing that role of putting out fires and putting it all together. But this time it was nice, because Mike Mills was in the room for parts of it. He was the creative director in a big picture way. We all do what we do, and each member of the band really makes an impact in a different way. My job for a long time, since probably kAlligator, is to play the role… I wouldn't say producer, but it's more like "engine" or something. I'll also work a lot with an individual person in the band. A lot of times it's a dialogue directly with Matt, or Bryan's there with me doing drums for two weeks, just the two of us, or Bryce and I are hanging out and he's doing crazy orchestration or guitar playing. I can get caught in the middle of everyone's activity. I guess that's how it's evolved. I've played the role of companion to everyone's activity.
Mike said you guys are all really hard on yourselves as well as each other and that he tried to balance that a bit.
Aaron: I think it's sort of a myth in a weird way that we're hard on each other. Nobody's hard on each other. I think it's just hard to be in a collective. It's like being married to five people at once with different sort of patterns of behavior. Sometimes it gets a little tweaked. We used to tour like crazy. There were these moments where every summer the band had lost the plot at one time or another. So I think it's a little bit of a myth that we're hard on each other. It's more like it's just hard to be in the band, any band. We're all actually very close friends.
The Band and Jon on Working with Mike:
Jon: Mike was amazing. He came into it with a very different perspective than people who had made a bunch of records before. A band that has been together that long that knows how they operate and knows how they operate in the studio, and then me knowing their process for the past three records, it was amazing and very enlightening to have another energy in the room that wasn't used to that. Whatever habits that we had, Mike would approach it from a different way. He was very respectful, but he also was willing to chase an idea down, to see something through that no one knew what the outcome would be. Nothing ever seemed like a bad idea. Certain things were pretty radical, but it was never like, "We're not even going to approach it." We were going to at least go down that road for a while until we saw what came from it. He had gotten in touch with the band asking if they had any new material to use in a film. Because we had some stuff left over from Sleep Well Beast, I sent him a folder of reference mixes and stems, and he created his own composition for the music score of his movie. It was kind of insane. It was reimagined in a way that none of the band would have put things together, both through limitations of the materials that he had and the fact that those recordings and songs weren't even close to done, but he had assembled it in a really engaging way that also influenced how we approached the production and recording process of this record. So some pretty radical changes came from him playing around with songs and being a co-producer in the room with everyone. It was definitely a fruitful and like fresh air sort of experience.
Bryce: Mike is just a brilliant, creative mind. As a filmmaker, he's used to managing vast, collaborative process and harnessing creativity in a big collaboration, which is actually quite similar. We're a band that's collaborative and also involves people outside of the five of us. A filmmaker was an interesting choice for us. I think particularly the way that Matt, our singer and lyricist, relates to music is that he has a narrative element to what he's doing. Mike would be the first to say that Matt's kind of like an actor working with him anyway getting performances. I think it was very exciting. As Mike would say, he's just a major cheerleader as well. He brought a lot of positivity and optimism. He's a big fan of the band. We tend to be skeptical and cynical about our work, and sometimes kind of academic as well. I think that Mike was a good counter or foil to all of that. Not necessarily in a disrespectful way. He was just motivating us to make our best work. It was great. For not having produced a record, he actually is quite musical and has worked with musicians before. He was in a band at one point and he does have very musical ideas as well.
Aaron: Mike is a brilliant artist, a brilliant filmmaker. He's a really clear, optimistic thinker. It was really helpful. I feel like I grew a lot as a result of working with him. He's able to take a wider view of everything and really often be more radical, just moving things around and encouraging me or others to take more risks or turn off things that we loved but that maybe we'd done before. I thought it was very helpful. It was kind of like hanging out with some person who you want to be best friends with and you don't know why they're there. They're more interesting and experienced. Making a movie is like making a thousand albums at once. It's more complicated. It's a longer process generally. He's really good at it. I feel like it was a gift for us to be parachuted into it and it helped all of us grow. I think the band really benefitted from it. The album definitely benefitted from it.
How did the album end up with multiple vocalists, and most of them women?
Mike Mills: Well, everyone started coming up with that idea at the same time, but individually. It was partly because we were working on this film with Alicia Vikander, the female lead. Sometimes it was really interesting to have Matt's voice singing onto her image, and it was very interesting and ambiguous. "Is it her? Is it someone singing about her? Is it a man inhabiting her voice?" In a way that was very positive. Other times it's kind of weird that it's Matt all the time. "Should we try having a women's voice?" They have such intense relationships with these women they work with all the time, from Sharon to Pauline – who Bryce is married to – to all these women who Aaron produces for, like Kate and Lisa Hannigan. They had all these women at hand, and we just tried it. Bryce did a session in Paris, and it was just a sketch to see what it would be like. We were also auditioning which woman should it be? All those women did it together, and we just loved it. It fit the movie so well, because in the movie, she's playing every age from birth to death, and it's a weird, steadier breaking apart of "What is a self, and who is a self, and is a self many selves?" Matt really loved that whole concept. I think Matt is often inhabiting other people in the stories that he's singing. He's often singing "I am", like "I'm a child at the border." I am this, I am that. He's many things. Matt, in a really deep way, lives like that. He really thinks like that. Matt in a sort of cosmic way was saying, "Yes, every person is many people and many ages and many separate beings at once," so he loved that. We also just loved the interruption and strangeness of having The National, which is such a sort of male-sounding band, have this really strong, female presence. Those guys are really game for change and disruption in different ways and for different reasons, but if you offer them, say, "Here's an ax, cut down this tree!" They'll say, "Yes, let's do it!" They're really into disrupting what is normal for them.
Bryce: We had worked on about six or seven songs. Some were left over. A song like "Rylan" was very old. We didn't really have a record, but Mike Mills approached us about making a project, and he wrote this script for the film I Am Easy to Find with Matt before the record was finished. The movie was really inspired by the life of one woman. That's what's told in those 25 minutes. There might be songs where we were working on the lyrics collaboratively with Mike – he set those songs in the film and you can hear snippets of them where he sings them or hums them – but primarily the songs at that point were sung by Matt. We all collectively said we really need to hear female voices with this material. We were thinking mostly of the film; it wasn't clear that it was coming out as a record. It was more a soundtrack to the film. My wife is Mina Tindle, who's Pauline de Lassus and the voice on "Oblivions" and a lot of the backing vocals. We live in Paris, and Kate Stables is the voice on "I Am Easy to Find" and "Rylan" and some other backings. I did the first sessions in Paris with them as a kind of test. There were the two of them and three more of our friends. Out of that came "I Am Easy to Find" and "Rylan." "Oblivions" was really strong right away. We heard them, tried them out in a cut of the film, and said, "Hey, this would sound really good on the record." I think the first test was "Does it still sound like a National song?" Matt was the first to say that he really loved it. Mike was aware that I had worked a lot with the Brooklyn Youth Chorus; I do a lot of work with voices in a more classical, contemporary music setting. We were really interested to get a range of ages as well. Gail Ann Dorsey is 56. Eve Owen I think was 18 at the time she sang on the record, and the children in Brooklyn Youth Chorus are ages 13 to 17. So there's a real sense of a plurality of voices and also a range of experience that we wanted to capture. I think none of it was done with "Oh, this is definitely the album." It was all experiments. Even some of the choral pieces on the record were originally written for the film. Things like "Her Father" and "Underwater", those were pieces I scored for specific scenes in the film and recorded with the Brooklyn Youth Chorus in Brooklyn. Then Mike was so excited with the band as well that he felt like the tapestry that the film helped create really needed to find its way into the album.
Aaron: That was really in response to the film that Mike made. He envisioned the movie, this film that would be a short film that would encapsulate a women's life from birth to death in 100 or more scenes. He mocked something up, and we were so inspired by it that we commissioned him to make it; we funded him. He made the film, and Alicia Vikander, the Swedish actress, agreed to be in it. She's the character. It all came together. Then watching the film, we finished six or seven songs for the movie, and Mike collaged the music in an interesting way where he would often completely deconstruct the songs. The first response we had was that Matt's heavy male, often baritone, voice just felt slightly out of place always across the story of a woman's life. That was the first moment where we were like, "Why don't we see what it would sound like with female vocalists?" Obviously both Bryce and I and others have worked with lots of amazing women over the years. Carin, Matt's wife, has been writing lyrics for The National for years. We've had Lisa Hannigan, Sharon Van Etten, Annie Clark, and all these wonderful people sing on our records, so we thought, "Why don't we see what it would sound like if some of these people were singing these songs?" Bryce, my brother, did a session in Paris where he had his wife Pauline de Lassus, Kate Stables, and a few other people sing songs. It was like magic from that moment. Matt felt that also. Then we ran with it and everybody sang everything and Bryce also worked with the Brooklyn Youth Chorus. We wanted old voices, young voices, male voices, and female voices to express this sort of human condition, or the universality of this idea of the whole life and all the anxieties and joys and fears that come with it. I think that was the idea. It was an ambitious one, but I think itis expressed. It doesn't take away from the fact that it's a National album. It actually feels like a broader, wider, more beautiful version of a National album to me.
Did Matt sing differently on the album while sharing the vocals with the female singers?
Bryce: I did notice him singing differently on this record. I'm not sure if that is why. I think he was definitely gracious in the way he stepped aside to make space. He is a big character and he's definitely the lead singer. He was the first to kind of be excited about that in a very genuine way. I think it helped that Mike Mills was very conceptually interested it, as was Carin [Besser], Matt's wife who writes lyrics with him. Additionally, I would say that's another thing about this record; some of the lyric writing was more her this time. Songs like "Hey Rosey" and "You Had Your Soul With You" were completely written by Carin. There's this new energy in that. I think Matt has grown over the last ten years, and has grown with every album as a vocalist in terms of range, delivery, confidence, and expression. I think the song which shows the most change in him is one he sings alone, which is "Not In Kansas." Lyrically that is a very ambitious and bold song for him that was not done before, kind of Dylanesque in the storytelling and also kind of biographical. That would be a new direction for him.
Aaron: I think for the first time he was matching his singing to other people. Like Lisa Hannigan sang "So Far So Fast" before he did and Pauline de Lassus sang "Oblivions" before he did. For the first time, he had to match this sort of diction or pronunciation or syllables of other people. I think that was cool for him. I sang "Where is Her Head," and then Eve Owen sang to me and Matt sang to Eve and then Gail. It was a different process, but he was definitely game. Matt has also gotten to be a much, much better singer over the years. He's really grown. He's just more in command of his voice and his performance. He's pretty quick now. He used to be pretty elaborate with how he would record. He'd comp it and work really hard. Every word was kind of worked on. Now he often just nails things. It was easier I think.
Jon: I would say so. I think he was definitely a little more adventurous on this record. A song like "Hey Rosey," he's high up in his range. I think that was something that was helped a lot by hearing different performers, different timbres, and different colors on compositions of his. For a lot of the band, having another person in the room that they trusted – Mike Mills – helped. He is just oozing ideas and he makes the vibe of what could be very difficult pretty low tension. He's a very nice presence to have in what could be some deep struggles. I think everyone was just able to be a little bit more relaxed and try things that aren't quite as inherent or innate, and be able to get pushed into different directions. I do think Matt's vocal sound, his vocal expression, is a little bit different. He made some larger tonal leaps and he made some larger even interval leaps. I think he's more adventurous and commanding of his technical singing ability at this point.
Even though there are over 75 musicians on the album, none of the arrangements feel dense or overworked. It still has a lot of space and feels very economically arranged. What is the approach or aesthetic on the arrangements?
Bryce: My brother and I write the initial song ideas together, meaning the kind of musical material that then the lyrics are written over. Those are really simple ideas, but sometimes they're more fleshed out than others. In a couple examples we were almost improvising in the studio together. We have a varied approach to arranging that occurs in the studio. The orchestration of it is sort of iterative. We go through layering and unlayering and back. I'd say Mike Mills was doing that with us in a new way. He'd come in and say, "Turn off all the guitars. This is only strings." Making experiments like that. I think we've worked together for so long in The National that we share a common language and collaborative process because there's so many years of history; that's probably why it sounds like five people still. We were just conscious of that bit of "fingerprint." But in this way, the orchestration on this record is also probably the boldest we've ever done. I would say that's always been part of my work outside of the band. I've done most of the orchestration over the years, but it was mostly Mike pushing it to the foreground, like that ending of "Quiet Life," for instance. I did that and he said, "Let's turn everything off and just hear that." That's how that happened. We tend to have different opinions about that stuff in the band – I would say I'm probably the most orchestral and Matt might be the least and we usually meet in the middle. I think having an outsider with that agency in the room to help us shape things helped us feel excited about it. Mike was making bold choices about strings or choir, and Matt was loving it, so that's how we ended up there.
Rylan" is an older song. How did that end up on the album?
Aaron: That's a song from 2009 from around High Violet. That was recorded in my garage in Brooklyn. We always loved the song, but it wasn't finished. Moments of it were compelling, but the whole thing wasn't compelling. I think we didn't know where it fit. With the child character of Alicia in the movie, it started to fit this kind of idea of a young woman, or your daughter. I have two daughters, Matt has a daughter, and Brian has a daughter. All of a sudden we could all relate to it. We started playing it live, and we figured it out. But the recording, half of it is from 2009 and half of it is from 2018, which I think is interesting.
Is there any thread between this record and the track "Hard to Find" on Trouble Will Find Me?
Bryce: Yeah. I wrote "Hard to Find," the music. I had to score it before I could play it. If you listen to it, it's really hard to count what happens in those turnarounds. I think that "So Far So Fast" is a sketch of my brother's on the new record and that relates directly to "Hard to Find" musically in terms of its meter. "Hard to Find" and "I Am Easy to Find"; that's Matt kind of winking to himself. "Hard to Find" is being kind of masculine. Hard to define and put your definition on what it really is. Then "I Am Easy to Find" is like the reliability of a natural fact. Mike Mills says to really know and understand a woman takes a lifetime. You can never really know. The kind of depths and mystery of a woman is just far deeper than a man. So the stereotypical kind of idea of a man being "hard to find" is quite predictable. I think as men we all feel that. But "Hard to Find" is a beautiful kind of song that we all really love. That has a special place in the catalog. I think somehow this one was related to it in some way, again lyrically I guess, that was certainly working off of that.
Does this record feel different to you in a bigger way, or is it just a progression for you guys?
Bryce: I think that it feels different. It feels creatively vast and expansive and ambitious in a way that I think we always wanted to do but we just were too self-evident. We're always clipping our wings. I think in healthy ways. In recent years I've been working with people like Paul Simon or Thom Yorke. I've been able to hang out with Bob Weir and some of the remaining members of the Grateful Dead. Just letting music breathe a little bit. I'm not always trying to chisel it down to its bare essence, which is part of what we're good at I guess. It's still in there, but in this record we let the music breathe a little bit more. It's also not being afraid to have mellow songs and to not push tempos all the time. Also just in terms of frequency, having everything be so heavy-hitting is kind of a tradition on National records. This one feels a little gentler to me, weirdly. Probably the biggest departure is having those female voices leading. We thought Sleep Well Beast was a departure for the band for various reasons, but ironically this one seems to be the one that people really feels like "Oh, it's a new National." Eight albums in, that feels refreshing.
Jon: This record, in addition to a lot of the last couple of records of The National's, they're very much a band that uses the studio as a composition tool. On this record I think that on "Rylan" and "Light Years," most of these songs really came together here in the studio versus being played and rehearsed and then performed. A lot of it was like, "Let's try all these different worlds of this song." I think that's something that they really excel at on this record. With Mike's input it was about being very flexible and able to change the feel of this song and not feel like any time was wasted. Completely chop out a major section of the song or rearrange or at the last minute mute the main instrument that had driven the song this entire time. I think it's quite a modern way of working, being able to make all these quick decisions and do things on the fly, and also have things happening in other spaces remotely. I think the space adds a lot to this room for that band, for this record, and the fact that we're trying to keep things simple and musical, but aren't necessarily too precious about experimenting is how this record happened so fast and why it ended up sounding like it does. I think it also ties in a lot with this creative environment. It all became one living thing. It wasn't too technical of a process, but it was flexible enough that we could work on something a little bit more experimental compared to their other records.
Aaron: To me it does feel different. It feels like a new chapter, whereas maybe Sleep Well Beast was maybe the end of that sequence of records starting with High Violet. Sometimes I think ofAlligator andBoxer as related, and then High Violet and Trouble Will Find Me and Sleep Well Beast are related, and I Am Easy to Find is like a new beginning in a way. There are multiple drummers on this record. There's a children's chorus and a female vocalist. The orchestration for the first time is really in the foreground as opposed to being whittled down in the background. I think we've gotten better. The studio at Long Pond has been this tool where it's really getting dialed in. We've acquired a lot more specific gear and tools as we've gone and just gotten better at making records. Then again, it's like I hear everyone's chemistry and I hear that it does feel part of a whole story still. At 20 years of making music, it does feel like part of that.
INTERVIEW WITH JONATHAN LOW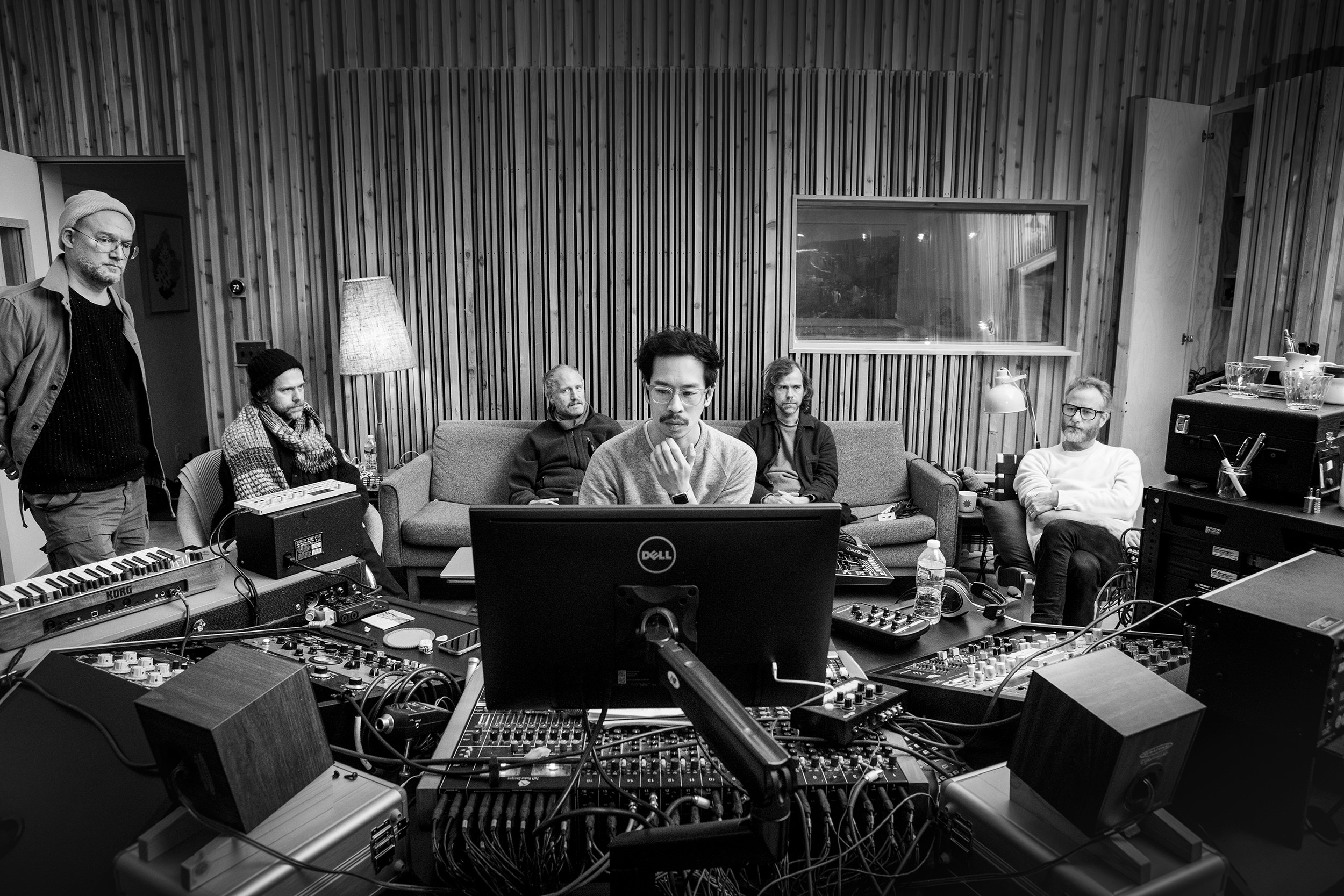 Jonathan Low (center) with The National and Mike Mills at Long Pond Studio
How long have you been with Aaron and Long Pond Studio?
Long Pond is the building that we made about three and a half years ago. It's also on the cover of the last record, Sleep Well Beast. Aaron and I started working together in 2011 when he was producing Sharon Van Etten's record,Tramp. I knew Sharon at that point, and she had done her previous record Epic at the studio I was working out of – Miner Street [Brian McTear, Tape Op #92]. At the end of the recording process they wanted to record drums on everything, and they hit up Matt Barrick, who plays in The Walkmen and Fleet Foxes. They came over to my place and ended up mixing a little bit of that record. Aaron and I started working on some stuff. He would come down to Philly, and I would go to his garage studio in Brooklyn. When he moved upstate and decided to build this place, I was like, "Sweet, let's build a space!" It basically turned into an exploded version of a Brooklyn two-car garage. There are some similar touches, but in many cases it's quite different.
Are you now living upstate?
I live up here in Hudson Valley. But at that time I was living in Philadelphia. I've never actually paid rent in New York, although work and life bring me there all the time.
Can you tell me about the studio in terms of the gear that you've got?
Well, the studio is interesting in that there's no separate live room and control room. The work space is one large room, and it's covered in cedar, so it smells really nice. It had big vaulted ceilings and a lot of natural light, so there's a lot of windows. It doesn't necessarily feel like you're in a recording studio. It feels like you're in a natural place that has this additional capability, although we have made a giant mess in here. That was an interesting adaptation to figure out how to work effectively in the same room as the sources – a lot of experimentation with headphones. Obviously, the louder things like drums and guitar amps are a little confusing, because you get both your headphone monitoring and you get the physical energy of sound in the room, but once you figure out how everything in here works, and how everything sounds and how you expect it to sound, it's actually quite easy. The communication element is awesome; you're just a couple of feet away from whoever's working. You can have a normal conversation. Then as far as gear goes we brought everything that was in the garage and all of my gear came up here. It's based on a Pro Tools HD system. We have some ATC SCM45 monitors which sound incredible, especially with no wall behind it. So they have plenty of space. The reflections behind the speaker don't come into play. Monitoring-wise it's awesome to have the one big room. We had a Toft console here for a long time that was carried over. It was used mostly for monitoring. That has recently been replaced but wasn't on the last National record. Then as far as outboard goes, we have a pair of Neve 1064s that we use a lot, some [Empirical Labs] Distressors, a Chandler Germanium, some CAPI pres, and Purple Audio pres. As far as the dynamics go, there's always the Distressors. There's a Lisson Grove [AR-1] Vari-Mu that's awesome; I love that thing. There's an 1176, an API 2500, a Shadow Hill, SSL bus compressor, and a Compex. There's a bunch of tape echoes sitting next to me right now. A lot of toys.
You're working in Pro Tools or some kind of DAW?
We're working in Pro Tools for all the recording. Every once in a while I know some members of the band will work on some ideas in Logic. We'll sometimes sync Ableton Live to our Pro Tools rig, but yeah, mainly Pro Tools.
Who are the Ableton Live users?
Bryce composes a lot, and he takes a lot of tracks and processes them. He's very well-versed in that world, also with being a composer and being used to seeing score view and all that. He's kind of the guy in that world. Then every once in a while we'll pull out a Push controller as well. I'll MIDI sync to the main machine and then just use some of those parameters on like Erosion or some of the filters as just a tactile thing to keep the audio performative without necessarily using a plug-in or drawing in automation on a fader or something like that.
How long did you guys work on this record for?
That's a little bit of a trick question. Overall, the record was pretty quick. We had about five songs that were from the previous record's recording sessions. Either they didn't feel right on the record at the time we were working on it, or there were just some things that still needed some evolution. Then before the official sessions for I Am Easy to Find, one or two other songs were started elsewhere with it being in mind that it would be a National song on this record. But as far as everyone in this space and all pistons firing on this record, I would say it was about a month and a half of recording in that timeframe, with breaks, and then mixing was three weeks.
Peter Katis did the mixing?
Yep. Peter came to Long Pond. He also mixed Sleep Well Beast and did a lot of their back catalog as well, so he's a great comrade in this situation; a lot of history. He was working a five day week. All the while, a lot was still happening as far as the tracking. We made a makeshift Studio B in the kitchen and lounge area. We had a Universal Apollo and my laptop. We were still trying things out, adding tracks that people were recording remotely, and doing any sort of editing or reimagining even of a couple of these songs. There were multiple work zones and lots happening throughout the mixing process.
With so many different vocalists, was it hard to keep a vocal consistency on the record?
It wasn't terribly difficult. I think all the guest vocalists, in addition to Matt, have all been friends with the band for a long time. I've recorded all of them prior to them singing on this record, except for Gail Ann Dorsey. I know what to expect from their voices, and I think the fact that there was just this cohesion from the music and from the vibe of everything going on, I don't think there was a large amount of like discrepancy between tones. And because a lot of them make appearances throughout the record, once we've unlocked how this person's voice fits, or in this section how it fits, or what effects and processing it made it a little more streamlined after we nailed that down.
It sounds real consistent. It doesn't feel jumpy in any way. Sometimes, especially with Gail and Matt, the transitions can almost be subtle.
Well, that's great to hear. I know a lot of time was definitely spent on that. It's such a major part of this record; the passing of the vocal and how everything is interwoven. Time was definitely spent making sure that that was really special and really dialed in. Versus other records I would say it took a little more time, but it was surprisingly smooth. It turned out great.
What's your vocal chain for Matt? His vocals in particular sound great.
Matt was singing into a Telefunken U47; a modern one. It's one that Aaron's studio has had for ten years or so. He sang into a pre that I was borrowing, a TAB Funkenwerk V78, which is their version of the V72. That went into the Lisson Grove Vari-Mu into Pro Tools with no EQ. Lots of tubes. On the last two records, Sleep Well Beast and Trouble Will Find Me, Matt sang through the U47 and the Neve 1064, but I had just acquired this pre, tried it on someone else's vocal, and it just had this extra open top end. I don't think it's right for everyone or every case, but it added this awesome clarity to Matt, whose voice is already pretty in the mix register-wise and tonality-wise. This just gave it a little bit more freedom to sit over the music and all these darker elements.
Matt Berninger
You ended up mixing the film soundtrack, right?
Yeah. The process was Mike taking these five or six songs and then reimagining them and then producing, recording, and mixing the record, and then after that we had to put the score back together using the actual tracks that made it onto the record. All the while, the movie score is evolving, because a lot of the decisions made to fit on the album also affected the material that we were using. After we finished mixing and mastering the record, I sat with the sessions and extracted all these pieces and put them back into the score that was the one that Mike had worked on. Then I went out to L.A. and mixed the score, which was about 25 minutes long, on a proper soundstage, which is kind of insane. It's very different from a recording studio. It was so enlightening to mix in that kind of environment. In cinema there's just so much more control of how an audience can take in a piece of work, both visually and sonically. The first day I got in there, I was working with a film mixer who knows this in and out, and I came into it knowing nothing about that world. The first thing that I realized is that there is no volume knob for your monitoring. All the rooms are calibrated. If you put your vocal at this volume, it plays back at that volume. All of a sudden so many things were thrown out the window, like needing to hard limit your mixes so that you have this limited amount of headroom. You can get away with getting quieter. You can get away with having more intense sub-frequencies, or more sharp high-end that would be a little too jarring on a master on radio, vinyl, or streaming. Once I realized that I was like, "Holy crap! This is the same thing that I do but with so much freedom right now." It made me rethink how to use compression and rethink how to get excitement and impact, because it was another dimension to the medium that you're actually using.
Is the film soundtrack different from the version on the deluxe vinyl LP?
The version of the score on side E of the deluxe LP is indeed different. Two mixes for the film were done on the soundstage, one for theatre and a nearfield mix for streaming and distribution. I mixed a third version back at Long Pond for vinyl/audio only release. Mike and I slightly edited the latter to stand as an independent work, there's a slight edit in the length and some of the dialogue was omitted that didn't feel right without the visuals. It was quite eye opening to mix for these different mediums and environments. I can hear things in my monitoring environment on a microscopic level that sometimes I find myself way too dialed in on small details that don't need to be prioritized. On the cinema soundstage where the closet speaker is 25 feet away from you, I didn't have the opportunity to go there. Paired with the visual element, it let me work on a more visceral level. I just didn't have to fit things in such a precise package to try to make it work for all situations, I could be more bold. Going in to the nearfield mix I was surprised to hear so much more sonic information that I'd usually react to, like a milky frequency in the low mids that's just a bit too much or a smacky mouth noise I'd edit out. These things didn't take away from the emotional impact of the mix, but would translate better on certain playback systems or just be less of an issue if the goal was smaller dynamic range. This was even more dramatic for the vinyl/audio release. I wanted to embrace the experimental nature of the piece and make it just as engaging without being attached to the film. It was done in a hybrid manner, similar to the record, versus the in-the-box film mixes. The audio release has slightly more depth, things just gel a bit more with the added benefit of additional harmonic excitement. There was the opportunity to be more dynamic and keep more of the detail knowing it wasn't going to be listened to on a playlist or in direct comparison to something designed just to take your head off.
I really like the drum sound on the record. It's kind of tight and not ambient, but it's not dead and damped either. How did you guys arrive at that?
Bryan is a master at tuning his drums. He knows how to tune his drums to the point where if I sit down, I can tell it's a Bryan drum kit. On top of that he just has a great touch. He's very easy to record. Generally, it's older drums. We had on this kit late '60s Slingerland toms and then a late '60s Ludwig kick. We changed out snare drums and cymbals depending on the song. There is a little bit of a struggle in the Long Pond live room. It does get a little bit splashy when we get loud, so there was some experimentation. Some of the drums were done with kind of a makeshift tent with some absorption overhead, just to get rid of some of the decay of a kick attack or the sizzle of a snare bottom. I think a lot of the drum sound is also centered around a Coles mono overhead, so just that being in figure-8 gives you a little bit of that early reflection but still keeps it tight and gives you that low-end thump.
INTERVIEW WITH PETER KATIS
Peter Katis mixing I Am Easy to Find with the Dessner brothers
The new record sounds amazing. You guys all did great work, and the mix is flawless.
Oh, good! I'm glad. I love The National. They're great. I've worked with them forever, but their records are not always that easy to mix because they're so dense. Somehow it's a big, dense pile that works pretty well. It's part of the battle.
Was this one easier to mix or just as difficult?
This was easier to mix than any of their records. I think that was due to several things. One is that it was recorded well, and two because overall it was a quick record, and I think that was intentional. A lot of The National's records are slaved over for weeks and months and months. Maybe not years, but months certainly. This one came together quickly. Those guys got together with Mike Mills with the whole idea of making music for the film. I think that inspired them to work quickly. Also the whole band wasn't there for mixing, which made it a lot easier. When the whole band is there, there are all of these different opinions. Even though everyone gets along really well and everyone is very civil, it can make it a challenge. This time, there weren't that many opinions, and that just made it a lot easier to finish. I think Aaron and Bryce were there, Jon Low of course, and Mike Mills came for one week, but most of the time that was it. Scott visited a little bit, but Bryan was never there and Matt was never there. I missed seeing those guys, but fewer voices definitely made it a little simpler to mix.
What was the mix process? Were you keeping it mostly in the box? You mixed in their room, correct?
It's just one big room. To set the full story, I'll back up a little bit. Until the previous record, Sleep Well Beast, all the records they made with me had been done completely at my house. I guess that's not true. High Violet they recorded at their own studio in Brooklyn, and then we spent two and a half months mixing in Bridgeport. When they asked me to mix Sleep Well Beast in their studio, I thought, "Oh, this is going to be painful." I don't mind recording other places, but I like to mix in my own studio for obvious reasons. I figured on that last record I'll go and mix for a couple of days and then just say, "Hey guys, this is not really working. I can't really tell what's going on. We've got to go back to Bridgeport, and that will be easy." But the truth is they bought these nice ATC monitors, and I brought my minivan up there that I trust. The mixes were translating pretty well pretty quickly, so we did mix that entire record up there, and we mixed that record in the box. I think it's maybe the only record I've mixed completely in the box ever, and it won a Grammy! But on this record I think we went into it not too worried on the technical end, because last time we just mixed it in the box, and that was fine. We thought we should put in whatever effort we can to make it the best it can be. I have a bunch of extra summing mixers lying around but my buddy up there, Jon Low, he had just bought the BURL [Audio B32 Vancouver] summing mixer. Instead of the Avid, I brought up a BURL B2 Bomber A-to-D converter. I brought up a Thermionic Culture Phoenix compressor, because I have a couple of them, and then a Thermionic Culture Pullet EQ. I don't see all the benefits of analog summing if you're not also incorporating other analog gear. We did use all those things, but I will mention this because this is Tape Op, and people like to hear about the details: The first week that I was there, I didn't have that stuff. We just mixed into the BURL summing mixer and through the Avid converters, and that was it. The next week, we added the Thermionic Culture Phoenix compressor and the Pullet EQ. The Pullet EQ was doing very little. I think it was just a tiny high-end lift, at 15 kHz I think, and maybe one click down at 340 Hz or something on the mix. Aaron gets very attached to what he hears, so he immediately didn't like any of the new stuff because it was different than what we had in the first week. It was tricky. We almost bailed on it, but I was like, "I'm telling you, I think this will be better." We stuck with it, and I think we got it to the point where he liked it. But that's the trick with most anyone, especially Aaron. He listens with such a fine ear to what he's created that if you haphazardly change it, he reacts badly. That's always been the dance with mixing The National. Trying from my perspective to make it as objectively good as it can be, but not steering it too far from what it is. That's why some of those records were such a challenge, like High Violet. If you clean up all the mud, the music's gone. A lot of the music is in the muck.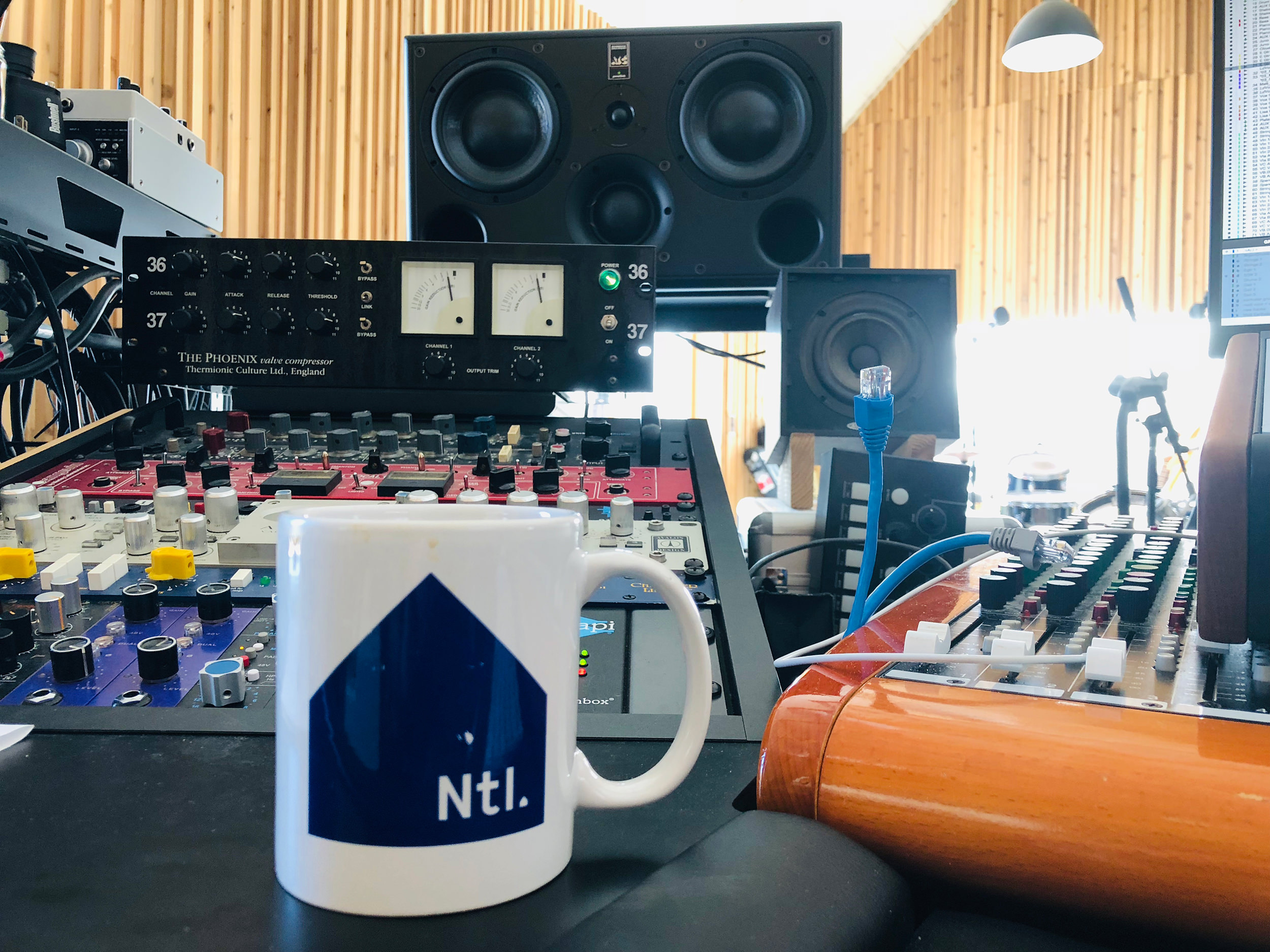 Was the Burl A-to-D part of the chain the entire time, or did that come in during the second part?
No, no. Sorry. That also changed the second week. A new converter, a compressor, and a little EQ. The compressor just sort of does what it does, just sort of beefs it up a little. We certainly weren't compressing it much. It puffs it up a bit. It was a really mild amount of actual gain reduction. And with the high end lift of the EQ, I did have to counteract that in some of the sessions I'd already mixed. It made certain elements a little too bright, even though it was doing so little. When you EQ a whole mix, that's a pretty serious thing to do. But it does show you that in a way, once you get to a certain level of quality, there's no right or wrong. I don't think that you could argue that the BURL converters sounded better. It sounded a little bit different. Maybe it sounded better, or maybe it didn't. I don't know. Certainly it sounds better than a cheap converter, but the current Avid converters also sounded fine.
The Pullet's passive, right? You have to add make-up gain to them right?
Yes, I think we used some 500-series API preamps for it, the Capi clones I think.
Was it a challenge getting the vocals consistent with so many different vocalists? How would you kind of do that?
Not really. Not technically. I think it was more thinking aesthetically and conceptually if it makes sense to have all these different people and voices. Somehow I think it did. They all are quite different from each other. Lisa Hannigan's voice is so expressive. But Gail Ann Dorsey's voice is probably the most different from the other women, very bold. Then there was Kate Stables from This is the Kit and Eve Owen; Clive Owen's teenage daughter. Oh and also Pauline, of course, who is Bryce's wife. All very impressive singers. I can tell the difference between all their voices very, very easily, perhaps because their names were written on the tracks when I was listening and mixing. But I sometimes wonder if the average listener is thinking that there are all these different voices. I think that was basically it. Those were the five main voices. I know that Sharon Van Etten makes an appearance, but in the end I think it was minimal. It was more of a spoken-word thing. Technically, I don't think it was too much of a challenge. Just conceptually and aesthetically, it's bouncing between all these voices. I think we were all concerned that it would make sense. I don't know why it makes sense, but it feels like it makes sense to me now.
Gail's voice is the one that really stands out to me, but you all did a great job of blending and transitioning all the vocals.
Gail's voice is very earnest, and Lisa's voice is very emotional. Not that the songs would have been less emotional if Matt sang them, but her voice is just so beautiful on those songs. I should mention that Lisa Hannigan did come in on the last record, Sleep Well Beast, and she sang backgrounds on every song. They are on the record, but they're very, very subtle, because it wouldn't have made any sense to make them loud. It wasn't that kind of record. But I'll say this; her singing was so good on that record that if they had been loud, it would have been incredible. It just wouldn't have made any sense. But I was like, "Wow! How is it that she just walks in and sings all these songs and it's so beautiful?" It was very impressive.
You've worked on a lot of records with these guys. Does this record feel like a real departure for them, or does it just feel like a progression?
I think it feels like a progression. Departures are such impossible things in a way.
Maybe that's not the right word. Does it feel significantly different?
No, no. I think that what you said is a perfect question. What I'm saying is an actual departure is almost impossible to do without it being gimmicky in a way. So no, it feels like a progression, but I'm impressed that a band that's been making music for this long is able to make something that's new in any way. I know from working with so many bands and making my own music that you often say, "Look, I've made something really different here." Then someone hears it and goes, "That doesn't sound very different." What? I think it's very hard to do that. I think the general reaction to the record has been really, really positive. Once in a while someone will say something negative, like, "I don't get this one." Why not? To me, it makes a lot of sense. One of the things that's so distinctive about The National is Matt's voice, but again, unless he's going to go into some kind of comedy routine, how much can you vary your voice? I think the idea of mixing it up with different voices was very smart, and it made sense with the film as well. I was really pleasantly surprised that they could pull together so much new music so quickly and have it feel really fresh.
INTERVIEW WITH MIKE MILLS
Mike Mills
I love the film and album of I Am Easy to Find. It's really amazing.
I'm glad. Yeah, I love it, but I shouldn't say that.
It's good that you love it! It's nice to love the work you do.
I feel like part of the reason I love it is that it's a supportive role for me, which I don't usually play, and it was really lovely to do that for them. It's them, and their thing, but me and my seven year old son listen to it every day, because my son's obsessed with it. I'm often like, "God, this is great! I love that!" I really shouldn't be saying that in press, but there you go.
I know you haven't produced a record previously, but I feel like making records, graphic design, and making films are all interrelated in that you're making art with a group of people. So how did you approach this?
Well, it relates a lot to filmmaking. They're both time-based art forms and time-based emotional delivery systems. In that way, they have a lot in common. I do work very intimately on the scores for my films, so that terrain is very familiar to me. I've worked with bands forever doing music videos and records, and I've been friends with a lot of musicians. I'm often in a studio. That world is maybe more familiar to me than it seems, but yeah, I don't know anything about actually producing a record. It was really their idea. It kind of came from what I was doing with their stems for the film I did. The film came first. They very bravely or foolishly gave me all the stems and a lot of permission, almost like a lot of prompting to do things, to explore things different than they normally do. So I started taking out lots of stuff or foregrounding things that were very much in the background like their strings. My film ended up making them almost the only thing you heard at times, or just drums and vocals. They were sort of intrigued by the weird things I was doing. That just de facto influenced what was happening with the other songs that were developed after the film score part. Then in the room, I would say Jon and Aaron are really the "producer" producers. I was there a lot and had input, but it was more on the idea front. Just sort of, "What if?" I was the "what if" machine. "What if you didn't do that? What if we started this song at the bridge?" They're very open to that. I was especially surprised how open Aaron was to it. I was brought in to help; to make the room a little different and make the process a little different. I think they're generous with the producing credit. I feel like it's definitely very involved, and they're very generous with saying that I helped or whatever, but really I have great respect for all of these titles. Aaron and Jon produced the record, and I had a whole lot of weird ideas.
The film came first right? Then you sort of started working on the record proper. How did the storyline for the film develop?
Yeah. Well, they called me to do a video and I talked to Matt. Matt said, "What if you did something more?" The great thing about Matt, that original phone call, was questions like "what", or "how long, what's it for?" These were answered with, "I don't know. We don't know, and we don't care. We don't have to work like that." It was a really beautiful, open invitation. They gave me all these demos. Some had lyrics and some didn't. Some were pretty developed, and some weren't. There were about 10 or 12 of them. I think I picked six or seven and started just picking at those. I had to come up with a story or some sort of envelope that could work for songs that I don't know what they're going to be, right? I know there's going to be lyrics, but I don't know what they are. Luckily I had this idea of doing a whole life, and luckily I met Alicia [Vikander] earlier and she was a big National fan. This project had a whole lot of kismet luck around it. The process of making the score and film was really interesting. I shot it over a week but then edited it for like eight months on and off. I would send them an edit and then Matt would send back new lyrics that were kind of written to the film. They were written to the film, but very loosely. Then Bryce started seeing what we were doing, and Bryce started sending strings, and everyone had the idea of the Brooklyn Youth Chorus. So it was all kind of this iterative back and forth. I would send a cut with my mix of their music and the film, and Matt might send me a new thing, just one verse or line. Bryce might send me some new instrumentation, or Aaron would send me something and I'd put that in and send it back to them. Then they would come back and say, "Okay, let's do the choir. Put the choir thing in." The big, huge move was really to have women's voices, and not as background but as foreground. Who knows what the foreground is? We started playing with that. It was a really lovely, strange, long back and forth process that you don't usually get. We'd done that and all these big changes had happened, like strings forward this time and women's voices. By the time December came around, and we went to Aaron's studio to try and finish out a record, there were all these motions in play already from the score.
It's funny to hear you say it was a long process, because when I talked to Jon he said, "It went really quick actually."
Well, the studio part did. The score and kind of developing this sound world was over eight to ten months. Then we went into the studio in December and January, and did the next seven songs really fast.
What are the similarities and differences between directing a film and producing a record?
Not many. They're both really storytelling, and they have a performer, an actor, and a narrator. Matt is like what an actor would be. Like I said, they're time-based art, so it's all about generating a momentum or flow and then playing with that flow. There are tons of similarities in that way. Directing is like you have an orchestra of elements. Yes there's visual stuff, but it's kind of similar. You have all these subcontractors that you're playing with. Then I think one of my favorite parts of shooting, actually shooting on set, is the opportunity to be alive to improvisation, to be alive to, "Well, I wrote it this way, but it feels like going this other direction is much better, and that's what's happening right now today." Music is all about that. I was very happy in that context in the studio, where there would be ideas just flying around. You don't know what's going to stick, and it's all highly fluid, and it's fine. That's a good place. That was very easy or familiar.
It would seem easier dealing with making a record with a smaller cast of characters than a film. There are quite a few people involved when you make a film, right?
It is easier and it goes much quicker. It's much quicker to go from a vague idea to a final concept, especially with those guys. I still marvel at the really weird piano that Aaron's doing on "Hey Rosey." Such weird, strange, brilliant, amazing counterpoint playing that he's doing. We were just talking about doing something vaguely like that. He tells Jon to roll, walks over to the piano, and he does maybe two takes. Then it's on record, in the song, and really kind of like a new ground, like a neat, new gesture. All that went from effervescent to permanent in an afternoon. The film process took a lot longer than that with a lot more back and forth.
While you're in the studio with the band, are you a fan or a critic or a bit of both? How do you find that balance?
Definitely both. They've been together for 20 years. They're all hard on themselves. Each is hard on himself, and then they're hard on each other. Just having a stranger in the room kind of loosened up that energy and made everyone a tad more polite or whatever. When I'm on set, or a place like that, I'm really excited. I'm earnestly so happy to be there. I feel like it's such an opportunity to be able to do what I get to do. I'm sort of bounding energy. I think that sort of enthusiasm when Matt comes out of the room after a take and is like, "Oh, that sucked," and I'm like, "What are you talking about? That was great!" Or like, "Is it pretentious to do this?" "Fucking try it! Be pretentious today amongst yourselves and see if it lasts for a day." I was that voice a lot. Sometimes I was the opposite. Sometimes I was like, "No more guitars. Stop with the guitar." Or, "We've done this move so many times you can't do it again." Or with Matt, I did cut one of the songs in half. With love, saying, "Of course, this is your music, do what you want. But here, what about this?" Sometimes I was doing radical suggestions, so I kind of bounce all over the place and remain unpredictable. That's probably my game.
You ended up cowriting the lyrics as well, right? Was that just part of the back and forth of a film section or did that continue when you were in the studio?
Again, it's a very long, layered thing. Part of it is that when we were having a long back and forth sending things back and forth to each other about the score and the songs that ended up in the score, like "Quiet Light" and "Oblivions" and those songs, I was chiming in on lyrics, and I was offering up lyrics, as was Carin [Besser]. I think the credit's partly due to that. Then there's a choir song where they're singing the subtitles from my film. There's the song, "Where is Her Head," I wrote. In the film the dad reads a children's story to Alicia when she's a kid, so I had to write a children's book. I just wrote it because I have a kid and I know what they're like. I didn't want to go and get the rights for one. I actually really, really liked it. At one point I sent it to those guys like, "Maybe these are lyrics?" Six months later, I get this Dropbox thing from Aaron, and it's "Where is Her Head" with Aaron singing that melody. He took the children's book text and arranged it differently, cut it up a little different, and made a song out of it. That's how I became co-writer. Same thing with Bryce. He said, "Oh, I'm going to go to the Brooklyn Youth Choir." "Cool! That'll be amazing. What are you going to do?" "Oh, there are these parts that we want to fill out and add, almost like a string pad, but with the youth choir." I get the Dropbox thing, and there's tons of youth choir stuff. In it, it has them doing the subtitles to my movie. I had no idea they were going to do that. He did his own editing of my subtitles or arranging ones he liked. Of course he created a melody for it, but it was a total surprise for me and so fun. It was such an honor to have my subtitles turned into music. I had no idea that was coming.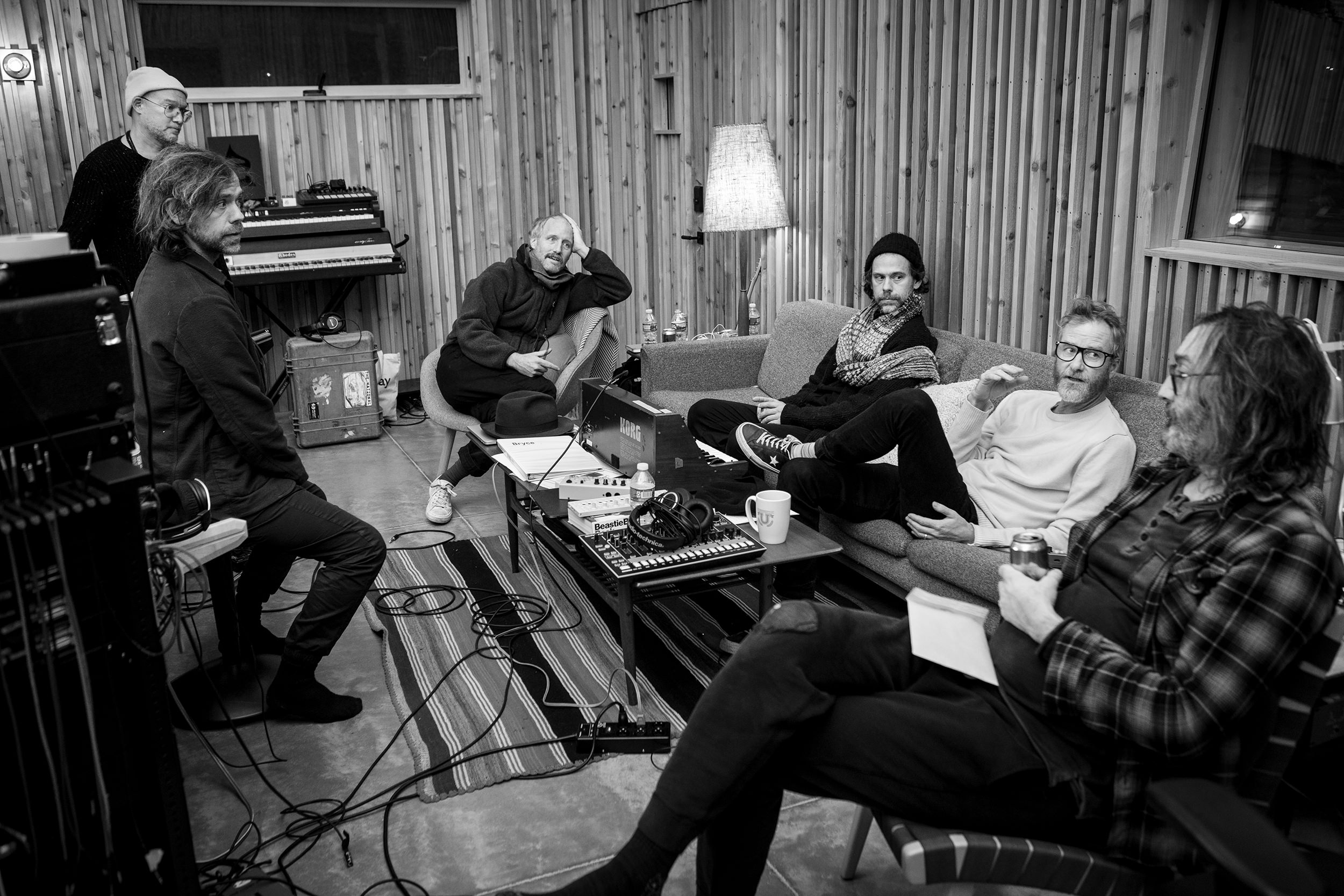 Mike Mills and The National while working on I Am Easy To Find
How do you relate to music? Does it have a visual analog in the way you think about it?
Sometimes, but it's my first love. I was in a punk band when I was 13, and that was the beginning of my creative life. Music from then on was highly important to me emotionally, just to figure out what's possible, or, "What I am feeling?" Having your own feelings isn't something that came super easy to me, so music has been this very important therapeutic thing from the beginning. I use music all the time. When I'm writing one of my film scripts, I'll put songs, bands, or a record on a loop all day long in headphones. I write from that soup. The National is one of the bands I do that to. I've written to the song "Graceless" for weeks, because I just like the energy. It's just a way that I distract myself into writing. That's part of why I felt I think this all worked. I've listened to the records over and over and over as part of my creative process to get me into certain emotional places I can write from. It's not like it needs to have a visual analog for me to relate to it. It's more like, "Is it taking me on a journey? Is it telling me some kind of story?" By story I don't mean beginning, middle, and end. It's just a message that develops and is delivered to me.

Tape Op is a bi-monthly magazine devoted to the art of record making.