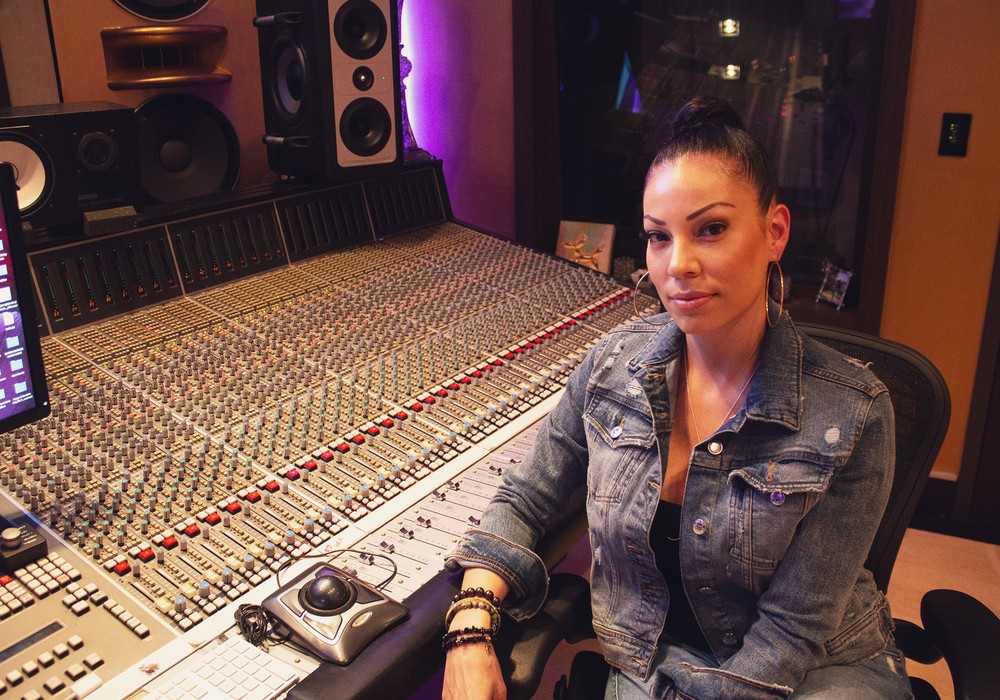 A young intern fresh out of Full Sail University gets a big break (and a nickname) from Missy Elliott, works alongside producers and engineers like Timbaland, Jimmy Douglass [Tape Op #130], Demacio Castellon, and Polow da Don, and ends up mixing hits for Keri Hilson, Britney Spears, Keyshia Cole, Meek Mill, M.I.A., Usher, Wiz Khalifa, and Madonna.
There must be a story behind this path! In 2014, she and producer Nate "Danja" Hills opened Dream Asylum Studios and N.A.R.S. Records in the Miami area, with studios for each of them to create and mix in. That's where we met up on a typically warm Florida day to talk about her incredible career and life.
You grew up here?
Yes. Born and raised in Miami.
What was it that got you curious about recording?
Growing up, I'd always been a lover of music. I think I listened to records a little differently than most people. I was more interested in the depths of it than just the surface. Engineering wasn't anything that I knew about until after high school. In high school, I started hanging around with a group of kids who were aspiring rappers that wanted to be artists. I naturally took an approach to making beats.
What were you using?
I was using Cakewalk. Or, rather, I was attempting to! After high school, I wanted to do music. I was told by all the colleges I was applying to that I couldn't apply to a music program without playing an instrument or having a background in music theory. I went into some basic courses for business administration. Whatever I could do to make my parents happy, right? A couple of years after high school my brother told me about a school in Orlando and that's how I was introduced to Full Sail University. I took the drive up from Miami, visited, and was able to walk into a real studio setting. That's where everything made the connection for me. "I think I could do this." I wanted to go after it. I remember the first time looking at a console; I was intrigued by all the buttons. I think a lot of people walk in, see a console, and they're overwhelmed. I left after that visit, saved money for about six months, and moved.
You graduated at the top of your class?
Yeah. I really submerged myself. I went into school like, "This is a dynamic microphone. This is a condenser." I was at the basic level; like ground zero. A lot of the kids in my class were either musicians or had already started a band. I remember looking around in class and feeling nervous. People would look so comfortable, like, "Oh, I already know this." They just had to get through that month of the lecture. But, for me, I had to make the connections and really understand what was being said. I was going to school at odd times; I didn't have a steady schedule. I'd have a four hour lecture, backed up with a four hour lab, then a four hour break, and then another four hour lab at 1 a.m. I graduated with the highest honor at the time, the Advanced Recording Engineer Award, with perfect attendance.
You were dedicated.
Very dedicated. To me, it was such a blessing to find something I really wanted to do. In the years prior, I was going to college and I wasn't doing it for me; I was doing it more for the happiness of my parents. Finally, I found something that connected. I wanted to learn it.
Were your parents worried about you going into that field initially?
Yeah, they were very worried about it. It wasn't something that they understood. My mom is from Colombia, and my dad is from Nicaragua. They came to this country, and I'm the first generation U.S. citizen. For them, it was about building the American dream and following the traditional routes. You go to school, you graduate, you go to college, and you get a job. Very traditional. I was like, "I want to go to college, but it's for this kind of a career." They asked, "Where do you get jobs?" I said, "I can get an internship, but I might not get paid." They said, "Wait, you've got to go to college and pay this amount of money for a possible unpaid job?" In the end, I think they saw the light in my eyes and the excitement in my voice, and they said, "You know what, we'll back you up and support you." I packed up my stuff, and they were with me on the drive up to Orlando to move into my place. I go back to Full Sail a lot, multiple times a year. I go around to other schools, and I hear, "My parents were not supporting...
The rest of this article is only available with a Basic or Premium subscription, or by purchasing back issue #133. For an upcoming year's free subscription, and our current issue on PDF...