When you're young and picking a career, everyone always tells you to "do what you love." In the music industry however, sometimes such lofty platitudes aren't enough to pay the bills – even if one possesses all the necessary skills, passion, and drive. Producer/engineer Mark Hornsby built his career on a key piece of advice from his uncle, who is still working as an engineer in Nashville. This advice wasn't a meaningless platitude, but rather lucid advice for a budding engineer who was already doing what he loved, "If you want to stay busy, and have longevity, you've got to diversify." Hornsby took the advice to heart, and since then it has led him to work on a vast amount of projects – not only keeping him gainfully employed, but also leading him to work on a host of various projects from King Crimson, to George Strait, to Bootsy Collins. Hornsby recorded and mixed Beth Hart's Live at Royal Albert Hall album last year, as well as recording, producing, and mixing gospel artist Russ Taff's latest comeback album, Believe. Generally, Hornsby's philosophy on any project is to get the artist into a frame of mind where they can be comfortable and 'hit record' – while intuitively following the natural flow and technical demands of the song. As a mix engineer, Hornsby gained much of his critical listening skills early in his career while working as an assistant at Seventeen Grand Recording, one of the first 5.1 mix facilities in the country. Fast-forward roughly four decades and thousands of projects later, Hornsby is at the top of his game at Fort Wayne, Indiana-based Sweetwater Studios, the commercial studio arm of retailing operation Sweetwater Sound. Sweetwater is inspiring and reshaping a new culture in Fort Wayne – formerly a sleepy rust belt town built primarily on industrial manufacturing. Hornsby has been a key part of the studio's operations, looking after all of its recording projects and MasterClasses.
Sweetwater Studios has attracted Anthrax, Robben Ford, Eric Johnson, and Jordan Rudess – just in the last year. Can you talk about the big picture in Fort Wayne and what is driving this?
I think Sweetwater, as well as Chuck and Lisa Surack personally, are the driving force behind all of it. I came to Sweetwater as a visitor in 1998 while I was living in Nashville at the time, and honestly there wasn't a lot going on in Fort Wayne. When I visited, I was driving around wondering, "What do people do here?" Of course that has all changed now.
What was the main industry back then?
It was kind of a fall-out industry town, so you had all these old abandoned factories. Downtown, there's a 300-acre GE plant that has been abandoned for years. Manufacturing was a huge thing here up until the '80s, and eventually they closed it all down. So much of the area became depressed through the '80s and the early '90s, and then it started to come back. Now the GE campus is being repurposed into living, retail, and green community park space. There is also a river walk being constructed downtown where the rivers come together. Sweetwater has been a major engine for job growth and culture here. The company has grown roughly 20 percent each year since the mid 2000's. That's a pretty impressive growth rate; and just last year we hired about 700 people across all the various Sweetwater companies. Now Sweetwater is the largest privately-owned company in Northeast Indiana – and about 80 percent of the people working here are musicians. This is having a real impact on the arts. This has definitely bled into the community at large.
What was the main fuel for the business when Chuck started it?
Well, it started as a recording studio. He never thought about retail in the beginning at all – he was just trying to make some extra money while playing in various bands around the region. His start in retail was when he bought a Kurzweil K250 and he wanted to make his own samples for it. Ray Kurzweil told him that he couldn't do that, at that point. So, Chuck reverse-engineered it and started recording his own samples and used them in the recording studio. After all that, Chuck became a Kurzweil dealer. But he was just making samples and having fun while selling some keyboards. When the online thing came to be, Chuck got the Sweetwater Sound domain and he was on top of it.
How have the studios evolved there since they began?
Today's studios opened in 2008 and were designed by Russ Berger. Back when we opened, we were mainly doing corporate work for regional clients. What we now offer now is a very boutique and high-end service for recording clients around the world, all the while offering opportunities for our customers to become better engineers and musicians. Our studios are now very balanced, in both of those camps.
Fort Wayne seems vastly more open and approachable than other traditional music cities.
That's true. Other music cities still have labels, and there are all the politics. For example, if you are working on a pop country record in Nashville, there are still people who say, "If you are doing a pop country record, it has to be done this way," according to whatever imaginary formula that happens to be popular last week. Up here in Fort Wayne, that doesn't exist. We are isolated from the labels and everything else, and just really focused on the artists. We figure out what the goal of the project is, what the resources are, and work backwards from there. The main question is how can we reach that goal as efficiently as possible for our clients? The real opportunity is how we can engage people, find out what they are doing, and how we can help them.
Was moving to Fort Wayne a risk for you? That's a big change, coming from Nashville.
I was already gainfully employed, globetrotting, and working in many different genres of music. I spent my 10,000 hours staying diverse. My uncle [Ronnie Brookshire], who is also a producer and engineer, who still lives in Nashville, told me early on that if you want to stay busy, and have longevity, you've got to diversify. You can't go to work for one producer, one label, or one genre and expect that the work is just going to keep coming. Every gig comes to an end, and everything ebbs and flows. One thing goes out of style just as something else comes into style. My uncle was really a great influence on me in saying, "The more diversified you are, the better." If you can go from jazz, to blues, to hard rock, then that makes you pretty unique – most people in this business don't do that. I happen to have a wide variety of musical tastes since I was a kid, and it's served me well.
What was the first thing you did after coming on board at Sweetwater?
I realized we were flying in musicians on a regular basis to help out on our recording sessions. When you start to do the math on that – adding up hotels and airfare – you figure out, "Well, we'd save money if we just hired people." But we needed diverse people because we have so many different types of projects. So, I called up some people I had been working with for decades: Phil Naish, Nick D'Virgilio, Don Carr, Dave Martin. They've all made their mark in different genres of music, which makes them an interesting rhythm section. But behind the scenes, I've worked across many different genres of music with this group of guys.
So, getting in some musicians to support your sessions on a regular basis was important?
Absolutely. The talent of all these guys was really important, but probably less important than their heart and their attitude. They are all team players, and their number one goal is, "How can we make this project the best that it can be?" All in all, it makes a great team to execute what we wanted to accomplish here. They all went through the same phase that I went through on their first visits, but then they came up and worked with me a couple times. Once you work here and absorb this place a dozen times a year, people want to stay. It's all about the players. And Chuck had this vision of the studio, "I want to make this a destination."
And these guys also support your MasterClasses, right? Tell me about those.
The recording classes seemed to make sense. We have a great facility here to do these, and I had done Pro Tools certification classes for Avid for years. One thing I was never a fan of was a classroom with just laptops – how does that teach people how to make music? That only teaches people the features of software, which is fine if you are just transitioning into Pro Tools or something similar. But what really lights people up is getting to experience what I get to see every day – building a song from scratch. I don't take that for granted, and I'm very grateful for that. I think once a class participant sees that firsthand, it changes their perspective and they learn that. While the gear and the technology are both important, if the guy or girl can't play drums, the microphone choice doesn't make a difference. Musicianship is what matters most and the quality of the musician is in the eye of the beholder. That said, if you play a song for ten people and ten people say it sucks, then it is probably an indication that it sucks.
What kinds of people attend these classes?
I've done almost 100 of them now and I've interacted with customers who are just starting out, to customers that have been recording for 50 years, to people that are retiring and want to get back to their passion. I also have attendees that went to college, hated it, and are seeking some real-world knowledge. We have also had professional musicians who are on tour and who want to record their demos better – including some big-name artists. It is all over the place. The common denominator with all of them is that they are impressed that the actual sound of a guitar, for instance – including the reverbs and delays – are coming from the musicians themselves. It's recorded that way, not reinterpreted later by someone else in the editing or mixing process.
It's not just about playing with gear. You are interacting with customers and teaching them how to read an artist's intention.
At an early age, they teach you that music is the universal language. When I started playing guitar at age 13 and started thinking about what I wanted to do with my life, it always came back to music. Because if I can help people do this well, the by-product of what they are doing has the potential to reach so many other people. We are all fans of different artists, and that is one of the reasons I like doing these workshops. I know how to approach a lot of different types of music. People come to these workshops, we teach them, and then they buy more gear; or different gear than they had. Our sales engineers can help them navigate these choices.
That's a cool way to get a practical education, since some people have other careers or don't have time for a long commitment.
There are many great universities, and if you are out of high school, that is an excellent option if you've got time. You can go explore and take classes as an elective, if you want. You've got that window in your youth to figure out whether you want to invest two or four years to do this. Most people don't have that luxury – music and music production for them is a hobby and a passion. And that is okay. If you are a working musician or audio engineer, if you work full-time in the music business and that's how you make 100 percent of your income, you are in the top five percent.
You have more gear than anybody could want here. It's like Christmas Island. Is there a downside of having too much choice?
Paradoxically, having so much choice takes the equipment out of the equation and puts the focus on who is on the other side of the gear. The obsession over all the expensive gear is either for people that have a really expensive hobby, or people who work professionally and work on projects that are getting high exposure. When I am talking with people about equipment, it's a conversation over a beer or a cup of coffee. It's not a big deal. Most people don't listen to a record that I've done and ask me, "What's on the snare drum?" They just enjoy music and don't think about the behind the scenes. They are listening to the songs and the performance. I can be picky and precious about my own workflow and how I like to bring sounds together on a technical level. But I am not precious about a whole bunch of technical things. I just like to get a bunch of talented people in the room and see what they think. I want to hear where the musicians are coming from. I'm an orchestrator, an arranger. I bring people and projects together and then I find places to put projects. Above any gift that I have, that's probably at the top of the list. The rest of it just comes organically.
You've recently worked with Russ Taff on a worship record and, of course, there are many fans of this genre. What was that like?
Well, Russ has already won six Grammys and fifteen Dove awards – he's a legendary Christian gospel singer. When I started working with him, he was fresh off of coming out as an alcoholic and dealing with those issues. I ended up doing a recording workshop with him here at Sweetwater Studios simply because Phil Naish and I were fans of his, and we started working on songs. Eventually it turned into this really beautiful album. Meanwhile, he's got a documentary that came out [I Still Believe] about his battle with alcohol, which we didn't know about when we were starting the album. Both projects happened to come out at the same time, and everybody in the Christian music world stood by him. We worked on that album for three years. It took so long because of his schedule and all the other things he had going on. But, in the end, it turned out great.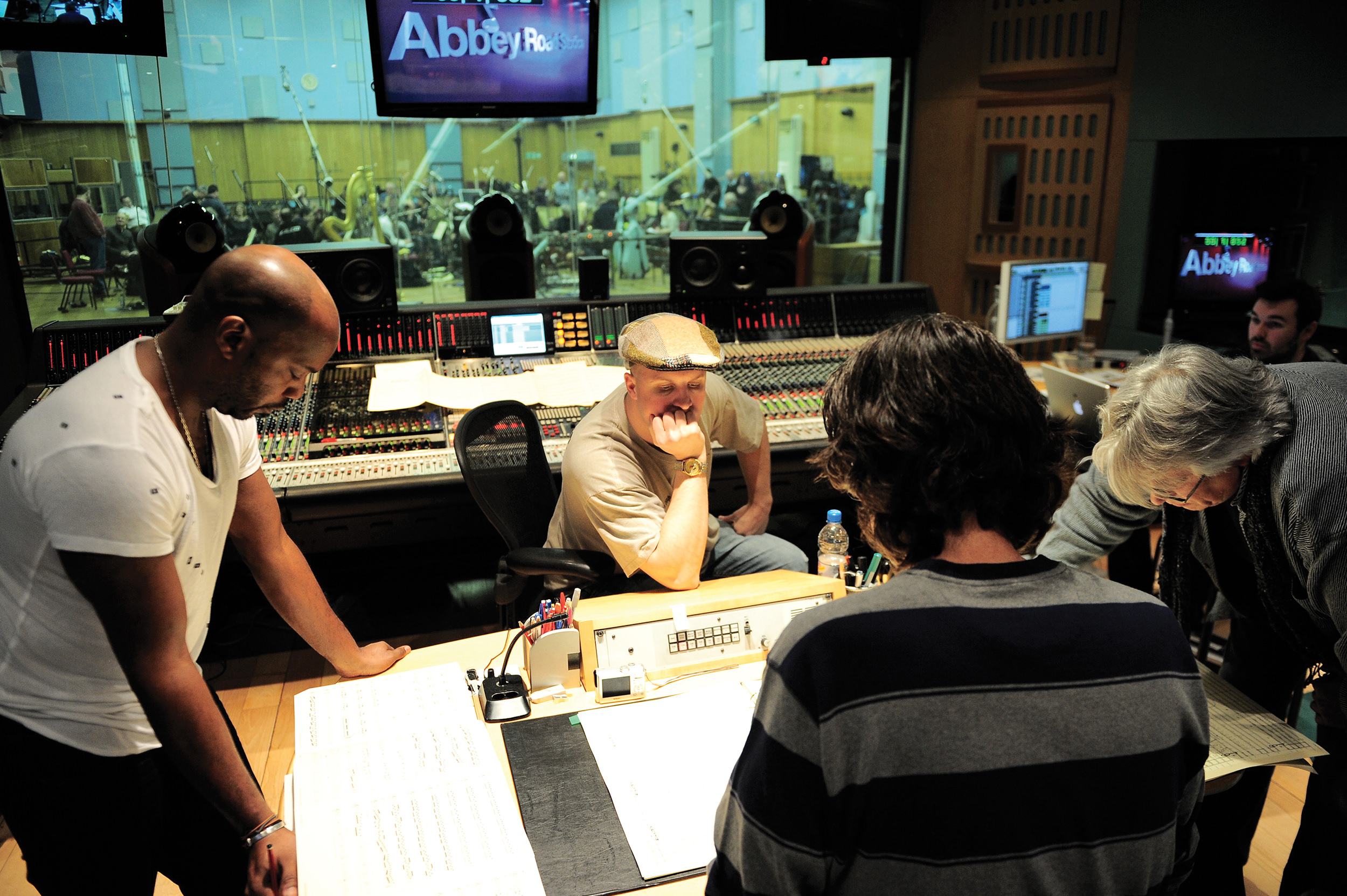 Which studio did you end up mixing the record in?
At Sweetwater Studios C. That's the smallest room here. I like the speakers being really close to me. Also, there is just something about that room because when I got to Sweetwater, I re-did that room first and I got used to it very quickly. I work extremely fast in there and know the room really well. Plus, Studio A is always booked – there is always somebody in there tracking a rhythm section. So, I will go into Studio A, mix some things and then take it back to Studio C and finish it; or I will mix something in Studio C and take it into Studio A and listen to it. But for me, I don't need a lot. I mean, I used to mix records on a laptop in hotel rooms and nobody was the wiser!
Do those rooms translate with each other well?
Absolutely. All the rooms have ATC monitors so every room has the exact same midrange, as well as the exact same tweeter and crossover points. So, you can go room to room, and it sounds the same. Studio C is a smaller room –it's got the ATC 25s in it – but 150s would probably be too much in that room. Technically speaking, when you go from the smaller speakers to the bigger speakers, there is more low end, but every room has the appropriate amount of low end for the size speaker and the size room - so, they really feel almost the same.
What was it like to work with a gospel legend?
When I was growing up in East Tennessee, my uncle turned me on to Russ Taff. Russ was the first contemporary Christian artist that I listened to and realized that this genre of music doesn't have to be corny. Initially, he achieved success in the '70s with the Imperials, a very famous gospel group, and then he went on to become a solo artist. As he got older, he started singing Southern gospel with The Gaithers. Russ will tell you Believe is the "full circle" album for him that brings everything back to zero. In the studio, Russ was is a really funny guy; he's got some great jokes and stories, and he's a delight to be around. I like people that can get in there and work hard, but also take the time to laugh. Making music is fun, right?
Is there a 'contemporary' Christian sound? How do you break stereotypes?
I think that some producers who only work on Christian music will probably sit down and talk about how they are completely focused on the message. But I don't think of it like that – I think it is very emotional music that has a point to it, not unlike a love song, or someone being down in the dumps. The only big difference is that there is a third party involved, which is God. And also belief. When someone writes a love song, it is a pretty lateral playing field. You've got a guy or a girl telling a story about a breakup, or how much they care about someone – and people relate to that. But in worship music there is the 'God factor.'
What makes a good worship album?
The best worship albums I've ever heard are the ones where people went in and didn't try to make it one thing, or not make it another thing. Take the music for what it is and create a comfortable environment for your artist. One of the songs we first recorded was one of his earlier hits called "I Still Believe." He sang the daylights out of it, and it's just a rockin' song. Then there was another song written by Marcus Hummon called "When I Hear Your Name" – it features a nylon string guitar and an almost Peter Gabriel-ish breakdown thing in the middle of it. It is this open, ethereal praise song that would make anybody of faith close their eyes and just ride the wave with Russ. From a recording point of view, we've got to have our ducks in order, so we have a track that Russ can vibe off of and deliver a meaningful performance. From a mix point of view, you've got to go there as well. It's a little more produced-sounding than a Marcus Scott record, for example, which is just a live band in the studio.
Do you ever have to keep it from going over the top or a put a lid on the exuberance of the praise element?
That can happen with some younger Christian artists, but Russ has made 30 albums and he's not a kid – he knows how to make an album; what works and what doesn't. Another song on that record is called "Isn't The Name of Jesus" – it's piano, vocal, and strings recorded at Abbey Road. When we originally conceptualized the whole thing, we had written the string chart; but, at that point, we had just programmed it so he knew where the parts were. But after I went over to Abbey Road and cut a live section orchestra on it and brought it back, all the real dynamics were there. Immediately Russ said, "I've got to re-sing this with the real strings." That is an example of presence of mind and maturity as an artist.
Why Abbey Road for the strings?
I do almost all of my orchestral recordings in London because there are 10 or 12 working orchestras there, all of them whom are familiar with working in a recording studio because there are a lot of studios there that do orchestral work. We don't have that in Fort Wayne. We've got a great orchestra, but over there everyone is used to working in a studio, playing to a click track, and all that. It's just a different world. If it is less than 100-pieces, I'll use Studio Two at Abbey Road – usually, my string sections are traditional first, second violin, viola, cello, and then I always add double bass – and being a bass player myself, I am pretty particular about the bass parts and what's going on in the low end. I make sure the bass parts on the track and the double bass of the string arrangements do not walk on top of each other.
How do you manage retakes or overdubs with these orchestras, and how friendly are they to work with?
They are very friendly, especially if you are working with them in a way they are used to. The conductor I work with almost all the time is Rick Wentworth, who works with Roger Waters, Danny Elfman, and others. Rick, myself, and my good friend and arranger John Hinchey have a great chemistry together, and most type of re-record situations we work out as a section. If I recut a section, I recut everybody – I don't cheap out and pop in a cello or change a part, because in that room it's really not about the direct mics, it is about the Decca tree and the room mics. That's where I am getting most of my sound. I can't just be popping people in and out of record. It needs to sound the same as the room, and it has to be real.
How do you assimilate these sounds into a coherent mix after having recorded parts in different environments?
It's about creating music that gels with how I hear things. Strings to me is about the space that you've recorded them in, but most importantly, it is about the players. Whether I am recording in Sweetwater Studios or Abbey Road, which are both phenomenal rooms for very different reasons, I try to eliminate the technology and the distractions so we can just hear the players in their unique space. In general, I am favoring room mics and I am using little to no external reverbs. When I mix, I might use 10 or 12 different plug-ins on an entire mix in conjunction with some outboard gear. But most of my mixes are what it sounds like if you just turn up the faders on what I've recorded. It's a very old school approach, which is very committal. Instead of turning knobs in the control room, I will go out and stand in front of the guitar amplifier and ask, "Why is this not working?" I try to figure it out. If I can get myself, the guitar player, and the artist to say, "Yeah, it sounds really cool," then I just go for it and record it that way.
What is your approach to tracking instruments? Do you DI very often?
It varies instrument to instrument. I hardly ever use EQ recording or mixing bass. Instead I switch basses – Dave and I probably own 15 or 20 basses. Meanwhile, I am EQing the drums, I am moving mics, I am compressing, and I am sculpting the drums. But with the bass, I am swapping them out wondering, "Do we need a 1950s Fender that's got a single coil in it? Do we need a Jazz Bass, a P-Bass? Or do we need something active with a little more growl? Do we need a fretless? Do we need an upright? Do we need to switch basses halfway through the song, or keep it on during just a certain section of the song?" Rhythm acoustic guitars are almost always dry for me, whereas the keyboard parts – whether they are acoustic piano with reverb or a room mic, or pads that come out of synthesizers or virtual instruments – can be really big and luscious because they create depth. I am always blending really dry sounds that are in your face with really spacious sounds that are not across the entire mix, which creates depth.
What about double-tracking?
If I double-track something, it's usually very obvious and for a reason. It might be in your face and very aggressive. If I am doing a rock thing and I double-track the rhythm guitars when the intro hits, the guitars are loud and they are in your face. They are dead on doubles of each other, and it sounds like a big wall of angry mass.
Go big or go home.
Yes, but I don't just do it for the sake of doing it. There is always a method to the madness. I've had people send me projects to mix over the years where they've got 35 guitar tracks on the chorus and I've deleted 31 of them, send it back to them, and they've said, "Oh, my God; it sounds huge!"
You talked about a minimalist approach to recording. Can you tell me how this approach translates to your mixing?
I guess I'm a little selfish. All I'm doing is getting a sound in my head of what I want to hear and then going after it. When I finally get there, I stop. You used the word minimalist, and that implies that I throw up microphones, hit record, and smoke a cigar. It is really quite the opposite – I get really compulsive on the drum tunings, the drum heads, how the snare drum is cross-talking to the first tom, and how does that sound in the bridge when the bass player plays a note that rubs against it. Are those two things working with or against each other? What is the delay time on the guitar? Even if it says it is in tempo, do I need to speed it up a hair to get it out of the way? I do it all very quickly, but I get ruthless on the tracking floor about what we are using, and which mic gets switched out for this and that. I get to a place to where when I hit record and play it back, it all feels good for me and the artist.
What takes the most elbow grease and finesse?
Tuning stringed instruments. I am fortunate that I work with professionals, but even then it can be difficult. Some people have perfect pitch. I do not. But I have wicked good relative pitch. I can spot an out of tune guitar a mile away, and that's the moments where I get in the weeds. If it is a rock 'n' roll track, there is a little more forgiveness, but if someone is not playing the acoustic piano, and the keyboardist is playing a Roland or a Nord, some of those samples in those instruments are pitched to where they are pretty dead on 440 Hz. I am not trying to sterilize the record, but I am really sensitive about one thing rubbing the wrong way against something else on the track. Acoustic guitars are notorious for that. You can strum a G chord and it can be great, but then the guitarist plays something halfway up the neck and all of a sudden it sounds sharp.
One of the big records you did last year was the Beth Hart Live at Royal Albert Hall project. What stood out for you on that?
I got to work on that through Nigel Dick. Nigel was the director and the guy who said, "You guys have to meet Mark." So, my colleague, Thad, and I hopped on a plane, went down to Houston, and saw Beth play live down there. We met with Beth, her husband, and her tour manager, and we said, "We'd really like to work with you on this project." We really wanted to showcase who she was and what she could do in the iconic Royal Albert Hall. So, we did it. I do a lot of work with Nigel and he is a phenomenal talent. He has a lot of faith in me, and vice versa.
Was there a standout element on that record for you?
Yes, I got them to let me not fix anything. If I can get a record label to do that, I can play you a track that will make the hair on the back of your neck stand up. Beth's got great pitch; she's a phenomenal singer, and she's a good piano player. But there are points in that show where she goes a little bit sharp, you know, when she's really going for it. Well, guess what? Her guitar player is not perfectly in tune half the time either. It's rockin' blues, so who cares? Beth, in particular, wasn't very demanding; but she would want more reverb, and all the typical stuff. She walked away from the project in its entirety for a month or so to focus on other things, then she'd be online and listen to the videos after the fact. She was blown away by the sound and very complimentary to what we had achieved. Royal Albert Hall is a cool-sounding room; very lively. If you "fix" everything on the stage, there goes your room mics. There goes that moment in time, in that place.
So, you ultimately helped make the record sound more human by not fixing all the imperfections.
Sometimes doing the right thing is the hardest thing to do, even if it puts you at odds with somebody for a little while. You'd be surprised – a lot of people pay me to work on their records and then they want to disagree with me. And I'm like, "Well, why did you hire me?" I am just going to be straight-up and honest, but that doesn't mean that I won't fix anything. The great thing about the technology is that if everyone in the band slows down to hit that last note, and the bass player is just a hair off from the kick drum, I go in there and nudge that. It is the right thing to do. But my philosophy on all of this is from Walter Murch, who did the sound design for Apocalypse Now, American Graffiti, and a whole bunch of other things. He believed that if something is off and it distracts the audience, you've missed the mark. So, if the audience is watching a movie in surround and something in the right rear channel doesn't sound right; if it makes someone in the audience turn their head for a moment and wonder, "What was that?," then you just broke the veil - and that is a no-no. That is the stuff I obsess over when I am mixing and mastering a record: are all the S's dealt with, is there an audible click track bleed on the outro? Anything that would make somebody listening on a set of headphones open their eyes and think, "What was that?" I am constantly trying to eliminate all these little technical distractions because when you add them up, they can be a big deal. But when it comes to the actual performance, I just try to box people into a comfortable place to where they can perform freely, so we can pick the best parts and move on.
Did the commercial success of the Beth Hart Live at Royal Albert Hall album surprise you?
No, not at all –everybody I played it for was blown away. If they already knew who Beth was, they said, "This sounds amazing," and if they didn't know who Beth was, they said, "Who is this, and where can I get a copy of it?" As much as we are homogenized by society – especially in music – I think as a culture we still respond to people who truly have a gift, and people like Beth don't come along every day.

Tape Op is a bi-monthly magazine devoted to the art of record making.