Since the technological and industry shifts in the '90s, a golden age of independent family music has grown up. No longer do parents have to suffer through simplistic, repetitive musical dreck. Artists and recording pros are pumping out well-crafted music for kids in almost any musical style. Children's music today can range from the usual nursery rhymes to hard-driving rock, hip-hop, and electro-pop. The sky's pretty much the limit in terms of subject matter, and producing this kind of music can be liberating and fun. Conversations with a few influential and pioneering producer/engineers and self-producing artists can offer some insights into how varied the approaches and philosophies can be.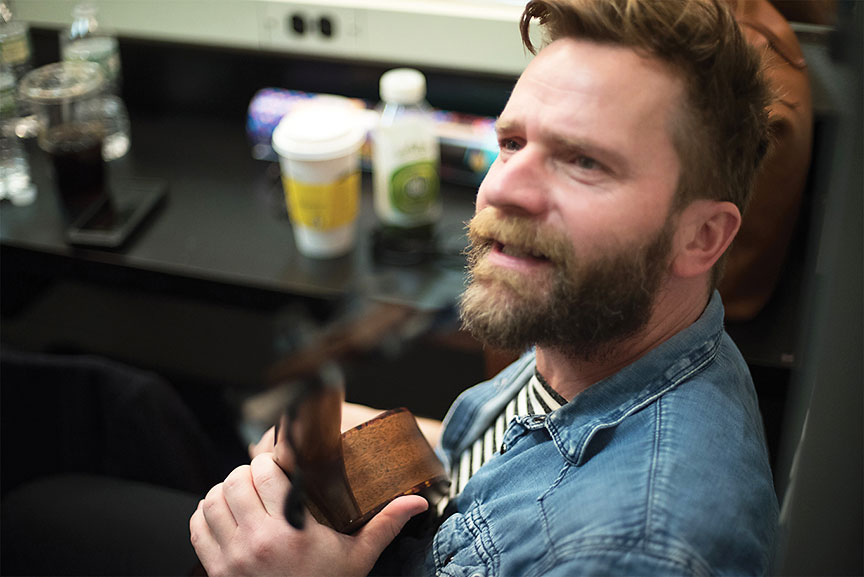 Liam Davis rehearses backstage a recent Grammy nominees concert in New York. Richard Clucas

Liam is one of the pioneers of the current "kindie" scene. The producer of three Grammy-nominated albums for Chicago-based Justin Roberts, Liam is also the multi-instrumentalist member of Justin's Not Ready for Naptime Players [aka NR4NP] and composer in his own right. Liam recently moved his workstation from an off-site studio to a large space in his home. There, he tracks songs "from the ground up" for songwriters and other projects. Roberts says, "Liam is a rare type who is able to adapt his style to realize the vision of the artist. I look at all of the albums he has made with other groups and solo artists, and they are all unique."
How did you get into producing and mixing songs for Justin Roberts?
Justin was writing songs for his preschool classes in Minneapolis. They were all very folky and acoustic, and I said, almost as a lark, "We should record these." It was back in 1997, when nobody was really doing indie kids' music – it was basically us, Dan Zanes and Laurie Berkner. We really had no road map; we just jumped in. I did spend a lot of time finding the sweet spot for Justin's voice, tweaking the signal processing to make sure the vocals were inviting and intelligible. We wanted every lyric to be heard and for Justin's storytelling to be the focus, so I was putting the vocals up 1 to 2 decibels from where I would otherwise. That was the album Great Big Sun, and it did so well that we just kept on.
You and Justin were really trailblazers in the genre. Did you have a guiding philosophy from the start?
We never wanted to talk down to kids or dumb anything down. Justin isn't afraid to deal with serious subjects, and my job is to support the emotional narrative without exploiting it or getting cheesy. His song "Sandcastle" is about a kid losing his mom. I put a little banjo in the instrumental break to add some hope and whimsy; to offer some balance. There's a meditative element to some of Justin's songs, and we want to honor the contemplative moments in the mix.
But a lot of Justin's newer albums feature big, raucous anthems.
Yeah; along the way, Justin started writing bigger and I kept trying to get away with shit. For "Brontosaurus Got a Sweet Tooth" I put a slap delay on the vocal, which we'd not done before. Justin was apprehensive – we'd been keeping everything close and dry, but I needed the vocal to sit right in the track. I asked him to trust me, and in the end he told me he was so glad I did that.
So, your approach has changed as you've produced and mixed several of these albums?
For sure. The touring band was growing, and we wanted to take advantage of the bigger sound. I'd managed to bring in a world-class drummer, Gerald [Dowd], and that was a game-changer. Now we can do anything! Justin might write something that sounds like Fleetwood Mac or Elvis Costello, and I'll treat the drums a certain way, or I'll see how much fun we can have in the mix without going too far.
You can go too far?
Well, with "My Secret Robot," we had a vocoder intro. I also brought in an avant-garde cellist (Fred Lonberg-Holm) and had this really long outro. We thought we had jumped the shark, but families dug it. The "Recess" mix originally started with a giant slab of power-chord rock – we perform the song live that way – but for the recording I knew we had to ease into it. I recorded the voices of a bunch of kids at a playground, and then the Lowrey organ track launches. I added a school bell and a reverse cymbal crash, and finally those aggressive first chords. It wasn't diluting the effect, just recognizing how young kids would be entering the song.
So, that's not to say you dumbed it down?
Never. We always want to respect the listener. We didn't dilute it, or tame the guitars or drums or anything.
Dean Jones relaxes with his dog Scout. James Fossett

At Dean's straw-bale No Parking Studio in the Hudson River Valley, several of family music's top songwriters have honed and recorded their songs, most notably the Grammy-winning The Okee Dokee Brothers. Dean has also led his own kindie band, Dog on Fleas, since 1999. As a testimony to this freewheeling producer/engineer's genius, artists return to Dean's studio again and again. Over the years he has been nominated for six Grammys and gained a cult following for his zany and eclectic style. Portland's Red Yarn (Andy Ferguson) says that being in a tiny studio space forces productive focus, "Dean has such an agile and easygoing approach. In two days, we tapped out 12 basics." Latin Grammy winner Lucky Diaz appreciates Jones' love of vintage sounds saying, "Our strength in working with Dean is giving him carte blanche to let him be free to do what he hears," said Diaz.
You've said that your first kids' album was terrible. Why?
Listening back to the songs, it was trying too hard and not knowing that there are no rules. I definitely have to tell people, "You don't have to do the toothbrushing song. You can do any kind of music, on almost any topic. The only rules are that you don't really write songs about bad relationships."
What else did you learn over the years?
On my second album for kids, somebody mentioned that there were a lot of solos and that the songs were kind of long. I learned that kids don't care how good you are at the guitar, saxophone, or whatever. Any solos I put in now are very much just for breathing room. I think of building a track in terms of color, or almost like building a sculpture. You want to keep kids' attention. I'm always thinking of the arc of an album, as well as new sounds. I'm thinking, "Oh, they're gonna hear a mbira for the first time," or a baritone sax or whatever. I'm always curious to throw in things that will perk somebody's ears up, so they're inspired to ask, "What is that sound?"
Artists tell me they like working in your straw bale studio. What's it like?
It's about 500-square feet. There's no control room; it's all one room. We might do drums, bass, and guitar live in the room and then send someone outside to sing a scratch. I have a two-seater outhouse that doubles as an iso booth. There's a pull-down attic for isolation as well. We might put a guitar amp or mandolin player up there. Every song is a new story. I'll ask, "Are we going to have bleed?" or, "Are we going to have the acoustic guitar in same room as the drummer?" Mostly we're going for the live energy.
What unique tools do you use?
I'm trying not to want more and more things. I love the mics and preamps I have, and I could always dream of having more. But then I think, "Maybe I should get a new instrument instead." My early studio experiences were with crabby engineers who were more concerned with the microphones than the people. I try to have instruments and things lying around to inspire the artists to try something new. I recently got a little cavaquinho [small Portuguese string instrument].
Was that for a particular track?
No. I was listening to Tom Zé – he's probably my biggest inspiration. Maybe that little sound will work its way into something unique. Recording for kids is really the same as recording anything else; it's your aesthetic. I'm scrappy. I am thinking of the mix as I go. I put a couple of drum mics up; I hear it and think, "That's pretty much going to be the drum sound." I don't think it's different just because it's kids' music.
In general, is there something different about recording songs for kids?
Kids process sound differently from adults. So, for instance, compression. A lot of things you hear are just squashed. There's maximum info, just a wall coming at you. Kids need a little more space around things, or they just tune out. I like to leave the mastering job to the mastering engineer and have them leave some dynamics.
Rodney Whittenberg produces several children's recordings and video in his suburban Philadelphia MelodyVision studio.
With his Philadelphia-based audio and video production house, Whittenberg has produced dozens of children's albums and music videos for children, including the civil rights album, We Stood Up. He has also worked with bands like Two of a Kind and Grammy-nominee Jonathan Sprout. While most of his work is producing music and film for grownups, he enjoys the children's genre and is currently developing a documentary about the history of children's music. He recently produced an eco-musical album, Curious, for the group Ants on a Log, who say, "Rodney was great at helping us decide what was funny versus cheesy. This came up often in regards to sound effects. A door creak should sound daunting, but not too scary. A science kit should sound real and also discernible to non-science people."
Is there a difference in producing music for kids?
It always depends on the artist you're working with. For example, the Cat's Pajamas band leader Janet Schreiner is a musical theater devotee, so that involves a different approach. You've got three-part harmonies and songs that are musically all over the place, from Broadway to rock, to 1920's jazz or a Mardi Gras march. You've got to be on your toes in terms of mic'ing – and it's a challenge to make the album cohesive. When I worked on the recent Ants on a Log album Curious[: Think Outside the Pipeline!], I envisioned it as a radio theater project. The duo [Anya Rose and Julie Beth] are used to performing together, interspersing dialog with singing. So, if you've got them in the same room, you may have one good take. But if someone makes a mistake (unless you can isolate the vocals), you may have a do-over. It's drawing a line between how to capture the sound well, while also making it sound like a live performance. I recommended that we separate the spoken word from the recorded songs. Some of the recording they did on their home system, and some we did at my studio. Some of it was them playing live, and some of it was overdubbed.
Do you try to please both adults and kids?
I'm lucky that all the artists I've worked with in this genre are sensitive to how the music is recorded and who will receive it. I think of Pixar and how amazing they are at sticking things in there for the adults. The main thing is not to dumb it down. Some artists think that they can't deal with certain subjects because they will scare kids, or that they can't handle serious issues. I've worked with kids enough to know that they are smart. It's a missed opportunity not to delve into hard subjects; it's all in how you present things. You can be honest without being graphic.
That was certainly true with We Stood Up.
Right. We talked with John Lewis about what it was like getting ready for the march on Selma, and what he was thinking about when he knew he might be beaten up and land in jail. And, who better than Andrew Young's grandkids to interview him about his work?
Do you have signature production style?
My focus is always about the artist. If you took five recordings that I've produced, you would hear different things. My role is to help the musicians be their best selves, and the recording should sound like them.
What are some of your favorite tools?
There's no rule for mics. I use the best mic that fits a particular singer. When David Heitler-Klevans (of Two of a Kind) comes in, I get unbelievable sound from him using my [AKG] c414, but I use something else on Jenny (Heitler-Klevans). In general, learning the equipment part of production is relatively easy. The ability to create an interesting and compelling story is almost impossible. People don't always pay enough attention to that part. One of the downsides of having so much technology so easily available is that songwriters start producing before the song is completed. I can be guilty of that and I have to discipline myself. Now I know that a lot of modern music, they are one in the same; the production is so much a part of the song. But not everyone is great at everything. Really, a good song should stand on its own with just the vocals and chord progression.
Cathy Fink (l) and Marcy Marxer (r) produce many of their own Grammy winning children's music as well as others'. Michael G. Stewart
Cathy and Marcy have won two Grammys as well as multiple nominations for their children's albums. Traditional folk stalwarts, these always-touring artists produce their own albums now. They've also produced for Tom Paxton, Bill Harley, Si Kahn, and Ella Jenkins. Their most recent kids' CD is Zoom a Little Zoom, a reimagining of Hy Zaret's science songs.
How is recording children's songs different from performing them live?
In other genres, you are expected to stick to the sound – country, rock, bluegrass, R&B, whatever. Since this is "kids/families" the actual musical styles are wide open. Every one of our albums includes multiple genres of music on purpose. We want to expose kids and families to that wide palette of musical fun and taste. We hire real musicians to play real instruments. The string section isn't MIDI; it's string players. The same with the horns, drums, and everything else. In a live performance, you have the audience to play with. On the recording, you need to figure out how you are going to inspire that audience engagement without having the audience right in front of you.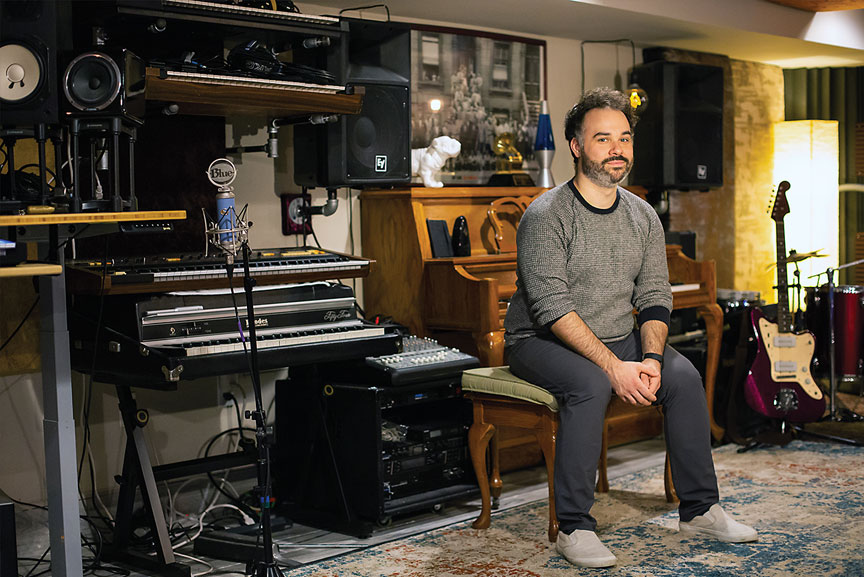 Dominic Fallacaro in his Brooklyn, NY, studio. Maggie Svoboda
Dom's productions and performances have been featured on numerous albums, as well as across film and television. Currently, he is the Musical Director for & Juliet, a new musical featuring the music of Max Martin. He produced Tim Kubart's Grammy-winning album Home, and also Tim's Building Blocks record. His works have been featured on Sesame Street and the Sprout Network (NBC Universal). Kubart says, "I just give the keys to Dom. I write a song and ask him, 'What do you hear?' We finish each other's sentences."
How did you get involved in children's music?
I went to school for jazz piano, and I had my first job out of college in 2009 doing Mommy & Me classes for young kids in New York. Tim was the guitarist and the leader of that class. It was one of those random strokes of luck that come your way. Tim said, "I'm recording this children's record. Do you think you'd want to play keyboards on it?" He'd been writing songs with Matt Puckett, one of which was "Superhero." We went up to a studio in Connecticut, where I recorded all my keyboard parts for the record. After that, Tim and Matt were recording backing vocals. They kept going to this one section over and over again. I asked if it was okay to chime in and then said, "I think that the note you're looking for is this one." That kind of worked. It was the start of our working relationship.
What kinds of things are different from recording non-kid's music?
As a producer you're always about the lyric, but here there's a special focus on the message of the song. You could have all the dense and complex sounds you could ever use, but if you're masking the message of the song, or if the lyric of the song is unclear, then it doesn't really matter.
Have you changed your tools for doing this over time?
I'm always trying to expand my vocabulary. In this genre, you don't have to feel constrained; you don't have to do XYZ because it's "children's music." I keep the lyrics in mind, and then I make it sound as full and contemporary as possible so it's just fun to listen to. You have to stay focused on what the song is about.
Can you give me an example of how you set up the recording sessions in a particular way?
For the new album Building Blocks, Tim, Matt, and myself went to a cabin in upstate New York. I brought a functional but scaled back rig – my computer, a bunch of guitars, a MIDI controller and just one microphone. Every day, for a week, we'd meet in the morning, talk about a song and the idea we wanted to jump into. We'd talk over melody sketches and some rough lyrics. Then, I'd take those ideas and say, "Okay, come back in two hours and then tell me what you think." I'd work on the production ideas while they finalized the lyrics and melodies. It was together and apart, together and apart, all day. For the song "Block Party," it all came together so fast. We knew exactly what the song was. The production starts very simple, with just the piano; half of the lyrics were there, and the rest we needed to fill in. I'd dress up some of the drums, and then add guitars and bass. We went from deciding to do a song about a block party to a pretty good demo in a couple of hours.
Why do you think that was?
I always like to be able to work fast. It was a sign that everybody was working on the same frequency. You ride the initial wave of excitement, and you don't want to put down any barrier between the idea and the song that you're trying to make. You're trying to really be a conduit for the artist's idea. Typically, we start with a campfire approach, with either a piano or acoustic guitar – the bare skeleton – and build from there. Then we're making more choices about flavors. "Building Blocks" has a mix of vintage and new, from a Roland Juno 60 synth along with plenty of software synthesizers. The drums are a mix of going into a studio and meticulously recording a drum set in a very proper, old-fashioned way and then using samples to supplement. Sometimes we're alternating between tracks from a real drummer and my samples and programming. Or it's the rhythm that a drummer played replaced by samples that I put down; and then other times it's both working together. Finding those combinations and that level of detail are what's really exciting to me. I don't think that's specific to the genre of children's music. It's more trying to get a certain overall vibe. At the end of the day, the song still works around a campfire or performed live with a small band. The record is free-standing. I want to make a record that is as massive and exciting to listen to as possible, while also knowing the skeleton is still something that's playable by humans. I'm bouncing back and forth from a bedroom producer aesthetic and the very old school studio "make a record" aesthetic. I try to use the real analog pieces over software plug-in emulations if I can. It really takes a village, because we also recorded the 80 third graders from Tim's elementary school on one of the songs, which involved a DIY mobile rig setup. Plus we recorded a full string session, along with gorgeous Steinway grand piano.
dominicfallacaro.com
www.timkubart.com/bfast-studios
Jayme Thornton
This three-time Grammy nominated songwriter (also known as a member of RCA Records' jam band, From Good Homes, as well as a bassist with Laurie Berkner's touring band) likes the fact that he can step into his home studio to lay down a track whenever an idea hits. His newest album Under the Big Umbrella offers exuberant layers of horn-laced sounds that he produced with the help of Dave Darlington at Bass Hit Studios.
What's unique about recording songs for kids?
For this latest project, I was talking with families and kids about song ideas and lyrics before recording. So, it was fun to produce the songs with them in mind, thinking about their energy and cool instrumentation. I've heard from kids and music teachers that they love listening to and examining the layers of a recording. They notice the small things (a percussion instrument, or a slide guitar, or trombone), so I don't hold back. If I hear something in the song, I add it! That might allow me to get pretty colorful and wacky with sounds, if it works. On the new song "Thank You for Being You," I played around with a lot of little sounds that gave it a Beatles feel – the backwards guitars, mellotron, glockenspiel, and making the drums sound kind of trashy. We compressed the heck out of the drum fills.
How do you usually produce a song?
They're all a bit different, but usually I work from the bottom up, establishing the groove to make sure it feels right. I think, no matter who's listening, it needs to feel good! Then I love to sing, play along, and sketch the tune out. I'm originally a guitar player, so it's fun adding guitars. The Jeff Lynne/Tom Petty lots-of-layered-guitars approach has been fun lately. For this project, I sent the roughs to Dave and we sweetened them up, adding some final touches and mixes at his studio.
Tape Op is a bi-monthly magazine devoted to the art of record making.