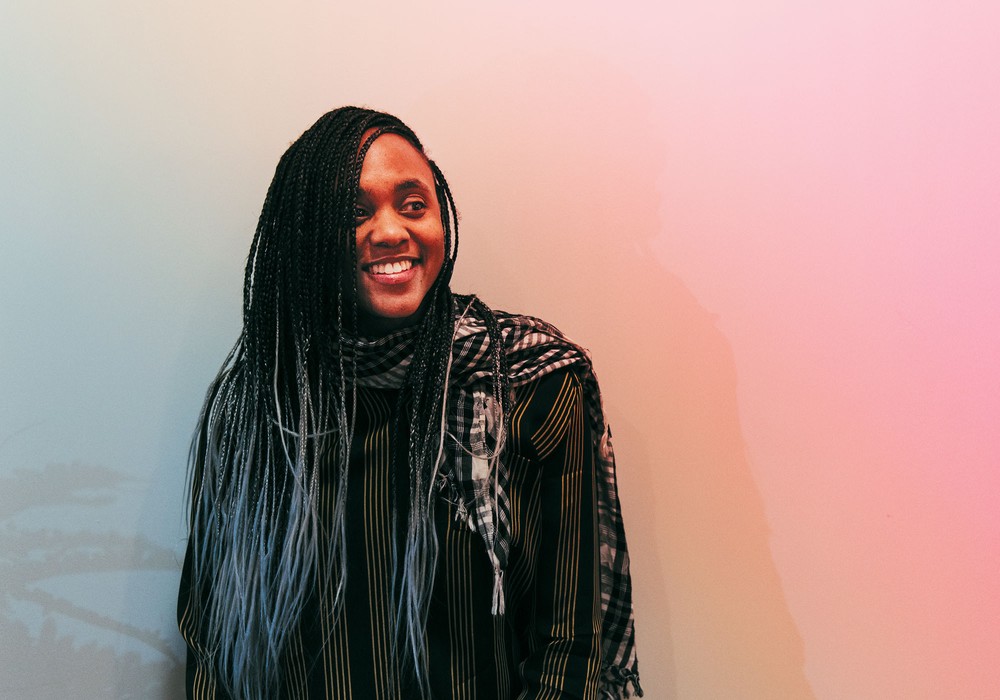 Last year I had the opportunity to pay a visit to Atlantic Records, right off of Times Square in New York City, to have a conversation with their Senior Engineer, Ebonie Smith. We talked about her history as a producer and engineer, her favorite production tools and studio gear, her non-profit organization Gender Amplified, and the practice of being a lifelong student and teacher.
You have many credits as a producer, engineer, and mixing engineer. What do you identify with as your primary role in the recording process?
I'm an artist, first and foremost. I think that's the easiest way to encapsulate all of it. But I get paid to engineer and produce, primarily.
I know that you took the music tech program at NYU. Was it from there that you knew you were going to start producing and engineering?
I actually set my goal before that, when I was at Barnard College; part of Columbia University. Going to school there afforded me the ability to take classes at the Computer Music Center at Columbia. I was probably 18 or 19 at the time. I also had an opportunity through the college to study abroad in Cameroon [in Central Africa], which is where I started to learn about studio culture.
Were you working in a studio there?
I was working in a studio, bouncing around. I started my own band. I was in two bands at the same time and doing live gigs. I also did TV. I was able to get around overseas in a meaningful way that showed me that I liked the functionality of being a working engineer and working producer, because that's pretty much what I was doing. I was also an artist, singing and doing a little bit of songwriting as well. But that was prior to grad school. That's when I set my focus on [production], sometime between 18 and 20 years old. I was like, "Okay, this is what I'm going to do. I'm going to string together all the resources I possibly can and make them work towards this end goal."
How long have you been at Atlantic?
I've been working for Atlantic Records since August of 2013.
What is your role here?
Basically, my job encapsulates three areas. One is being an engineer. I'm a Senior Engineer, meaning I've been here the longest, I've worked on the most projects, and I typically have the most responsibility. When the artists come in to work on their projects, I'm usually the person they get assigned to work on their records. I've known many of these artists for a very long time, some of them from before they were signed. Engineering is about being the technical liaison between the artist and the technology in a way that allows sessions to flow very seamlessly. The artist should not have to think about anything when they come in the studio. There should be no technical difficulties that they are privy to, or that affect them as they are creating. It's my job to be the liaison. We have a ton of equipment here, and I'm responsible for knowing all of it. I've been expanding my knowledge as we've moved towards digital I/O, and I'm Dante certified through Audinate. I also set up most of our Dante peripherals in this room. So, that's another part of my job as an engineer; just maintaining the studio from a day-to-day and operational perspective, learning the technologies as we get them, getting my appropriate certifications, and making sure that I'm passing on that knowledge to our additional engineers.
Do you have any tips on how to keep the creative flow going in the studio?
I think the thing that keeps it flowing easily is that artists can get to work as soon as they arrive. I am not the type of engineer who arrives with the artist. I usually request at least two hours before, just to make sure that the studio is properly set up. I like to ensure that all the headphones are working, all the mics are up, there are no technical difficulties with any of the issues in the live room, making sure that all the cables are checked out, and making sure that all the instruments sound as they should sound. Making sure the guitars are properly tech'd, and the drums are tuned to taste. At least give the drummer a good starting point before he or she gets into the studio. Make sure the keyboards all sound as they should, and that everything has been properly tech'd from the perspective of the sonics of the instruments. For me that helps with flow, because artists can get in and not think about anything. As soon as they go in and start noodling on the instruments, I'm already recording. That's my sound check. I'm getting good levels. That helps with the process. It also helps the artist to realize that they're in good hands.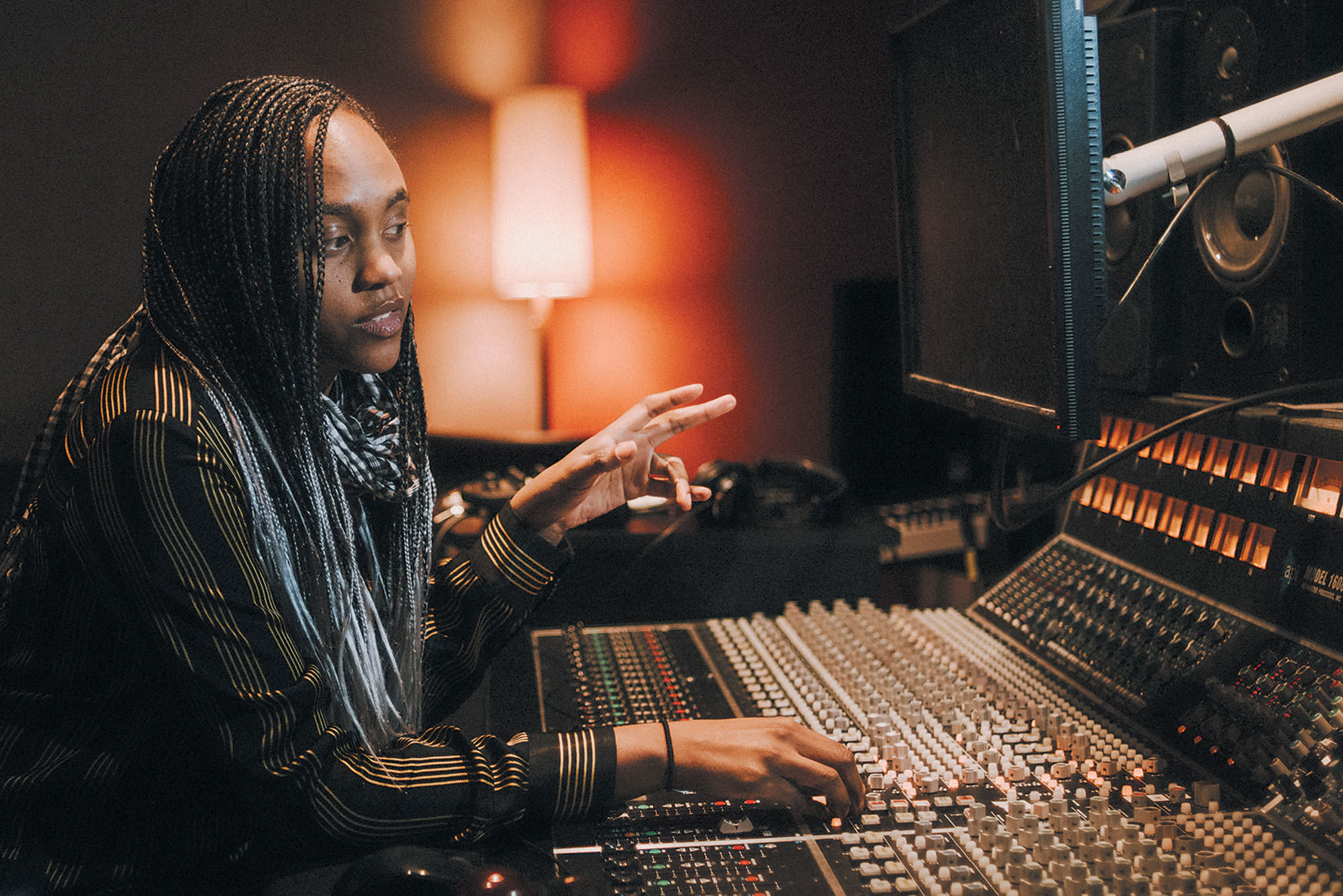 Yeah, totally.
If they can just come in somewhere and start to record, they go, "Oh, my god; you got that?" They were just goofing around, and then, "Oh, you got that!" That's one of those things that establishes trust very early.
Do artists walk in knowing exactly what sounds they want, or do you have a conversation beforehand?
It depends on the artist. Having worked with so many different artists, in so many different genres, you'll find a variation of methodologies. There are so many different ways to create a song. Sometimes I'm just engineering. Sometimes I'm asked to produce and to have ideas, or they just trust me to tell them and usher them through a workflow. I do know processes that work better than others. My biggest thing is always efficiency and making sure that we're capturing as much as we can, in the amount of time that we have. I have my methods for that. A lot of times artists will defer to me at this point, because they've done what you've done. They've looked at my resume and said, "Okay, this person must know what they're doing." So, they typically take good cues from me when it comes to workflow.
Looking around this room, there's a lot of gear to choose from. What are some of your favorite pieces of equipment here?
I love the [Neve] 1073s. I'm a big fan. We have a combination of the newer AMS preamps, as well as vintage pres from actual Neve consoles. I find them to be so reliable and trusty when it comes to creating rich harmonics. They just sound wonderful. It has a lot to do with the circuitry and types of components that are used to make those preamps. I rely on them heavily during the tracking process, but also during the mixing process. They have line inputs, so I'm able to mix on them as well. If I had my choice, I would track everything on them. Over the course of this last week, I had the opportunity to work on a 64-channel Neve 88RS [console]. Those pres sound incredible; there are 64 of them, so I was able to really spread out. My setups can be pretty expansive. We do have 32 channels of analog I/O in this room. I don't have 32 Neve pres, so I do have to be selective about what I send through them. But I also absolutely adore the API pres that we have in the 1608 [console].
Can you talk about this 1608 console a little bit?
Yeah. We have the 548 [preamps] in the API console. I think they're very transparent. I love them mostly on guitars, especially acoustic. I think they sound great on electric guitar and amp sounds that have been mic'd. They add a tonality, without being super heavy-handed in terms of the coloration. I think it's a good mix of coloration and transparency that you get with the pres that are in this board.
How do you think that compares to the 1073s, as far as coloration?
I think what you inherently get just by turning on the 1073s is a more rounded-out midrange that I feel is richer and has a better sense of harmonic variation. With these pres and this API board, I find them to be a little bit more transparent and not necessarily adding that much richness in the lower midrange and the high mids as much as the 1073s would. When you're recording into digital equipment and you're using converters, it's good to have as robust a signal as you can going from that continuous environment to a discrete environment. It makes a lot of a difference to be going into the computer from such a great-sounding preamp.
What does your balance between the use of plug-ins versus outboard gear usually look like? When are you doing things in the box?
During the tracking process, I'm tracking everything through this 32-channel API going into Pro Tools. After that, I'm in the digital world, so I rely very heavily on the UAD plug-ins and the Waves plug-ins. I have a number of plugs that I rely on in that space to get a good mix in the box. Then, when I have something that I feel like sounds interesting enough, I usually will use the API to further mix, find some interesting harmonics, and add back some analog warmth to the digital mix I've achieved in the box.
What are a few plug-ins that you're using the most these days?
I love the Little Plate reverb by Soundtoys. I also love the UAD Neve 33609 [compressor]. I use those on every mix. I also use a [Waves] L2 [limiter] at some point on every mix as a utility limiter if I need help leveling out some of the dynamics in the process of mixing. I enjoy the 560 API graphic equalization plug-in too.
What have you been doing with Gender Amplified?
Gender Amplified is an organization that celebrates and supports women in music production and audio engineering. That's very broad, because that can include established women whose visibility may not be as large as it could be or should be. We try to shine a light on incredible women in the field winning Grammys for engineering and production, and who are doing such amazing things that many people may not necessarily know about. For example, Emily Lazar winning a Grammy as a mastering engineer was a huge win for her. NOVA Wav [Denisia "Blu June" Andrews and Brittany "Chi" Coney] took a Grammy home for their work on the last Carters album, Everything Is Love. There are so many women out there making music and receiving credit, but not necessarily being validated in the public space as much as they could be. Gender Amplified serves as a bit of a bullhorn for those women. Then there are women who are aspiring to do this. We try to provide resources, workshops, panels, and conferences for those women looking to professionalize themselves and give themselves a leg up, and who are looking at the women we highlight as potential role models and mentors.
Do you work with a lot of young people?
We're working with a lot of young ladies. We have our newsletter, and we also run a music production camp called THE CTRL ROOM SERIES. We've been partnering with NYU and the Clive Davis Institute of Recorded Music to make this available for their students who are producers and are looking to find their way into the music business. Every month, we run this camp where we bring established producers and engineers to their campus and do a day-long recording session with them where they're writing for artists. It's a small initiative right now; but I think it's something that's helping to change the lives of these young people, and to show them that they can be producers and find professional opportunities while they're still in school.
What do you hope for Gender Amplified to become? How do you envision it looking in five years?
I have been talking with a major university to start the Gender Amplified Institute. It will be an institute that focuses on the study of music technology, alongside gender and women's studies. It'll be the first of its kind. It will be doing the work of THE CTRL ROOM SERIES – the work of mix sessions and the work of our newsletter – just in a very institutionalized way where we can make sure that we're able to touch so many lives per year. We'll be under the umbrella of an accredited college and university, but we can start to bring in guest lecturers and do the types of studies we need to do to figure out if we're making a difference in the music business by way of the young people who we're preparing to enter that industry. We'll be able to keep track and not be as fledgling as we have been in the past. We'll be able to use the resources and the support of an established, accredited university to get the things that we need to get done, and to further our mission. That's really the vision for Gender Amplified: an institute with its own studios, and its own curriculum that's looking critically at gender and how it's affecting the music business, as well as our world in general.
Is education something that you've always been interested in personally?
Education is something that is necessary for me, in every facet of what I'm doing. As a producer and engineer, I'm constantly reading books. I just finished On the Record by Al Schmitt. I'm reading All You Need is Ears by George Martin now. I feel like I've gotten an MBA building out Gender Amplified as a non-profit. I had to get my Dante certification. Everything about being an audio engineer and music producer involves education. Reading manuals, studying trends in the business, going to conferences like AES and NAMM, as well as making sure that I'm interfacing with other people in my community while also learning about new products.
Yeah, there are so many ways to learn these days.
Books are great. I've read tons of books by musical executives as well. The Soundtrack of My Life by Clive Davis is an excellent read. Ahmet Ertegun's book, Atlantic Records: The House that Ahmet Built, is also an excellent read. In addition to reading non-fiction, there are some bits of fiction I draw from. There's a wonderful novel called The Autobiography of an Ex-Colored Man by James Weldon Johnson. It's a bit of a review of the jazz age. I think the important thing is to expand your mind and read as you can, to make education not just something that you do, but something that is of your fabric and of your personality. It becomes an extension of your personhood. That's one of the things that has helped me tremendously as I'm in this position, because I feel like a student all the time. I spent the last week at Berklee College of Music as an Artist in Residence, and I feel like I learned more from the students and being in that environment than I was able to give to them. It was a great, symbiotic back-and-forth; to be constantly learning and constantly thinking of yourself as a student, as well as allowing the atmosphere and the environments that you find yourself in to teach you and for you to teach them.

Tape Op is a bi-monthly magazine devoted to the art of record making.