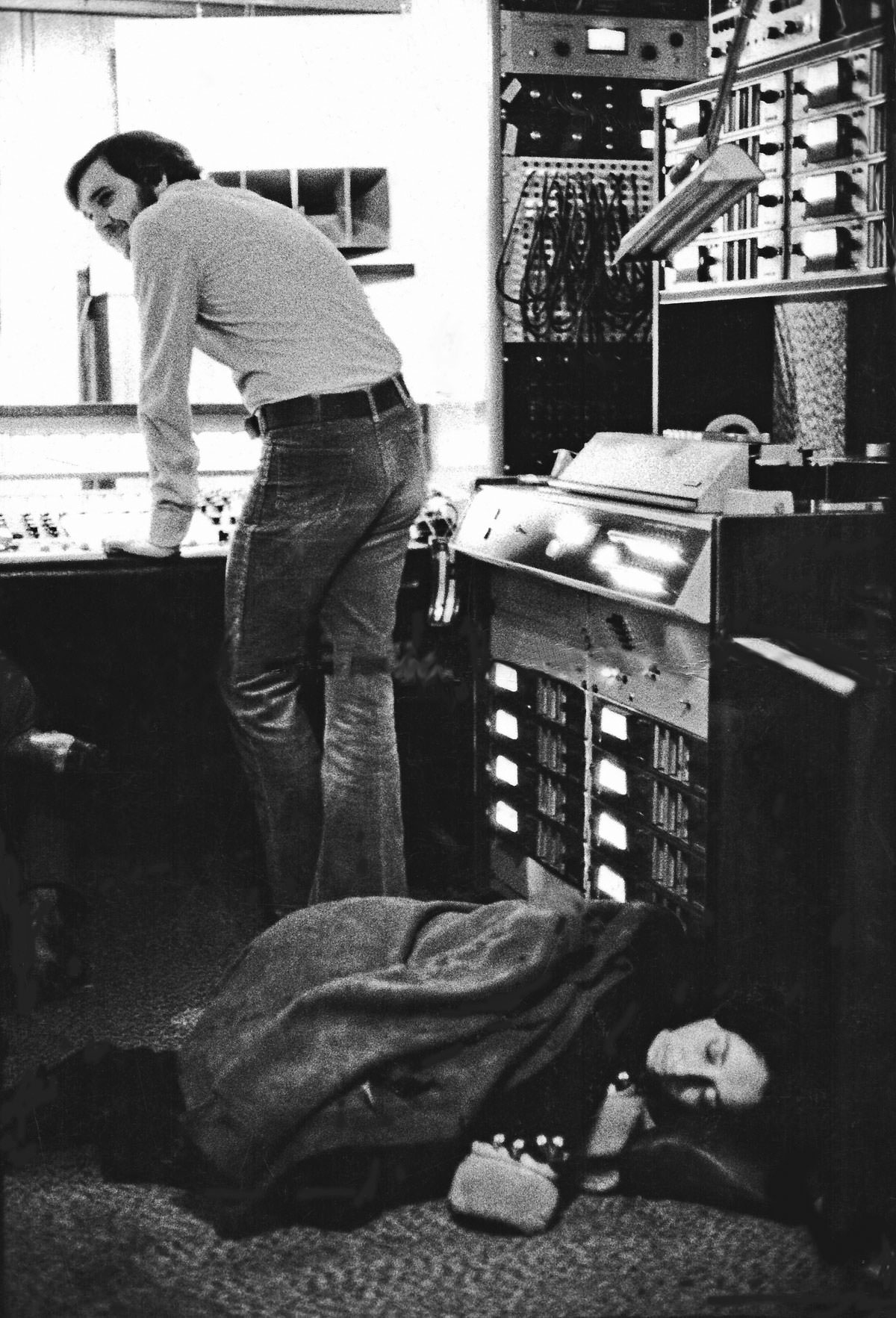 A recording studio in a house is something you'd expect in Nashville in today's age of in-the-box recording, but back at the dawn of the 1970's it was an unheard of move most country music record producers would never have bet on. That's precisely why it made perfect sonic sense to two of the town's hottest session musicians, Norbert Putnam and David Briggs, who – after playing on thousands of sessions between them around town at Nashville's best and biggest studios – boldly decided to go against the grain when they opened Quadrafonic Sound Studio in 1971. Known around town in rock circles as Quad, it produced a generation of hits, from Neil Young's "Heart of Gold" to Dobie Gray's "Drift Away." Norbert takes us through two hits he produced there; Jimmy Buffett's iconic good-times anthem "Margaritaville" and Joan Baez's "The Night They Took Old Dixie Down." He's also recently released an autobiography called Music Lessons: A Musical Memoir.
Photo Above: With Joan Baez in the studio, 1971. Photo courtesy Norbert Putnam.
Your roots run back to your teenage days as one of Muscle Shoals most famous bass players. How old were you when you first stepped foot inside a real recording studio?
I never planned to be a record producer. I never planned to be a musician. I grew up in Florence, Alabama, and when I was 15 the kids in my school were putting a band together to play early Elvis [Presley]. We're talking the era of Bill Black, Scotty Moore, and DJ Fontana. One of them remembered my father had an acoustic bass. No one else in school did, so I was approached by this kid, Danny Cross, to play with the band, and I said, "Danny, what makes you think I can become proficient enough to play in your band overnight?" He said, "Norbert, this Elvis music only has three chords." That was the beginning of my journey. Tom Stafford had started a music publishing company [SPAR: Stafford Publishing and Recording], and his office was right above the city drug store where his father was a pharmacist. He was also the manager of the Princess Theater. He said if we'd come play on demos, he'd get us into all the movies free. At 16, after school, we'd run up to Tom's place and he'd be preaching to us, "Right here in Florence, Alabama, we can write hit songs and hit records, and be in the music industry." Tom was this older guy, 26 or 27, and he wore his blue blazer, gray trousers, and school tie every day; and he'd sign anyone who could make a rhyme. We were writing original parts for original songs. David Briggs [keyboards], Jerry Carrigan [drums], and myself were coming up and demoing songs for Tom Stafford after school. That's when I was between 16 and 18 years old.
You three became the famed Muscle Shoals Rhythm Section. Is it true you three actually got to open for The Beatles while still in high school?
We had been written up in print as the Muscle Shoals Rhythm Section, because we were the only rhythm section in Muscle Shoals that made records between 1961 and 1965. In 1964, The Beatles were coming to America for the first time, and they asked if we would be the backup band for the opening acts. That was, of course, February 11th, 1964. In those days most acts didn't travel with a band because it was too expensive, so they would show up with their charts. We got to open for The Righteous Brothers. The Righteous Brothers and Tommy Roe were on the bill, and when The Beatles came out, they were the first loud rock 'n' roll act I'd ever heard!
You arrived in Nashville a year later and quickly made a name as one of Nashville's most in-demand session players. What was the secret to your success in that first stage of your studio career?
Nashville musicians were chameleon-like; they could hear the voice and type of song and morph into that kind of backing musician. I had to be able to play seven or eight different styles of bass. If you could play all the styles, write your part out, and listen to the singer, and play with much emotion as possible, you could be a Nashville studio guy. It took me about three years to get into the top four or five [session bassists] in Nashville. The first year I did 100 record dates, and the second year I did about 250. By the third year, I'd played on some hits and had established a style of playing that was different from anyone else. By 1970, I was playing 600 record dates a year! It was me, Bobby Moore, Junior Huskey [Roy Huskey Jr.], and Henry Strzelecki on bass. On a lot of dates, it could be any one of four or five drummers, four or five keyboard guys, and any one of a dozen guitar players – because most sessions had two guitars. The culture of the Nashville session players, at that time, was that they were focused. If you had a 10 to 1 session in the morning, everyone was there at 10, ready to hear the first song. Us Muscle Shoals guys would wander in around 10 o'clock, get some coffee, talk about what we did on the weekend, and maybe by 10:30 everybody comes in and they play the first song down. In Muscle Shoals we'd play it for an hour before we memorized it; but this was the culture of professionalism, we fell into it once we got to Nashville. Thank god we did, because by 1970 a good studio guy could make $100,000 a year. I would drive my station wagon in every morning, and I might be at RCA Studio B from 10 to 1 in the afternoon, Studio A from 2 to 5, Columbia from 6 to 9, and, a couple nights a week, I might have a 10 to 1 a.m. session, and get home at 2 in the morning. That's at 23, 24 years old.
How did your years as a session player help prepare you to transition into the role of record producer?
Every day was an education. When I got to Nashville, I got to work with some really incredible record producers, and it was a great education. I worked for some really great producers, but the best part of it is that I also worked for some really horrible producers, and the horrible producers taught me what not to do. The only time the Nashville session guys ever had any problem with a producer is when he'd come out and try to tell them all what to play. The thing he would tell you to play would be some commonplace part that shut off any creative thought you might have for this guy. That was probably my first lesson in producing.
You had the rare opportunity of recording over 100 songs with Elvis in the studio.
I did 122 tracks for Elvis over a seven year period. I started with him in June of 1970, and – get this – I was just retiring as a bass player. I played five years in Nashville, and I think the last year I played I did 625 record dates. I was so exhausted; I was 28 years old and my back hurt because half the dates I played were on the upright acoustic bass! Felton Jarvis had been producing Elvis Presley for two or three years, and Bobby Moore had played on all of Elvis's records when he came back from the service. In 1969, Felton brought in some of the Muscle Shoals guys that had been up here. I did it because I wanted to see what Elvis was all about. He was on my bucket list, and I only had two or three guys on that list. Another one of them was Ray Charles, and I'd done a television show in Nashville with Ray. I got to spend the whole afternoon with him, and we did a whole bunch of his classics. The first week, June of 1970, we did five nights with James Burton and Chip Young [Tape Op #124] on guitars, me, David Briggs, Jerry Carrigan, and Charlie McCoy, because he could play everything in the band. We did 35 or 36 tracks that first session! He [Elvis] came in with a big smile on his face, and had his arms open like, "Come over here," like a football huddle. He gathered everybody around, and he said, "Guys, let's sit down and talk for a minute before we go to work." We wound up spending that first night sitting on the tile floor at RCA Studio B with Elvis, and for two hours he regaled us with the funniest Elvis stories you've ever heard. He had us laughing. Over that two hours we forgot this was the biggest artist in the history of the world. Then we knocked out three tracks in three hours, and there was no pressure. He would nail his vocal on the first take. He didn't need to work up to it. I could see him getting ready to do the vocal. He'd take a deep breath before that first take, and he'd say, "Guys, we're gonna get this on the first take," and he would attack that song right off the bat. Most of the artists I worked with worked up to it, so they would sing it two or three times, and then would feel like they were about to get it. We started at 10 o'clock, Elvis would go from 10 to 3 or 4 a.m., and by 4 we were all dragging. Most of us would work a morning and afternoon session before we got to Elvis at 6. He was the greatest recording artist I've ever worked with.
What inspired you and co-founder David Briggs to go against the grain and take a gamble on building a studio in a house?
As a matter of fact, it was like remote recording in a little old house. There could have been a remote truck out back instead of having a control room on the front porch. It was not designed to be a studio, although we started to deaden down some walls. After the first year went by, Gene Eichelberger came to work for us. Gene had a degree in Electrical Engineering, so he wired the place, and he became one of Nashville's greatest engineers in the early 1970s. That's Gene's mix on Dobie Gray's "Drift Away" – the biggest record of 1973. Gene grabbed Neil Young at a show in 1971, and said, "Neil, you're in town for a week. Why don't you come down and do a few sides with me at Quad?" Over a weekend they did "Heart of Gold." In 1971 I got "The Night They Drove Old Dixie Down" with Joan Baez. In 1972 Neil got the biggest album of his career, Harvest, and in 1973 Dobie Gray came in and does "Drift Away." Between all that we had Joe Walsh & The James Gang, Grand Funk Railroad, and more. Within three years Quad became this mecca for pop rock in Nashville.
How did the original house become a recording studio?
I think the house was built around 1905. It had a front porch with a bay window that looked out to the street, and you came into the entrance foyer, where there was a hallway and a staircase that led upstairs. There were only two big rooms upstairs and a bathroom. Below it there were parlors with a sliding door between the front and second parlor. The kitchen was to the left, behind the staircase. It was a very small house, and Dave and I were trying to figure out, "Should we take that front parlor and make it the control room?" Then we thought we wouldn't have enough space; but the front porch happened to be quite large, so we decided we'd enclose the front porch, take out the bay window, and put in new glass. We leveled the floor as best we could. We put the Steinway grand piano in the second parlor. The entire rhythm section went in there. The front parlor was for the singer and quieter things. We put glass in the pocket doors so they could be shut for some isolation. Then we had this bizarre idea, "What if we took the kitchen, put in a window that can go up and down, and we'll put some drums in there?" We now had a console with good headphone outputs, and we made the drummer wear headphones all the time while we were tracking. Our kitchen became one of the town's first iso drum booths! Gene Eichelberger put 2 inches of sand down and built the floor around that so it would absorb more of the kick drum, and it worked great. He could push a button and the glass would go up. Even with the glass windows down, we could still hear the drums well enough in that second parlor to play with the drum kit without headphones if we wanted.
One of the first records you ever produced was Joan Baez's cover of "The Night They Drove Old Dixie Down."
Kris Kristofferson was originally supposed to produce that record! I got there about 20 minutes before the session was supposed to start and he told me, "I'm not doing it. I've been talking to Joan, and she thinks you should do it." So, I ran upstairs, found Joan, and she said, "Can you help me do the record? You could plug your bass in in the control room, and listen and play, couldn't you?" So, I became a record producer 15 minutes before my first production. I had a great band! I basically said, "Joan, get your guitar and play the first song down." At 2 o'clock she picks up the guitar. We all had legal pads, and, as she started playing, we all started writing the charts. Every session man was responsible to write his own chart. She played it down, and I said, "Joan, play the second verse again." I said to the band, "Guys, you'll notice she's got a syncopation into the second verse going into chorus. Let's notate that. I think we should all play that together." When we recorded "The Night They Drove Old Dixie Down," she had the door open to the second parlor in Quad and was standing in the front room facing us as she played that guitar part. She played along with the rhythm section in perfect time, and she delivered that great vocal. Everything on the record she sang with the band. The band played until she got it. She was such a great singer it only took her two or three takes to get a great vocal. The same [Neumann] U 87 we recorded her lead on was used for all the backing vocals, and nobody in the band wore headphones. They could all hear Joan well enough, and she could hear them well enough with the doors open. The bleed was controlled from the drums because he was in a separate room.
You produced five studio albums for Jimmy Buffett in the 1970s. What grabbed your ear about Jimmy's style of playing?
He'd come to Nashville and he was writing for Billboard Magazine, doing concert reviews. I think he came to the studio when we were doing Jerry Jeff Walker. My friend, Don Gant – who was producing Jimmy Buffett in the earlier '70s – first suggested Jimmy call me, and we had a meeting. Jimmy said, "Norbert, my band is more like the Rolling Stones than some Nashville studio band." I remember trying to imagine the Stones performing "Come Monday." I said, "So you think your band will give you more energy?" He said, "Yes! That's it. If I can record with them in the studio." I said, "When can I hear your band?" I saw them at Hermitage Landing a couple weeks later. They had a floating stage they pushed off the sand there. Jimmy's band was a rock 'n' roll show. The band was killer, but they weren't a country band. After it was over, I went back and saw Jimmy and the band partying. I said, "When can we get together to play me some songs?" He came over the next day and played me ocean songs. Songs about sailing, drinking rum, and being in the islands. He asked me, "What do you think?" I told him, "We need to go to Miami." I'd been doing a lot of work down in Miami at Criteria Studios in 1976 and '77. He looked at me in confusion and said, "Why? You've got one of the greatest studios in the world." I told him I'd been recording with Dan Fogelberg in Colorado, and when I'd do the vocals in his neighborhood, he was more comfortable. "Jimmy, if you were able to breathe salt air, and you and I could go sailing every day, maybe we could bring in some Caribbean sounds." As a record producer, I thought it was important for me to give some thought with every artist I produced – to the way the backing track sounded. When it came time to work with Jimmy Buffet, I was trying to get him to buy into what later became known as the "Trop-Rock" sound. I told him, "I want your record to be like Caribbean rock." He looked at me and said, "That's the most boring thing I've ever heard of!" I told him, "I'll rent a house for a month on the bay; we can bring your roadies and they can be bartenders." I didn't think he was coming back to see me, but he called me a few days later and said, "Norbert, I think you may have a good idea. I've started the first song. It's called 'Changes in Latitude, Changes in Attitude.'" I found myself in Miami two months later, and Jimmy had made enough money to buy a 33-foot boat. He brought that over to the marina at Coconut Grove. I explained to him that since most of his guys had never been in a studio before, they were going to find themselves in this terrible environment. "It's like going into a space capsule." He had them rehearse, and I said, "I want to bring in a couple other guys. If the drummer has a problem, you have to shut everything down." I told him I wanted to bring Kenny Buttrey down to play percussion. But I didn't tell him that I was also bringing Kenny down so that if Jimmy's drummer fumbled, I could put Kenny in. Then I added a guitar player from New York, Michael Jeffry, and they both played prominent roles.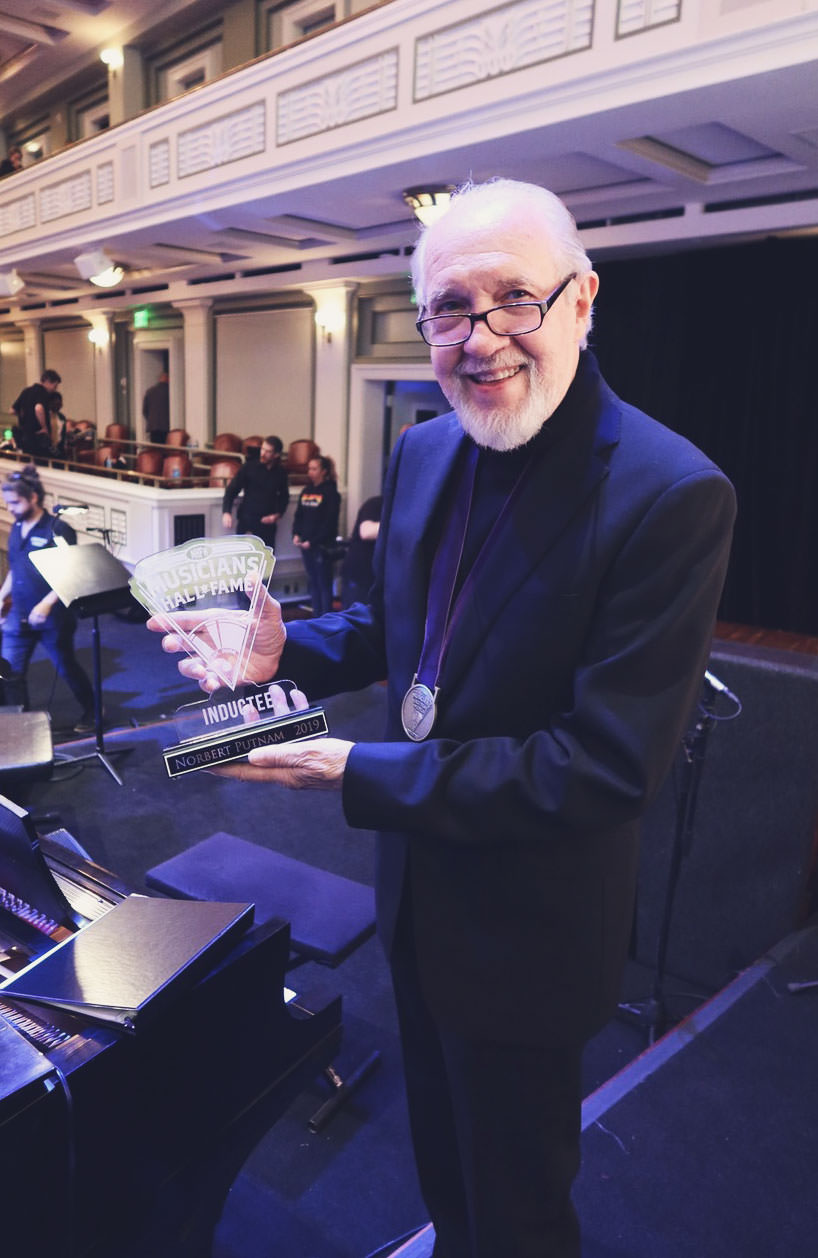 Norbert Putnam - Musicians Hall of Fame Inductee
Did you know that "Margaritaville" was a smash the first time Jimmy played it for you?
We recorded for two weeks, and going into the second week Jimmy told me, "I've got a song I'm trying to finish. I think I'm going to call it 'Margaritaville.'" I remember I wasn't fond of the title. He came in one morning – about two days before we completed recording – and he's got his legal pad. He sits down and plays, and he starts singing. It may have been the only time an artist ever played me a song fresh in the studio. I said, "This is a great. It's a great story, a great lyric, and it's also maybe a brand." I knew it should be a hit when I heard it. I didn't tell anyone what to play – I never do that – so I let the players come up with parts that they're happy with. The track gelled based upon Buffet's original rhythm he played, which dictated a lot to the band. If I remember correctly, we had a few problems with the drums, because the band hadn't rehearsed this song. I suggested that Kenny Buttrey replace the drummer, because he was an old studio pro who would kill that part on the first take, and he did! When Kenny got behind the drums, two or three takes later, we had it. Buttrey pulled the whole rhythm section together. A great drummer commands the rhythm section. We were having fun, the band was having fun, and it all came together. "Margaritaville" became our signature song. Later on, when we mixed, we changed one vocal line at the end of the chorus, because ABC Paramount made us change "It's my own damn fault" to "It's my own darn fault." Jimmy punched that in at my studio in Nashville. Once we came back to Nashville, Michael Utley came to my apartment one night, and he and I wrote all the strings, flutes, and woodwinds on my nice grand piano over a couple of bottles of Chandon wine. Michael Utley and I did those flutes on "Margaritaville" together, and I think it was based on something he played in the keyboard part on the intro. They were wooden recorders, just like the ones you played in grade school. We had Billy Puett – a great flute player in Nashville – and I called and asked him if he had a recorder that played in tune. Maybe I should have had him bring the one that was out of tune. But he brought down to the studio a real, professional recorder, and he played both those parts one after the another. The strings were done in the front room of Quadrafonic. Because the room was so small, it was a section of two violins, two violas, and two cellos. They would play it through once, and then I would say, "Would you guys do that one more time?" We would punch up two more tracks, and it would sound like 12 violins, four violas, and four cellos. At that point in time in Nashville, the symphony was so bad we couldn't go down there and grab players because they couldn't play in tune very well. Jimmy came up with a couple guys from his band, and they did all the harmonies on all the vocals. That was all overdubbed at Quad.
Did you have a favored vocal mic back then?
We had two mics we liked – a [Neumann] U 67 and a [Neumann] U 87. All the records I made in the '70s – all the Jimmy Buffet and Dan Fogelberg hits – they were all singing into a U 87, because if I had to go to California and record a verse with Fogelberg – I never used any EQs or any compression to speak of on the vocal – that way I could punch in a part in L.A., New York, or Miami, and it sounded exactly the same. You couldn't do that with a U 67. That whole album – Changes in Latitudes, Changes in Attitudes – all the vocals were done live while the band played. It's a very efficient way to work. We didn't have to come back and put headphones on and try to get into the same emotional place. The modern way day of doing it is to always bring them back. By the time we left Miami after two weeks, I nearly had all the guitar solos, the keyboard parts, and Jimmy's lead vocals. We recorded old style. The band played until Jimmy got the vocal, and Jimmy was excited. After I did the Changes in Latitudes... album, I did five more with him and had this great catalog. Everything was gold and platinum, and Jimmy Buffett was touring every summer. We used to sell a million records from the catalog every summer he would tour. That went on for 25 years. Unbelievable!

Tape Op is a bi-monthly magazine devoted to the art of record making.