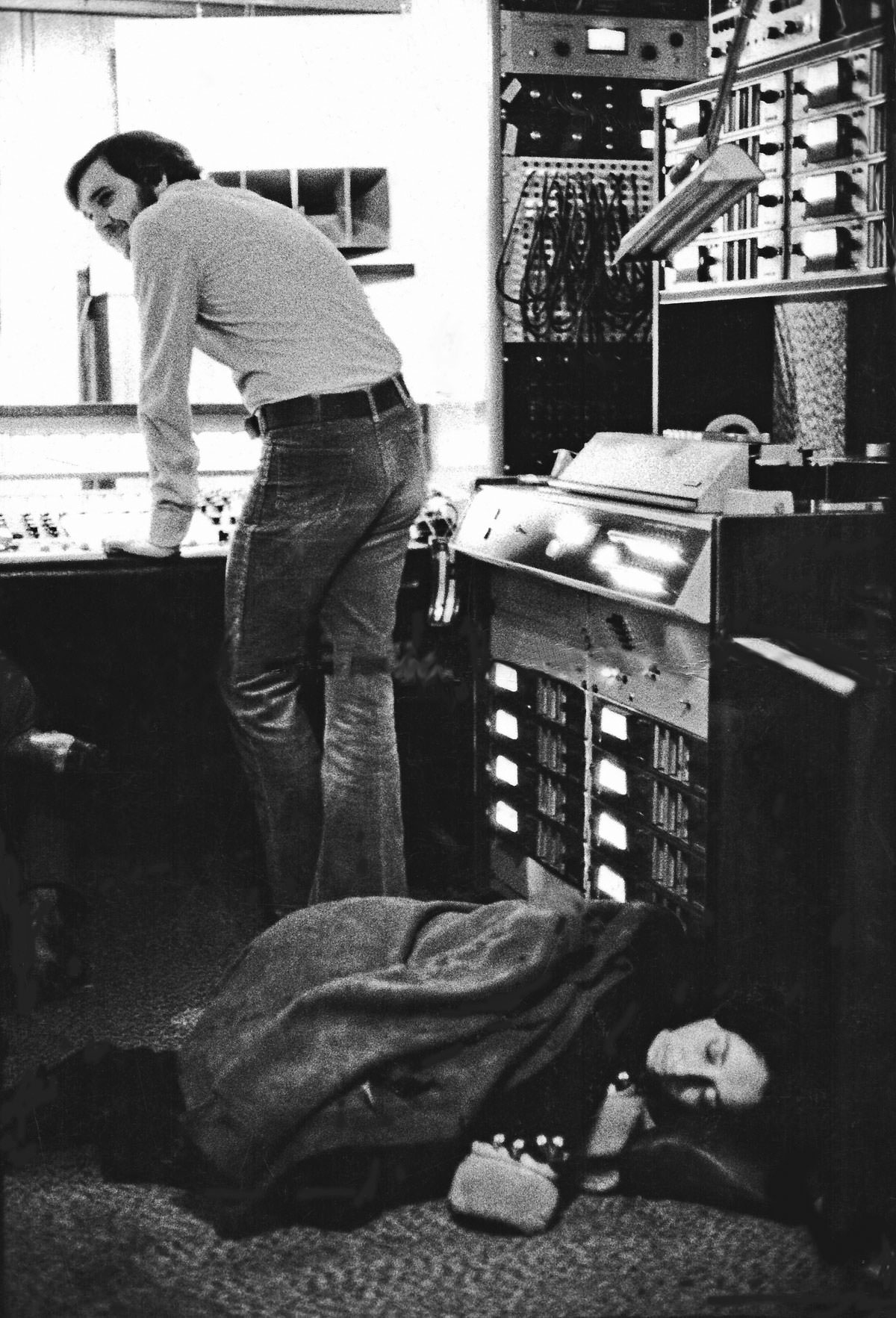 A recording studio in a house is something you'd expect in Nashville in today's age of in-the-box recording, but back at the dawn of the 1970's it was an unheard of move most country music record producers would never have bet on. That's precisely why it made perfect sonic sense to two of the town's hottest session musicians, Norbert Putnam and David Briggs, who – after playing on thousands of sessions between them around town at Nashville's best and biggest studios – boldly decided to go against the grain when they opened Quadrafonic Sound Studio in 1971. Known around town in rock circles as Quad, it produced a generation of hits, from Neil Young's "Heart of Gold" to Dobie Gray's "Drift Away." Norbert takes us through two hits he produced there; Jimmy Buffett's iconic good-times anthem "Margaritaville" and Joan Baez's "The Night They Took Old Dixie Down." He's also recently released an autobiography called Music Lessons: A Musical Memoir.
Photo Above: With Joan Baez in the studio, 1971. Photo courtesy Norbert Putnam.
Your roots run back to your teenage days as one of Muscle Shoals most famous bass players. How old were you when you first stepped foot inside a real recording studio?
I never planned to be a record producer. I never planned to be a musician. I grew up in Florence, Alabama, and when I was 15 the kids in my school were putting a band together to play early Elvis [Presley]. We're talking the era of Bill Black, Scotty Moore, and DJ Fontana. One of them remembered my father had an acoustic bass. No one else in school did, so I was approached by this kid, Danny Cross, to play with the band, and I said, "Danny, what makes you think I can become proficient enough to play in your band overnight?" He said, "Norbert, this Elvis music only has three chords." That was the beginning of my journey. Tom Stafford had started a music publishing company [SPAR: Stafford Publishing and Recording], and his office was right above the city drug store where his father was a pharmacist. He was also the manager of the Princess Theater. He said if we'd come play on demos, he'd get us into all the movies free. At 16, after school, we'd run up to Tom's place and he'd be preaching to us, "Right here in Florence, Alabama, we can write hit songs and hit records, and be in the music industry." Tom was this older guy, 26 or 27, and he wore his blue blazer, gray trousers, and school tie every day; and he'd sign anyone who could make a rhyme. We were writing original parts for original songs. David Briggs [keyboards], Jerry Carrigan [drums], and myself were coming up and demoing songs for Tom Stafford after school. That's when I was between 16 and 18 years old.
You three became the famed Muscle Shoals Rhythm Section. Is it true you three actually got to open for The Beatles while still in high school?
We had been written up in print as the Muscle Shoals Rhythm Section, because we were the only rhythm section in Muscle Shoals that made records between 1961 and 1965. In 1964, The Beatles were coming to America for the first time, and they asked if we would be the backup band for the opening acts. That was, of course, February 11th, 1964. In those days most acts didn't travel with a band because it was too expensive, so they would show up with their charts. We got to open for The Righteous Brothers. The Righteous Brothers and Tommy Roe were on the bill, and when The Beatles came out, they were the first loud rock 'n' roll act I'd ever heard!
You arrived in Nashville a year later and quickly made a name as one of Nashville's most in-demand session players. What was the secret to your success in that first stage of your studio career?
Nashville musicians were chameleon-like; they could hear the voice and type of song and morph into that kind of backing musician. I had to be able to play seven or eight different styles of bass. If you could play all the styles, write your part out, and listen to the singer, and play with much emotion as possible, you could be a Nashville studio guy. It took me about three years to get into the top four or five [session bassists] in Nashville. The first year I did 100 record dates, and the second year I did about 250. By the third year, I'd played on some hits and had established a style of playing that was different from anyone else. By 1970, I was playing 600 record dates a year! It was me, Bobby Moore, Junior Huskey [Roy Huskey Jr.], and Henry Strzelecki on bass. On a lot of dates, it could be any one of four or five drummers, four or five keyboard guys, and any one of a dozen guitar players – because most sessions had two guitars. The culture of the Nashville session players, at that time, was that they were focused. If you had a 10 to 1 session in the morning, everyone was there at...
The rest of this article is only available with a Basic or Premium subscription, or by purchasing back issue #135. For an upcoming year's free subscription, and our current issue on PDF...