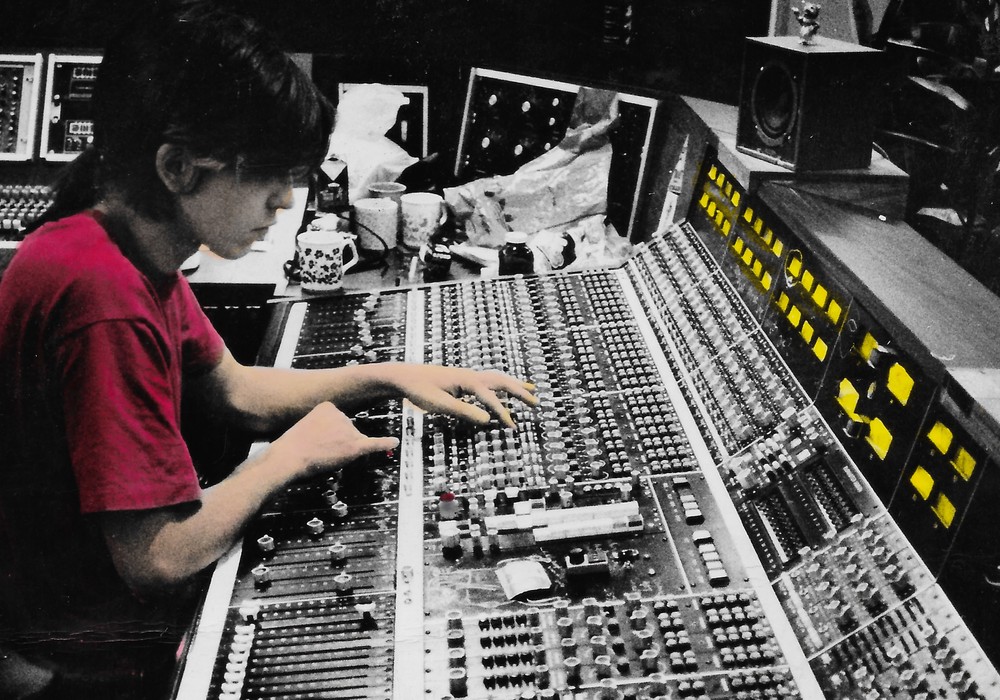 Apart from the world of recording, Phil Thornalley may not be a household name, but a quick scan of the many records he's produced, engineered, and co-written (or all of the above) reveals a discography steeped in such universally well-known acts as Bryan Adams, Thompson Twins, The Cure, Prefab Sprout, The Psychedelic Furs, The Jam, XTC [Tape Op #19], Duran Duran, and even Paul McCartney. He also co-wrote and produced the 1997 worldwide smash hit single "Torn" for Australian pop star Natalie Imbruglia, co-wrote and co-produced "On a Day Like Today" with Bryan Adams, and played the iconic upright bass part on The Cure's "The Love Cats," which he also produced. Last year, after touring the world for nearly two years as Adams' bass player, Thornalley took his recording chops and songwriting skills back into his home studio to make an album of original songs which paid homage to the earliest sounds of the studio that first pulled him towards a life in music. Thornalley's Astral Drive album, released in 2018 and named after the L.A. street address where Todd Rundgren created much of his 1972 album Something/Anything?, was a handmade labor of love; a decidedly analogue-sounding affair, recalling his early fascinations with the sonic experimentations of Pink Floyd's Dark Side of The Moon and, most significantly, Rundgren's experimental soundscapes on Todd. Thornalley got swept along in the late '70s punk explosion and took his first musical steps in a band literally called The First Steps. Their 1979 debut single, "The Beat is Back," even got a few on-air spins from legendary UK broadcasters David "Kid" Jensen and John Peel. But, by then, Thornalley's fascination with the recording studio had landed him a dream job at RAK Studios in London, apprenticing under the tutelage of legendary producer Mickie Most, before moving on to assist and engineer for two more significant producer mentors, Steve Lillywhite [Tape Op #93], and the late great Alex Sadkin. I caught up with Thornalley via Skype from his home studio, The Swamp, in North London, where he remains busy on both sides of the glass.
Photo Above: Thornalley mixing The Cure's Pornography at RAK Studio One, January 1982
You're currently sitting in your studio but there have been several Swamps over the years, haven't there?
Yes, The Swamp has been the name of my home studio everywhere I've moved. In the '70s, in my hometown of Suffolk, "The Swamp" was originally one of my teenage mentors; a really good lead guitarist who was the brother of Johnny Hates Jazz member, Mike Nocito. He figured out how to use two 2-track machines and overdub. That was probably '74 or '75, when we had a band and did cover songs of the Eagles and bands like that. The Nocitos were Italian-Americans, and their dad was the principal at the high school on this US Air Force base. That's where a lot of my musical influence came from, those guys getting Steely Dan, Todd Rundgren, or albums that weren't necessarily on the radar for British radio at the time. These Air Force bases were incredible; it was a real culture shock going into those places. That's where I got my first bass guitar, a fancy Fender Precision, from the PX [post exchange].
How did that American immersion affect you in the mid-70s, while the punk rock explosion happened all around you?
It actually divided a lot of people. There were the people who were still listening to the Eagles and Steely Dan, and then there were guys like my best friend Chris, who bought right into the Ramones and threw all the other records out. I sat on the fence and thought, "Well, I still like those old records too." I liked the punk records, and I was in a punk band where we would cover the Ramones and the Sex Pistols, but then I was also in a nine-piece soul band that played the American Air Force bases.
Do you remember the first moment you became aware of recording gear and that recording was a "thing"?
Yes, absolutely. I had all the studio gear in my bedroom, like TEAC and ReVox tape recorders, and it would move from one guy's house to another, depending on when the parents would say, "That's it! Get that stuff out!" We'd rehearse, and I had a tiny bedroom with a piano and a set of drums in the corner. I had a go with these 2-track machines. You know that Todd Rundgren tune, "There Are No Words," where it's improvised, multitrack singing? I tried that. I started by singing the bass note, sitting at the piano going, "And then I'll sing this note, and then I'll sing that note." It was totally out of tune, but in a way it was like looking in a mirror and thinking, "Wow. I look good!"
And with recording, you can overdub.
Yes. Our band owned one pedal, which was this amazing phase/flanger thing. You know how Electric Light Orechestra's "Strange Magic" had this [flanged guitar]? I would put the mic through this phase pedal before it got to the tape machine. I'd use it on the piano and the drums, and it made it sound exotic. I'd be thinking, "Oh, I wonder what that would sound like?"
One of your song titles from Astral Drive is "Summer of '76", which is around the time you had discovered Todd Rundgren, right? What happened when you started to hear what Rundgren was up to on those records?
I was hanging around the Nocito household with Mike. We both loved Burt Bacharach and all kinds of "uncool" music like Jimmy Webb. One time Mike said, "You've gotta hear this!" I put on my headphones and he played me Todd's "Useless Begging." That was my big epiphany. From there I wanted to know how you could make a record sound like that. Of course now I can deconstruct it and hear that he'd borrowed some Beach Boys influences in the percussion, temple blocks and echo, the drum machine, and that he was probably playing a synth bass. There's also a very inaccurate clavinet or piano just about playing some chords. Yet it all adds up to a beautiful song, and it moved me. It still does.
How did you...
The rest of this article is only available with a Basic or Premium subscription, or by purchasing back issue #135. For an upcoming year's free subscription, and our current issue on PDF...