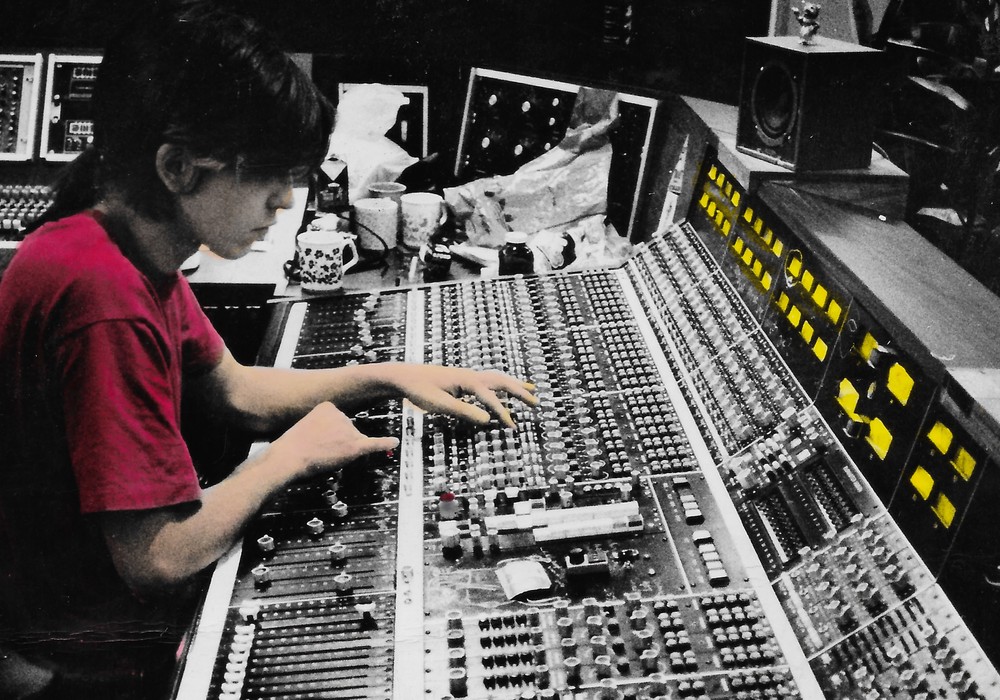 Apart from the world of recording, Phil Thornalley may not be a household name, but a quick scan of the many records he's produced, engineered, and co-written (or all of the above) reveals a discography steeped in such universally well-known acts as Bryan Adams, Thompson Twins, The Cure, Prefab Sprout, The Psychedelic Furs, The Jam, XTC [Tape Op #19], Duran Duran, and even Paul McCartney. He also co-wrote and produced the 1997 worldwide smash hit single "Torn" for Australian pop star Natalie Imbruglia, co-wrote and co-produced "On a Day Like Today" with Bryan Adams, and played the iconic upright bass part on The Cure's "The Love Cats," which he also produced. Last year, after touring the world for nearly two years as Adams' bass player, Thornalley took his recording chops and songwriting skills back into his home studio to make an album of original songs which paid homage to the earliest sounds of the studio that first pulled him towards a life in music. Thornalley's Astral Drive album, released in 2018 and named after the L.A. street address where Todd Rundgren created much of his 1972 album Something/Anything?, was a handmade labor of love; a decidedly analogue-sounding affair, recalling his early fascinations with the sonic experimentations of Pink Floyd's Dark Side of The Moon and, most significantly, Rundgren's experimental soundscapes on Todd. Thornalley got swept along in the late '70s punk explosion and took his first musical steps in a band literally called The First Steps. Their 1979 debut single, "The Beat is Back," even got a few on-air spins from legendary UK broadcasters David "Kid" Jensen and John Peel. But, by then, Thornalley's fascination with the recording studio had landed him a dream job at RAK Studios in London, apprenticing under the tutelage of legendary producer Mickie Most, before moving on to assist and engineer for two more significant producer mentors, Steve Lillywhite [Tape Op #93], and the late great Alex Sadkin. I caught up with Thornalley via Skype from his home studio, The Swamp, in North London, where he remains busy on both sides of the glass.
Photo Above: Thornalley mixing The Cure's Pornography at RAK Studio One, January 1982
You're currently sitting in your studio but there have been several Swamps over the years, haven't there?
Yes, The Swamp has been the name of my home studio everywhere I've moved. In the '70s, in my hometown of Suffolk, "The Swamp" was originally one of my teenage mentors; a really good lead guitarist who was the brother of Johnny Hates Jazz member, Mike Nocito. He figured out how to use two 2-track machines and overdub. That was probably '74 or '75, when we had a band and did cover songs of the Eagles and bands like that. The Nocitos were Italian-Americans, and their dad was the principal at the high school on this US Air Force base. That's where a lot of my musical influence came from, those guys getting Steely Dan, Todd Rundgren, or albums that weren't necessarily on the radar for British radio at the time. These Air Force bases were incredible; it was a real culture shock going into those places. That's where I got my first bass guitar, a fancy Fender Precision, from the PX [post exchange].
How did that American immersion affect you in the mid-70s, while the punk rock explosion happened all around you?
It actually divided a lot of people. There were the people who were still listening to the Eagles and Steely Dan, and then there were guys like my best friend Chris, who bought right into the Ramones and threw all the other records out. I sat on the fence and thought, "Well, I still like those old records too." I liked the punk records, and I was in a punk band where we would cover the Ramones and the Sex Pistols, but then I was also in a nine-piece soul band that played the American Air Force bases.
Do you remember the first moment you became aware of recording gear and that recording was a "thing"?
Yes, absolutely. I had all the studio gear in my bedroom, like TEAC and ReVox tape recorders, and it would move from one guy's house to another, depending on when the parents would say, "That's it! Get that stuff out!" We'd rehearse, and I had a tiny bedroom with a piano and a set of drums in the corner. I had a go with these 2-track machines. You know that Todd Rundgren tune, "There Are No Words," where it's improvised, multitrack singing? I tried that. I started by singing the bass note, sitting at the piano going, "And then I'll sing this note, and then I'll sing that note." It was totally out of tune, but in a way it was like looking in a mirror and thinking, "Wow. I look good!"
And with recording, you can overdub.
Yes. Our band owned one pedal, which was this amazing phase/flanger thing. You know how Electric Light Orechestra's "Strange Magic" had this [flanged guitar]? I would put the mic through this phase pedal before it got to the tape machine. I'd use it on the piano and the drums, and it made it sound exotic. I'd be thinking, "Oh, I wonder what that would sound like?"
One of your song titles from Astral Drive is "Summer of '76", which is around the time you had discovered Todd Rundgren, right? What happened when you started to hear what Rundgren was up to on those records?
I was hanging around the Nocito household with Mike. We both loved Burt Bacharach and all kinds of "uncool" music like Jimmy Webb. One time Mike said, "You've gotta hear this!" I put on my headphones and he played me Todd's "Useless Begging." That was my big epiphany. From there I wanted to know how you could make a record sound like that. Of course now I can deconstruct it and hear that he'd borrowed some Beach Boys influences in the percussion, temple blocks and echo, the drum machine, and that he was probably playing a synth bass. There's also a very inaccurate clavinet or piano just about playing some chords. Yet it all adds up to a beautiful song, and it moved me. It still does.
How did you end up apprenticing with Mickie Most at RAK Studios?
My mum could see I was going nowhere academically, but that I was quite passionate about music and recording. RAK's studio manager was a friend, of a friend, of a friend, so I got an interview and I guess he liked the cut of my jib. At that time, the studio was very much that of, "you sit in the corner, you operate, and you shut up." The chief engineer on the first session even told me something to the effect of, "Don't talk. Do what you're told, and you'll get on." At a very young age, I got to see the recording studio as a career, first as a tape op, and as a tea boy at RAK Studios. Within the space of the first six months, I'd worked on orchestral recordings. I was the assistant on the sessions for Barry Manilow, Siouxsie and the Banshees, and The Jam. I'd done pop, punk, new wave, middle of the road, and all the music that came in. For the first two days I thought, "What is this crap?" Then, two weeks later, after the producer or whoever worked his or her magic, I'd realize, "Oh, actually yeah. I see what this is about."
Mickie Most made his name in the '60s with acts like The Yardbirds, The Animals, Donovan, and Herman's Hermits. Does that make you kind of a bridge to another era?
Before I was working for him, Mickie had had all these hit records. Some of them had very bizarre arrangements by people like John Paul Jones. He took me under his wing, for some reason. Even though I was the assistant, we would look at each other and he knew that I had a sense of what a good performance was, just as he obviously did. A band would be playing; there'd be nobody else in the control room, and Mickie would look over at me, and I'd say, "That just slipped." He'd say, "You're right. Start again!" He'd hit the talkback, and the band would do another take. Mickie liked to do take after take until he got it right. I kept a little notebook, and one time we got to take 113, but the final track went to number one. Mickie talked in colors – I think that's actually a recognized condition now [synesthesia]. He would say to the band, "We need some green," and then he'd get an arranger in who would add the overdubs, like strings, brass, and backing vocals – the big colors – onto these massive but simple bed tracks.
I sense that what drew you to Rundgren, and what you saw with Most, was the concept of feel, this idea of capturing excitement on a record and not just going for cold, technical perfection.
I'm glad you mentioned that. I worked with Mickie, and later Steve Lillywhite, and these were both people who were looking for feel, and it didn't have to be recorded nicely. It was about capturing a passion or a moment. It was fantastic to be exposed to that. When I joined RAK in '78, Mickie was still having hits with acts like Hot Chocolate and Kim Wilde. My first session probably would have been Hot Chocolate backing tracks for songs like "Every 1's a Winner." Mickie had real clarity about listening to what he was doing, and he would only take ten minutes to do a mix. Mickie would be bam, bam, and the [VU meter] needle would be clicking. He actually liked the gritty sound of distortion from the over-compressing of the tape. Mickie used to do tricks, like putting the bongos through a wah-wah. That's him operating the wah-wah pedal on Hot Chocolate's "You Sexy Thing." He was basically trying to replicate that Donna Summer sixteenth-note synthesizer sequencer sound, but on the bongos.
I wonder if such an in-depth apprenticeship might be a lost tradition?
It was a great education. Record sales were not great, so producers no longer had the budget to bring in some brilliant engineer from America, like Al Schmitt or Bill Schnee. They had to use the house guy. It meant that after 18 months I was engineering sessions, or mixing The Psychedelic Furs with Steve Lillywhite, who was a very capable engineer but, at that point, was more interested in trying to create a vibe for the band. You could tell when a band came in full of angst, with no confidence in their playing. Steve would do a trick like, "Oh, what's that over there?" Before they knew it, the track was done! Steve showed me this neat trick about putting limiter on the drum ambience. RAK Studio One had this big wooden room, and we would have close mics on the kick, snare, and toms. But Steve was the first person I ever saw put a [Neumann] U 87 a far distance from the drums and then put an UREI limiter on it. That made it so it sucked the room up and made drummers, who were perhaps technically not that great, sound kind of like John Bonham. It was over the top. When I saw him do that, it was like, "I don't want drums to sound like drums. I want them to sound like they're busting out of the speakers." Then, of course, as the years went by, working with other producers I realized that you can compress the close mics as well. You can really control the sound.
I suppose part of the skill set for the job of a producer or engineer is working around the ego, or the vision, of an artist. Do you think that skill was nurtured during your apprenticeship years?
Mickie and Steve both knew how to handle the psychology of dealing with artists, either with humor or with presence. Another great thing happened when I worked with the producer Sandy Roberton on a John Martyn album [Well Kept Secret]. By this point I had a very strong opinion of what was good and what was bad, but Sandy was in the producer's chair asking, "What do you think, Phil. Is that any good?" I'd say, "No, do another take." I started being more vocal, and maybe a little arrogant. Sandy saw that I had potential to be a producer and started managing me. He actually became a very successful producer manager, and still is. I didn't know any A&R people, so [Sandy] would go and tout my wares. He'd say, "This kid is good, and he knows how to program drum machines," which, in those days, made you a genius! I had read the first three pages of the manual. [laughs]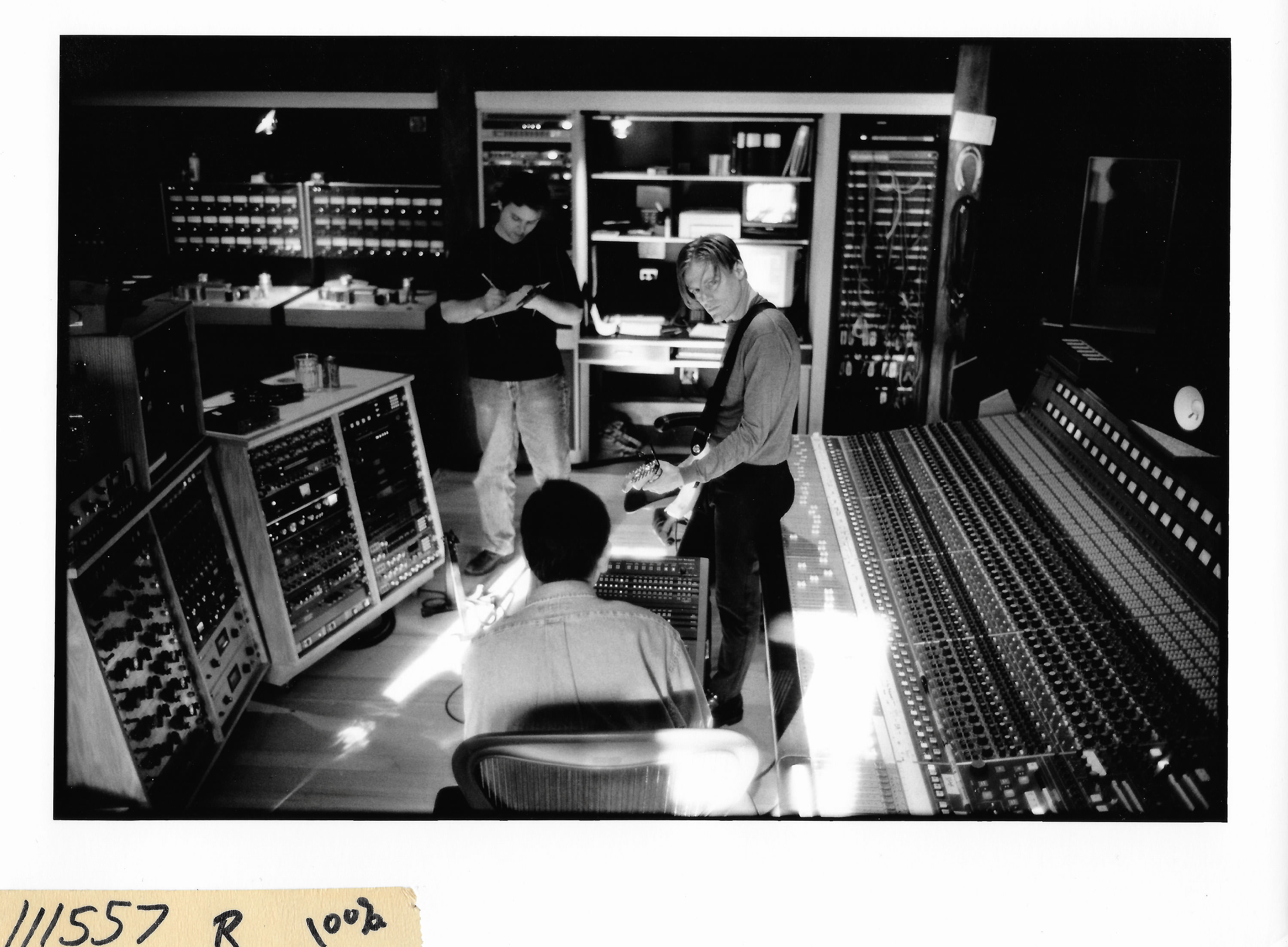 Thornalley recording and mixing Bryan Adams' "On A Day Like Today," at The Warehouse studio in Vancouver, summer 1998. (Photo credit: Bryan Adams)
But you had probably logged a lot of "flying time" on your own?
Yes. I used the down time to do my own songs, and muck around with the synths. This is more on my demos, but then I'd get a flavor of, "Oh, yeah. This is the sound I like." I'd worked with an Oberheim DMX drum machine on a song called "In the Name of Love," which Steve Lillywhite produced for the Thompson Twins when they were still this seven-piece, Talking Heads-type band. The Oberheim had a particularly bad sound, but with compression, gating, and EQ, you could turn the sounds into something. It was all about ducking out the mid-frequencies on the snare drum, adding lots of top, compressing it, and gating it.
You also worked closely with the Thompson Twins later on, but this time with another mentor, the late Alex Sadkin, producing. How did that come about?
Alex Sadkin was not only a true mentor; he also became a good friend. He had been Chris Blackwell's right-hand man at Island Records. He came from a very different philosophy; he was very controlled, and he was a lovely, lovely guy. He had actually been the tape op on [Todd Rundgren's production of Grand Funk's] "We're an American Band" at Criteria Studios in Miami.
I wrote a whole book about Todd Rundgren, and yet I'd never heard that!
Alex told us that story while he was producing the Thompson Twins [Quick Step & Side Kick]. Alex was great; we got on famously, and he was very generous. He loved it when I would put on crazy reverbs, delays, and over-compressed sounds. If I went too far, he'd dial it back; but usually he loved it. For instance, when I first worked with XTC, it was actually Alex and I as a pair, but since I was on fire Alex would sit at the back of the room. One of the XTC guys came up to me and asked, "What does Alex do?" I said, "When things are going right, he's letting me do my thing. When something goes wrong, you'll see that he knows how to fix it."
You engineered two great Thompson Twins records with Sadkin, including their subsequent breakthrough album Into the Gap, and the single "Hold Me Now."
That was a great record for me, because that was the first one I had a royalty on that did really well. It was right after Alex and I had done Duran Duran's Seven and the Ragged Tiger. I was parachuted in to finish off Duran, got on a plane, went back to England, and went straight from the airport to the studio and mixed "Hold Me Now." I was so hot! I was at the board and I was like, "I know what reverb is going to work here."
That's when everyone seemed to be "sacking the drummer," to use the English expression, and reaching for the machines.
Well, the penny dropped for Tom Bailey, the principal songwriter, that this was the way forward. They fired the rest of the band. Then Alex produced this pop/dance record with drum machines and synthesizers and let me engineer. That's another case of a guy who's a really good engineer, but very different and very particular. He would compress sounds, but sensitively. It was to get an effect, with careful placement and use of percussion. He'd spend forever on a bass line, which was, I suppose, that Island Records thing about getting a kind of R&B groove going.
The reverbs and space around the percussion parts seem to be as important to the overall sound.
Alex was very much about space, as well as tightening kick drums, snare drums, and bass sounds so that it allowed all of the reverbs, the atmosphere, to speak.
Sadkin eventually handed the co-producer reins to you. What was it like working together at RAK Studios?
We had some beautiful vintage gear from the '60s – Fairchild compressors, Neumann valve mics – but they were so unreliable, with power supply problems, that I rarely used them. And yes, this comment is bound to get the gearheads exploding with rage. I should say that today my vocal mic chain is usually a Neumann U 87 with an API mic amp and EQ, and a rare blue face UREI 1176 limiter. RAK had a big control room, although the monitoring was more out of control. It had the bass and took off, so it was difficult to put a mix on the big speakers and not go, "Oh, something's wrong." But this bass sound was super tight, like in a club, so you could whack up this Thompson Twins mix as loud as you like, because it's tight. That was all Alex. He had a very scientific approach.
You also produced one of my all-time favorite singles, Prefab Sprout's "When Love Breaks Down."
I did that song at RAK Studios over five days, which was the standard production [turnaround] time back then.
I've heard you speak before about how much the vocal pads were inspired by 10cc's vocal tape loop experiments on "I'm Not in Love."
This was in the days before digital samplers, so we had to do a lot of leg work in the studio to get that sound. There was none of this instant dial-up for a hundred voices. Prefab Sprout's Wendy Smith had a beautiful breathy tone, so we triple-tracked her singing [each of the individual] notes in the song's key; then I finally "played" this 24-track vocal tape loop to the track, manipulating the faders. That became the principal production trick on a great song.
Another feature on that track was the huge, ethereal and melancholic keyboard sound.
This was my first record where MIDI was available, so [Prefab Sprout leader and songwriter] Paddy McAloon played these beautiful, Bacharach-esque, two-handed, cluster chords on a "Rhodes" patch whilst we MIDI'd that to a warmer, floatier pad sound; probably a Juno. I'm very proud of that record. So many people still tell me they love that track, and it stands the test of time.
And yet, you did not work on the rest of Prefab Sprout's Steve McQueen album, which ended up being produced by Thomas Dolby [Tape Op #119].
Although I got on well with Paddy, Wendy, and the drummer Neil Conti, I unfortunately fell out rather badly with Paddy's brother Martin, the bassist, after I had been highly critical of his playing and parts. When it came time to produce the album, I had already been fired. Fair enough.
Didn't you once take the RAK mobile studio out took out to work with Paul McCartney?
I had worked on a couple of sessions for Wings' Back to the Egg at RAK Studios, and McCartney nicknamed me "Little Phil." After these sessions, he hired the RAK mobile for location recording at this castle in Kent, so I went down there for a few weeks. One morning, the session engineer didn't turn up, so Macca [McCartney] put me to work while he recorded the drums and the synth bass on this stoned, pop operetta he'd made up. He's out there playing everything while I'm sitting there at the mixing board, and Linda is at the back of the room showing me her photographs. It gets to the end of the session when Macca comes in to mix it. He knew the mobile well; there was a really small monitoring board with these 24 tiny faders. Paul comes over and pulls them all down; he mixed it himself, balancing how he fancied hearing everything. After about a minute, Linda said, "Uh-uh, Paul. Phil's was better!" Paul turned to me and said, "Go on, then!" It was very warm. There was no attitude about it. Unfortunately, that track was never released, and I doubt very much that it will. It's likely buried in the vaults of [McCartney's production company] MPL.
How did you end up working with The Cure?
I don't know this for a fact, but I have a feeling that they must have heard [Thornalley's mixes on] The Psychedelic Furs' records. I think they wanted a change. I was 21 or 22; the lead singer [Robert Smith] was 22, and the drummer [Lol Tolhurst] might have been 23. Before we worked together I met them in the pub, which was very unlike me, and we all got on. They were very well-rehearsed in the studio. We did demos of the whole album to check out the vibe and see if I was up to it. A couple of those demos ended up turning into masters, because we caught a vibe. Pornography, their fourth album, was very dark, with lots of eighth notes on the bass. This was my first moment to let loose with all my ideas about getting parts to sound a certain way. There was nobody sitting at the back saying, "You can't do that," so I was compressing the drums, getting that drum ambience, and throwing on delays. Whatever the song needed. There was no "grownup" in the room, and the band liked what I was doing. Their confidence in me gave me confidence. I remember saying to Robert Smith, "I don't like your guitar sound. Have you any other guitars?" You wouldn't say that now. He ended up using this horrible-looking Ovation electric guitar. I don't want to make too much of [my role]. I think I did a really good job – but the band were well-rehearsed, and, as the record shows, Robert Smith is a pretty fine musician.
Thornalley in his studio, "The Swamp," London, UK, 2019, (Photo credit: Amy Walters).
But confident enough to know that if he you let you shine, at the end of the day they're going to say, "It's a great Cure record," not, "Great Phil record." How did your iconic jazzy bass line on The Cure's "The Love Cats," which you also produced for them, come about?
After Pornography The Cure's bass player, Simon Gallup, had left the band for whatever reason, so I ended up filling in on bass for a few festivals, as well as a showcase tour in America. When we flew back to Paris to do some recording, Robert taught me this bass line idea. When they'd started, they'd been this post-punk pop three-piece. Then they'd done Pornography with me, which was very doomy, and the record after that [The Walk EP] they had a drum machine and synthesizers. They were sort of flip-flopping. Robert wanted the vibe to be like the Hot Club de France, with a touch of the Aristocats, actually. We were in Studio des Dames [in Paris], which had all these orchestral instruments, like vibes, tack pianos, glockenspiels, tubular bells, and the like. Robert was playing the tack piano, then the drummer, Andy Anderson – who passed away recently – was playing brushes and a kick drum. The guitar sound is a U 87 in the middle of this great room, and it's all the sound of the room. I was engineering and producing it, and I somehow managed to play the stand-up bass. I had never played the stand-up bass before. I remember getting the tuner out and putting Chinagraph marks on the neck where the notes were in tune, because I had no idea. I could barely get through two bars, so I opened up two tracks and comped it in overdubs. I played the lower parts of the phrase on the first track, and then the [counterpoint] higher notes on the second. When it gets to the end, the bass starts walking in a scale; but if you listen to it closely, you'll notice that it's not particularly accurate. There are probably jazz bass players still now listening to that and thinking, "What is that guy doing?" Repeating notes, and playing notes in the wrong chord. Hooray for me! [laughs]
Even while your studio career was flourishing, you had this whole other side of you; the songwriting. Didn't you even sign a record deal in 1983 as an artist?
Yeah, I did a couple of singles that flopped terribly. When I told Sandy Roberton that I was going on the road with The Cure, he was like, "You're nuts! You've just established yourself as a producer. You're making good money." But the life experience was good. When I came back and started producing again, I also decided I was going to make a solo album, which again he was not particularly happy about. I made a solo album on MCA [Records] called Swamp, an honest effort that flopped. My songs were getting better and better, but it wasn't until I was 38 [in 1997] that I finally had a song that got on the charts, a Top 40 hit called "Today's the Day." I'd actually written it for an artist I produced; soap star Sean Maguire. It was a big moment for me to be validated as a songwriter. After 30 years!
You also produced Australian television soap star turned recording artist Natalie Imbruglia's worldwide smash hit, "Torn," which was a song you had co-written with Ednaswap's Anne Preven and Scott Cutler. How much of a gamechanger was that for you?
Quite! Scott Cutler was an L.A. songwriter for hire who I'd worked with writing songs for Johnny Hates Jazz, and his partner, Anne Preven, wanted to do a demo tape as an artist. Around this time I was totally unemployed, very cold, and seriously not getting any gigs. Scott knew I had my production chops, so they flew over to London and we made a demo tape for Anne. One of the songs we wrote was "Torn." I played her tape to a few A&R people here, and one guy was like, "This song is good," but he didn't sign her as a solo artist. Back home, Anne and Scott had wisely decided that they needed a vehicle, so they created this group, Ednaswap. They recorded a post-grunge-y version of "Torn," changing the chords to make it darker, which was the sound of pop back in 1995.
How did the song get to Natalie?
Eventually I got a new manager who knew Natalie, and new my publisher, Marc Fox, loved the song "Torn." He told me it would change my life, and he was right. Over the next week or two, Natalie and I got together. We spent a lot of time working on perfecting a vocal performance for her demo, and we also wrote a couple of other songs. It was presented to RCA Records, who signed her. In the space of six months, "Torn" took off, which was so phenomenal. I ended up with a lot of my productions and a lot of my songs on her [Left of the Middle] album. It saved my bacon.
Is that how you came to the attention of Bryan Adams, with whom you wrote "On a Day Like Today"?
Yes. Suddenly, I was getting calls from everybody because I was now a "genius," of course. An A&R man, David Roth, called me up and said, "Do you want to work with Bryan Adams?" We're still working together to this day. Probably five albums, over the last 20 years. I had two songs on his 2019 album Shine a Light. Bryan is such a brilliant singer and communicator, and the best singer I've ever recorded. Incredible tone and phrasing; every take different.
Which leads us to your recent solo project as an artist, Astral Drive. Tell us a bit about how that fits into what you've been doing all your life.
For most of my professional career, up until "Torn," I was an engineer, a mixer for hire, or producer for hire. In the years after "Torn," I became that creature known as a "songwriter/producer," so I could express myself more in music as well as sound. I found myself trying to get back in touch with my own music, as well as monkeying around with Rundgren-like changes. It was a great opportunity to share some of the stories of my life, looking back and thinking the way I did when I was a teenager full of idealism. It made me happy. Astral Drive is what I wanted to say back at 17, only I didn't have the production and songwriting chops to do it. It's also made me happy that a lot of people who I admire enjoyed it too.
Your long apprenticeship seems to have given you not just the chops you spoke of, but also the applied knowledge to make something musical out of it.
I spent years and years in studios, but I'm not a great technician. I think I've always been drawn towards the feel, rather than what EQ is being used. Technically, if somebody got my tapes, they might say, "Oh man, what were you doing here? You've over-recorded this." Having said that, I do have the technique to mix songs and squeeze them if something doesn't sound right, because I know how to use limiters and EQs. People tend to forget that "feel" musicians like Rundgren, Robert Smith, or McCartney, intuitively or otherwise, they've studied it. We can have a laugh about it, but I've spent most of my career being quite serious about, "I want it to sound like this."

Tape Op is a bi-monthly magazine devoted to the art of record making.