I had been writing and producing music in Los Angeles long enough to question the state of my existence when I got an email asking me to come to Iraq and help record an album to be called Mosul Live. My heart leapt with joy. Finally, a break from gluten-free lunches and vegan ice cream. Finally, a break from young songwriters and various A&R guys not calling me back. Finally, something bigger than the music business. I may as well have been going to Mars. I joyously told my girlfriend about the job offer. She was alarmed by my excitement and we split up shortly thereafter. Some people got visibly uncomfortable when I talked excitedly about going to Iraq to record musicians living under the Islamic State. Some changed the subject to Game of Thrones. I have never seen Game of Thrones.
Back in 2013, a poet, translator, and friend named David Shook brought me to Haiti to help with some relief work. I brought my Digidesign Mbox 2 and recorded a great Haitian singer in Port Au Prince. David had now moved to Iraqi Kurdistan, where he was an artist in residence at The American University of Iraq Sulaimani (AUIS). AUIS, under the leadership of author and translator Alana Marie Levinson-Labrosse, was beginning a project to document people living in Mosul during the occupation by the Islamic State (2014 to 2017). They had been recording the spoken word stories of civilians in Mosul and wanted to make an album, Mosul Live, by affected musicians. During the occupation music was outlawed, taken off the radio, and forbidden to be performed in public.
In the months leading up to the project I assembled a recording system. I needed a multitrack recorder that was battery powered and could last all day. Some areas would not have electricity, and the areas that did have power experienced outages throughout the day. (Case in point: as my plane was landing in Sulaymaniyah, Iraq, I watched a large section of the city's lights go out.) The Sound Devices MixPre-10 was my best option. It would run for 20 hours at a time on two battery packs, and it had eight mic inputs with Kashmir preamps that record to a hard disk/thumb drive. I combined that with a handful of microphones from SE Electronics, and the whole setup fit nicely into an over-the-shoulder Stingray bag made by K-Tek.
My fears about going to Iraq outweighed the actual danger. I arrived in Baghdad and Iraq felt quite secure. Especially in the Kurdish-controlled parts of Northern Iraq, where life was a lot safer than Los Angeles.
Meanwhile, Mosul, Baghdad, and non-Kurdish Iraq had safety risks from kidnappings, and in these areas we had armed fixers with us. Mosul was liberated from ISIS in a 10 month battle in the summer of 2017, and the old part of the city was in rubble with residual sleeper cells. Two car bombs had exploded in the weeks leading up to our trip. In Mosul, we stayed at a safe house with armed guards posted around the house. I was given a loaded Kalashnikov automatic rifle to keep by my bed "just in case." I explained to the fixer I had no idea how to use an assault rifle.
Iraq is an all-cash economy. Credit cards are not accepted and there are very few ATMs, none of which take American cards. I was given bricks of $100 bills as payment and spending money. Between the cash, the rock 'n' roll, and the potential danger, Iraq felt like a spiritual home for me. I was made for this environment. The inner monologue in my mind dimmed way down and I felt present. It was very easy to get into the headspace to create music.
We set up in an abandoned restaurant on the edge of the Tigris river to record a classical trio called Awtar Nergal (Strings of Nergal). I asked the band what life was like living under ISIS. The violin player said he had buried his instrument under his garden after one of his neighbors tipped off ISIS that he was a musician. They came to his house to question him. He told them he hated music. He said he couldn't stand the sound of it. He was arrested and tortured over the course of a few months. It was incredible that he had so much love and dedication to music in the face of real adversity. I was ready to give up on my music career after a few music managers passed on my album!
Another musician had been caught with a handful of instruments in his house. He had numerous ouds, guitars, violins, etc. Because he had so many instruments, ISIS thought he was possessed by a demon. They took pity on him and performed some prayers to get rid of the demon. He was left alone.
One night we were in a Kurdish shisha (hookah) bar in Sulaymaniyah. We joked around with the owner that I would do a concert there. He thought this was great idea and booked me the following week. I made up some flyers and sent them around the local university. The show went over really well with the non-English speaking crowd, and the owner asked me to perform again the following week. At the next show the same group of Kurdish people showed up with all of their friends. They had listened to the music online and learned the lyrics. I didn't want to tell them what my English lyrics meant in Kurdish.
Most of my days were spent with a Kurdish writer/translator named Biryar Bahhaalddin. Bahhaalddin was forcibly Arabized by Saddam Hussein's Ba'ath Party as a child. His whole community was taken from their homes, relocated to a remote camp in the desert, and forced to "become Arab," shunning their native Kurdish language and giving up their culture. Biryar spoke perfect Arabic and Kurdish, which was an asset in the areas we were working. He had a deep knowledge of the region, the people, and connections all over Mosul and Kurdistan. Acting as part A&R scout, translator, and road manager, he found the artists we recorded, organized the sessions, and drove all over Iraq in treacherous driving conditions. We spent most every day together and became very good friends.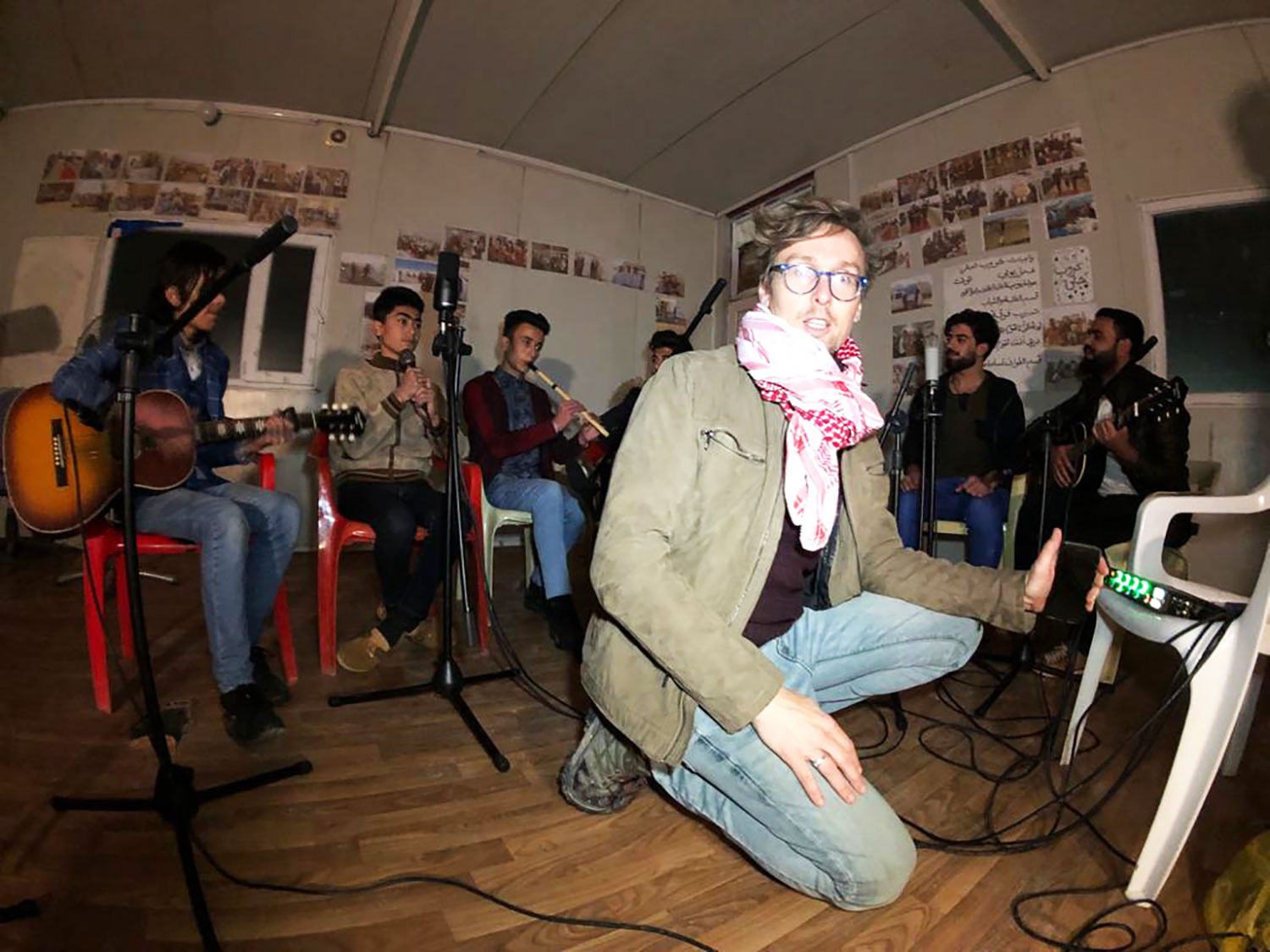 We made a three hour drive from Sulaymaniyah to a Yazidi IDP [internally displaced persons] camp near Zakho. David was translating a young Yazidi poet, Zêdan Xelef, and I was hoping to record some Yazidi musicians. The Yazidis underwent a genocide during the occupation. The Yazidi religion predates Judaism and the Bible, which made them a target for ISIS. If you were Christian or Jewish, the Islamic State gave you the options of paying a tax, converting to Islam, or moving. The Yazidis are considered pagan by ISIS, so they were not given these options. Thousands of men were killed, and the women and children were forced into sexual slavery. They fled their homes in the Nineveh Province and were relocated to this camp of tents in Kurdistan.
We spent a few days with one family. They had lost seven family members fleeing ISIS. Though ISIS was gone from their homelands, they could not return there. The area had been littered with land mines and explosives. Household appliances, like refrigerators, were jury-rigged with improvised bombs. They had been living in this camp for a few years.
The recording sessions were casual. We set up in a Quonset hut/tent that was acting as the family's living room. We ate, drank tea, and smoked shisha. Someone would pick up a saz or an oud and start noodling around. Then another person would pick up an instrument and join in. The only thing they had in abundance in the camp was time. Boredom prevails, and playing music is one way to deal with that.
Another group of boys in the community had formed a band. They rehearsed in a mobile office that was being used as an HIV testing clinic. We recorded them at night, in the middle of a heavy rainstorm and a power outage. The sound of wind and rain overtook that of the instruments. After the band recorded one of their songs, we recorded the flute player doing a solo piece that would put any player to shame. He used a cheap wooden flute and his tone was unbeatable.
Back in Mosul, a few artists bowed out of the recording sessions due to safety issues. They were concerned about the possibility of the Islamic State returning to power or having a mafia-type influence on the community. One hip-hop artist said it was too risky to participate, as it would put his family in danger.
Another hip-hop artist, Yabangi, agreed to move ahead with the recording sessions. We sampled a choir I had captured singing in Aramaic a few weeks before for him. Then we had him rapping in Arabic over a beat. The choir was tracked at one of the oldest churches in the middle east, in Nineveh, just outside Mosul. Yabangi was a real talent, and we recorded three more songs together during my stay in Iraq. His EP is going to be released soon.
After five weeks and 20 recordings later, it was time to go home. I was flagged by a customs agent coming through passport control into Los Angeles. She asked me what countries I had traveled to on my trip. "Oh, Iraq? How did you like it there?" she said pleasantly. I told her I had enjoyed my time there. Her smile faded and her tone shifted. "Interesting," she said stoically. She told me to step aside and wait. A police officer came and ushered me into an interrogation room. I was questioned for 30 minutes. He knew all of my social media accounts and also about the large amount of cash I was transporting without me saying a word. Iraqi's had jokingly told me that all of my movements, texts, and phone calls were being monitored, which I thought seemed a bit paranoid. I was wrong. However, after a lot of questioning, my passport was stamped and they let me back into the USA.
I walked out of arrivals at LAX with a sense of accomplishment. After five weeks in Iraq we had recorded one amazing album. I had made some lifelong friends and learned a lot about the world and myself. I got into a Lyft and made my way across town to Moonlight Rollerway, where I kill time as a roller skating DJ. I started telling a young skater that I had just returned from Iraq. He wasn't interested. Maybe it was all a dream.

Tape Op is a bi-monthly magazine devoted to the art of record making.