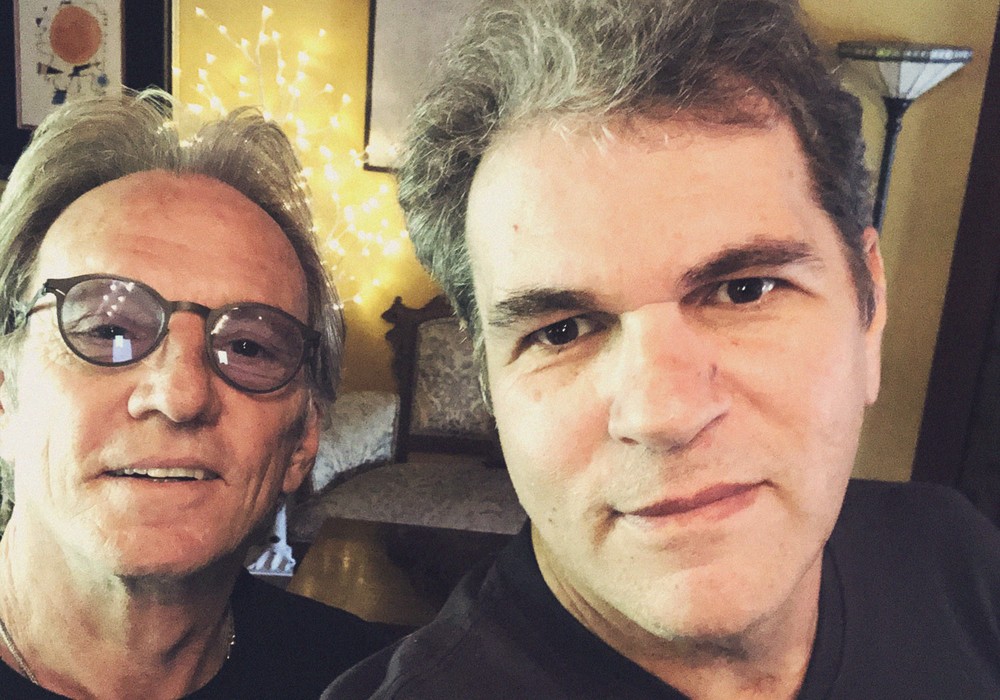 Founding members of the band America, Dewey Bunnell and Gerry Beckley, have kept the group America going 50 years, and this year sees the release of Half Century, a seven CD/one DVD box set of rare archival studio recordings of alternate mixes, demos and rehearsals. I dropped a line to Jeff Larson, a musician and America archivist, to talk about the projects he's been involved in for America Archives/America Records, including Half Century on Gonzo Multimedia, the Heritage series on Omnivore Recordings, Rhino's recent collections, and more.
Feature photo: Dewey & Jeff
What led you to America and their archives?
I've been working with these America guys for 22 years. In 1998 I covered one of Gerry's songs for a project I was working on, and then he sang on one of my songs a year or so later. Dewey got involved singing harmony as well, and then it went back and forth for a decade. I've always had license deals with Japan and France, wherever I could find pockets of interest. That led to a lot of these projects, and eventually Gerry producing an album of mine, Heart of the Valley, in 2008. They were early musical heroes of mine. As time passed we became friends, and I guess some trust was gained to where I could take on this new role as their archivist.
How did you get involved with releases?
When I somewhat burned out on pushing my own music, about five or six years ago, Gerry basically asked if I would go to the band's locker, sort through the audio, and help get things up and running. I showed up with a 2-terabyte hard drive, and I came away with a Mac tower, cases full of old hard drives, and miscellaneous other items that piled up to my earlobes driving home. Along with Gerry's large audio output over the years, I found some unreleased America music. Initially this was all DAW sessions, some ADAT and DAT's; but eventually I started finding analog tapes, going back to 1970. He was an early adopter, as far as home studios go, and he kept things. His Buzz Studios on King's Road in L.A. was where America rehearsed their early albums, and those sessions are represented on some of the early archival releases. Gerry was a tape op back in the day at Morgan Studios in London. That is actually where "A Horse with No Name" was recorded. So far, I've done two collections with Omnivore, Heritage and Heritage II, assembled the Rhino/Warner Music set in 2019, The Collection, and various releases for America Records/Gonzo Multimedia, including Lost & Found and Archives, Vol 1. Now, because it's the 50th anniversary of the band, they are releasing an archival box set, Half Century.
Oh, wow! What are the London Early Demos?
London Early Demos are these three guys on stools with acoustic guitars working to get a deal by laying down their songs at Chalk Farm Studios, with Dick James [Publishing] and Polydor. The band held onto these reels over the years. I had them baked and transferred and only some slight treatment on hiss was needed. The tapes and the performances are as they were, for the most part.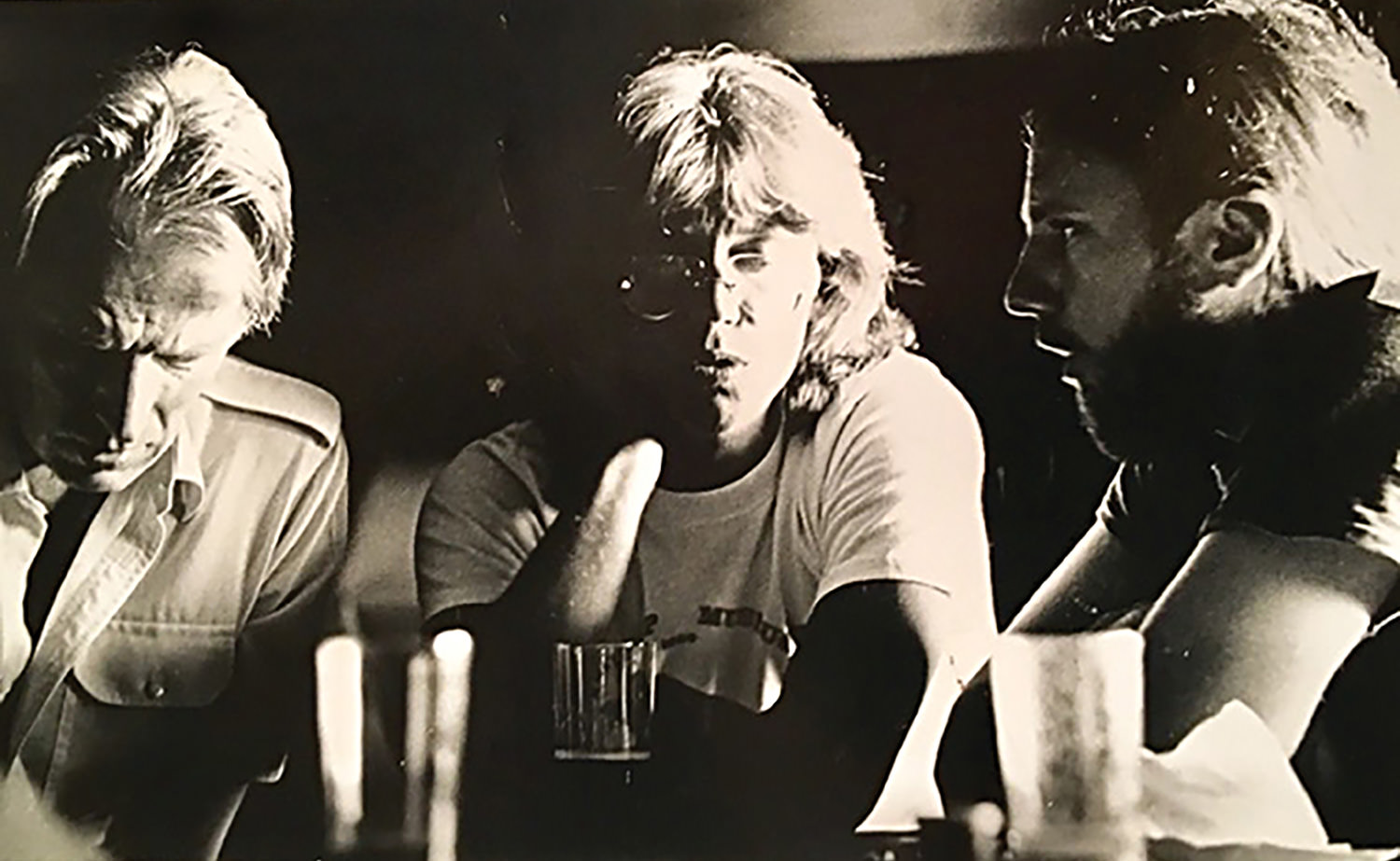 George Martin, Gerry, Dewey
With sessions that Geoff Emerick was engineering, and George Martin was producing, were those really easy to mix?
I had come across all the 2-inch tapes of rehearsals for the album Hideaway, from 1976 - these were from Caribou Studios in Colorado. These consisted of very early recordings, none of the lush productions that made the album. This was America when they were working out the songs and didn't even have the titles in place, in some cases. The tapes were transferred with the help of Michael Romanowski [Coast Mastering] and a connection he had at Skywalker Sound. The result was an immaculate conversion to digital. These transfers fell in place, where I could take some existing mixes that were bounced back then, and do four or five mixes from the multitracks. The album the band was working towards was the follow-up to Hearts (1975), not to mention their multi-platinum, History: America's Greatest Hits. This was also following a number one song, "Sister Golden Hair." They were flying high. This was also tracked in the cold of winter in Colorado, where the air is thin, and that was a little challenging for vocals. The cream of these sessions are on the Omnivore release, Heritage II. Because these were early sessions, there was a maximum of three takes per song. It was before any overdubs were done. I didn't have the luxury of hearing the string sections that George did. I didn't even have the vocal harmonies, in most cases, or the solos, or anything else that would be overdubbed. I had the band in the studio or, in some cases, two or three guys working songs out. That said, this one was a lot of fun. I felt like I was a fly on the wall. I comped between two or three takes. I didn't want to step on anything or fix much, so I comped it pretty clean. For the song sessions that weren't complete three-minute songs, I cut out sections of false starts and some of the incomplete tracking to create a montage at the end of this particular album in the set. I also wanted to include some of the chatter in between takes. This adds a sense of warmth for the listener, where they feel like they are there hearing false starts and these guys having fun. Anyway, Hideaway didn't sell, no big hits; but it's one of those releases that fans tend to cling to.
When you look at archival discs like these, you're able to get this fly-on-the-wall viewpoint that you wouldn't do on a proper album.
With America, the band had a lot of hits, but they were really AM radio. Fans were used to very well-sanded, three minute pop songs. To try to go beyond that and convince their fan base, "Hey, the Beach Boys, Neil Young, Bob Dylan, Robbie Robertson and seemingly every legacy act is doing collections from that era. Why not America?" The non-hits are better than some of their hits. Many people don't know this. I feel I almost have to try and sell it, to say, "Hey, take a look under the hood of this band a little bit." To me, it's a nice complement to their more polished body of work that Warner/Rhino and Capitol owns. The studio albums are well represented, with a fresh box set from last year [50th Anniversary: The Collection], so these archive releases always need some explanation.
Hits are easier to sell!
Easier to sell, yes. The catalog's pretty healthy that way so...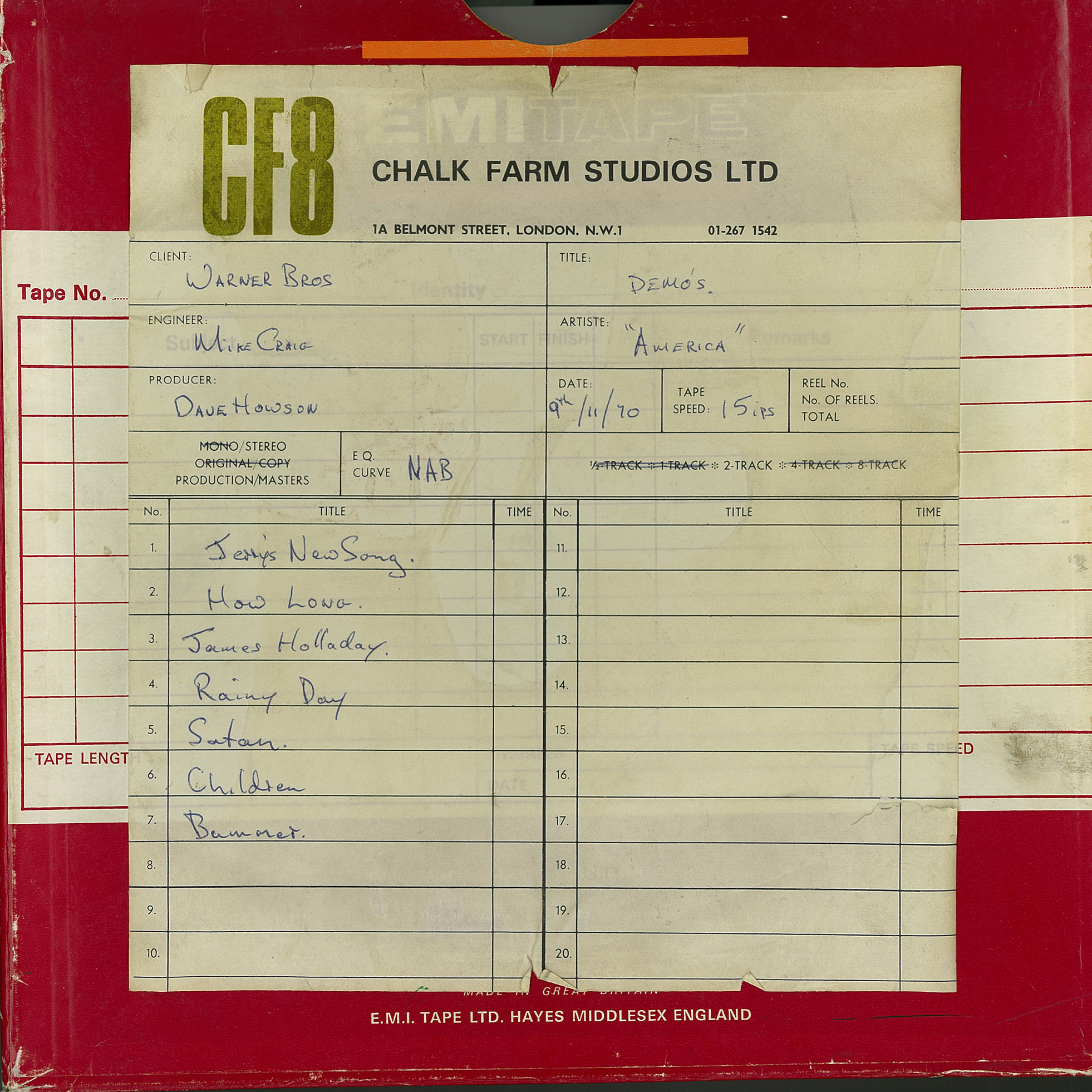 With the tapes, are there still more tracks that haven't been released to dig through?
Yeah. With the Half Century box set, we tried to show the output from each decade, including previously unreleased songs from each era. We've got the early years, mid-'70s, the 80's, a load of tracking from the 90's, and so on. The 80's set is titled "The Poison Oak Sessions." They were no longer with Warner Bros. and had moved on to Capitol Records. This set of songs was just before their comeback with "You Can Do Magic" [from their tenth album, View From the Ground]. They were paring down their live act and writing a lot of songs, trying to rediscover themselves. They were also now a duo with two albums and no hit. Dewey had a studio in Marin county called Poison Oak. Those songs are a lot of fun to listen to because they sound hungry and they are having a good time in the process. I think Tom Anderson was the engineer who also had worked with George Martin on America sessions in the past.
Nice.
That was done in Marin. They did two records in the '90s, and I found loads of sessions. Unfortunately, it was ADATs and DATs.
Oh, boy. Yeah.
I had to deal with that. There was a lot to sort through. Somebody gave me a well-oiled DAT machine fortunately, so I was in business at home doing that. One of the "new" songs came back from an ADAT from '95. I have a friend who was in the Beach Boys band, Jeffrey Foskett, who is now sidelined with some health issues. I was helping Jeff out with his deal with BMG last fall. I was always looking for anything that he sang backing vocals on. I found that he did these great backing vocals on one of Gerry's songs called "Remembering" – an early version of the song he later cut on a solo release. I found the backing vocals and acoustic guitar, then had real drums put on a few months back. I also sang a little on the bridge. Soon after this "proof of concept," I went over to Dewey's house and tracked him doing an answer part, and there you have it. It closes out the Half Century box set.
One of the concepts that's interesting here is that it is malleable. Songs can be overdubbed on and changed into something as everyone's still here and involved.
Yeah, to me that's the whole thing. I'm 58, so I grew up in the analog world, but more as a singer-songwriter going to studios. I didn't really get to any kind of knowledge of it until [Apple] GarageBand came around. I was still playing out with studios and other people and thought, "Ah, I can do this at home." Then I got [Apple] Logic and eventually [Avid] Pro Tools; always in a nominal way, just to cover myself. Then Gerry produced an album of me singing some of his songs, and I felt I had to go deeper into the audio production side of things. There's a new America album that could be put together similar to the process of "Remembering." We have several existing tracks that were done in Digital Performer, or other formats that I have since converted to Pro Tools to work further. It's fairly easy to do this, if they're open to it. There are probably four or five songs that are already rock solid, without any compromise.
Do you find yourself doing a lot of cataloging?
I catalog everything on spreadsheets. I come from a tech background. I was in Silicon Valley way early on, so I catalog everything like a geek. That had to be done.
Analog tape can be a nightmare to transfer.
I was fortunate with the multitrack tapes, as noted earlier. I should mention Michael Romanowski [Coast Mastering, Bay Area] is a good friend of mine. He masters most of these projects, with me driving him crazy on some points! [laughter]
I know Michael. He's great.
We have a good relationship. If Michael couldn't do it, he had a connection over at Skywalker or whoever still had the machines. I have also used [Tardon Feathered's] Mr. Toad's on occasion for transfers. This was just a circle that fell in naturally from us all of us in the San Francisco Bay Area.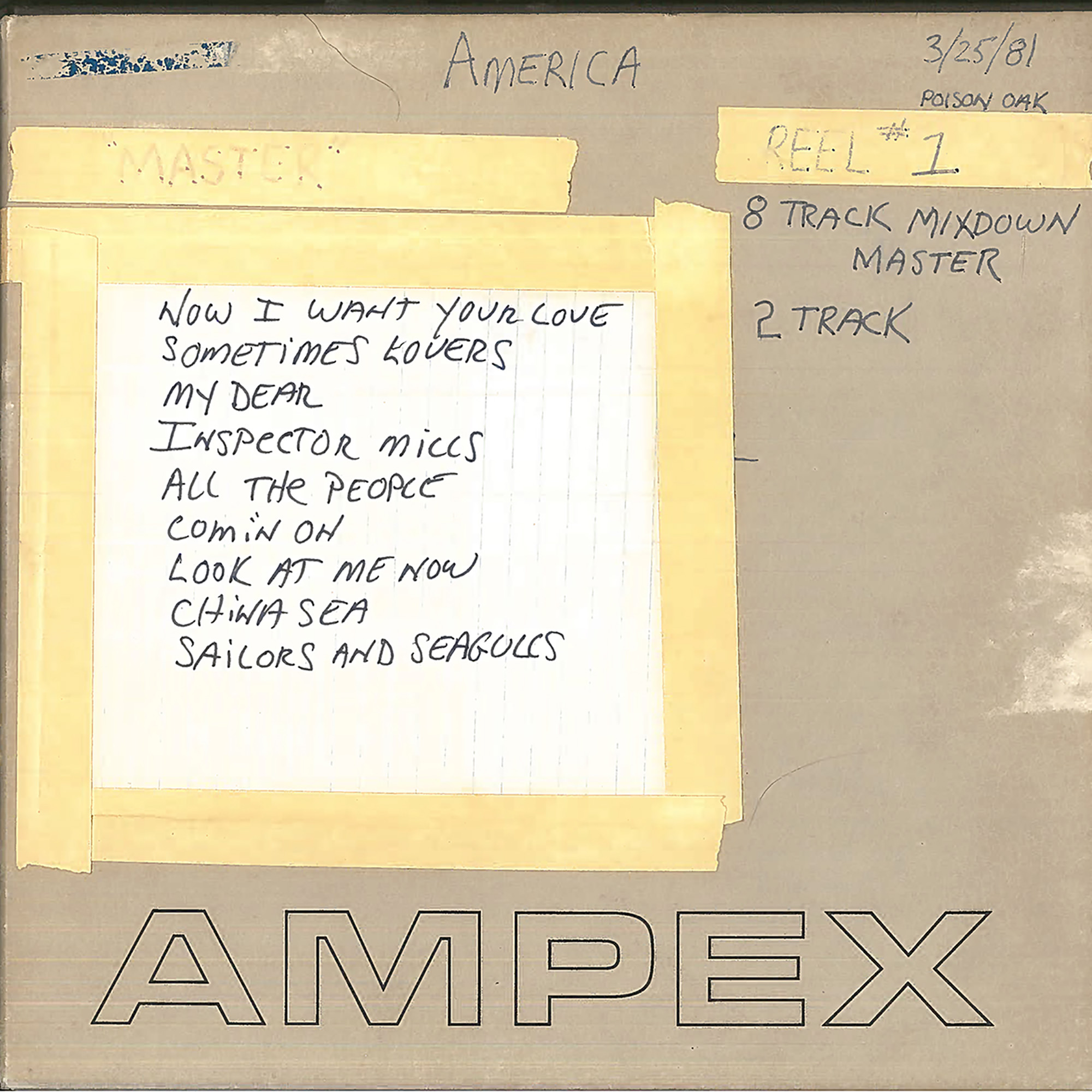 Were there any tapes that couldn't be transferred?
I think only one was seriously damaged. I sent it to Iron Mountain to see if they could salvage it, and they couldn't do it. That was a symphonic version of their hits and deep cuts with an orchestra, like a George Martin symphonic-type treatment. That would have been a great release, but unfortunately it's all flaked.
It's terrifying when you see tape shear right off the mylar, the backing's gone, and there's nothing that can be done.
I took it to all the right "doctors." They couldn't salvage it.
Do you use any software like iZotope RX for restoration?
Yeah, iZotope is a go-to for everything. I'm a big fan of using that for getting rid of hiss or clicks. It's a miracle worker. I don't like playing around with hiss too much, because when it's a group that's acoustic guitar and vocals, removing the hiss sometimes makes the acoustic guitar a little brittle. For any live performance where I have a healthy soundboard mix of, I've been using [Audionamix] XTRAX STEMS to try to do track extraction. It's not an exact science yet. It's a little better on the studio tracks, but I'm making it work even harder on this, because I've got a Hollywood Bowl live show with a lot of imbalance and the whole "fan thing" going. It's been a struggle. Out of 20 songs, I've got two that work.

Michael Romanowski & Jeff at Coast Mastering
Tape Op is a bi-monthly magazine devoted to the art of record making.