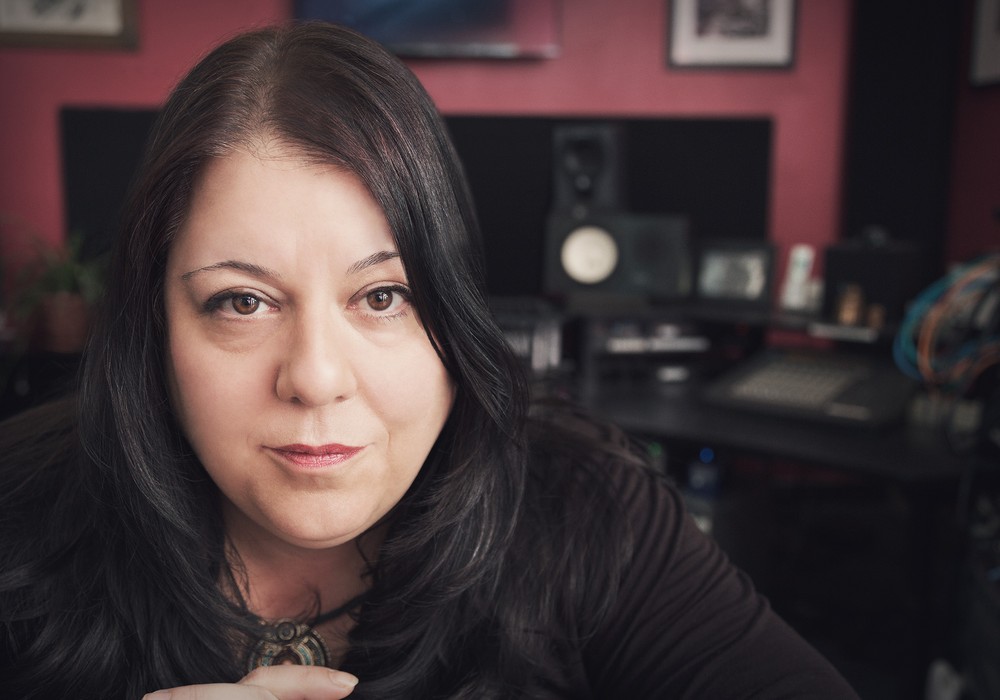 Brian Silak and I had the honor of visiting engineer/studio owner Denise Barbarita and her husband, drummer/music educator Rich Kulsar – both recent Grammy winners – at their Long Island City MONOLisa recording studio. We were treated to some really great hummus and an intense, lesson-filled career retrospective dotted with many dos and don'ts of both "the old way" and "the new way" of coming up in the industry.
You started your career as a singer-songwriter, and you studied guitar at Berklee College of Music. Did you also study engineering and production at Berklee?
That was my major; "Music Production & Engineering" [MP&E] and music synthesis, though I dropped the music synthesis double major in my senior year. I knew from the time I was in my early teens, somewhere in those formative years, that I wanted to be in the studio. I was a Pat Benatar fan – on the Precious Time record I could tell that the background vocals were her voice. I thought that she could sing three notes at a time, so I would practice and practice in front of the mirror with a hairbrush and try to sing all three of those notes at once! I thought I was horrible and would never amount to anything because I couldn't sing three notes at once. I started listening to other records and realized, "Oh, they can do it too! I'm some freak who can't do this." Then I got a Hit Parader magazine with Pat Benatar on the cover, and they're talking about overdubs. They were talking about the recording of the album, and how she did the background vocals. I was like, "What do you mean 'overdubs?' What do you mean 'background vocals?'" For a good three or four months I was pissed; really angry. I thought, "She lied! It's not fair!" My whole world broke down. Then I went to the library, because this was pre-internet, and I started reading about the recording studio. Then I realized that's what I wanted to do. Even though I was a metalhead in high school, I was a closet Michael Jackson fan. I'd listen to Michael Jackson records and how he phrased; how he used his breath in the performance. I'd listen to all the background vocals and pieces of the arrangement, and I'd sit there in awe. Somebody made decisions. Berklee was my first choice for colleges. The first two semesters are general music education. You do the intro classes and then you choose a major. They only admit a certain number of people into the MP&E program. Berklee was a fun little microcosm. You leave your hometown feeling pretty good about yourself, then go to a place like Berklee, and feel like, "I suck." But I thrive on that kind of competition. It makes me strive to do better. Boston is a college town, and MIT was right across the river. There was a "new technology" gathering every week; free and open to the public. Engineers would talk about new technologies they were working on. Hearing about the beginnings of digital audio, digital video, digital television, and laser technology – that was all discussed.
You were in an epicenter for this new technology.
I was fascinated. When they were talking about digital audio, I thought, "Yeah, that's never going to happen." But during my senior year at Berklee, Sound Tools [the precursor to Pro Tools] came out, which was stereo. When I graduated, 4-track Pro Tools had just hit. Then DP [Digital Performer] came out with stereo. [Opcode Systems] Vision was the other sequencing software that was popular around that time. My boyfriend (at the time) was a music synthesis major, and he said, "It's going to surpass tape." I was like, "Whatever." And all these years later, here we are! It was an amazing experience to be in an environment where everybody was on the same page but had different interests. To be exposed to Brazilian and Cuban music, and to jazz – that feeling of, "I still have a lot to learn." That's something I never want to lose. If you don't keep that sense of wonderment, you get stagnant. You don't want to wind up being that person who's five years behind the curve. When Pro Tools hit, for example, there were all sorts of A-list engineers who had to have an assistant that dealt with Pro Tools because they refused to learn the software. Are those guys still working?
Did you originally envision integrating your knowledge of engineering and production into your own music as a singer-songwriter, or were you also enamored early on with the idea of producing records for other artists?
I wanted to be the next Todd Rundgren. He wrote and produced his own amazing music. But then he produced other peoples' music and engineered other peoples' records as well. He was my template. How many other people do that? Brian Eno does that. Daniel Lanois does that, to a degree. I was exposed to Daniel Lanois, Brian Eno, Kate Bush, and Peter Gabriel in college. They became my new templates – and Todd Rundgren was still an influence. I figured if they can do it, so can I. I had one friend who was a huge champion. He encouraged me to do whatever I wanted. One day he said, "You really think you're that good?If you decide to do both paths, it's going to take you twice as long to get to where you want to be." And he was right! I lived a double life for at least 15 years. In terms of engineering, I started off in post. I was an intern, while in school in Boston, at Sound Techniques (currently Mix One Studios). I was also doing some A/V work for the JFK School of Government [at Harvard University]. When I moved to New York, I got a job at Sync Sound for about a year. In terms of songwriting or performing, in '95 I landed a development deal with EMI publishing and was recording my own music at a studio in New Jersey with my A&R Rep, Jim Pawlika. Sadly, that didn't bear fruit. I was super disappointed – EMI Publishing closed its New York offices later that year. I kept writing and performing around the city. I released three albums independently from 2002 to 2010.
Did you enjoy doing post-production?
I thought there were a lot of cool things about sound design. But once I started working at a post studio, I kept wishing that I was on a music project. When the opportunity came, my friend, Todd Wachsmuth, who was a booking manager at Right Track Recording, called me out of the blue and said, "We have a GA [general assistant] position open here. Are you interested?" It paid a little bit less, but I didn't care. "I'm a music GA now!" At the same time that I was at Right Track, I was also working part time at Koch Records doing digital editing for the classical division. They'd hand me a bunch of DATs and a score and say, "Turn this into a performance." Of course, we weren't supposed to talk about that. Classical performances aren't edited.
You had stints at Right Track, Looking Glass Studios, Unique Recording Studios, and Battery Studios – all major places in New York City. It was at Looking Glass that you worked with Philip Glass and came into contact with David Bowie?
The record was Earthling. They had Studio A booked out for a few months. Mark Plati was the engineer and Dante DeSole was the assistant engineer. I'm a lover of quotes, and there's one from Maya Angelou that fits my experience of David Bowie so well: "At the end of the day people won't remember what you said or did. They will remember how you made them feel." That's why I remember Bowie with such fondness. He made an effort to remember everyone's name, and he made an effort each day to acknowledge the staff. From my own point of view, he made me feel included. As a starstruck 20-something dreamer, that was really special. To bring that home even more, everyone on the Looking Glass staff was invited to his 50th birthday party at Madison Square Garden. Free tickets and great seats right off the side of the stage! That was something – I still have my ticket! My first assistant gig at The Looking Glass was Allen Ginsberg reciting "Howl" with the Kronos Quartet.
I used to own that album on CD.
The head tech at Looking Glass was Jamie Mereness, and he was the engineer for the session. There were all of these literary types fluttering around, asking me, "Do you understand the significance of this moment?" I did not understand the significance at that time. I'm going to come right out and say that. I also assisted Michael Riesman, who was Philip Glass's right hand man, in terms of recording and production. I don't remember all of the projects I worked on, but I remember that one was an opera and one was a ballet.
Who were some of the other artists and bands whose sessions you participated in? Who were some of the engineers and producers that you trained under?
From mid-1995 until mid-1997 I moved around a bit. I started at Right Track and Koch Records at the same time. At some point, Barry Bongiovi was taking over the helm at Right Track and the rumor mill, started with my co-workers, was that he didn't hire female assistants. Was that rumor true? I don't know, but I wasn't going to stick around to find out. That's when I moved to Looking Glass. Then, a few months later, my boss at Koch Records left for Deutsche Grammophon. New management came in, and my job ended at Koch. I wasn't working enough hours at that point to sustain me solely at the Looking Glass, and Jamie Mereness was kind enough to recommend me as an assistant to Unique and Platinum Island, where I was first introduced to the hip-hop world. I don't remember many of the sessions I worked on at Unique; I was mostly a fill-in mercenary. I do remember a few at Platinum Island. There was The Lady of Rage with DJ Premier, SWV [Sisters With Voices], and a couple sessions with Puffy. I also remember assisting for Eddie Kramer [Tape Op #24] there, but I don't remember what session. In 1997, I landed a full time job at Battery Studios. There were a couple sessions I really enjoyed there. I was the mix assistant on The Roots' Things Fall Apart, (Axel Niehaus was the mix engineer); Angie Stone's Black Diamond (Tim Donovan was the engineer); and Big Pun's Capital Punishment. I also worked with DMX, KRS-One, and a couple of early sessions with Britney Spears. It's all mostly a blur. I was miserable most of my time at Battery, and a few incidents made me question my life choices and whether I should've just stayed in post. My last month or so there, I was actively looking to get out.
You were at Kampo Music Studios eventually becoming one of the main engineers there. What did you learn at Kampo that has carried through into your more recent freelance engineering work?
"A happy client is a happy client." That was a little sign on the wall at Kampo. As I just mentioned, my experience at Battery wasn't a happy one. I was looking for a new job. I called Kampo, and the studio manager, Greg Weeks, told me that they needed assistant engineers really badly. He said, "I have a session over the weekend with one of our engineers. I'm going to put you on that session." Trial by fire. At Battery, a big hip-hop tracking session set-up was a keyboard, a vocal mic, and maybe a couple of other things. This was a real, live jazz session at Kampo! Six or seven players. I remember showing up two hours early and the techs were there. They showed me where things were. I double-checked everything three or four times. The engineer came in, Kenji Shimoda. He was awesome. He said, "Greg said you're the new assistant. Maybe. We'll see." I went into the live room and scratched the mics. He came out and said, "Okay. No mistakes. You can stay."Once the session started, I was sitting in the corner by the patchbay while the band played, and at some point I was just overwhelmed. "This is what I've been missing." Kampo was a funny place, because the clientele was all over the place. You'd have David Byrne [Tape Op #79], [saxophonist] Vincent Herring, Mary J. Blige, Alicia Keys, and then all of these other smaller bands. I was an assistant at Kampo from 1998 to roughly 2002. I had started bringing in my own sessions, but my clientele wasn't very consistent. I remember when Kenji Shimoda became the studio manager, he called me into the office and told me it was time to stop assisting. I thought I was being fired, but he made it clear that assisting was a crutch; he was kicking me in the ass to start thinking of myself as an engineer and to pick up my game. In my first couple years at Kampo, I assisted Pat Dillett [#79] on a few records. The projects I remember were with Arto Lindsay, Aterciopelados, and Francis MBappe. Pat wasn't a staffer, but he worked there a lot. A bit later on, he took over Studio C. I feel like the three engineers who were most influential when I was an assistant at Kampo were Dick Baxter, David Baker, and Josiah Gluck. I learned so much from all of them, and I owe them a great deal of gratitude. There was an elegant simplicity to how each approached mixing and tracking that I found refreshing – especially after working in hip-hop and pop. They took their time to listen and adjust until they got what they wanted. The raw tracks were stellar, and their mixes always sounded lush and big and open, with everything in its right place. With tracking, the focus was on getting it right the first time rather than "fixing it in the mix." If you need an extra 5 minutes to get what you want, take that time. In the mix stage, start by listening to the song with all faders up. Get a feel for the track as a whole. Make level adjustments while listening. Choose a reverb for the song. Make a note of problem areas. Use EQ or effects or compression where needed. Nowadays we reach for plug-ins or for other gear because we have it, not because it's needed. I try to keep that in mind with every project I do, regardless of genre.
You focused more on learning the recording process and then using that process to capture what's there – regardless of what it is that you might be capturing.
My job is to facilitate the moment. When we think about recordings that touch us, a lot of them were moments in time that just kind of happened. I want to go back to Dick Baxter for a moment. I worked with him at Kampo very early on – a handful of sessions; all jazz and blues. He must have been in his 70s at the time. Watching him work changed my outlook on what was needed to get great tracks. All of the sessions were live to DAT. There was no laboring over a mix for two days or spending an hour on a kick drum sound. The whole session happened in about six hours, then the record went off to mastering. I learned more working with Dick Baxter over a period of a few months than I think I've learned from anybody else. I learned that moving a mic one half centimeter makes all the difference in the world. I'd have the room set up, everybody would show up, and he would say to me, "Go in there." I'd put the headphones on and move mics. He'd tell me in the talkback, "Wrong way. Bring it over the other way. Almost, almost, stop! Next." I'd move around the room adjusting mics and then go back into the control room. The difference between when I left the control room and when I came back was night and day. The entire session was organic. It sounded like an album the minute he pressed record – and he just rode the faders throughout the session.
Following a brief stint after Kampo with a studio group called Pyramid Recording Collective, you opened the first of four locations of your studio, MONOLisa. How did that unfold?
I was at Kampo from 1998 until 2010, when it closed. 2001 happened – 9/11. The economy of the city pretty much collapsed for about six months. When Pro Tools became the norm, a lot of people started to get smart to the fact that they could have Pro Tools at home.Even I had an [Digidesign Digi] 002. I was thinking, "Okay. We'll do basics and lead vocals at Kampo. All of the other random overdubs and editing/rough mixing, I'll do at my house and save the client some money. That way they're just paying for my time." That way of working became very successful for me, as it was for many engineers and producers. Pro Tools had been a peripheral – up until around 2000 or so – but then the technology advanced to the point where people could make entire records in Pro Tools and not have to use tape. In a big way, the shift to Pro Tools became a kiss of death to larger studios around town. All of those sessions – the transfer sessions, the overdub sessions, and the rough mix sessions – were gone! Before 2002, we had roughly 20 world-class studios in New York. By 2004, the shit hit the fan. Now we're down to six or eight in New York City.
How did you transition from your home studio to three different MONOLisa locations in four years?
Pyramid Recording Collective, which you mentioned, was a great idea: Bring engineers together who have relationships with many studios at different price points around the city and offer Pyramid Studios as our home base. In the end, though, the logistics of it were really frustrating. I knew that I needed my own room. The first MONOLisa studio was a 310 square foot space right down the street from our current location.
Rich Kulsar: It was Harry Belafonte's former space.
The people who handled that space did video work and managed a hip-hop artist. They already had one room built out and did another one later on, with video editing suites and an infinity wall. At that location, we were basically like, "Let's build a little platform."
So that version of your studio wasn't floated, but there was some dead space underneath your floor?
Right. They had a little booth that hadn't been designed well, and a room. We changed things around in the room and got it sounding good. We were there for one year. Within that year, we realized the relationship wasn't working out the way we had hoped, and that we'd also outgrown the space.
From there, you moved to Manhattan's Upper West Side. How long did it take to set up that studio?
Maybe a month. It was already kind of built-out. It had been a studio before. We hired Mike DiSalvo at Top Rated Contracting to help us. We redesigned the control room and kept the live room pretty much as it was. We had to fix the back wall, which was just concrete. It was the basement of a residential building. We had no neighbors, and our upstairs neighbor was a moving company. It was perfect – except for the fact we'd have waterfalls in the bathroom towards the end of our time there. We were there for around two and a half years.
You've been at the current Long Island City location since 2016. You built this place in under one month?
We signed the lease on the 20th of August, 2016, and we moved in September 17th. Our first session was October 9th. We'd hired Mike DiSalvo again. Once the contractors were done, we realized pretty quickly that there was a design flaw. The live room was built in the middle of the space – a totally isolated box – but the lounge and the control room weren't boxed out as individual spaces. With both entrances of the live room sealed shut, we realized that everything that was being said in the control room could be heard loud and clear in the lounge – and vice versa! That's bad. Luckily, our assistant engineer, Ray Bonanno, and his dad, Bob – a skilled carpenter – came in and plugged up the space between the ceiling of the live room and the actual ceiling.
Is there a lesson on how to put together a fully functional commercial recording studio in an industrial building in a major city in under one month?
The thing that killed our budget was…
RK: There are these little suspension brackets we have on the walls to keep the live room walls from touching the structure of the building. There's only one company in the world that makes those hooks, so they can charge whatever they want.
They were $25 each, and we had to buy around 200 of them.
What's the idea for the vibe and personality of MONOLisa studio?
You come in and the gear works. Everything's set up and ready to go. I'm more interested in working with people I enjoy working with, and doing work that I enjoy, than worrying about what we're making per hour. There's a moment when someone's listening back to their music and all of a sudden this involuntary smile creeps in, and they're like, "Yes! That's what I'm looking for." It's that moment that I'm always looking for, and that is what I live for. Being able not just to provide this place to other people, but to know that I could do it. You can think about it forever. There's never going to be a perfect time for anything. There's always going to be tragedy in the world, and in your own city and life. My biggest challenge is that I always feel alone. I feel that I have to do everything all by myself. The one thing about this studio that's made all the difference for me has been finding out that actually, I'm not alone. There are people who love this space. There are people who love me, who love Rich. There are people out there who will help you – not for any other reason than because. One of the reasons why I do this is a desire to let other people know that they're not alone. There are so many musicians who feel disconnected from the world, disconnected from the business, disconnected from everything – and they don't know where to go. They're making music at home and trying to put it up on whatever website du jour it is, and they are feeling…alone.
Within the state of the music business today, what are the main trends for commercial spaces such as yours?
That "alone" feeling is palpable in most musicians and engineers. Anytime you have conversations with musicians, or engineers and producers, they all seem to recognize it. I'm a voting member of the Recording Academy. Mostly because of backlash from certain comments made about the Grammy presentations, the Academy formed the Diversity & Inclusion Task Force, with the overall theme being the lack of women and people of color in the recording arts. Members were offered a chance to speak to the panel, and I brought prepared remarks about the fine line between "encouragement and discouragement" when women or POC want to enter a field where they generally are not found. I really want to become more involved in outreach to young women trying to find a foothold in the industry. I think there's been a ton of progress, but these days there are different challenges. It's not so much to do anymore with "being born female." Now it's more about, "How do I find an entry level job at a company who won't expect me to work for free for months on end?" On that note, I signed up to become a Recording Academy District Advocate. I was able to meet my Congresswoman, Grace Meng. I thanked her for supporting the Music Modernization Act, and added a few talking points regarding upcoming legislation that affects musicians and intellectual property right holders. We had a little extra time at the end of our meeting and I told her that I want to see a pathway to success that doesn't exist right now. Big studios are going away – it's inevitable, in a sense, though I can see a new model moving forward. Some large studios will be able to get away with having their rooms booked long-term by well-known engineers. Some will have a large live room, with smaller satellite rooms rented out by producer/engineers – kind of a profit sharing model. And some studios, like ours, will remain lean and mean. I shared some ideas with her that are outside the scope of this interview. Let's see where they might go.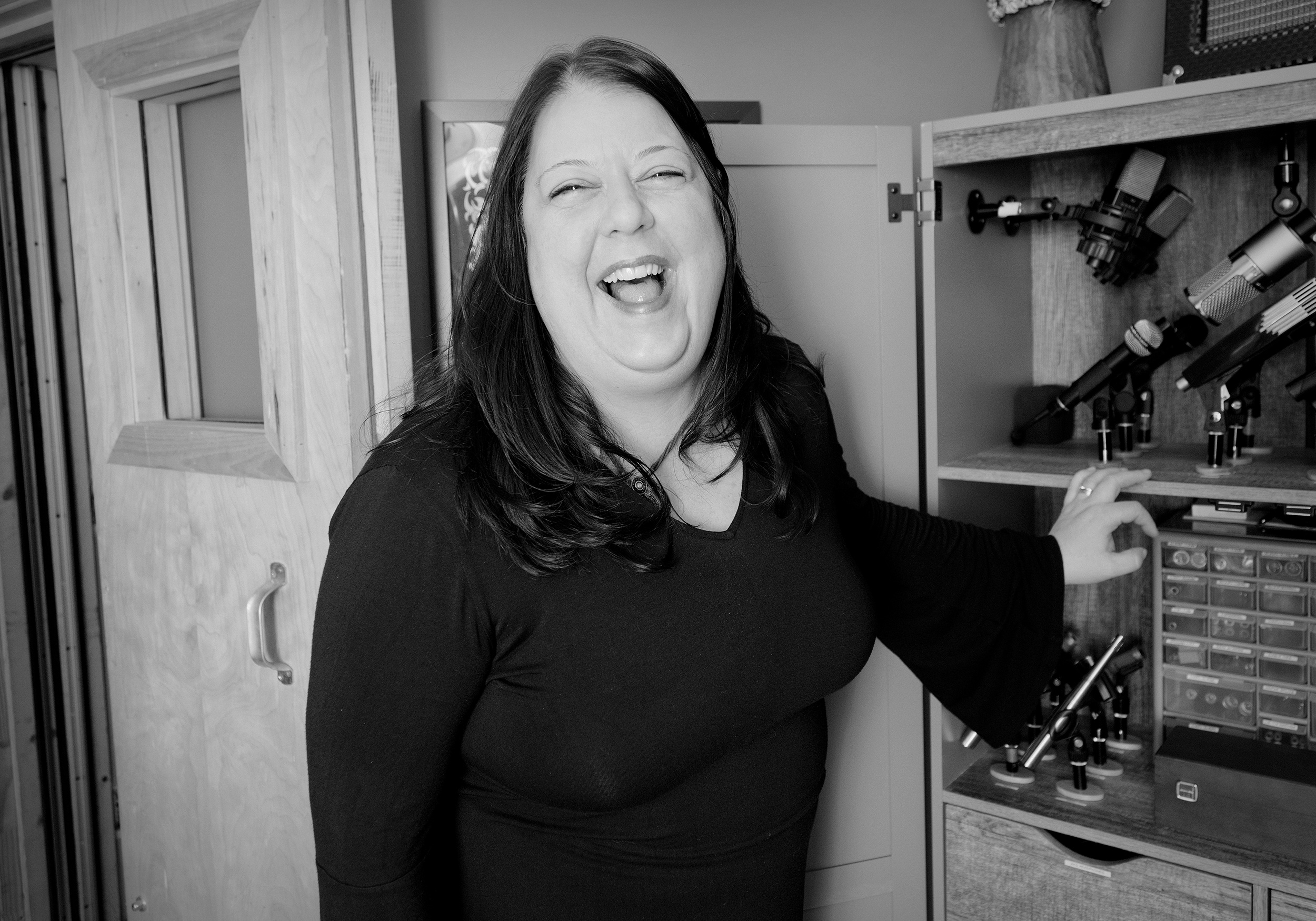 I don't want to forget to mention your Grammy!
It's surreal, really. Lucy Kalantari & The Jazz Cats won Best Children's Album at the 61st GRAMMY Awards for All the Sounds, which I recorded and mixed here at MONOLisa. Lucy has been working with Rich and me since we started as a little overdub/mix room on the other side of Long Island City. We've done four records with her in five years. I know I'm supposed to be tooting my own horn here, but Lucy is really the driving force and the reason our creative team won. She is creating music that betters children's lives while introducing them to jazz. Her live show is full of joy and happiness. The kids really love her, and the band is great! I happen to know the drummer really well [husband Rich Kulsar]! [laughter] I will toot my own horn now: The album was the best sounding of the nominations. A lot of that was mastering engineer Alan Silverman [Arf! Mastering]. I've been sending mixes to him for many years – one of the best mastering engineers in New York City.
Do you have a favorite project that you have worked on, or would like to work on?
Good music is good music. You know it when you hear it. At the end of the day, you're supposed to capture a moment. You're supposed to suspend reality. You're supposed to be able to give someone an opportunity to be in a space that didn't exist before – one that will take them out of their reality. That's the artist's job. My job as engineer and studio owner is to give the artist the space to do that work. There are so many engineers where it's all about them. At the end of the day, what really matters is, "How does it sound?" And, "How does it make you feel?" It's not about being a celebrity engineer or producer. It's about THE MOMENT. Whether it be the moment plus overdubs, whether it be the moment plus editing, it's the moment that matters.

Tape Op is a bi-monthly magazine devoted to the art of record making.