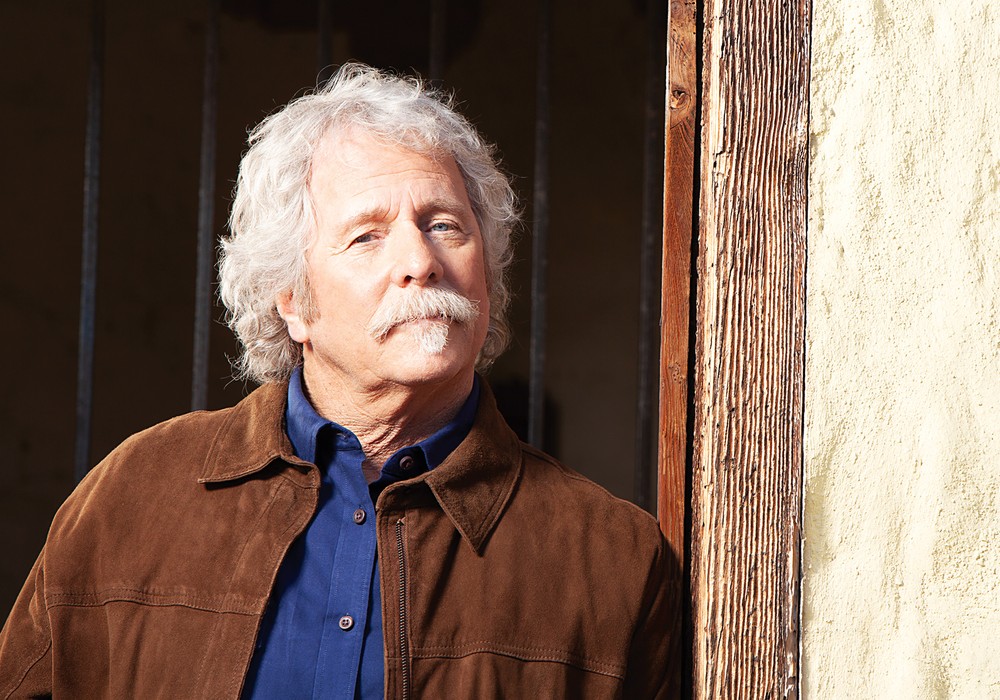 Jim Dickson
(Chris' early bands, The Byrds' formation, Burrito Brothers LPs)
Dickson would be personally, for me, my first producer, when we did The Hillmen [originally the Golden State Boys]. We were cutting that at night, in a similar way that The Byrds were rehearsing at night. Same studio, World Pacific. We'd go in, and whenever we'd get a little time we'd record a couple to 2-track, basically. He'd just mix it onto 2-track like a bluegrass band. Jim was the first producer, in that sense. For [The Scottsville] Squirrel Barkers, we didn't really even have a producer. We just had somebody engineer us and guide us through the process. He was good, at the time. Jim Dickson came back again for a Burrito Brothers album or two.
Allen Stanton
(The Byrds' 3rd LP)
Allen Stanton was an exec at Columbia. Somehow, in between people, he was assigned to one of the records [Fifth Dimension]. All I remember is Allen Stanton would be over – with his shirt and tie, sleeves rolled up – reading the newspaper. Basically he was going, "These guys know what they're doing. I'll just sort of be in here." Most of the engineers were so funny back then. They had shirts and ties. They had to take union breaks. You're right in the middle of almost capturing magic and, "We've got to take a break now!" It was hard to convince them to do one more take. But whatever; it all worked out.
Terry Melcher
(The Byrds' 1st & 2nd [plus later] albums)
Terry Melcher was at Columbia Records. Terry was, as I've said in the book, Doris Day's son. Marty Melcher, Doris's husband, had adopted Terry and raised him. Marty was running Columbia at the time. Terry was not necessarily the spoiled kid who got the job. He was a good producer. He was a good musician. He had written songs, worked with The Beach Boys, and I think there's a fellow, Bruce Johnston, who he wrote songs with [as Bruce & Terry]. Terry understood the song and was aware enough, too, that we did need to really, for the first single, "Mr. Tambourine Man," to bring in session guys. I could argue and say, "Well, it's awful slick," but it did get that door open. It knocked that door open and we had a number one single. So how can you argue that? I've had people over the years say, "Oh, well The Byrds never played on their records." I say, "Listen to the first album [also Mr. Tambourine Man]! Listen to the cut of "Mr. Tambourine Man." You can see it's a different thing. Then Roger [McGuinn] continued to work with Terry.
Henry Lewy & Larry Marks
(The Flying Burrito Brothers)
In the Burrito Brothers I worked with Henry Lewy, who's a wonderful man, and another fellow, Larry Marks, was more of a producer. Henry was an eclectic engineer. He really ended up doing some of his best work with jazz and Joni Mitchell. He's great. He's a joy to work with.
Gary Usher
(The Byrds' 4th through 6th albums)
He was great to work with. I think Roger McGuinn would agree with me. Gary was really a good producer. He was open to ideas. He was a joy to work with. I really liked Gary a lot. We've lost him too, but he was a very good producer. I've had some wonderful ones over the years. On The Notorious Byrd Brothers it really got down to McGuinn, Gary, and I, as it says in my book. We ended up finishing that record. It came out amazingly. People were very receptive to it.
Ron & Howard Albert
(aka, The Albert Brothers; Manassas, McGuinn, Clark & Hillman)
If the opportunity presented itself, I'd work with them in a second. They had a wonderful work ethic; they were very patient, and they got great sounds on everything. Now country, or what I did, really wasn't their background. That wasn't the kind of music they grew up with. It was more rock and R&B, but they handled it quite well. I thought the first McGuinn, Clark & Hillman album [titled McGuinn,...
The rest of this article is only available with a Basic or Premium subscription, or by purchasing back issue #140. For an upcoming year's free subscription, and our current issue on PDF...