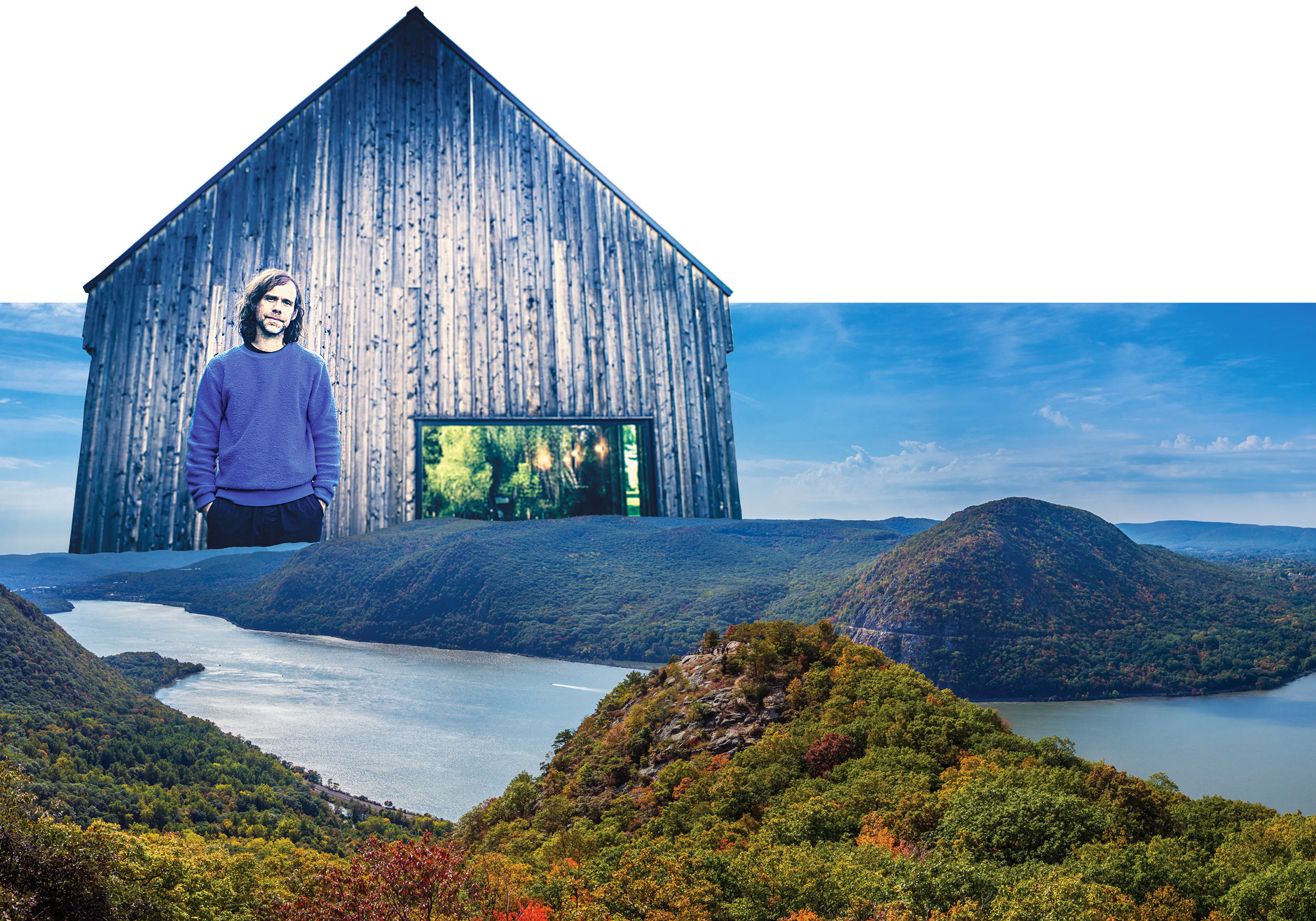 Aaron Dessner, along with his twin brother Bryce, make up two-fifths of the group The National. I interviewed Aaron and Bryce for Tape Op online (#133) about the making of The National's 2019 album, I Am Easy to Find. But, in addition to The National, Aaron is also a prolific songwriter and producer, and a few years ago built his Long Pond Studio in upstate New York. I recently had a chance to talk to Aaron about his many collaborations with artists he's worked with, from Sharon Van Etten's Tramp to the recent, Taylor Swift albums, folklore and evermore.
At what point did you decide to take on the role of a producer and studio owner, both with The National and working with other artists?
I think I gradually assumed that role because of the skills that I have. In The National I've always been a jack-of-all-trades. I tend to start most of the ideas and finish the ideas, with a lot of collaboration along the way. That's what I was doing, and learning to do, all along in the band. We were all learning how to write songs together and finish songs, and I tended to take a bit of a leadership role in helping steer and initiate; be the spark that would light a fire, and then stick around until the end of the night. Over time I got interested in Pro Tools, and I started to do a lot of writing on my own as I built a studio in Brooklyn in my garage. That became a place where we worked for years. When I moved upstate, I decided to replicate it but on a much bigger scale. Then, 11 or 12 years ago, I started producing records for other people. I still feel like a musician who collaborates a lot. There's the technical side of being a producer, but I come more from the musical side. But the technical part is something I've become interested in over time.
What is the current studio, Long Pond, like?
It's in Hudson Valley in New York. We're about a mile from the Hudson River. There's an old farmhouse from the 18th Century that my family and I live in. There was an old horse barn here positioned along a long, thin, beautiful pond that's on the property. When we bought the property my idea was to build a studio. It took a year or two to figure out the design and do it. So, in 2016 we built this residential studio. It's a big, open workspace with an isolation booth and the same acoustical treatments that were on the wall in my Brooklyn garage, replicated here on a large scale. I like to think of it as a church, a barn, and a garage all together. We recycled all the old wood from the barn, so that's in the living spaces in the three bedrooms and the kitchen/living room area. It's a beautiful, modern barn. It's a two-story building that's 26-feet high, with cement floors and radiant heat. On the ground floor is the studio and the large living area. Upstairs there are three bedrooms and another bathroom. We built it so that anyone can do anything, at any time, from any point in the room; there's conduit running through the whole building, including upstairs in the bedrooms. When we have a ton of people here there will be amps in the bedrooms if we want more isolation. I never liked conventional recording studios, where the control room gave me that fishbowl feeling when I have to go play. Here there is no control room; it's all one big room. There's a very nice iso booth, but mostly we work out in the room. We designed it as a mixing room also. The listening environment is pretty amazing, and we've recorded and mixed the last two National records here, as well as most of folklore, evermore, and a bunch of other records. It's only been four years since we built it, but it gets better and better.
An entire band can stay there?
Yeah, there's also another double bed on the ground floor, and then the house has several bedrooms. I don't operate it like a commercial recording studio;
the only people who ever come here are people I'm working directly with, or close friends. It's a place for me to write music and produce music for projects I'm working on. But it's not something that I am operating as a business or anything.
I think you have a new console from when I chatted with you and Jonathan Low about I Am Easy to Find, that you bought from Arun Pandian [Tape Op #133]?
Yeah, we did. It's funny, because Peter Katis [#31] was here mixing that record. Not long after that, Arun bought a Helios console, and he was going to sell his WSW Siemens, this amazing console from 1965 that he'd custom reassembled and refurbished. It was in perfect condition, and it's the perfect size. Everything about it was ideal for our space. I never thought I would own a console or want to, because we have a lot of outboard preamps, and I was used to how we tended to work. But Peter called and said, "You have to buy this. If you don't, I'm going to buy it." Peter's a very close friend, and also incredibly knowledgeable. He would never say that unless it was the case, so we bought it.
Who was the first artist, outside of The National, that you produced?
There were some small projects that happened early on, and I've been making records in one way or another for at least 30 years now. Around 2009, my brother and I made Dark Was the Night, a 32-track compilation album for Red Hot, an AIDS charity, that was centered around our community. That was a big production effort; a several year process. Through that we met so many people whom I became friends with, including Justin Vernon [Bon Iver]; we wrote a song together. Then my brother and I performed a song called "Love More" by Sharon Van Etten in 2009 in Cincinnati with Justin – a day later Sharon emailed me and reached out to say that she was honored we'd played her song, and asked if I would ever like to get together and work on music. Over the next year, Sharon and I spent a ton of time together in my garage in Brooklyn making her record, Tramp. That's the first record that I fully took on in the role of being the producer and recording a lot of it. The National records were group efforts, with lots of other people involved. But Tramp was the start of this process, and it was a special time, because Sharon's incredible and was growing a lot. I felt I learned a lot through the process, and the record was a big success. I realized that it was fun to make records with other people, other than with your own band.
Tramp was made over the course of a year, without any real deadline or label pressure?
Yeah, she didn't actually have a label at that time. She signed to Jagjaguwar Records while we were making it. The National was touring a lot at that time because of Boxer, and during that time we were also making High Violet, so I was busy. We made High Violet in the garage as well, so there was some overlap between High Violet and Tramp.
Do you find it helpful to step away from a project and come back to it over the course of a year, as opposed to hunkering down and making a record in a few weeks?
I like the space and the time to reflect and push it further. Sometimes everything is there and it happens quickly. If all the songs are there and there's magic, it's great to make something quickly. But I think if you're searching, or if you're trying to break your habits and grow, it can be helpful to have time and space to work a bunch and then go away from it, think about something else, and come back to it. I could go either way, but I tend to be more in the camp of liking to make records over longer periods.
Justin Vernon is someone you've done quite a bit with. You guys have a band project (Big Red Machine) and a label (37d03d), as well as a festival you were doing?
We met on Myspace in 2008, when I invited him to participate in Dark Was the Night. About a week later after we asked him, he sent this beautiful song called "Brackett, WI." It was amazing; as good as anything he'd ever written or released, and he wrote and recorded it in a week. It was incredibly generous, and a window into his musical mind. I had been playing around with a piano idea, and recorded a bad demo with a mic on the floor from across the room in my house. It was while we were building the studio. I called it Big Red Machine, and I sent it to Justin, wondering if he would do something else for the charity record. A week after that he sent back a fully-written song to the piano demo. That planted the seeds of friendship and collaboration, and we ended up meeting in person later that year to perform at Radio City Music Hall for the Dark Was the Night release party. We hit it off. He's from Wisconsin and I'm from Ohio; it felt like meeting a friend you've always had. His approach to music, as well as the way he treats people and his energy, felt very, very familiar and warm and wonderful to be around. Since then, Bon Iver and The National have been in similar orbits. We ended up doing a lot together, whether it was Big Red Machine, Eaux Claires [Music & Arts Festival], or other music projects. There are lot of common friends; it's not just Justin and me. It's a lot of people in his community who have become close friends; we're in each other's orbits and helping each other. That's what the label, we call it "People," but it's spelled with numbers and letters upside down and backwards, because People Magazine said we couldn't use the word "People." It was pretty funny. So, we call it 37d03d. It started as a festival in Berlin and has taken on different forms. It's a collaborative community of musicians that includes a label that puts out as much music as we can; to have an outlet that's maybe outside of the usual pressures and bottlenecks of the mainstream music industry. It's set up like a proper label, and we're putting out as much music as we can. We're trying to be as diverse as possible, whether it's giving people a weird noise record or beautiful folk music. We'll put out the new Big Red Machine record. There's always a lot happening with Justin, as well as other people who are part of that community.
So, do you guys have a new Big Red Machine record on the horizon?
Yeah, we've recorded probably 30 songs that feature lots of people. It's not just Justin. We'll put out a group of those songs next year. It's some of my favorite work I've ever done, for sure.
I love the single you did with Michael Stipe & Big Red Machine, "No Time for Love Like Now." How did that come about?
The National had toured with R.E.M. quite a bit back in 2007 and 2008. We had met him a few years before when we were playing in Ireland and he was standing side of stage in 2005. We looked over and he was there with Tim Robbins and Susan Sarandon. We were like, "Oh, shit!" But he was so charming and was a big fan of The National. They invited us on tour, and we got to be friendly with them. This past summer, we had an art opening at the Metropolitan Museum of Art; my brother and I did a collaborative project with Ragnar Kjartansson, the Icelandic artist. We invited Michael; he came and we were chatting afterwards. I said, "I'm working on this Big Red Machine music with Justin." One of the first Big Red Machine songs was called "People Lullaby," from our first record. The last line of it, Justin sings "I miss Mike Stipe." It made sense to me, in that moment, to ask him if he'd ever be interested in writing or doing anything with Big Red Machine. He said, "Please. Send me music and I'll check it out." He fell in love with a lot of the music. "No Time…" was the first song he wrote. We got together in November 2019, in Brooklyn. It was wild to be in a studio with Michael Stipe, my hero, and he's singing to our music. It's a beautiful song. It feels like he wrote it about this time of the quarantine and the pandemic; he actually wrote the words months before, but it had this resonance and relevance.
Are there other tracks with Michael that will eventually see the light of day?
I hope so. There are a bunch of other ones he was excited about, so hopefully that will be the case.
Two artists you've worked with that I enjoy are This Is the Kit [Kate Stables] and Lisa Hannigan.
Those are two of my favorite records I've done. Kate is an old friend. She's actually a twin, and she has another set of twin sisters! All of them used to come see The National in the U.K. 20 years ago, when we first went there; they helped us and put us up. They have an interesting life; they live almost off-the-grid and exist in an alternate reality. This cool, weird folk family. I saw Kate play in a basement for ten people in London at least a decade ago. I wanted to make a record together. We made that record [Bashed Out], and we were hardly ever in the same spot. She did come to the garage in Brooklyn for a couple of days one time, but mostly we did it remotely and put it out on our Brassland label, which is another label my brother and I started with Alec Hanley Bemis, a journalist. It was a big success for us and for her. She's gone on, and I've played on her last two records. She's a big part of the last National record, and she's on the Big Red Machine record. A talented, lovely person. Lisa Hannigan is another collaborator whose voice I've admired for a lot of years. We have common friends in Ireland. At some point I reached out to her. Every once in a while, you think of people you might want to collaborate with and reach out. I was lucky enough that Lisa was excited when I got in touch with her. We met up and worked on some new ideas together. We ended up making her record, At Swim, up here. It was before we built the studio. We recorded it in Henry Hirsch's church [Waterfront Studios, Tape Op #56] in Hudson, where he had a Helios in the basement. It was done mostly live in the church. We did some production work in the garage, and then Jonathan Low, who I often work with, mixed it. It's one of my favorite-sounding records I've ever made
Is that one of the first records you worked with Jonathan on?
Jonathan actually mixed Sharon Van Etten's Tramp record with Peter Katis and Brian McTear [Tape Op #92], but he did a lot of it. That's how we met. I've worked with Jonathan since then. He mixed a lot of folklore, engineered most of it, and is intimately involved in pretty much almost everything I work on.
How does your dynamic work?
It's interesting. A lot of times, I start ideas on my own in the studio when I'm writing. Once I've taken that to a certain point where there's a strong idea, then Jonathan will usually come in and help me take it a little further sonically. He pre-mixes ideas for me. I'll do my own rough mixes; I'll engineer my own sessions and do a lot of work, but when I'm getting excited and I want to take it to another level and race a little faster, that's when we start working together. If a sketch starts to become a full-on production or a song with someone, then Jonathan is playing the role of engineer and mixer. He helps me add a lot and he has a lot of insight into production as well. We bounce ideas off each other. It's almost as if we're brothers or something; it's not unlike the relationship I have with my brother, Bryce. We know how to work well together and make each other better. My kids call the studio "Jonathan's house," and they don't understand that he doesn't actually live here. It's pretty funny.
Your brother Bryce is, obviously, one of your long-term collaborators, and you guys seem to still get along, which is significant.
Yeah. It's hard. Like anybody, there are times when we have issues, but mostly we're incredibly close. We grew up playing music together; we have different skills, but we are very good at finishing each other's ideas and elevating what the other one is doing. There's a lot of back and forth. I'm more focused on songwriting and production, and he's more focused on composition. He's a classical musician. But we both dabble in each other's spaces. Having grown up literally playing music in the same room, at the same time, there's an unspoken language between us, musically and otherwise, where we never have to teach each other anything. We can immediately add something important to what the other one is working on. That's how we work. We sometimes write songs together, or we write songs individually. But then Bryce will arrange my songs, or I'll add something to what he's working on. We've been alive 44 years and collaborating since we were little kids, and I think we will do so for the rest of our lives. It's a very special relationship, and it also allows me to get a lot done quickly. folklore is a good example. I was under the gun to get it finished. I could send Bryce songs and he arranged them overnight, and in a way that was exactly what I wanted. I didn't need to talk about anything or teach him anything.
Were your parents musical?
My dad was an incredible, talented jazz drummer. When he was in his 30s, he had to get a "real" job, but he was a serious musician for 20-plus years. My great-uncle was apparently in an orchestra in Eastern Europe, playing violin, and there were a bunch of musical people in the family. It is something that comes naturally to us. It's coming from somewhere, but I'm not totally sure where. My dad will tell you it's coming from him!
I imagine he's stoked to see you guys doing well now?
Yeah, he's thrilled.
You mentioned Taylor Swift's record, folklore. How did that come together?
Taylor is a big National fan, and she came to see us play. She talked a lot to my brother and me. We met her in 2014 at Saturday Night Live. She was there when we played. We were a little bit in each other's orbits, and we were aware that there was this mutual appreciation. When the pandemic hit and everyone was in quarantine, all her plans for 2020 were canceled. She was at home and I guess she thought, "Why don't I reach out?" She knew that the way I write is by sending sketches to Matt [Berniger, The National's vocalist], then he writes to them. She reached out in April and said, "Hey, would you ever be interested in writing remotely with me?" At first I asked, "Is this really Taylor Swift?" [laughter] But I had been writing a ton of music at that time; I was preparing to do a solo tour opening for Bon Iver, by myself, in arenas. I'd been nervous and writing a lot of music. Then, when the pandemic hit, I was writing a lot for what I thought was Big Red Machine or The National. So, when she reached out, I happened to have a folder with some of my favorites. I make music to make it, often not knowing what it's for. Also, the sketches are usually meant to be compelling on their own. They don't necessarily need a vocalist, and I do it almost as a form of therapy. Sometimes I add vocals to them, but a lot of times they're instrumental. So, I sent her a folder. She said, "Send anything. The weirdest thing you think I'd be interested in hearing." My phone lit up a couple hours later, and she had sent back the song "Cardigan," completely finished, as a voice memo, to the music I'd written. It was almost fully-produced. It was very similar to what it ultimately became. It was so quick; it felt like a lightning bolt hit the house at that moment. The next day she sent another one, and the next day another one. It kept on like that. Then I started to write more, and we clicked. I don't think either of us expected that, but that's what happened. With Taylor, I can't believe how talented and focused she is, and how her musical mind is extremely expansive; what she's capable of. People know her various phases and different records, but until you work with someone directly, you don't know what their skills are or what their genius is. Hers is expansive. That's been amazing to click with someone like that and go toe to toe. She's very capable, sharp, and an interesting person. That's the fun thing about being collaborative. I get to learn from people all the time.
Did you end up re-tracking the vocals on something besides her phone?
Yeah, she re-tracked them. We did it remotely via a secure link; she was in L.A. and we were here. We'd get on the phone and I could be in her headphones. It was crazy. The whole record was made remotely. It feels as if we worked it out in a room though. There's weird serendipity to it. We both felt like everything we'd ever done was preparing us to be able to work how we were working. It was pretty incredible.
Opportune, considering how this year has gone. I like the Hannah Georgas album, All That Emotion, that you produced.
Oh, wow; thanks! Hannah was a fan of the band. She had written me four or five years ago to ask if I could collaborate. I loved what she had sent me, but I was busy traveling and touring. It never worked out to hang out, but then it did. Over the last 18 months, we ended up being able to gather and make that record at Long Pond. It was sporadic. We would do a week and then get together six months later for another week. Sonically and process-wise we connected, so I'm proud of that record.
So that was done over quite a bit of time, like Tramp?
It was. With Sharon and I, it was more intense; more time together. With Hannah we did maybe four weeks all together here, but they were spaced out. I work fast, so while we wouldn't be working over long periods, we'd get a lot done when we were working. I've realized that more and more about studio work. After four days, pretty much everyone is fried, so it's good to be realistic about that.
You did Painting of a Panic Attack with Frightened Rabbit, a while back?
Yeah, six years ago. Frightened Rabbit had toured a lot with The National. We were fans of them, and they were big fans of us. Scott [Hutchison] came to work with me some in the garage alone. We worked on some of the ideas he had, then they hired me to produce the band's record. I went to Glasgow to work with them; we recorded most of it at Dreamland [Recording] upstate [New York] and then did a bunch of production in my garage. This is before I built the studio up here. It was an amazing experience. I think they're lovely people and incredibly talented. It was hugely sad and tragic to lose Scott [He committed suicide in 2018. -ed]. He definitely had struggles with depression and it's been a hard, hard thing for everybody to get over. I've been part of some tributes to him, and, if anything, people are learning about mental health, in music in particular, because there's very little structure. We're all running around on fumes a lot of times on tour. It's easy for someone to fall off, in a way. The line between feeling good and not good, or feeling depressed, is pretty thin. It's something to be aware of, and to look out for people and hope they look out for me. That's something I'm haunted by with him. Did I not take him seriously enough, his darkness? But I still really care about the music.
This Eve Owen record [Don't Let the Ink Dry] you did is pretty recent, right?
Yeah, that's a record I really love. She first came here when she was just turning 17. I'd grown friendly with her father, who was a fan of the band; we're mutual Liverpool Football Club fans. It was her birthday and her dad brought her here, on a whim, to record a few songs. We did that, and I was dumbfounded that it was her first time in a real recording studio. Hearing her play songs and record them that day, I couldn't believe it. I think we had planned to do one song, but we did several quickly. They came back over the next year or two, each time for four or five days. We would record during the day, then the next morning, Eve would have written a bunch more songs, each one better than the last. Over time I think we recorded 30 or 40 songs. I loved that feeling of recording without knowing what it's for, and without the pressure of saying, "This is the record." Eventually we decided, "There is a record here. Do you want to finish it and put it out?" For a debut record, it's pretty incredible, how artful it is, and her potential is pretty astounding. Sonically it's also a record that I was experimenting with a lot and having fun with different sounds. I was learning her songs then rearranging them, or re-filtering them, through my brain. She's on I Am Easy to Find… and became part of our community.
I also really like the Adia Victoria album [Silences] you recently produced.
She's an incredible songwriter from South Carolina, and lives in Nashville now. I met her through Steve Ralbovsky at Canvasback Music. Frightened Rabbit were on Canvasback then, which is part of Atlantic Records. Steve is a good friend and had approached me about getting together with Adia. She came here and we did a few songs over a day or two and it clicked. She's a complete artist and a brilliant writer; a visionary artist more than a musician. She has a voice that needs to be heard, not just her songs but everything she's doing and writing. It was an honor to work with her. She has a band, and her creative partner, Mason Hickman, is a great guitarist who also does some interesting production. They came to Long Pond and we did that record. It's a cool, dark, gothic, weird alien future blues record. She's someone to keep an eye on, because she'll do interesting work, for sure.
Was that tracked more live, because she had the band?
Yeah, we did do a lot of live tracking, and she has an amazing drummer. We often do live tracking here, even though the way I make records tends to be more using a lot of drum machines these days, as well as building tracks. There's a healthy amount of band playing on that record.
Local Natives is another band you produced years ago.
I've been so busy with The National all these years, and I never set out to be a producer. Most of the people I would meet and end up working with was because we were meeting on tour. That was the case with Local Natives. They'd open shows for us, and then eventually we started talking about recording together. They came, and we made the Hummingbird record. We did basic tracks in Montreal at Studio Mixart on a Neve [console], and Marcus Paquin engineered that record with me. Then we did all the production in the garage in Brooklyn. They became like my little brothers. We've stayed close ever since, and they've grown a lot as a band. That was their second record, and it was an important moment for them to confront. If you have a first record that's quite successful, how do you follow it up? There was a lot of anxiety, but I felt I was part producer, part band member, and part psychologist. What came out of it is still what I think is one of their best records. You can also hear the sound of the garage in that record; it has a thing.
How about The Lone Bellow records?
The first one was called Then Came the Morning, which we recorded at Dreamland and then did all the production in the garage. Peter Katis mixed that. It's a weird, interesting mix of gospel, folk, and country. There are three incredible singers in the band; lovely people. That was a record that was outside of my world; it was different. It had heart, so it was nice to work with them. Half Moonlight came out in February and then the pandemic hit. It's hard for people not to be able to support their record, but it's an incredible record with some of my favorite songs they've ever done. I'm proud of how it sounds. We did that entirely here at Long Pond – recorded and mixed it all here. It was amazing to be with them again.
You mentioned the Dark Was the Night compilation earlier. Another Red Hot Organization compilation was the Day of the Dead Grateful Dead tribute you did with Josh Kaufman, your brother Bryce, and Bryan and Scott Devendorf [brothers, also in The National]. That must've been a pretty massive undertaking.
Yeah. That was insane to make. We were big Deadheads growing up; it's always been part of the fabric of our lives. When we started playing instruments, it was always interesting; this weird blend of rock 'n' roll, bluegrass, jazz, blues, and psychedelic. Jerry Garcia, Phil Lesh, and those players; it was hard to parse why they were playing the way they were playing. When Bryce and I first played with Bryan Devendorf, the drummer for The National, we played "Eyes of the World" for seven hours. Later, when we were becoming successful, we got to know Bob Weir because he invited us to perform for a HeadCount event at TRI, his studio in Marin. I think we performed 21 Grateful Dead songs with them, and two National songs. We rehearsed with them, and Josh Kaufman music-directed that. Bob Weir was so gracious, focused, talented, and lovely. Exactly what you would hope when meeting one of your idols. Subsequently, we helped Josh with Bob Weir's Blue Mountain record, and we toured a bunch with Bob as part of the band for that record. No matter what I'll do, we'll still all be in awe of all that music. That started this process of making Day of the Dead. It gave us a blanket clearance to pay tribute to the Dead and raise money for HIV/AIDS through Red Hot, so we did as much as we possibly could over a couple of years. It's a more than five hour record, but it could have been 12 hours. It's scratching the surface. It's a pretty diverse mix of people there. There's Terry Riley, a contemporary composer who came before the Dead in San Francisco, all the way to Béla Fleck and Lucius. A range of people who we admire. We covered the whole "Terrapin Station" suite; not just the first part, but the full suite! We joke about doing another volume; there are so many songs we didn't touch that we should have. Someday!
How has your role within The National evolved over the last ten years or so, since you've become so much more involved in producing other artists?
I learned to write songs with The National, and that's been the best school I could have gone to. Working with Matt and learning how to write good songs; it took a long time, but we kept doing it. It's funny, when The National won a Grammy for Sleep Well Beast, I remember Sufjan [Stevens, Tape Op #70] texted me, "Congratulations." But he said was, "They're basically giving you an award for sticking around." That was a funny realization. We're no longer new at this; it's just something that's part of my life. The National has been such a long, winding road, in terms of it was always built one step at a time. It was an intense touring band. That made it hard to do anything else for anyone. Over time, as we got more successful, and the pressure of playing for larger and larger audiences grew, I think we started to need to take more of a break from it. Everybody needed something outside of it, other projects and ways to take a break from making music with the same five people. That's how I started to collaborate a lot. My brother's always done a ton outside the band, as well as classical composition. Matt has released EL VY [with Brent Knopf], as well as his new solo record [Serpentine Prison]. Bryan and Scott [Devendorf] have LNZNDRF. That's all been healthy for us; but we keep coming back to this family, however flawed it can be. It is like a brotherhood; we all circle back to it. The well isn't dry yet, and there's more work to be done. That's how I think about it. Now we're taking a longer break from the band, probably because we put out two records fairly quickly. I think the gears are starting to turn. We haven't seen each other in almost a year, which is unprecedented in the whole history of the band. I think there're going to be fireworks when we ultimately come back together.

Tape Op is a bi-monthly magazine devoted to the art of record making.