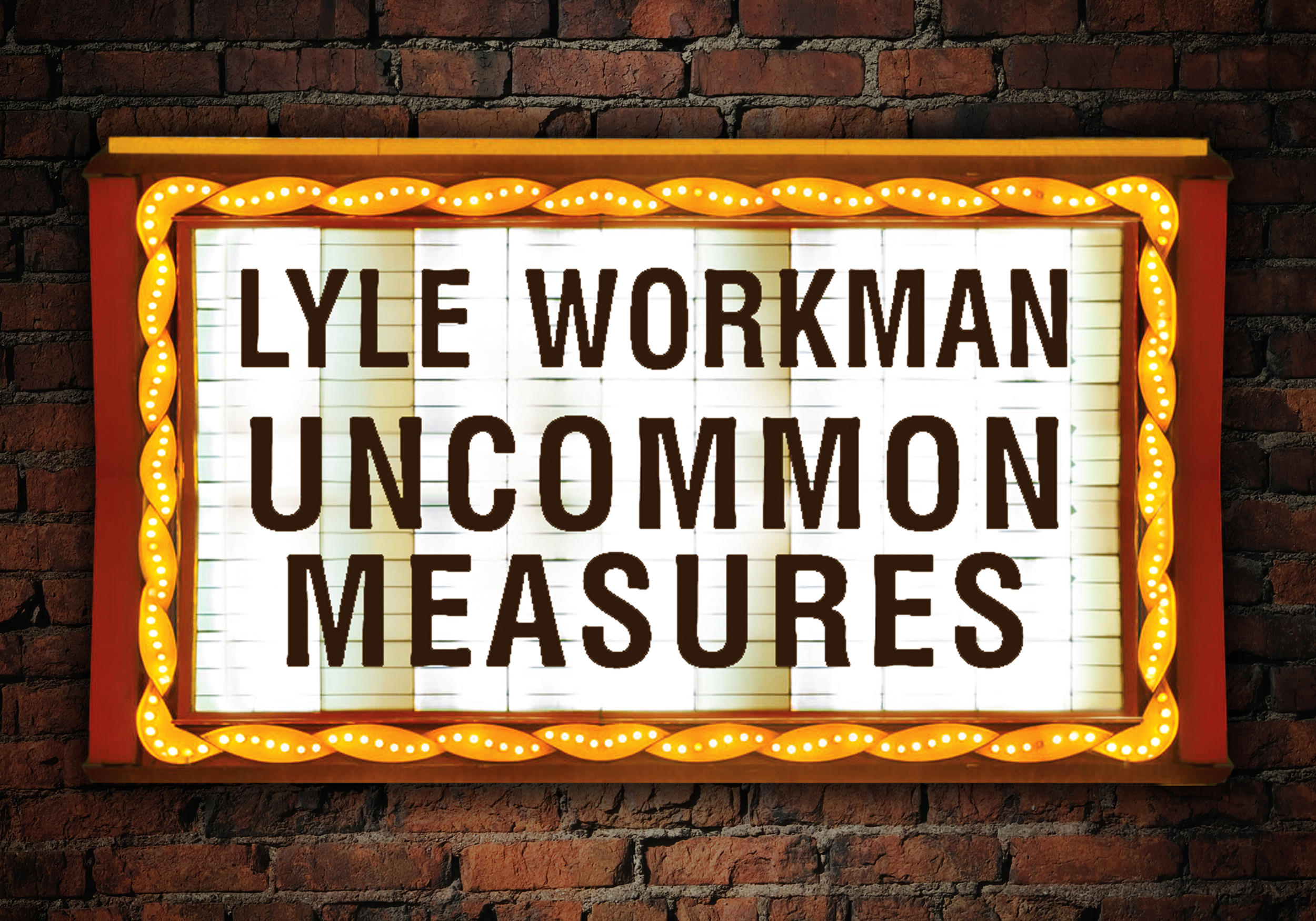 Last fall, I had the pleasure of meeting up and chatting with two successful Hollywood film composers (Charlie Clouser & Lyle Workman), each in their respective home studios. Interestingly, what they both have in common is years of touring and recording with various bands before they ended up in their current careers. Read on to find out more about their different approaches to composing music for films and television. -JB
I met Lyle Workman back when we were both living in Sacramento, California, in the late '80s. He had moved there to play in the band Bourgeois Tagg, which had signed to Island Records and were a local success story. I had moved back after college, and was working at a local recording studio. We'd see each other here and there at shows, but for some reason I seem to recall bumping into him at Tower Video more than a few times, which seems slightly prescient now that he's a well-known film composer. I was younger than most of the guys in the more successful bands, and not really a part of the more established music scene in Sacto at the time, but Lyle was always friendly to me. Bourgeois Tagg broke up, and Lyle went on to play with Todd Rundgren (who had produced the second and final Bourgeois Tagg album, Yoyo), Frank Black, Beck, and Sting before moving to Los Angeles and eventually becoming a successful film composer. I'd bump into Lyle every few years at NAMM, so it was nice to finally find some time to meet him at his home studio in Glendale, and connect the dots on his path between Sacramento and Hollywood.
So how did you go from being a guitar player with Bourgeois Tagg, Frank Black, and Todd Rundgren into creating music for films?
The short answer is through session work. I moved to Los Angeles from Marin County in '97 and was playing with Frank Black at the time, touring and recording. Being that most of my income was that gig, and that he lived in L.A., I decided to move down there. I had entertained the notion after Bourgeois Tagg broke up in '89, but then I began working with Todd Rundgren, who lived in Marin, and I also had other projects that kept me there. It's a beautiful place to live, but ultimately I wanted to pursue more session work, touring, and all possible opportunities that could happen from living in the music mecca of Los Angeles. When I'd moved to Marin in 1990, I put some recording gear in a spare bedroom, but I had some semblance of a recording scenario starting from my earliest days of learning to play music. As I became comfortable engineering, and my needs became more advanced, so did the gear; from the earliest days of mono reel-to-reel, to 4-track, 8-track, [Tascam] Portastudio, Tascam MS-16, [Alesis] ADATS, [Tascam] DA-88s, and eventually [Digidesign] Pro Tools. After moving to L.A., I started doing sessions as a guitarist. I had done a string of sessions for a film composer; his wife was an executive at Universal Pictures, and through that connection I ended up with the Vice President of Music at Universal in my studio as he was looking to add guitar to a song he wrote. By that time, I had done one independent film with another musician, John O'Brien. I met John through playing on his record, which was produced by Matt Wallace [Tape Op #128] who brought me into the fold. John and I became good friends, and he asked me to co-compose for a film by Jon Favreau called Made. That gave me one movie under my belt, but also by that time I had experience writing music for television commercials; a job that began as session work and grew into writing. At the end of the session for the VP of Music at Universal, I gave him a demo CD of my work. He called back to say he liked what he heard and asked if I would consider writing some additional music for a film. They already had a composer, but they were looking for rock-based music for some scenes. It was a Will Ferrell film, Kicking &?Screaming, and one of the producers was Judd Apatow. My music made it in, and shortly afterwards Judd signed a directorial deal with Universal Pictures. The first movie was The 40-Year-Old Virgin. The vice president championed me, and Judd sent me a couple of scenes to score to see what I'd bring to the party. I submitted the music, Judd liked it, and, to my surprise, I got the job. The film was at number one for two weeks in a row. My next film was Superbad, another Apatow film, also hitting two weeks at number one. That collective commercial success solidified a firm start of a career in film composing, and that's been my primary focus and the lion's share of my work ever since.
Wow, crazy!
I got in through the side door, essentially as a session player. You could look at it that way.
Well, you'd been working hard for years as a session player. You don't get there by accident.
That's true. It took years to get there. If I look at the one connection that brought about other relationships, eventually leading to a career-changing event, that would be Matt Wallace. I'm so grateful to him for bringing me into projects after moving down here. Of course, one has to be prepared and know how to do the work when opportunity knocks. In my case I was at that perfect intersection, but I must also stress that the success of those Apatow films was a monumental factor in forging a new career in film composing.
Lyle Workman with Shawn Murphy.
You said you're hired more because you could do rock music?
Well, initially for that Will Ferrell film. There were some scenes that called for that kind of musical treatment. I believe the interest in me was that I came from the world of pop and rock. I had come from those channels as opposed to the studied, film school road, and that was appealing to them. The VP and Judd heard in my music that I could write to picture, which is a different kind of beast. Shortly after moving to L.A., I took a UCLA course on arranging and orchestration for film. I had no designs to score films at that time; I just wanted to learn how to do it. I loved orchestral music in films, classical music, and when it's in popular music. But it was certainly a prescient move, because what I learned came in very handy when I began to score films that required an orchestra. On one of my first [of that type of score], a John Williams cue was temporarily placed in a scene. That was daunting, because number one, they wanted something in that style and scope, and two, there's no living composer better than Williams, but I knew enough to pull it off. That's one of the great things about scoring – the places you can go that stretch you as a musician. I always loved The Beatles and George Martin's orchestral arranging and orchestration, and I'm also a big fan of Electric Light Orchestra [Jeff Lynne, Tape Op #92], so my earliest memories of music had those elements in it. I learned more as the work called for more. There was a good degree of on-the-job training, but the UCLA course was a good foundation. I also learned from working with great orchestrators, one being John Ashton Thomas who has been on well over 100 movies. I enlisted John to help me on my new record [Uncommon Measures] being that it has a substantial orchestral element to it, culminating in recording a 63-piece orchestra at Abbey Road. Before the movies happened, I took that orchestration class, but there were no prospects for film composing at the time. I knew the skill would be something that would expand my abilities. I started applying what I learned as I was getting into orchestral sample libraries. I would add orchestral elements via computer mockups. In my home in Los Angeles, I turned the garage into a studio and was improving as an engineer while learning arranging and orchestration.
Was that at that transitional era, where arranging was becoming something you could do in Finale [music notation software]?
Yes, although at that time I didn't get into Finale, even though it'd been out for some time. I was doing it with whatever sequencer I was using at that time. It's a bit hard to remember, because the gear was changing pretty rapidly.
How much of your workflow now is in this room, in the box, as opposed to working with your arranger and bringing in real musicians to a scoring stage?
I do a lot in this room. It all depends on the nature of the music that is called for, primarily whether it's orchestral-based or not. A lot of times it's a hybrid – the traditional ensemble of piano, keys, guitar, drums, and bass, accompanied by orchestra. That's the large part of the orchestral work I've done for film. Some has been completely orchestral, and some not at all. For the orchestral material, I send my MIDI sample mock ups to my orchestrator, and it will come back to me with his additions.
So, you're working in MIDI with sample libraries?
Yes.
And you're doing that to picture?
That's right. I start with ensemble patches of strings, brass, and woodwinds. For example, the string ensemble patch has all the strings in it from low to high; basses, cellos, violas, and violins all mapped to the keyboard in one patch or preset. When I send that to John, he separates it to violins 1, violins 2, violas, celli, and basses. The same thing applies to brass and woodwinds. Within that process, he may suggest changes or additions, as I'm always encouraging anything to improve the music.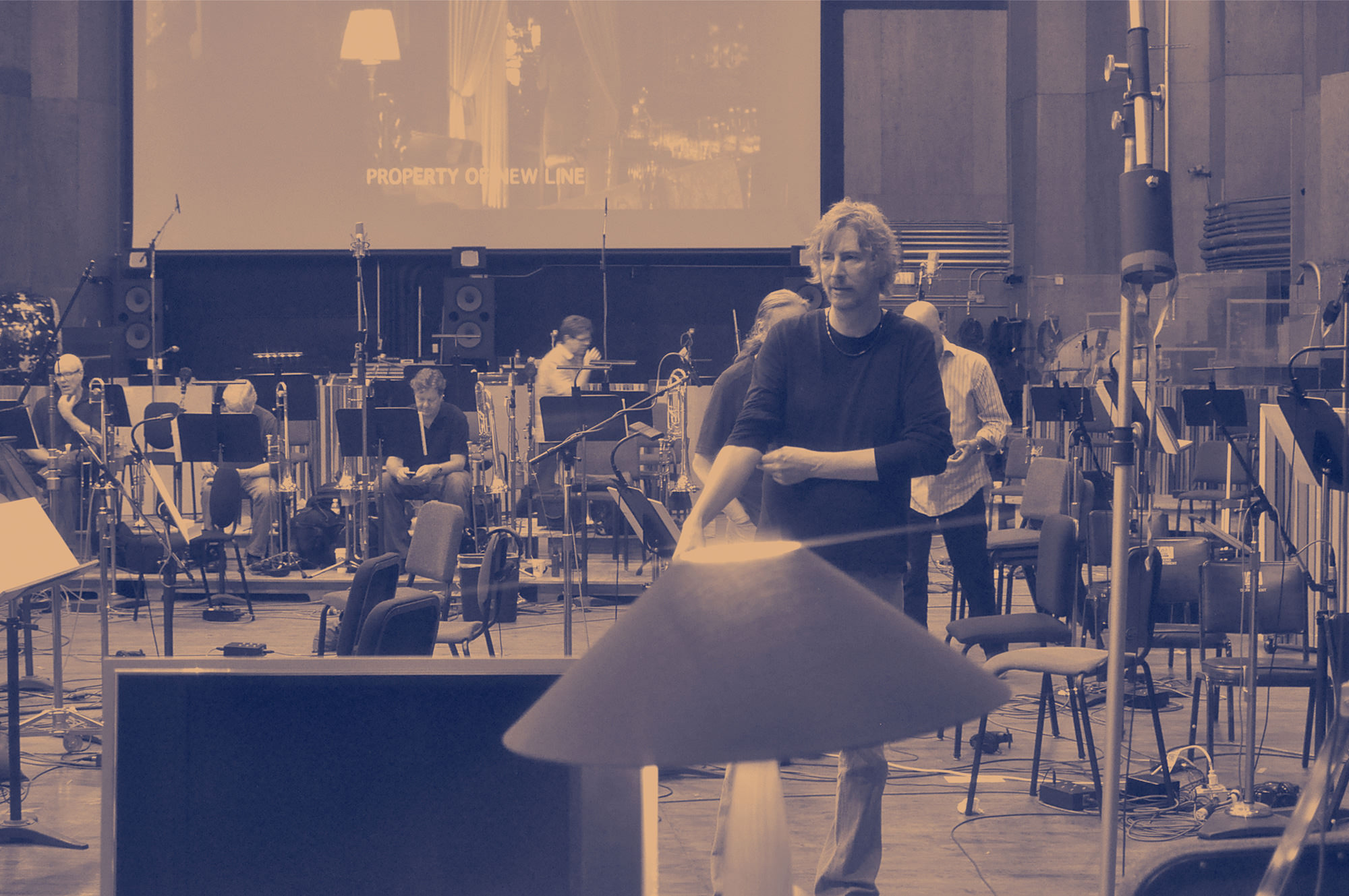 Tracking for The Incredible Burt Wonderstone at Warner Bros. Eastwood scoring stage in Burbank.
Both 's by Timathea Workman
It's all by email then?
Yes, all via sent files and email communication, with calls interspersed when needed.
When you're working with John, does that mean he's breaking it out into additional MIDI and sample tracks, or does he create an actual score and then that gets tracked with real musicians somewhere? Is it dependent on budget, how that process goes?
The budget only determines where the recording will take place. The rest of the process is always the same, which is John may add new parts, maybe some extra counterpoint or suggestions on how certain lines could be doubled. It's essentially a process of refinement. For anything he has added, he sends me a sample mock up for evaluation. After I've approved, he sends the complete master score to a copyist who breaks all the parts out to each group, which ends up as sheet music in front of the musicians at the recording session.
Does that come back to you as a MIDI score too?
Yes, but only if he has made changes substantial enough to warrant my audition. In which case he'll send them back to me in [Avid] Sibelius [music notation software], along with audio. That way I can see all the notes while hearing the audio. John is also my conductor. There are composers who prefer to be in the control room and not conduct, as I do. I like to be where I can hear the recording in the best, most accurate environment possible, and that's the control room. I focus on the sound and give the most solid feedback when I want changes in dynamics or volume adjustments of certain instruments. I'm looking to hear all the parts in the correct balance, and also be where I can detect mistakes more clearly.
So you're at all the sessions when the orchestra is tracked?
Oh, yeah. It's truly the joy of joys to hear one's music in that environment. Most of the work I've done has been in Los Angeles. I worked at Warner Bros., which they call the Eastwood Scoring Stage. I've worked at Fox and Sony. Those are the bigger stages. Then I've done a session with players in Bratislava [Slovakia], with a 70 piece orchestra, and another one in Budapest [Hungary]. The one in Bratislava was a trip. It was a session that started at midnight PST and went until six in the morning.
It was in their time zone?
Yes, it was their time zone; we had to accommodate. They are eight hours ahead, so they started at 8 a.m. We accomplished the remote sessions through [Source Elements] Source-Connect. I listened in real time and pressed my talkback button in my studio to talk to the engineer in the control room, as well as the conductor and musicians. Sometimes the budgets are very low and/or the film studio is non-union, so this is a good alternative to getting a good orchestral score. But I'd rather do everything here; L.A. is fantastic. L.A. and London orchestras are the two best, in my opinion. There are several scores that have no orchestra at all, or maybe a little bit, and it's okay with samples for one string line or something very minimal. The [sample] libraries have gotten a lot better over the years. But the greatest joy of everything I do is hearing a big orchestra playing my notes. For me that is the ultimate.
With Get Him to the Greek and Forgetting Sarah Marshall you had a "band" and you were creating rock songs for those films.
Right. Get Him to the Greek was a threefold job – composer, songwriter, and record producer. It was a comedy, but we wanted all the songs to be legitimate; not joke songs. They needed to be recorded in earnest, with full on, no holds barred production. Yes, the lyrics were funny but the music had to be good. There were over 25 songs that got pared down to what ended up in the film, along with a few extra for the soundtrack CD. All the songs were written in full, and full length too. It was a ton of work, and also a lot of fun. I had some very fun times with Russell Brand, who could not be more pleasant. We worked with some pretty cool people. We had several songwriters. I wrote songs with Jason Segel as well. Mike Viola and Dan Burns wrote lots of material; both of those guys are great. We had Jarvis Cocker from Pulp and Carl Barât from The Libertines. We wanted some English songwriters in there, because Russell Brand played the main character, the lead singer of Infant Sorrow, Aldous Snow. In the role of producer, it was I, along with Jonathan Karp, who was the music editor/music supervisor. It truly was a blast.
Did you track most of that here?
No; we tracked at Sunset Sound, EastWest, and Henson Studios. All the songs were recorded with a full band, with a few overdubs [later] in my studio. All the vocals were recorded at The Village in Santa Monica. They had a real nice budget to do it right. The budgets have gotten smaller since those days.
Speaking of budgets, is part of your income on these films from performance royalties?
Yes. The backend is when it goes to television and cable. If the film was successful and they keep airing it, the residuals reflect that.
Everything's streaming now, so do you see peaks and valleys of income?
Indeed. Streaming is not as good as network, or even cable, in terms of residuals. The key is volume – having a lot of content. It's all about that material being out there in the world being played. That'll provide a good stream of income.
Do you mix your own scores?
No. It's all 5.1 [surround] and I'm not set up for that, nor do I have the interest. I generally prefer working with mixers, although I do mix too. Between playing, writing, engineering, and arranging; that's plenty for me. I do enjoy turning it over to a mixer, one who specializes in that department. Plus, I think it's good to hand the reins over to someone who can put a fresh spin on it. Many times I'll think I did a good rough mix, and may think it'll be hard to beat. But with a great mixer it'll always come back bigger and wider; it's simply better in every way, and I love that. I enjoy hearing the music be improved upon.
Do you work with one particular engineer for all of the film score mixing, or is it different per project?
Chris Fogel and John Witt Chapman have mixed just about all my films. They work in Chris' ELBO Studios. One of his clients is Ludwig Göransson, whose Black Panther and The Mandalorian were recorded and mixed by Chris. Outside of the 5.1 world, Dave Way has mixed a bunch of projects for me over the years. He's a very versatile mixer, and a great guy. Over the years I've worked with a lot of different mixers. If you work in this town long enough, you end up working with a lot of great people. But it gets pared down. I've found the few I like the best; those I enjoy working with most on a personal level.
Are you using Pro Tools or Logic?
I come from audio recording and I've stayed with Pro Tools once it came out. What is very practical about Pro Tools and the film world is that it's Pro Tools from soup to nuts. I write and record in Pro Tools, and it stays there all the way to the dub stage, where all music, sound effects, and dialog are set in stone; the final process. There have been a few times at the dub where I've had to jump on the computer to make some adjustments to the stems I had provided. I'm very thankful I know Pro Tools in those situations, and it's also convenient working with music editors because they use Pro Tools as their standard program as well. I started back in the early days of Digidesign's Sound Tools, all through the various versions of Pro Tools. I've been with Digidesign/Avid from the beginning. Admittedly the first MIDI implementation needed serious improvement, but it has gotten much better. By now whatever the limitations are, I'm not aware of, as I never embraced any other DAW. I might not know what I am missing with the others, but Pro Tools is a great platform and works for me. Having the ability, as a musician, to be part of the technical process of recording is very helpful. For session work outside of my studio, out in the tracking room, I may ask to hear each mic on my amp and offer suggestions. I've recorded a hell of a lot of guitars over the years!
When you turn over a finished project to the film mixer, are you giving them your whole Pro Tools session?
That's correct.
You're not creating stems?
No. He'll mix it in 5.1 and make all the stems.
Is that mixing offline, and you check in on it, or do you go to the final mixing when it's in the big rooms?
I check all the mixes before the final dub, which I also attend. For film, I like being there because it ends up in a very big audio environment, the theater. Once everything is in balance with dialog and effects, I may ask for stem levels to be adjusted. Things sound different when listened to through theater-sized sound systems, as also equipped in dub stages. Most often it's the low end that changes perspective. I like to be part of that process to ensure the music sounds great in the theater. For television, I generally don't attend final dub mixes because of where it ends up being viewed and listened to – in living rooms or through computers; wherever the typical home environment is.
How much of your work is film versus television?
Well, it was 100 percent film at first, and now it's more television than it is film. It has shifted, but I'm happy with that. What I like about the episodic world is that you have a series of deadlines to reach. There's something good about having those constraints in a way, whereas with film you could be working for three or four months and then go back to the opening scene. That can be helpful, in some situations, where the experience of completing all the music may shed new light on earlier scenes. If I had to choose, I prefer the film world. I like the pageantry of seeing your film on a big screen and hearing the music come out of out a big sound system and being surrounded by it. That's fun. I'm more of a film buff than I am a television fan, in general; but the shows have become excellent, and it's no longer seen as less prestigious for composers. In no way is television a lesser art form. I would much rather compose for a good show over a bad movie. Many film composers have taken on television because the quality is so great now. Game of Thrones had a budget equaling some of the biggest movies ever made.
Is there any TV work you were particularly happy with?
I'm really happy with a show I did called Love; a Netflix show and a Judd Apatow production. That ran for three seasons. There's a soundtrack CD of that that's available. Another show I did was an Apatow production called Crashing, on HBO. That ran for three seasons too, and another fun one.
What are you working on now?
I have a show called The Bold Type that's on ABC Freeform. Last year I did a movie called Good Boys; that's the most recent film.
Because of the Judd Apatow connection, do you do more comedy?
For sure. In the industry, composers are defined by whatever their successes are, and people tend to think in stereotypes. I've enjoyed, and sought out, variety. It's in line with my varied taste in music, and is evident in the different artists I've worked for in sessions and touring. That varied aesthetic applies to film and television. I just happened to have early success with comedy, so that's what I get called for most, but I would love to do more dramas, thrillers, etc. I think most composers want to cross genres and express their versatility and creative expression, and open new avenues of work.

Tape Op is a bi-monthly magazine devoted to the art of record making.