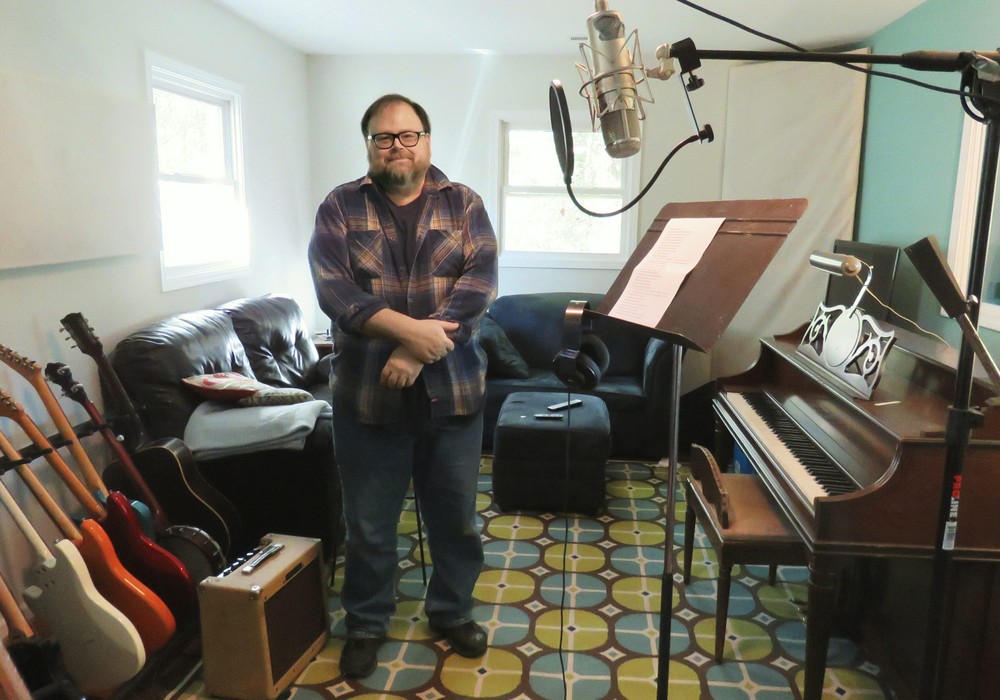 When I first sat down with Jerry Kee of Duck-Kee Studios in Mebane, North Carolina, I didn't even realize we were coming up on the 30th anniversary of the recording of Superchunk's self-titled debut album, helmed by Kee. Many would point to that album as the one that led the indie music world to first take notice of Chapel Hill, NC, the small college town in which Superchunk were formed. Duck-Kee has tracked the likes of Polvo, Sorry About Dresden, Tift Merritt, The Strugglers, The Kingsbury Manx, and many others. Having known Jerry for nearly 20 years now, I know he's far too modest to take any credit for even having a small part of the creation of a Chapel Hill "scene," but his history speaks for itself. I spoke with Jerry about that history, the fire that nearly destroyed his home (in which Duck-Kee is located), and what he's been up to recently. While we had this conversation pre-COVID, it's interesting that we got into a few things that resonate even more today: The power of communities, working from home, doing more with less, making do with what you have, and, ultimately, being grateful for whatever that might be.
How did you first get into recording?
I definitely got into it from the aspect of writing songs and wanting to record them. Recording other people wasn't particularly an ambition. A friend of mine had a 4-track reel-to-reel – a Dokorder – I used to borrow it and record on it. Then when I got out of college, I could afford to buy some gear. I was recording myself, and some of my friends, but mostly myself. I was playing all the instruments and learned how to do it as I went along.
Then did you move into helping out more friends?
It mostly came about from knowing Matt [Matthews, of Schoolkids Records]. I recorded one metal band before that, in '85, which was pretty funny. I was in an apartment when I first moved to Raleigh, and they all came over to sing vocals. It was these five guys singing "Oblivion!" at the top of their lungs,; a policeman walked up the steps and into the apartment, and we said, "Oh, hey!" [laughs] But that was the only time that happened.
By the time I started to become aware of you, you had been recording for about 20 years.
Yeah, I started doing the 4-track, reel-to-reel in the late '70s. And then I bought studio gear in the early '80s. That was the one thing with the studio – it was fun meeting the people, but with all the money I would make recording I'd just buy more equipment. I had a part-time job that covered my rent, but anything else I made went back into the studio. It made it that much more fun, I guess. [laughs]
When you were first getting started, did you have any mentors?
My friend back in West Virginia that owned the Dokorder, he got me into playing guitar and got my foot in the door writing songs. His name was Rick Lee. I did take a workshop around '85 or so; it was in Zebulon [NC]. It was half-business and half-studio, and the business guy was the guy that had managed Nantucket and those kinds of bands that were big in the '70s. He basically told stories. [laughs] Then we would go to the studio… that was the first time I ever got a book on mic'ing, as well as actual advice about recording. I wound up working there for a little bit, and even taught the workshop one time. So, that helped a lot; seeing what can happen. That was my first time in a nice, 24-track studio. That opened up my eyes a bunch.
You had a hand in albums that put Chapel Hill on the map back in the '90s. Was there a feeling that something was about to happen?
Well, there was a lot of music, so I never thought of it as something that "bloomed." It seemed like something that was going on, and I became more aware of different people [making music]. I met Mac McCaughan [Tape Op #76] in a band called Wwax before he was in Superchunk. That led to another band he was in, Slushpuppies; it was a funky, funny band. I'm not sure where exactly we met, but Wayne Taylor and Brian Walsby were also in that band, and I started meeting people through Matt at Schoolkids. I gave him a tape of a band I was in, and we talked; he was into recording. He brought over a group called Blackgirls, with Dana Kletter. From there, I started meeting more people and one group led to another. There was a lot going on already, and the whole "scene" thing was just outside people becoming aware of it. Superchunk were pretty young. I guess they were teenagers. Angels of Epistemology… they were just out of high school. I guess everybody was pretty young, and it was all beginning, in a way.
It's cool that they're all still involved in music.
It is pretty amazing. That's the best sign of success, as far as being content with what you're doing.
I've noticed the incarnation of Duck-Kee always has numbers referring to the version of the studio. What number are you on now?
...
The rest of this article is only available with a Basic or Premium subscription, or by purchasing back issue #145. For an upcoming year's free subscription, and our current issue on PDF...